Meeting Bobby Flay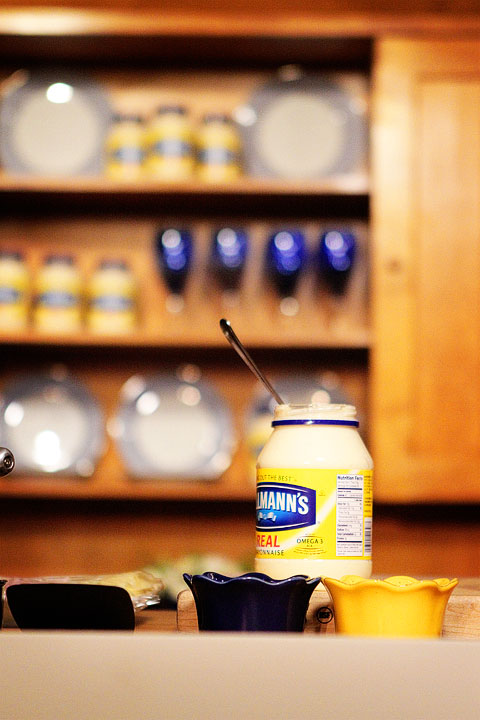 On Monday I was in Manhattan for a snappy trip to New York, courtesy of the kind folks at Hellmann's mayonnaise. Hellmann's is kicking off their new "Build the Perfect Sandwich" campaign and invited a few bloggers to come be a part of the launch party and sandwich-making demo. I was delighted to attend.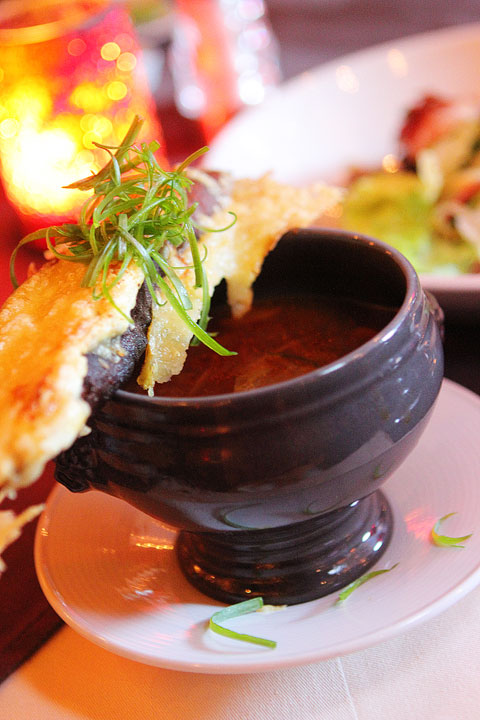 They flew us in on Sunday and treated us to fabulous meet and greet dinner at Todd English's Ça Va. We started off with appetizers (steak tartar, shrimp tarts, and caprese tarts — truly incredible!), then started the meal off with salad and this french onion soup with bacon. Doesn't it look like we had gorgeous natural light in here? I only wish! Actually it was very dark and moody. The lovely Shaina Olmanson is precariously positioning her cell phone for extra lighting here!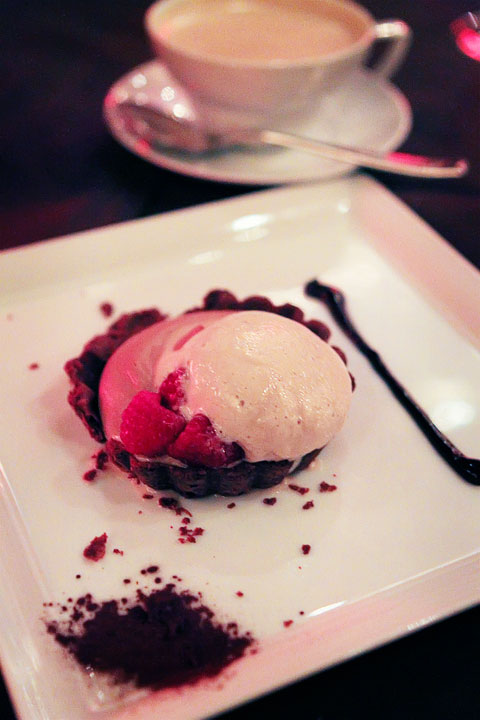 I can't believe I didn't get a photo of the main course! Because it was truly worth writing home about (a beautiful steak with tiny, roasted fingerling potatoes). But you know I was so all over snapping a photo of dessert. There was a chocolate cookie crust filled with chocolate mousse and topped with cool, smooth ice cream. Perfect.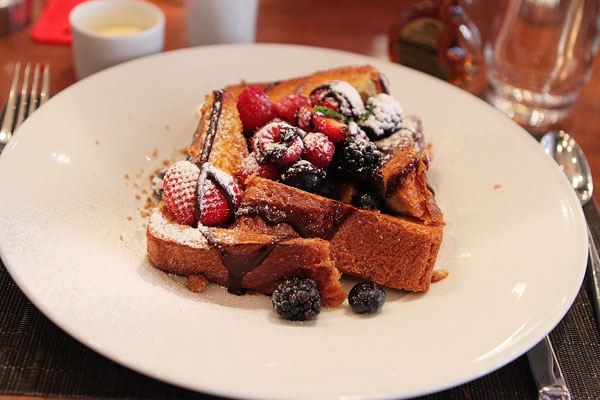 The next morning we slept in and leisurely headed downstairs to Ça Va again for brunch. Glorious. The menu was so incredible, I didn't know how I was ever going to choose, but I ended up deciding on this brioche french toast with Nutella drizzle, powdered sugar, and fresh berries. Gorgeous. and Lovely.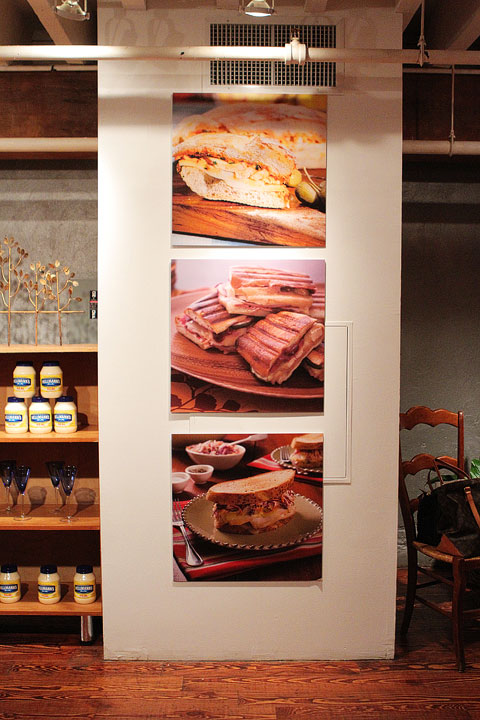 The launch party was a fun event all about classic American sandwiches with recipes developed by…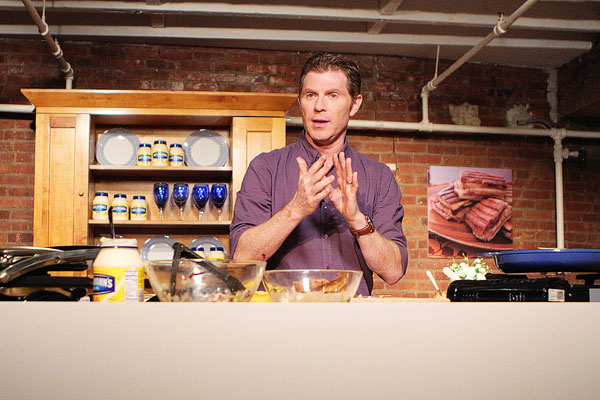 Bobby Flay!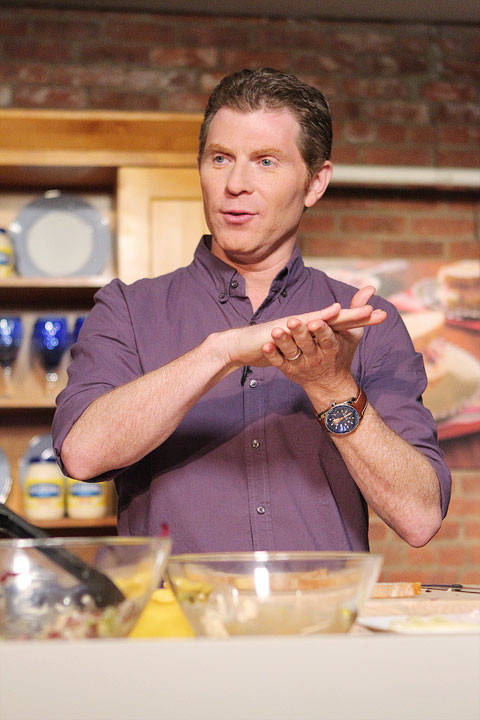 Swoon.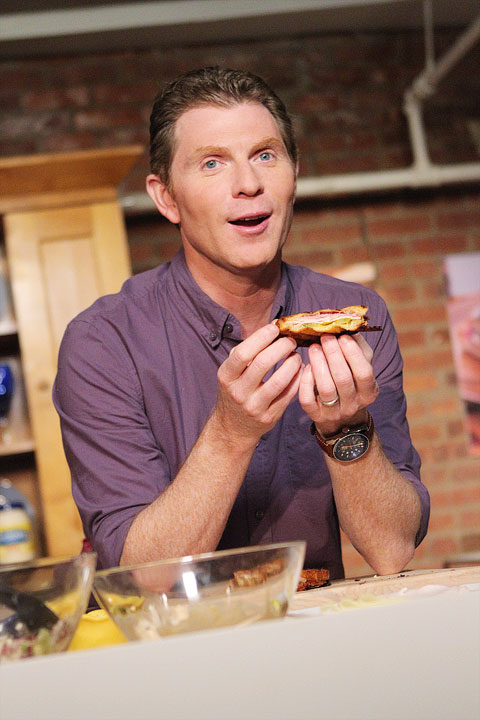 Bobby made sandwiches for us.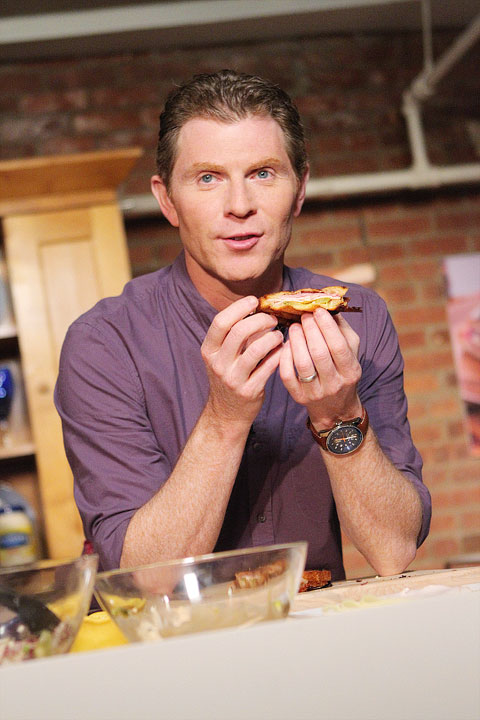 And we ate them.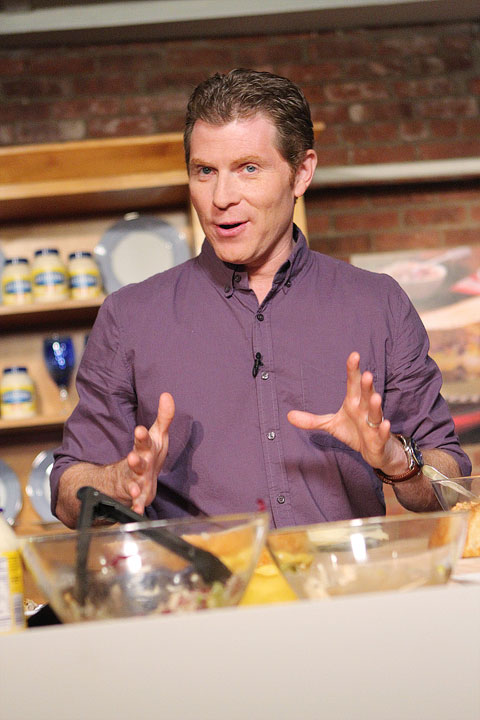 He also shared some of his best sandwich-making tips.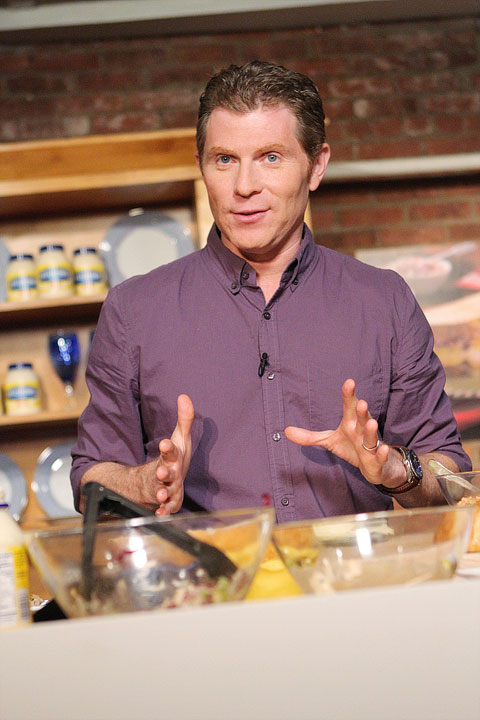 My favorite was to not only cut the sandwich diagonally, but also on the bias (slanted) so you can show off the lovely ingredients inside the sandwich. What a great tip, I don't know that I would've ever thought of that. He also spreads the condiments on both sides of the sandwich, all the way out to the edge, to keep the sandwich from being dry.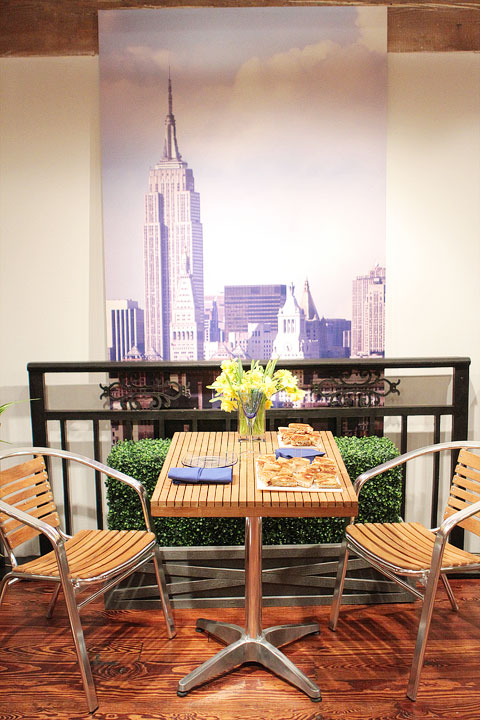 After Bobby's sandwich making demo, we were given the opportunity to interview the Iron Chef himself. We could chose to interview him in New York, known for its Turkey Reuben…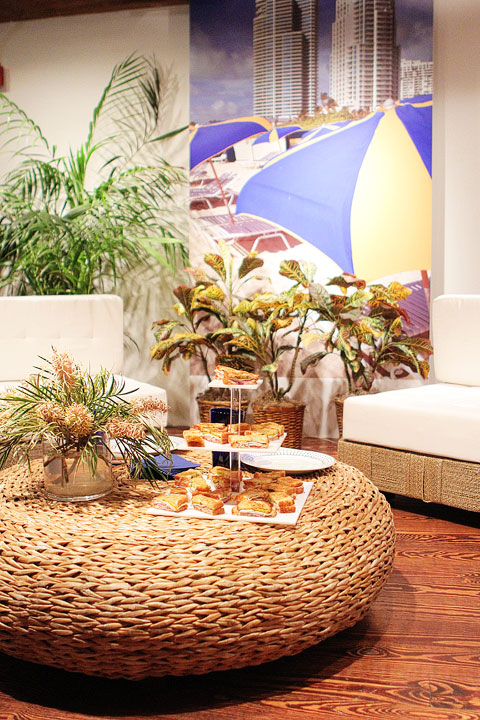 Or Florida, famous for the Miami Cuban…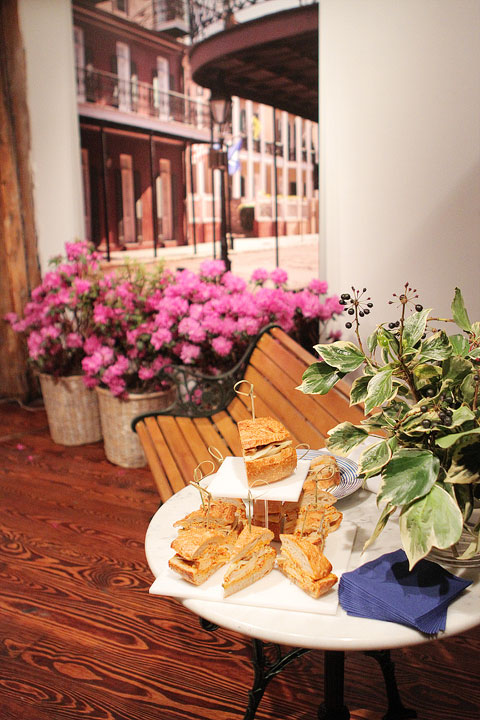 Or down in New Orleans, home of the Chicken Muffuletta.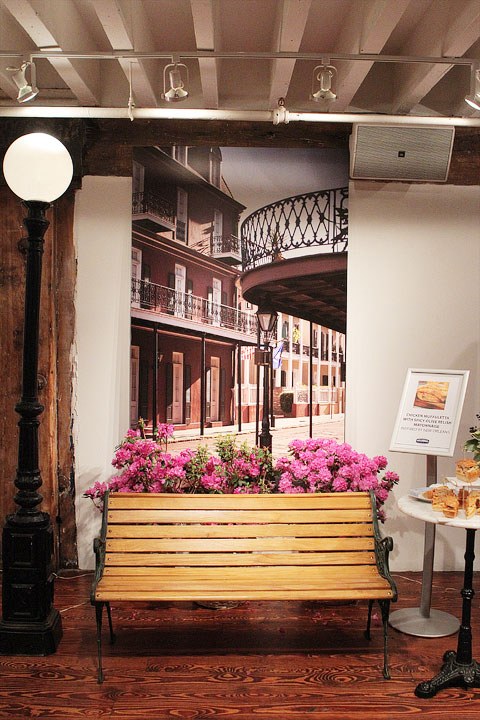 Naturally, I chose the one with the bench.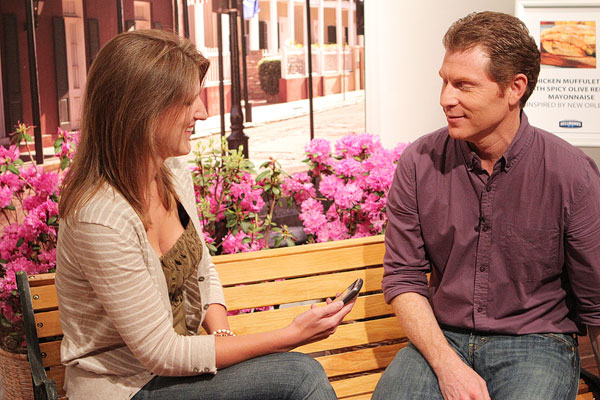 Bobby is just as cute and charming as he appears to be on television, and it was such a pleasure chatting with him. Press the play buttons below to listen to the interview and hear Bobby chat candidly about his most memorable Throwdown episode, the most challenging thing he's ever made, how his new brunch show on the Cooking channel has been eight years in the making, and a new brunch episode devoted entirely to chocolate!

What is your most memorable "Throwdown" episode?

[audio:https://www.kevinandamanda.com/wp-content/uploads/2011/04/most-memorable-throwdown.mp3|titles=Bobby Flay's Most Memorable Throwdown]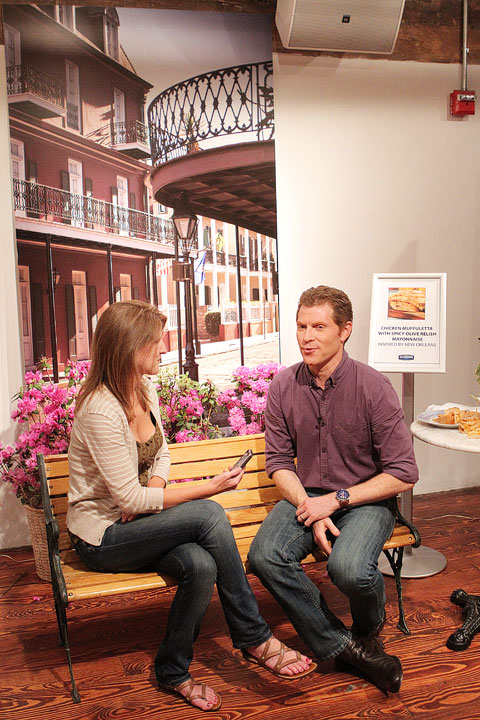 What's the most challenging thing you've ever made?

[audio:https://www.kevinandamanda.com/wp-content/uploads/2011/04/most-challenging.mp3|titles=The Most Challenging Thing Bobby Flay Has Ever Made]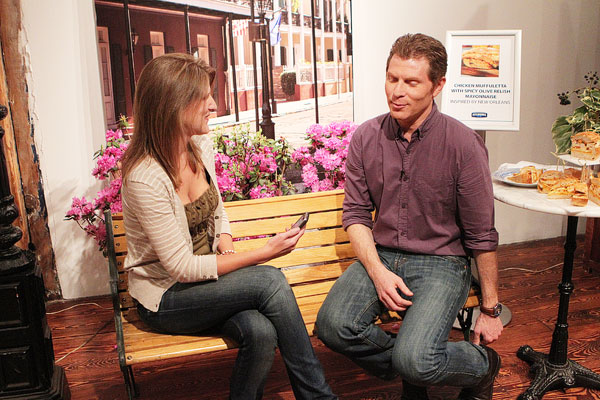 It's Guys Night In. What do you make?

[audio:https://www.kevinandamanda.com/wp-content/uploads/2011/04/guys-night-in.mp3|titles=What Does Bobby Flay Make When It's Guys Night In?]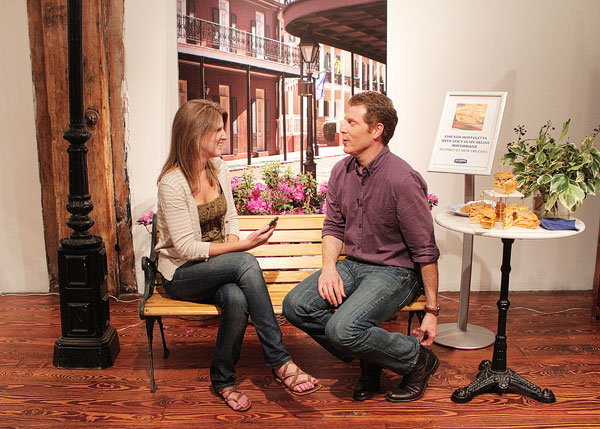 We know you love brunch. But do you prefer sweet or savory brunches?

[audio:https://www.kevinandamanda.com/wp-content/uploads/2011/04/sweet-or-savory.mp3|titles=Bobby Loves Brunch. But Does He Prefer Sweet or Savory?]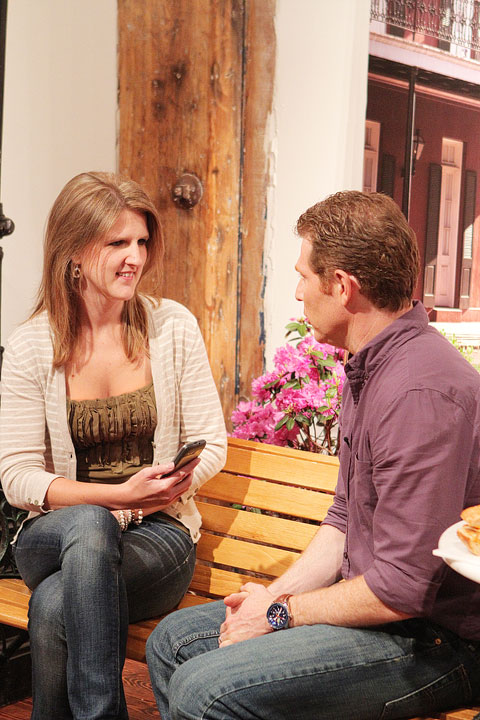 Any exciting upcoming episodes of your new show, Brunch with Bobby?

[audio:https://www.kevinandamanda.com/wp-content/uploads/2011/04/chocolate-brunch.mp3|titles=Brunch With Bobby Flay: An Episode Devoted Entirely to Chocolate]