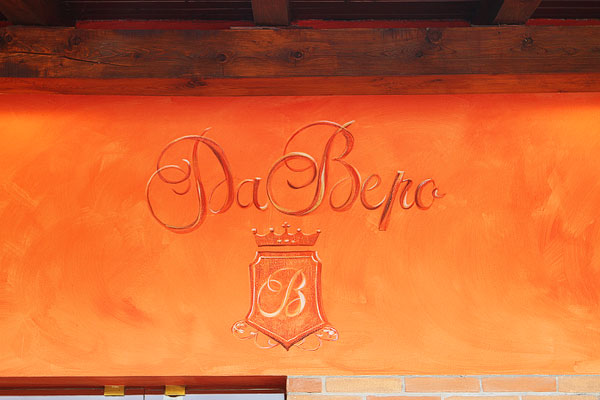 All I can say is "Wow!" about this trip Michael Angelo's took me on! I feel so incredibly fortunate to have been given such an amazing opportunity. Thank you so, so much to Mike, Sara, Cheryl and the Michael Angelo's family for this wonderful opportunity!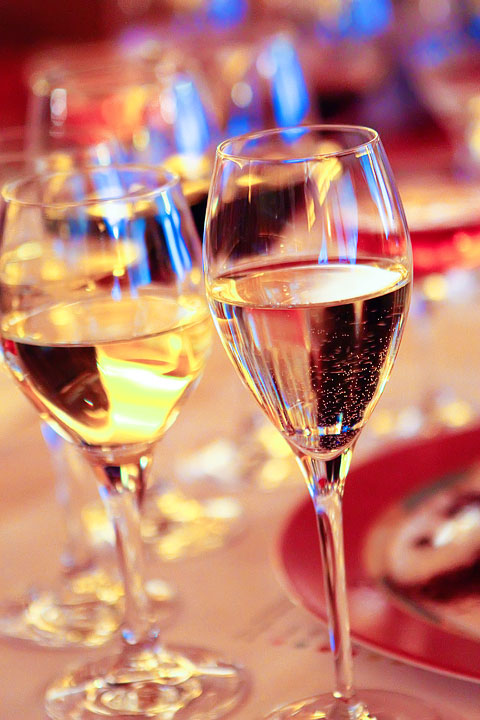 One of our final meals together with the Michael Angelo's family was at a little restaurant called Da Bepo, about an hour and a half north of Venice. We met up with the sweet family who owns the Ca' Madresca Winery — Adriano Teston along with his wife Mara and two beautiful daughters Francesca and Frederica. And oh my goodness, did they know how to show us a good time! This lunch was hands down one of the most incredible lunches of my entire life. It was eight courses and lasted over four hours, and each dish that was brought out was even more life-changing that the last! It is definitely something I will never forget.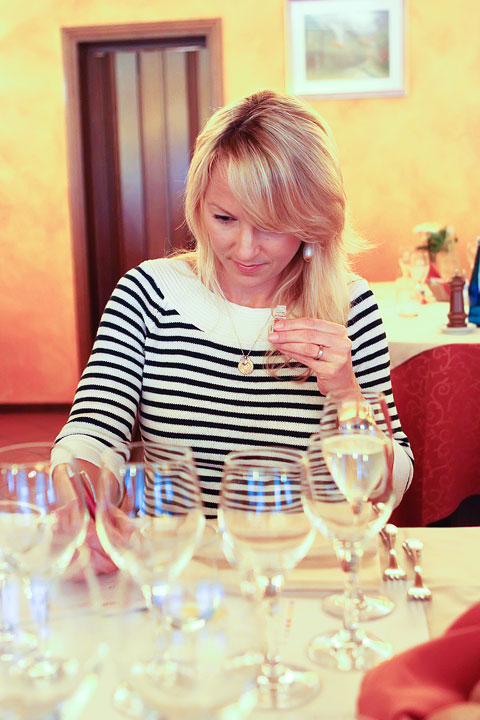 We started with this fun guessing game, which was probably my favorite guessing game of all time because it involved fruity scents and spicy flavors and guessing what they were. Here's Cheryl, Mike's sweet wife, taking a guess and writing down her answer… :)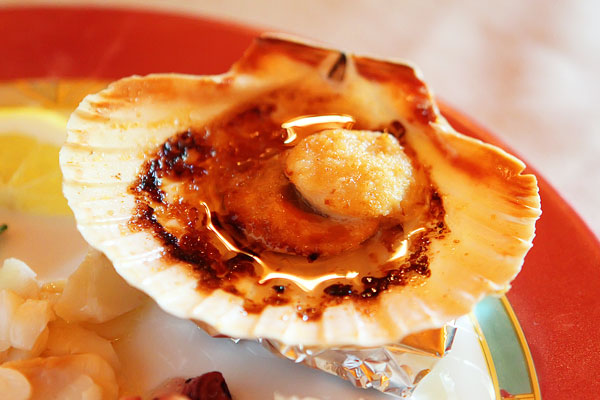 Now I didn't take a picture of the first course, because at that point I had no idea what I was in for. But when this came out — fried scallops literally swimming in butter, served with bread for soaking up every last bite of deliciousness, and served in a massive seashell — I kind of got an inkling of what I was in for. :)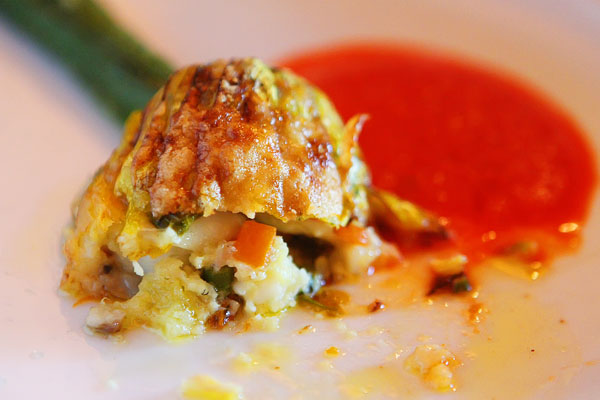 Next were these fried zucchini blossoms. Oh my gosh, Italy has ruined me. I am obsessed with fried zucchini blossoms now! They were everywhere, we saw them on the menu at just about every single restaurant. And I had to order them just about every single time. But this one? My fav. This one was stuffed with Mediterranean seabass. And a whole bunch of other good stuff. A-mazing.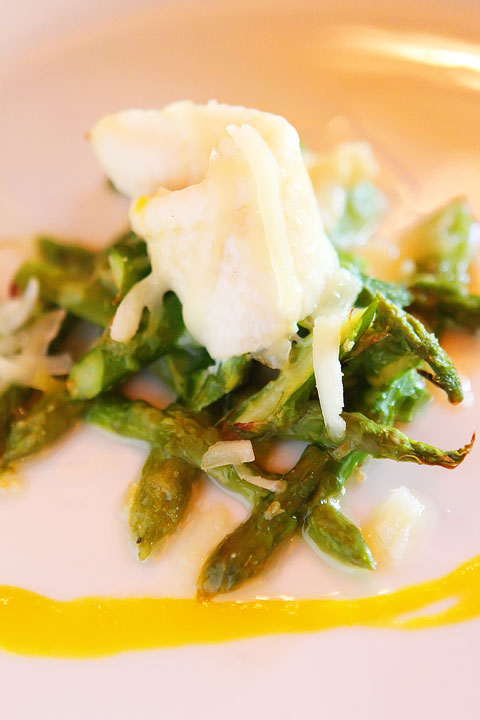 Our fourth course was asparagus with sole and shaved Grana Padano cheese. Beautiful.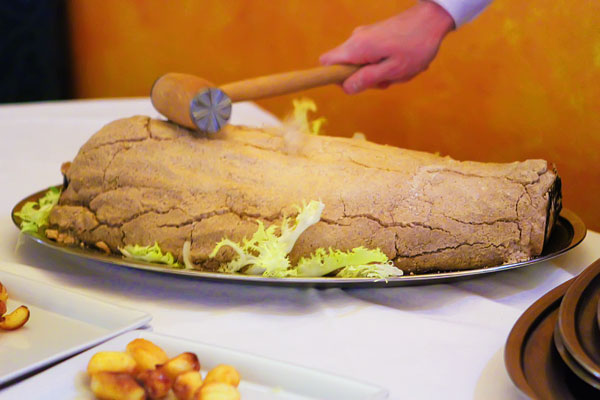 Next they brought out this massive, salt-encrusted Mediterranean seabass and began to crack away the thick salt tomb…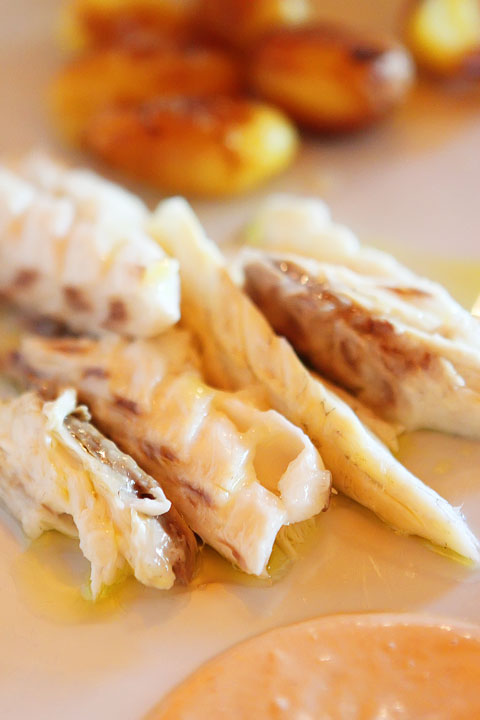 What was left was this absolutely gorgeous, melt-in-your-mouth white fish — which was surprisingly not salty at all!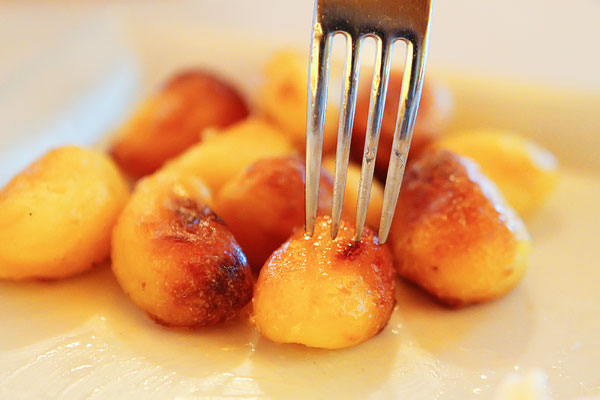 Now. Did you happen to see those potatoes in the photo above? The ones that were served alongside the salt-encrusted Mediterranean seabass? Okay. I cannot stress this enough, people. These were the most life-changing potatoes of my entire life. I would've given the chef a standing ovation for these potatoes. I grilled our server for how these were prepared, and he swears they are just fingerling potatoes pan fried in olive oil. But oh for heavens sake when you stuck your fork in them they literally exploded with olive oil! (Which I thought was butter at first, because they were just so buttery tasting.) The outside was as crispy and buttery as a Lays potato chip and the inside was as soft and buttery as the creamiest mashed potatoes ever. I die. I faint. I would give my entire life savings for another bite of these potatoes right now. I weep that I cannot have another bite of these potatoes right now.
I'm gonna move on before this gets any more disturbing.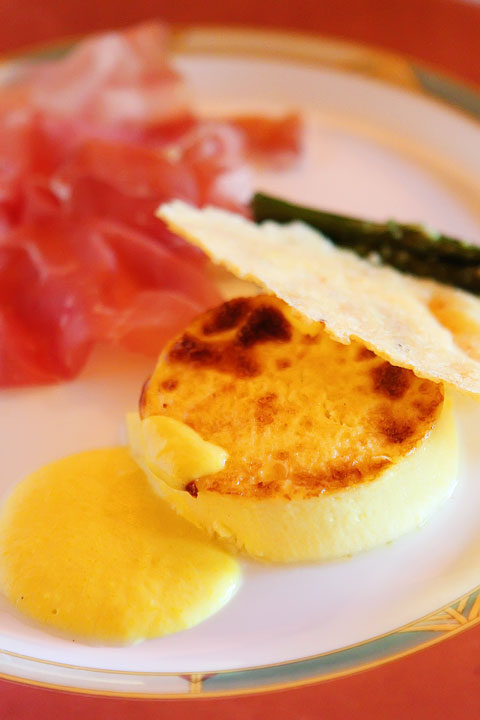 I don't know how I was still able to eat at this point, considering I had just consumed about twenty servings of potatoes. I ate mine, Kevin's, and pretty much everyone else's at the table as well, since they were all stuffed by now, lol! But when everyone  started raving about this Parmesan Flan with Montasio cream, a Parmesan wafer, and prosciutto, I had to give it a try. And oh my gosh. I cannot tell you how good this soft, golden brown and bubbly cheese was. All I can say is this is how cheese was meant to be eaten. The end.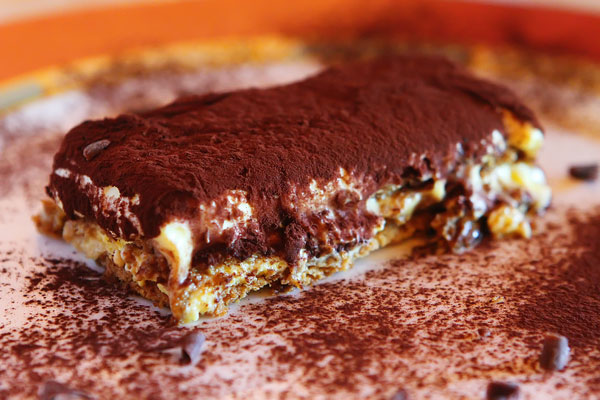 But that so was not the end. For our final (and quite possibly my favorite) course of the meal, Adriano's lovely daughter Francesca prepared this gorgeous Tiramisu for us. Adriano explained that it was a tradition for the oldest daughter to make Tiramisu. We were so honored that she made it for us! We ordered Tiramisu all up and down Italy but I can honestly say this was my favorite ever. Seriously yum!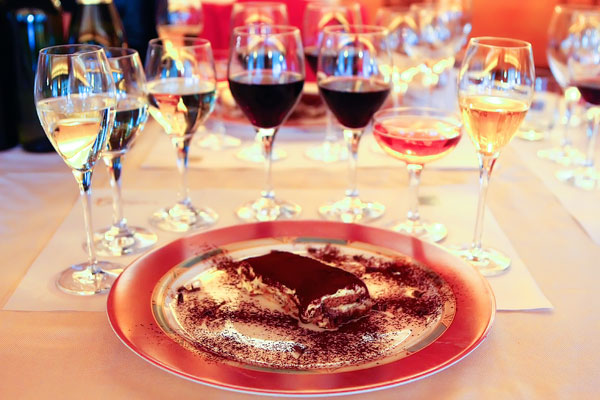 Adriano's perfect pairings from Ca' Madresca for each and every course. The Ca' Madresca winery is named out of the combination of his wife and daughters names. Frederica, Mara and Francesca. Isn't that so sweet?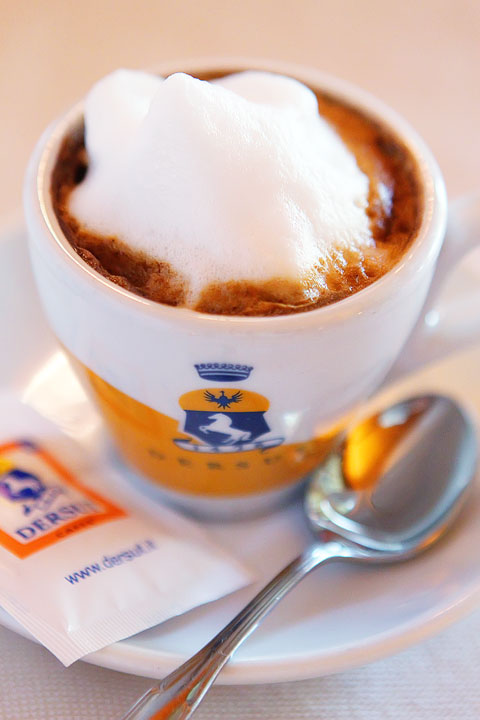 And of course we couldn't slip away without the classic ending to every meal we had in Italy — one tiny shot of espresso. :)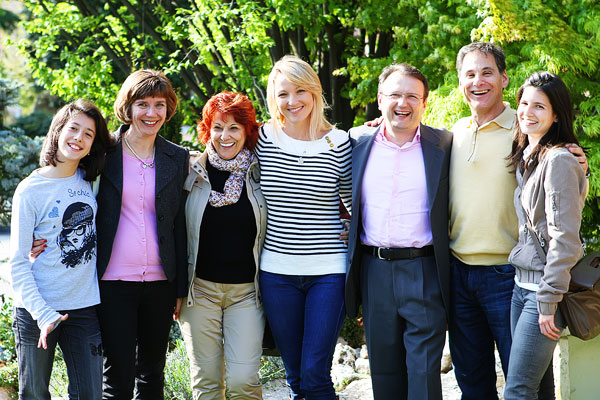 Frederica, Mara, Sara, Cheryl, Adriano, Mike, and Francesca
This is Adriano and his beautiful family with the Michael Angelo's family. Thank you so, so much to these two amazing families for opening up their hearts and homes to us! I loved every single second we were able to spend with these sweet folks. It was an honor to have them share their goals and passions with us for the short time we got to spend with them.
I would love for you guys to get the chance to meet Mike, Sara, and Cheryl. Michael Angelo's is hosting the Ultimate Foodie Weekend in Austin, Texas, the home of Michael Angelo's. Spend a long weekend in Austin at a luxury hotel while spending your days shopping, touring the city and cooking family-style alongside Mike and Sara. Enter for a chance to win this weekend getaway now!
Thanks so much for following along on our adventure with Michael Angelo's! At this point we waved sad goodbyes to new friends as they sent us off on even more adventures they'd arranged for us — tours in Venice and Rome, and then Kev and I headed off on our own adventure to Cinque Terre, Florence, Sienna and Tuscany. If you're following me on Instagram, you got a peek at some of the amazing photos we were able to take! I can't wait to share the "real" ones with you guys on here next week. :)
Have a great, great weekend guys!! :) xoxo