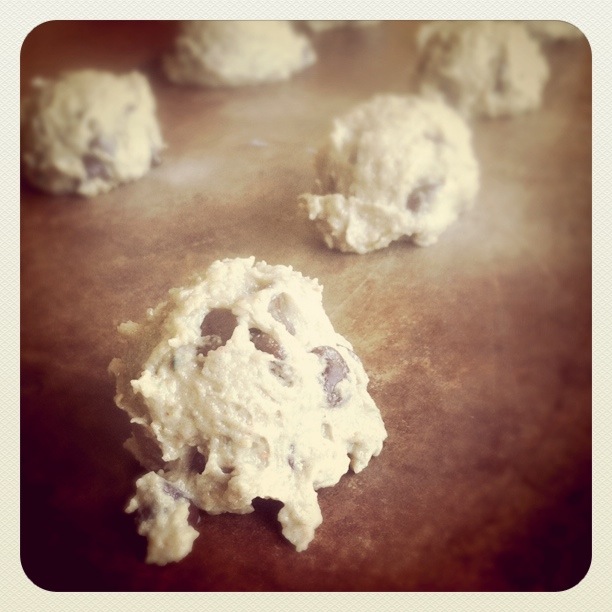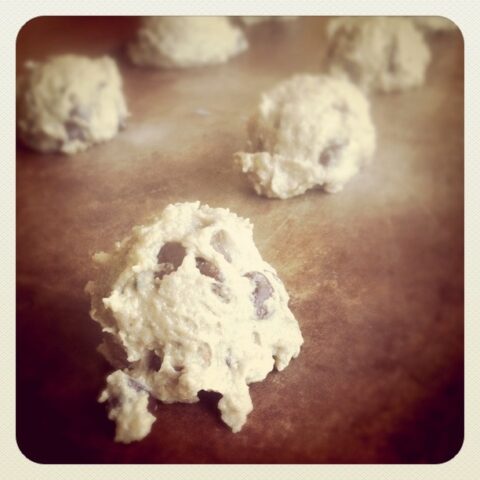 This is by far the weirdest thing I've ever done in my kitchen.
My cake batter blondies turned out really dry, unfortunately, for some reason unknown to me at this time, so I made cookie dough buttercream frosting to put on top. I tried to dye the frosting blue, like these gorgeous Tiffany blue cookie cups, but the brown sugar in the frosting didn't agree with the blue food coloring and instead came out a shade closely resembling dirty dishwater. Lovely. Oh well, I covered it with white nonpareils and called it good.
I had cut the edges off the blondies — they're prettier that way — so I had leftover blondie edges and a little leftover frosting. I had the great idea to combine the two and make a few cake pops with the leftovers. When I started rolling the cake pops, I thought to myself, "These look a lot like cookies!" So I got another, uh, great idea to add an egg, a few chocolate chips, and make cookies.
Cake Batter Blondies + Cookie Dough Buttercream Frosting = Cookies?
I have no idea how these are going to turn out, but we're about to find out. I'll keep you updated!
UPDATE!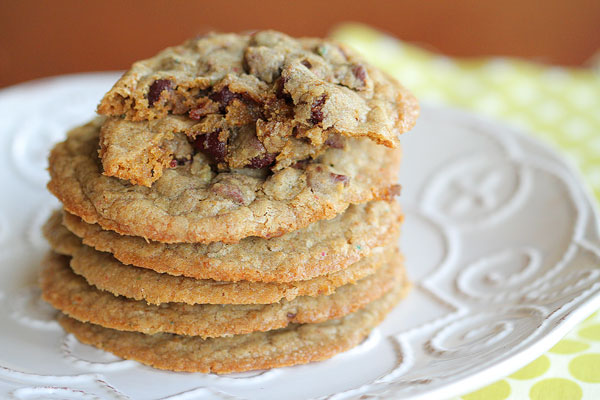 They turned out! These are such a fun little cookie. They're not life changing or anything, but they're certainly a good chocolate chip cookie. The edges are thin and buttery, and the middle is chewy and gooey. They were a little bit thinner than I normally like my cookies, but I probably could've added a little bit of flour to the mix to prevent that.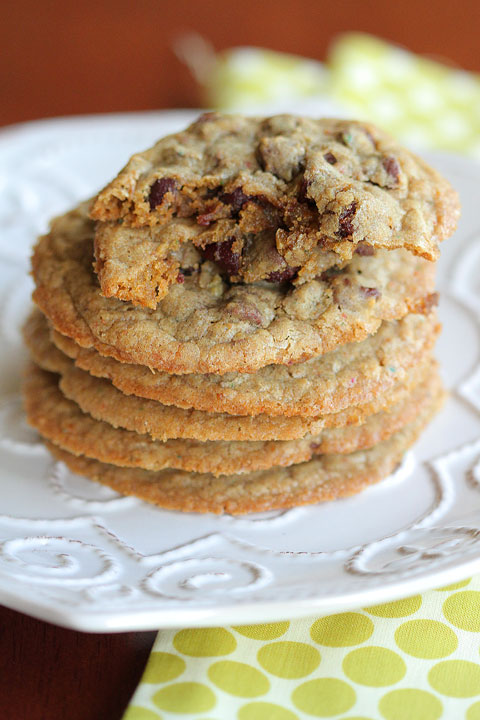 For the most part the chocolate chips overpowered the subtle flavors of the cake batter and frosting, but I did get a few bites of just cookie with no chips — it was delicious. Would love to try these with white chocolate or peanut butter chips. I will definitely be making these from now on whenever I have leftover cake and frosting. Which happens quite often if I level my layer cakes. I always hated throwing away those cake scraps and there's always a little leftover frosting.
Now what on earth am I going to call these cookies?!