Kevin & Amanda Secret Ingredient Christmas Cookies
These secret-ingredient cookies are insanely delicious, perfect for Christmas, and are sure to have everyone trying to guess the secret ingredient at cookie swaps! :)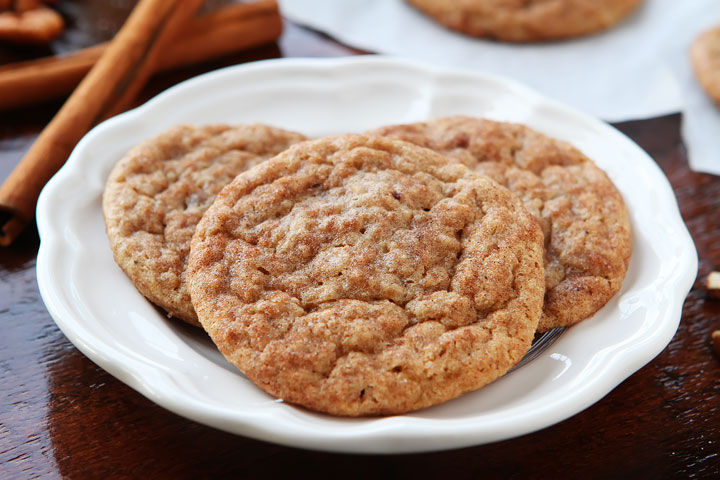 It may be a little early to start talking about Christmas cookies, but honestly, these cookies are amazing any time of year! For me, Christmas means these cinnamon-toasted candied pecans. I love them, and I especially love the way they fill the entire house with a delicious, nutty, toasty, cinnamon-y fragrance. Put them in an hour before company comes over and your whole home will smell amazing! Plus your guests will have delicious candied pecans to snack on. :)
I love nuts (especially when they're candied) but I can't stand nuts in my cookies!! It's a texture thing. I want my cookies to be soft and chewy, and I don't want any little hard crunchy pieces getting in my way, lol! But I love the flavor of nuts, so I wanted to find a way to incorporate my favorite candied pecans into a cookie.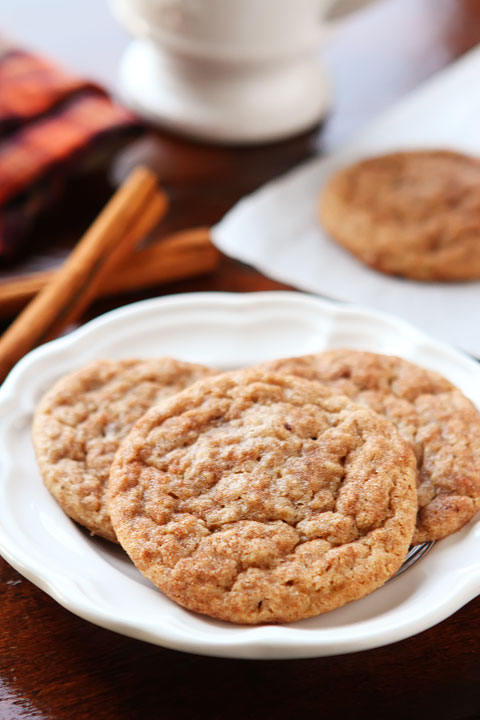 What happened next are these decadent, Brown Butter, Cinnamon Toasted Pecan, Oatmeal Snickerdoodles. I don't even know what to call them. They're amazing!!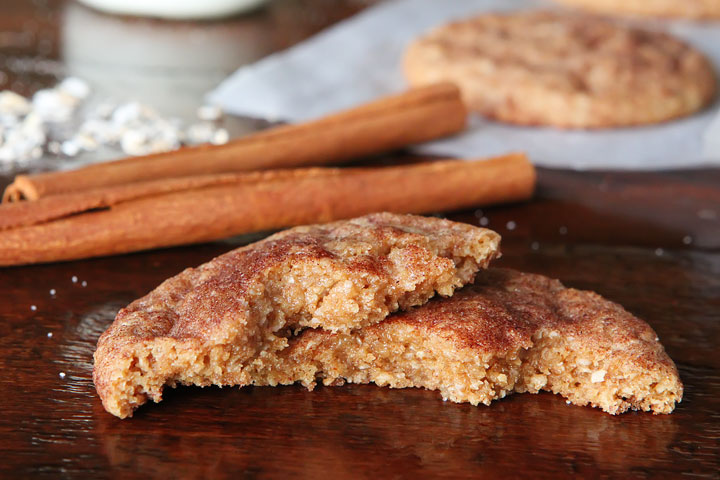 I am so, so thrilled with how these cookies came out. They're incredibly chewy and soft. The inside is packed with that wonderful, cinnamon toasted pecan flavor. But the texture is smoooooth. No hard little pieces of nuts to be found anywhere! The outside is dusted in cinnamon sugar so they even have that sugary-crisp outer shell like candied pecans. They're perfect!
They were a huge hit with my friends and neighbors. Everyone was trying to guess the secret ingredient! :)
You've got to try these at least once. :) Put these on your cookie to-do list! :)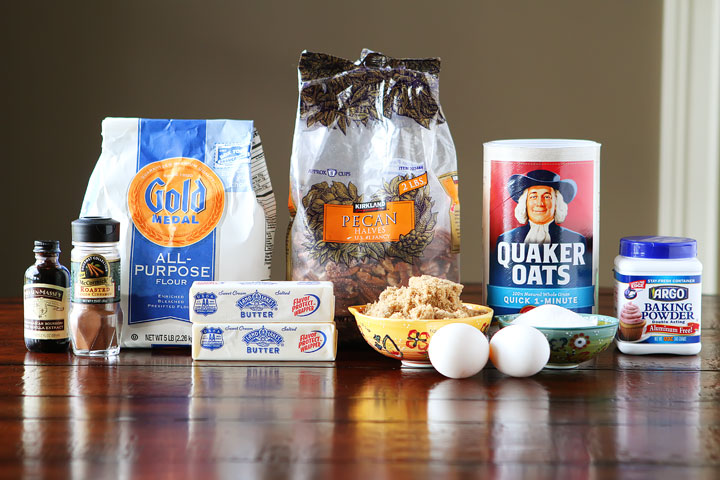 Here's how I made them. Just a few simple ingredients: flour, oatmeal, pecans, butter, sugar, eggs, baking powder, cinnamon and vanilla.
The first step is to brown the butter. Brown butter is fabulous in cookies!! Seriously, I think brown butter was invented just to be used in cookies. :) It gives cookies a deep, rich, buttery flavor. It's perfect for these cookies in particular because it enhances the nutty flavor of the cinnamon toasted pecans.
Browning butter is so easy. You basically just melt it and whisk it until it becomes brown and has a rich nutty fragrance. Here's a helpful "pin-able" graphic I made of the 5 stages of brown butter:

And that's it! Next time you make cookies try swapping out regular butter for brown butter. See what a huge difference it makes! :)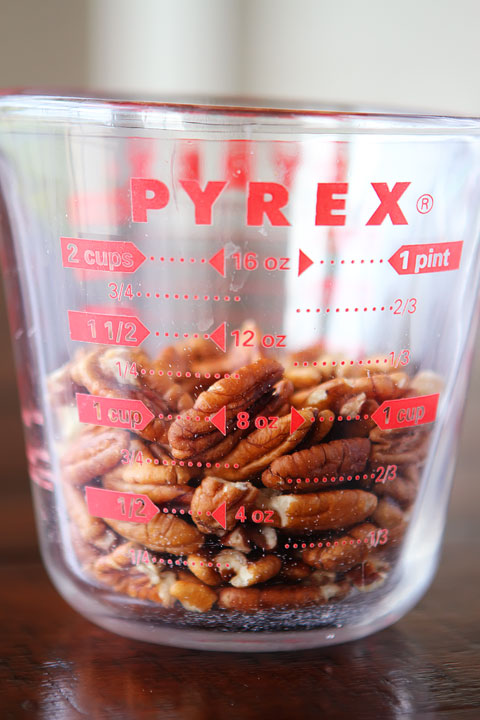 The next step is to toast the pecans. Measure out a generous cup of whole pecans. You can usually find these on the baking aisle. I like to buy the big bags from Sam's or Costco and keep them in the freezer so I always have them on hand.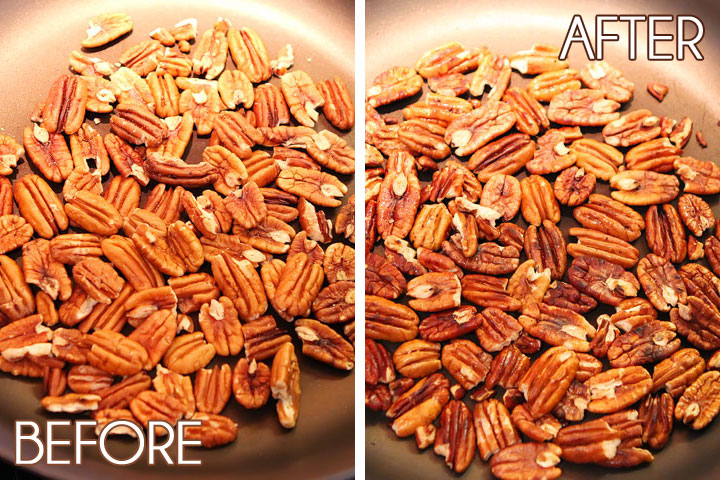 Place the nuts in a large skillet over medium heat. Cook, stirring frequently, for about 4-5 mins until they are dark, brown, and just start to smell toasty.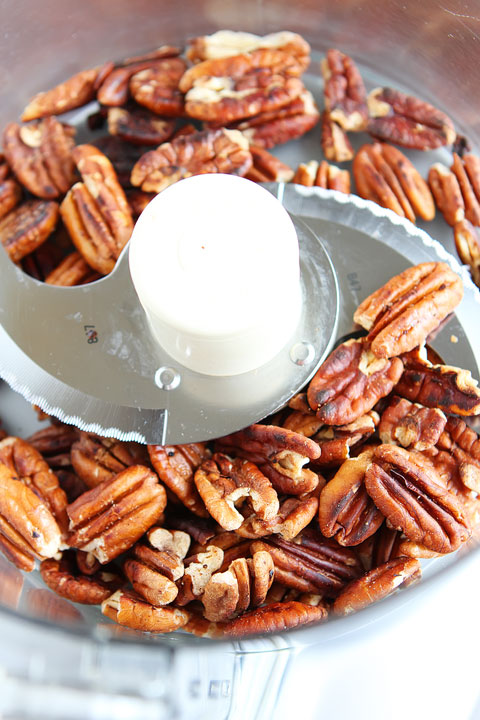 Immediately transfer the nuts to the bowl of a food processor.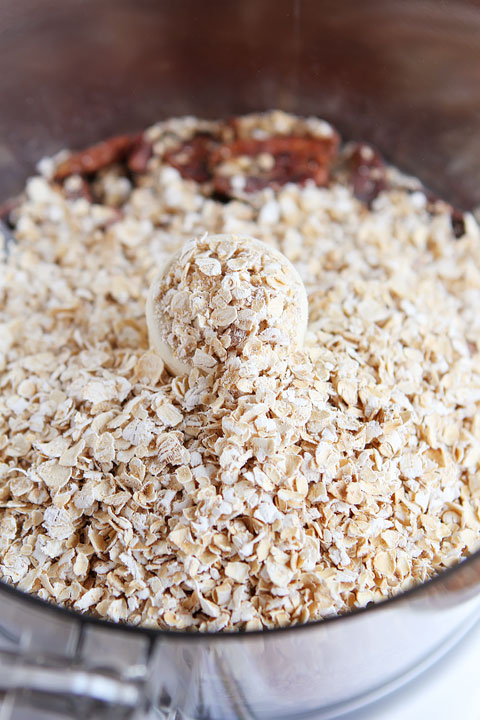 Add one cup quick 1-minute oats.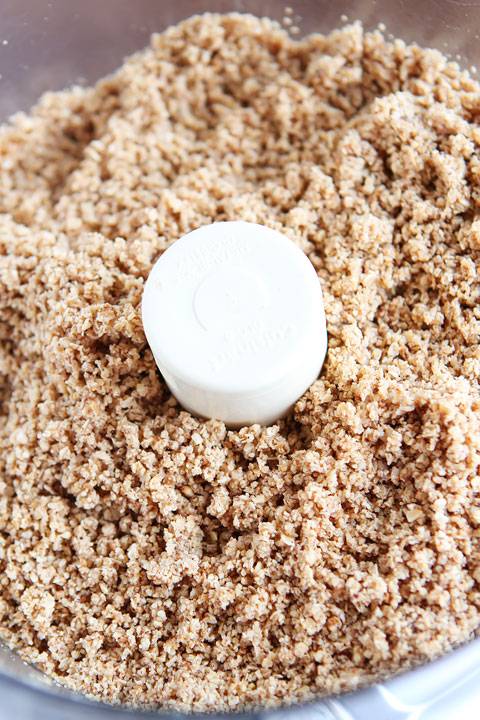 And pulse until the pecans and oatmeal are smooth and combined.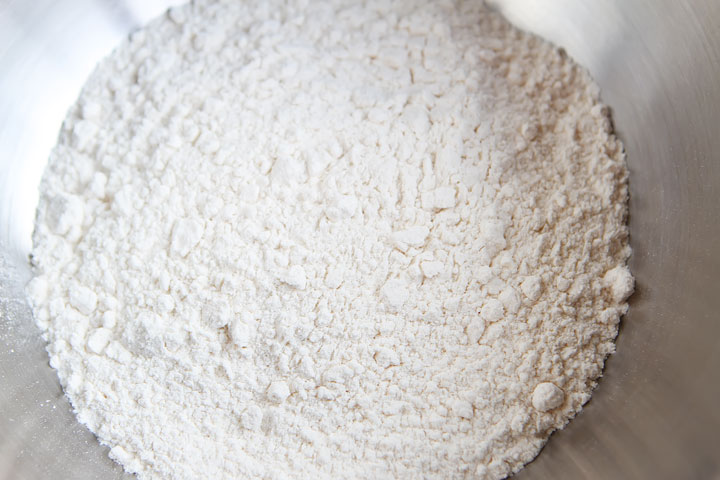 Add the pecan and oatmeal mixture to 1 1/2 cups all-purpose flour, along with your salt and baking powder.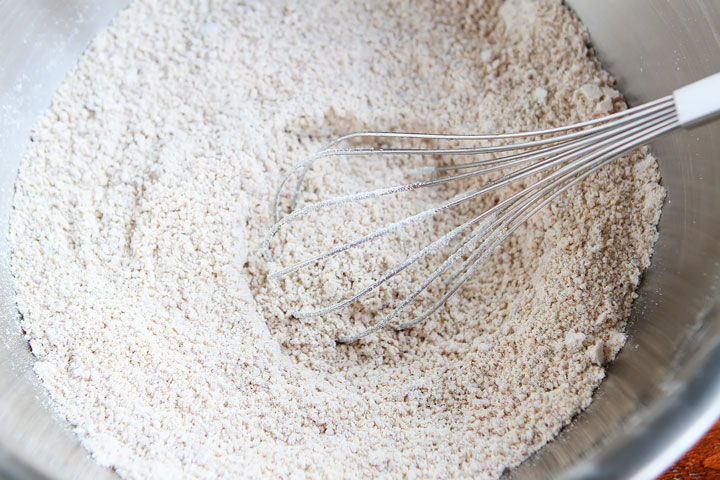 And whisk to combine.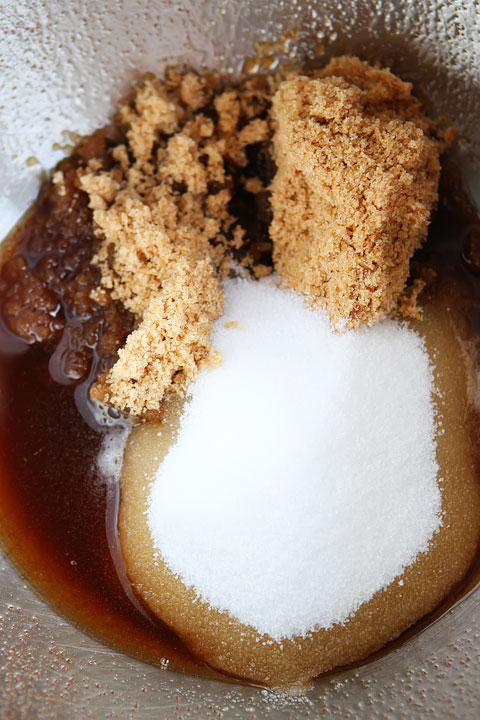 Add to your brown butter, sugar, and eggs, and mix until just combined.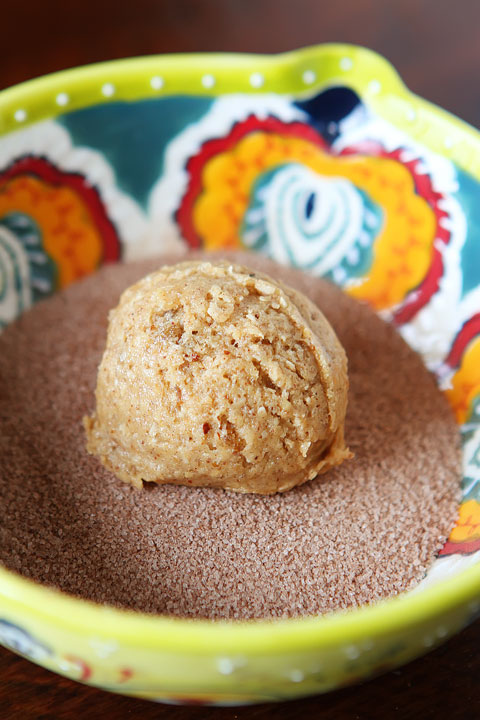 Oh mama mia. This cookie dough is UN.real!! Use a medium (1.5 tbsp) cookie scoop to form dough into balls and roll in a cinnamon sugar mixture to coat. Bake at 350 for 10 minutes and prepare to be in love.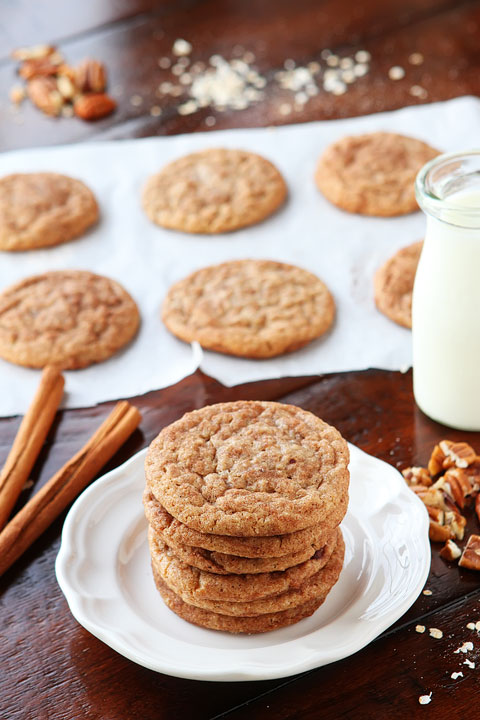 They're sweet, cinnamon-y, and wonderfully nutty.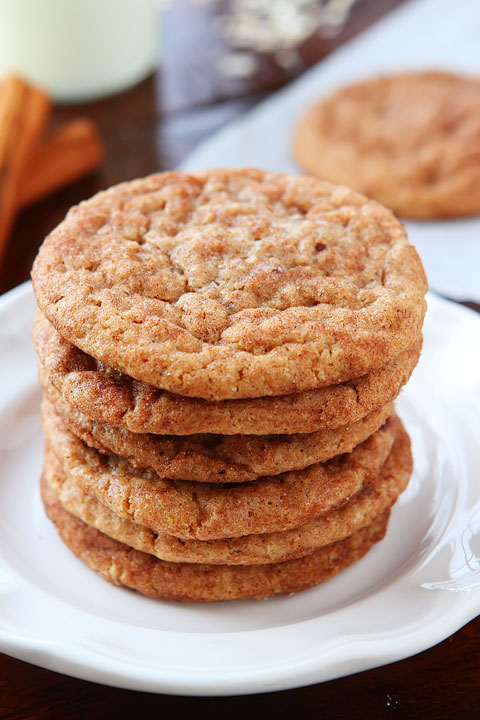 They've got a sugary-crisp outer shell.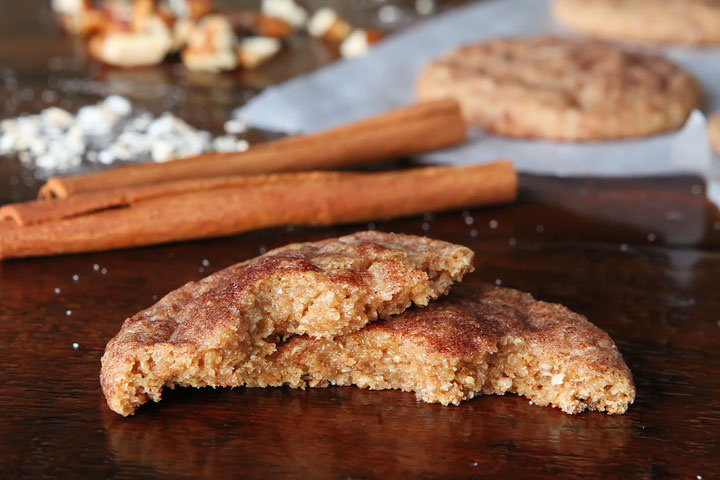 And the inside is soft, chewy, and gooey. If you love candied pecans and cookies, make these cookies ASAP!! You will love them!! :)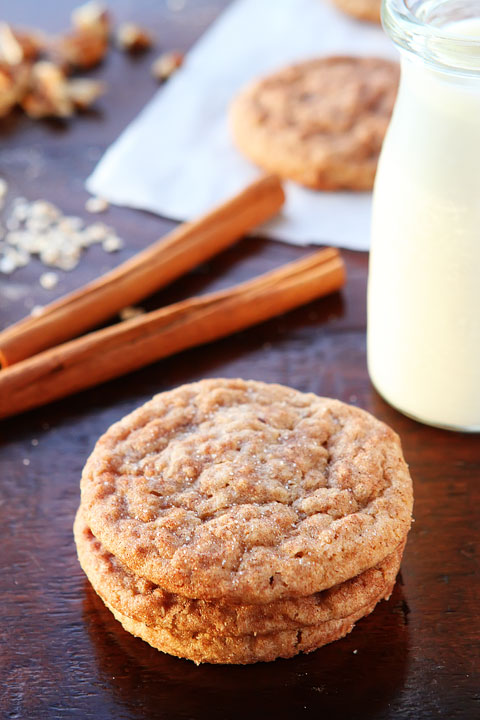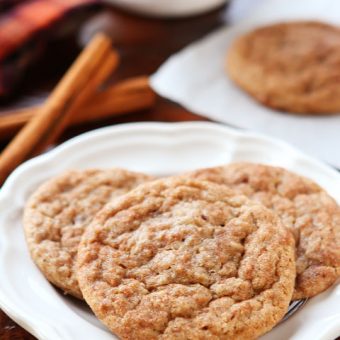 Kevin & Amanda Secret Ingredient Christmas Cookies
Ingredients:
1 cup (2 sticks) butter
1 cup whole pecans
1 cup quick one-minute oats
1 1/2 cups all-purpose flour
1 teaspoon baking powder
1/2 teaspoon salt
1/2 cup sugar
1 cup brown sugar, packed
2 eggs
1 tablespoon vanilla extract
For the Rolling Mixture
1/4 cup sugar
2 teaspoons cinnamon
Directions:
Melt butter in a heavy bottomed sauce pan over medium to medium-high heat. Once the butter has melted and begins to foam, start whisking constantly. Once the butter is brown and has a nutty fragrance, transfer to a large mixing bowl to cool.
Meanwhile, toast the pecans in a large skillet over medium heat. Cook, stirring frequently, for about 4-5 minutes until the pecans are dark brown and smell toasted. Immediately transfer to the bowl of a food processor. Add the oats and pulse until the oats and pecans are smooth and combined. Transfer the mixture to a mixing bowl and whisk in the flour, baking powder and salt until well combined.
Next add the sugar and brown sugar to the cooled brown butter and beat on medium to medium-high speed for 2-3 minutes. Add the eggs and vanilla and beat for another 2-3 minutes until well combined. Add the flour mixture and beat on low speed until just combined.
Use a medium (1.5 tbsp) cookie scoop to form dough into balls, then roll in cinnamon sugar mixture. Place on a cookie sheet lined with parchment paper. Bake at 350 for 10 minutes until edges just start to turn golden brown. Cool on a wire rack.