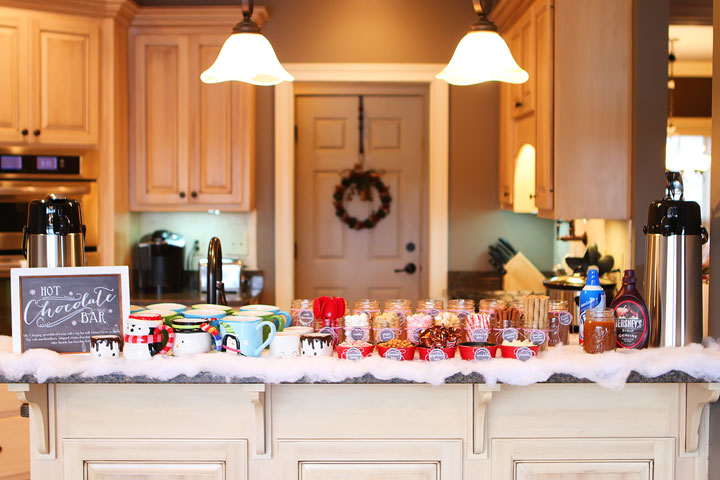 On the first Monday of every month I have lunch with a fun group of local bloggers. This month, for our December meetup, we wanted to have a cookie swap party! I have never been to a cookie swap before, so I was really excited to host this month's get-together!! :) We have had a cold snap come through, so I thought it might be fun to have a Hot Chocolate Bar at the party waiting for everyone when they came in from the cold. :)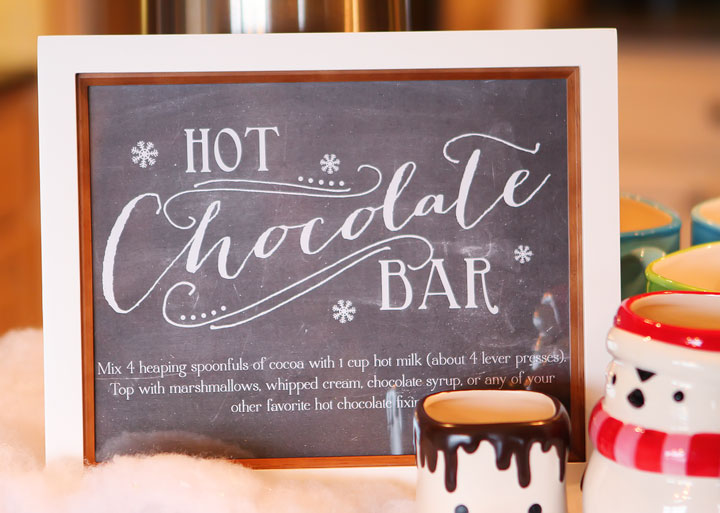 Welcome to the Hot Chocolate Bar! :)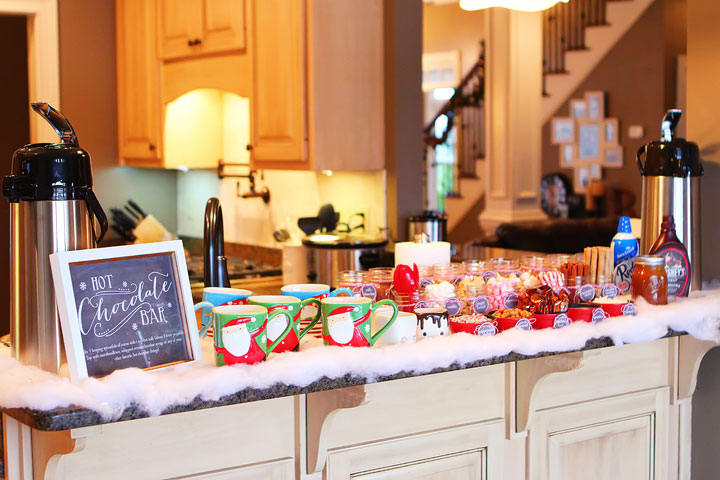 Step right up :) I printed a fun chalkboard Hot Chocolate Bar sign from Yellow Bliss Road, and added instructions for how many scoops of hot chocolate to use per lever-press of hot milk from the thermos. One scoop = one press, so you could just make a small amount so you could try them all! :) I used these hot/cold drink dispensers from Sam's Club.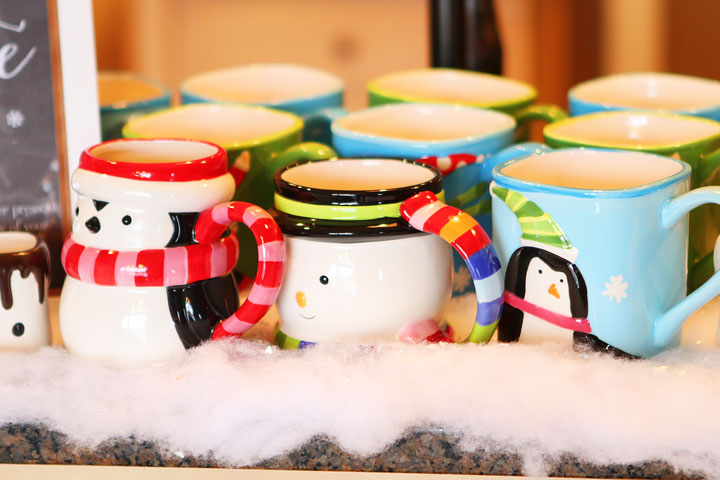 Grab a mug :)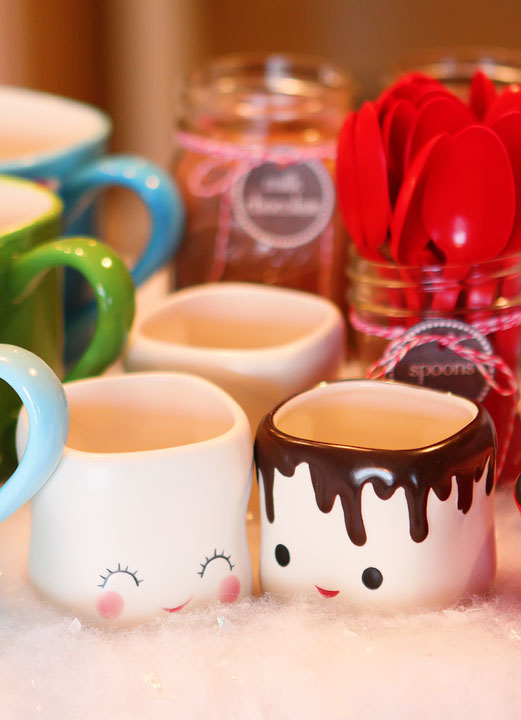 Or if you just want a tasting, you can use this mini marshmallow mug! :)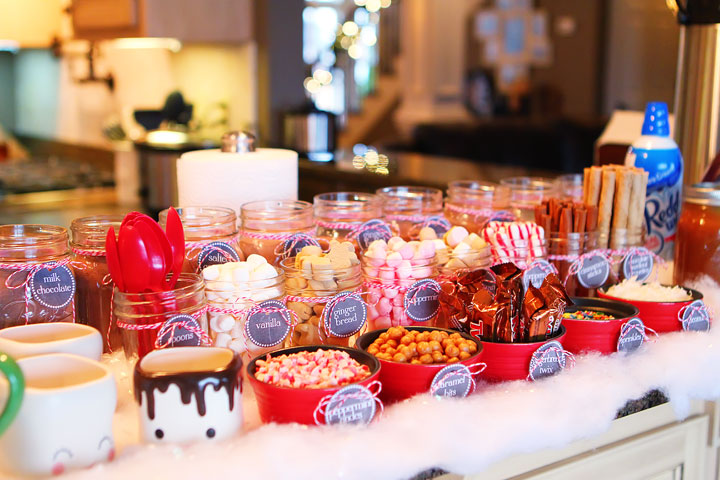 I love having lots of options, so I set out nine different types of hot chocolate with plenty of marshmallows, toppings, and mix-ins to choose from. :)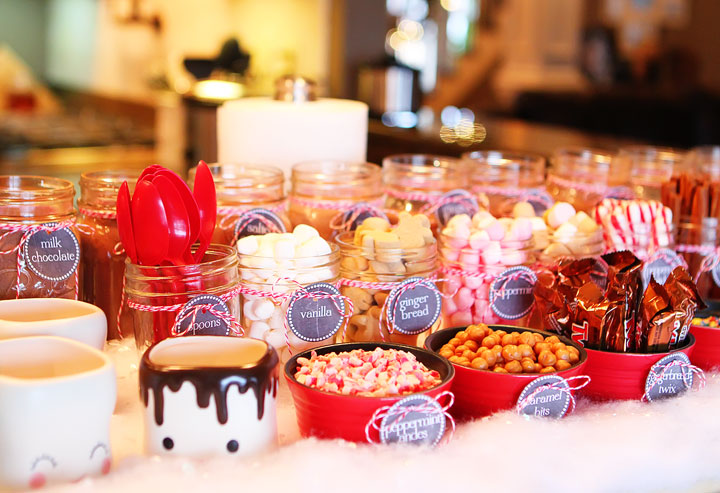 Vanilla, Gingerbread, Peppermint, and Neapolitan Ice Cream marshmallows :)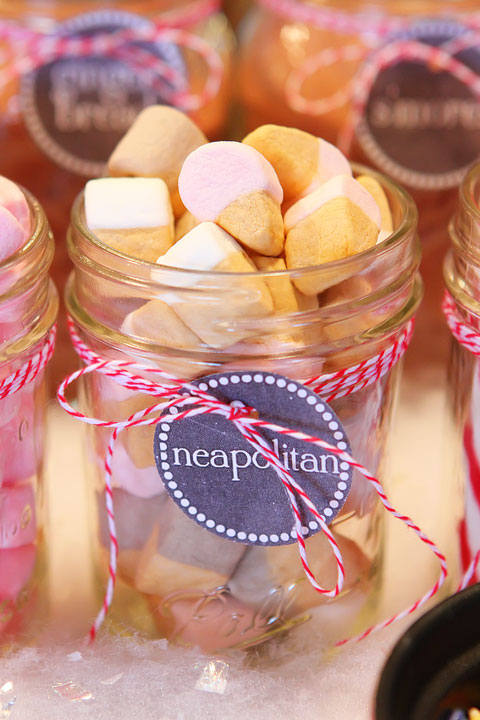 How cute are these ice cream cone marshies?? :)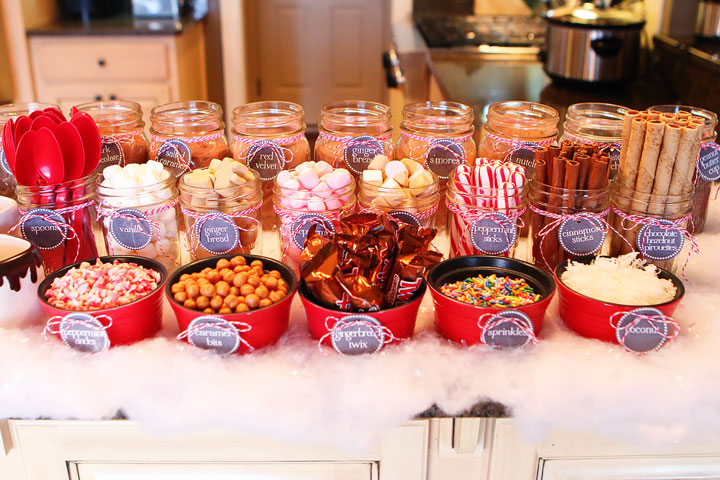 These were all the different flavors of hot chocolate: Milk Chocolate, Dark Chocolate, Salted Caramel, Red Velvet, Gingerbread, S'mores, Nutella, White Mocha, and Peanut Butter Cup. :) I bought all the hot chocolate mixes at World Market except for the Peanut Butter Cup. I could not find peanut butter hot chocolate anywhere, so I mixed regular hot cocoa mix with peanut butter baking chips that had been ground finely in the food processor.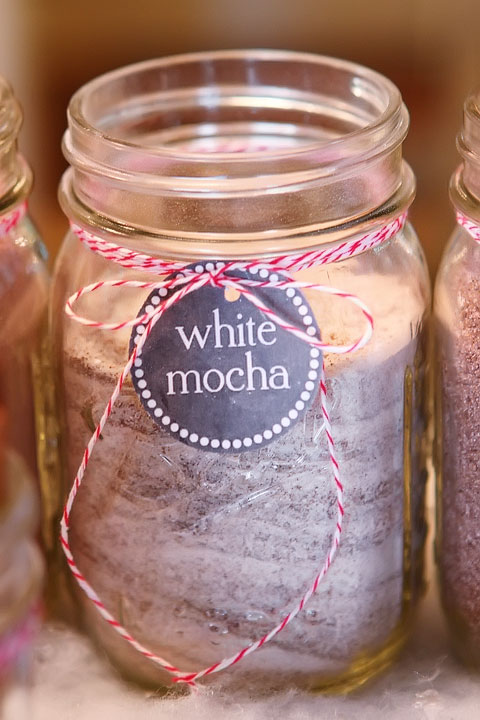 I loved the snowy look of this White Mocha Hot Chocolate!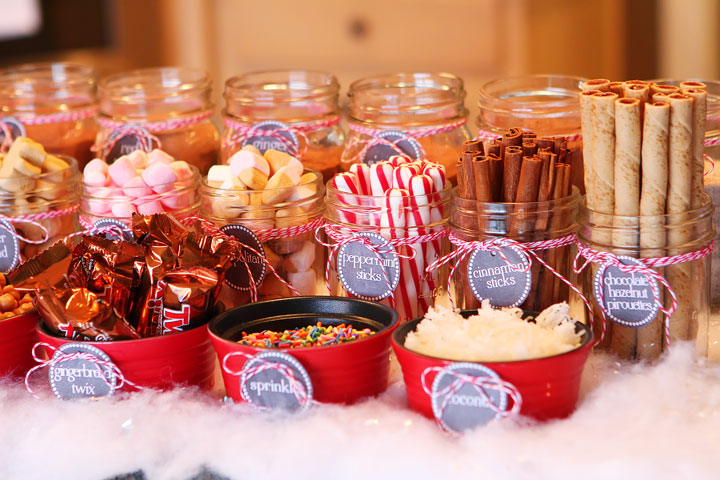 Add your cocoa mix and milk and choose a stirrer if you wish — a peppermint stick, cinnamon stick, or a chocolate hazelnut pirouette :) The pirouette gets all chocolaty, and then you can eat it ;)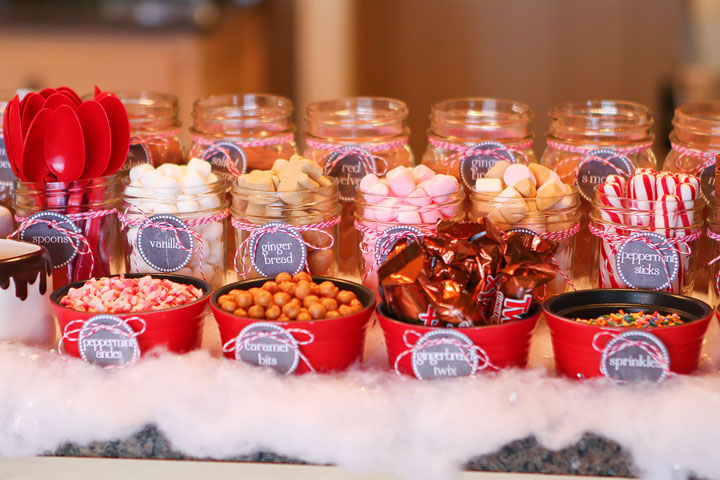 Kevin's favorite was the dark hot chocolate with Peppermint Andes chips mixed in and stirred with a peppermint stick. The Peppermint Andes melt in the hot chocolate and makes the perfect Peppermint Hot Chocolate! :) My favorite was the Red Velvet topped with whipped cream, drizzled with homemade caramel sauce and garnished with a chocolate hazelnut pirouette. Swoon!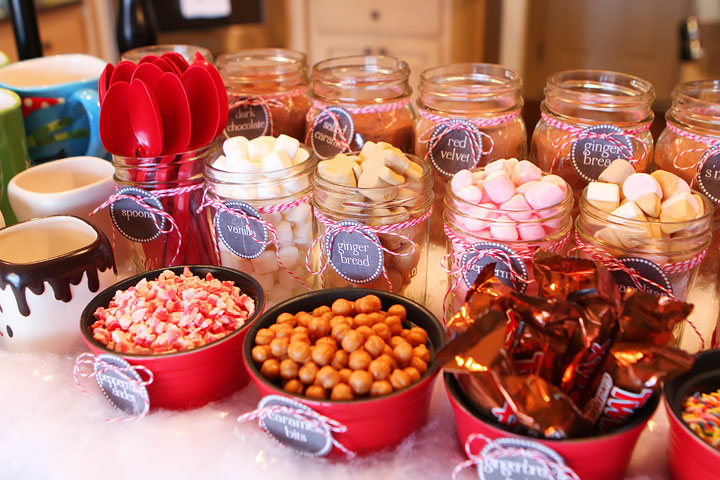 Don't forget the marshmallows! :)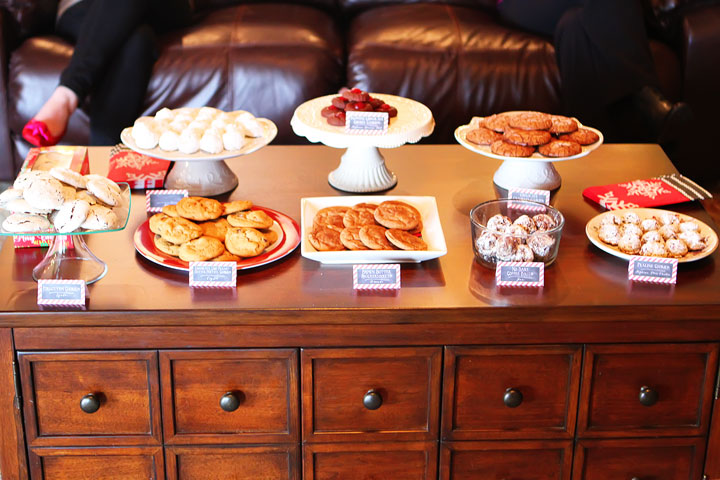 Here were all the delicious cookies from the cookie swap. We each brought an extra dozen to snack on during the party. I set them out on my living room coffee table so we could sit around and chat and eat cookies. ;) I made these Brown Butter Snickerdoodles for the swap.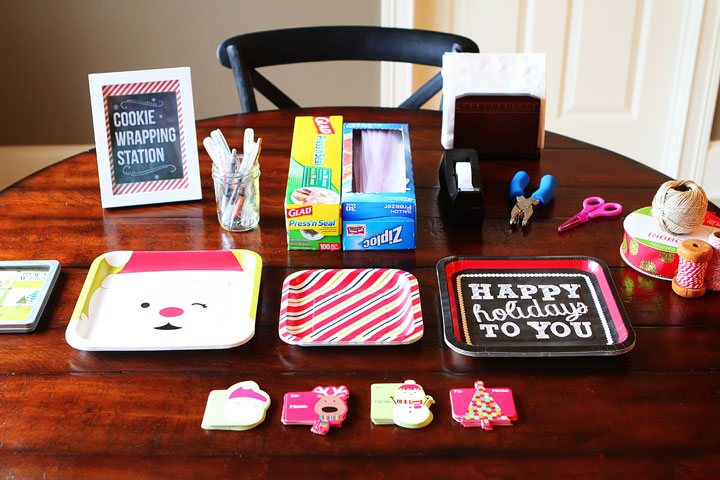 I also set up a cookie packaging station with festive holiday plates, tags, glitter pens, plastic wrap, Ziploc bags, tape, scissors, ribbon, twine, and a hole punch. And napkins, in case our hands got all sugary from the cookies! ;) We all brought any extra cookies we had that didn't get swapped and went around the table making "sampler platters" that we could wrap, decorate, and label right then and there to share with friends and family.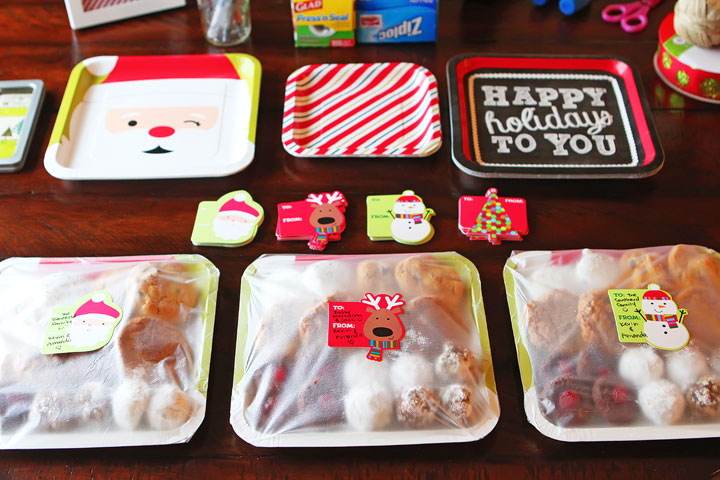 Instant holiday gifts to drop off to neighbors! :)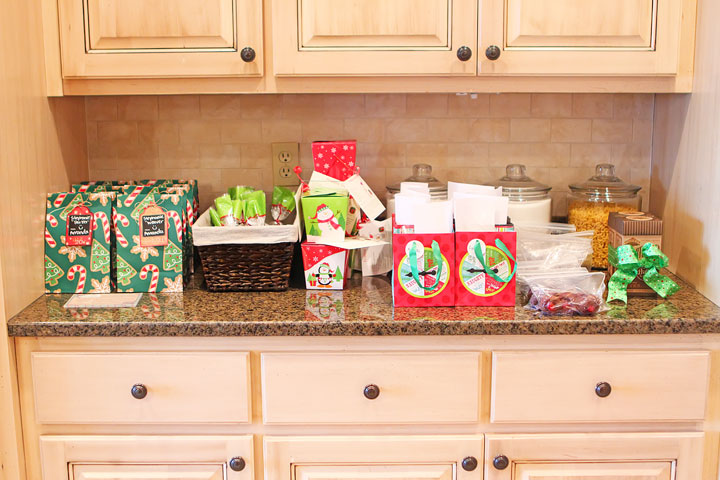 Everyone brought their cookies to be swapped already wrapped, labeled, and with a copy of the recipe attached.
I think this was our most delicious meetup yet. ;)
We had so-so-so much fun at the hot chocolate bar and cookie swap party! Here are some tips if you want to host your own ultimate holiday cookies and cocoa party! :)
Tips for Hosting a Cookie Swap
Ask each guest to make 6-12 cookies for every person in attendance, plus an extra dozen for sampling during the party. It's helpful to have guests RSVP with the type of cookie they're making to avoid duplicates. We brought our cookies to swap packaged for each individual with a copy of the recipe and labeled with their name for easy swapping.
Create folding place cards to display in front of each plate of cookies, so you know which cookie is which. Label them with the name of the cookie and who brought them.
Set up a packaging station so guests can take home holiday cookie plates to drop off to friends, family, and neighbors. Consider including festive holiday plates, tags, pens, plastic wrap, Ziploc bags, tape, scissors, ribbon, twine, a hole punch, and napkins.
On the day of the party, have a a few tables set up for sampling, swapping, and packaging cookies. I set out a few fun cake stands for us to use at the sampling table.
Hot Chocolate Bar Ideas
Keep water or milk hot in a Drink Dispenser.
Marshmallows
Marshmallows
Gingerbread marshmallows
Peppermint marshmallows
Neapolitan marshmallows
Toppings
Peppermint Andes chips
Caramel Bits
Sprinkles
Coconut
Whipped cream
Chocolate syrup
Homemade Caramel Sauce
Stirrers
Peppermint sticks
Cinnamon sticks
Pirouettes
Printables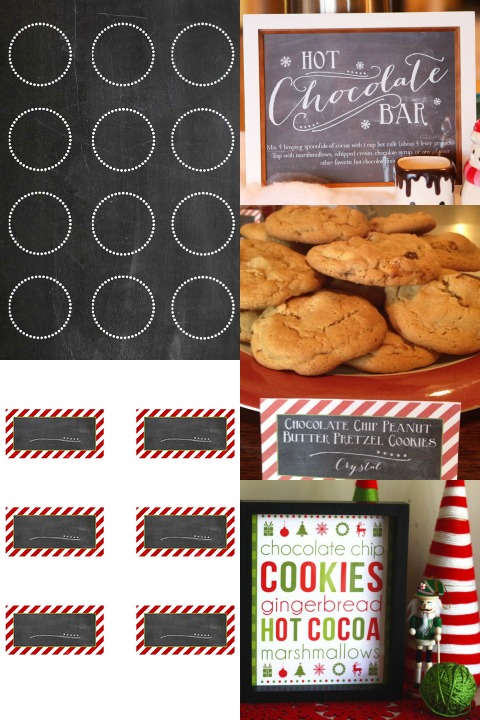 Hot Chocolate Bar Sign from Yellow Bliss Road
Blank Dotted Circle Labels for Hot Chocolate Bar
Cookie Swap Place Cards
Cookies & Cocoa Christmas Party Printables from Catch My Party — I didn't use these but I thought they were cute! :)
Fonts Used
Birmingham Titling (Hot, Bar on the Hot Chocolate Bar Sign, cookie title on the place cards)
Bombshell Pro (Chocolate on the Hot Chocolate Bar Sign, baker's name on the place cards)
Quaver Serif (Hot Chocolate Bar Labels)
Recipes
Here are a few of the cookie recipes we swapped at the party:
Praline Cookies brought by Plain Chicken
Chocolate Chip Peanut Butter Pretzel Cookies brought by Miss Crystal Makeup
Forgotten Cookies brought by Southern Kissed
No Bake Coffee Balls brought by Sweet T Makes Three
And here are some of my other favorite cookie swap cookie recipes! :)
Secret Ingredient Christmas Cookies from Kevin and Amanda
Brown Butter Snickerdoodles from Ambitious Kitchen
Brown Butter Soft Batch Style Gingersnaps from Picky Palate
Brown Sugar Toffee Cookies from Two Peas and Their Pod
Salty Pretzel Chocolate Chips Cookies from Cookies and Cups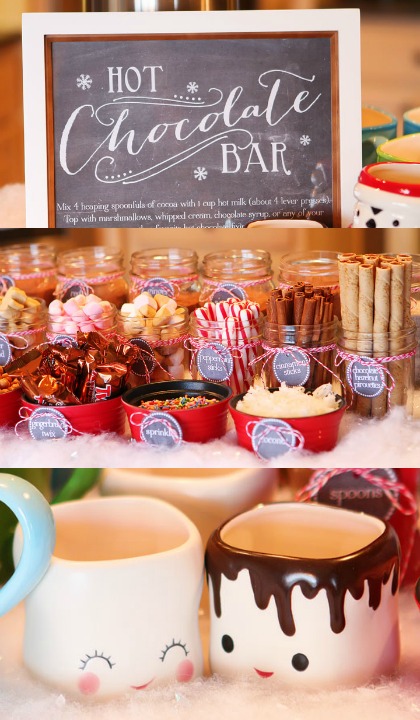 What combination of hot chocolate and toppings would you try first?? :)
Thanks so much for looking!! Have a great week!! :)