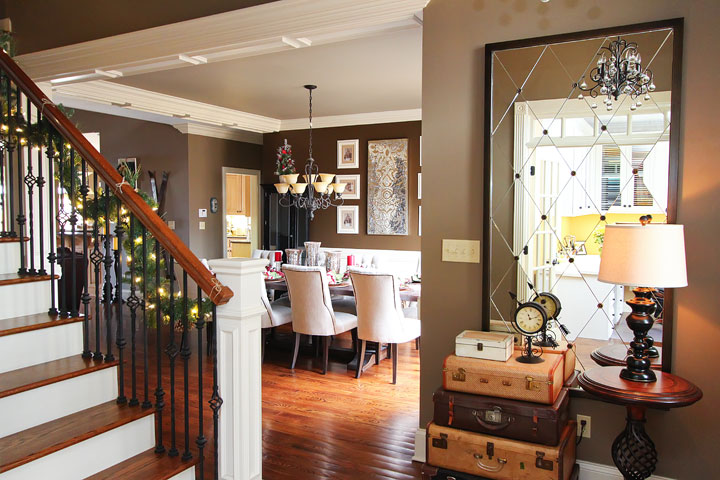 Welcome! :) I am so excited to share a Christmas tour of our home with you today. I love this time of year. All the holidays, the lights, the music, the merriment, the fun decorations, seeing family, parties with friends, and baking cookies for neighbors. Especially baking. ;)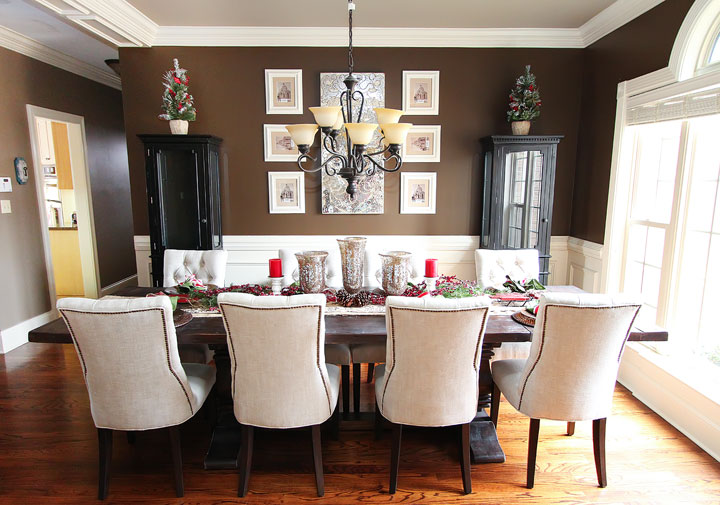 Here's a peek at our Christmas dining room table. It's the first thing you see when you come in.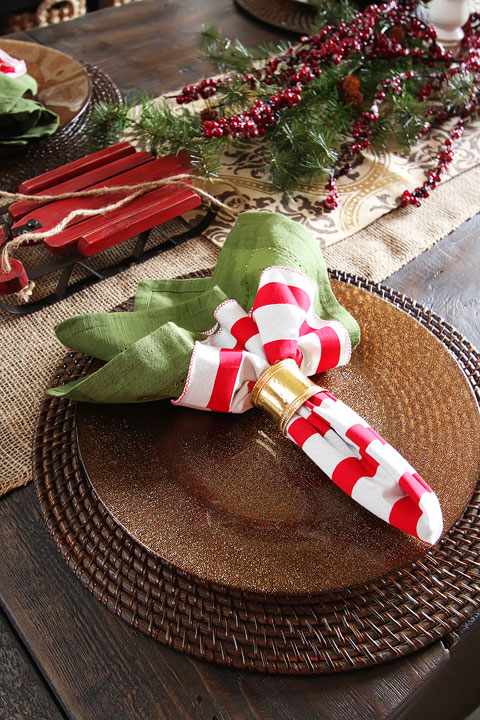 I started with these fun candy cane striped napkins from Pier One. Love them!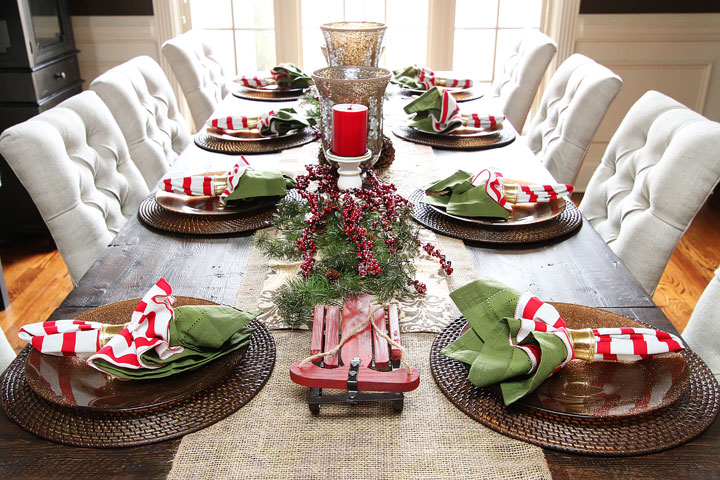 To turn our Fall Dining Room Table in to a Christmas table, all I changed out were the napkins and center foliage, then I added two red candles, and swapped the pumpkins for mini red sleds.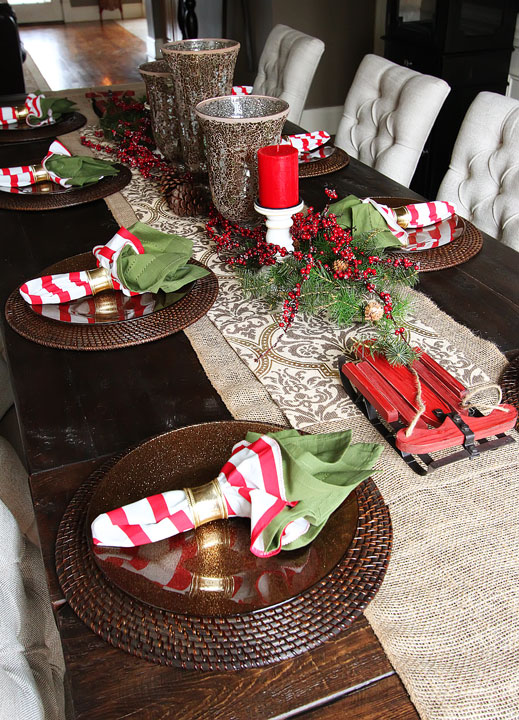 I re-used the versatile neutral pieces from our fall table like the place mats, chargers, napkin rings, table runners, vases, and candle holders. So easy to go from Fall to Christmas!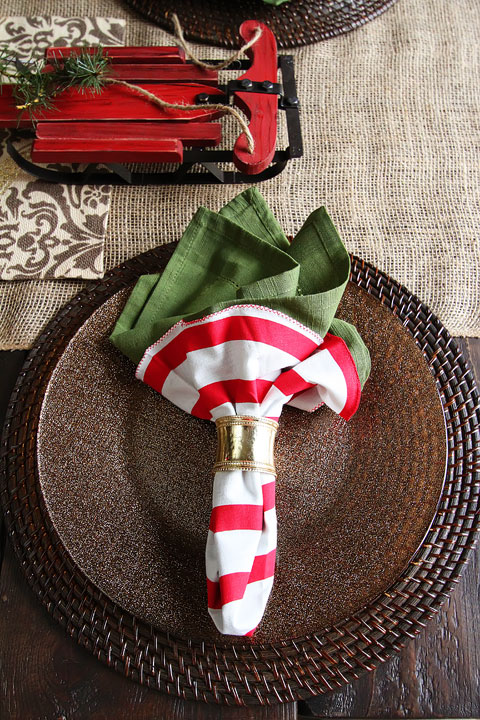 Cutest little mini red sled, from Hobby Lobby. :)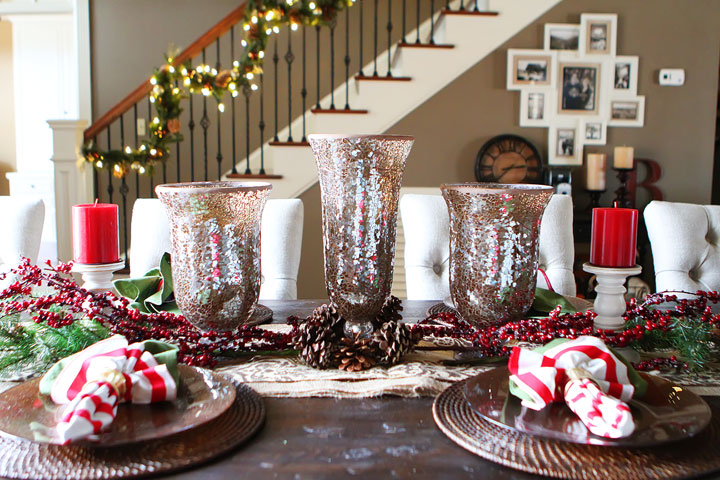 Here's a view of the centerpiece vases and the staircase from the table.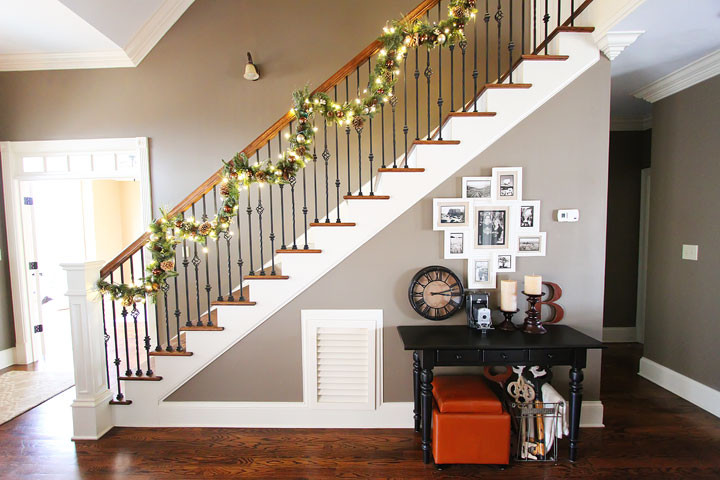 And another view of the staircase and gallery wall. We tied on the garland and Kevin strung the lights.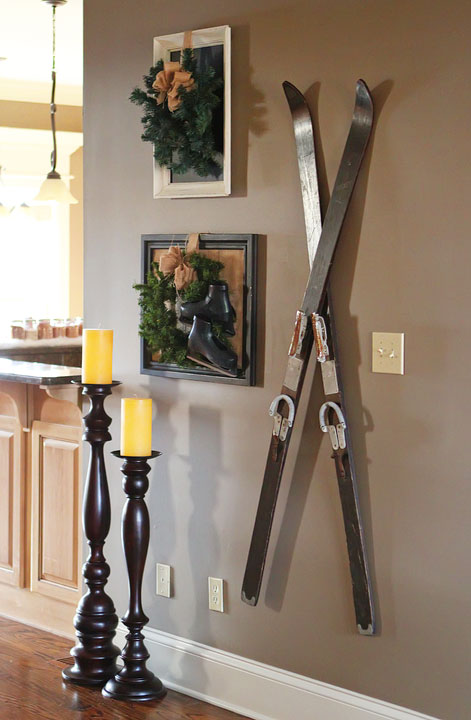 We have this big blank, empty wall in the living room that I've been trying to decide what to do with. For now, it's all decked out for Christmas. When I saw these vintage skis and frames at our local antique store, I knew they'd be perfect here. I wish I could leave them up year round!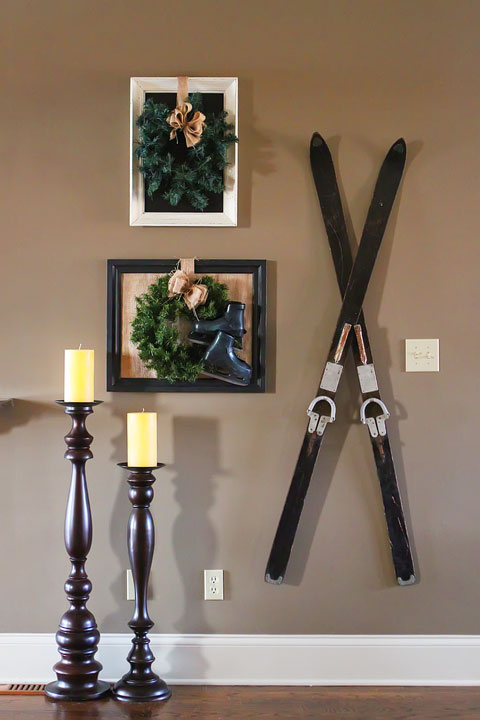 It's definitely inspired me to get something up on this wall. It's going to feel so lonely when they have to come down!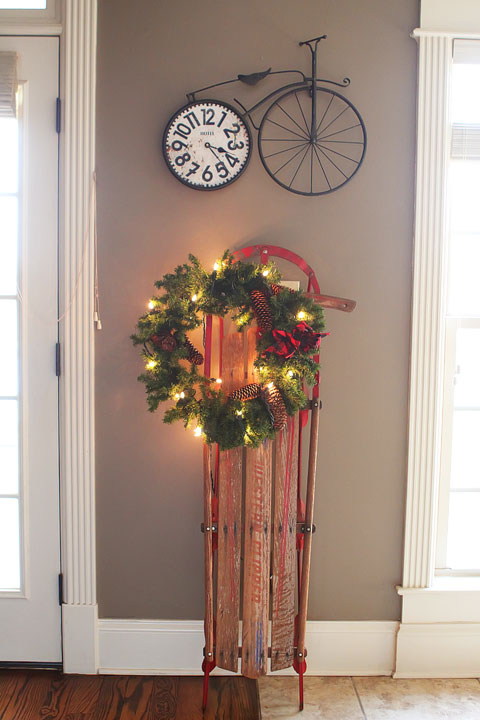 No, this is the cutest little red sled. :) And a quirky bicycle clock. :)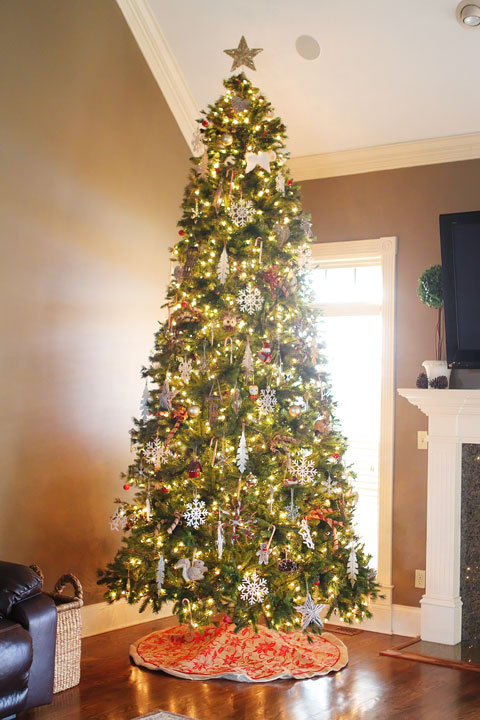 And finally the tree! :) When we first moved in Kevin was so excited at the vaulted ceilings. One of first things we bought was the biggest Christmas tree he could find, lol! :) Decorating the tree while watching a Christmas movie is one of our favorite holiday traditions. :)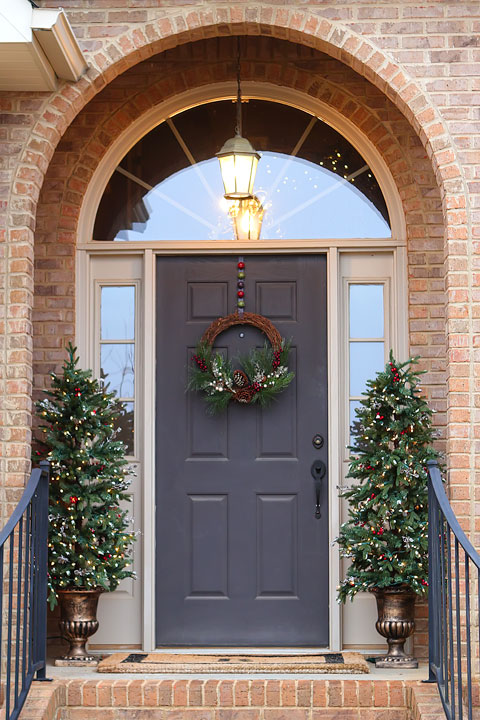 More Details and Room Makeovers
More details about each room and a source list (like paint colors, or where we bought certain things) can be found below:
The Office / Scrapbook Room
Fall Dining Room Table
Dining Room
Photo Gallery Wall
Pantry Makeover
Foyer Makeover
Source List
Living Room Paint Color — Sherwin Williams Virtual Taupe
Mini trees on top of cabinets — Pier One
Candy Cane Striped Napkins — Pier One
Green Napkins — Pier One
Center Foliage — Hobby Lobby
Mini Red Sleds — Hobby Lobby
Red Candles — Pier One (but now I want these! :))
Garland on Staircase — Pier One
Vintage Skis — University Pickers
Frames with wreaths — University Pickers
Sled with wreath — University Pickers
Giant Floor Candle Holders and 3×6 pillar candles — Pottery Barn (just saw these at Pier One too)
Bicycle Clock — World Market
12-foot Pre-Lit Christmas Tree — Hobby Lobby
Outdoor wreath — Target (last year)
Jingle bell wreath hook — Target (this year)
Lighted Porch Mini Trees — Lowes
Monogrammed Door Mat — Pottery Barn
Check the Room Makeovers links above for anything not listed here.
Thanks so much for looking!! Come back soon!! :)