We *love* pasta around here- I have to admit, it's pretty much my favorite food on the planet. But then if you've ever been over to the Favorite Recipes section of kevinandamanda.com, you probably already knew that! :) I've always wanted to make my own fresh pasta from scratch – I would love to make my own specialty flavored pastas… with yummy combinations like garlic & herbs (fresh from the garden!), roasted red peppers or tomatoes (fresh from the neighbor's garden – what a fun red color this pasta would be!), or how about a speckled, lemon pepper pasta (in a light cream sauce with chicken or shrimp?? Or lightly buttered next to a steak! :)) and ooh, maybe some kind of spicy chile pepper pasta?? I'm thinking pepperoncinis or jalapenos would be perfect. :) Or for fall – a fun, bright orange, harvest spiced, pumpkin or sweet potato pasta?? I could go on. And on. Or, or – get this – a sweet, chocolate *dessert* pasta to serve with ice cream, whipped cream and strawberries. *dying a thousand little deaths*
But I'm getting ahead of myself here… :)
I was so, so thrilled when Bertolli (yes, that Bertolli! :)) contacted me and asked if I'd like to try making my own pasta. It's like they read my mind. Um, yes! :) Definitely! :)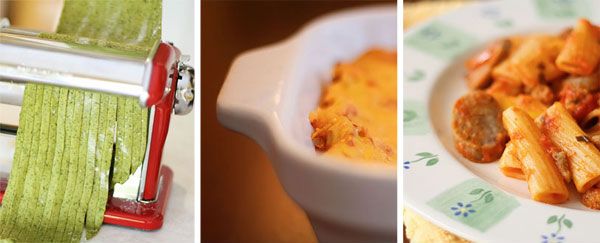 Three short days later, a beautiful pasta prize package showed up at my door. They sent an Imperia Pasta Machine (to make my first experience with rolling & cutting pasta dough a snap), an Emile Henry Lasagna Baker (for baking all my favorite pasta dishes to perfection- lasagna, macaroni & cheese, baked penne with roasted vegetables…), and a coupon for a free Bertolli Frozen Meal (for nights when I don't have time to make my own pasta! :))
I was in heaven. I started with a recipe for homemade basil fettuccine to use with my brand spankin' new pasta machine.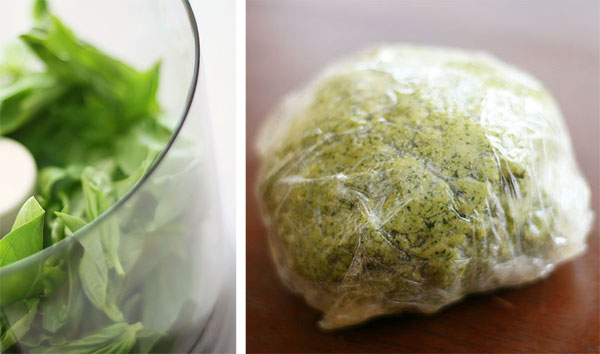 Oh man. I cannot even begin to tell you how unbelievably fantastic this smells right now.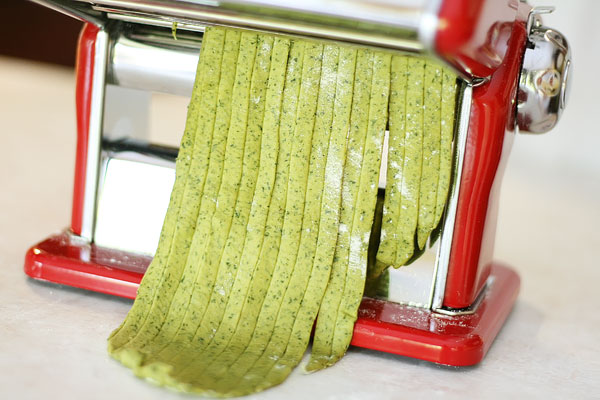 It rolled out and cut really easily – it was not as hard as I was imagining!! :)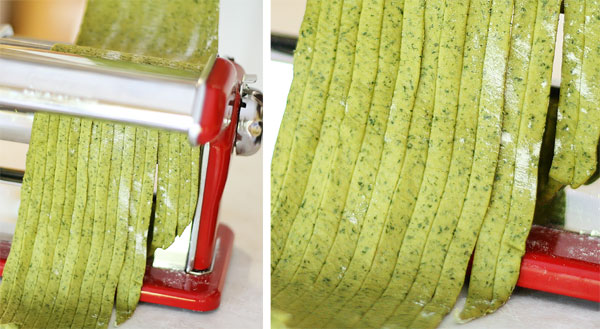 And the really cool thing – I was so surprised – when you get done cutting, you just kind of throw in into a pile. And then you dump that pile into the boiling water. And it all works out perfectly. It doesn't stick or clump together. I was amazed. It was… simple.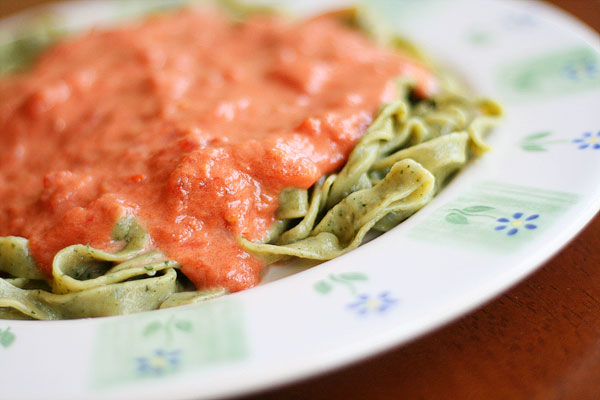 Okay. Again. I cannot even begin to describe how good this smelled. Or tasted! :D The basil… *faints.* I wanted to eat the noodles just plain.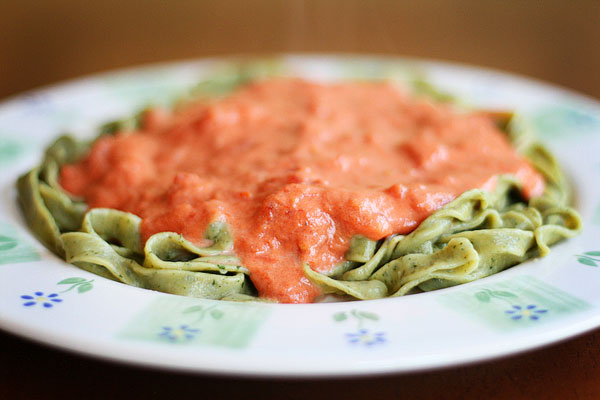 And it's green! :) Love it – so fun! This should be the official dish of Christmas. This pasta making thing was a blast – I'm seeing this as a weekly occurrence now. I have lots of flavor combinations to try. :D
You have got to try making your own pasta- got, got, got to! :)
Oh! I cannot wait to make this again towards the end of summer when all my bell peppers and herbs are taking over the garden! :)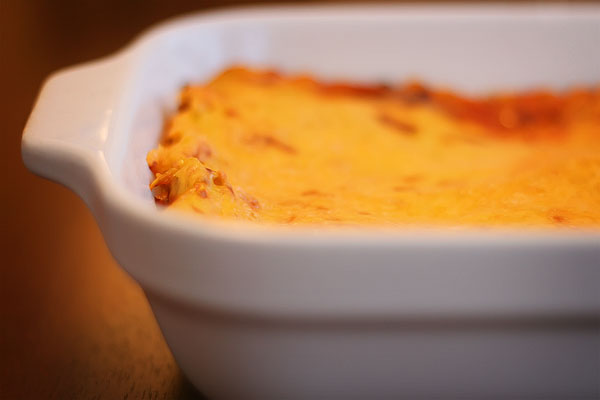 Next I tried our favorite lasagna in the ceramic lasagna dish they sent. It's so cute – it's a little bigger than an 8×8 dish, but not as big as a 9×13. It's the perfect size for 4-6 servings. Our favorite lasagna isn't fancy, but since neither of us really care for ricotta cheese, this recipe is just perfect for us. And simple, easy to keep on-hand pantry items make it a quick & easy weeknight meal – not to mention delicious! :)
Kevin & Amanda's Favorite Lasagna

1 can cheddar cheese soup
1/4 cup milk
1/2 pound ground beef
1/2 lb sausage
2 cups spaghetti sauce
4-6 oven-ready lasagna noodles
1 cup shredded cheese (cheddar, or your favorite combo!)

Preheat the oven to 400°F. Combine the soup and milk in a small bowl until the mixture is smooth. Set aside. Brown the sausage & ground beef together and drain off the fat. Stir in the spaghetti sauce.

Layer the lasagna in this order: 1/2 meat mixture, noodles, 1/2 soup mixture, remaining meat mixture, noodles, remaining soup mixture, then top with shredded cheese.

Cover the baking dish with foil and bake @ 400 for 20 minutes. Remove foil and bake for another 10-15 mins until cheese is melted & bubbly. Let stand for 10 minutes before serving. (If you can wait! ;))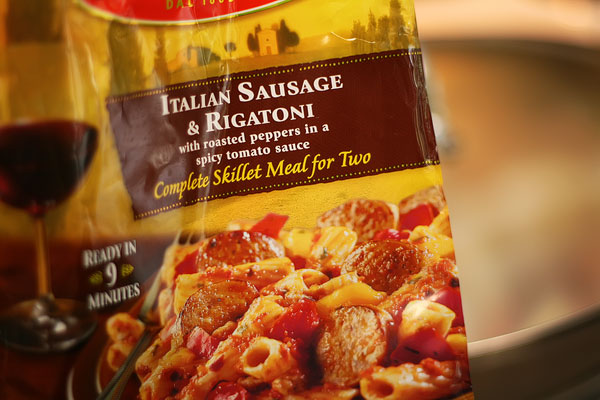 The next night we used our coupon for a free Bertolli Frozen Meal for two – Sweet! Dinner on Bertolli tonight! :D
BTW, we ate good this week, huh.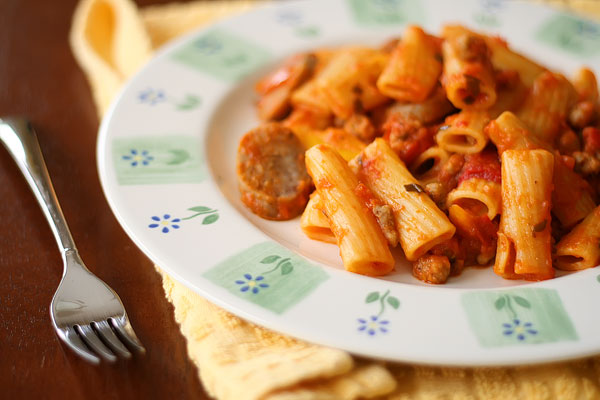 2 extremely generous portions, only 500 calories each, ready in 9 mins, only messes up 1 dish – perfect for a quick dinner after a long day of kayaking! :)
Add a salad and bread and you've easily got dinner for 4.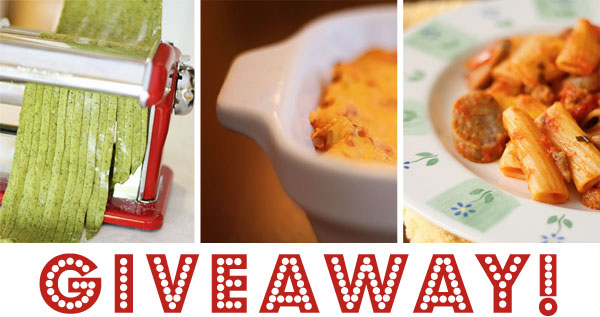 Okay, so, I promise I'm not just torturing you! :) Bertolli wants to send one kevinandamanda.com reader a Pasta Prize Package of their own!
Time's Up! We have a winner!!! :)
Congratulations to commenter #212 Charlene!!

Now you can make your own homemade fresh pasta from scratch any time you want! :) Enjoy! :)
***
The winner will receive a Pasta Prize Package valued at $125 from Bertolli that includes:
* Imperia Pasta Machine
* Emile Henry 2.5 Quart Ceramic Lasagna Baker
* A coupon for a free Bertolli Frozen Meal for two that will transport you to Italy in just 10 minutes.
To Enter the Giveaway…
All you have to do is leave a comment on this post! :) What's your favorite Italian dish? Or, what's your favorite Italian recipe?? And – you know what I'm about to say next, don't you? You better share that recipe with me! :D Or, have you ever made your own homemade pasta?? :) And – do you know what I'm about to say next?? ;)
*Unfortunately, because of the weight of this prize package, Bertolli is only able to ship to entrants within the United States.
Contest Ends Saturday, April 24th at 8pm CST.
***
BTW, did you know Bertolli has a series of webisodes featuring Marisa Tomei, Chef Rocco DiSpirito and Dan Cortese? Check out this newest one, "The Secrets of the Pollaio" – Marisa, Rocco and Dan track down Italy's "Egg Man" and use his special eggs to make their own pasta – just like me! :)
There is actually one really crazy part – I gasped!! :O
***
Good luck!!! :)