We had a fantastic time visiting Blue Ridge, Georgia last weekend! Check out the beautiful views we witnessed and our favorite stops to make in Blue Ridge!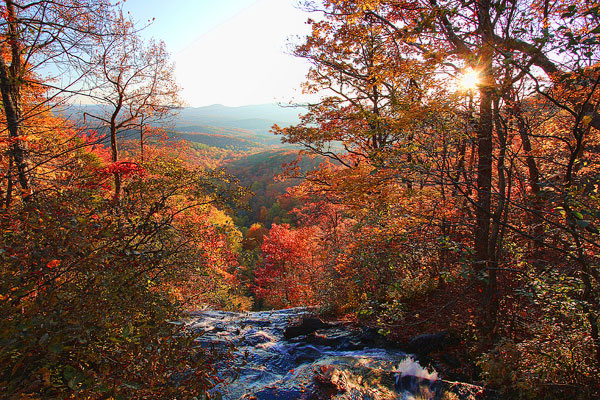 A Great Place for an Autumn Getaway
Last weekend Kevin and I spent a few days  in the beautiful, quiet mountains of Blue Ridge, Georgia.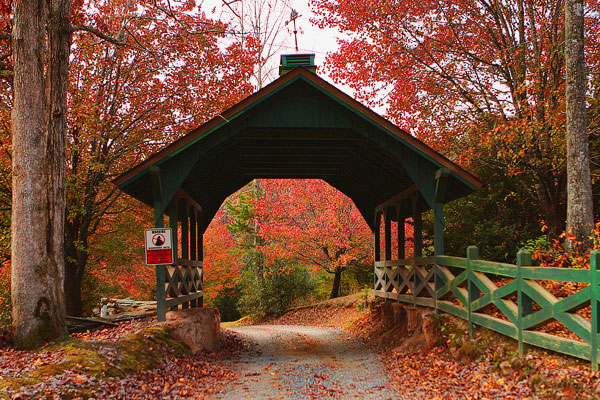 I love the town of Blue Ridge. It's small. It's quiet. And it's beautiful! And there is tons of yummy hometown food and fun shopping.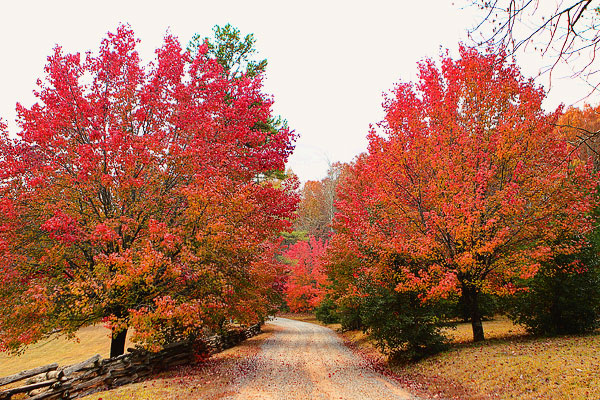 We try to get there at least every couple of years or so, but I've never been in the fall. I knew that was something I wanted to remedy as soon as humanly possible.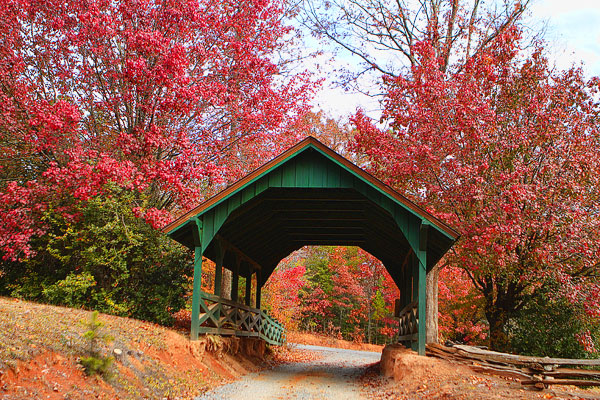 Kevin has every other Friday off, so last week when we found ourselves with a free weekend falling on one of his Fridays off, we booked ourselves a last minute cabin rental for the three day weekend. This was the cheerful covered bridge on the dirt road leading to our cabin.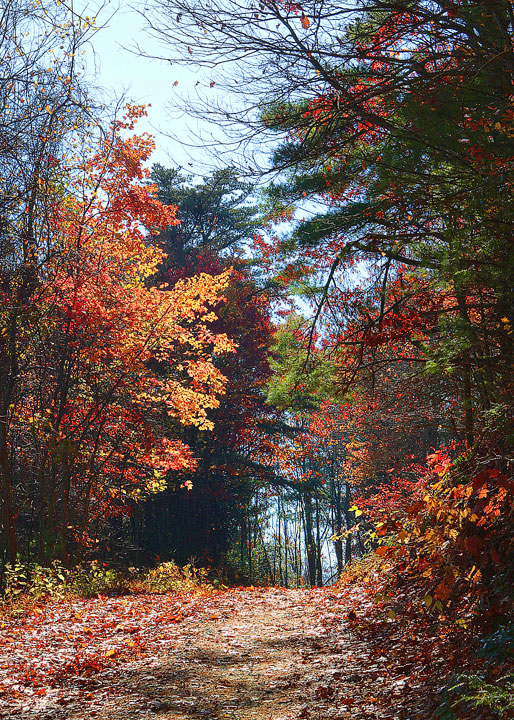 Blue Ridge in the fall absolutely took my breath away.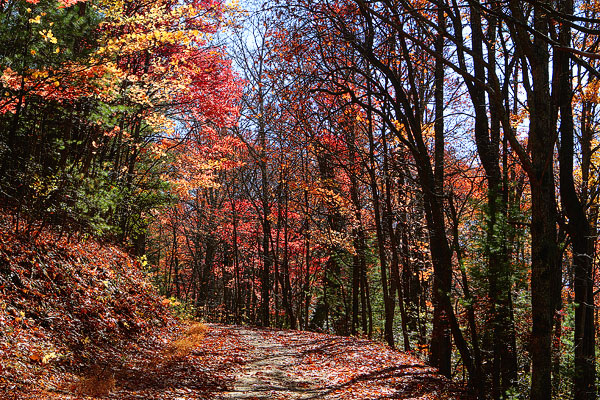 Sightseeing in Blue Ridge, Georgia
Saturday morning we took a drive up the mountains on some curvy, narrow dirt roads. What's better than a weekend drive up a mountain? When that mountain is surrounded by the beautiful fall foliage of Georgia!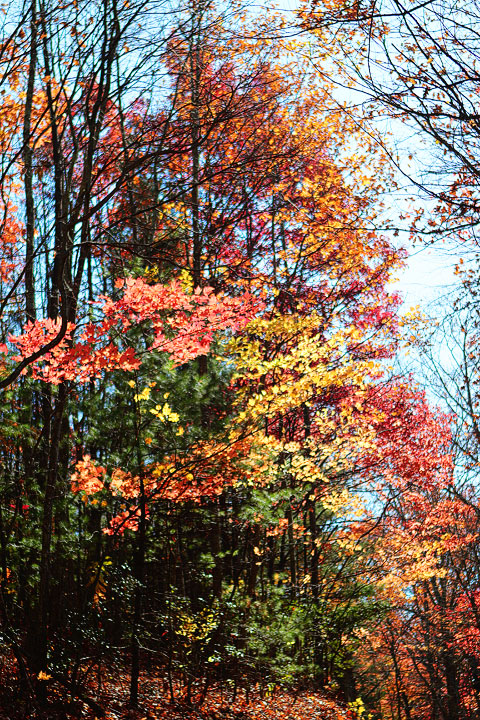 The trees were amazing!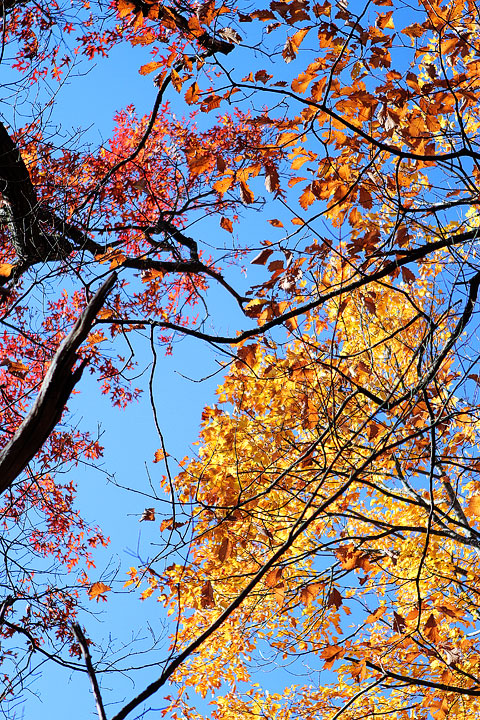 I couldn't stop snapping photos of all the fiery colors.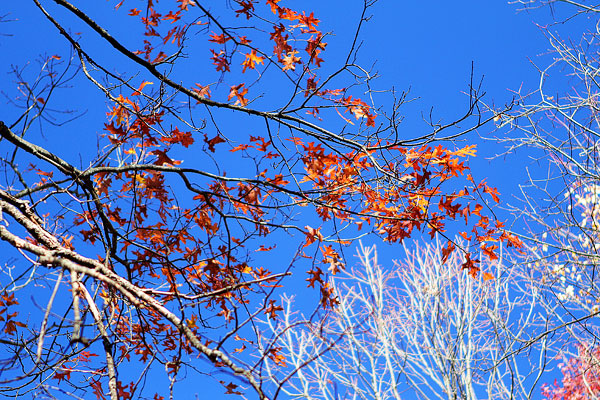 Sun roof view.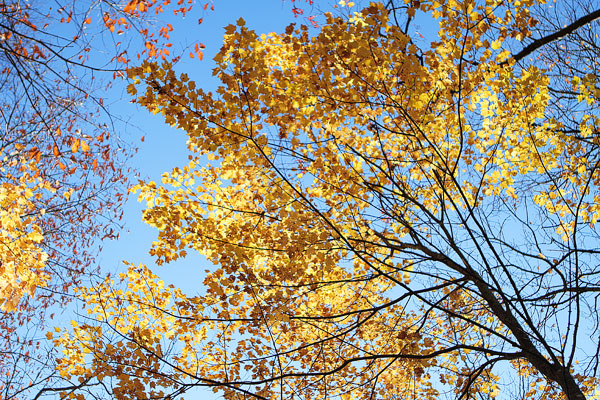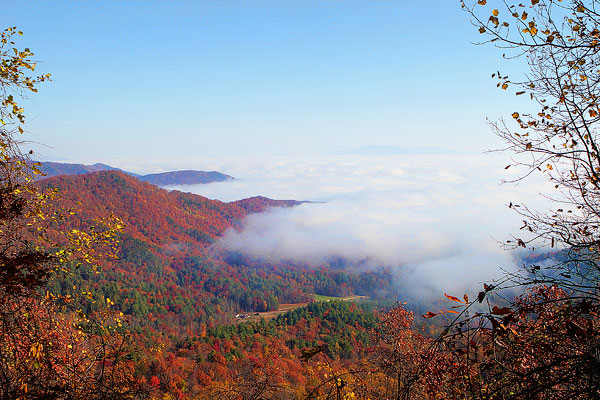 If you can believe it, we started out at the base of this mountain and drove through all that fog. It was so foggy down below, we just thought it was going to be an overcast day. But when we reached the top and got above the fog, the sky was completely clear and sunny!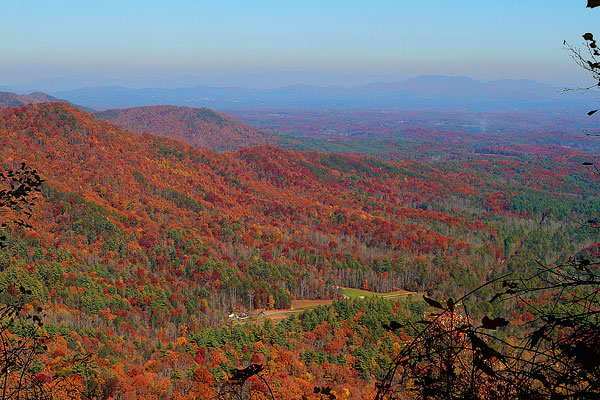 Here's what it looked like by that afternoon — all the fog had totally burned off.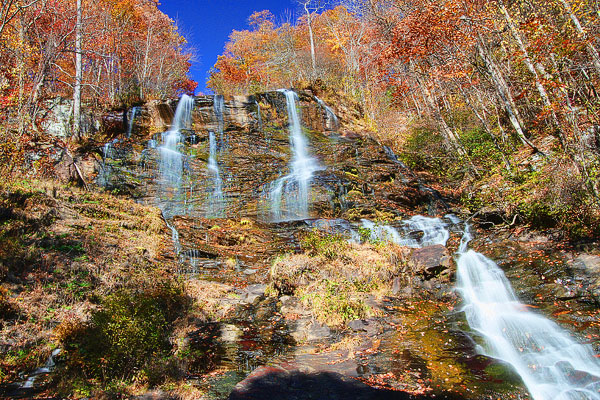 Saturday afternoon we drove down to Amicalola Falls State Park.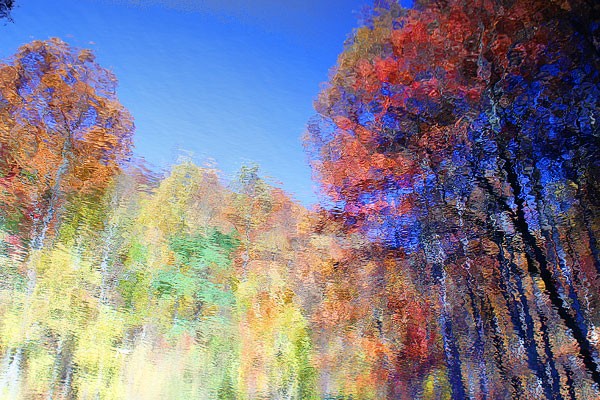 I loved this reflection pool at the base of the falls!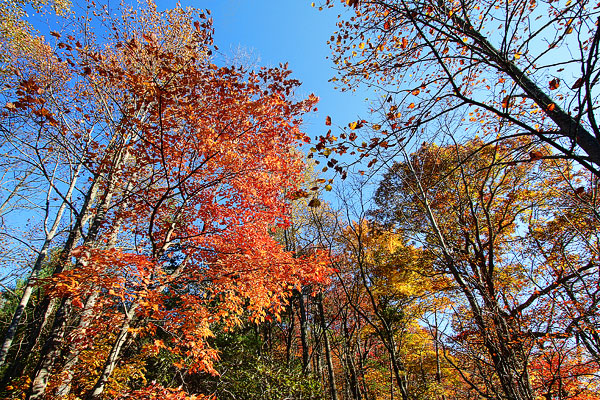 We saw a paved path to the top of the falls, and it looked like an easy walk, so we decided to take it.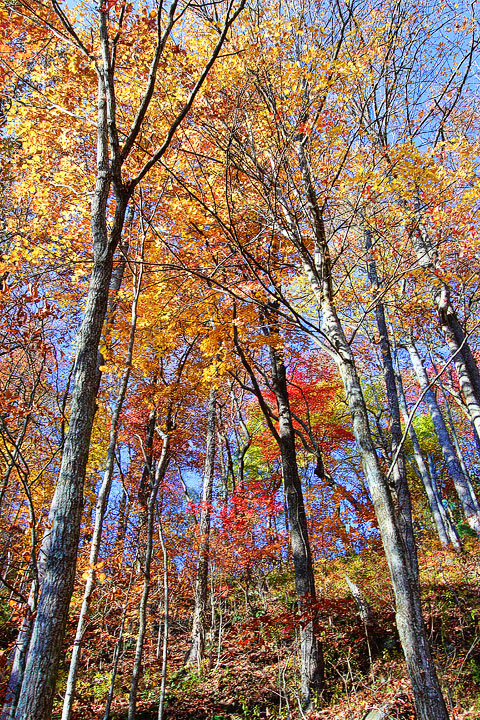 Little did we know, it was straight up!!
(By the way, I am in love with this rainbow tree here!)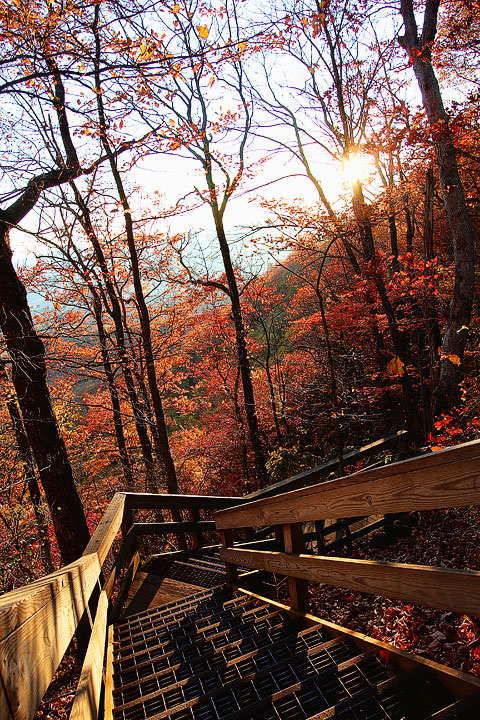 And at the end of the straight up path, there were steps. Six hundred of them.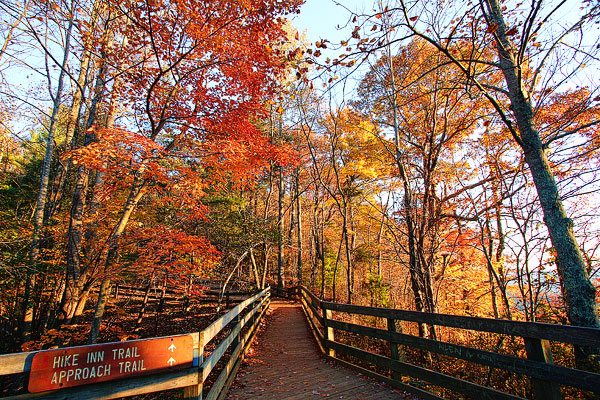 And of course, when we got there, we realized…. we could've driven there. Doh.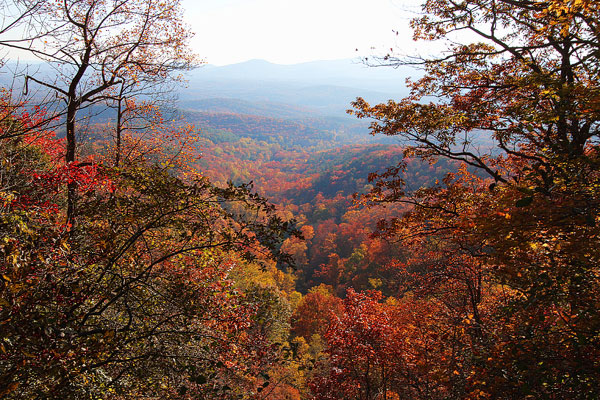 But the view from the top was absolutely worth it.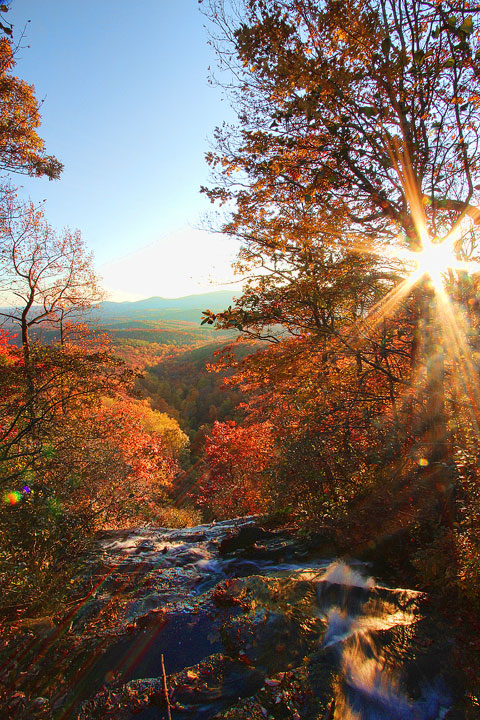 Normally I use my lens hood to avoid flare like this. But sometimes I think it's kinda cool.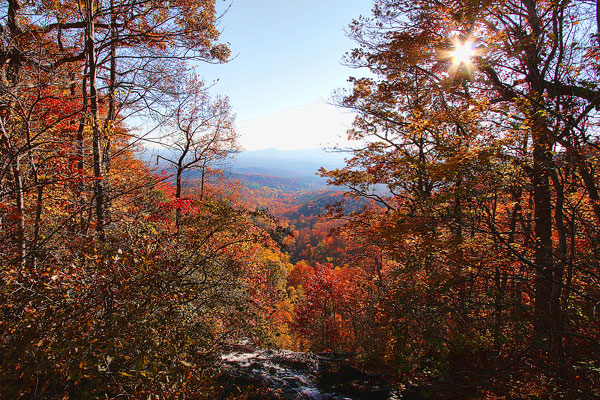 I think I've discovered that a slow shutter speed creates that cool starburst effect in lights. Notice the difference between this starburst and the one above, then click on the photos to see their shutter speeds. The slower the speed, the bigger the burst!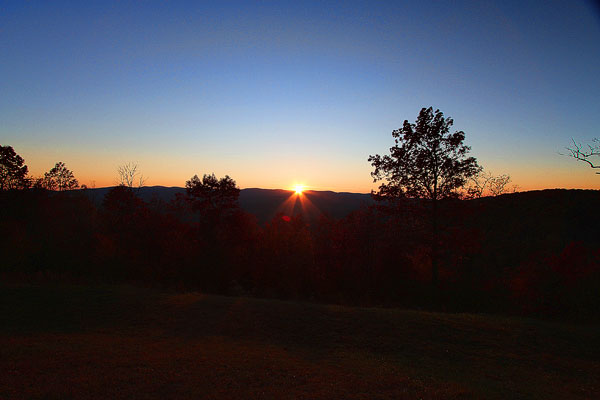 After hiking back down the mountain, and back down those 600 steps to our car, we drove a little further up to watch the sunset over the mountains.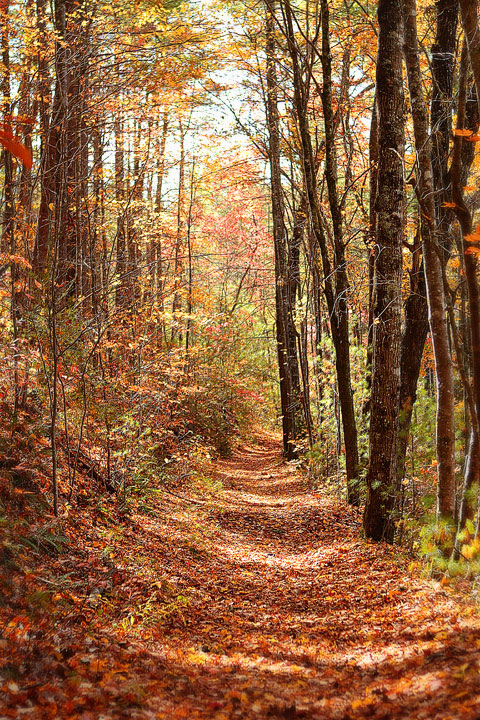 Our Favorite Blue Ridge Hiking Trail
The next day we headed to one of my favorite trails, the Jacks River Falls trail. It's a 4.5 mile easy one-way hike to the falls on an old railroad bed. Four miles might seem a little long, but it's an absolutely gorgeous hike. Totally worth seeing. Here's a map of our hike. Kind of cool to see our route, pace, and elevation.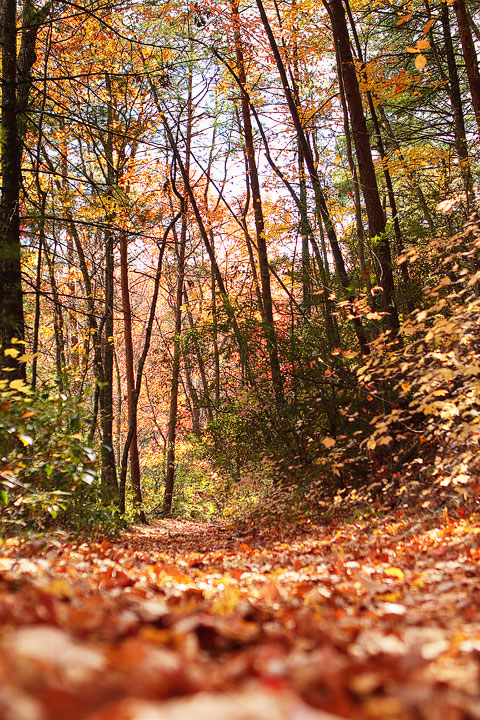 I love our colorful, dreamy, leaf-lined path.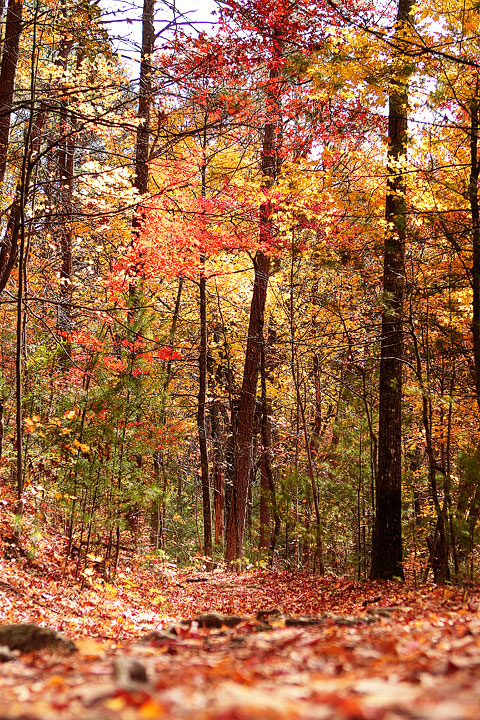 And the canopy of color all around us.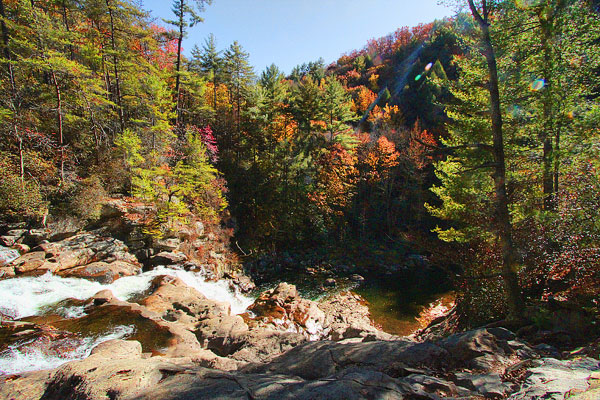 Here's what was waiting for us at the end of the hike.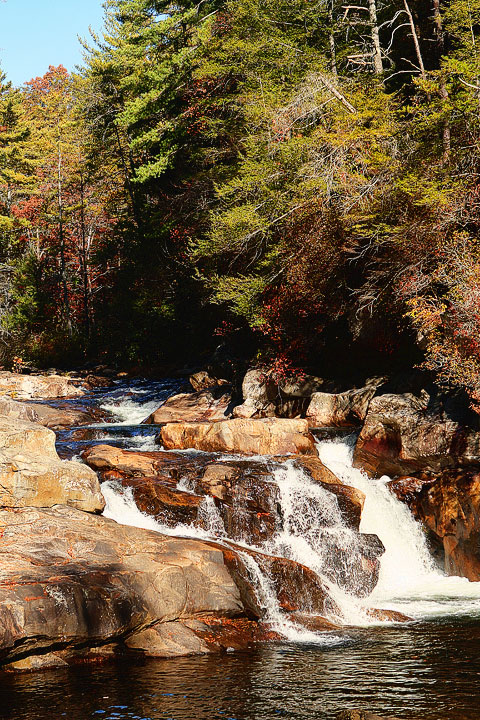 Jacks River Falls has an upper falls and a lower falls. Here's the upper falls.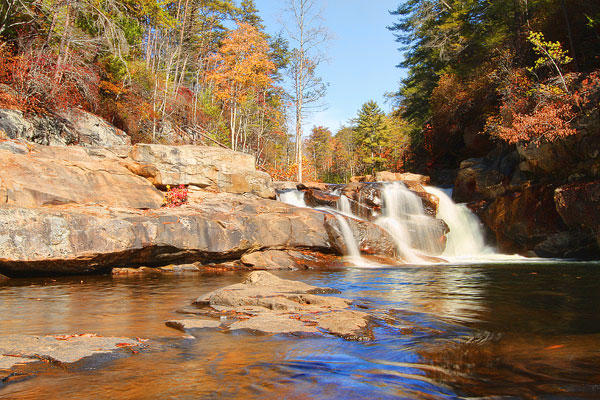 You can walk right up to it, and in warmer weather wade right up to the falls.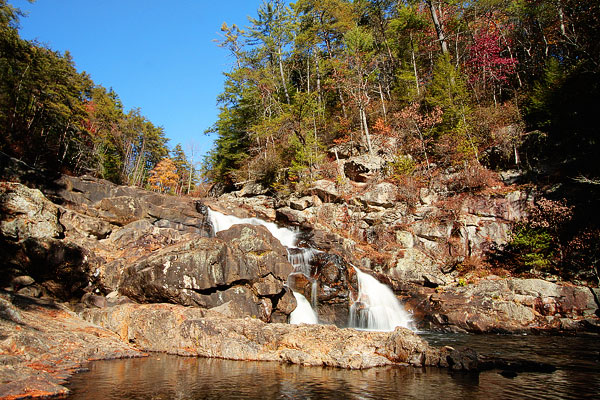 Here's the lower falls. You can climb all over the rocks and get as close to the falls as you dare.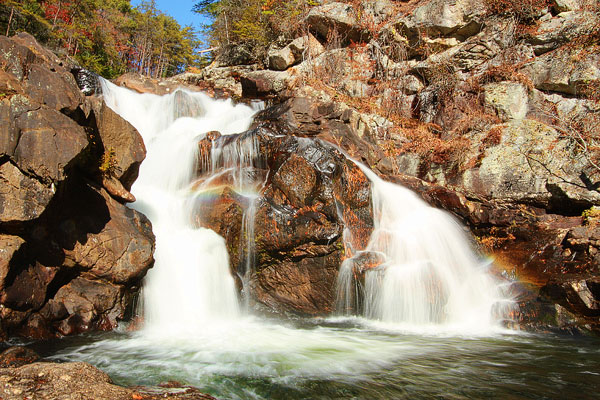 So pretty.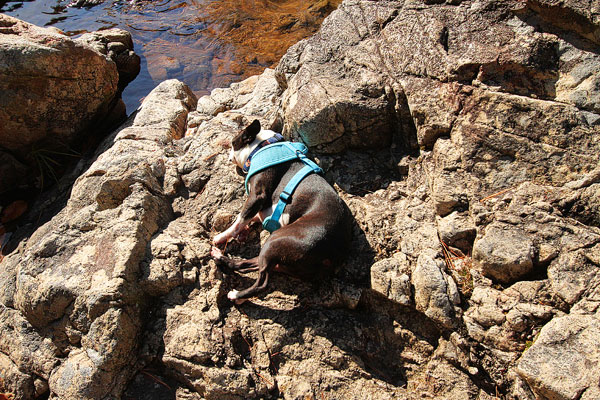 Evidently we had some pretty tired pups at this point!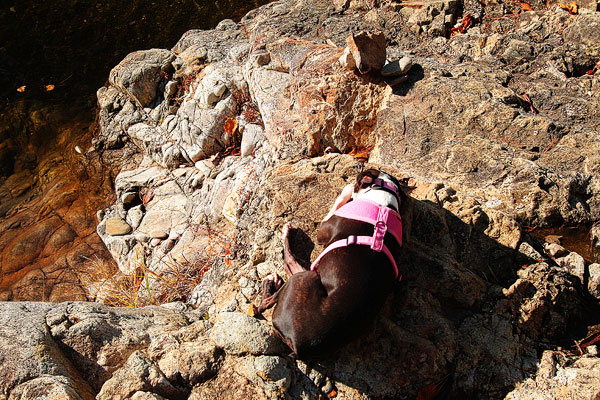 How pitiful are these two?? Not even a bed to sleep on.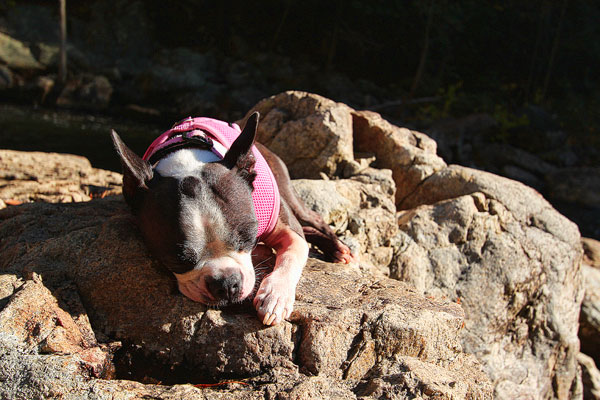 Nevertheless, they sought respite where ever they could find it.
They also got some peanut butter to restore their energy for the hike back. Remember what Miley and Howie got for Christmas?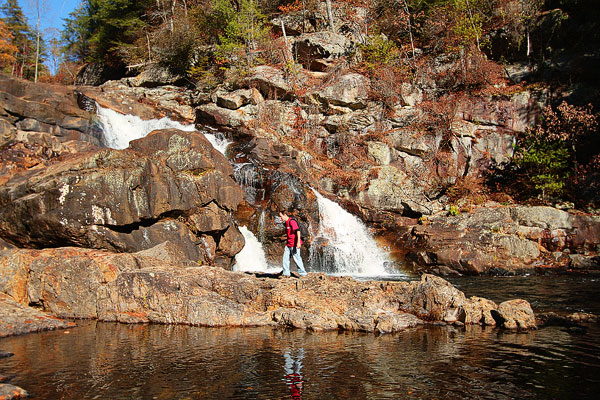 Ready for the hike back!
 Thanks for joining us! Hope you enjoyed this little peek into Blue Ridge!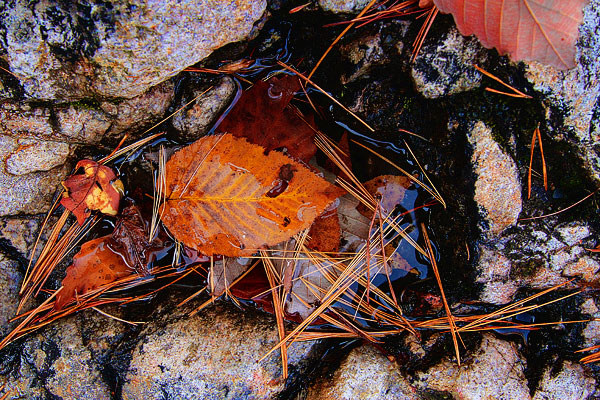 The Best Things to Do in Blue Ridge, Georgia
Where to Eat in Blue Ridge
Blue Ridge Brewery
Fabulous food here! Make reservations early in the day for dinner.
Cucina Rustica
Italian. Very romantic. I can't say enough good things about how incredible our dinner was here. Make reservations.
Harvest on Main
Rustic lodge setting. Totally worth checking out. We ate here last year when we were in Blue Ridge. Make reservations for dinner.
L&L Beanery
Fun little coffee shoppe and bakery with an attached restaurant. Check this place out for breakfast & brunch!
Mercier Apple Orchards
Whatever you do, do not leave Blue Ridge without trying a fried pie from Mercier! My favorite is the banana. They also serve breakfast & lunch here. I so wanted to try their apple bread french toast.
The Sweet Shoppe
Cupcakes! Need I say more? My review on these cupcakes is coming on Thursday! You'll be surprised at which one was my favorite. I was.
The Chocolate Express
Fresh fudge, chocolates, and caramel apples. Yum!
The Best Shops in Blue Ridge
Posh on Main
One of the cutest boutiques I've ever seen. Here's my review on Posh from our visit to Blue Ridge last year. This place is so cute, and always a must-stop for us. Tell Matt & Millie we said hello!
Threads of Blue Ridge
Fun little boutique! I almost walked away with some faux-furry winter boots here.
Mercier Apple Orchards
Plan to spend some time shopping at Merciers too! This is such a fun place. I always stock up on their strawberry butter.
Where to Stay in Blue Ridge
My Mountain Cabin Rentals
Rustic, tucked away cabins with all the amenities, including WiFi and satellite TV.
Hiking Trails in Blue Ridge

Amicalola Falls
Just remember, you can drive to the top of the mountain. ;)
Jacks River Falls
Jacks River Falls is located in the Cohutta Wilderness Area on the Jacks River. It is about an hour and a half, to two hours from Blue Ridge. To reach the falls: From the intersection of US 411 and Old Hwy 2 in Cisco, GA, head east on Old Hwy 2. Continue on this road (pavement ends about 1.8 miles) for 10 miles to FS 62 on the right at Big Frog Loop Road sign. Turn right on FS62 and continue 4.4 miles to Jacks River Trailhead. The parking area is on the left. The trail to the falls is 4.5 miles of moderately easy walking on an old railroad bed. After 3.5 miles, cross the stream and continue on the trail for another 0.5 mile until you reach the river. Follow the river downstream another 0.5 mile to the falls. Keep following the trail just a bit and there is a steep path to the base of the lower falls.
Google Map to parking area.