Plus two more buttery baked goods you must add your to your recipe arsenal!
Okay, first- don't look if you're hungry. You have been warned… ;)
It has been a crazy-ridiculous, supremely fun-filled baking extravaganza in my kitchen this weekend. Kevin's dear brother came up to visit for a few days- and I just love it when we have company! :) I have a folder about 5 gigabytes thick on my hard drive full of recipes labeled "Need to Try!!!" – just waiting for a special occasion to be made. :)
Now, when it comes to *cooking*- like, actual *meals*- no way would I try something new on company. I stick to tried and true favorites I'm familiar with there! But when it comes to baked goods? Desserts? Snacks? Treats? Anything goes. *Everything* goes. :D In fact… This time… I may have gone a little crazy. But I'll let you be the judge of that. ;)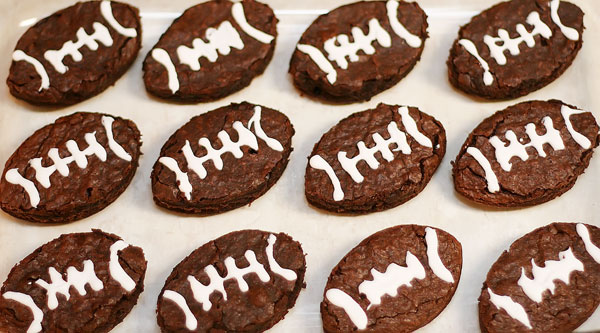 We'll start off innocently enough… ;) I saw these cute little football brownies over on Paige and Brooke's blog– have you seen this blog? It's so cute. So many fun ideas! And I knew I had to make these scrumptious little brownie bites. I sent them to work with Kevin on Friday- there are a couple of new guys and they're all big SEC football fans over there. I got the football cookie cutter at Hobby Lobby and I used this icing to decorate them with: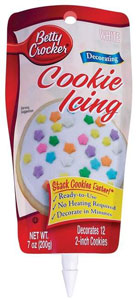 So easy! BTW, a tutorial you will never see on kevinandamanda.com? "Perfectly Precise: How to Ice and Decorate Cookies and Cakes". I think the above picture speaks for itself.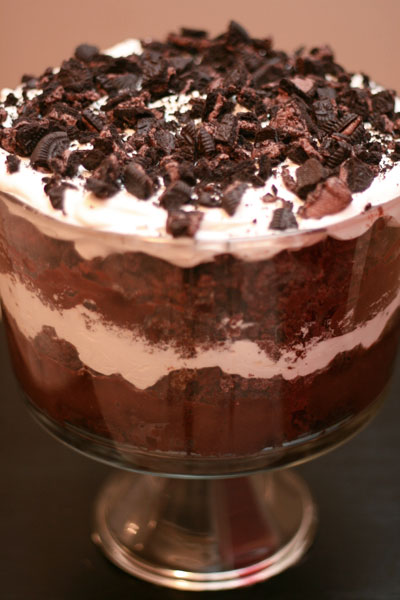 Wow. Okay. *Wow*. You know that dessert on table that simultaneously makes everyone's jaw drop and mouth water? The one that's gone first, everyone's still talking about, and all the ladies are asking for the recipe? That's this. And it's so easy. But so, so impressive. You've gotta make it.
First, I started off by making my Best Chocolate Cake (ever!) recipe, mixing in smooth, luscious milk chocolate chips into the batter. The big kind. Not the mini ones. ;)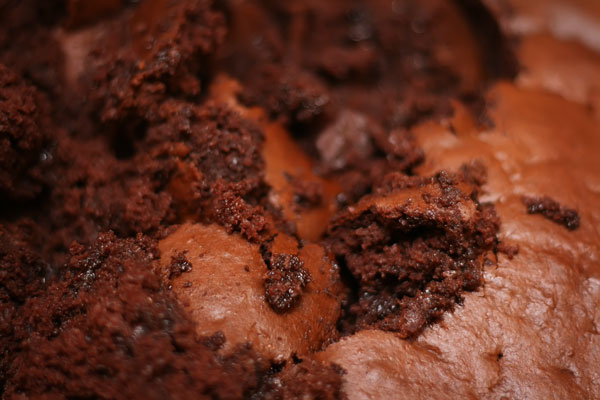 Gooey.
In a trifle bowl, I scooped a layer of:
1. Chocolate Cake
2. Chocolate Jello Pudding
3. Cool Whip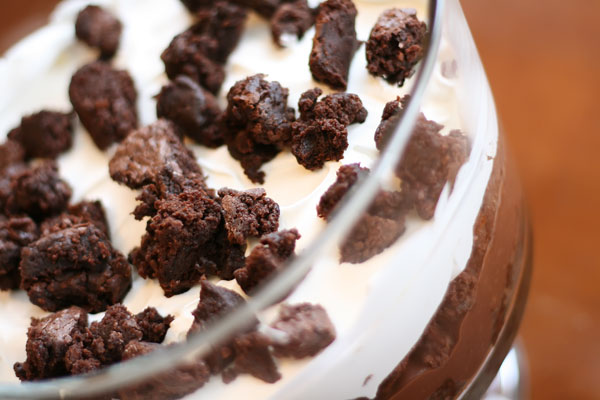 Now, remember those football brownies I cut out? Well, there were lots of scraps leftover. :D And while Kevin and I scarfed most of them down, there were *just* enough left over… *grin* So, after the first cool whip layer, I added the fudgy brownie scraps. :D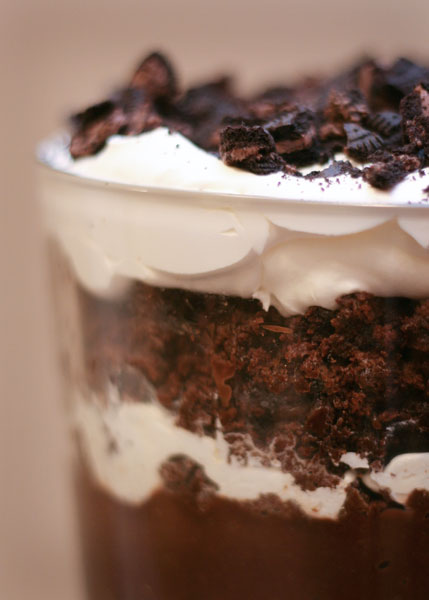 I did another layer of cake, pudding, and cool whip, then topped with crushed, double chocolate oreos. Oh. Baby. Come to mama.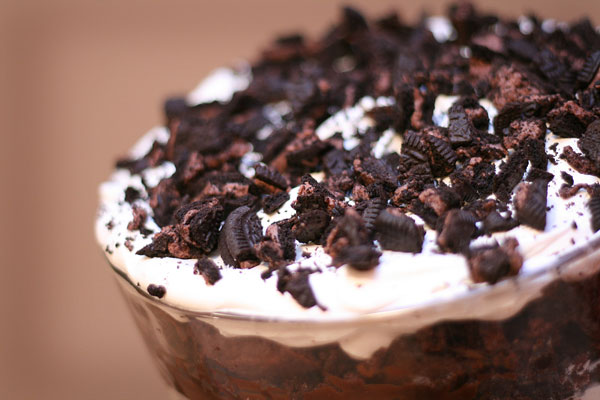 A couple of notes:
1. I only had 1 box of jello pudding, but the second layer was pretty skimpy. You might want to do 2 boxes, although I don't know if you'd need two full boxes.
2. I definitely needed a second tub of Cool Whip, although I only used about half of it. Maybe I should've just done smaller layers. Wait what! Nevermind. Forget I said that. ;)
3. This is best when it's super fresh, so try to try make it and serve it within a few hours of each other. If you have to refrigerate it overnight, be sure and cover it tightly (hard to do when it's overflowing like mine was!) and let it come (mostly) to room temperature before serving.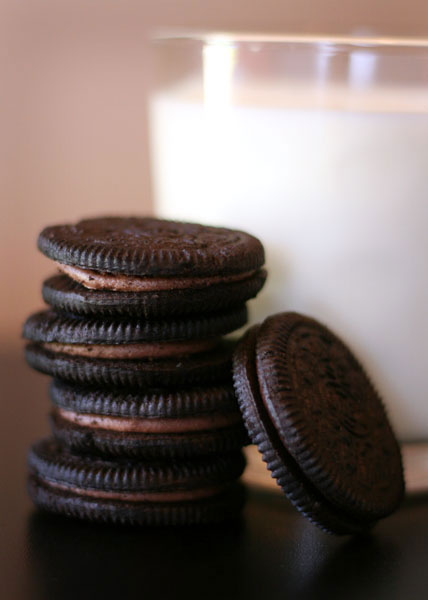 Mmm. Leftovers. :D
BTW, that chocolaty background in these pics is the color of my living room walls. It's Sherwin-Williams Latte. I love it. We think it should be called "Frosty" because it's the exact color of a Wendy's Frosty. :D Complements this ultimate chocolate trifle cake perfectly dontcha think? ;)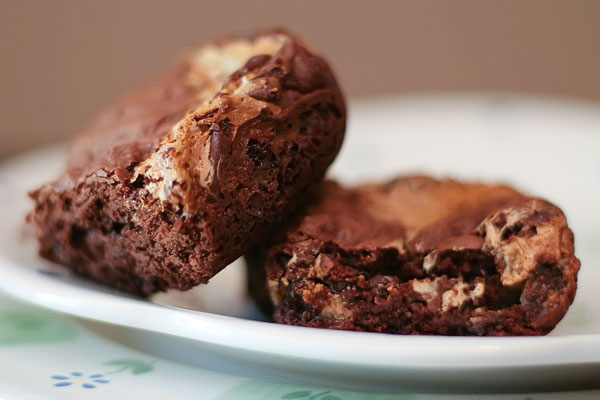 These brownies live up to their name! They were the stickiest, gooiest mess I have ever made. LOL. Don't *even* attempt to spread this batter out with your hands like it says in the recipe. I was laughing out loud at that part. Yeah right. Just use a slick spatula that's been well-greased with Pam. But I have got to tell you. As a self-proclaimed batter *lover*- this chocolate batter was THE best batter I have ever tasted. Hands down. I'm honestly surprised I had enough to fill the entire 9×13 pan. I thought I was going to have to shrink the recipe down to 8×8. I could not. stop. taste testing. That's what we'll call it. I will make these again just for the batter. And they were a huge hit- I took these over to a friends house on Saturday night and only came back with these two! And that's because I hid them so I could bring them back and get this picture. ;) BTW, the recipe calls for one egg white, but go ahead and use a whole egg if you want. I did. It's just saying to use the white to make it less caloric. Hah. Brownies are not health food, ya'll! :D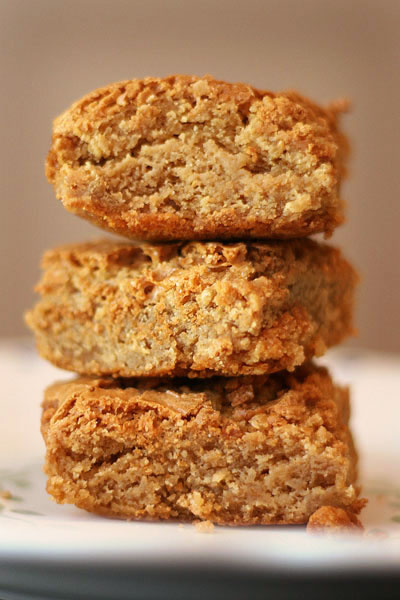 My new, most favoritest dessert ever!!! I am in *love* with blondies! :) I make these anytime I can come up with a good enough excuse now. They are so simple, and taste sooooooooo good. I just can't convey through the picture (or words) how moist, soft, chewy and rich these little blonde bombshells are- they really melt in your mouth. And they stay that way for days. Actually I've never had them last more than a couple days. But anyway. They taste just like butter and brown sugar. :D And just as good several days later as the first day you make them. I could eat these by the truckload. No lie. The recipe is here– I just used regular light and dark brown sugar (whatever muscovado is?). I also left out all the nuts and chocolate chips. Just plain blondies for me, please! :) Oh, and I also used regular salted butter, but I always do that. *blush*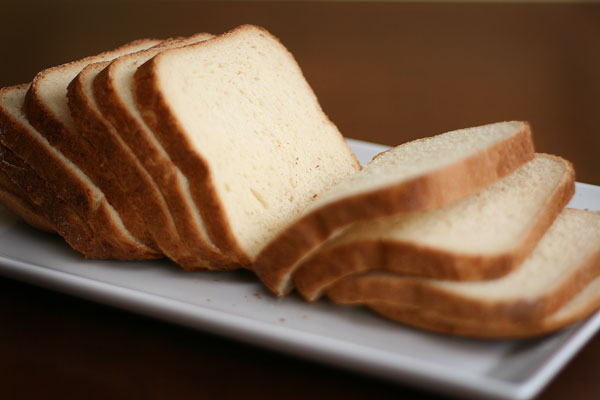 The first time I made this bread I thought I was going to *pass*. *out*. My house smelled sooooo good. I thought I had died and gone to heaven. That is seriously what heaven must smell like. If I could bottle that scent and and sell it I would be a millionaire. A very, very happy millionaire because then I could smell that scent 24 hours a day. But then I would be hungry all the time. Oh man. By the time it is almost done, I am standing over the timer, *begging* it to be done faster! :) It tastes just as wonderful as it smells. The bread is so soft and buttery. The crust is so crispy and sweet. When it's fresh out of the oven, it's best with just some soft butter spread over the warm bread. It's great as toast and excellent for sandwiches too. Peanut butter & Jelly. Chicken, Bacon & Cheese. And these pulled pork sandwiches we had on Saturday. Perfect.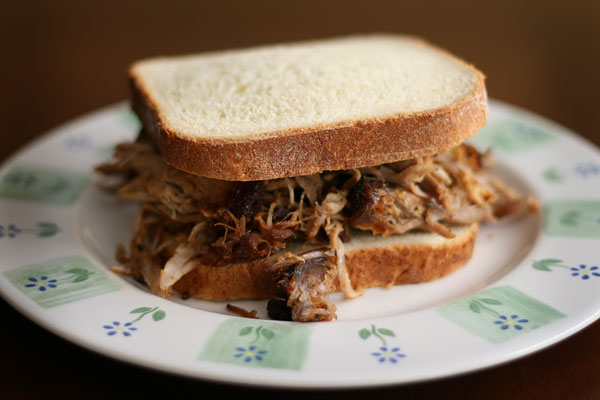 The recipe is a bread machine recipe, and that's what I use, but if you read the first review, it tells you how to make it the old fashioned way too. ;) One of these days I just might try that, because I've heard the texture is a lot better on breads baked in the oven vs. in the machine. Can anyone elaborate on this for me?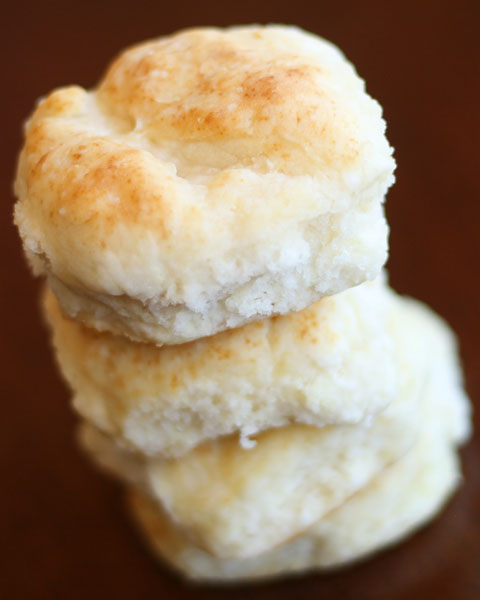 Yum!! These were incredibly soft and fluffy biscuits!!! Alton Brown is a true southern boy, and he knows how to make his biscuits! This is a no-fail recipe, ya'll. They come out of the oven looking perfect and tasting delicious. These were the highlight of Sunday brunch- I served these with sausage, bacon, eggs, and grits. BTW, Alton talks about this in his show, but it doesn't say it in the recipe- use an all purpose flour that is made from soft winter wheat. If you're in the north, it may be labeled "Better for Biscuits". If you're in the south, probably any all-purpose flour will work. I used White Lily, it says right on the front "100% Soft Winter Wheat" and on the back it talks about how it's better for biscuits.
So… Are you hungry yet? ;) I know I am! And guess what. I have leftovers. Hehe.
Thanks for looking! ;)