If you are planning a trip to southern Spain's Andalusia region, you may want to spend a few days in a charming beach town on the beautiful Costa del Sol. Meaning "Coast of the Sun" in English, Spain's Costa del Sol averages more than 320 sunny days every year.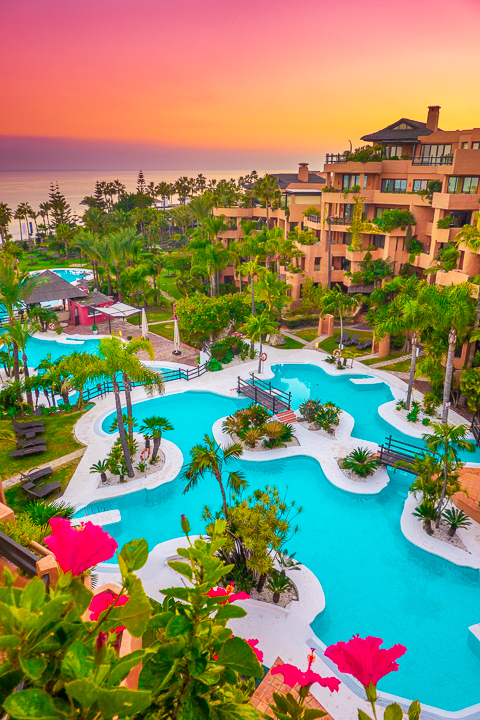 Coast of the Sun
We spent 2 weeks in Andalusia in December 2018 and we had full sun all day every single day. If you love the sun, the Costa del Sol in Spain is the perfect vacation spot for you!!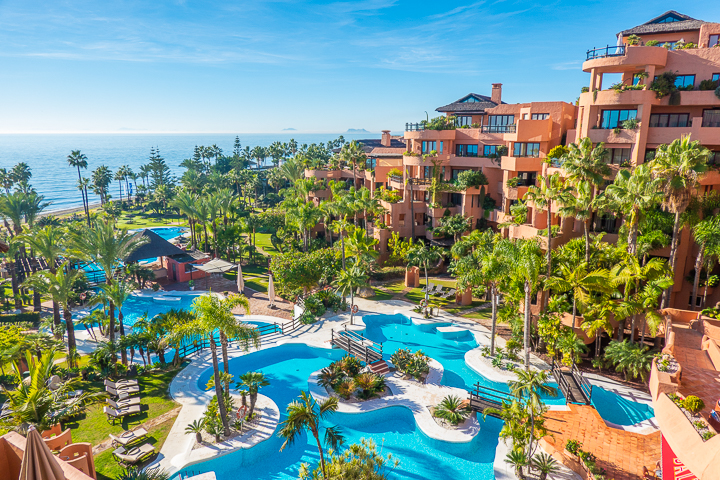 Things To Do
There are so many things to do on the Costa del Sol. Charming beach towns, white-washed hilltop villages perched on the cliff of a mountain, the Rock of Gibraltar… You can even take a day trip to Morocco!!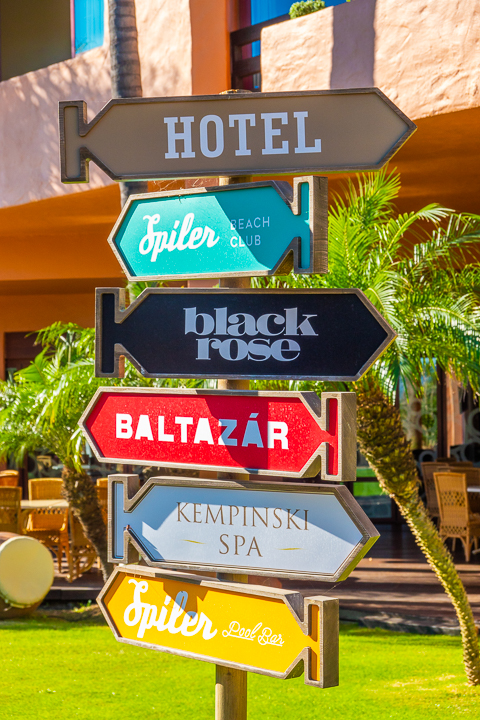 Prime Location
The Kempinski Hotel Bahia is perfectly located right in the middle of everything and right on the beach. If you like staying in one spot and taking day trips so you don't have to change hotels every night, the Kempinski Hotel Bahia is the place for you!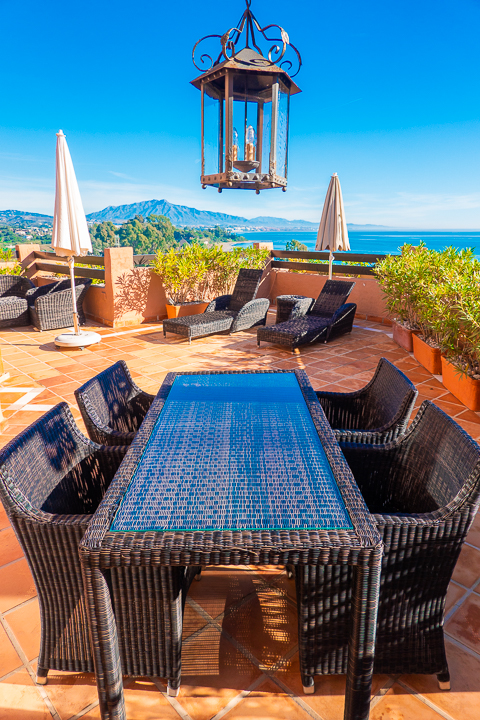 Rooms With A View
The rooms at the Kempinski Hotel Bahia are bright and spacious. Each room has its own balcony with amazing views of the Mediterranean Sea, Gibraltar, and the African coastline.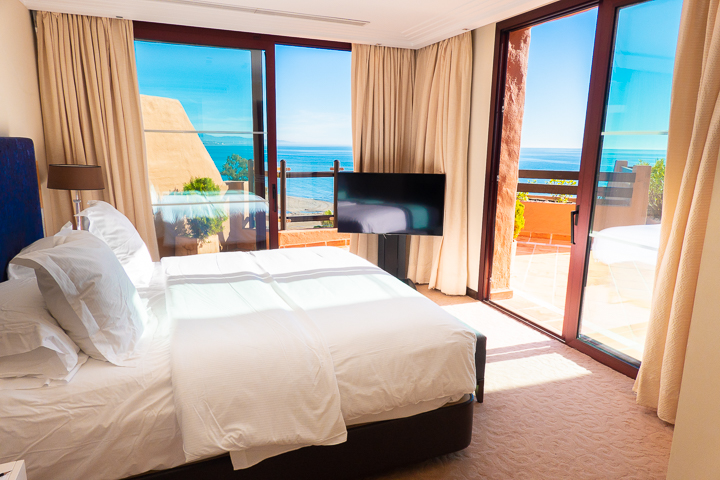 The beds are deliciously comfortable! And in case you want to stay in and enjoy your room, 24-hour room service is available. If you want to stay longer, apartments with kitchenettes are also available.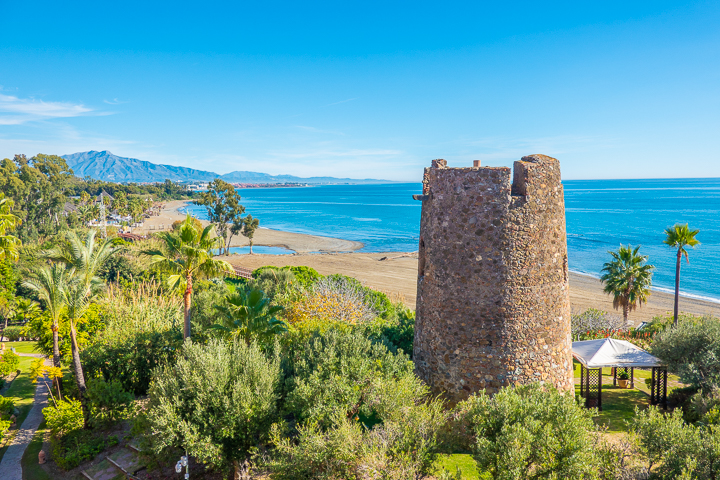 Historic Landmarks
There's even an old watchtower from 1575 right on the beach in front of the hotel that was once used to protect the coastline from pirates!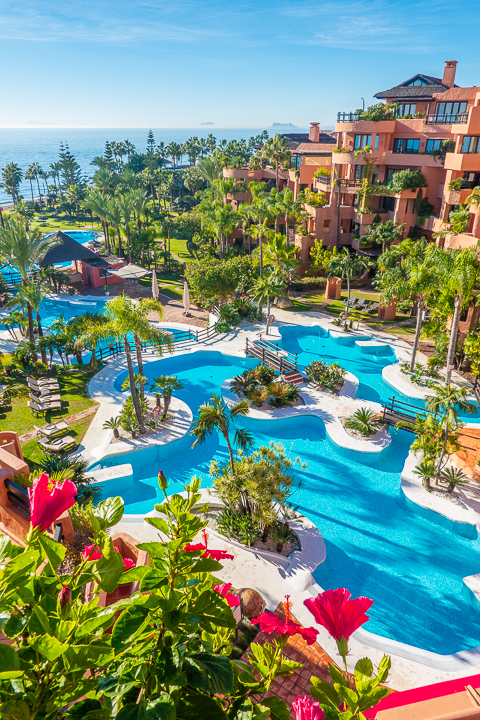 Pools and Gardens
The sparkling pools are surrounded by swaying palm trees and lush, tropical gardens. A perfect, peaceful spot for relaxing in the sun.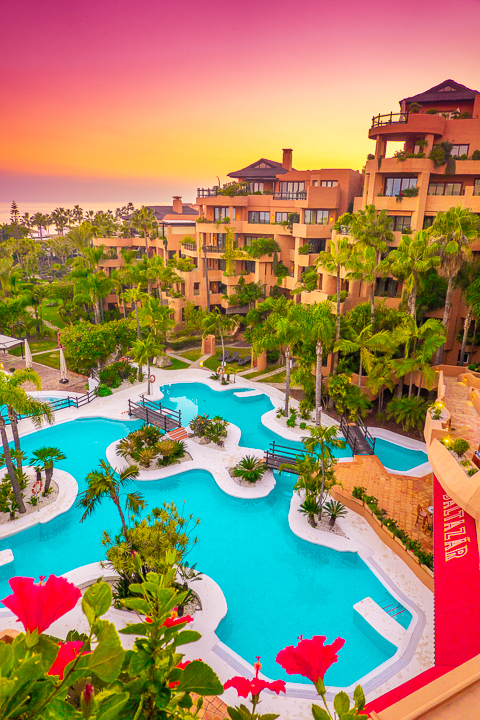 We had the perfect sunset view from our balcony every night.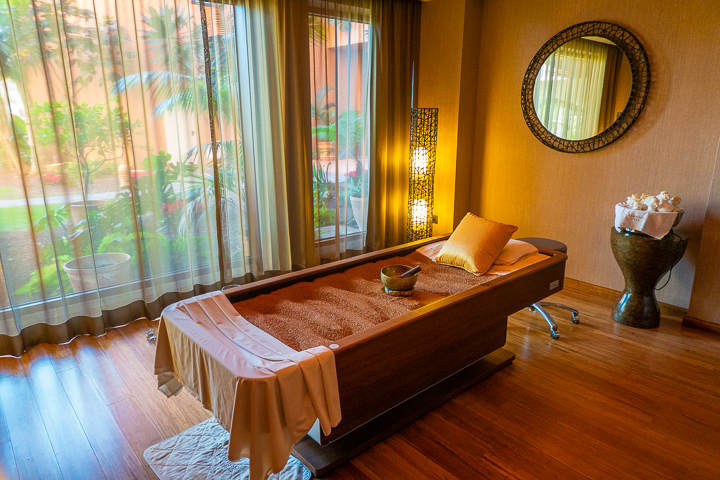 Kempinski Spa
If you love unique spa treatments, the Quartz Bed Massage is a must!! Developed from an ancient Greek technique, Instead of a regular flat massage table, you lay on a sheet on top of heated quartz sand. The warm sand conforms to your body so you feel weightless and don't get uncomfortable from laying in the same spot for too long!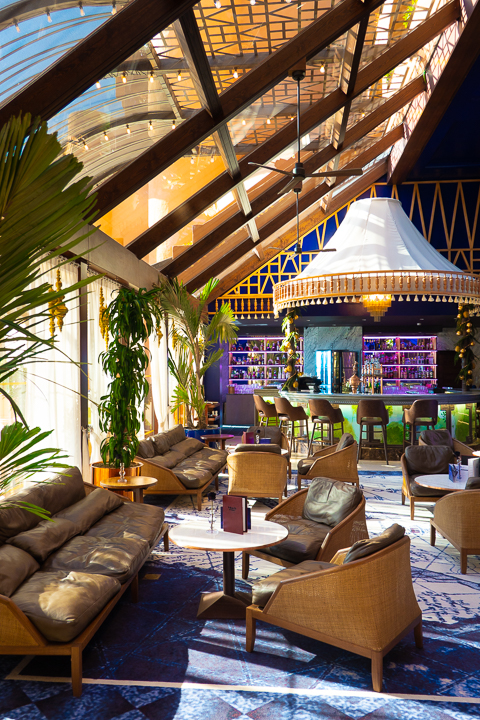 Black Rose The Bar
If you're looking for the perfect spot to relax after a day exploring the Costa del Sol, Black Rose The Bar has some of the best cocktail creations on the coast. They also offer fine wines and local craft beers. You can sit inside or on the terrace. Both have fabulous views of the Mediterranean and on a clear day you can even see Africa!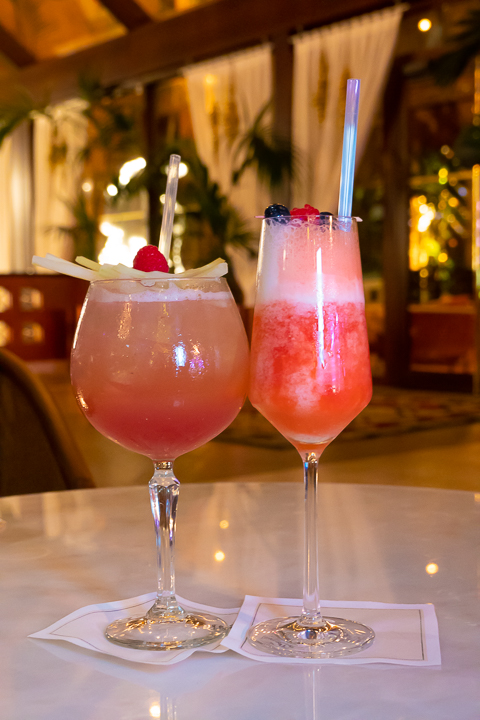 If you don't see your favorite cocktail on the menu, the bartenders are happy to make anything you like. Or you can tell them what you like and they will create a concoction just for you!!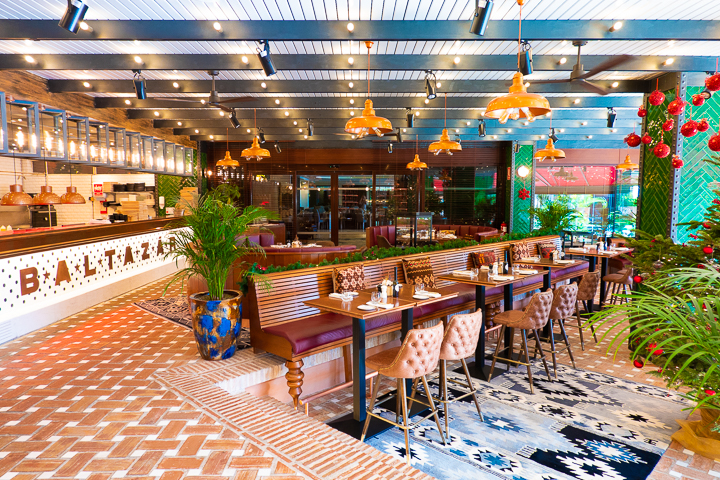 Baltazár Bar & Grill
There are 6 dining options at the Kempinski Hotel Bahia. Baltazár Bar & Grill is one of the main restaurants with fantastic views of the gardens and pools. There's even a poolside bar!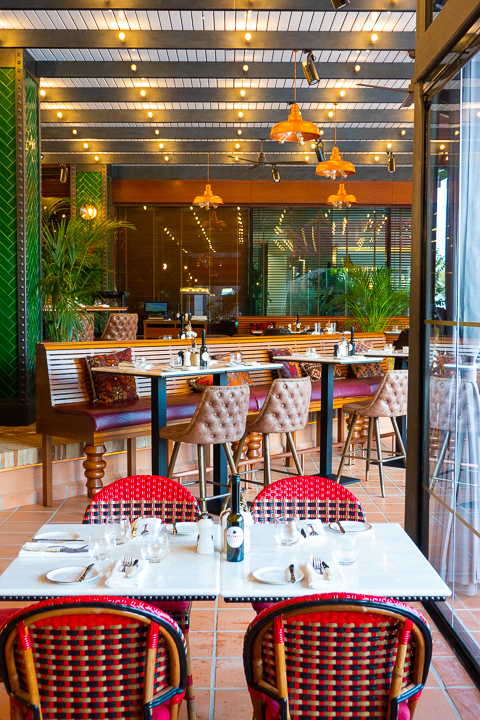 The chefs at Baltazár use only local Spanish products and cooking techniques to create each dish on the menu. Highlights of the menu include traditional Spanish classics and fresh seafood.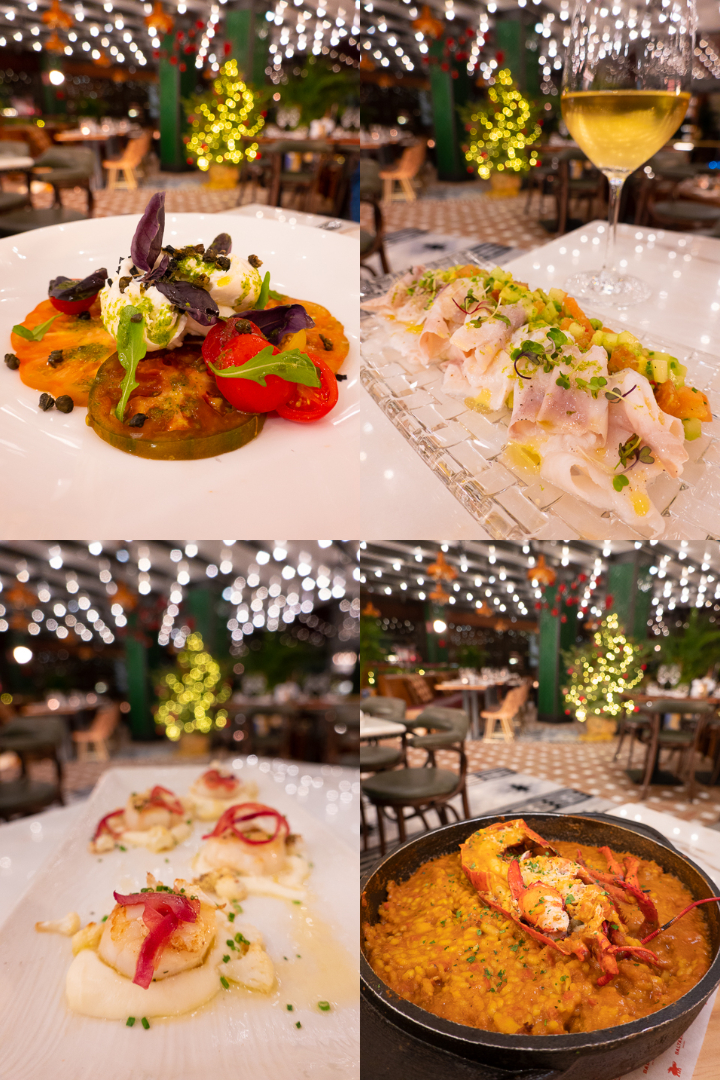 We loved the burrata, ceviche, scallops, and lobster paella!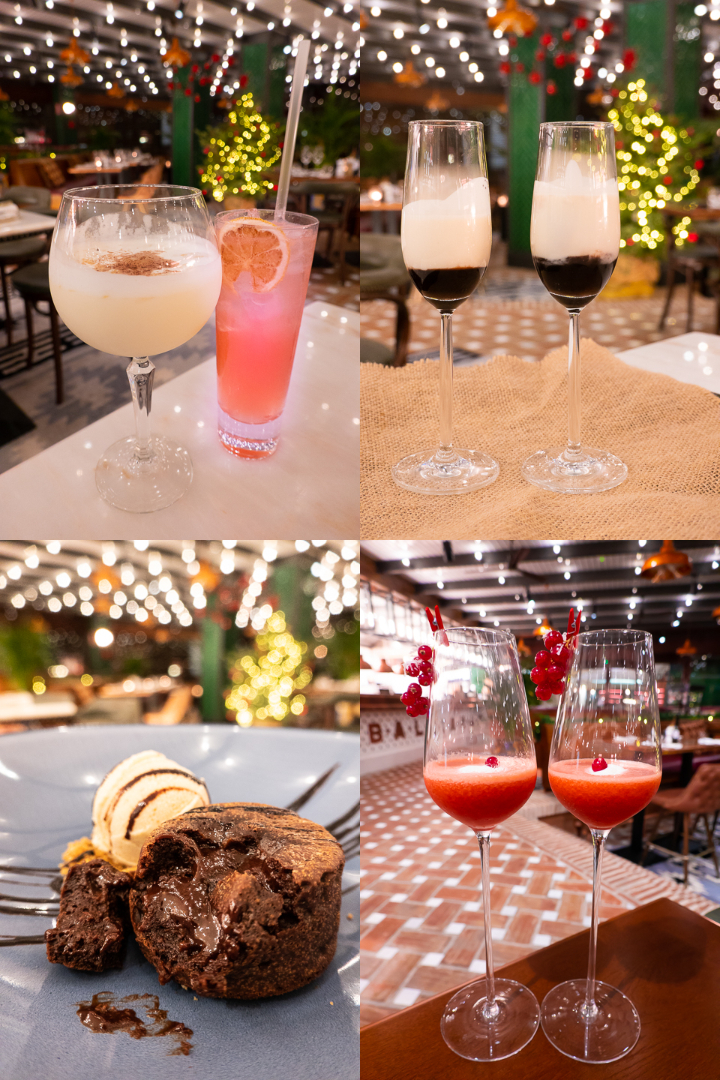 Be sure to have the amazing bartender Jose de la Rosa create a custom cocktail just for you!! Tell him Kevin & Amanda sent you!! He always made me something sweet that tasted like a dessert! The cocktail on the top right tasted like s'mores! It even had a hint of smokiness to it! And the cocktail on the bottom left was cava (Spanish champagne) and raspberry sorbet! So good!!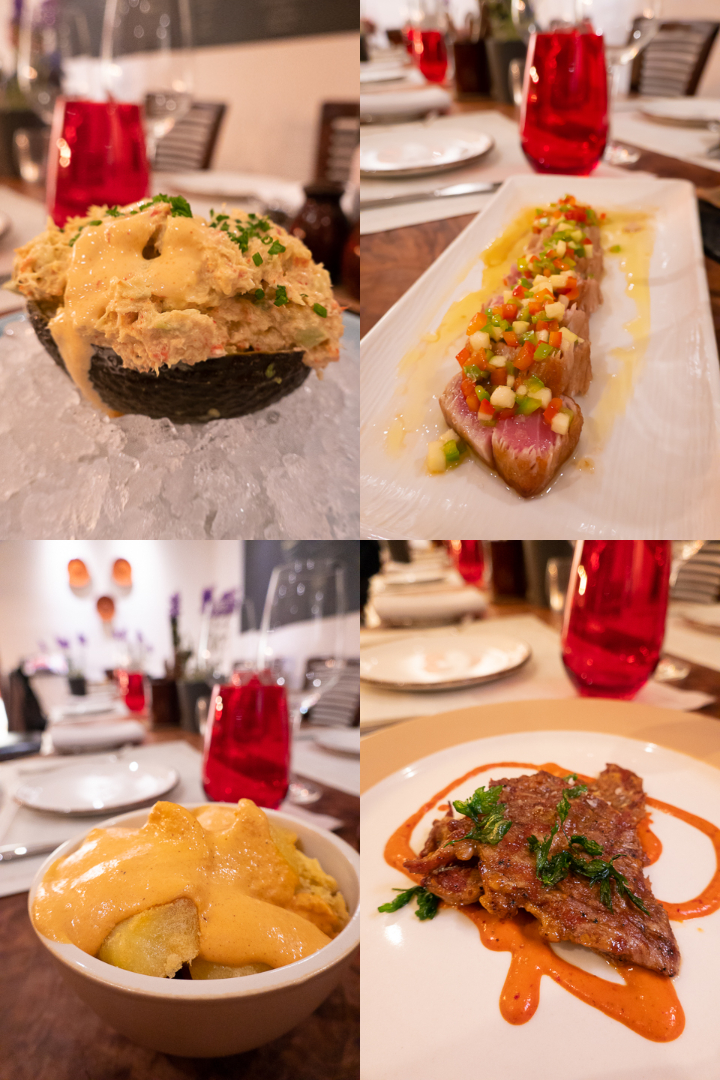 La Cocina de mi Abuela
I think my favorite meal of the weekend was at La Cocina de mi Abuela! It means "The Kitchen of my Grandmother" in English, and the entire menu is passed-down favorite family recipes from all the staff at the hotel!
Here's what we ordered, clockwise from top left:
Snow crab and avocado salad with kimchi mayo — SO good!!!
Tuna tataki — Loved this one!!
Patatas Bravas — Spicy potatoes! A traditional Spanish classic!
Grilled marinated Iberico pork with red mojo — Another local classic!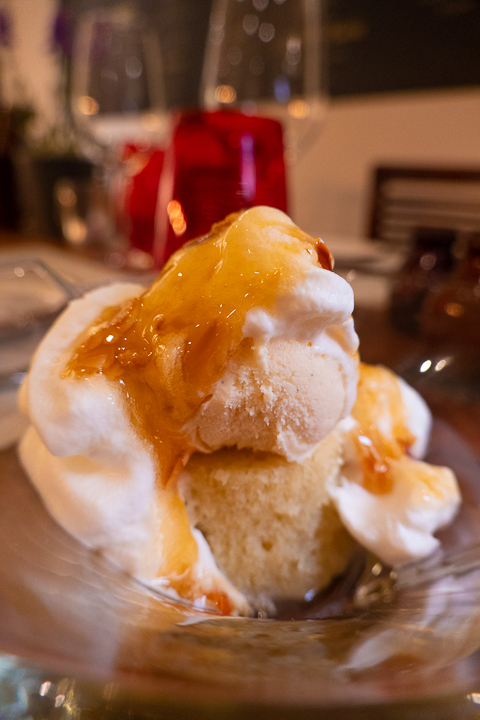 Definitely be sure to save room for dessert!! I can't remember exactly what this was, but I do remember it was vanilla cake, caramel, and ice cream. Delicious!
---
Like this post? Save it on Pinterest!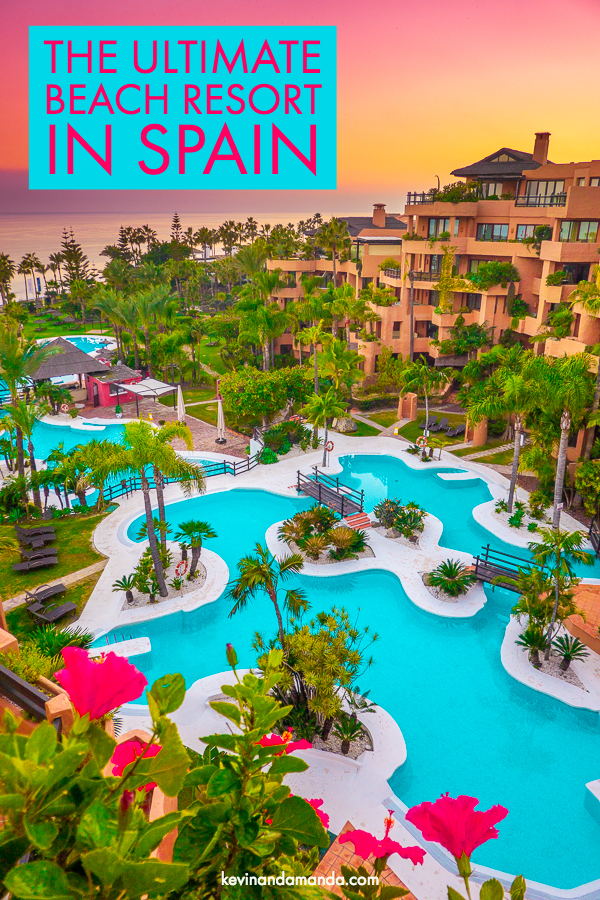 Spain Travel Guide — See More Posts From Spain!
Planning a trip to Spain? Click here to see more of our posts from Spain!