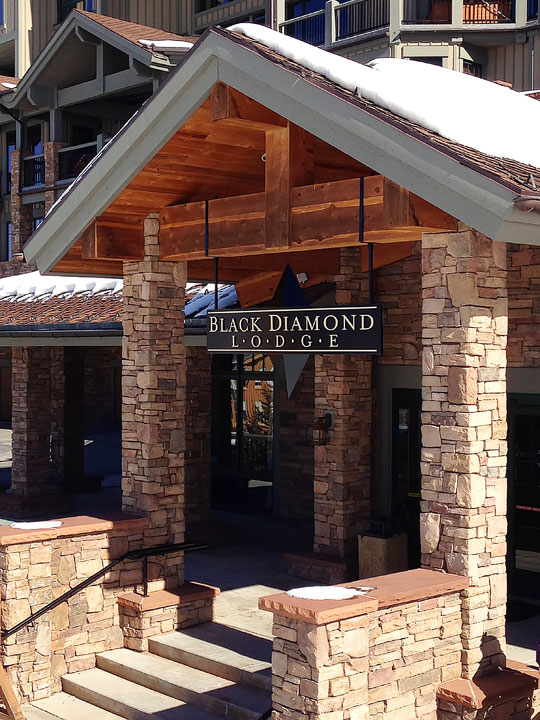 We are back from gorgeous Salt Lake City! Oh my goodness, from the moment we landed I was so stunned at how breathtaking the views from this beautiful city were. We loved every minute there! For my dad's birthday (which is also Valentine's Day) our wonderful friends Maria and Josh helped us surprise him and my mom with a dream ski vacation to Deer Valley Resort. (Click HERE to see how we surprised him!) All six of us got to spend a fabulous week of skiing together at Deer Valley while living in luxury at the ultra cozy Black Diamond Lodge. I could not stop snapping photos of our beautiful home for the week!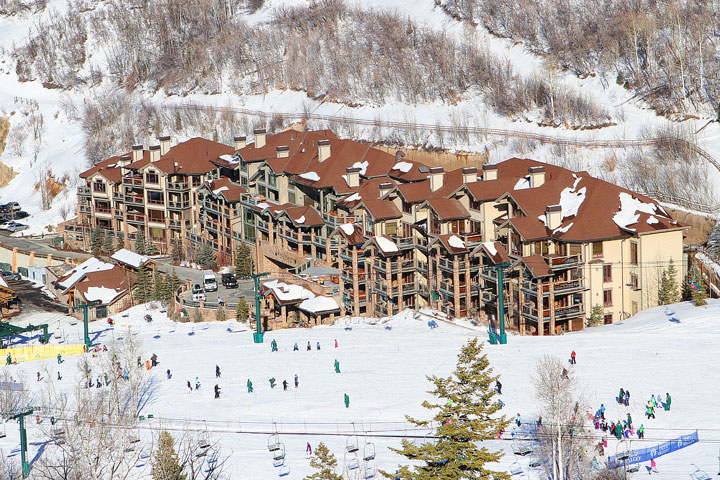 My parents took me skiing every year when I was growing up, and I'm so happy I was able to treat them this year. I have so many fun memories of our ski trips growing up, and I definitely wanted them to continue. Our experience at Deer Valley was more than I could've ever dreamed of. I know we will treasure it for years to come. I loved every single thing about Deer Valley, and I'm already dying to go back. The Black Diamond Lodge is located literally right on the slopes for perfect ski in / ski out access. You can walk downstairs, step into your skis, and ski off for the day! :)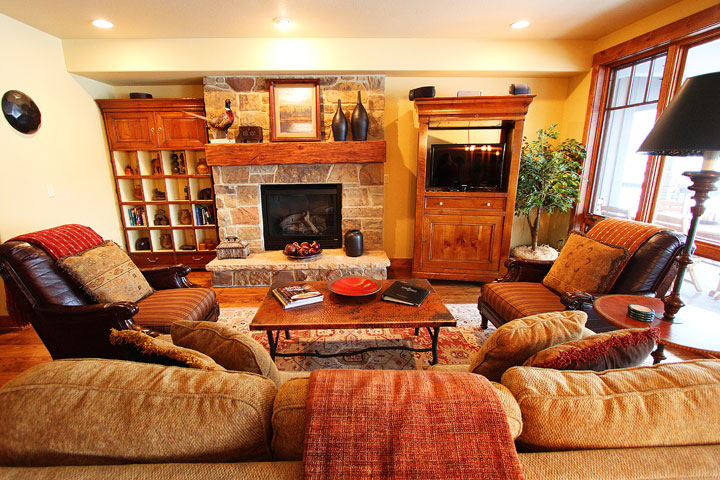 You guys, my jaw nearly hit the floor when we walked into our condo. We had a 3 bedroom / 4 bathroom condo with a full kitchen, TWO living rooms, and a private hot tub on the secluded wrap-around balcony overlooking the slopes. Look how perfectly cozy and comfy this massive living room was! This is just one of the living rooms!!?!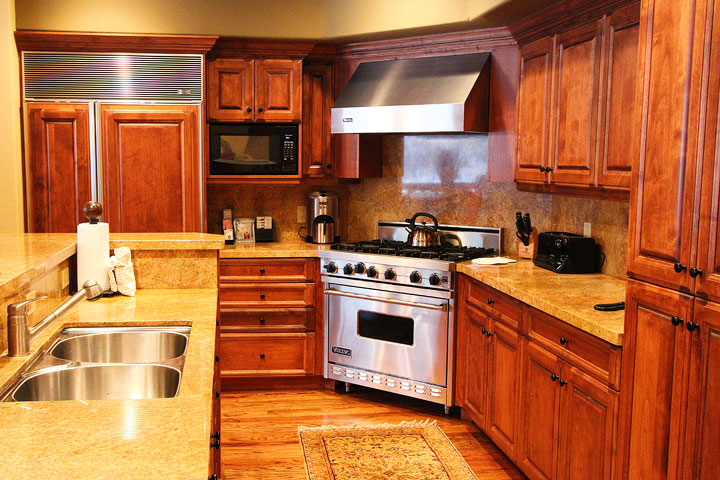 Our fully-equipped kitchen had a Viking range and built-in appliances that were hidden in the cabinets like the refrigerator, dishwasher, and trash can. I could live here all winter.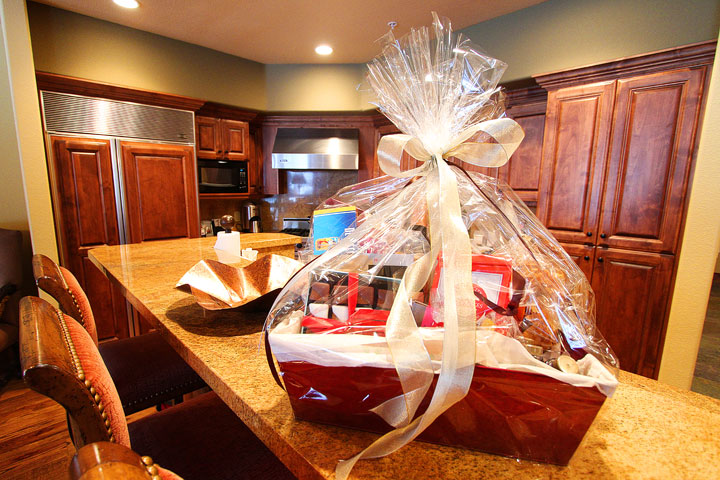 The kind folks at Deer Valley surprised us with a welcome gift basket from the Deer Valley Grocery Cafe filled with chocolates, pancake mix and pure maple syrup, homemade Doritos (which were FABULOUS and awesomely spicy!!), pasta, and my favorite.. Black and White popcorn! Sweet and salty treats for snacking and easy ingredients for hearty breakfasts and dinners after a full day of skiing.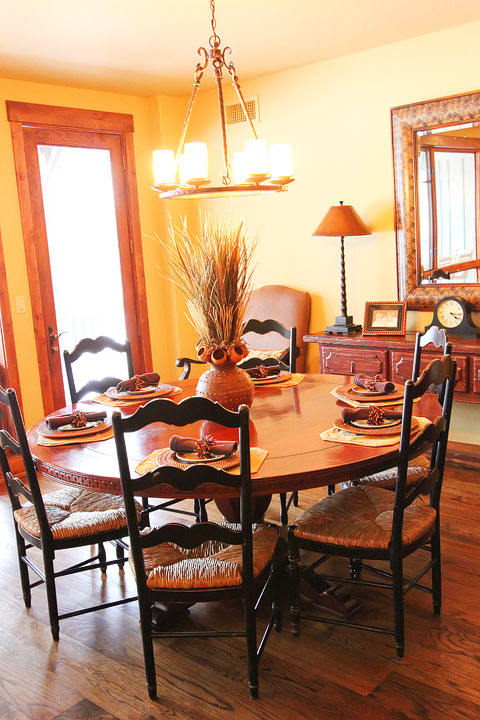 The Black Diamond Lodge also provides a complimentary continental breakfast each morning downstairs in the lobby. We would all bring our breakfast upstairs in the mornings so we could eat together before heading off to ski.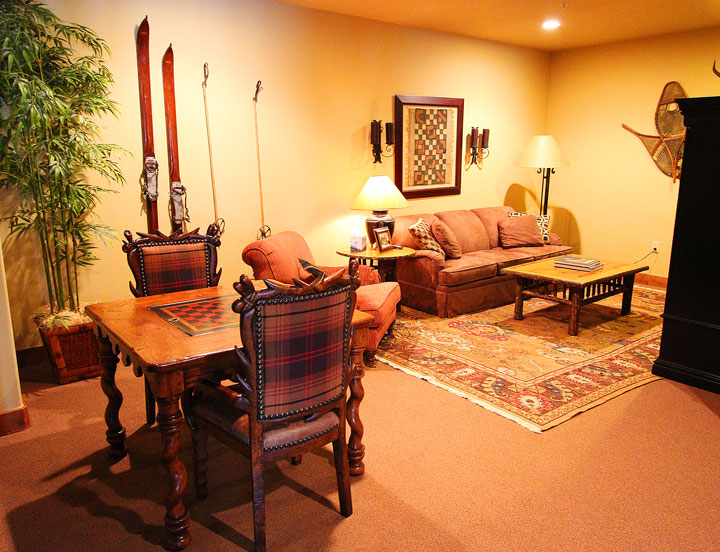 Here was the second living room. I think my parents loved having their own separate living room away from us kids, lol! I absolutely loved the vintage skis and snowshoes in here. So perfect for a ski lodge! And how fun is that game table?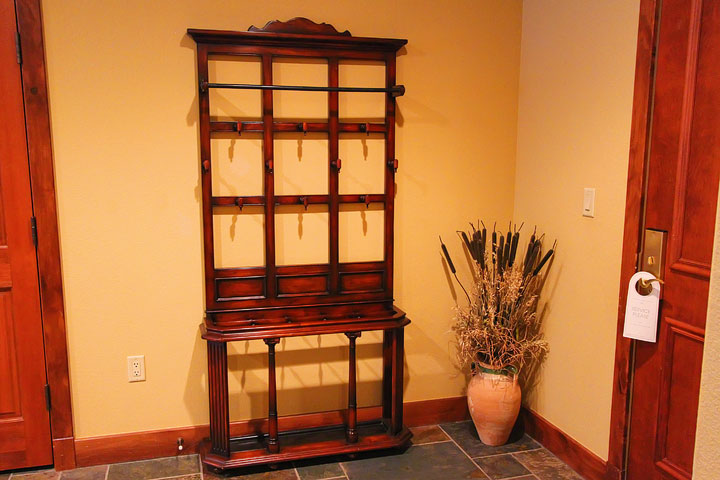 Speaking of vintage ski equipment, I was also totally crushing on this vintage ski rack in the foyer.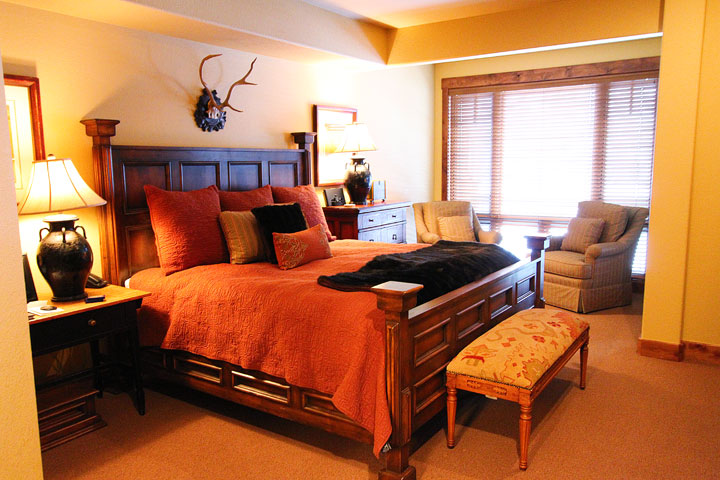 The three bedrooms were ginormous and decadently comfortable.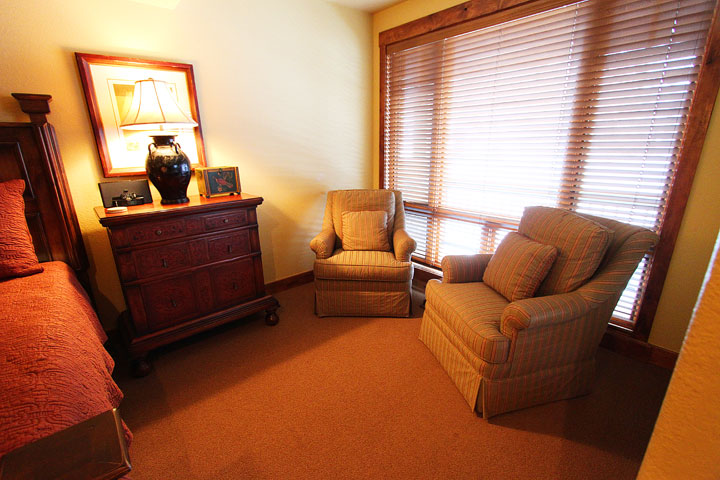 They each had their own private sitting area by the window where you could cuddle up with a book and a hot chocolate and watch the skiers all day.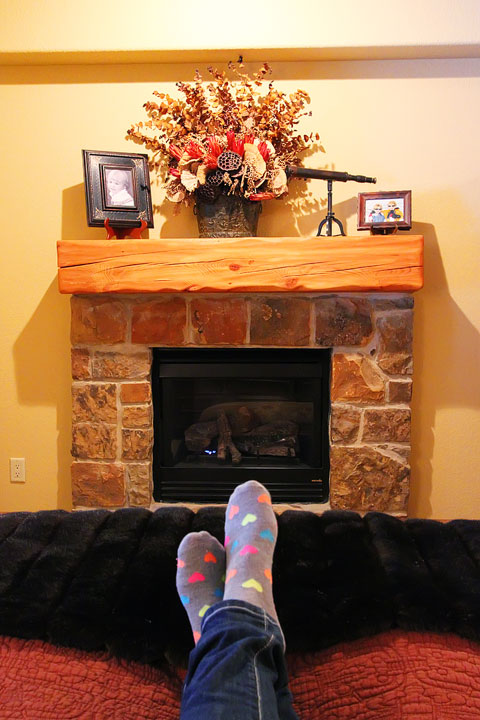 The master even had it's own private stone fireplace. So nice!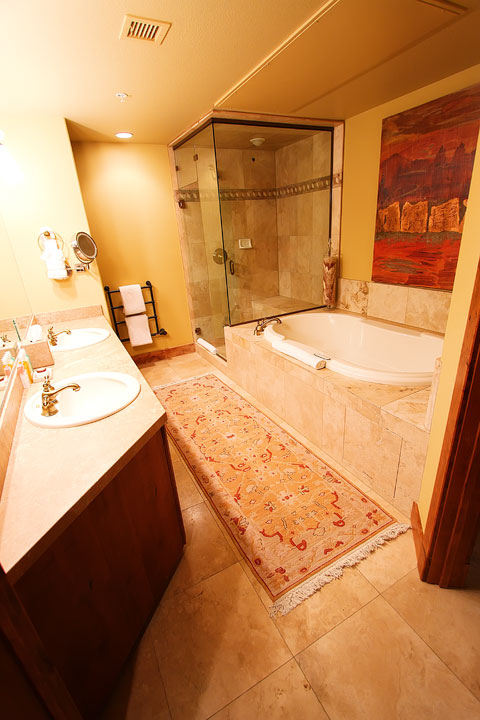 Each room had it's own private bathroom complete with a towel warming rack.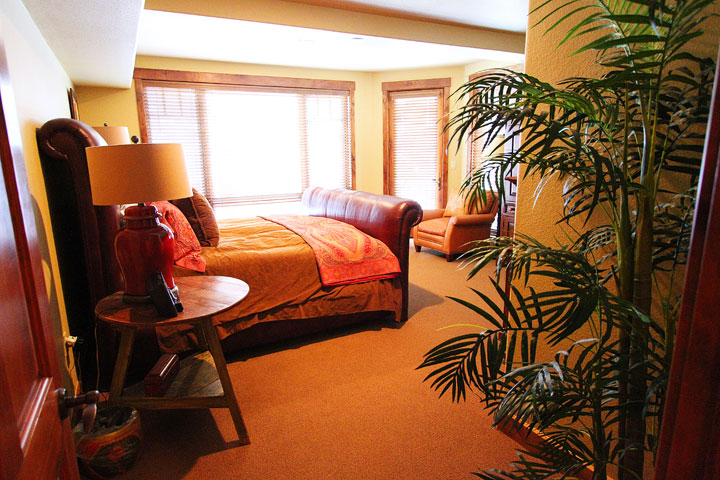 Here's a peek into the second bedroom, with a king-sized bed, private sitting area, large walk-in closet, and private bathroom.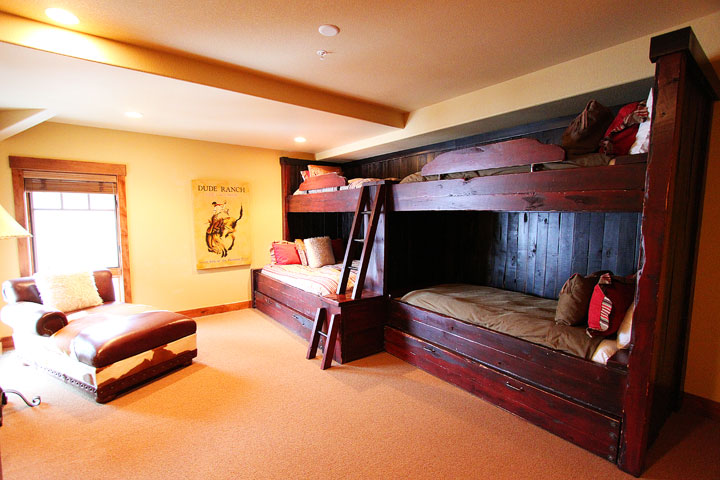 And how fun is this third bedroom?! :) Loved these massive bunk beds! This huge room would definitely be the perfect spot for a group of kids. It was packed with books, movies, games, and even a PS3. :) In addition to the oversized queen bed and three twin beds in here, there were also trundle beds underneath the bottom bunks that pulled out for even more sleep space. Slumber party at Deer Valley!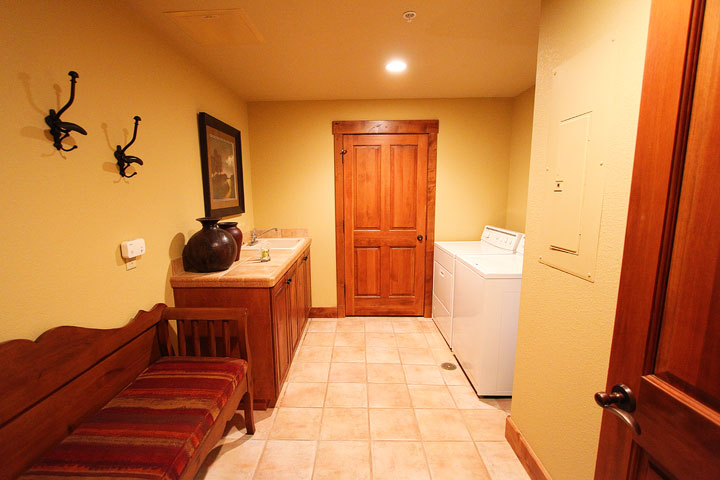 We even had our own spacious laundry room right in the condo. No need to visit the laundromat on vacation! And hello, can I get a laundry room this huge in my house please?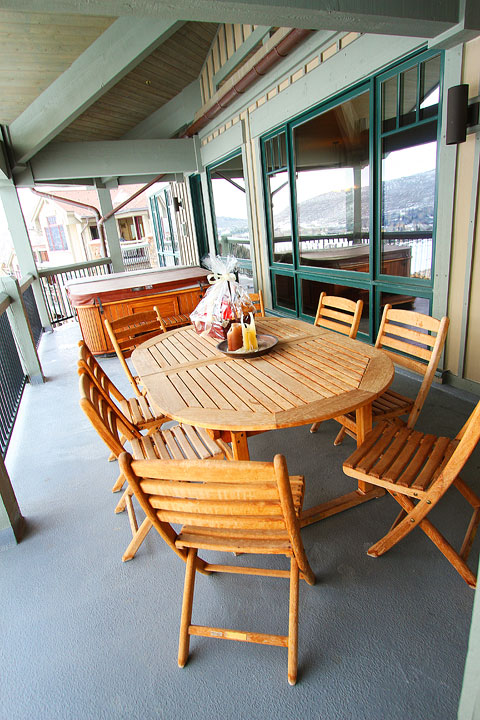 Each bedroom had access to the long wrap-around balcony which included a dining table and a private hot tub. I don't know what it is, but I *love* getting into a steamy hot tub when it's freezing and snowy outside! Especially after a long day of skiing. :)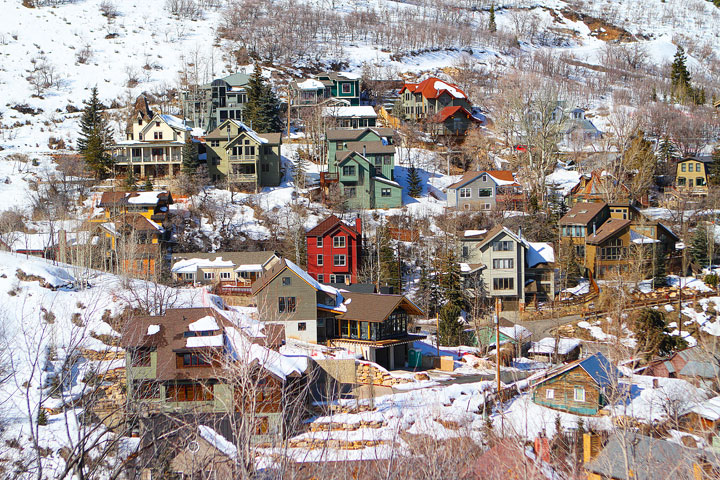 Thank you so, so much to Deer Valley for hosting us and making this dream possible. Everyone we met was so friendly and helpful.
I can't wait to share more about our trip. I've got a post all about our ski adventures and one all about the food… Oh my gosh! You will not believe! :)
See you soon! :)