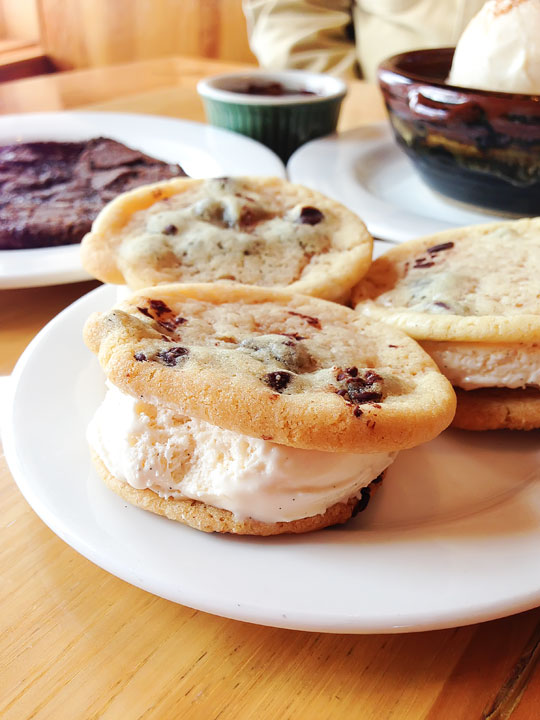 If you're looking for where to eat at Deer Valley, you've come to the right place! :) Or if you just want to see photos of some seriously decadent desserts, you're still in the right place. ;) Warning, this post will make you HUNGRY!! :) Of course Deer Valley known for their fabulous skiing facilities, quality service, and gorgeous accommodations, but I had no idea that Deer Valley also boasted Zagat award-winning cuisine. Just a quick glance at the photos below and you'll see why! Whether you want a quick lunch on the slopes or a special dinner in the evening, Deer Valley has it all. We loved every meal at Deer Valley, and one of them was one of the most unique dinners we have ever experienced! :) Scroll down and you'll see what I mean. :)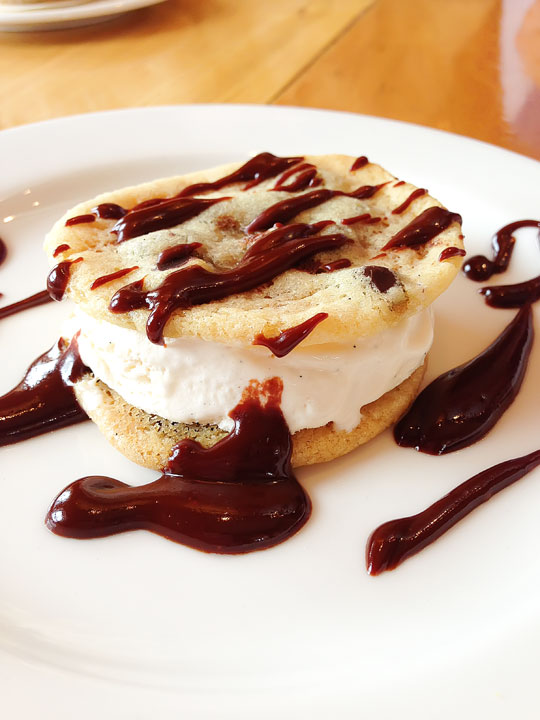 We arrived at Deer Valley at lunchtime and our first stop was the Royal Street Cafe. They are known for their Triple Chocolate Chip Cookie Ice Cream Sandwiches with homemade fudge, so of course we had to try them! :)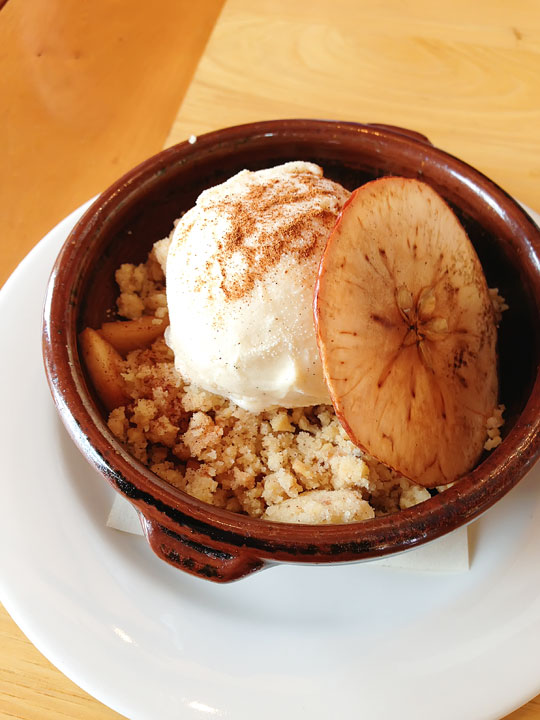 Since we were there with my parents and Maria and Josh, and we all love desserts, we each got something different so we could try a bite of everything. :) My mom got this decadent Apple Crisp à la Mode with vanilla bean ice cream and an apple crisp on top. Loved the cinnamon walnut streusel on this fun treat!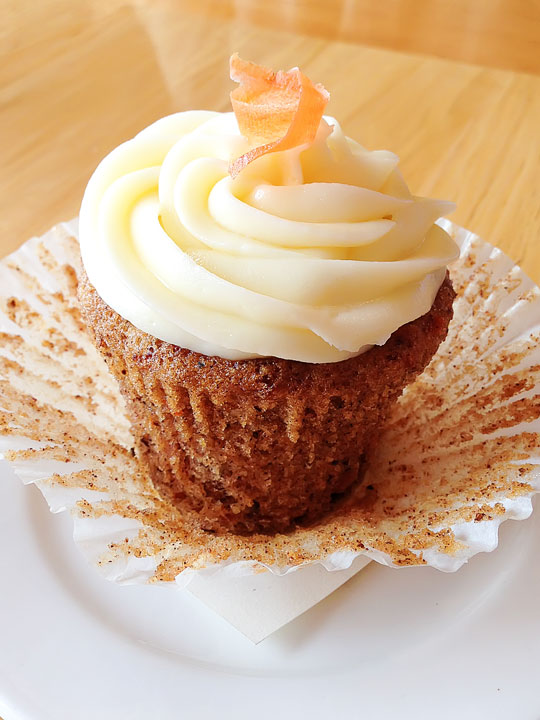 My dad got the Carrot Cake Cupcake. Cute!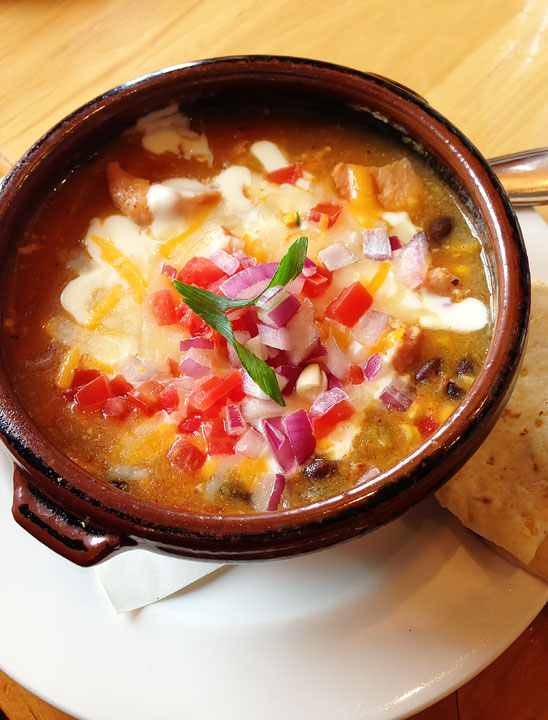 Of course we had some real food too! :) Deer Valley is also famous for their Turkey Chili with grilled white corn tortillas for dipping. So yummy!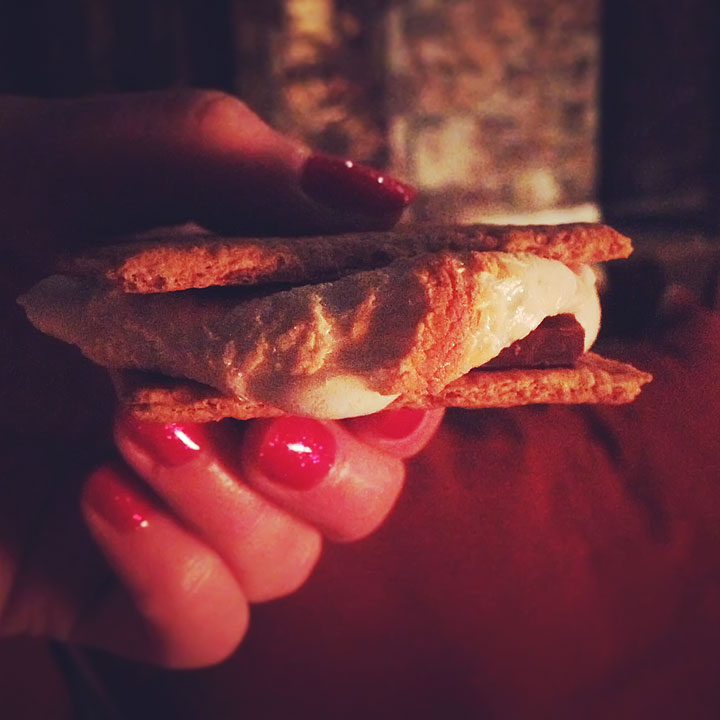 After checking into the lodge, we fixed a delicious quick and easy dinner in our condo. Deer Valley provided us with frozen lasagna and meatballs from Deer Valley Grocery Cafe. A perfect option for a delicious meal from the comfort of your own room! :)
After dinner we gathered around the fire and made S'mores! We couldn't go to a cozy condo in the snowy mountains without making s'mores. :) Okay, so Kevin made s'mores while I ate them. ;) I am never patient enough to let the marshmallows to get that perfect shade of golden brown and toasty, but he has perfected the art of marshmallow toasting and waits until they're golden, gooey, and nearly falling off the skewer, and I am waiting close by with a graham cracker and chocolate bar to scoop them up. :) Oh geesh, can I have another s'more right now please??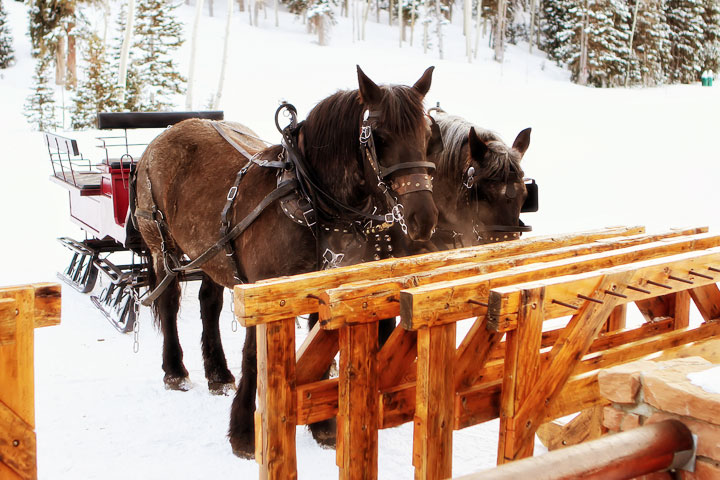 Our dinner on Wednesday was so amazing. It was one of the most unforgettable meals of our lives. It started with a horse-drawn sleigh ride in the snow to a cozy lodge deep in the mountains.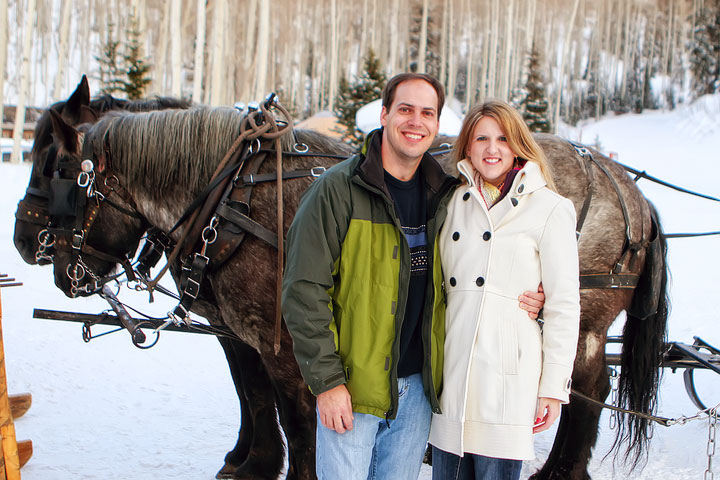 I wish I could go back to this moment, it all seemed so surreal at the time!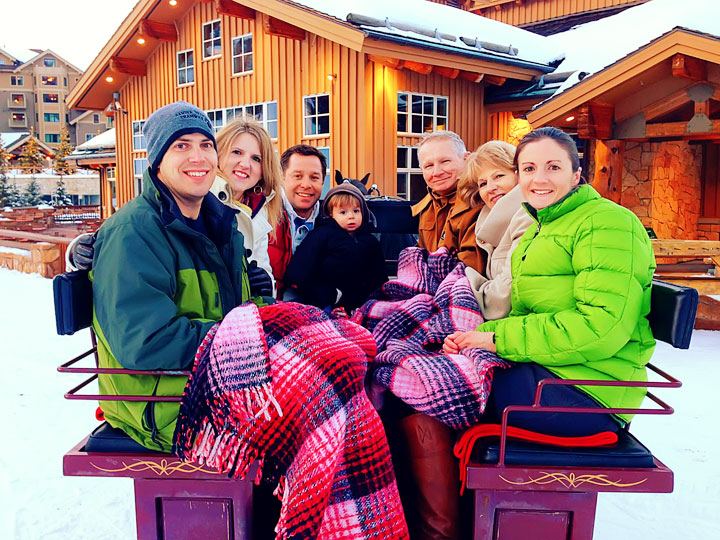 We all bundled up with Josh, Maria, my parents, and even baby Caleb for a quiet sleigh ride in the snow-crested woods.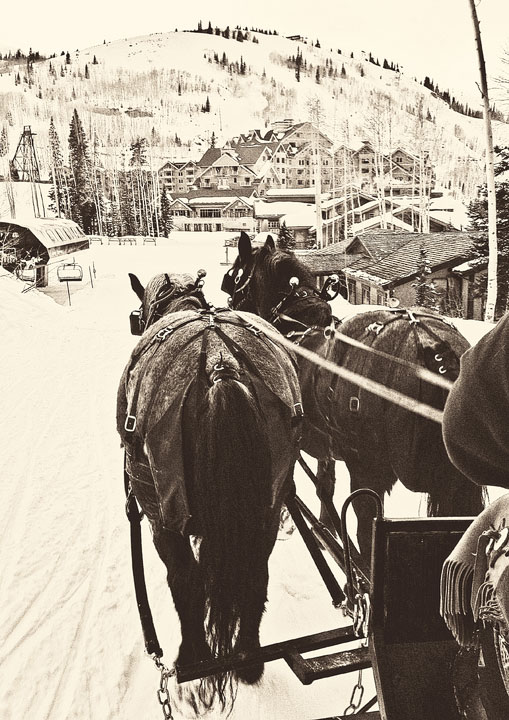 What I wouldn't give to be back here right now! Gorgeous.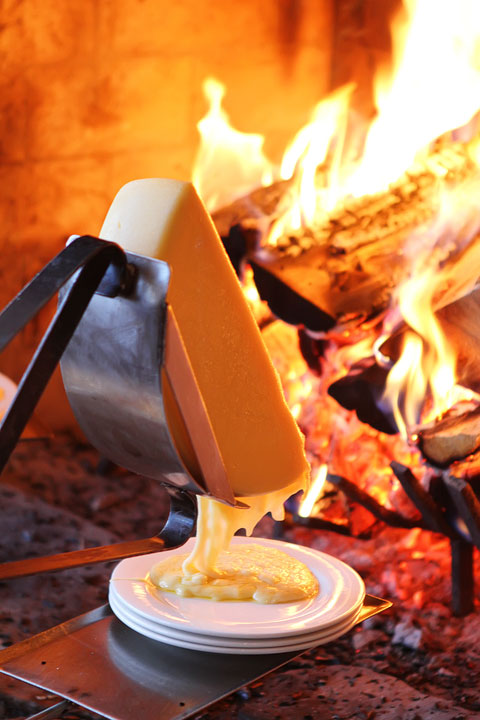 When we made it to the lodge, our jaws dropped. Dinner at Fireside Dining was one the the most unique and memorable meals we have ever experienced. This gooey plate of gorgeousness (photo courtesy of the amazingly talented Maria!) is Swiss raclette cheese melting by the fire. We scooped up at plate of this goodness along with a selection of prosciutto and freshly baked bread for dipping.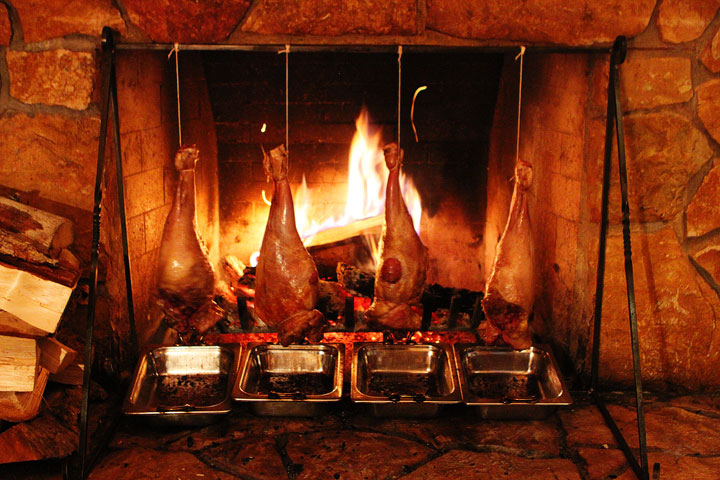 Fireside Dining features four courses served from large stone fireplaces throughout the dining room. Every fireplace had a different course. This was the roasted leg of lamb. Delicious!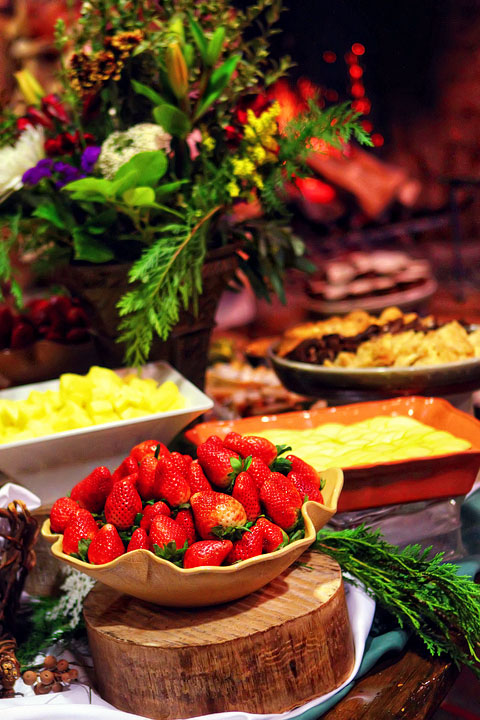 Of course you know dessert was my favorite! :) There was strawberries, pineapples, bananas, apples, cookies, cakes, and cobblers all for dipping in their fire melted fondues.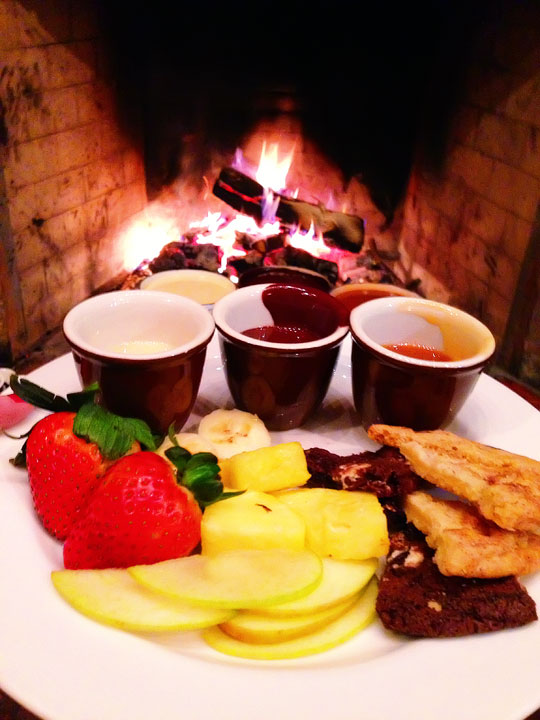 There was white chocolate, dark chocolate, and caramel fondues for dipping. My absolute favorite combo was the snickerdoodle cookie in the caramel sauce! If you ever have the opportunity to have a meal at Fireside Dining, I would definitely go for it. It is meal like no other.
Ahh Valentine's Day! For Valentine's Day we had an amazing meal at Deer Valley's famous Seafood Buffet. This deluxe buffet offers a massive feast of king crab legs, Pacific white shrimp, house-smoked salmon, fresh oysters, glazed scallops, seared ahi tuna, prime rib, roast duck, and so much more. We were in heaven. Of course the highlight of the evening was the gourmet house-made dessert station! :)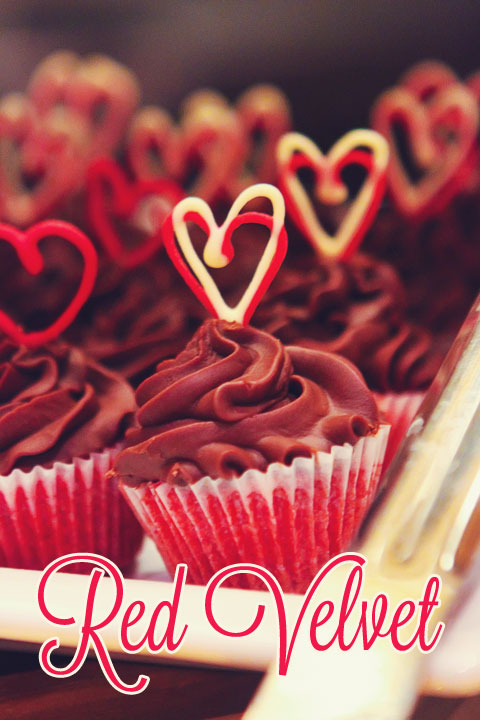 They had special Valentine's Day sweets just for the occasion.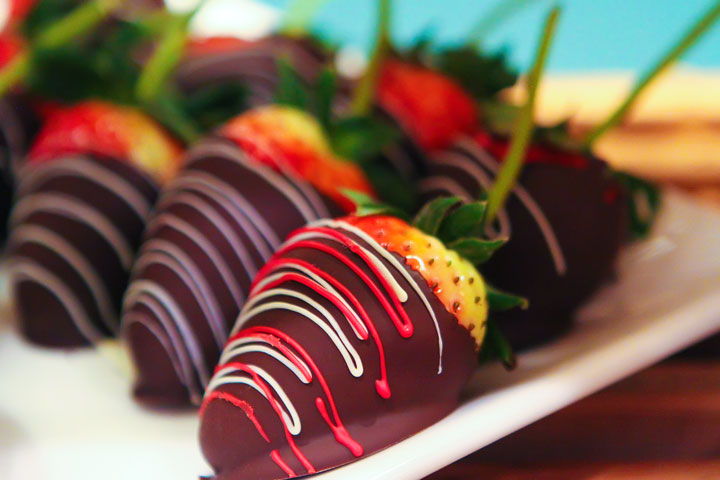 Love chocolate covered strawberries!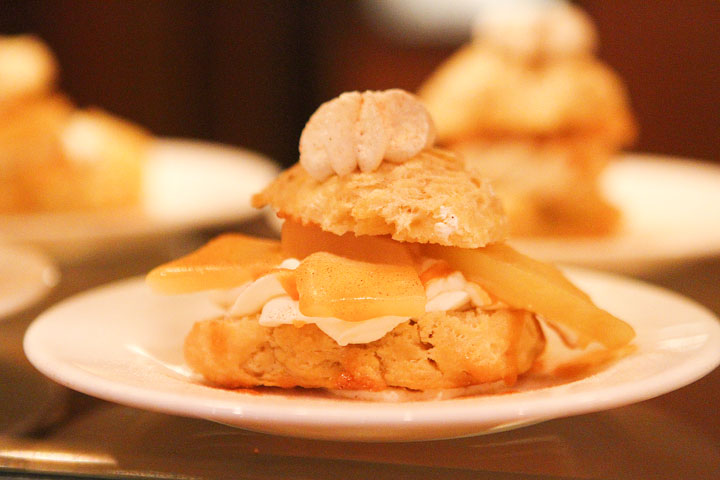 Sweet pear shortcake.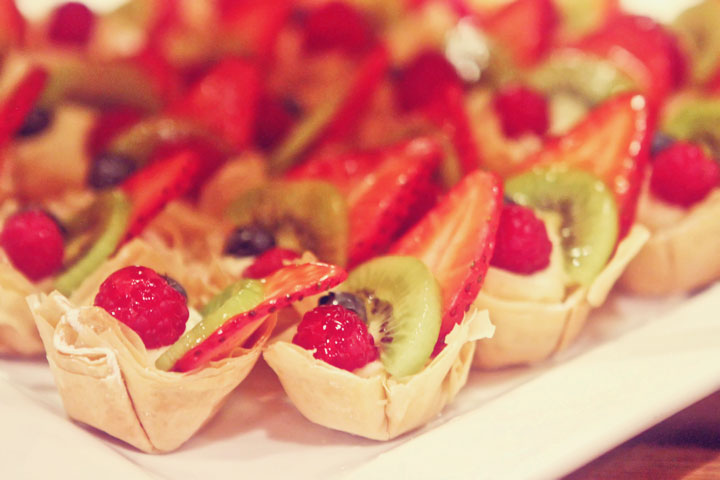 And perfect little fruit pastries.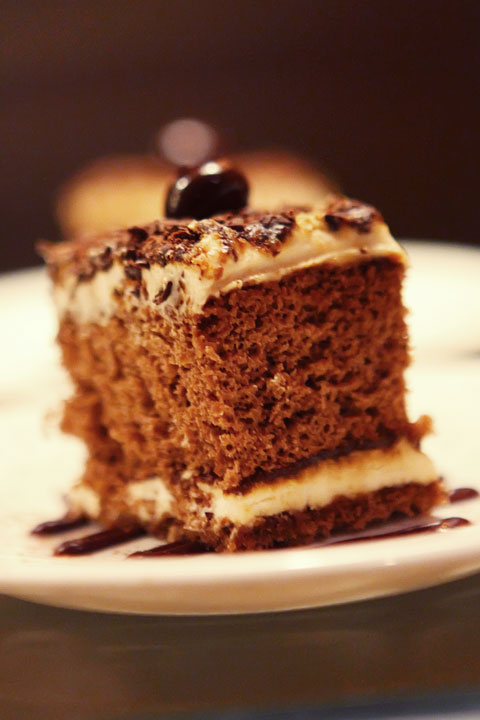 Fabulous tiramisu!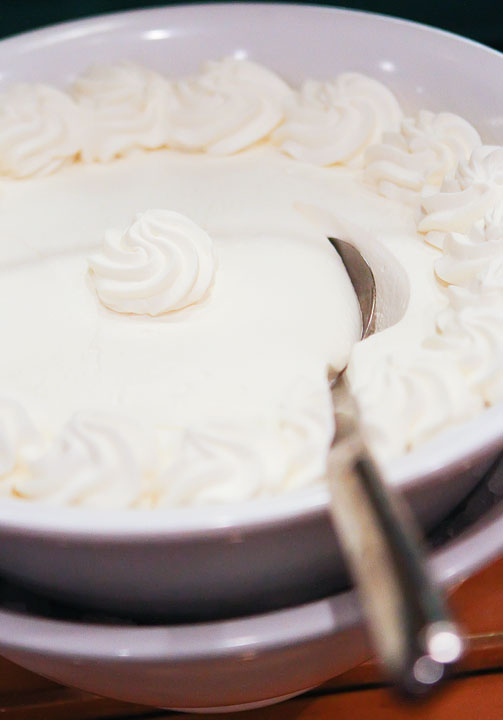 Extra whipped cream, anyone? You can't tell from the photo, but that spoon was about the size of my face. Holy yes please.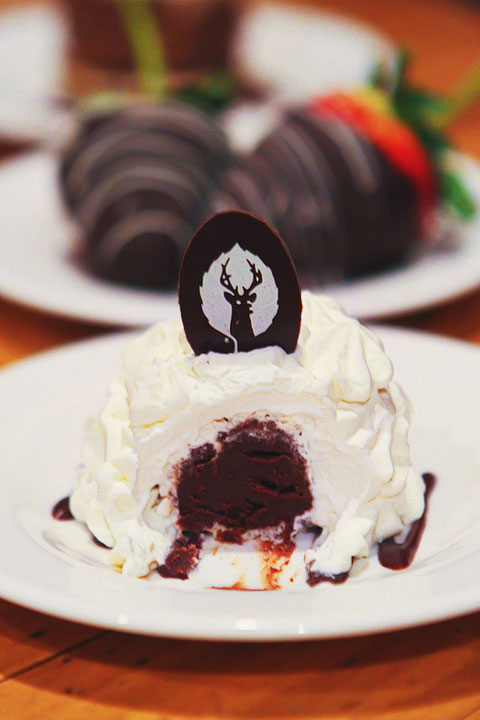 My favorite thing ever was the famous Deer Valley Chocolate Snowball. It's an ultra decadent chocolate cake covered in whipped cream frosting. Heaven on a plate! My new friend Barbara (who I got to meet while we were in SLC!) recently got to make these chocolate snowballs at the Deer Valley kitchens with their executive pastry chef, and she's got the recipe on her blog!! I am totally giving these a try as soon as humanly possible. The recipe calls for either hot water or coffee, and if you are a fan of sweet chocolatey mocha, I would definitely use coffee in this recipe! I could definitely taste it in the original snowballs, it completely intensifies the fabulous chocolatiness of the cake. :)
By the way, I am officially declaring chocolatiness a word.
Thank you so, so much to Deer Valley for making this priceless opportunity possible. We loved every single second of our stay here. I hope we can come back to visit soon! :)