Planning a trip to Angkor Wat? Visiting the Angkor Wat temple itself only takes about 2-3 hours. But there are SO many more amazing things to do in Siem Reap that you should spend at least 3-4 days here. If you're going all the way to Cambodia, here are the top 10 things you need to do before you leave Siem Reap!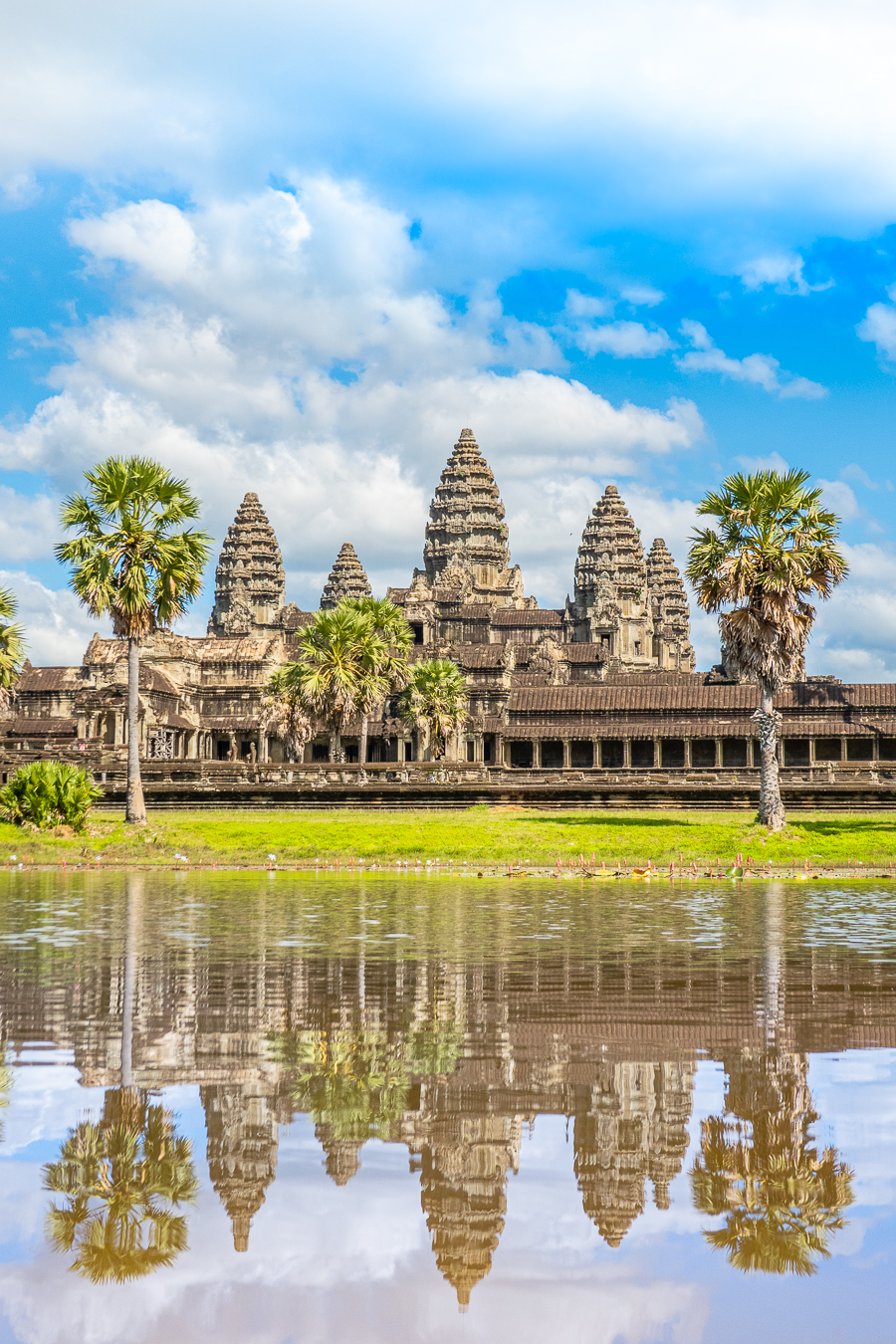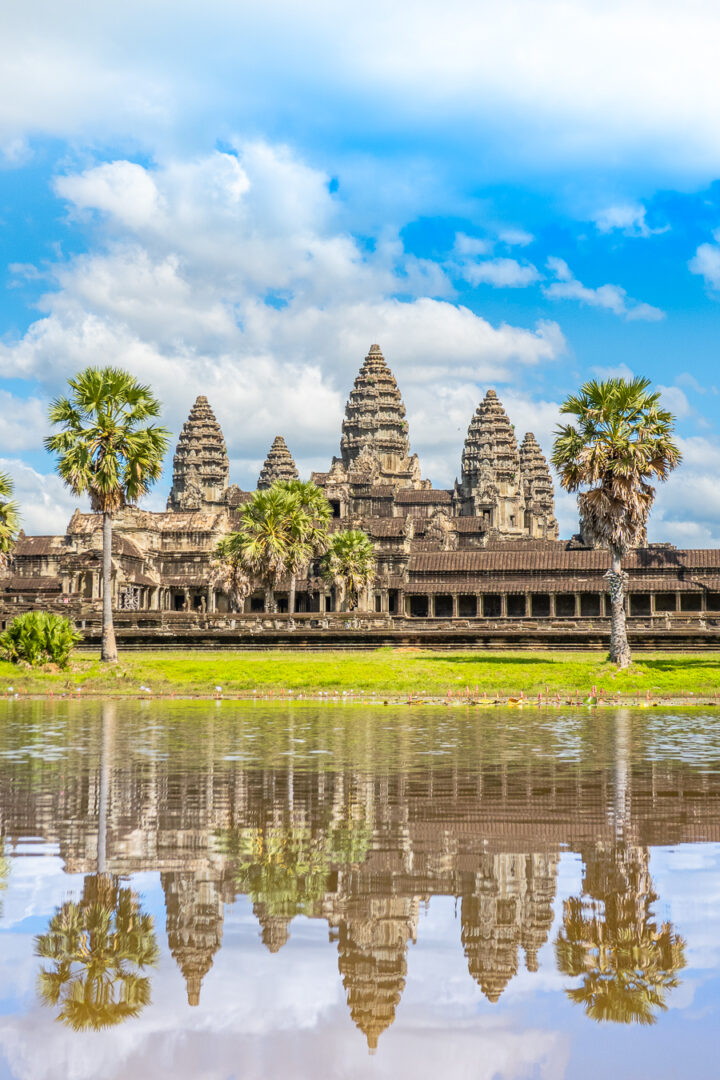 Where is Siem Reap?
Located in northwestern Cambodia, close to the border of Thailand, Siem Reap is the closest town outside of Angkor Wat, the largest religious monument in the world.
It's easy to get to Siem Reap with a quick 1-hour flight direct from Bangkok. Siem Reap is where the airport is located for the area, and is also where all of the hotels and restaurants are.
The city is only 4 miles away from Angkor Wat, and is definitely where you want to stay if you're planning to visit this famous temple.
Is Siem Reap safe?
As one of the most popular destinations in Cambodia, Siem Reap is a very safe and tourist-friendly city.
You obviously should keep your wits about you as opportunistic crimes such as bag snatching can occasionally happen, but otherwise the crime rate is quite low.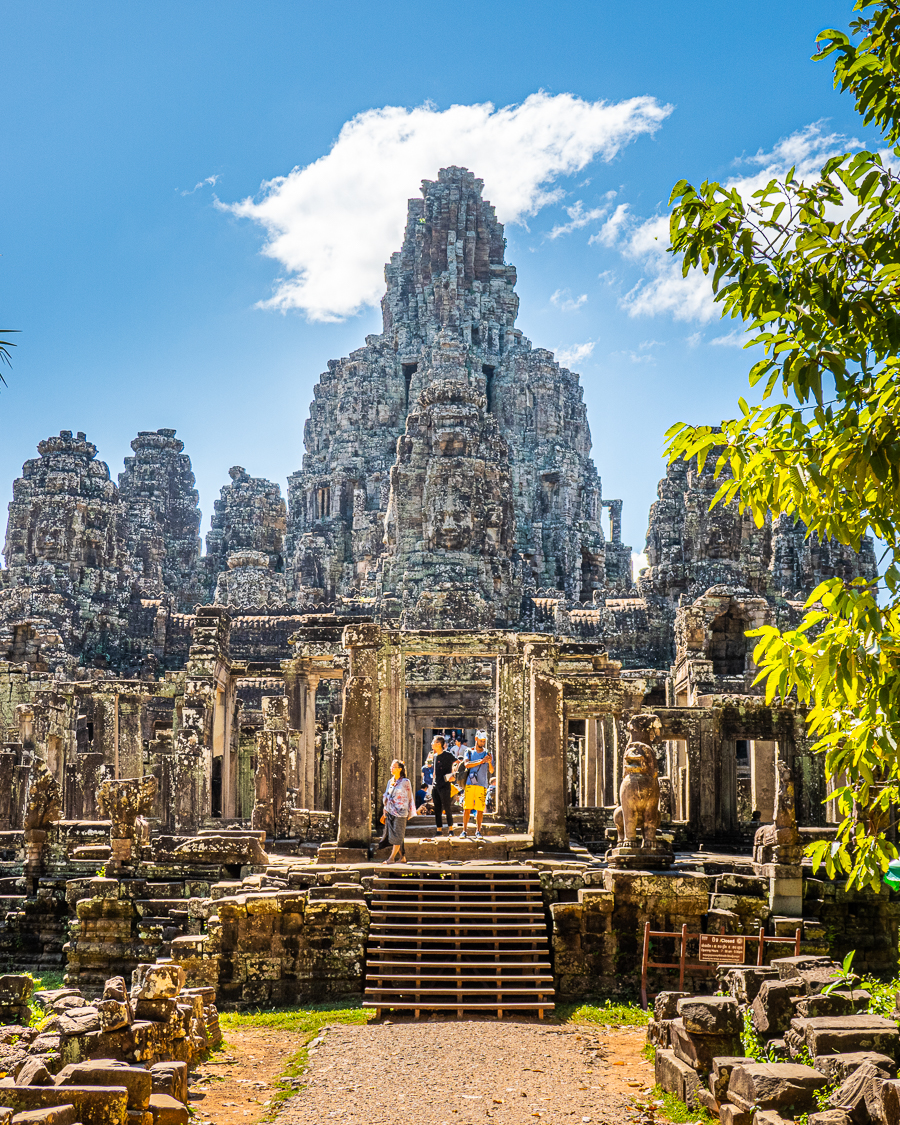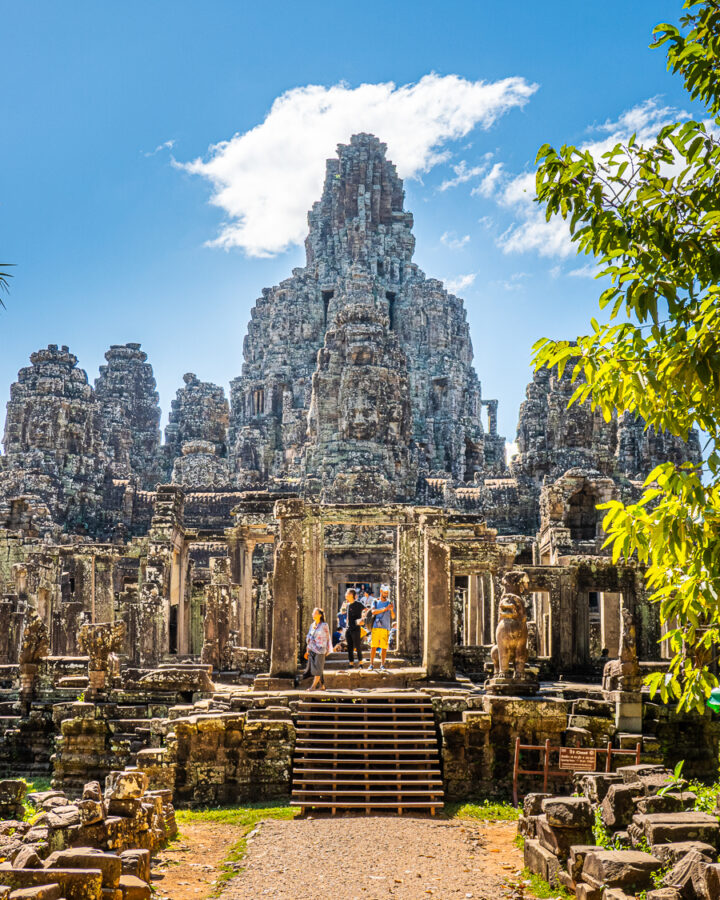 Is Siem Reap worth visiting?
Absolutely, yes. The region is home to several truly remarkable ancient temple sites that are unlike anything else in the world. It is worth planning at least several days in Siem Reap for a chance to visit them all.
How many days should I spend in Siem Reap?
You should plan to spend 3-4 days in the town when visiting Siem Reap.
We recommend you get the 3-day pass to the Angkor Archeological Park, which can only be purchased on-site at the official ticket center. This pass not only grants you access to the Angkor temples, but is valid for other Siem Reap area sites, like the Bayon Temple, Angkor Thom, and the famous Ta Prohm Temple that was featured in the Lara Croft: Tomb Raider movie!
What is there to do in Siem Reap besides Angkor Wat?
There are SO many more incredible temples to see in Siem Reap besides Angkor Wat. Below we have a list of the 10 most popular things to do in Siem Reap, along with our tips for visiting each place. These are the things you don't want to miss if you're going to Angkor Wat. Use this guide to help plan your itinerary so you don't miss any of the best things to do in Siem Reap!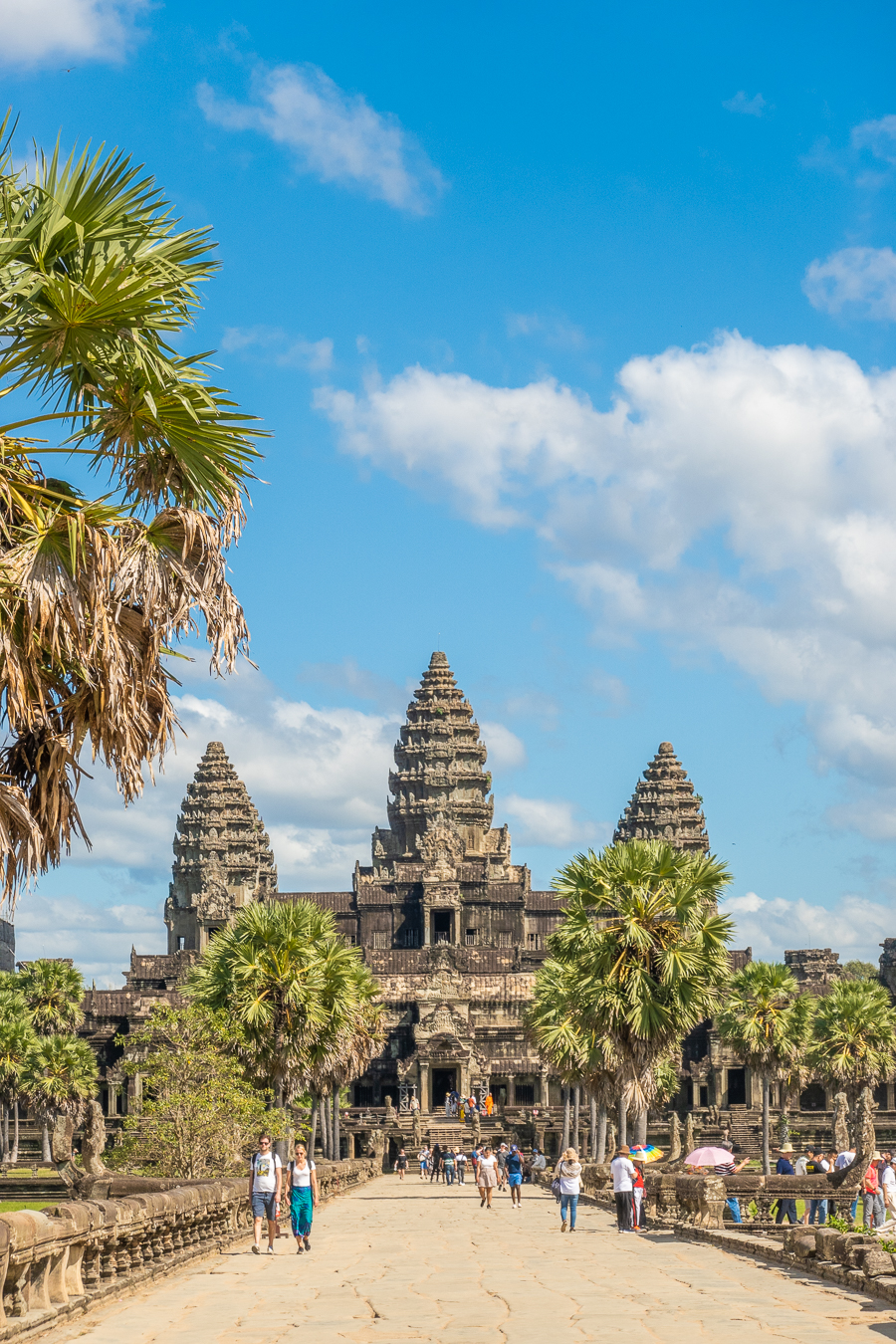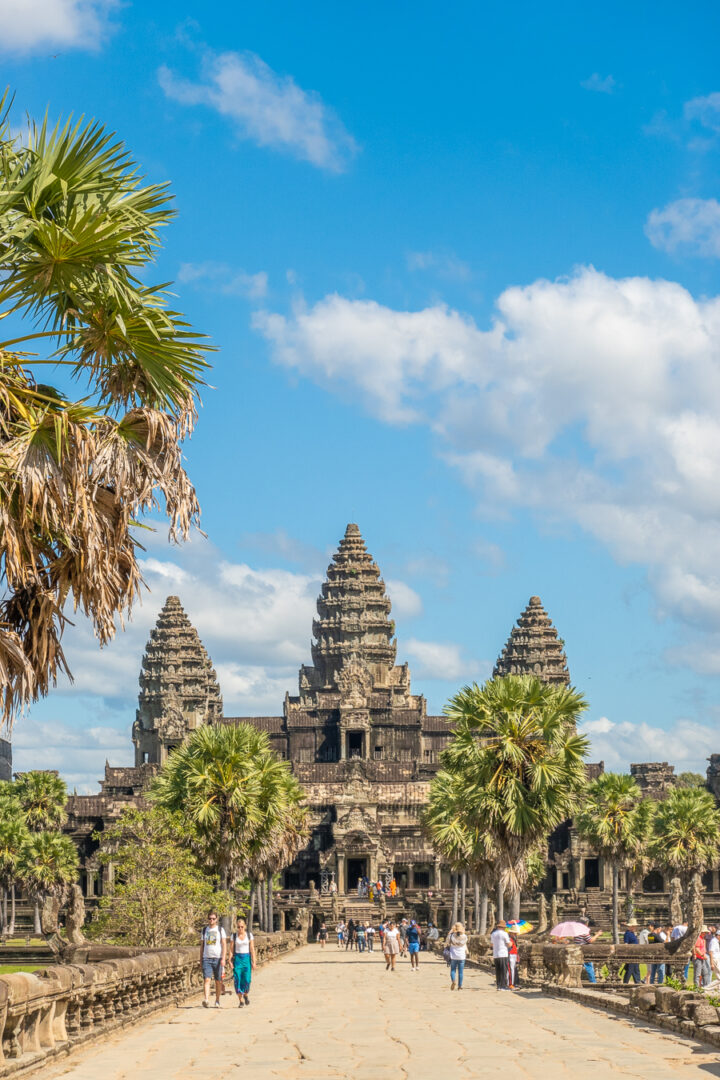 Best Things To Do in Siem Reap #1:
Angkor Wat
The nearly 1,000 year old temple of Angkor Wat is the world's largest religious monument, sprawling over an incredible 400 acres of land.
Originally built for Hindu funeral rituals, throughout the 1200s Angkor Wat was slowly transformed into a Buddhist temple, and as a result, beautiful symbols and artwork from both of these religions remain throughout the grounds.
This awe-inspiring site is extremely well preserved, and tourists are able to independently wander the grounds. Because it allows for such a close-up experience of the massive ancient temple, including being able to climb stairs and touch all of the structures, it is one of — if not the — most popular tourist destinations for those visiting Siem Reap.
In fact, Angkor Wat is such a large and bustling site that we have dedicated an entire blog post just to visiting this one temple. Read How to Plan the Perfect Trip to Angkor Wat to get planning!
Not only does this post offer great firsthand insight for making sure you get all of the must-see spots on your list (including a breathtaking second floor view), we share the best time to go to avoid crowds.
(Hint: it's not at sunrise!)
The above picture was taken during peak tourist season, but as you can see it's not too crowded during our visit.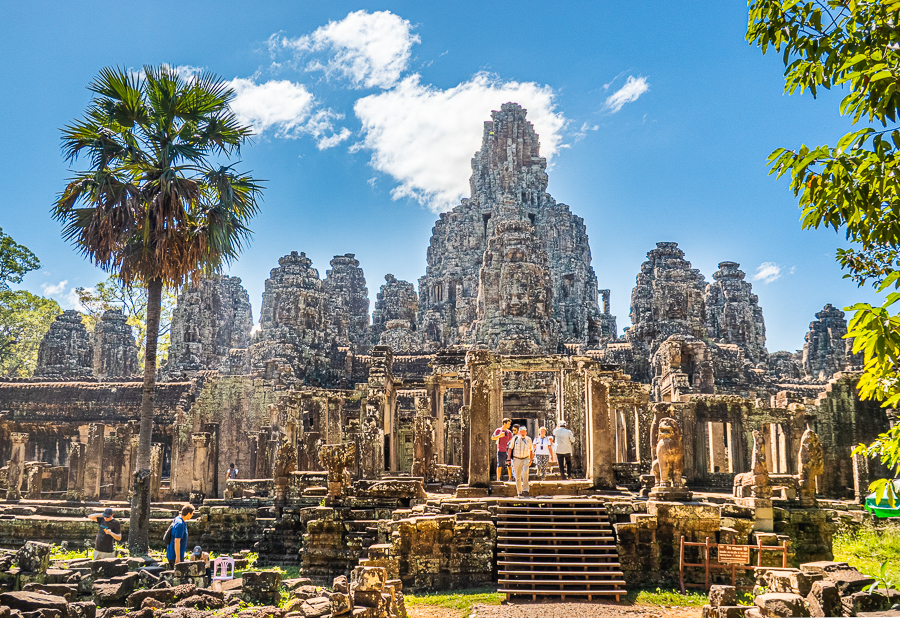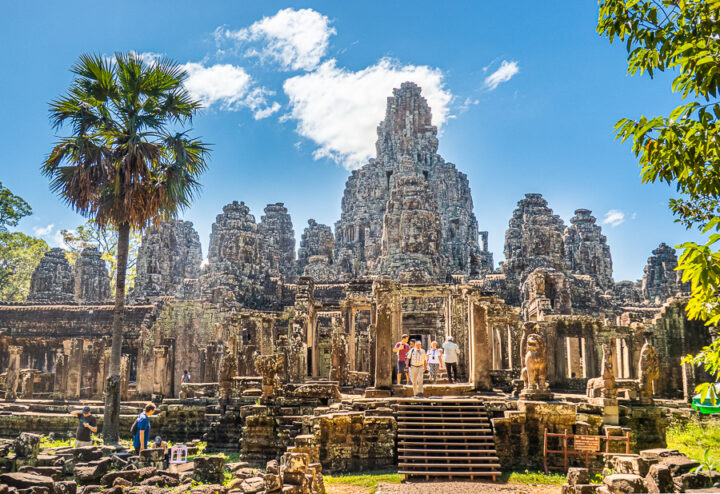 Best Things To Do in Siem Reap #2:
Bayon Temple
Famous for the 200+ large smiling faces carved into stone walls, the Bayon Temple of Angkor Thom was built in the 1200s by the Buddhist King Jayavarman VII.
Serene stone faces completely cover the monument site. They all resemble the King, however, each one is remarkably unique.
There are a total of 54 large towers remaining today that make up the Bayon Temple. Every pillar has four faces carved around the base, one on each of the four sides, all featuring a similar peaceful expression.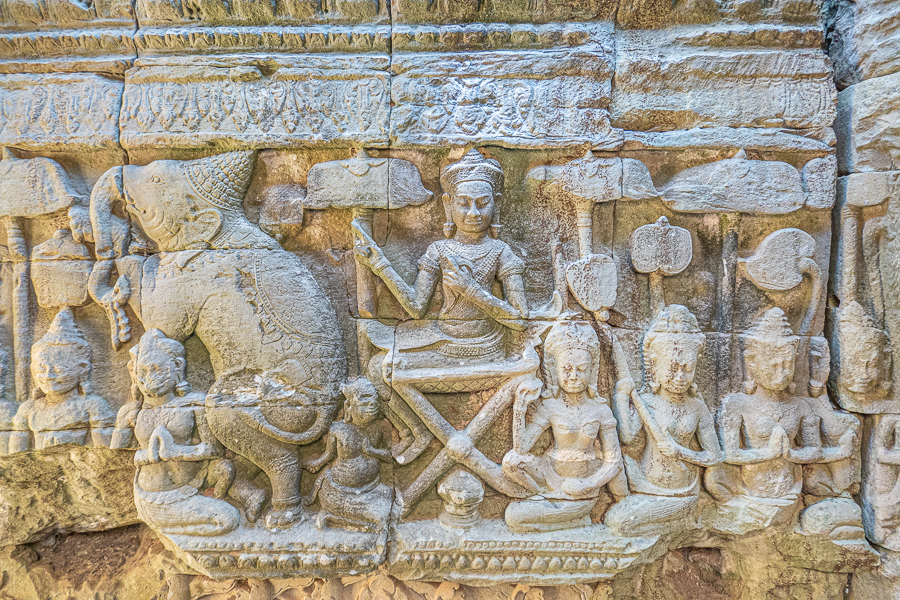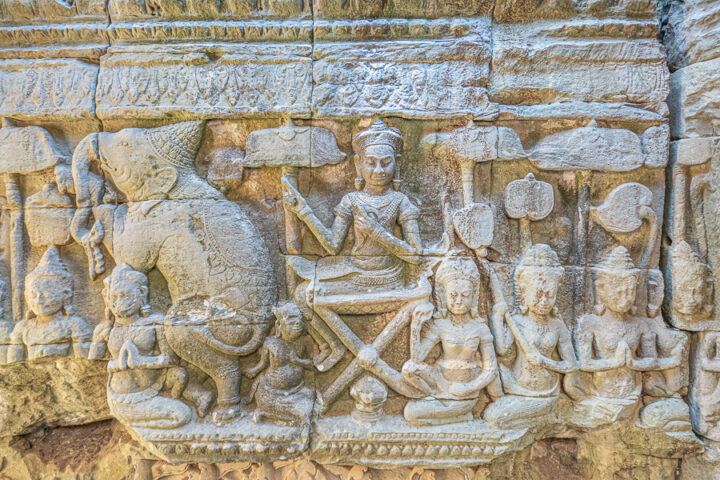 Incredible, intricate carvings are everywhere in the temple, depicting various scenes of everyday life in Cambodia and both Hindu and Buddhist religious rituals.
You will need about 1 hour at Bayon Temple to completely walk the site and take in all of the stone artwork.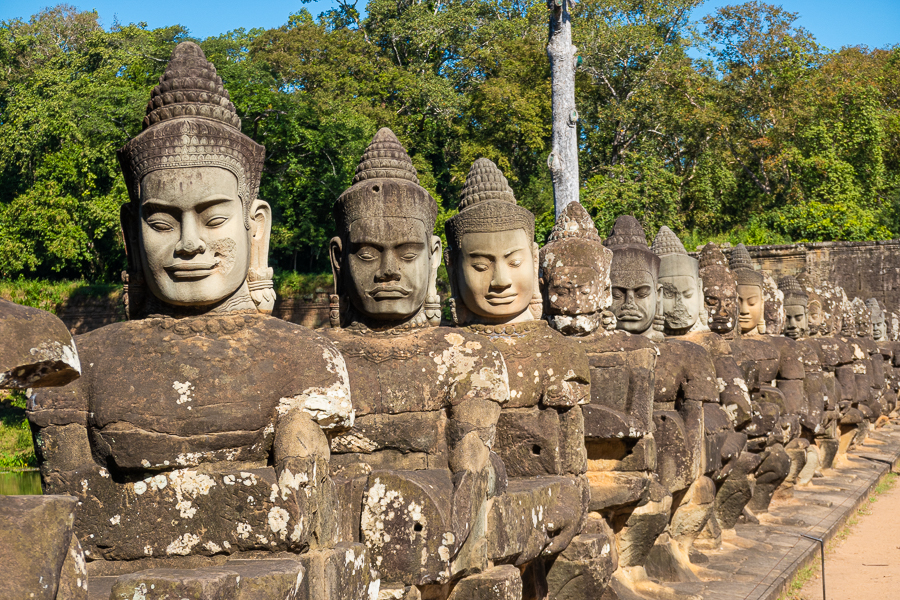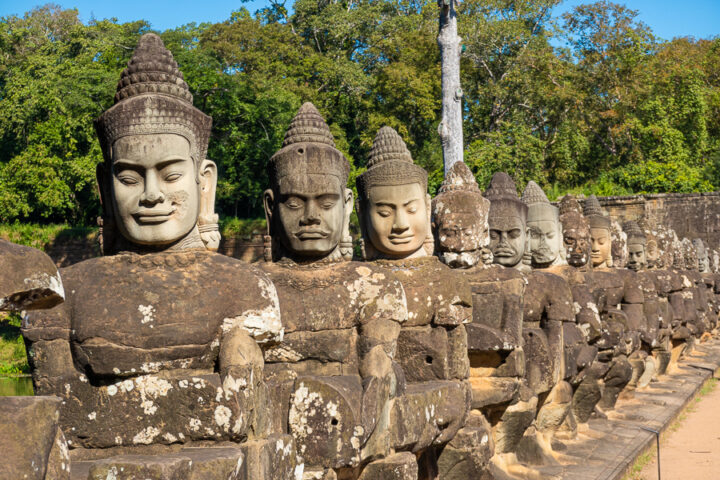 Best Things To Do in Siem Reap #3:
Angkor Thom
Meaning "Big City," Angkor Thom was the last capital city of the Khmer Empire in the 1200s, and remains one of the largest attractions near Siem Reap.
It is a sprawling walled city with many temples inside, including the best known and previously mentioned Bayon Temple.
You will want to enter through the south gate of Angkor Thom, as it is the most well-preserved section of the site. The bridge to this entrance is lined with dozens of Buddha face statues, shown in the photo above.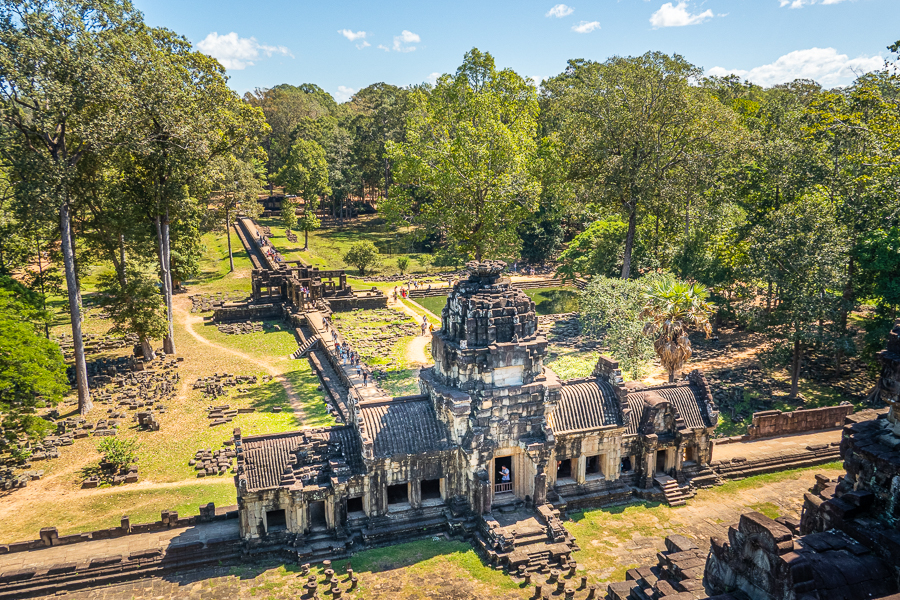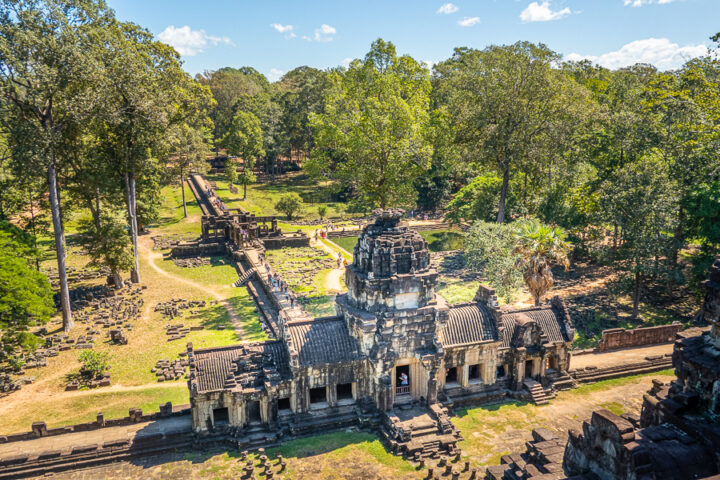 Baphuon Temple
After visiting Bayon Temple you can walk right next door to Baphuon Temple.
Built in the 1000s, the pyramid-style temple offers one of the most impressive views of Angkor Thom. A steep set of (recently constructed) stairs leads to a panoramic terrace, and is where the above picture was taken. It's a lovely view if you don't mind a climb!
Terrace of the Elephants
After visiting Baphuon, keep walking down the main street to the Terrace of the Elephants.
As the name implies, this huge stone terrace is lined with majestic elephant statues and carvings. The platform stands at over 8 feet tall, and was once used by kings for viewing events and welcoming armies returning to the city.
You should plan to spend about 1 hour total exploring both Baphuon Temple and the Terrace of the Elephants after visiting the Bayon Temple.
So, all together we recommend planning at least 3 hours in Angkor Thom. It's a terrific sight-seeing adventure for a morning or afternoon!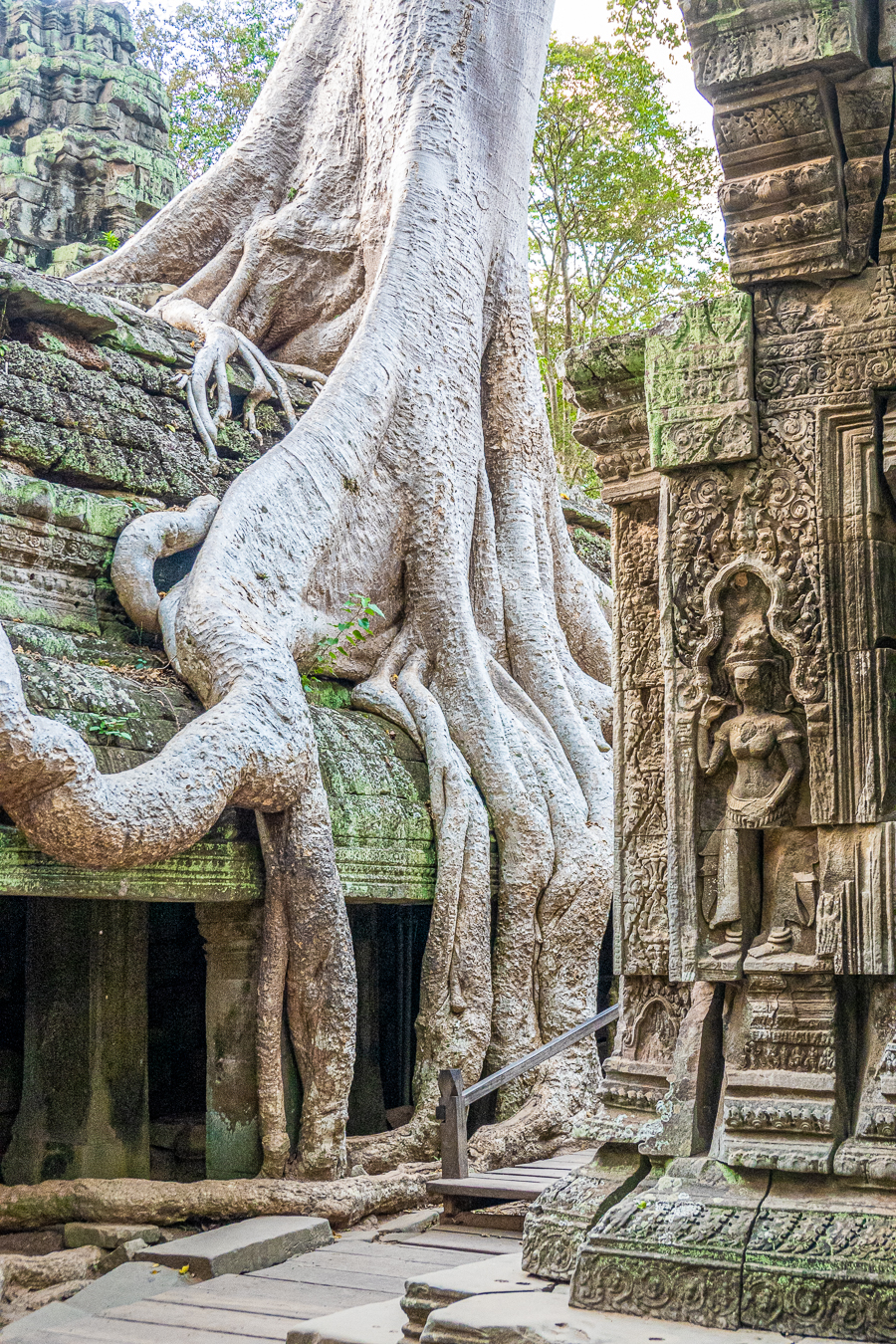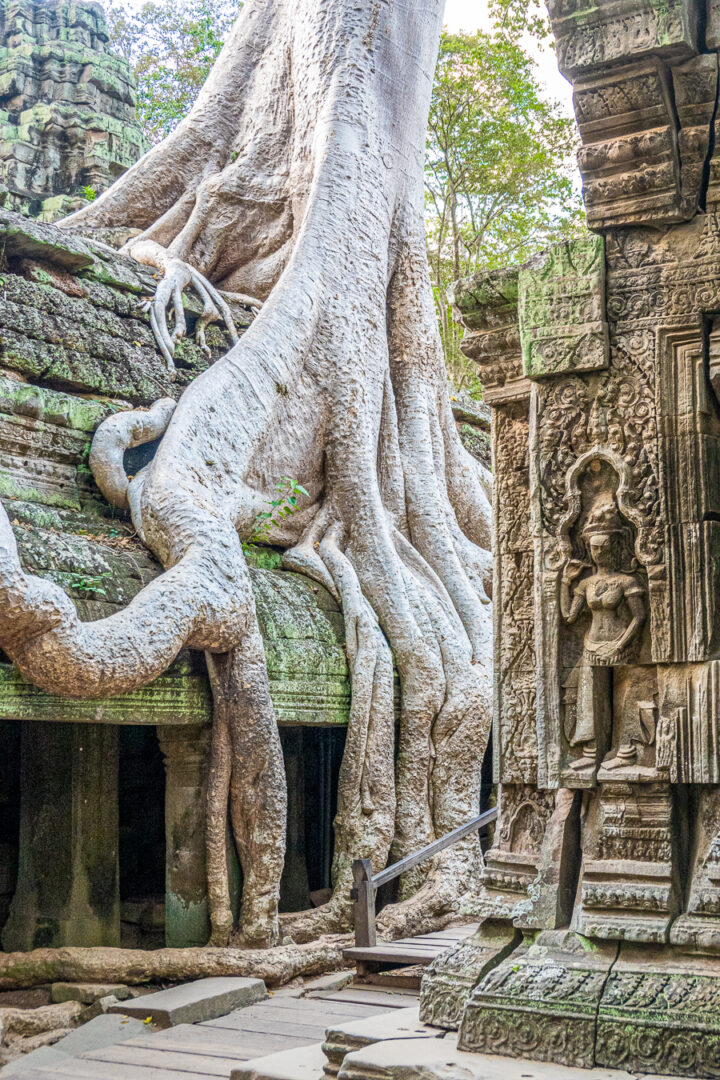 Best Things To Do in Siem Reap #4:
Ta Prohm Temple
Although this temple is less than one mile from the heavily restored city of Angkor Thom, the temple of Ta Prohm lies deep in the jungle completely covered in lush greenery.
Built in the late 1100s as a Buddhist monastery and university, the site has been left relatively untouched since the fall of the Khmer Empire in the 1500s.
Thick layers of trees and vines growing out of the ruins has created a incredibly picturesque landscape. Because of its rare beauty, the Ta Prohm Temple is a very popular tourist site when visiting Siem Reap.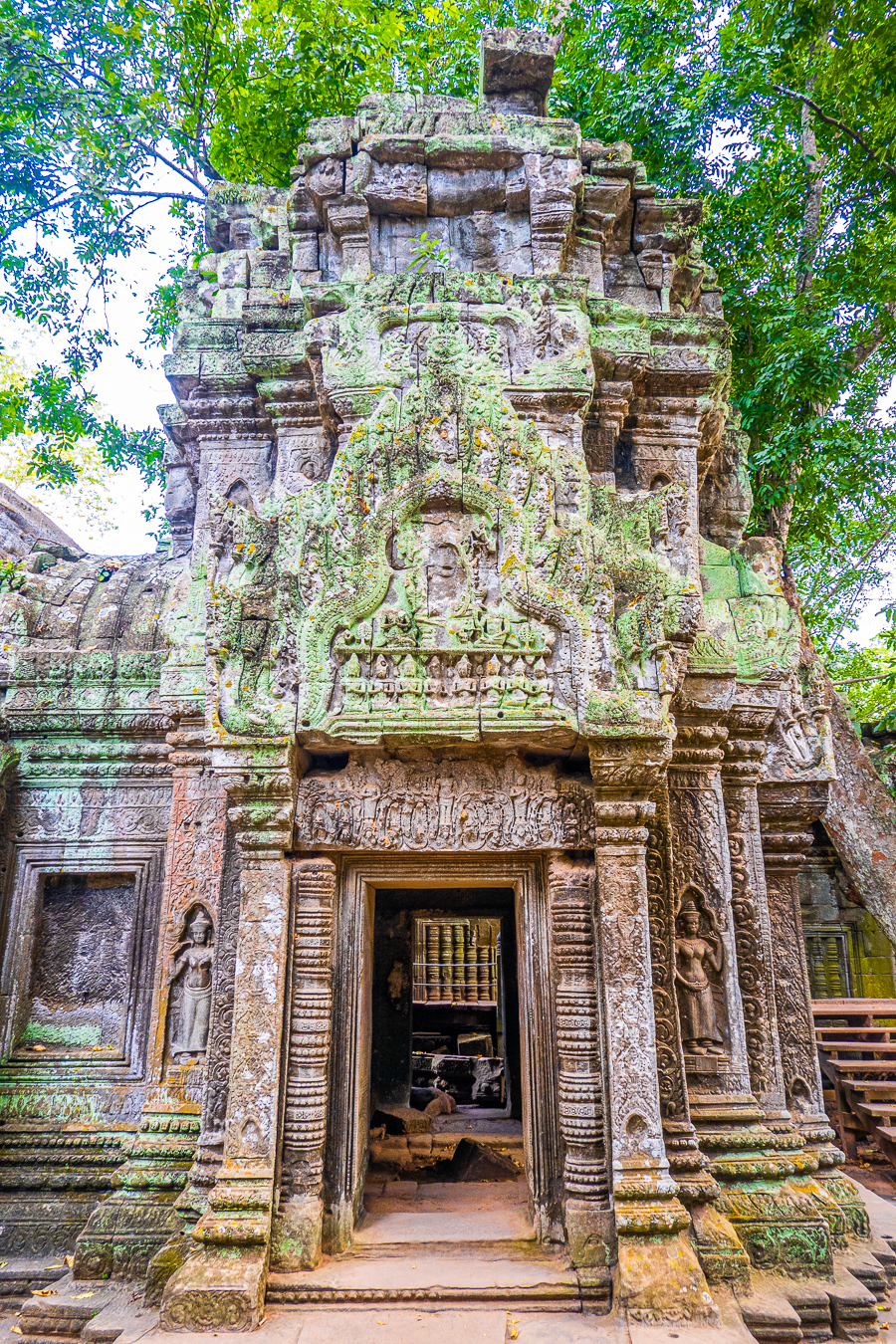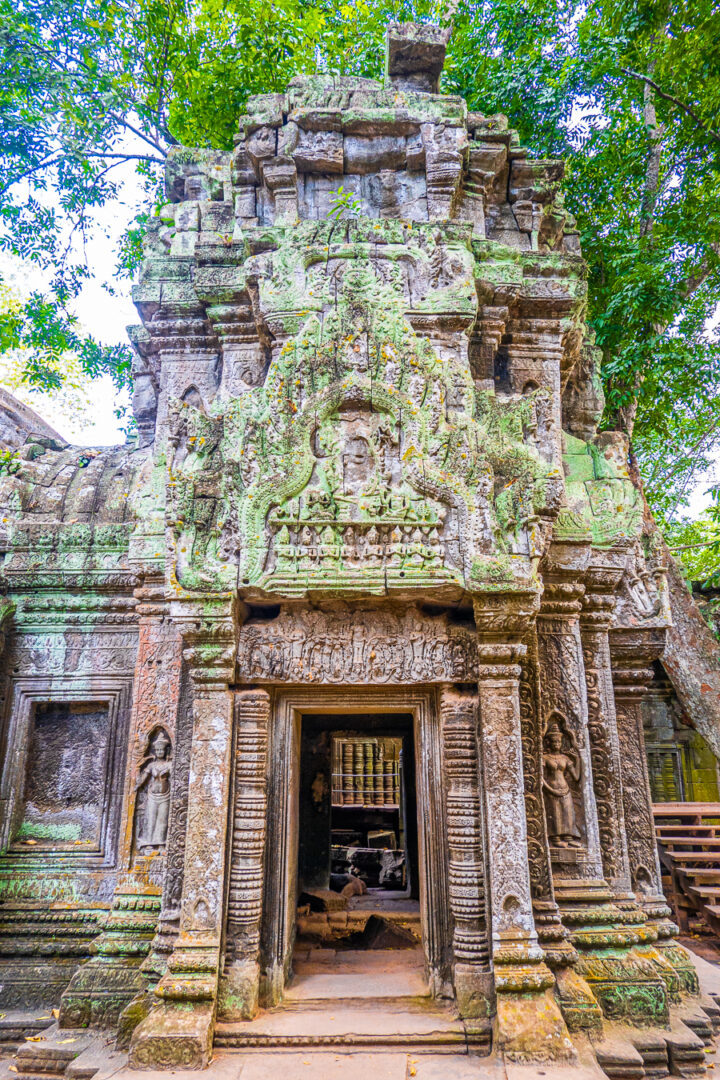 Tomb Raider Filming Location
If you're thinking to yourself Wait, I've seen this before…
You're not crazy: The movie Lara Croft: Tomb Raider was filmed here at the Ta Prohm Temple.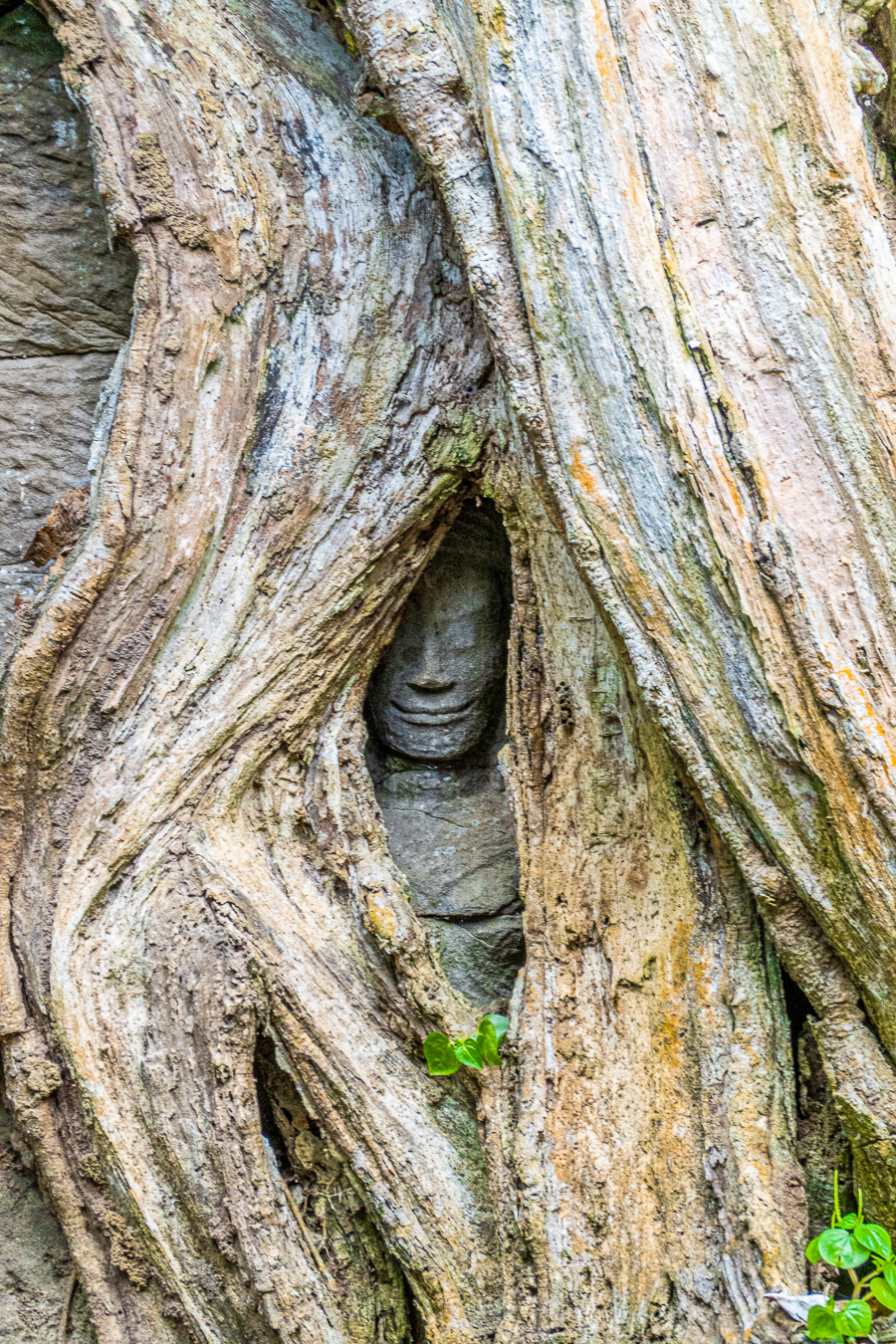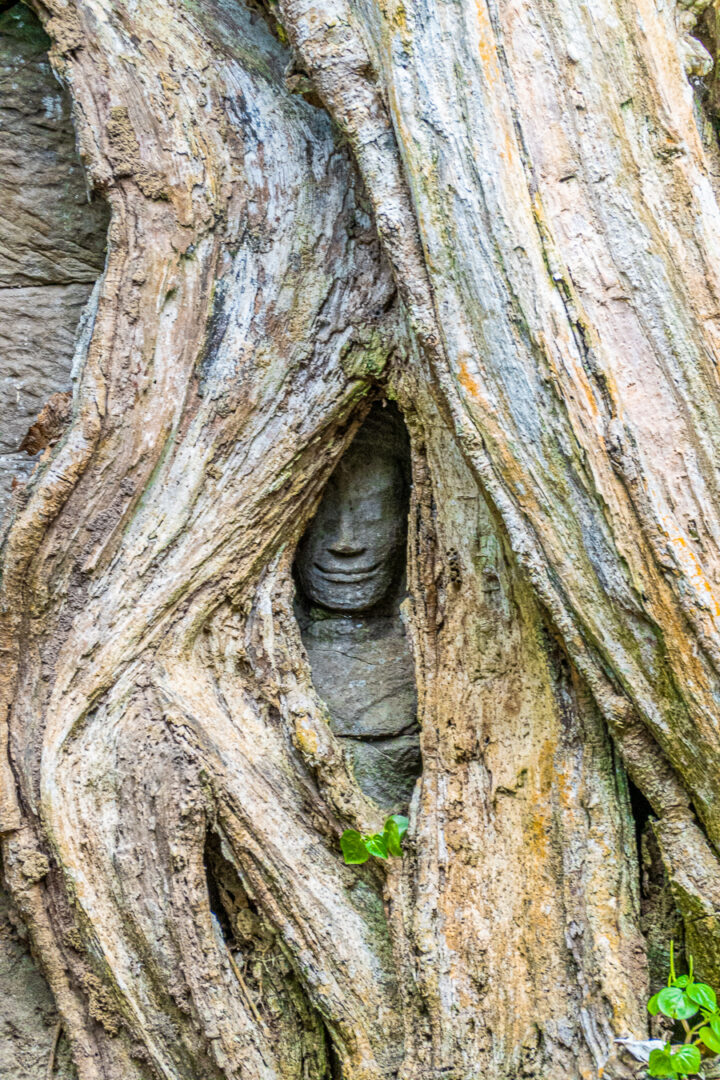 The awe-inspiring blend of ancient architecture and the natural surroundings is beyond surreal. This was by far one of my favorite sites to visit and photograph.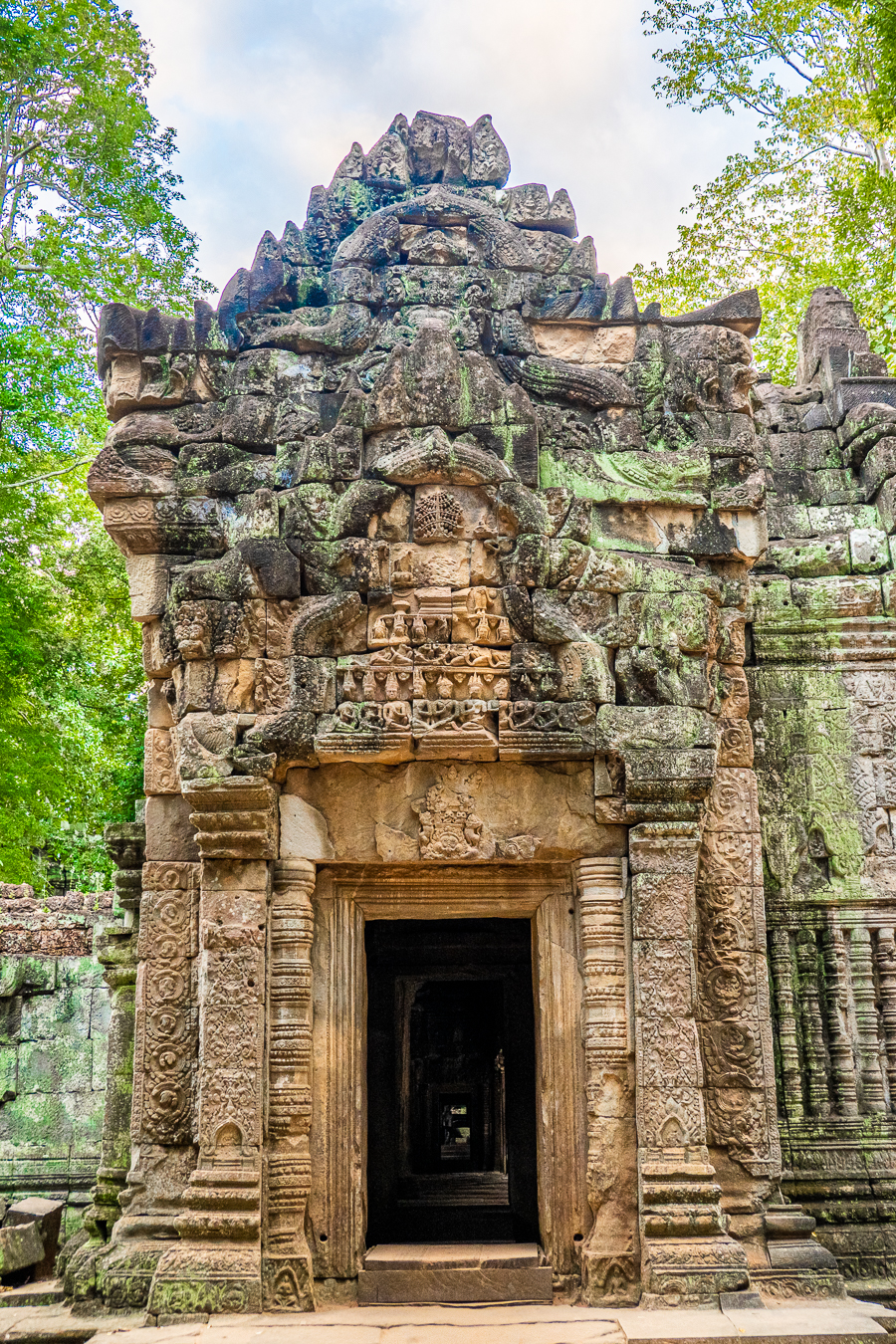 Mesmerizingly detailed artwork can be found on nearly every wall.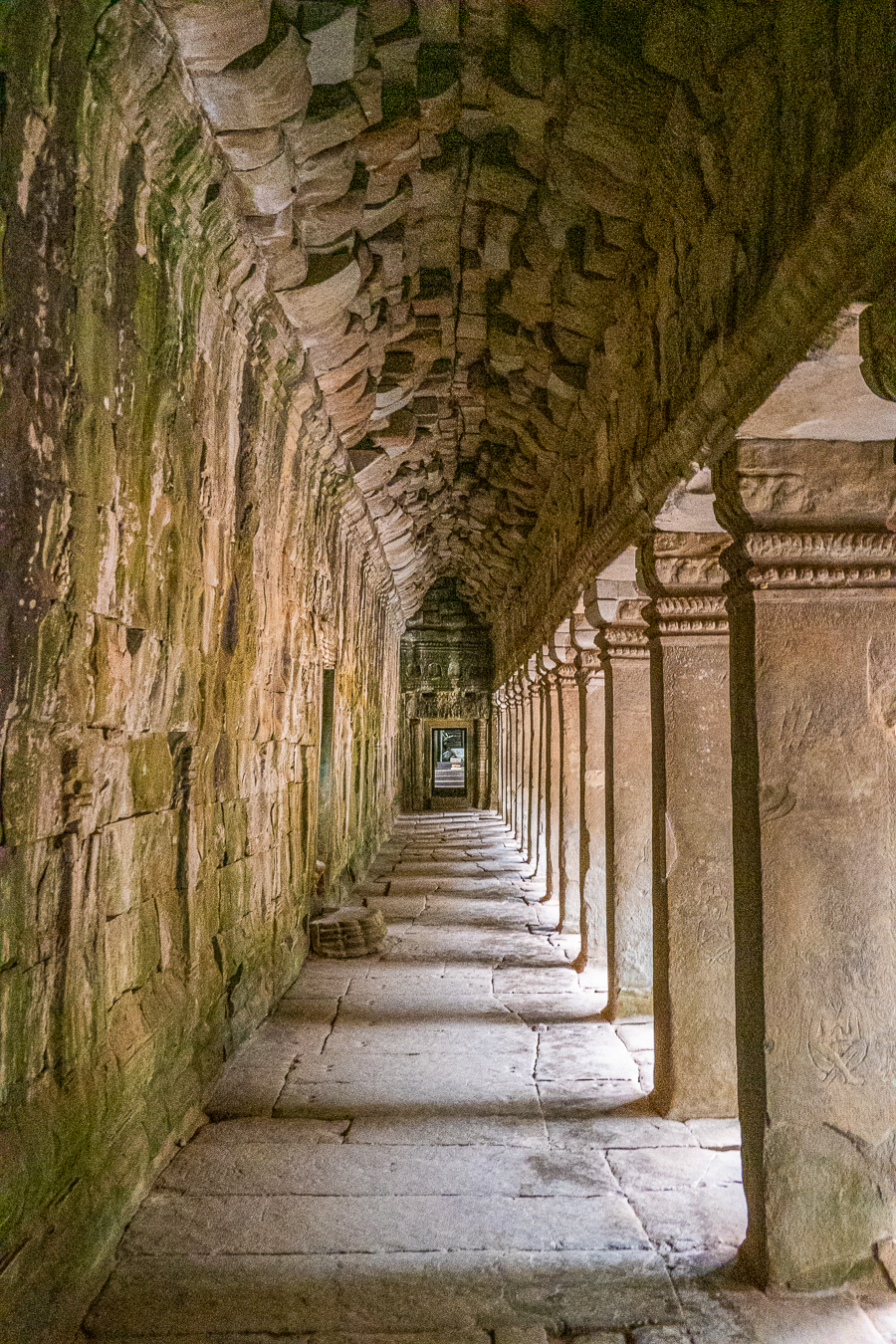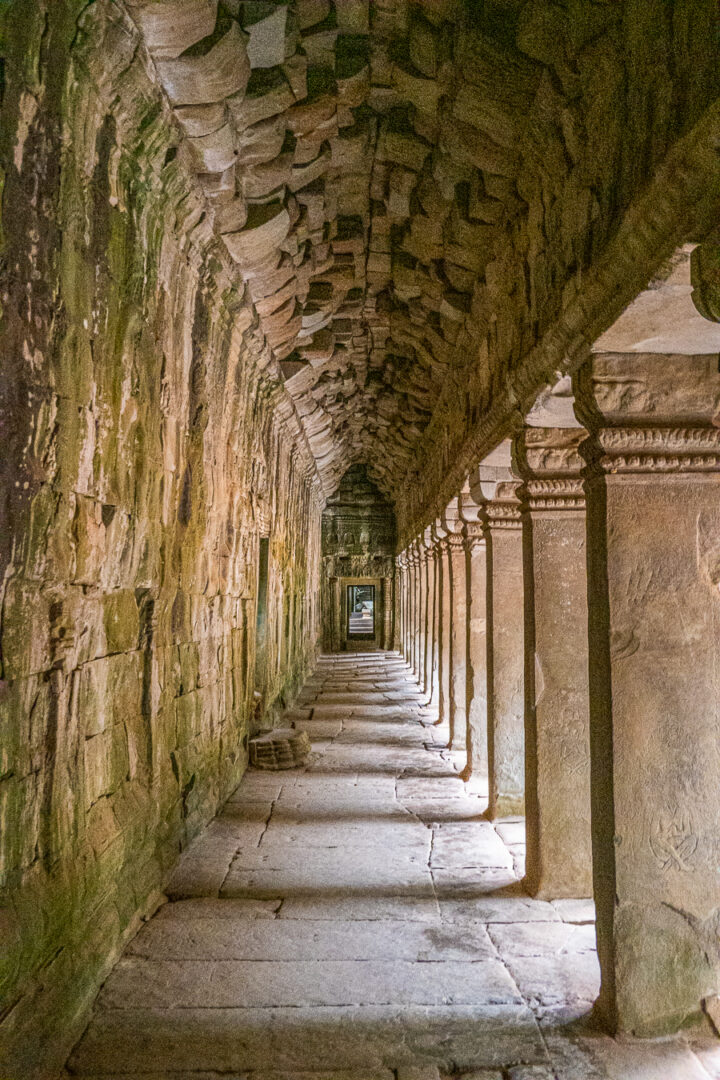 A long stone walkway offers some delightful shade from the mid-day heat.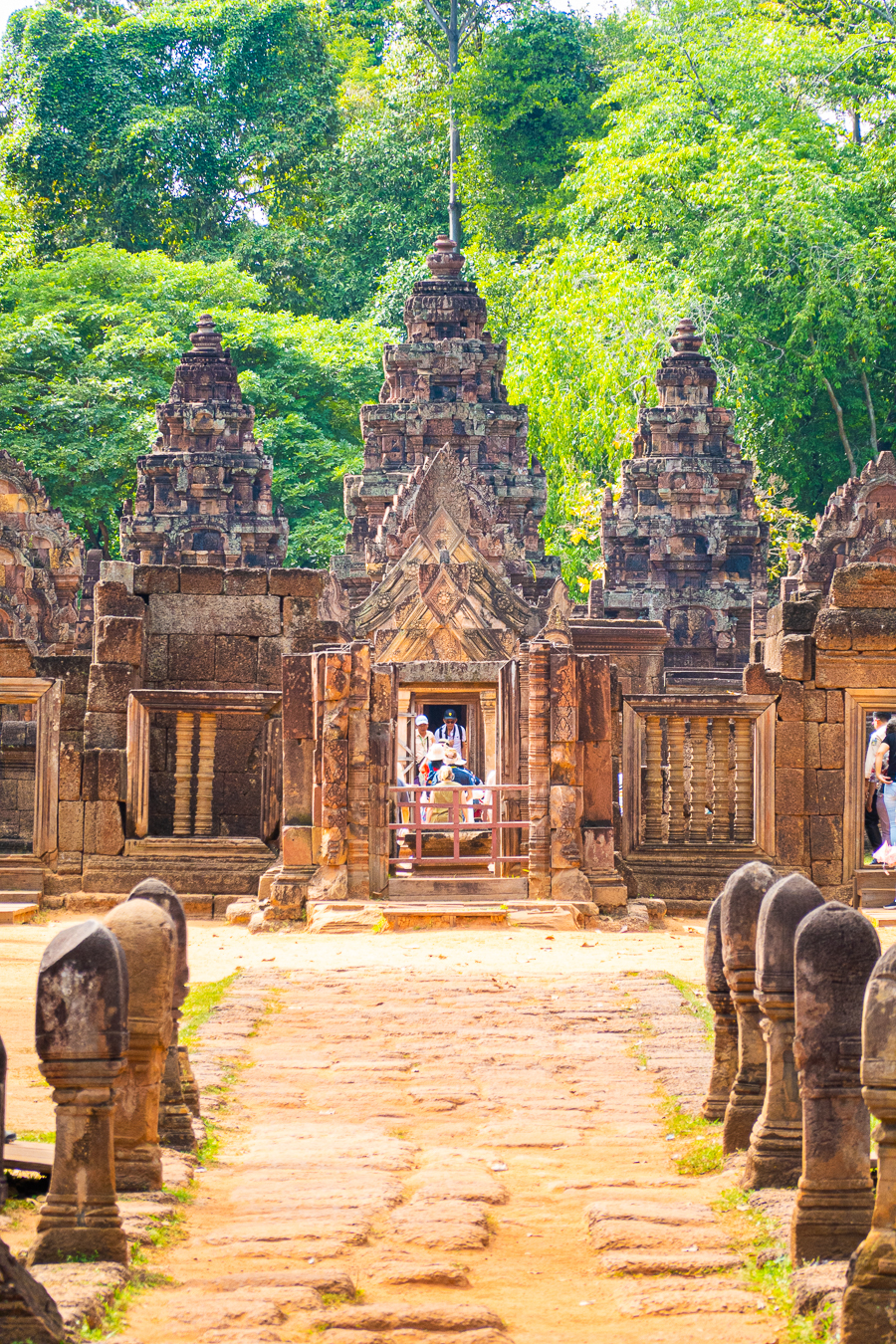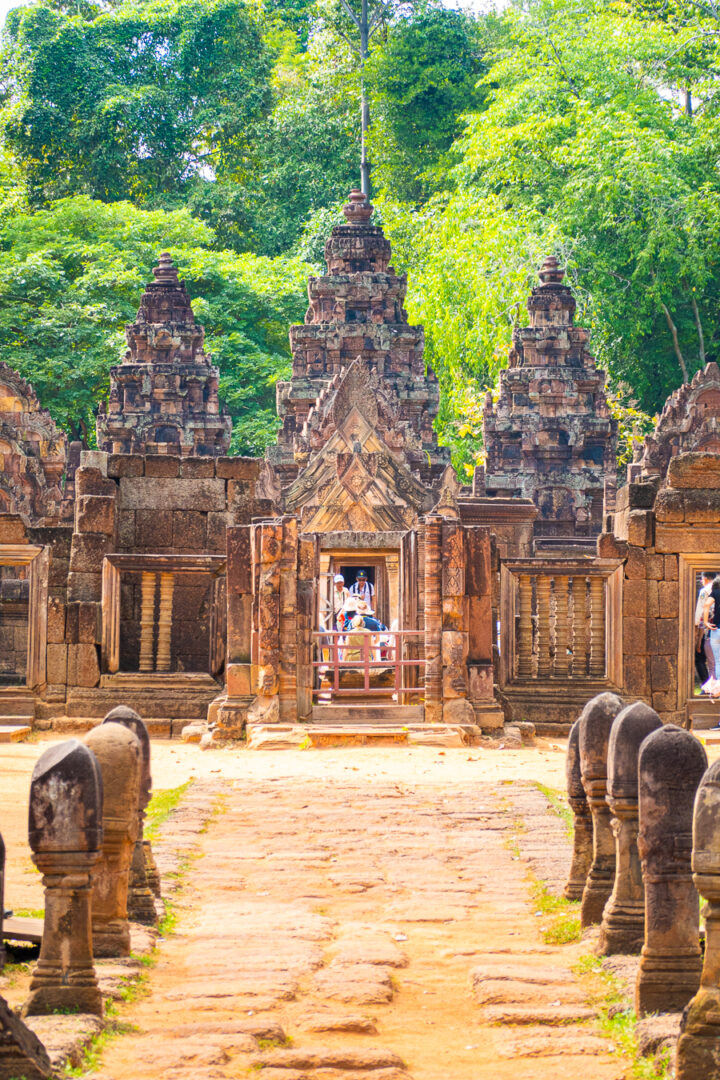 Best Things To Do in Siem Reap #5:
Banteay Srei Temple
Meaning "Citadel of Women" or "Citadel of Beauty" the Banteay Srei Temple is famous for its stunning carvings in redish-pink sandstone.
Although located a bit over 20 miles from the center of Siem Reap, it is definitely worth the trip to Banteay Srei. You could spend hours examining the intricate artwork!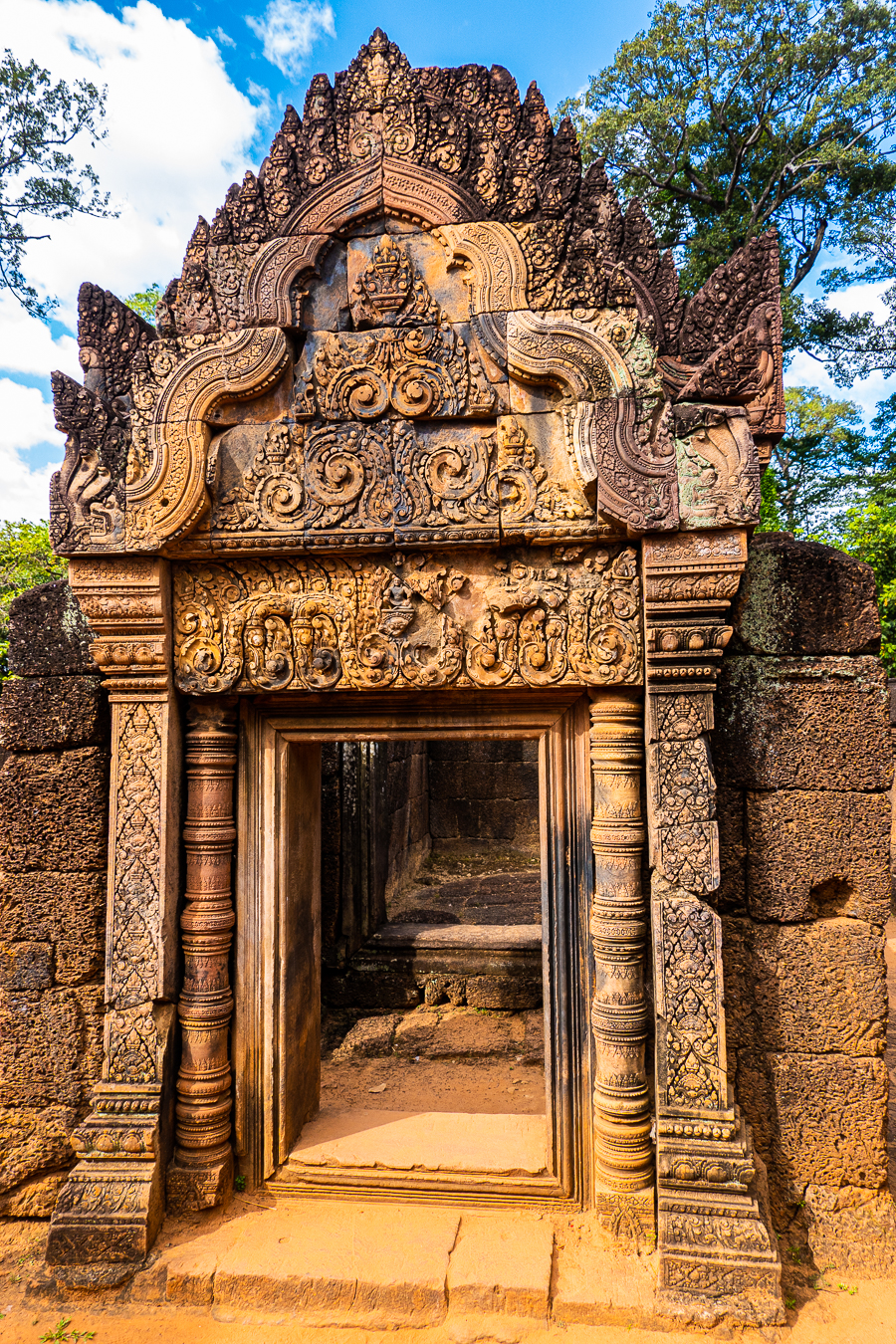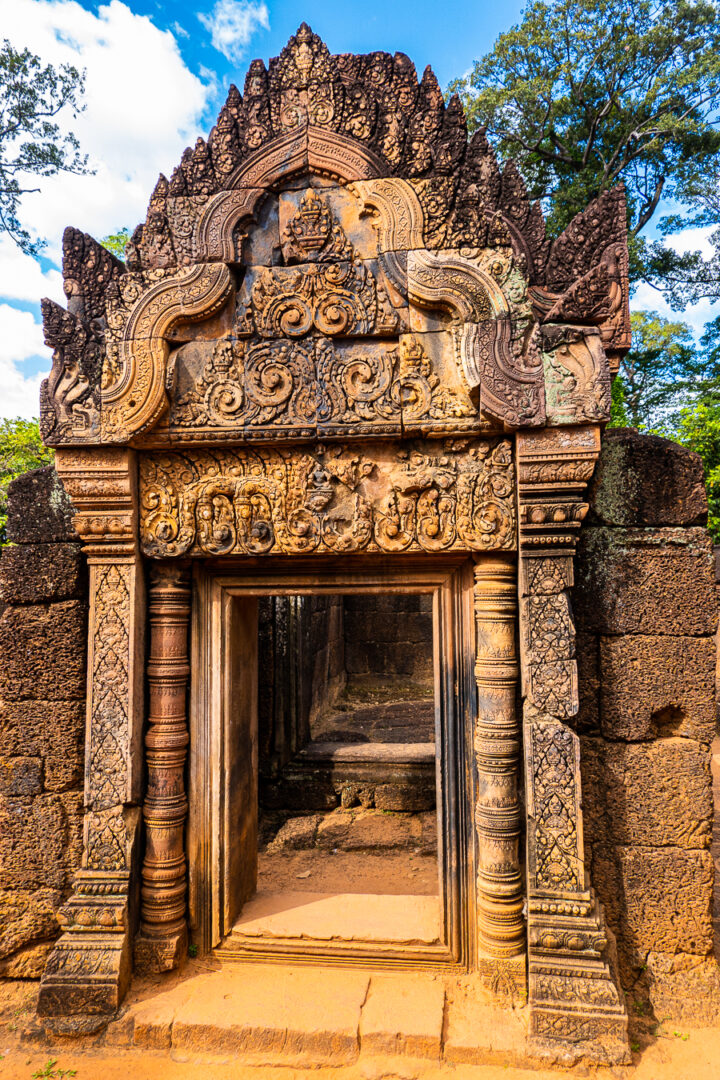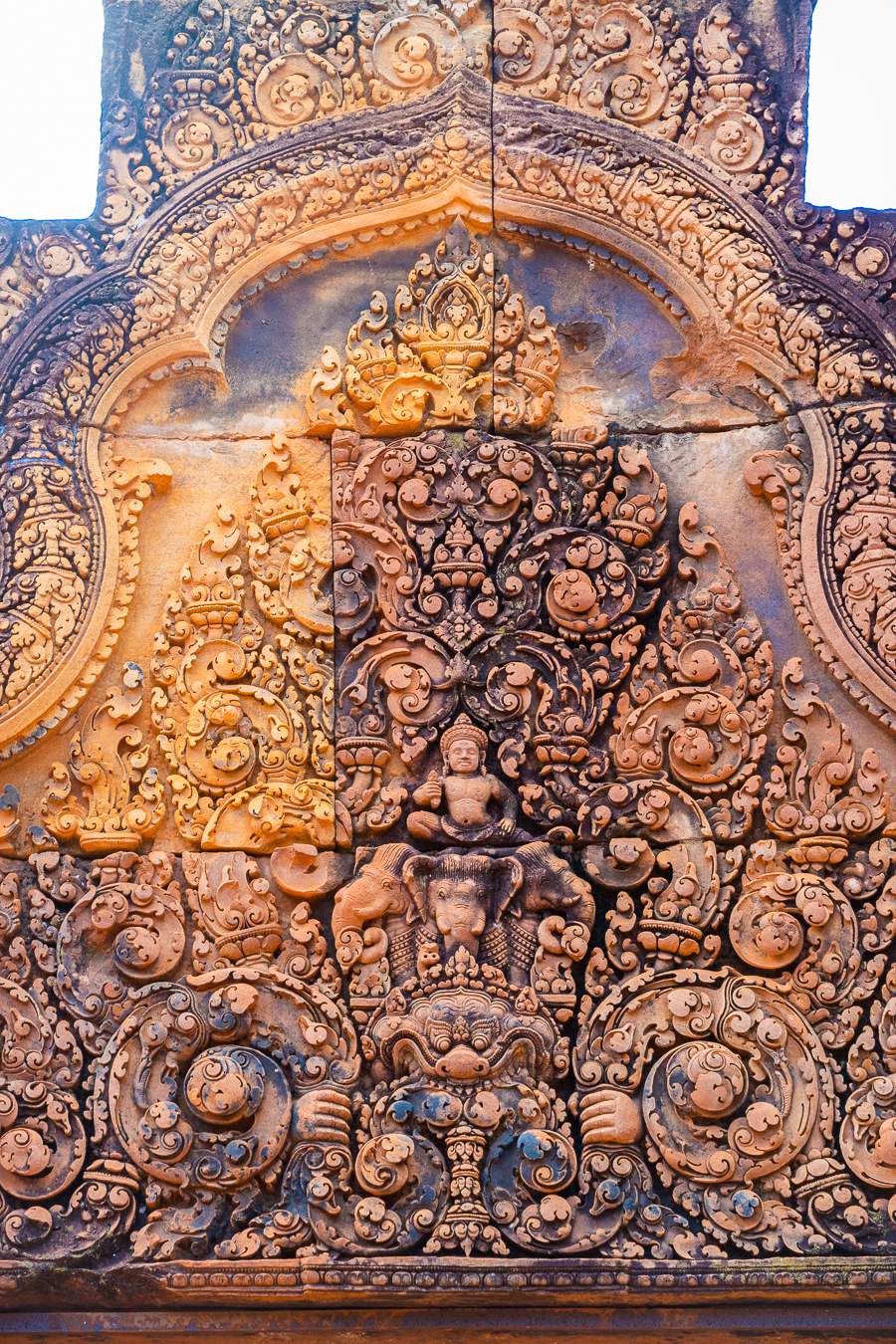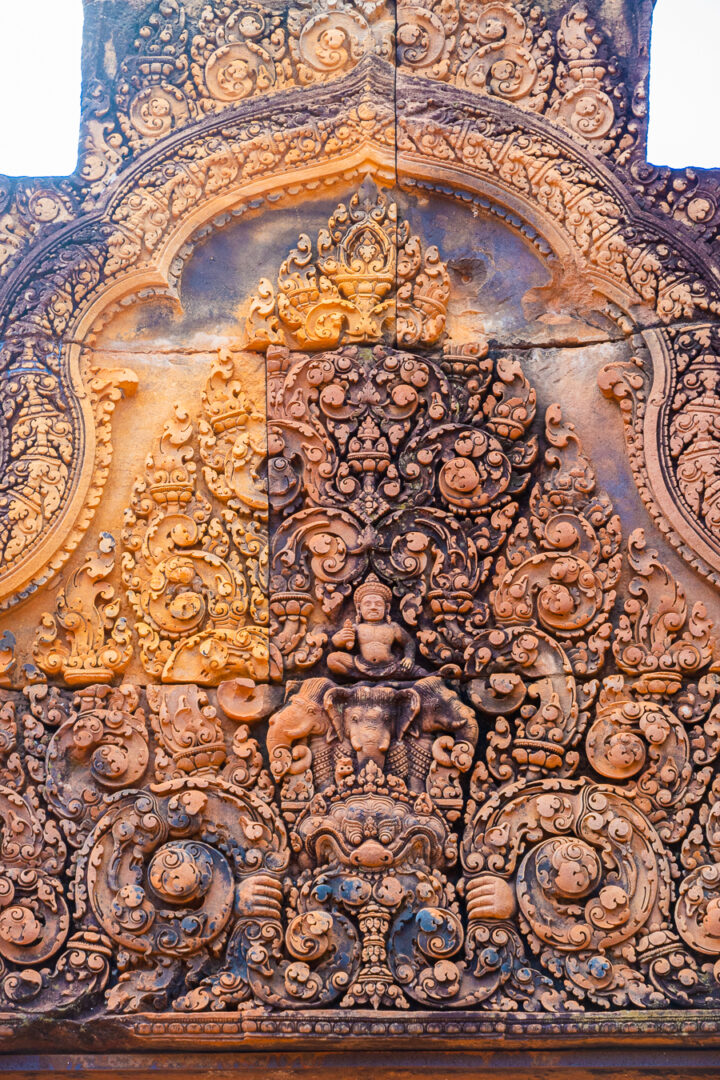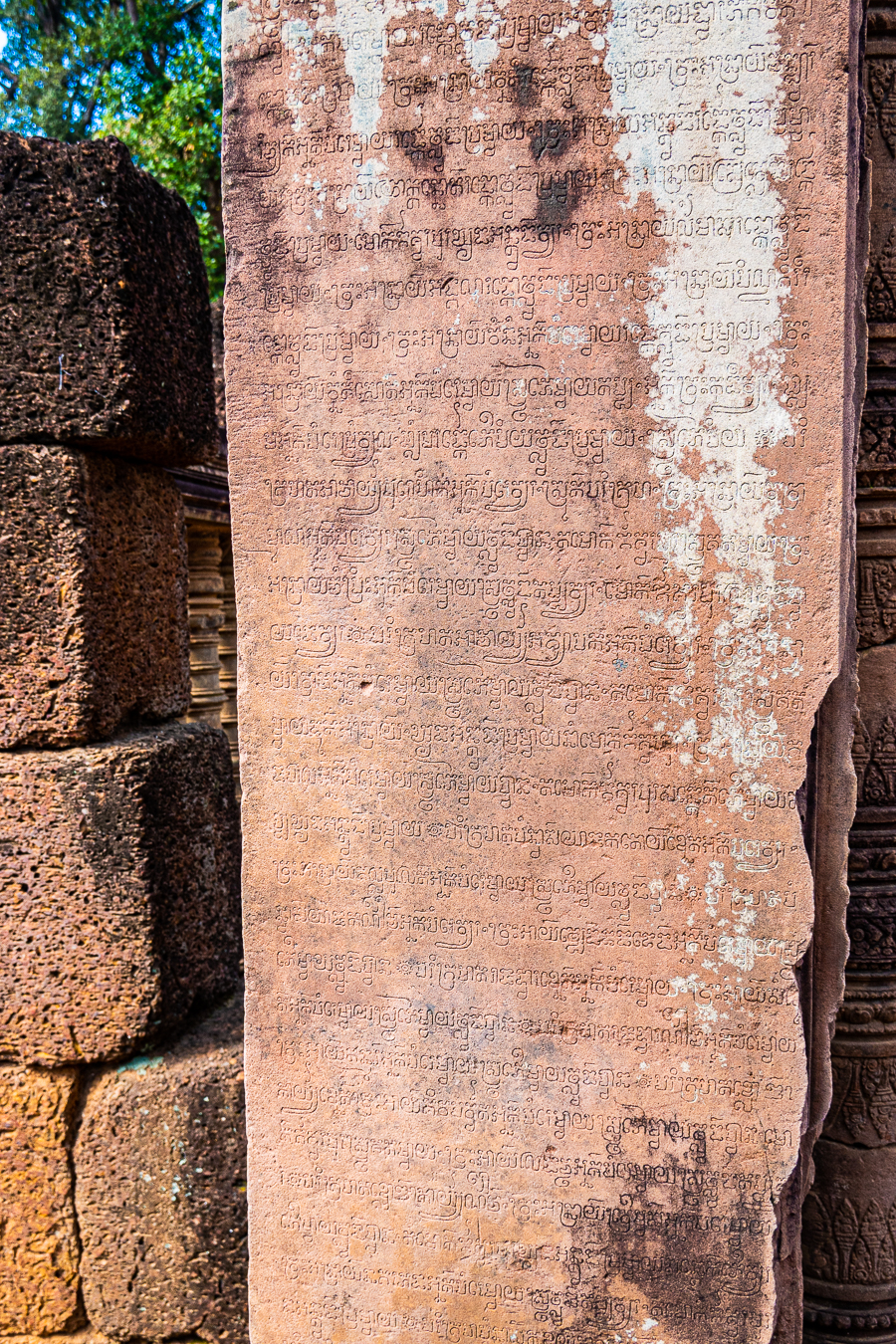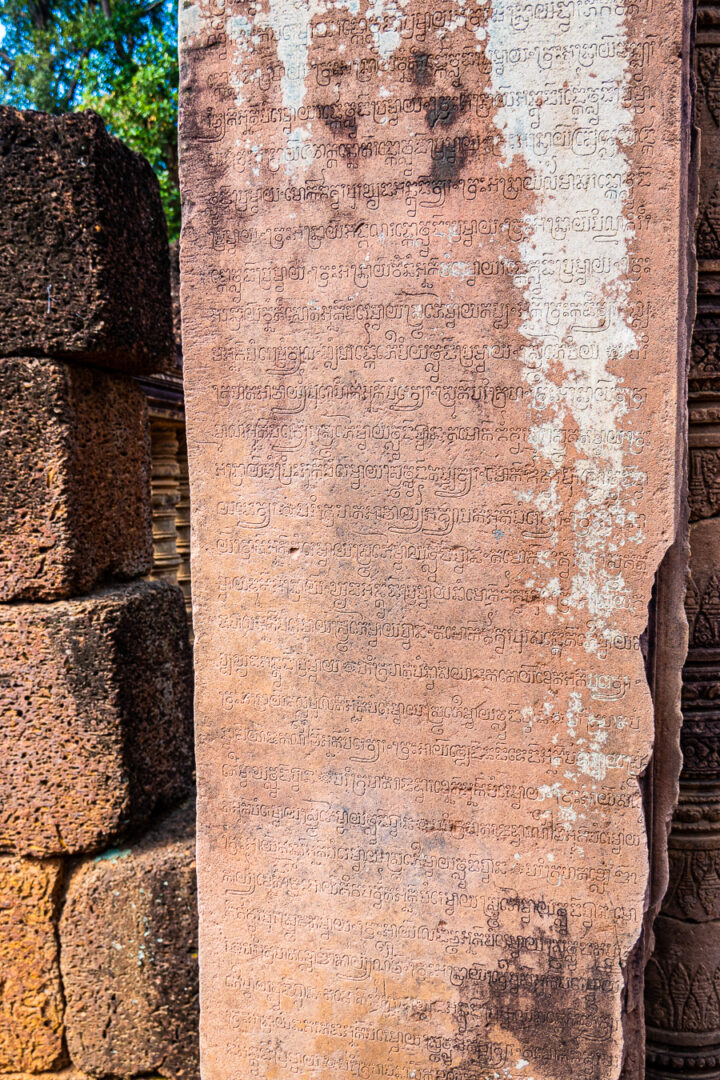 Ancient writing chiseled by hand into the stone, still in such good condition. I loved these sections of carvings.
Can you see the elephant faces in the bottom left picture above?
The ornate scroll designs are all captivatingly unique. It is hard for photos to do them justice!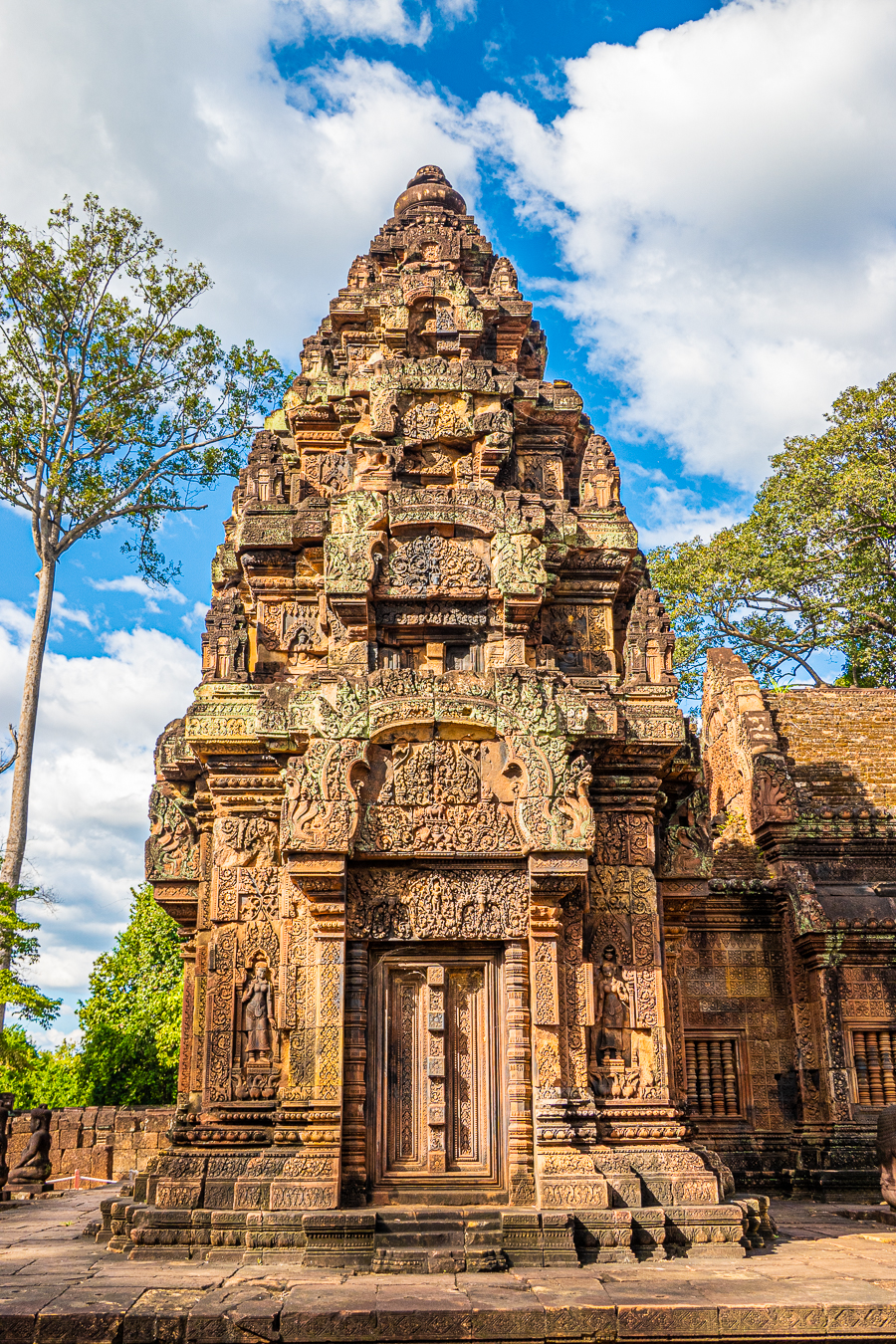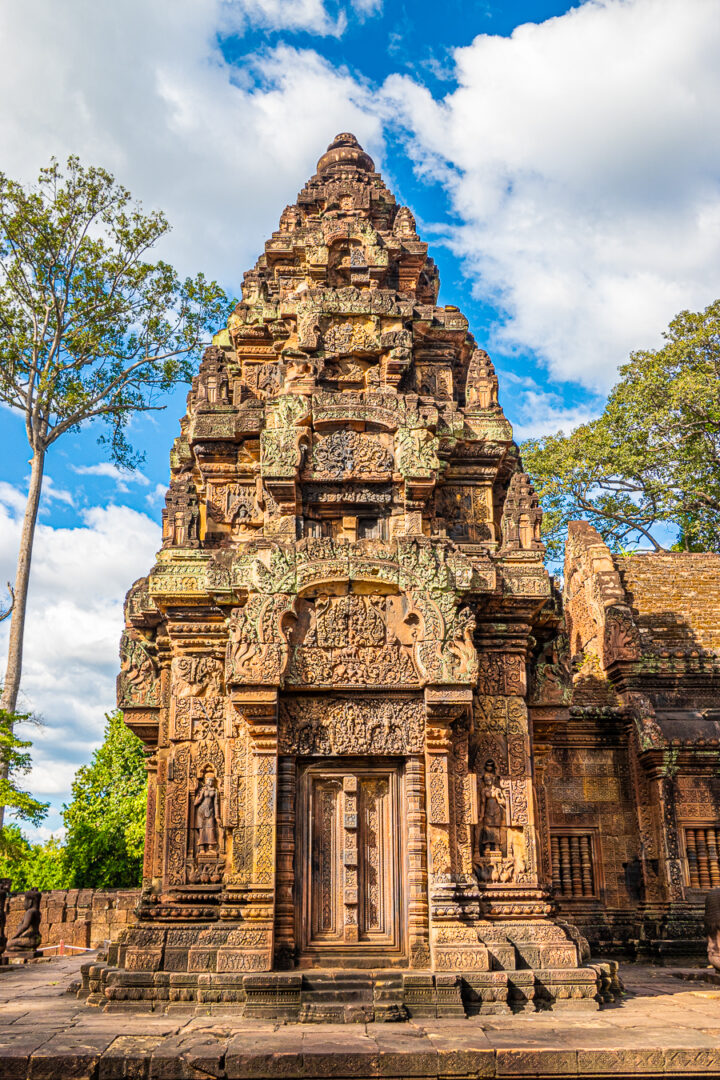 The text and designs were carved by hand over 1000 years ago, but are so well-preserved that you can still see nearly all of the incredibly elaborate details.
The rose sandstone seems to almost glow in the sun. It is gorgeous to see in person!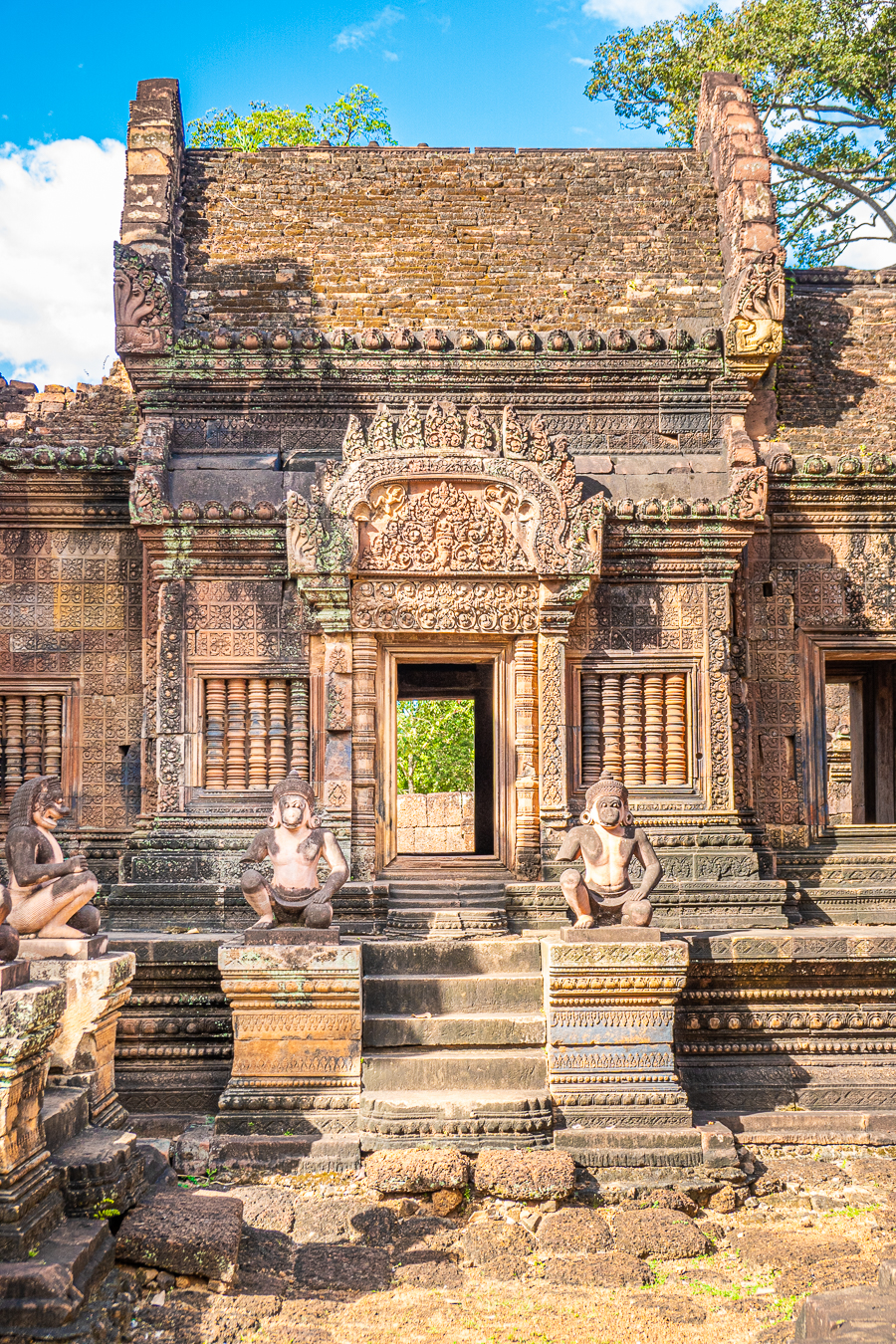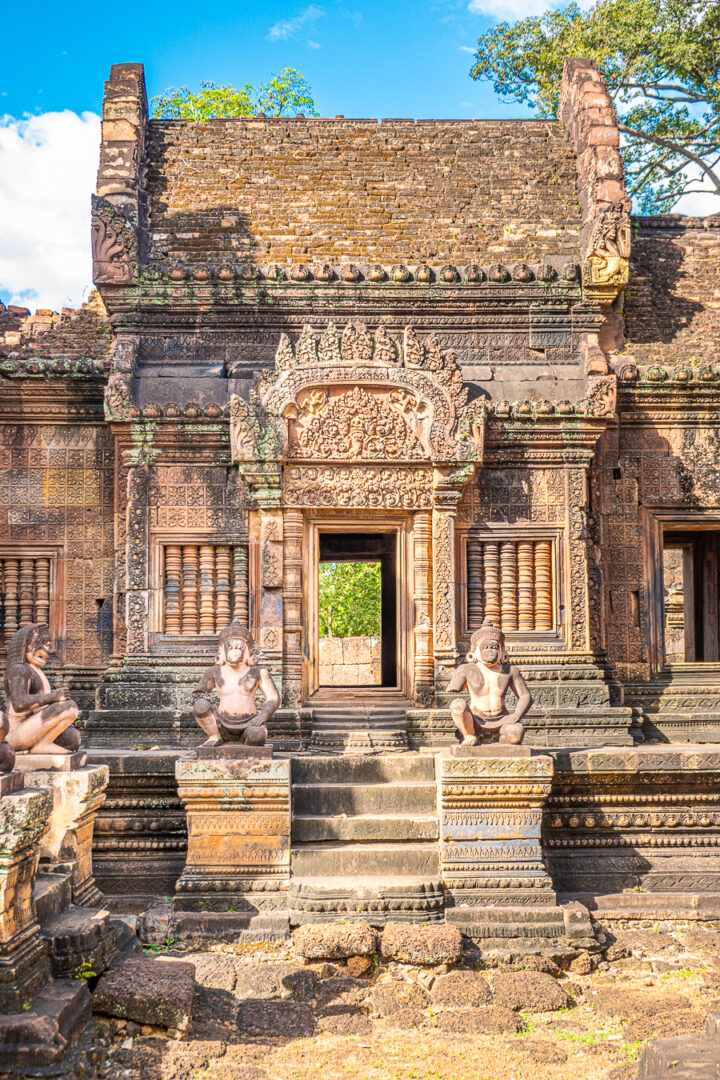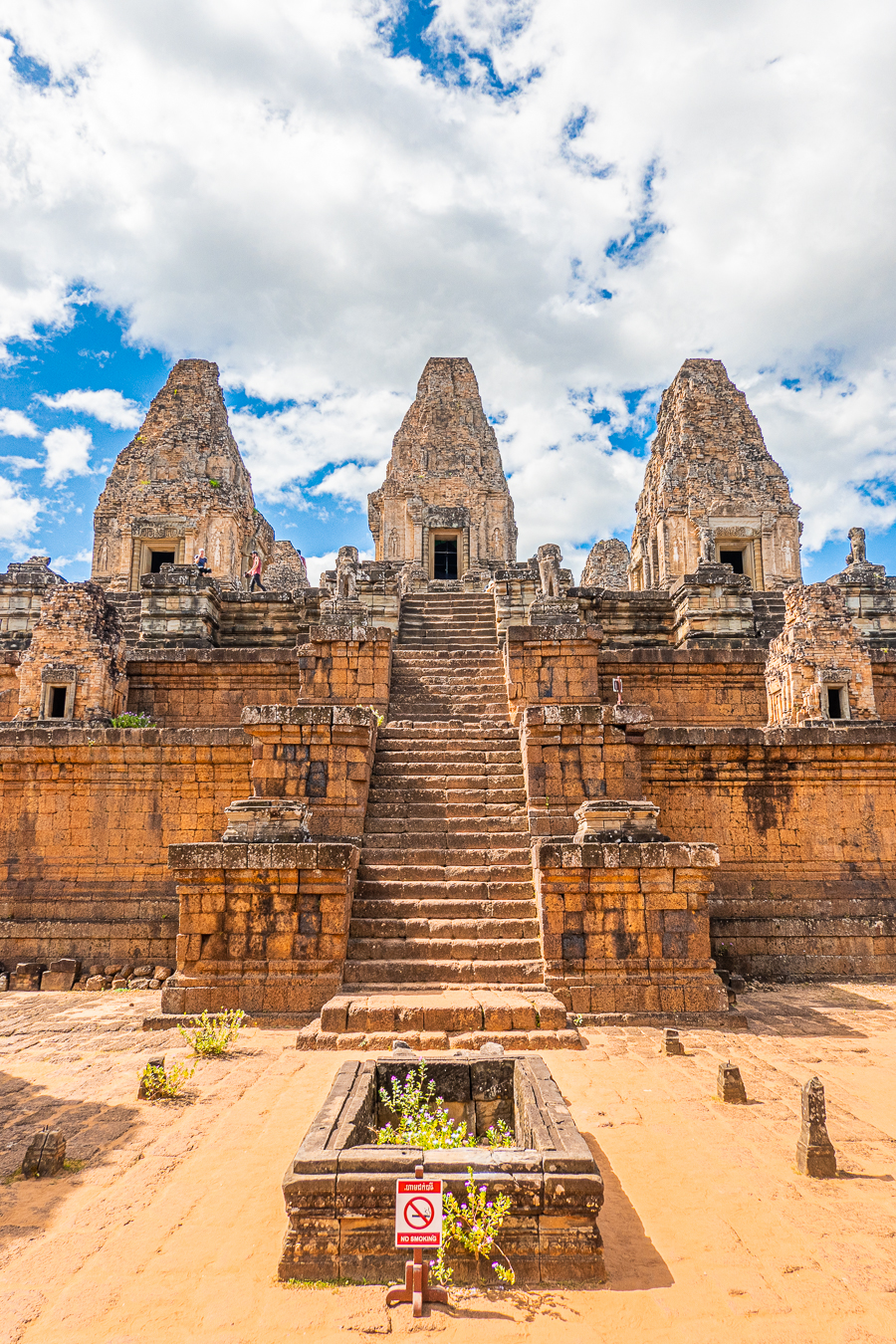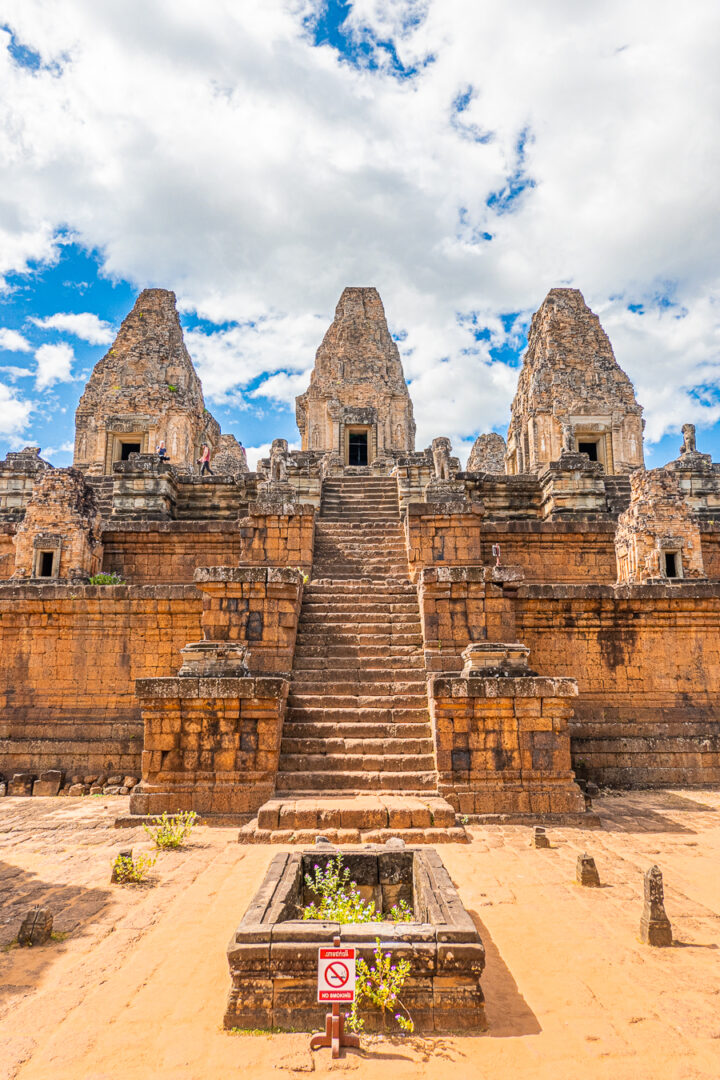 Best Things To Do in Siem Reap #6:
Pre Rup Temple
Pre Rup Temple is another one of my favorite sites at Angkor. The 1000-year old temple has a lot of room to explore and stairs that you can climb for magnificently scenic views.
Pictured above are stairs leading to three large main towers of the temple, which resemble a series of mountains.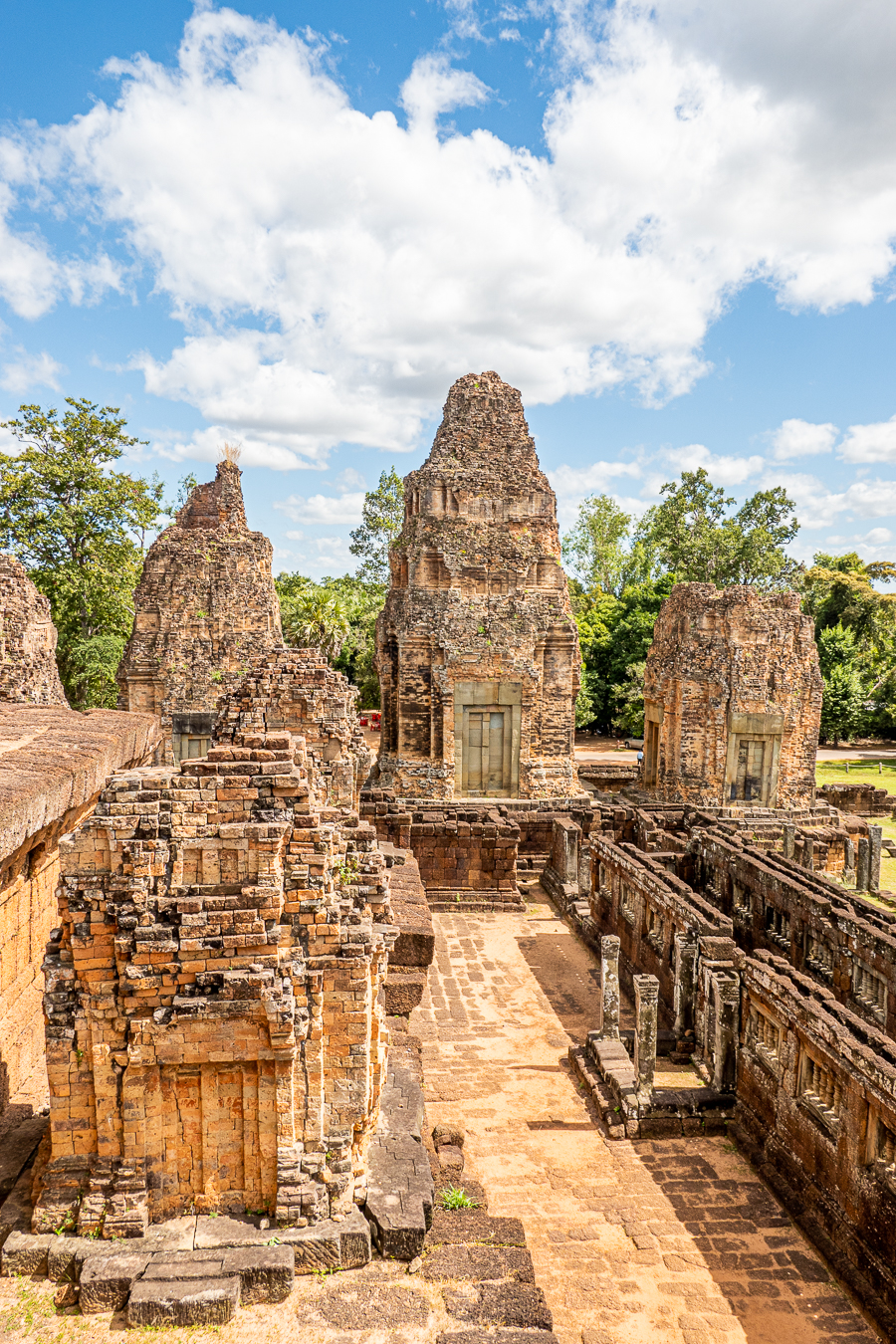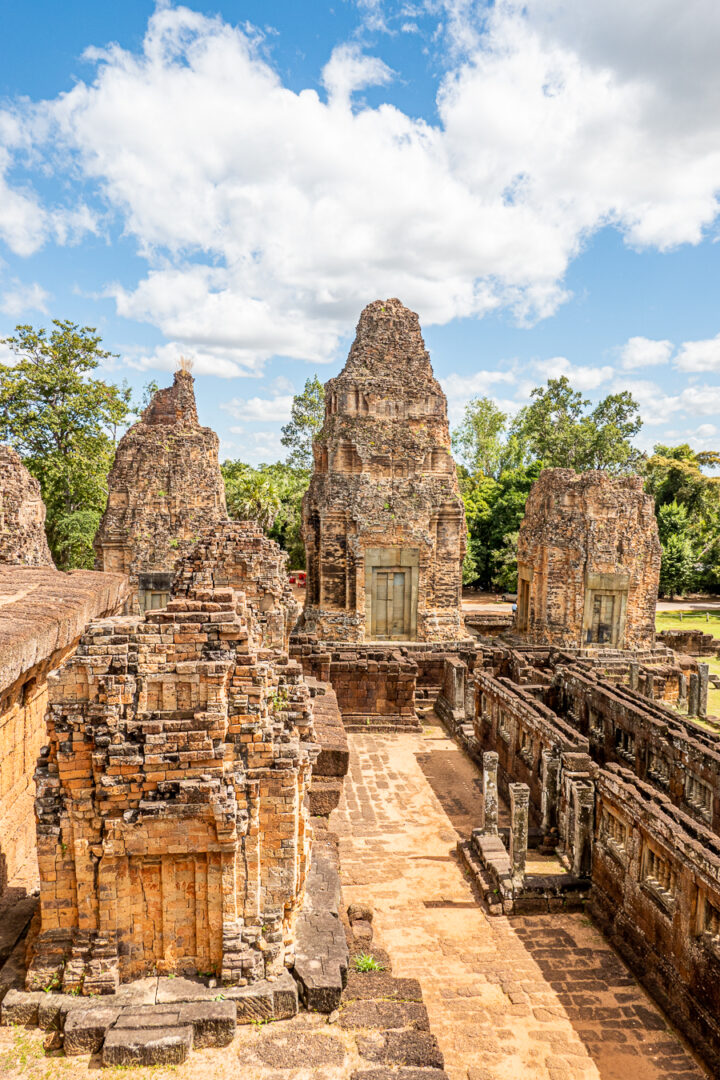 Pre Rup is typically less crowded during the day than the other temples. But because it offers such stunning views, sunset does tend to be the most popular time of day.
Therefore I highly recommend you plan to do your sightseeing well before early evening when the crowds arrive.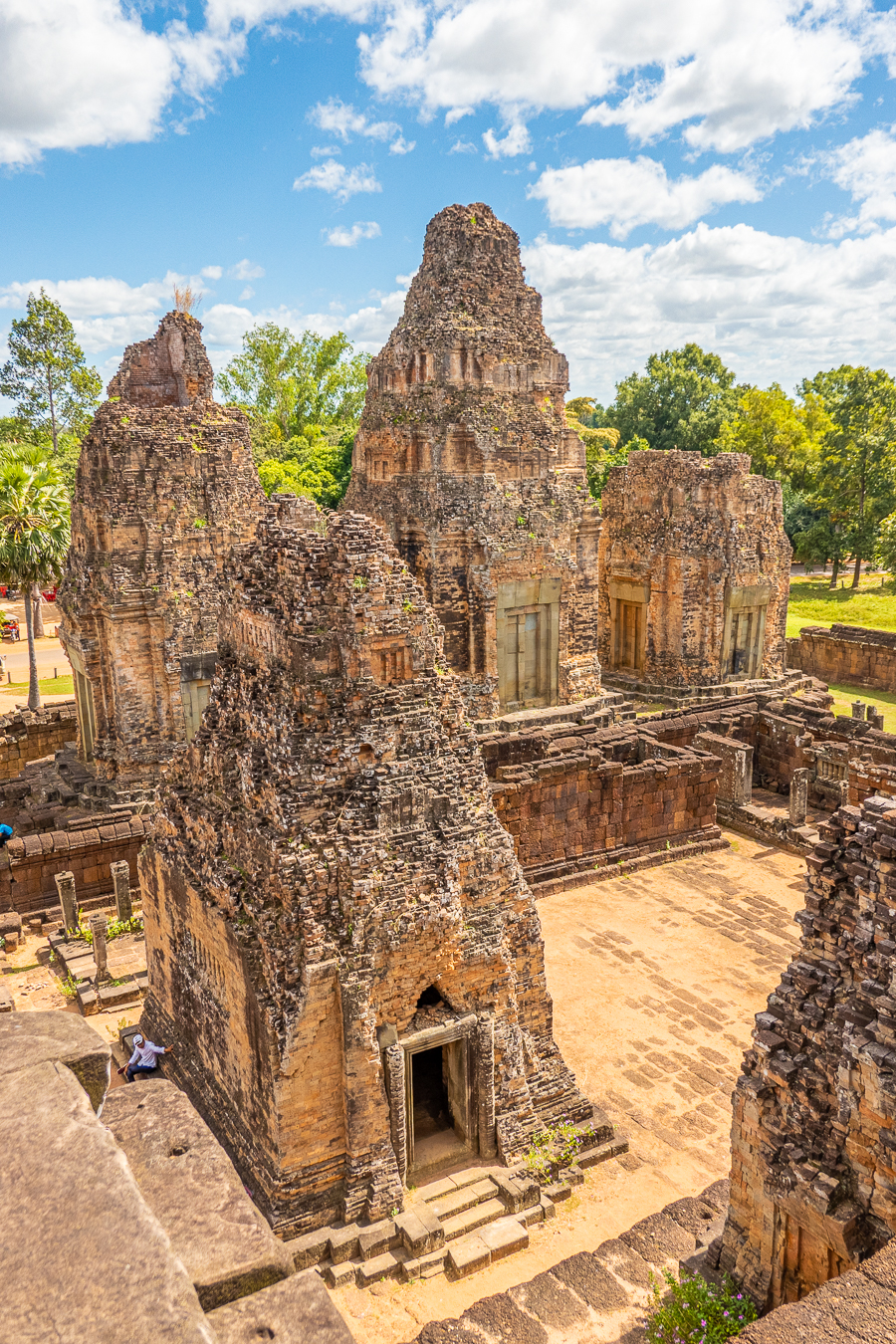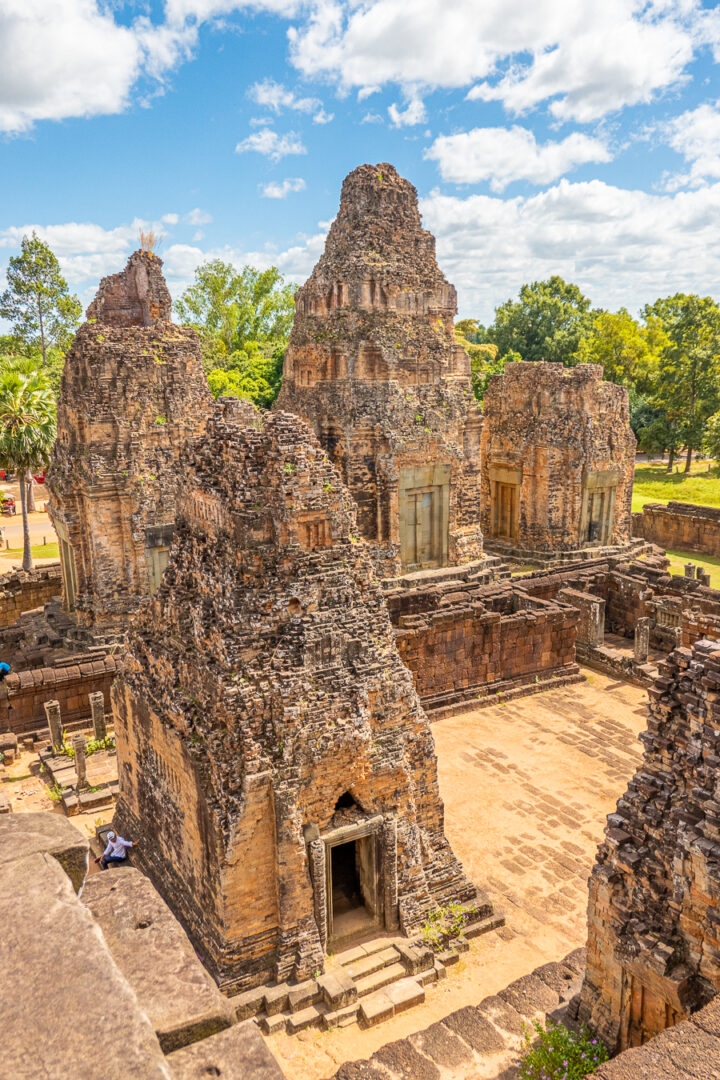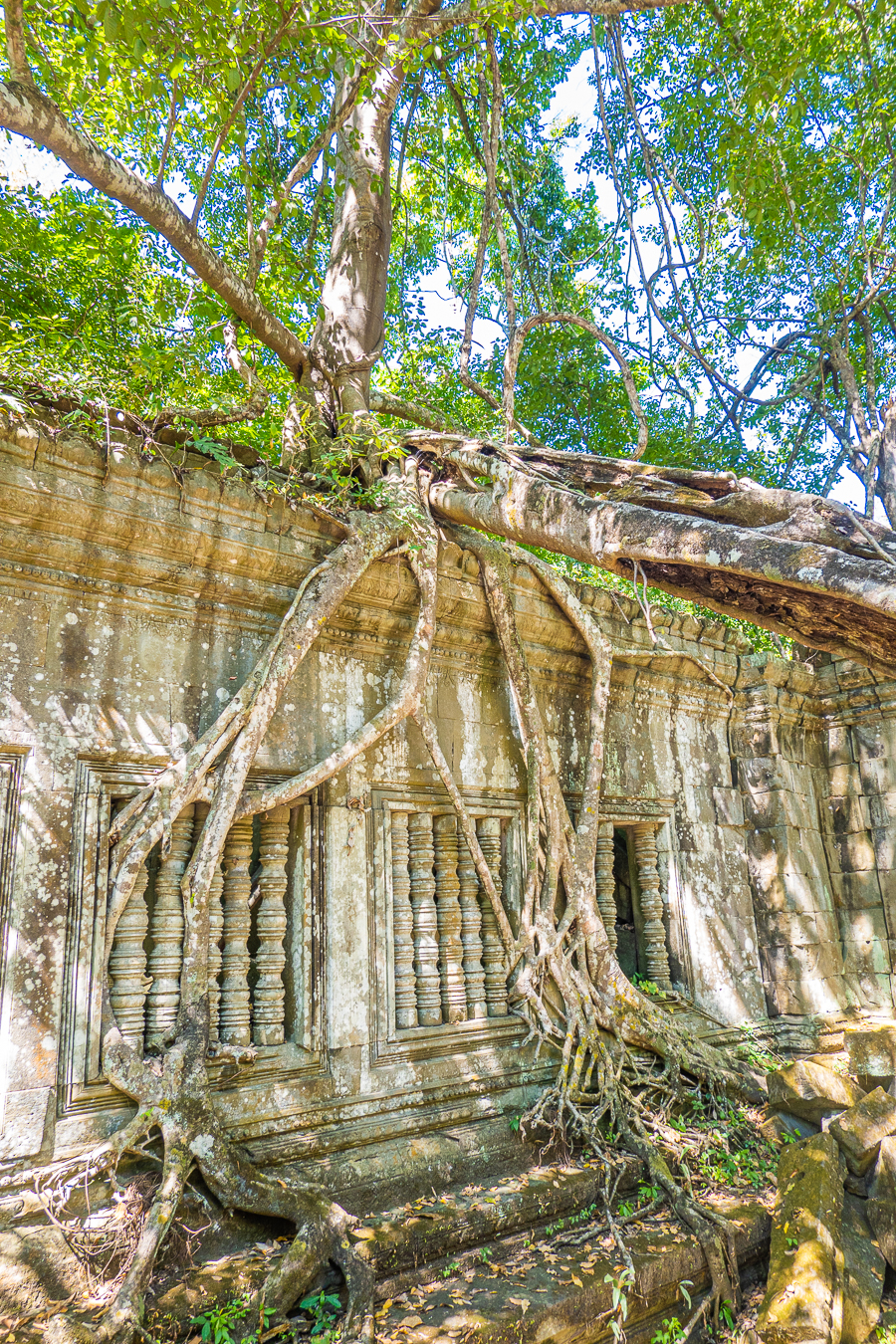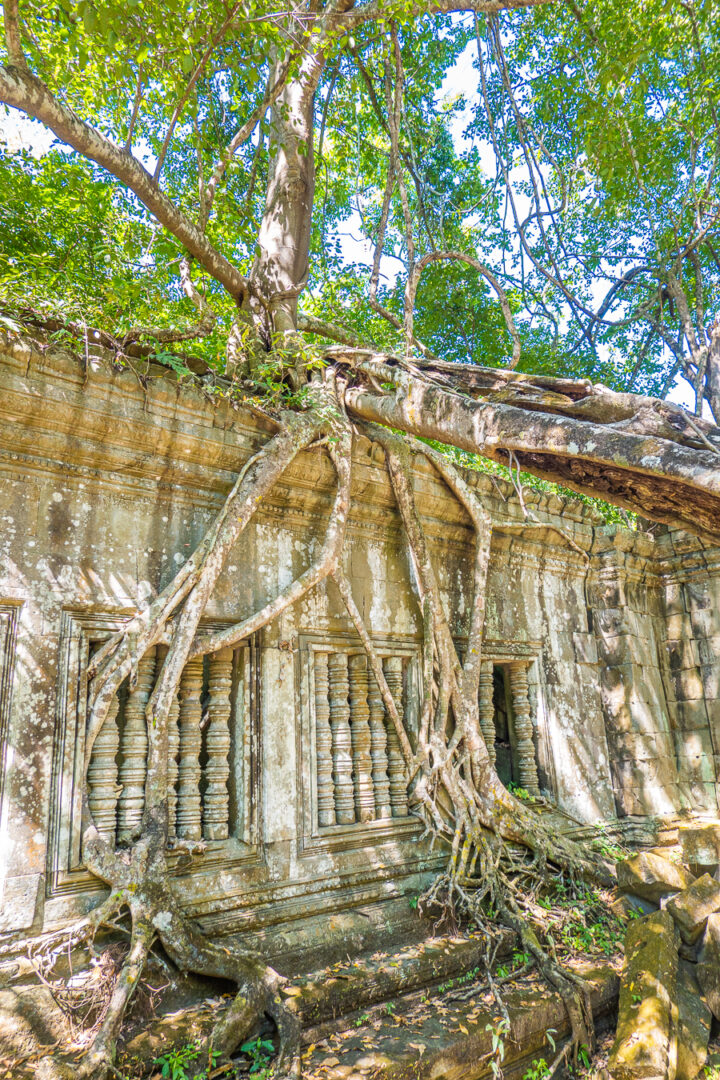 Best Things To Do in Siem Reap #7:
Beng Mealea Temple
Located just over 20 miles from the main group of Angkor Wat temples, the beautiful Beng Mealea Temple is another site that is worth a short trip by car to spend a few hours visiting.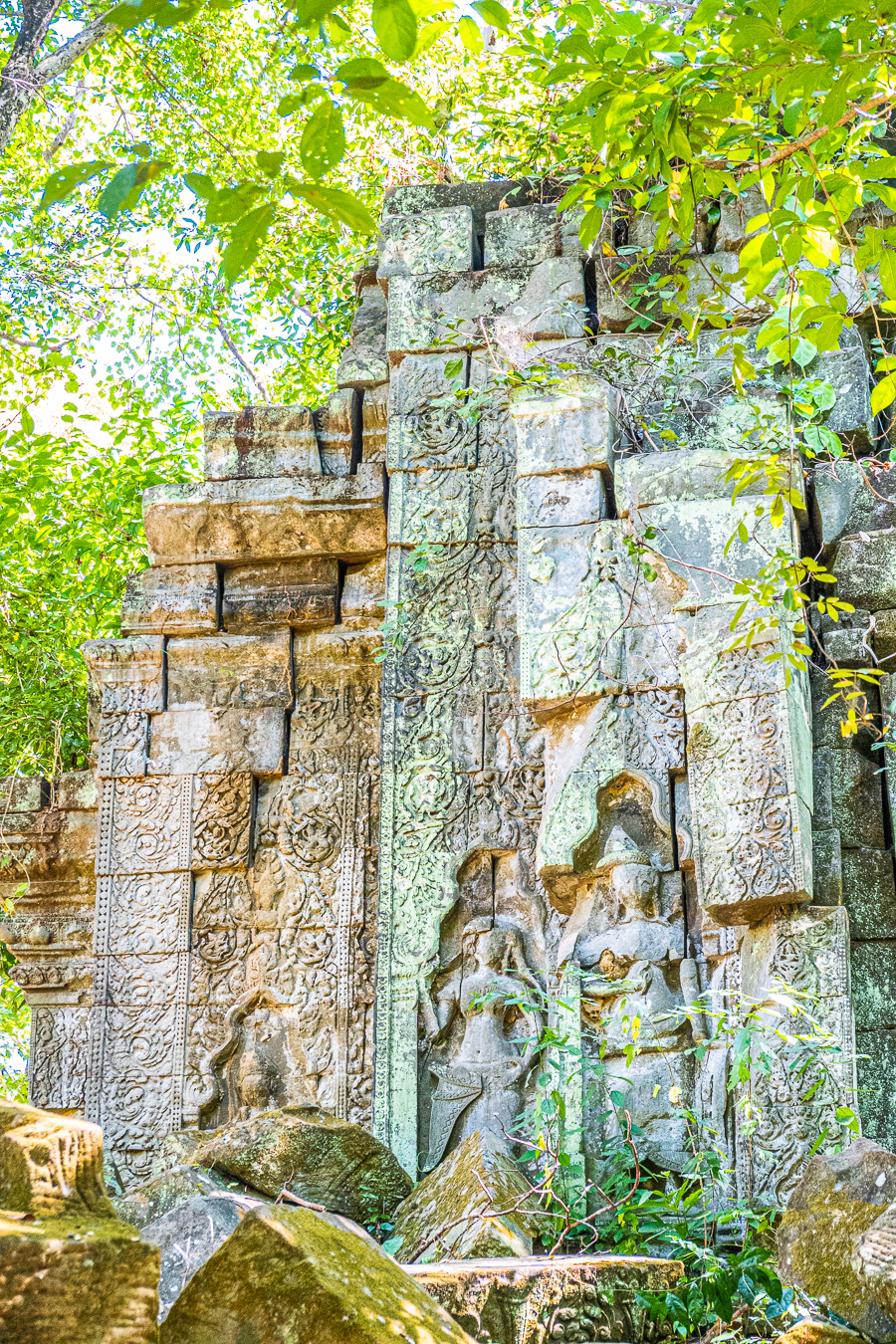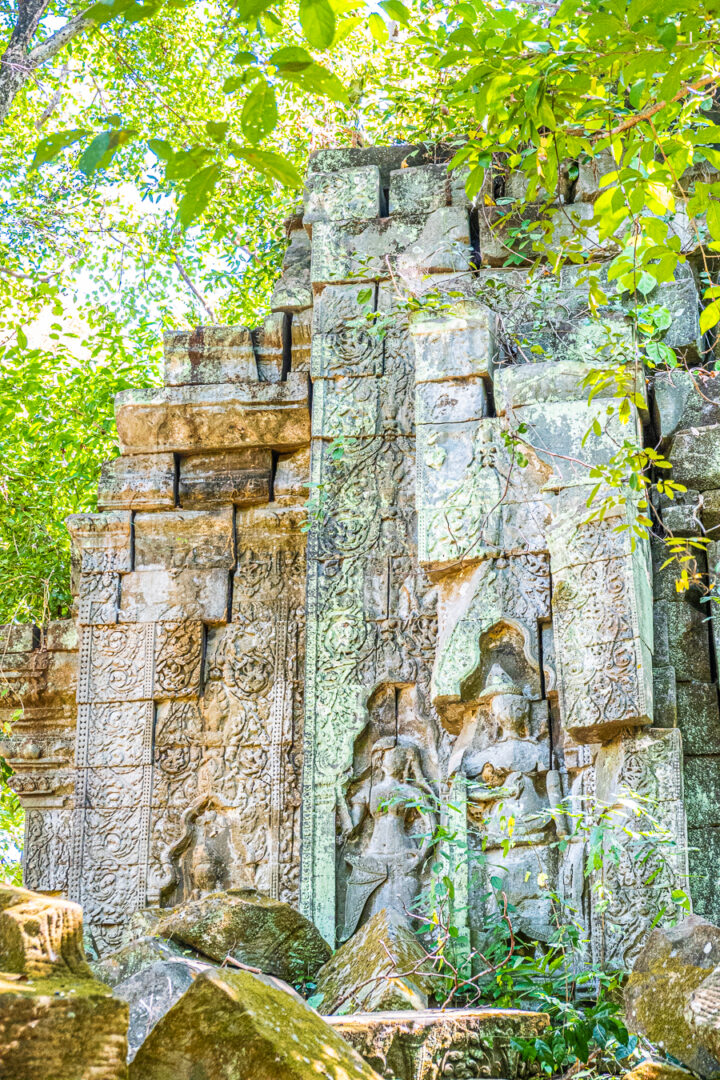 Notice how large bricks are stacked together and firmly held in place with a series of notches and studs? In other words, the ancient Khmer people used a LEGO-like system to build their temples! You can really see this architecture style at Beng Mealea.
In the pictures above, the left photo is a brick with a stud and another brick with a hole to fit on top of the stud. On the right is a pile of ancient "LEGO" bricks!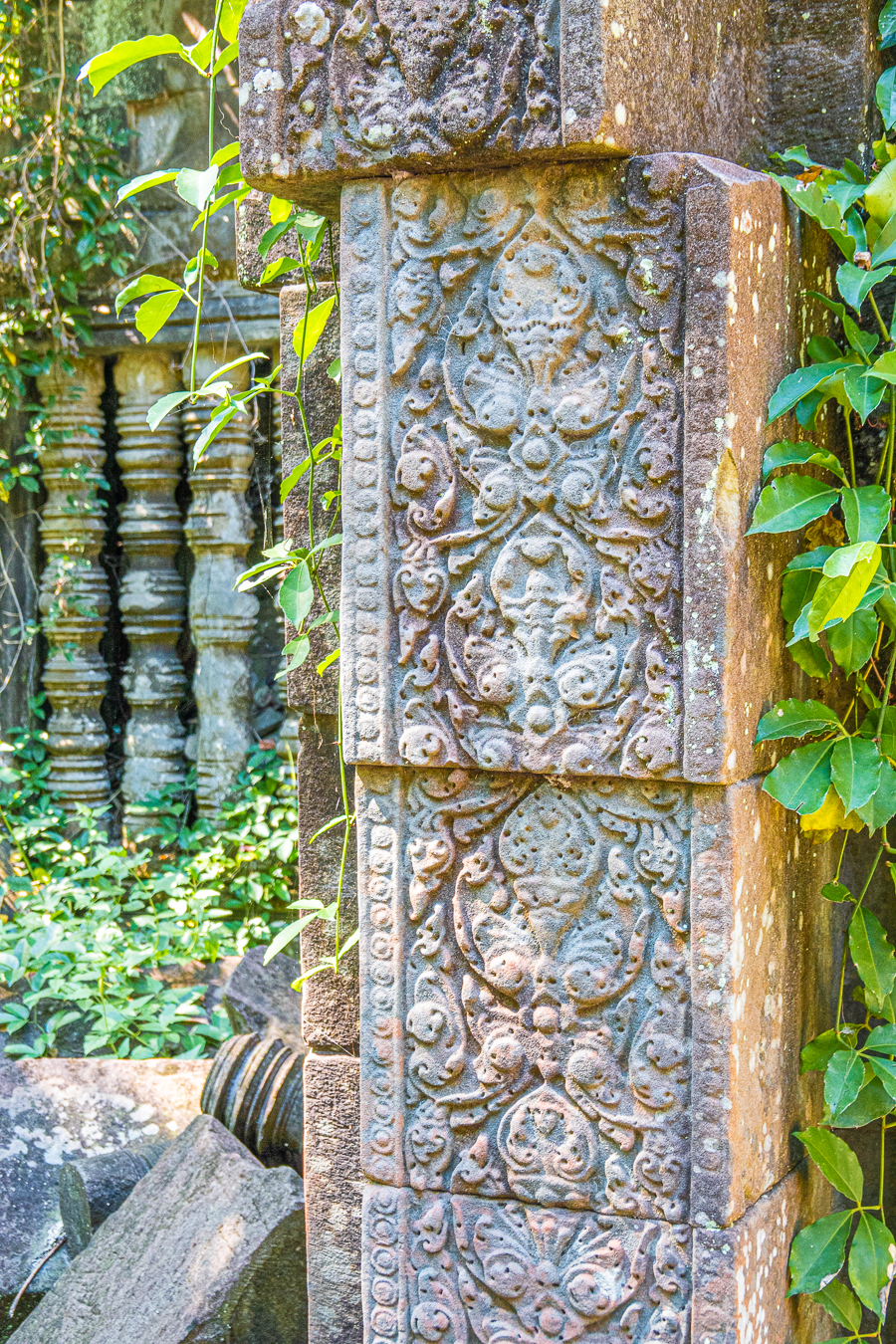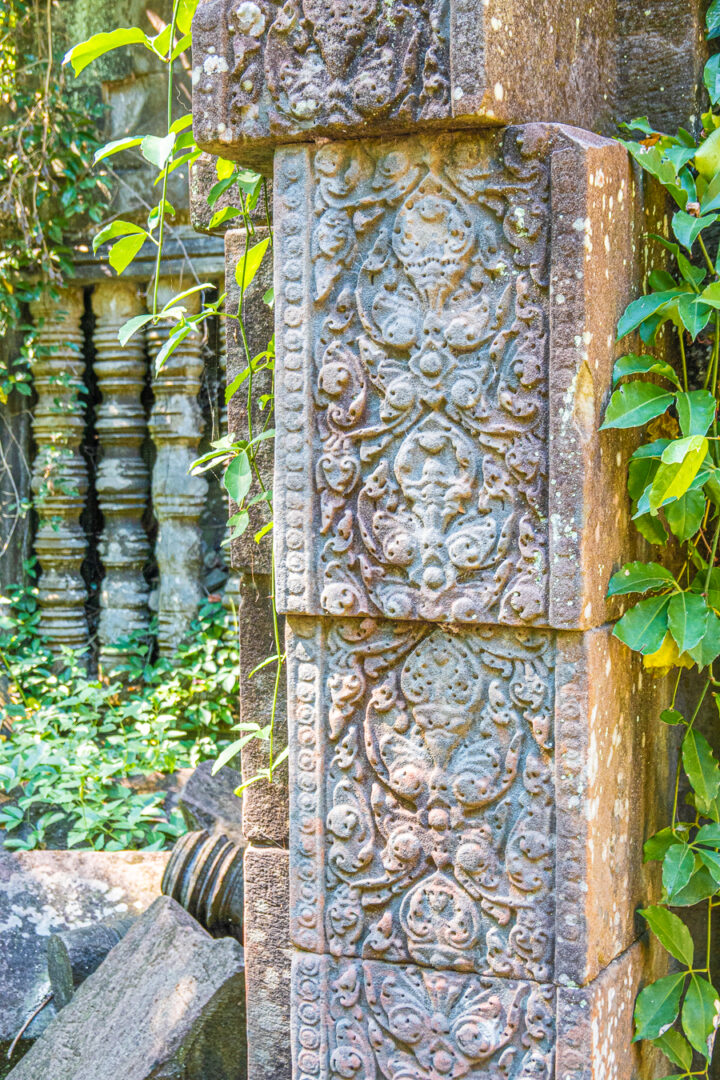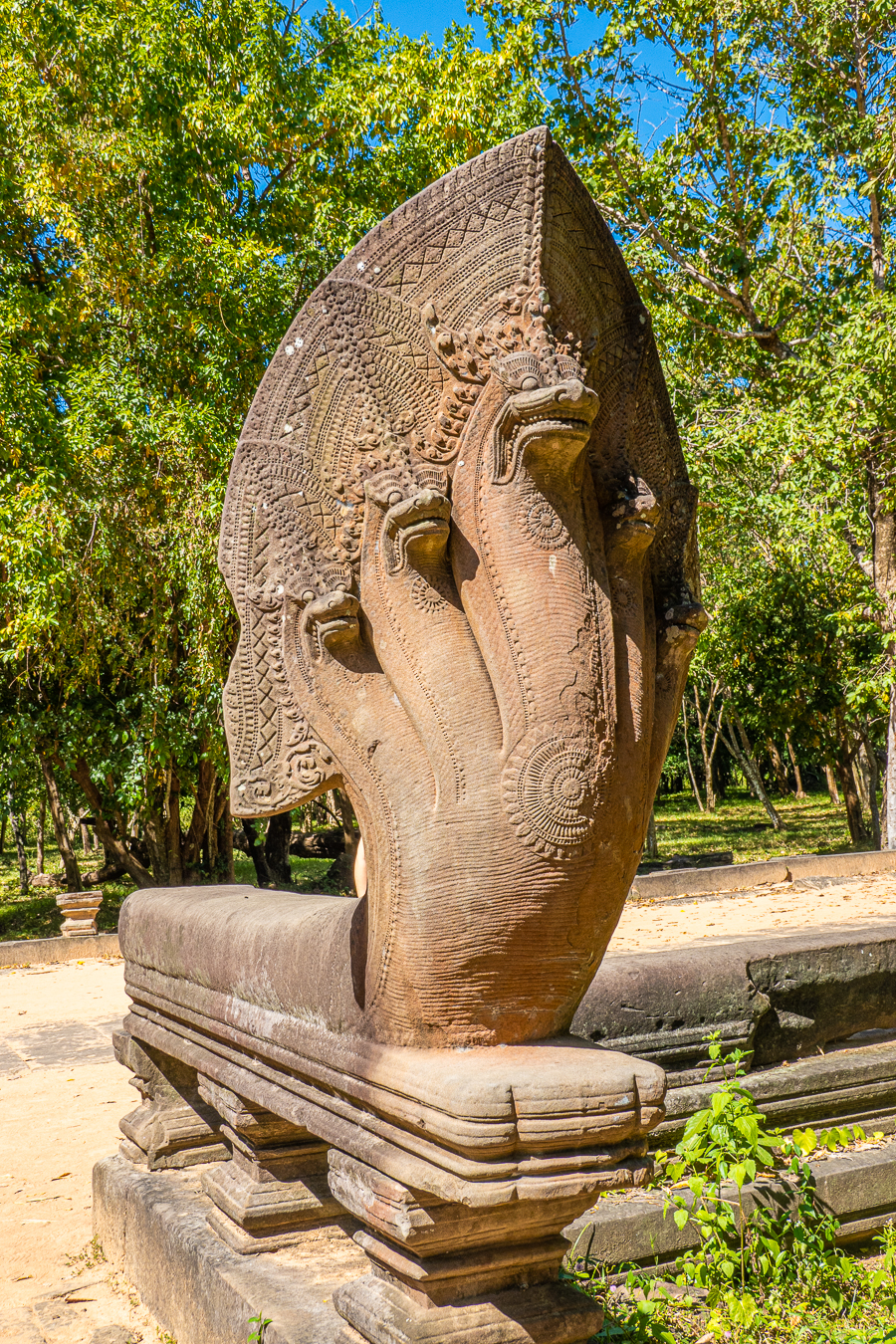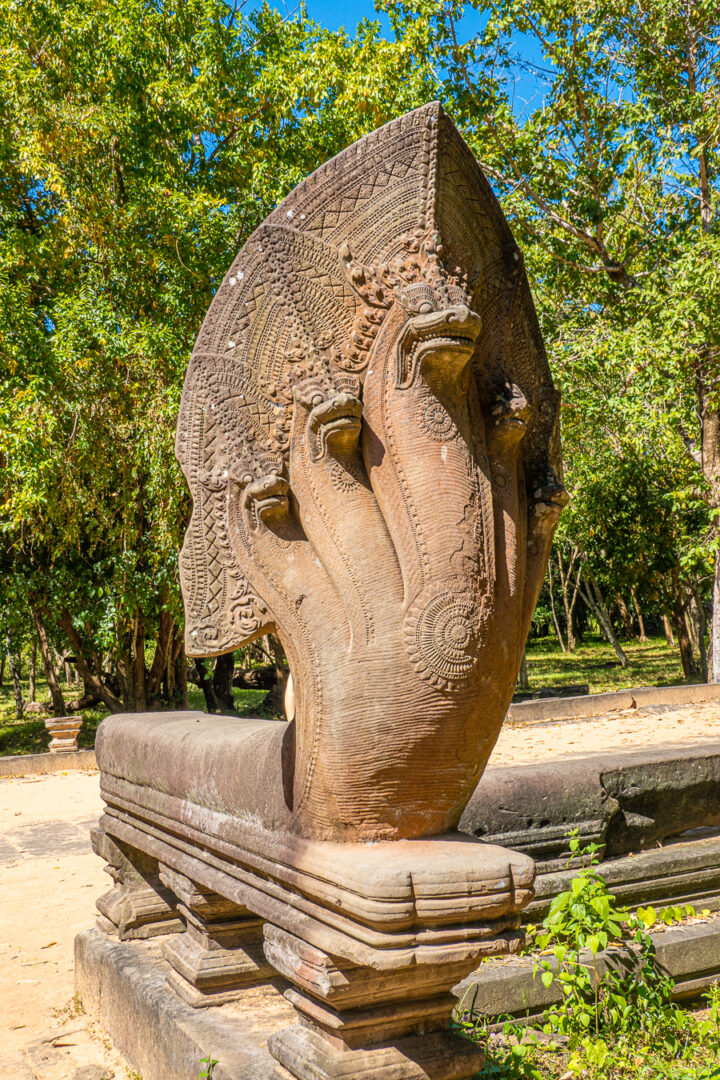 Snake-like statues are very common in Cambodian architecture, usually at the end of staircase railings. In the picture above is a statue at Beng Mealea that is wonderfully preserved. You can still see nearly every detail!
This 7-headed snake from Hindu mythology is named Naga, which means "serpent" in Sanskrit.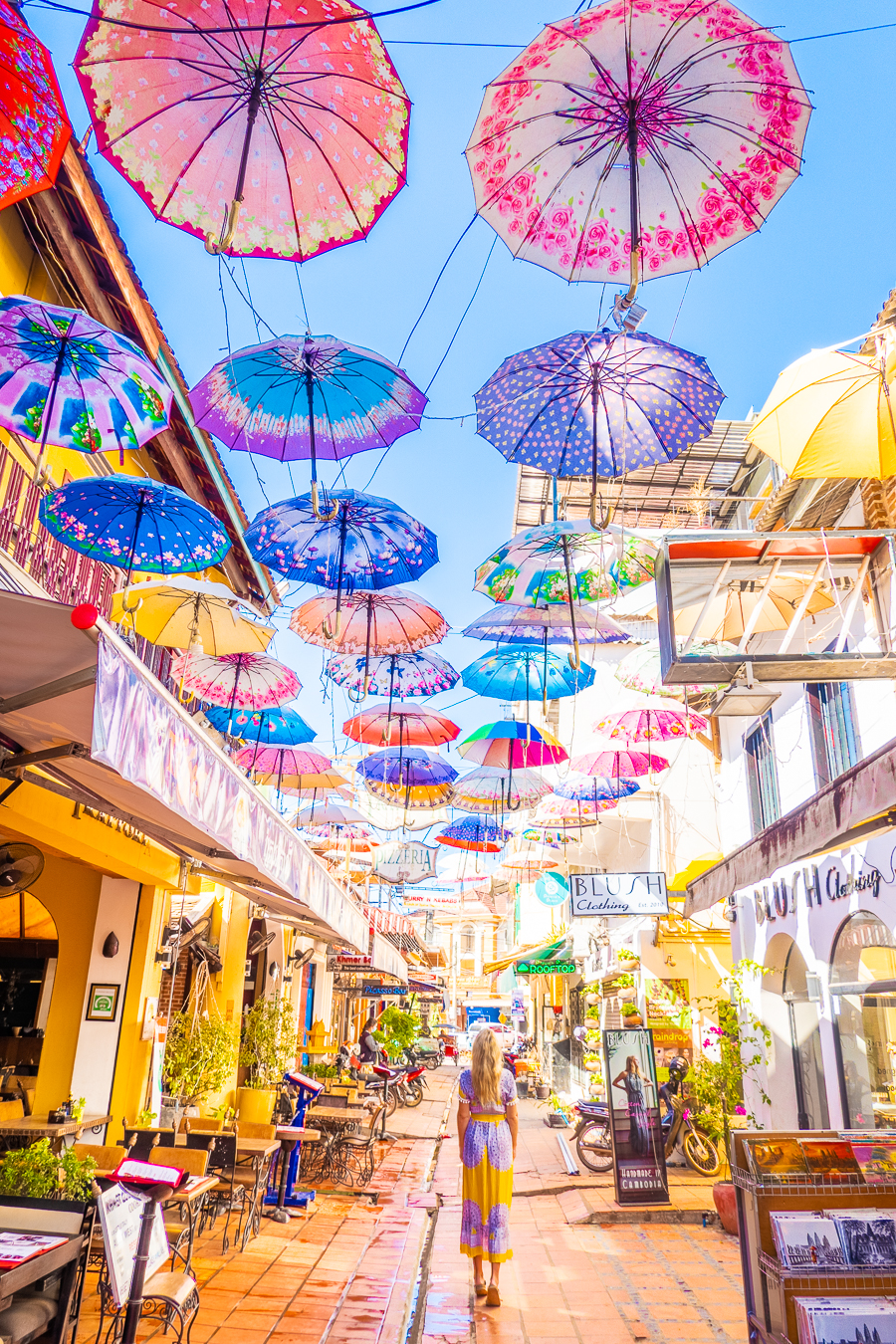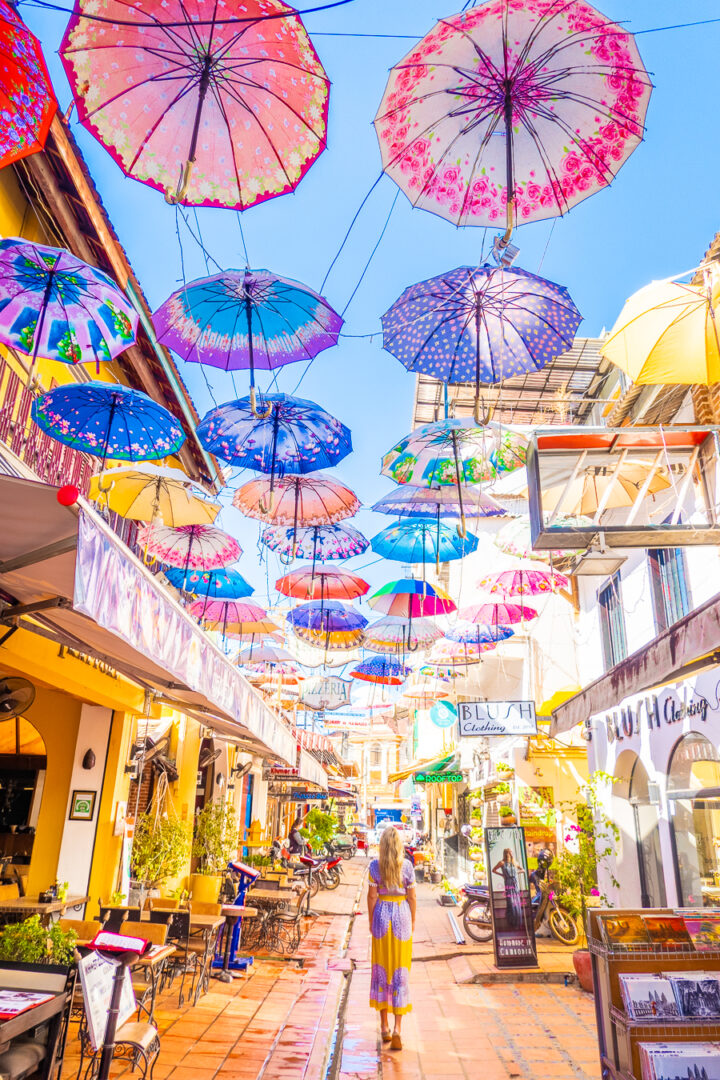 Best Things To Do in Siem Reap #8:
Explore Pub Street
Unlike the name might suggest, Pub Street is a wonderfully clean and not at all rowdy part of the city.
This colorful street is lined with restaurants, shops, rolled ice cream stands and smoothie stands. And yes, there are plenty of bars and an active nightlife scene. However, Pub Street prides itself on being a very orderly and tourist-friendly section of Siem Reap, so you will notice that even with lots of activity the area stays quite calm and charming.
Since Pub Street is where all of the restaurants and shops are, you'll want your hotel to be within walking distance of here when visiting Siem Reap.
Speaking of shopping: There are many shops and markets around all of the main temples that you will be visiting. They have many cute, lightweight, colorful dresses (like I'm wearing above) and skirts that are perfect for visiting the temples. Not only are they modest yet breathable for those 100 degree temps, you'll find pieces that are easy to pack and bring back with you since they are so lightweight.
But keep in mind that you should never pay full price, certainly no more than $5 for a dress. You will need to use your best haggling skills, and some back and forth on price is expected and absolutely part of the market experience!
Check out the exact GPS Location for the Umbrella Street pictured above for when you travel to Siem Reap.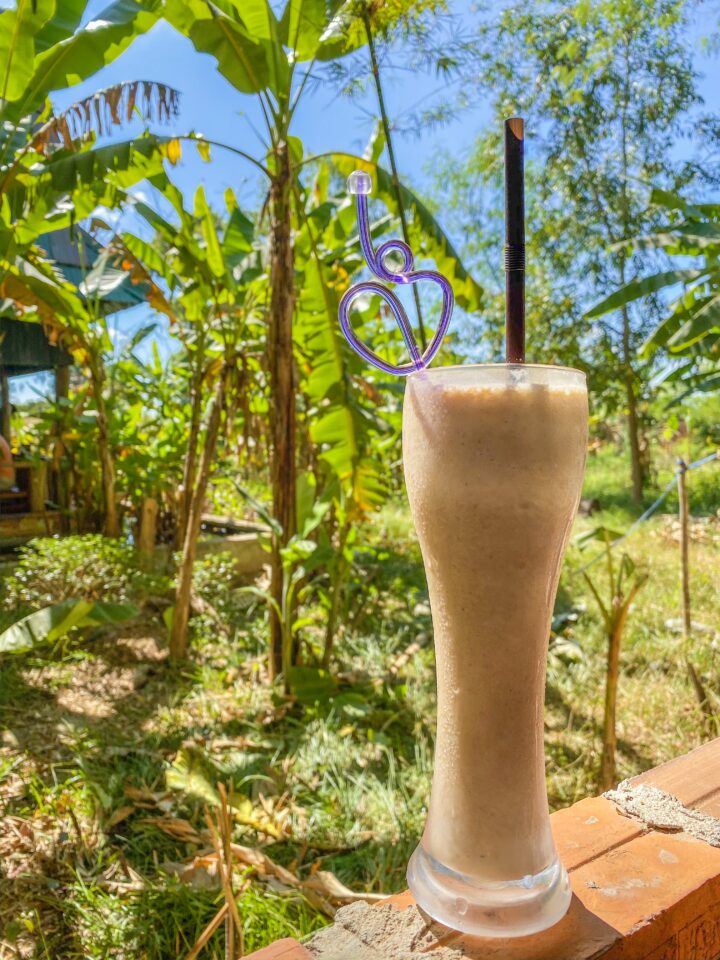 Best Things To Do in Siem Reap #9:
Try a Cashew Nut Shake
Cashew farms are all over this region of Cambodia, and so cashew nut shakes are super popular here. Nearly every restaurant and smoothie stand has at least one variation for you to try.
The shakes are sweetened with dates, honey, or sugar and blended with ice. They are a creamy, deliciously cool drink, and the cashew nut gives the shake a wonderfully nutty flavor!
Cashew shakes are unbelievably tasty and refreshing. Perfect in the 100 degree heat! Don't be surprised if you find yourself craving them throughout the summer and well after you're done visiting Siem Reap.
Best Things To Do in Siem Reap #10:
Visit the Floating Village
The largest lake in all of Southeast Asia is in Cambodia. This lake, Tonle Sap, is where the famous Floating Village is located, and is about 30 miles away from Siem Reap.
There are approximately 3000-4000 people living in the Floating Village. The homes, stores, and restaurants are all on stilts and floating platforms, and are accessible only by boat during the rainy season.
If you have a free afternoon we highly suggest taking an afternoon boat tour. It is quite an extraordinary experience boating from place to place throughout the village!
Because the Lake floods every year, when you visit will greatly change how you get to see the village. Like in the pictures above you'll notice buildings on stilts during most of the year. But during the rainy season of June-September, flooding causes the water to rise right up to the front steps.
It's extremely popular (and I highly recommend!) to watch the sunset over the lake at one of the many floating restaurants with large decks. There you can order a cold drink, sit back and relax, and take in the beautiful views.
Surprisingly though, tourism is not the main industry of the Floating Village. The region has robust fishing and agriculture production, and is how most locals make their money.
The village just got electricity within the past 4 years, and continues to grow quite rapidly.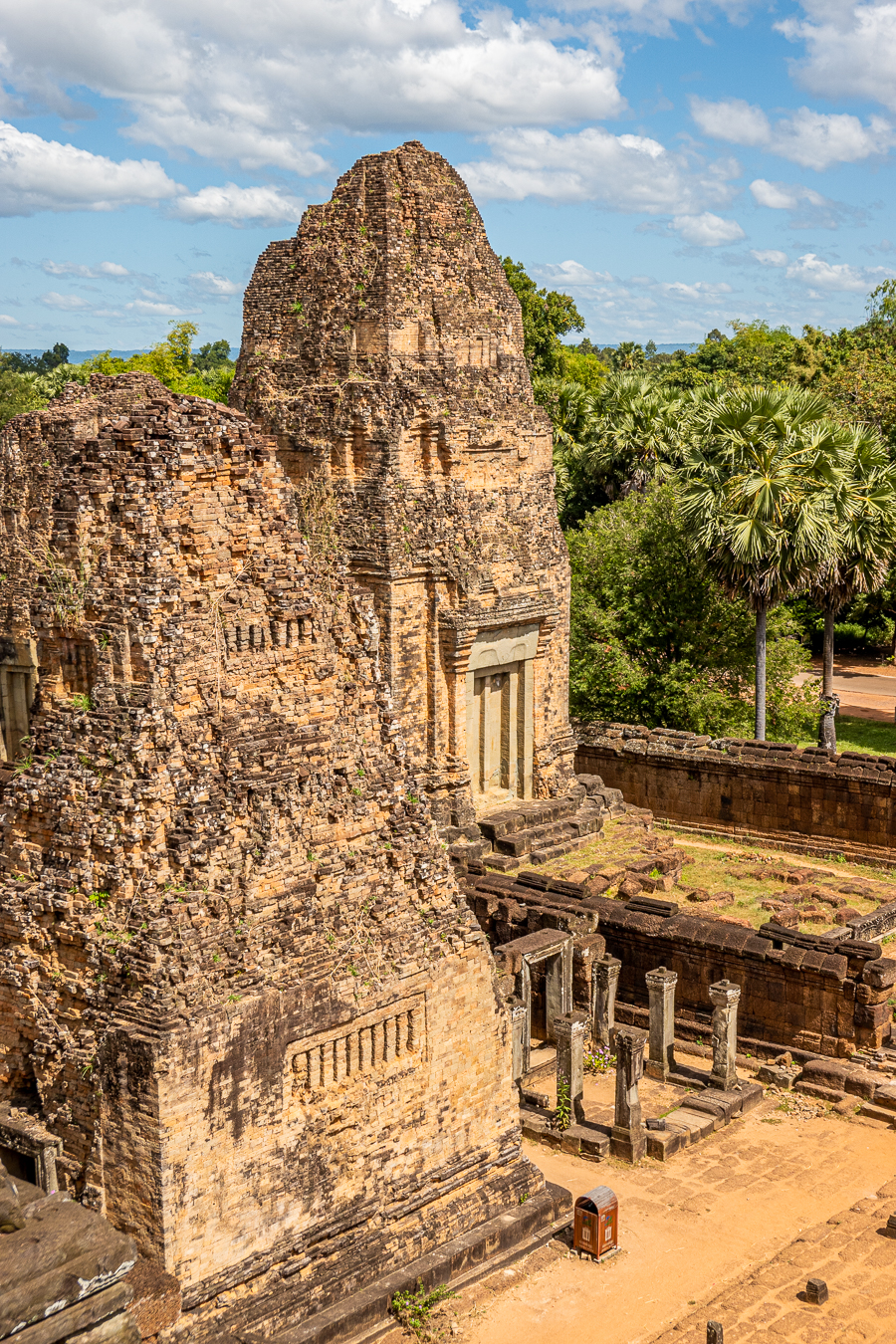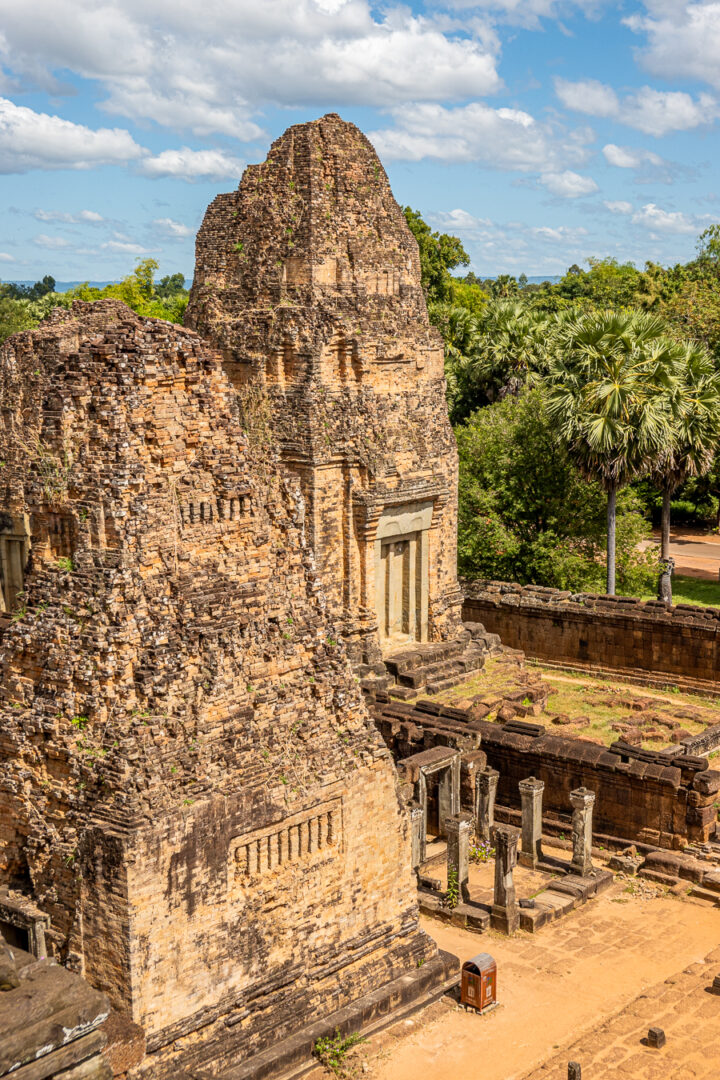 How to get around in Siem Reap
If you're trying to decide between taking a tuk tuk or a car, I must advise that you'll be much more comfortable in an air conditioned car versus a bumpy, dusty tuk tuk. Plus, saving time by using a car will allow you more site seeing opportunities. Making the trip to Angkor Wat from Siem Reap in a tuk tuk takes about 30 minutes, but traveling by car is just a 15 minute ride.
For the ultimate stress-free trip that *actually* feels like a vacation, I highly recommend you book with Indochina Voyages when traveling to Siem Reap. Unlike many companies, their tours offer visits to the all of the highlights of the area but with an itinerary that can be customized to your preferences.
Considering all the expenses you will incur if you have to book everything yourself, like entry fees, hotels, taxis, etc., it is not that much more expensive to book a tour with Indochina that includes your own private driver and guide. They will book everything for you, and your hotel and entry fees are included in the price of the tour!
Indochina Voyages is a local, family-owned business who love sharing their country with foreign visitors. They will pick you up at the airport, and the private guide and driver provided is for you to use during your entire trip. You're not just another client, you're a new friend! They will make sure you see all the best things to do in Cambodia because they are excited to share it with you.
In fact, when President Jimmy Carter went to Vietnam in 2009, he chose Indochina Voyages to be his guide!
Tell Tuan Kevin and Amanda sent you!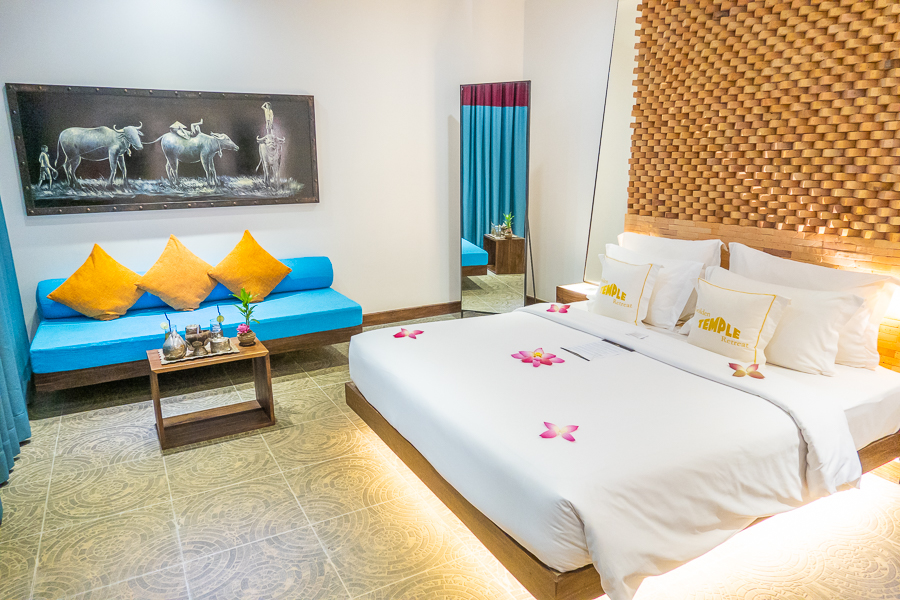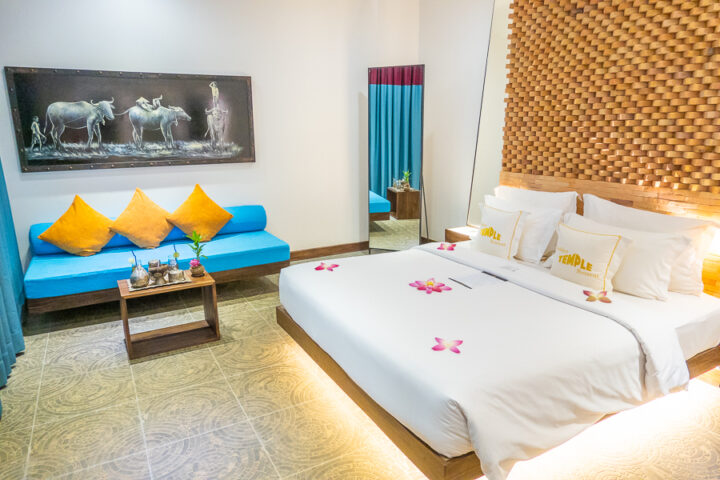 Where to Stay — The Best Siem Reap Hotels
Because Siem Reap is such a pedestrian-friendly city, you definitely will want to stay somewhere near the downtown area.
We cannot tell you enough how much we loved the Golden Temple Retreat. Honestly, it is the best place to stay when visiting Siem Reap!
This gorgeous hotel is located within walking distance of Pub Street and Old Market, and is just a short drive from the main airport.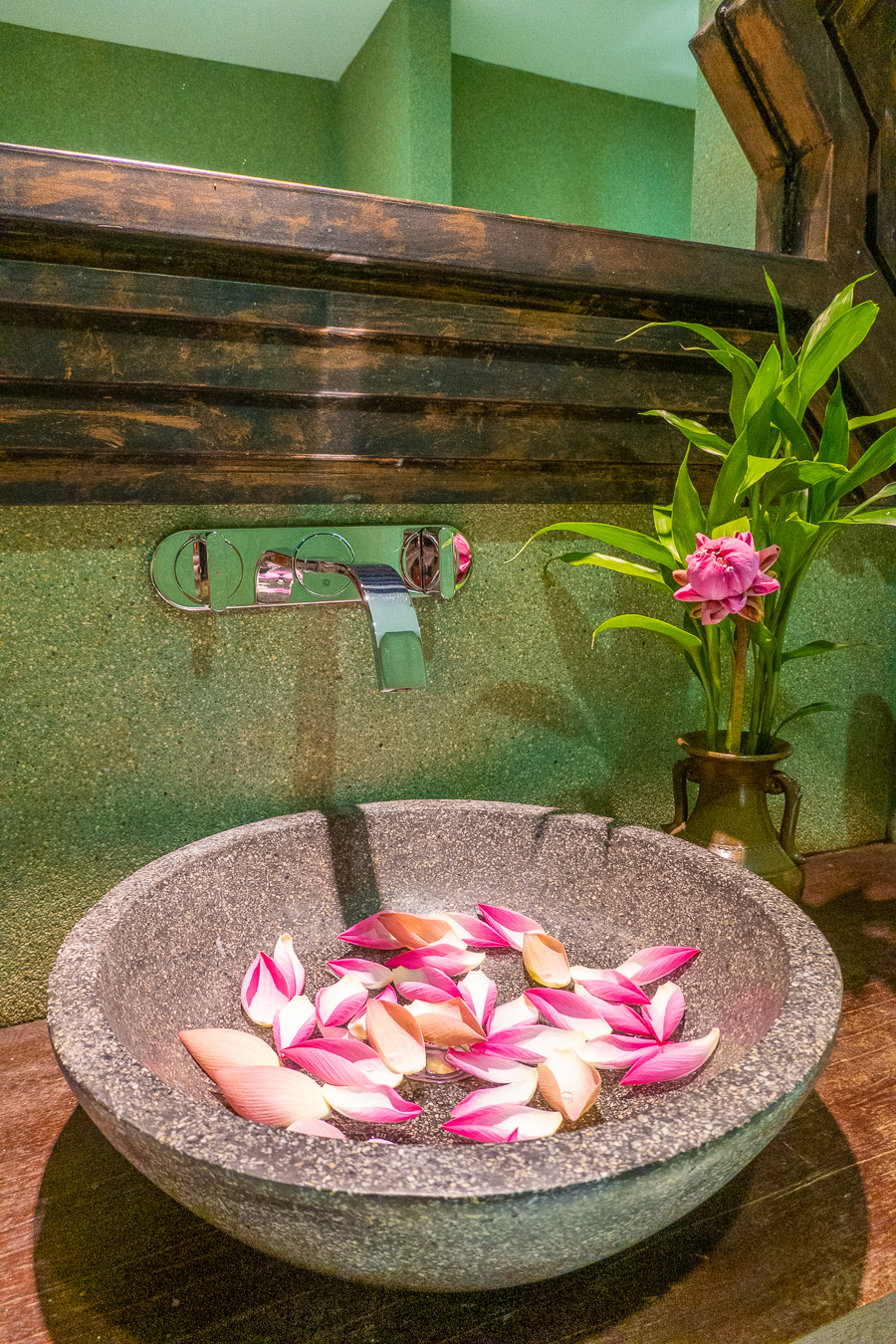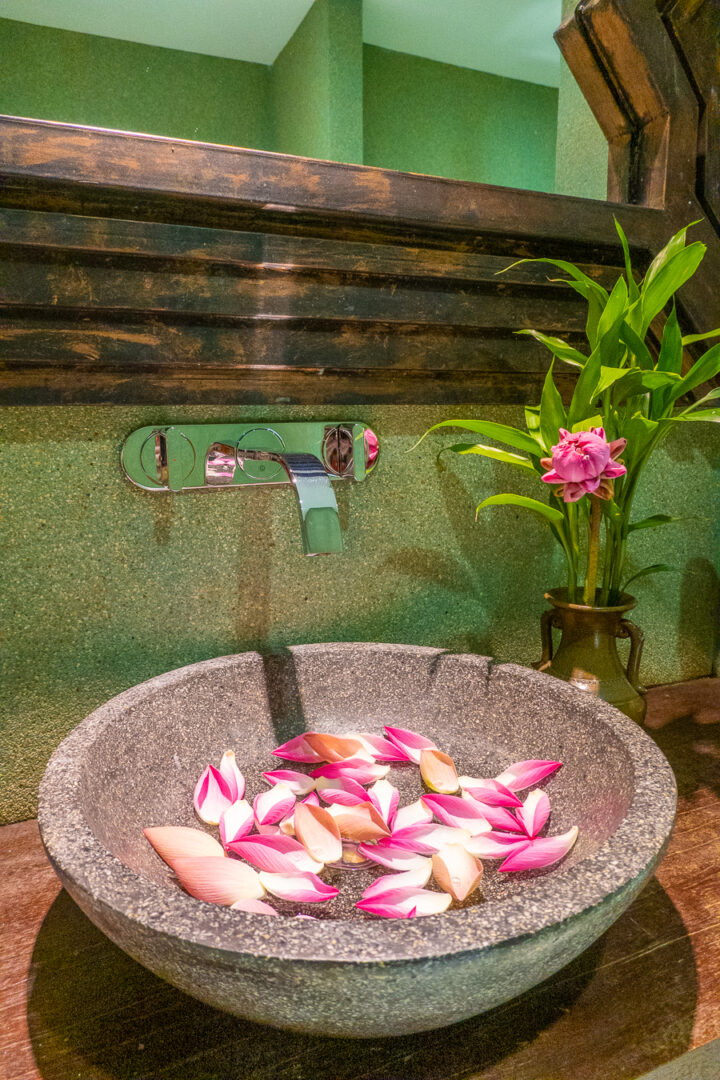 I loved all of the beautiful fresh flowers everywhere when we checked in, including fresh pink flower petals in the sink. So luxurious!
Golden Temple Retreat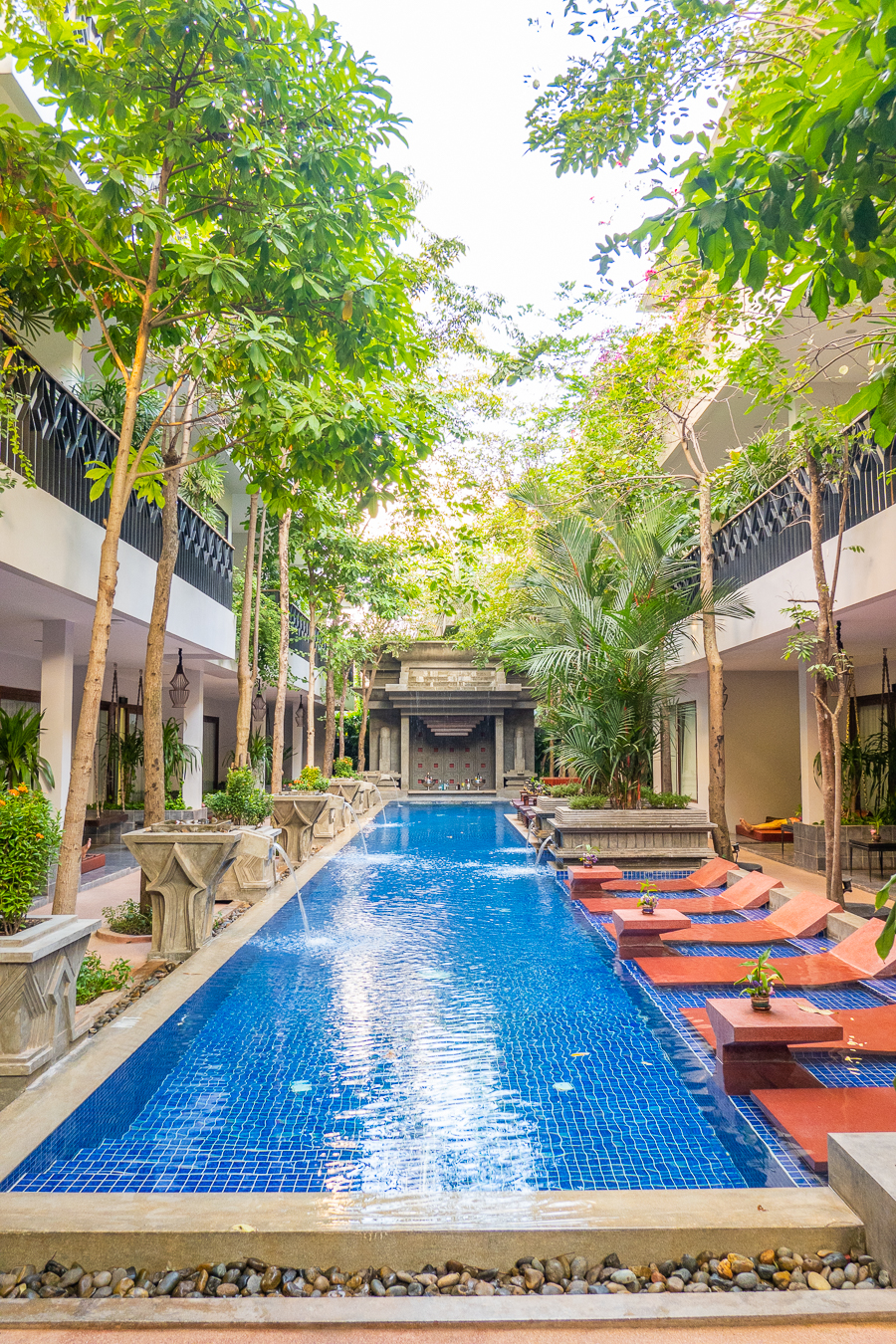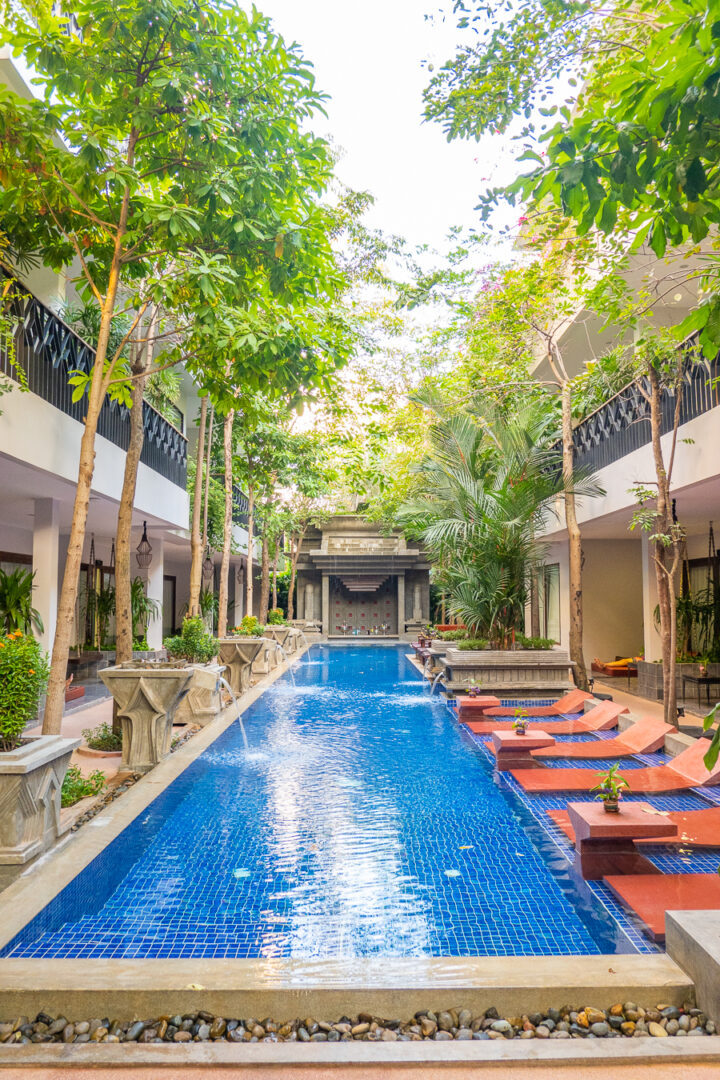 This is exactly the tropical paradise in the middle Siem Reap that you need to experience.
You definitely want to book a room on the ground floor by the pool. After those long days of sightseeing, this is the perfect setting for relaxing with your feet up and drink in hand.
Rooms on the ground floor have their own private covered porch, complete with a king-sized sun bed, wooden swing, and private set of steps to the pool. This is certainly where you'll be spending any extra free time you have while visiting Siem Reap!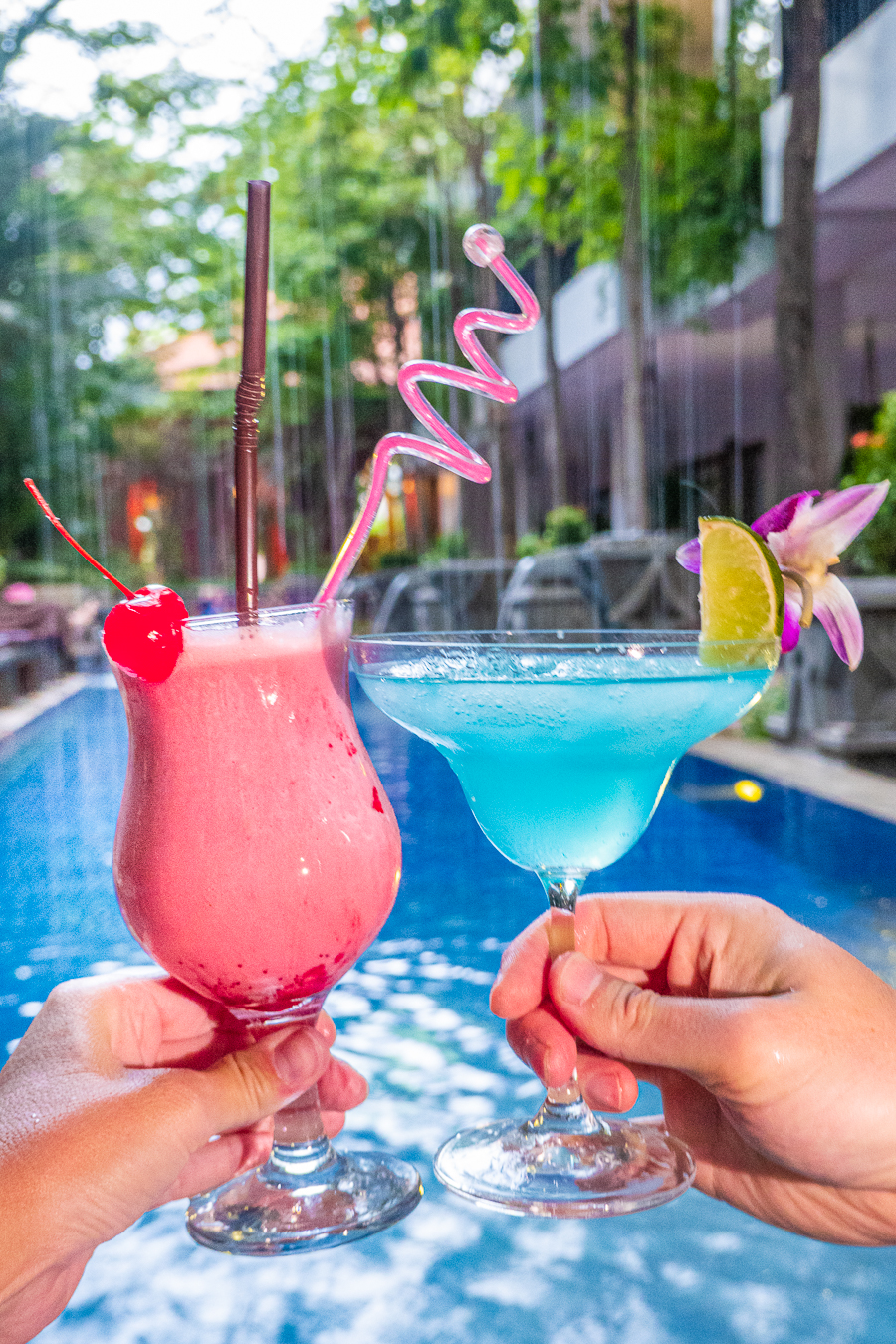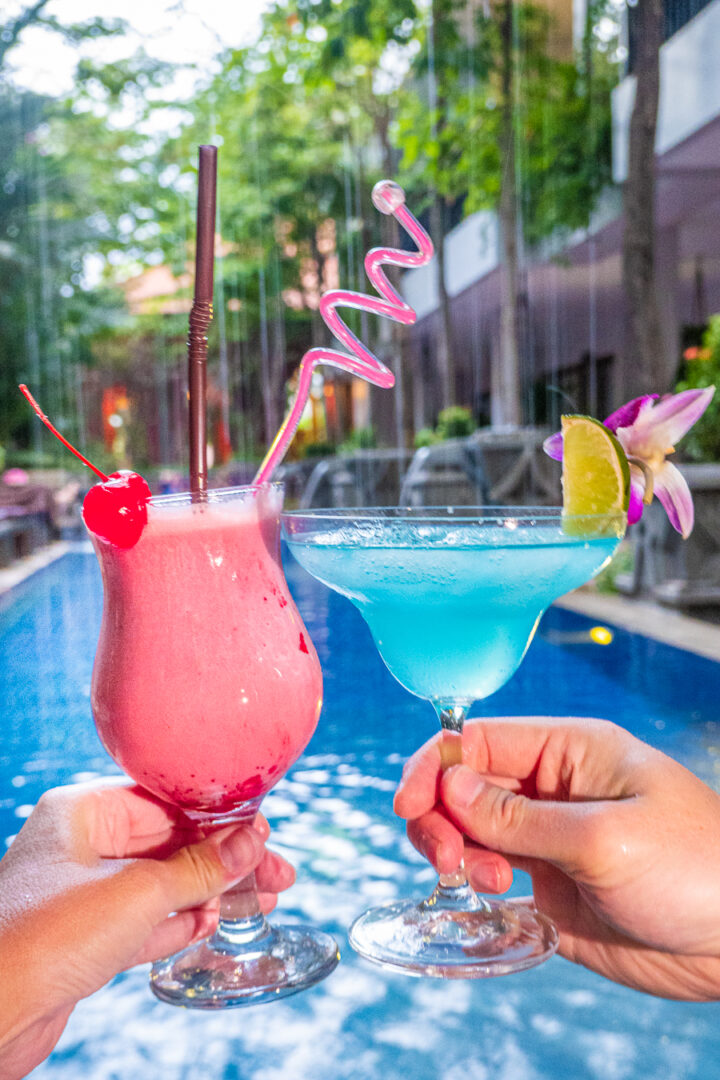 And speaking of the pool… There's a swim-up bar underneath a waterfall! How fantastic is that?
The resort tends to receive excellent reviews for its fabulous pool and lounge area. We are sure you'll agree!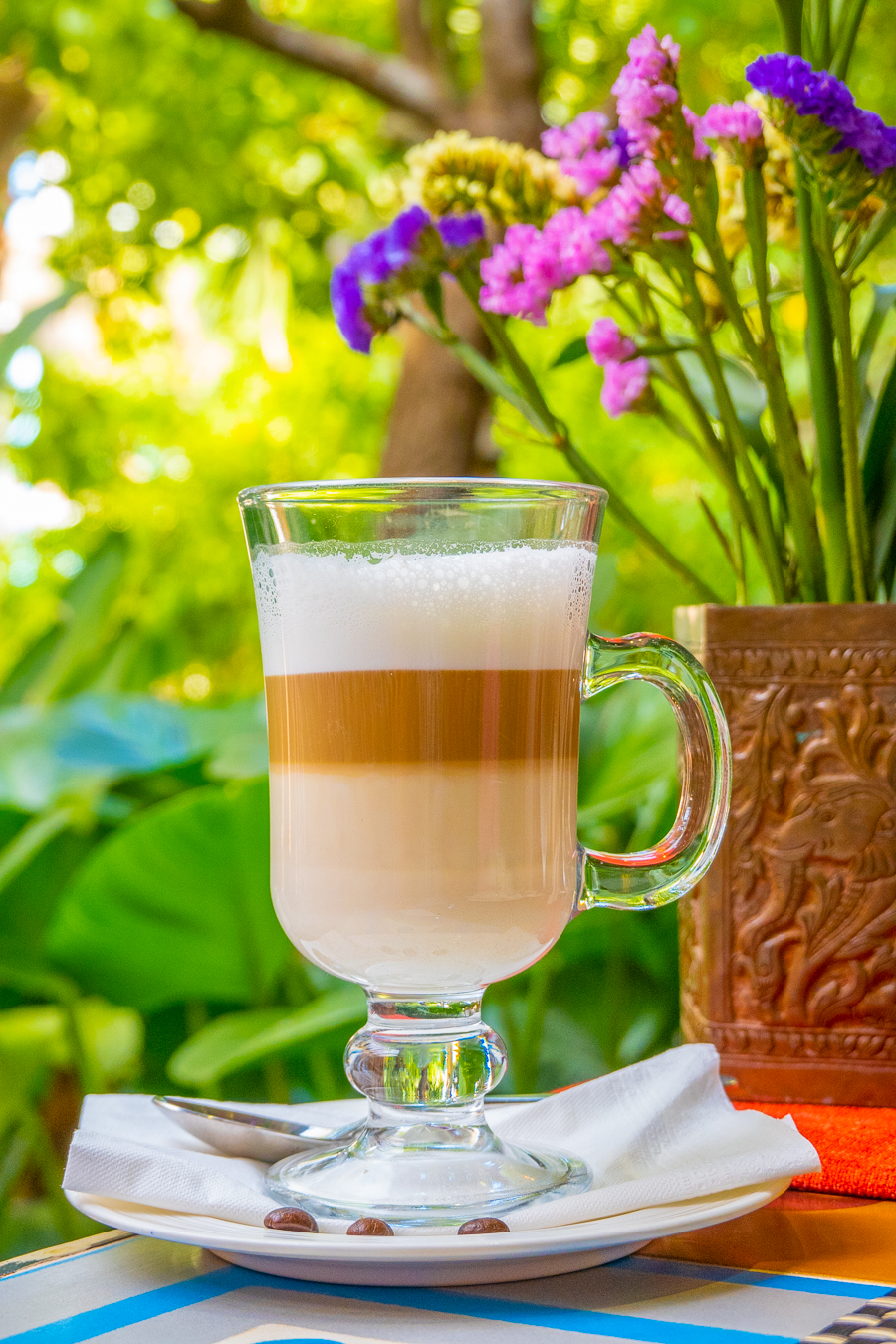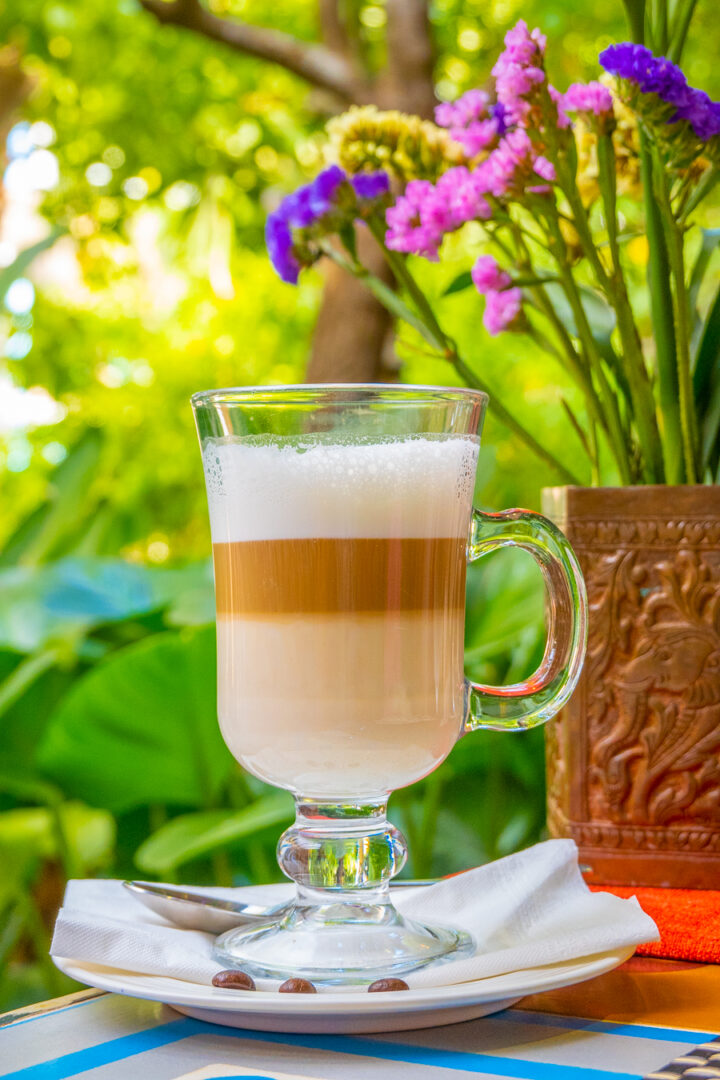 You'll be ready for an adventurous day after a relaxing and rejuvenating breakfast in the beautiful hotel garden.
Once your day of sightseeing is over, enjoy delicious traditional Cambodian cuisine and live entertainment for dinner.
The restaurant at the Golden Temple Retreat is renowned in Siem Reap for its authentic and carefully-sourced dishes. Plus, meals are accompanied by performances of the Khmer blessing dance. The experience is a delight for all of your senses!
---
Questions about Siem Reap?
Do you have any questions about traveling to Siem Reap? Let me know in the comments! We want to make your trip as easy as possible, so we'll do our best to help!
---
Like this post? Save it on Pinterest!