From ancient temples to rooftop bars, there are so many amazing things to do in Phnom Penh, Cambodia. If you're planning a trip to Phnom Penh you don't want to miss these top sites and incredible experiences during your visit to Cambodia's bustling capital city!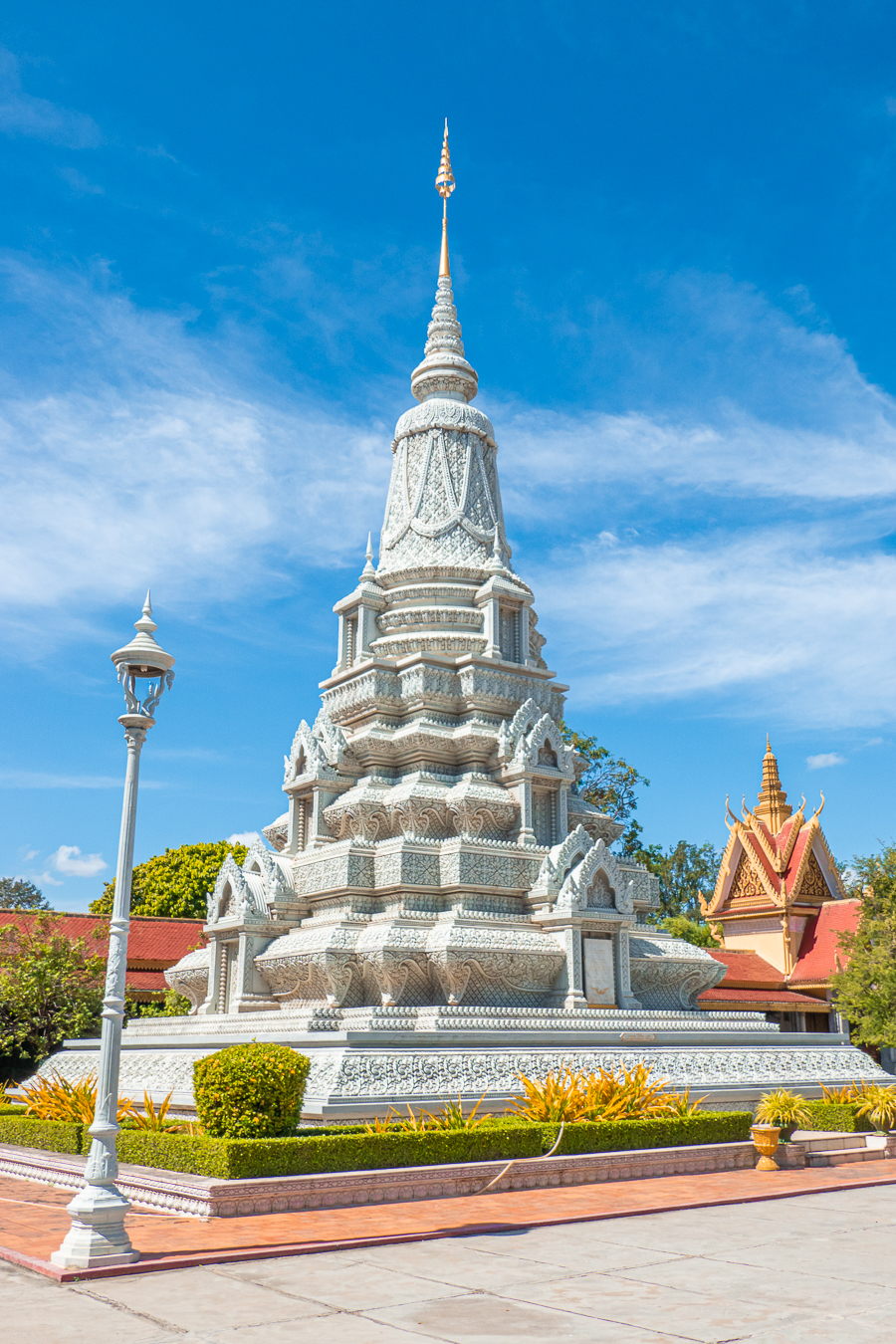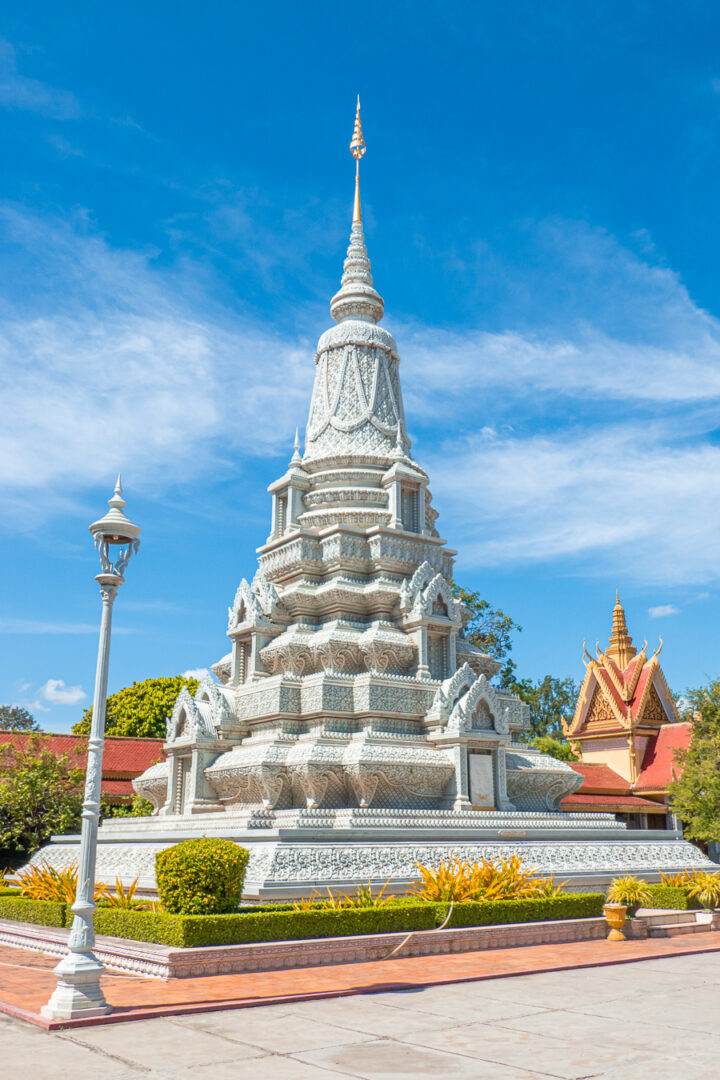 Where is Phnom Penh?
Phnom Penh is the capital city of Cambodia, and is located on the south central end of the country near the border of Vietnam.
It is the largest and wealthiest city in Cambodia, robust with restaurants, hotels, shops, and attractions.
Cambodia's International Airport is less than 10 miles from the main area of Phnom Penh. There is no shortage of options for easily traveling from the airport to your hotel in the city center.
Is Phnom Penh Safe?
Cambodia is a very friendly country for tourists. While there are some of the crime issues typically found in large cities, it is considered quite safe to visit Phnom Penh.
Is Phnom Penh Worth Visiting?
It is definitely worth visiting Phnom Penh. There is such a stunning blend of ancient and contemporary energies in the city and surrounding areas.
Very few places in the world offer access to both impressively modern amenities and outstandingly well-preserved historical sites. This bustling, vibrant city has all of that and much more!
How Long Should I Plan to Stay in Phnom Penh?
We recommend you stay at least 1-2 days. While you can certainly see all of the attractions we list in this post in one day, you're sure to enjoy a more relaxed pace to take in the sites if you give yourself two full days and nights.
Also, it will be much easier to see many sites during your trip to Phnom Penh if you have a driver waiting to take you from place to place. Otherwise you'll be spending time trying to arrange taxis or flag down a tuk tuk yourself.
The Best Things to do in Phnom Penh: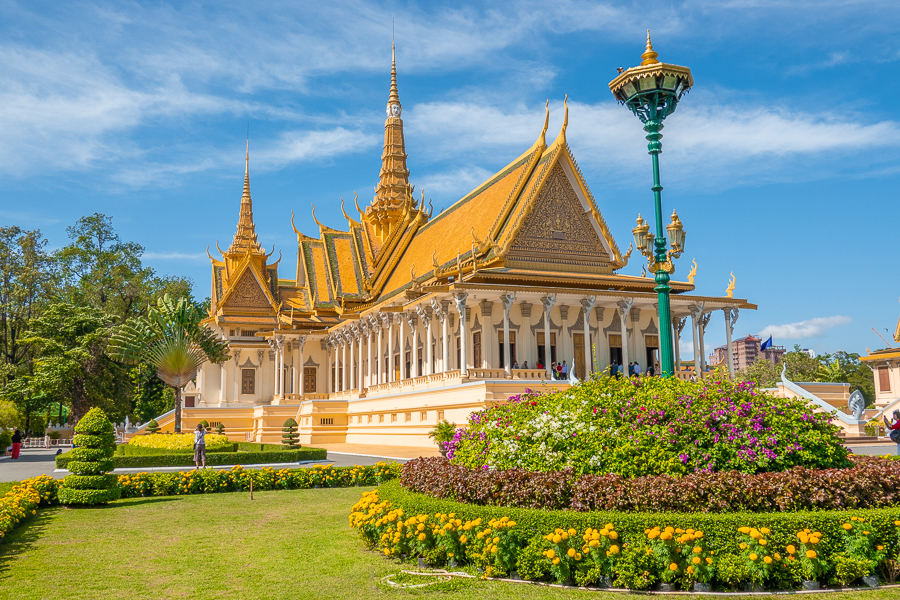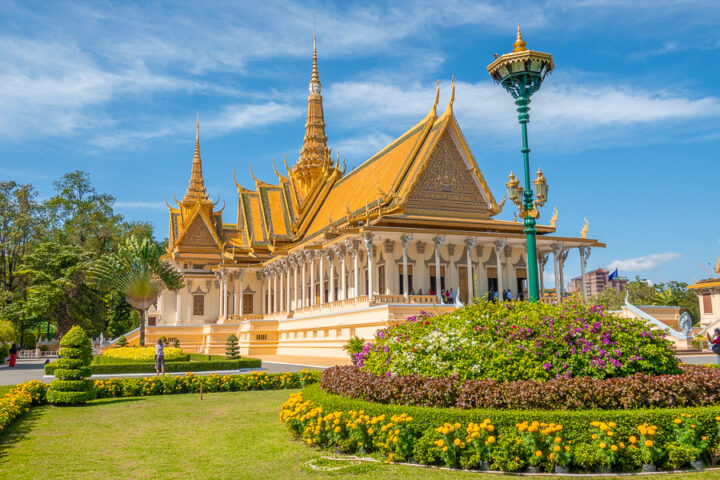 Visit The Royal Palace
The Royal Palace is actually a large complex that is made up of several buildings, including the Royal Residence, the Throne Hall, and the Silver Pagoda. There are also a few other smaller buildings, monuments, and shrines on the over 40 acres of property.
The entire Royal Palace was constructed in the 1800s for the King of Cambodia. Per custom, the Royal Residence is still used by royalty today. They do not allow tourists to visit the private living areas, but you are free to explore most of the grounds and many buildings. You should plan to spend about 1 hour here to tour all of the spaces that are open to the public.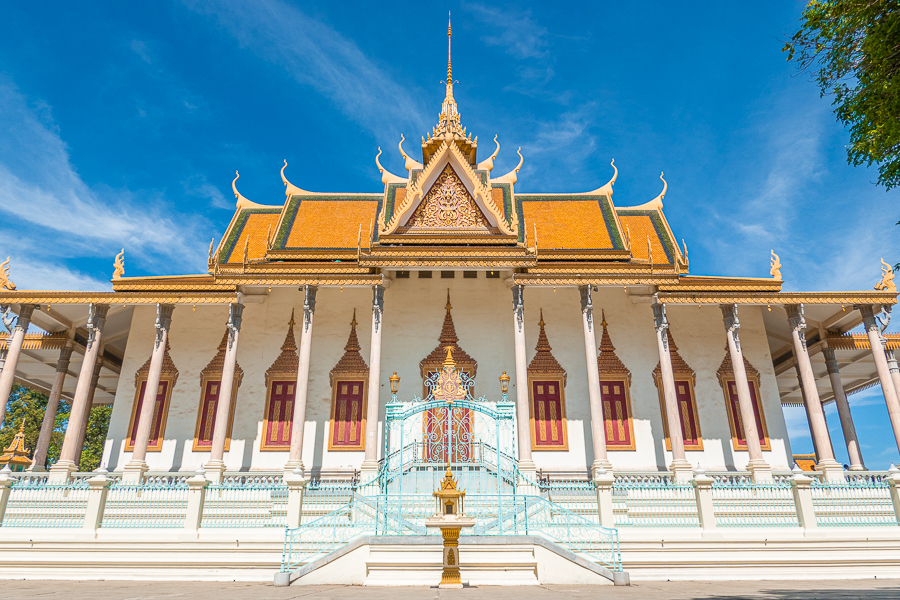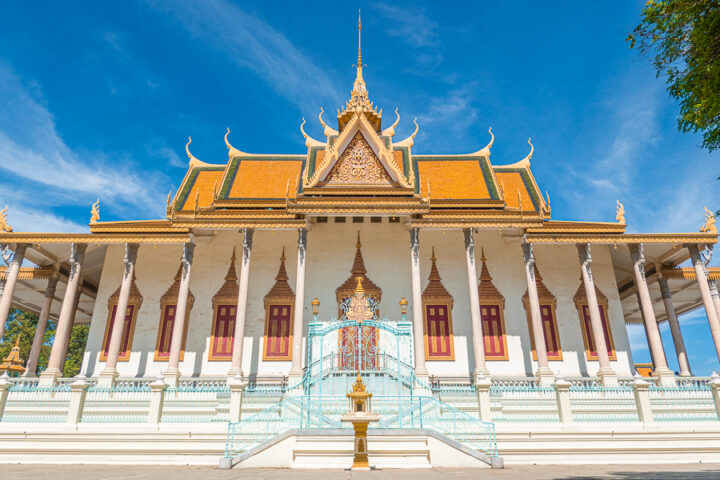 The Silver Pagoda of The Royal Palace
Inside of the Royal Palace complex is The Silver Pagoda, pictured above.
This stunning site is one of the city's most popular tourist destinations. You see why as soon as you step inside!
The Pagoda gets its name because more than 5,000 ornate silver tiles cover the floor in the temple. It is absolutely mesmerizing to see with your own eyes.
On display in The Silver Pagoda is a collection of priceless Buddhist statues and historical objects. These include the famous Emerald Buddha and many other valuable statues covered in gold and jewels.
Unfortunately no pictures are allowed inside; however, I can honestly say photos wouldn't be able to capture the beauty of this site anyways. So you definitely want to have this location on your must-see list while visiting Phnom Penh!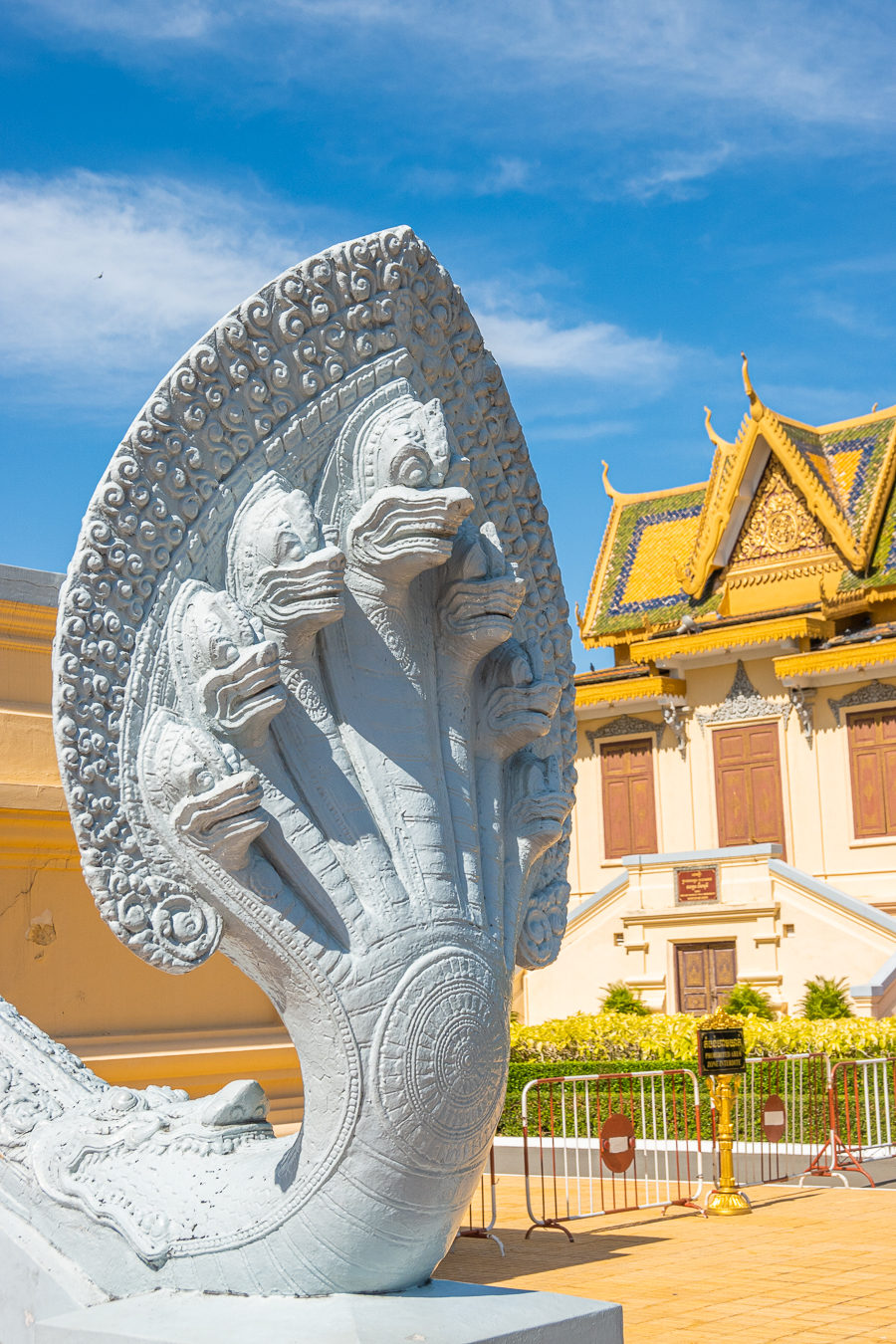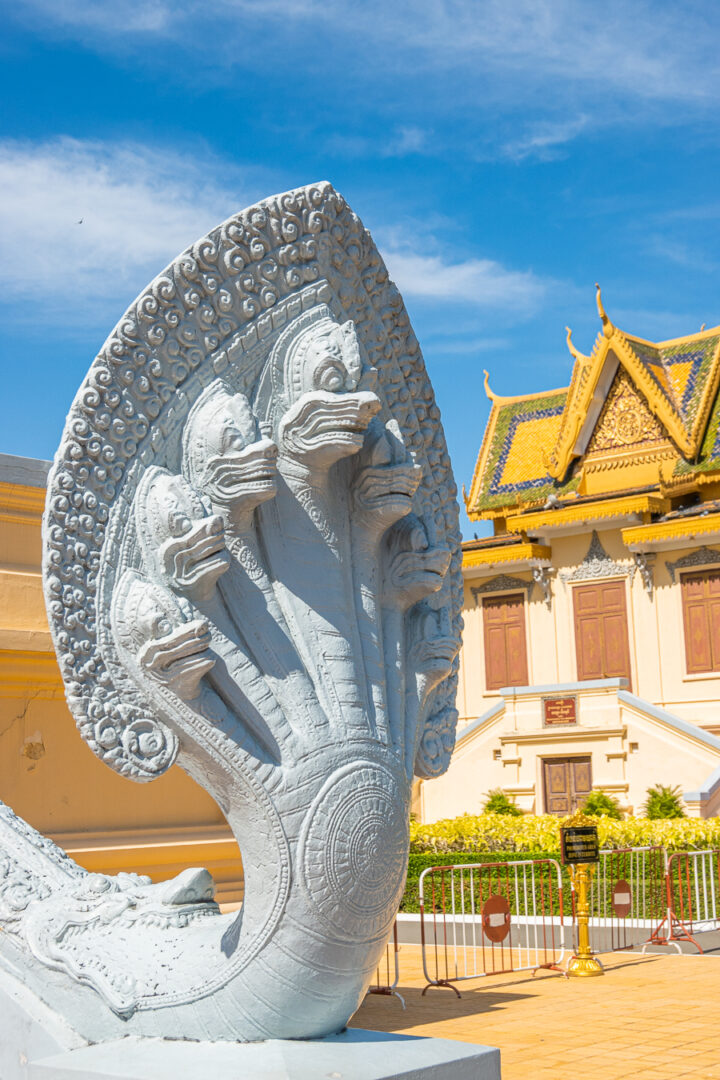 Statues of Naga
You'll notice intricately carved statues of Naga on all the staircases at the Royal Palace. This is very common in Cambodian architecture, as you'll see in the ancient (1,000 year old) temples in Siem Reap. In Hindu mythology, Naga, which means "serpent" in Sanskrit, is a 7-headed snake that is often depicted as a guardian.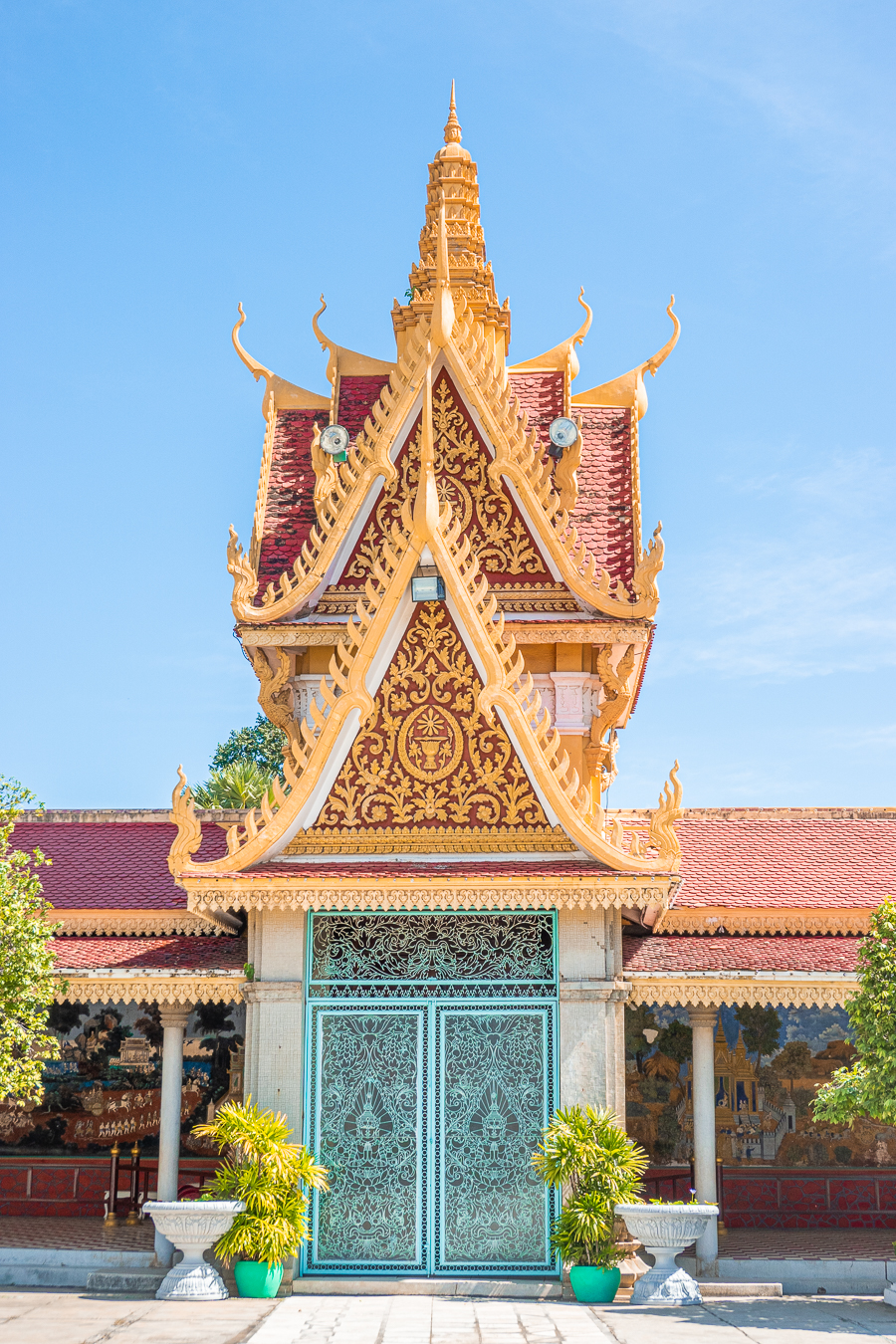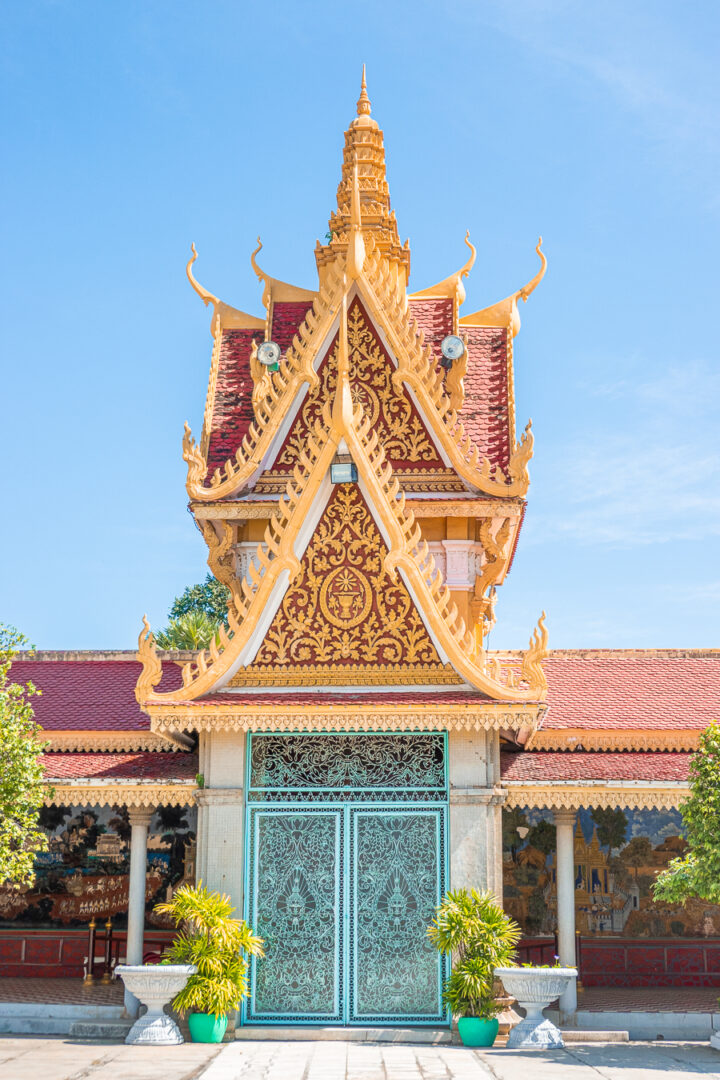 Beautifully vibrant, bright teal gates are on the front of many buildings throughout the Royal Palace. The color combinations of the architecture are breathtaking!
There are Buddha statues all over the Royal Palace, like in the photos above. Each one is depicted sitting, but has a slightly different pose. The hand positions of Buddha have various meanings like meditation, enlightenment, healing, etc. All have the same wonderfully peaceful slight smile and are decorated with fresh flowers.
Remember the guardian serpent mentioned earlier? Notice in the bottom right a Buddha is being protected by the Naga while resting on a base of its coils.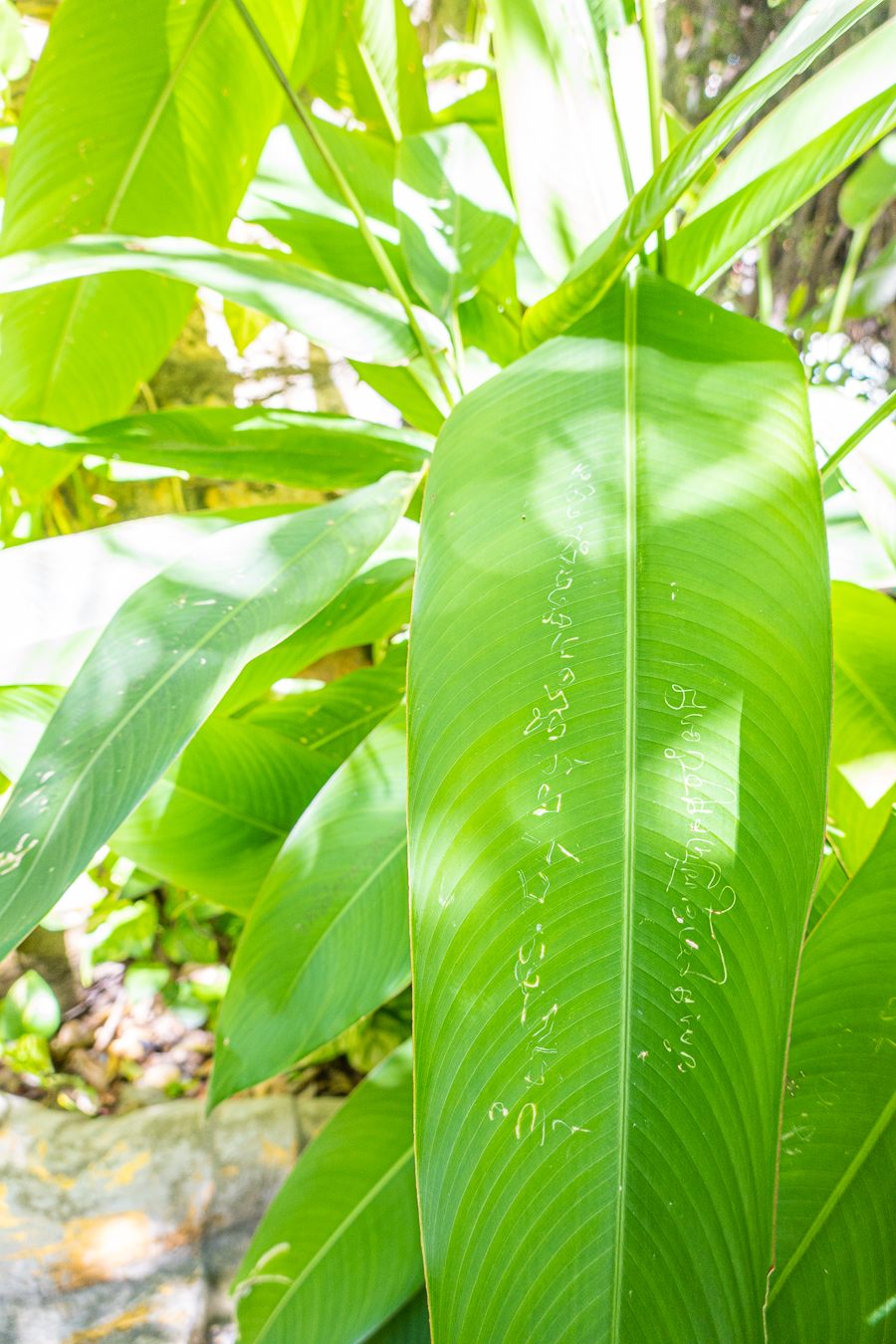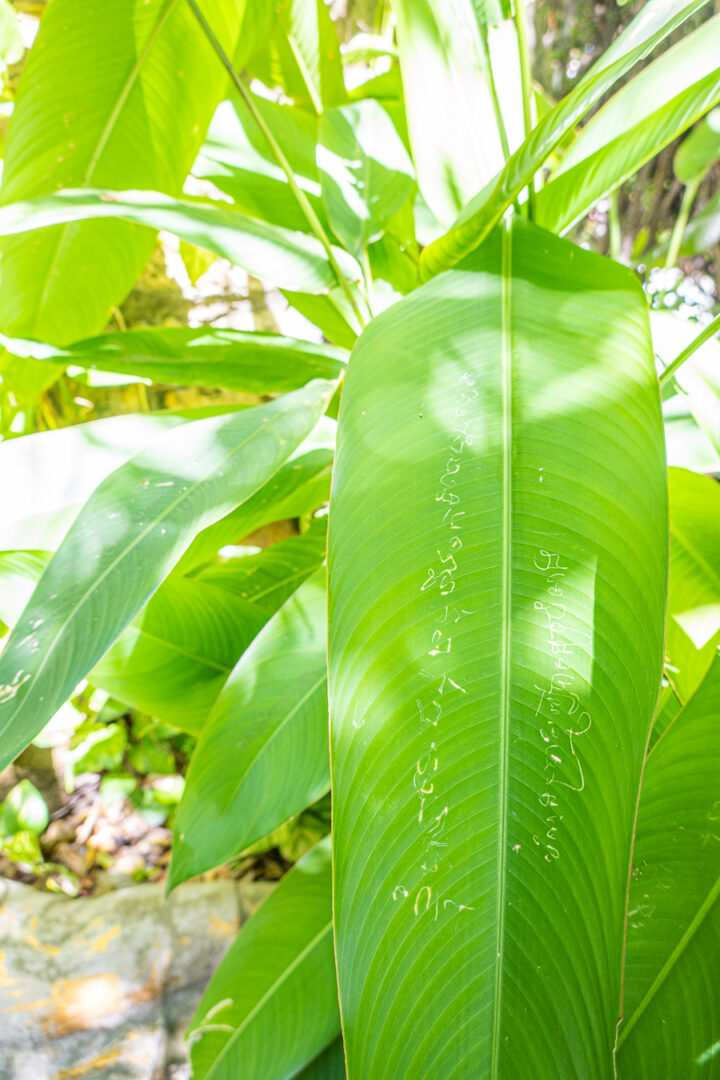 It is customary to write prayers on the leaves and rocks throughout the grounds of the Royal Palace. You'll see these writings all over, and are welcome to add your own.
Angkor Wat Temple Model at The Royal Palace
At the Royal Palace you can also see a full scale model of Angkor Wat, the largest religious monument in the world that's located in Siem Reap, Cambodia.
Pictured above, it's quite an impressive replica. If you have been to Angkor Wat you'll love noticing all of the identifiable temples. Haven't yet been? This will certainly help inspire your trip!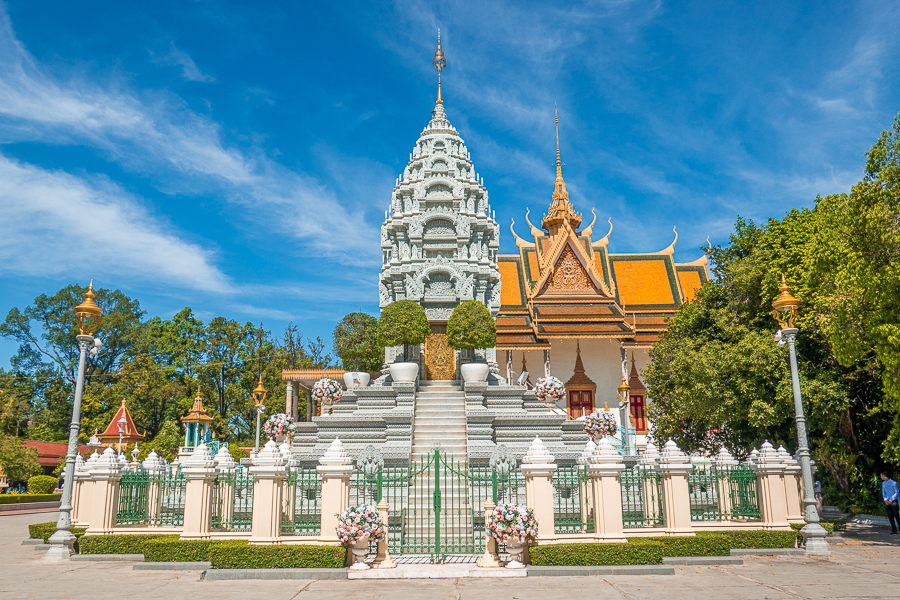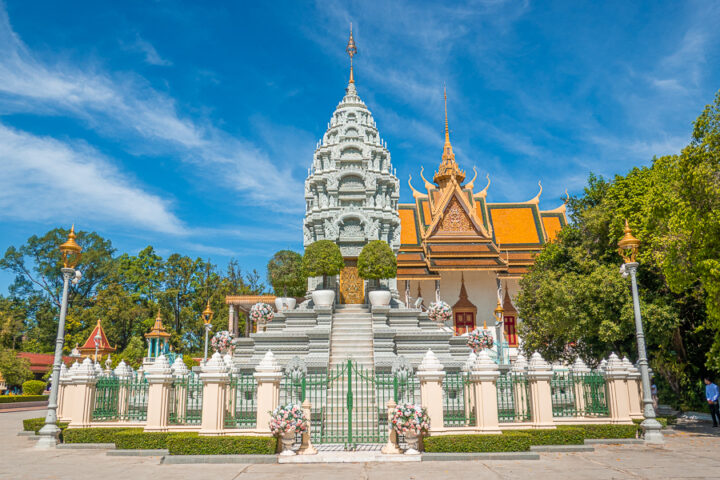 Above is a photo of the Royal tomb at the Royal Palace. This grand tribute to the royal family is not open to visitors, but it is still a very lovely and peaceful piece of architecture to view during your tour of the complex.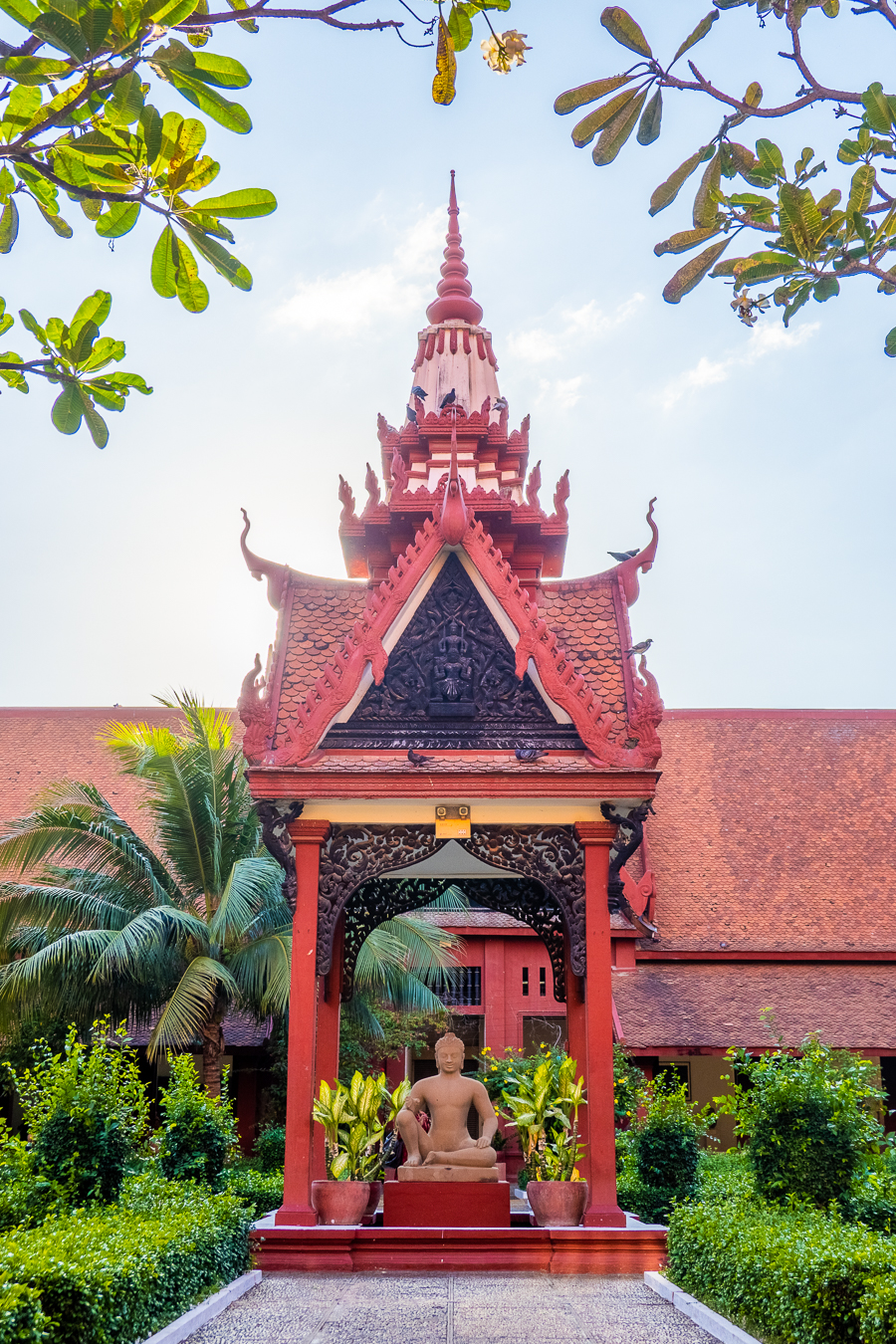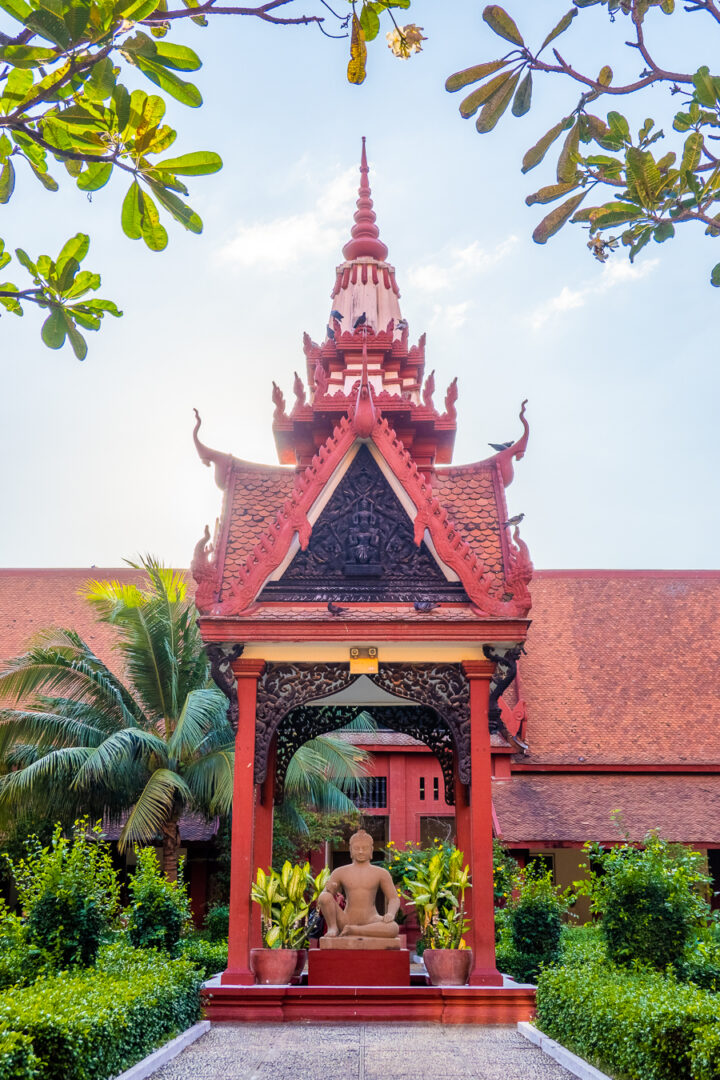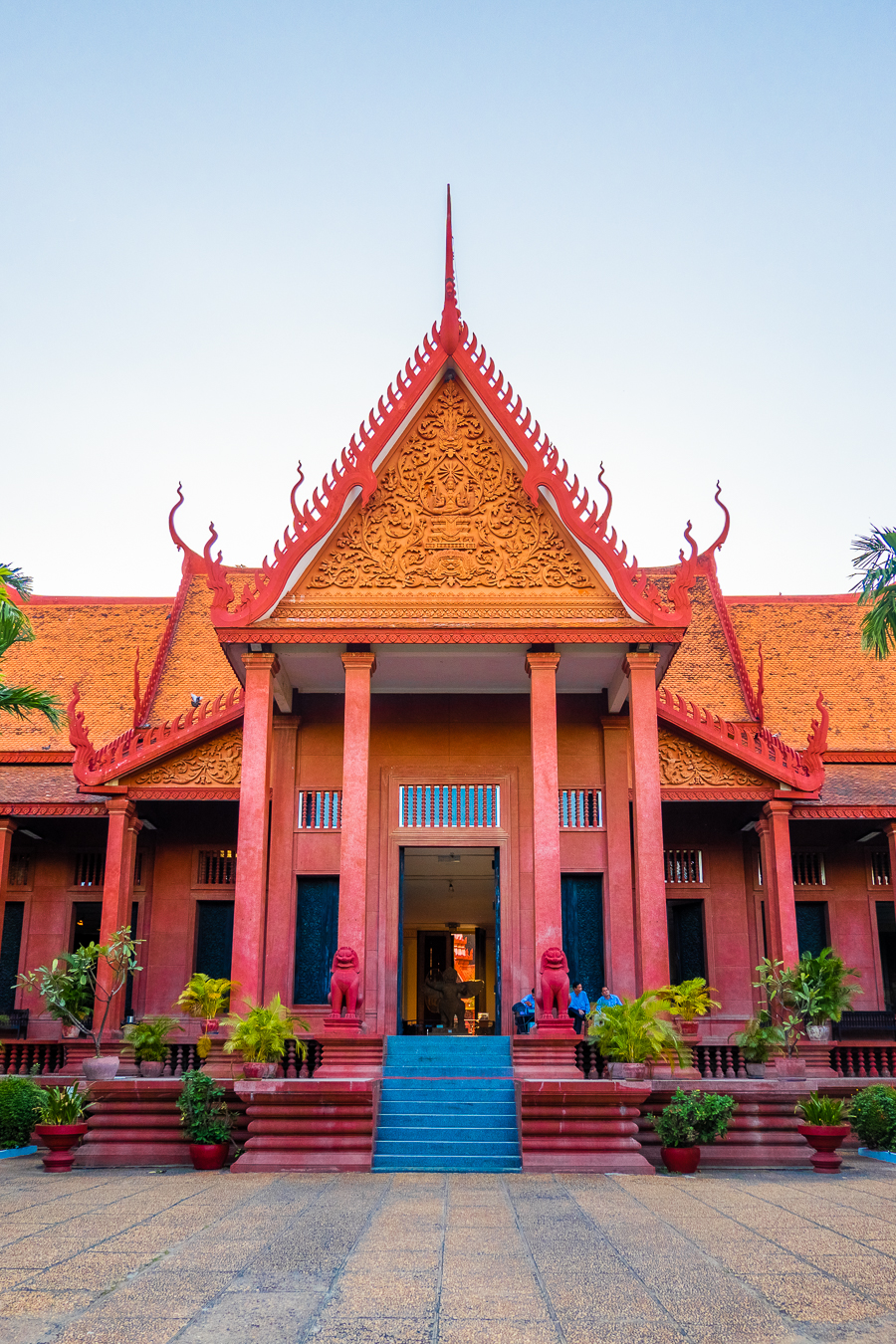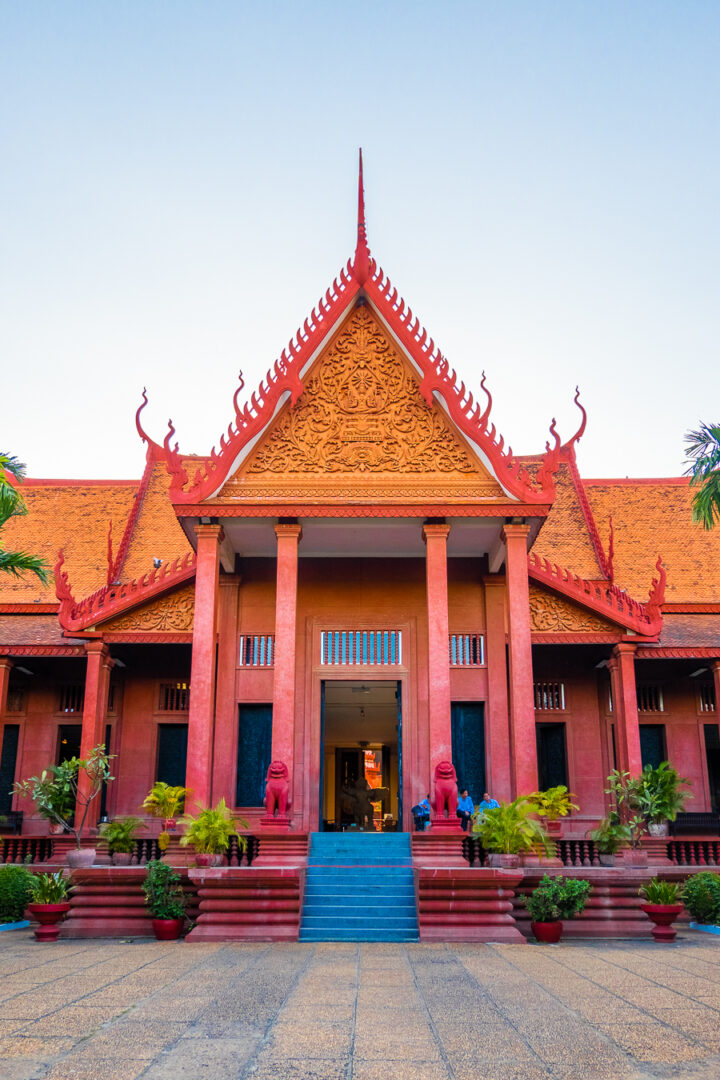 Tour The National Museum of Cambodia
Just north of the Royal Palace in central Phnom Penh is the National Museum of Cambodia.
It's the country's largest museum of cultural history, and is home to an incredible collection of intricate carvings and statues. Like the architecture and artwork you'll see in Siem Reap and Angkor Wat, pieces at the museum date back thousands of years but are still in remarkably great condition.
But it's not just all ancient artifacts when you visit Phnom Penh: There's also a rock from the moon on display that was given to Cambodia by the United States in 1973 during the Vietnam War. Known as the "goodwill rock," this unique gift has quite an interesting history and was only recently put back on display at the museum.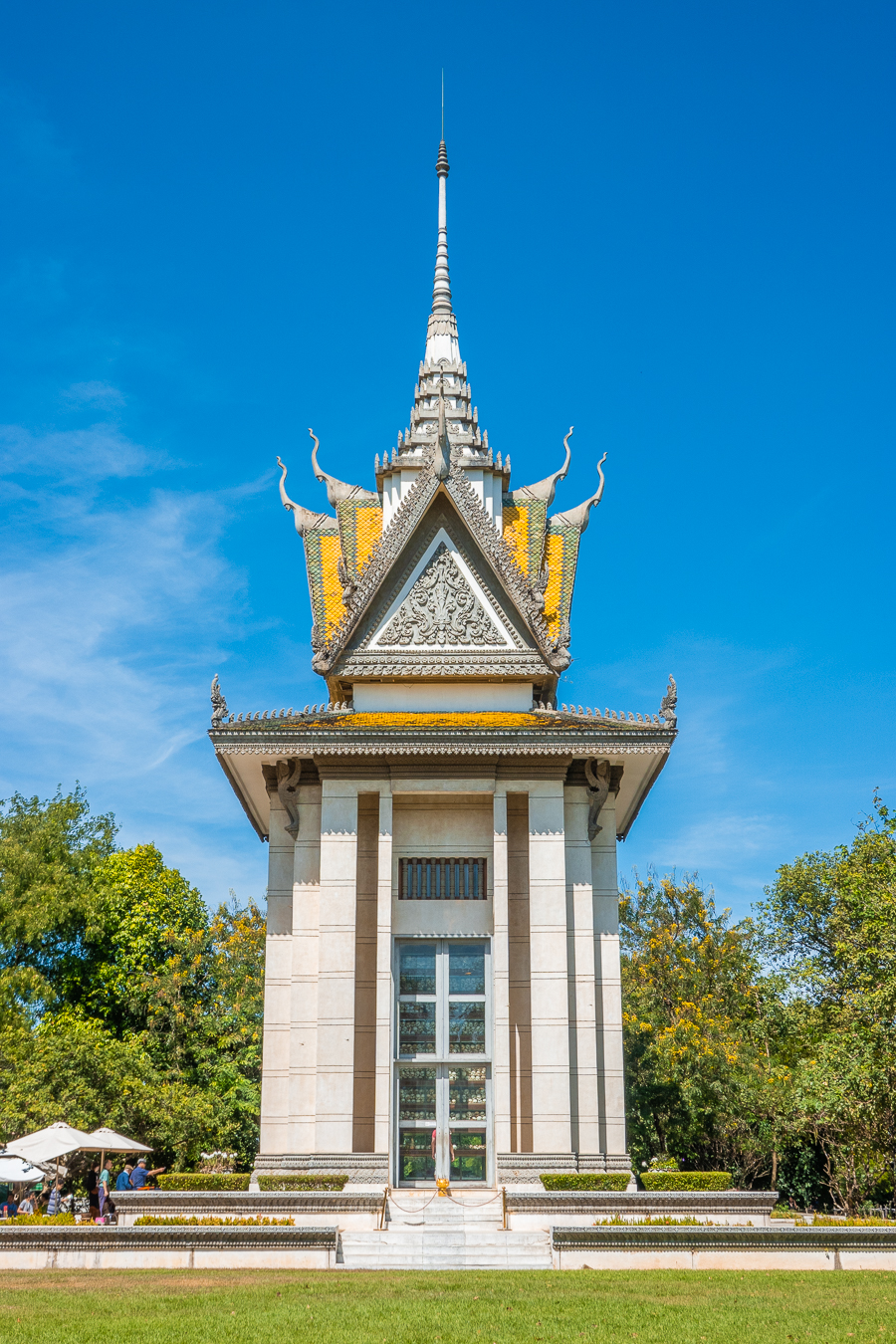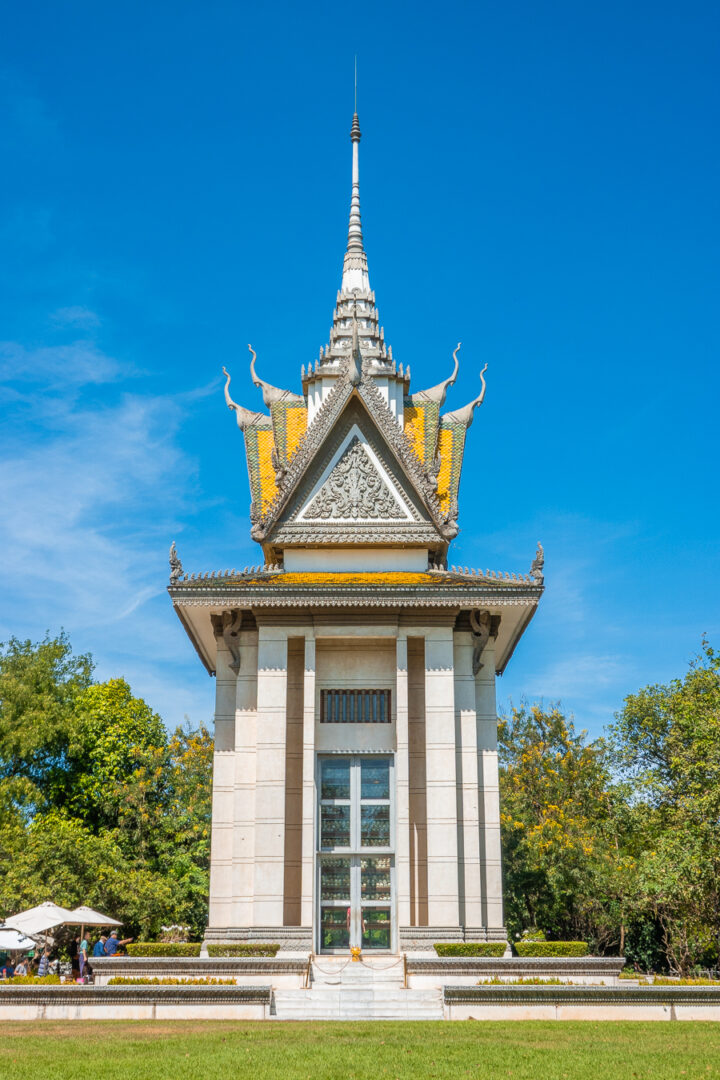 Learn About The Killing Fields of the Cambodian Genocide
In 1975 the Khmer Rogue political party, led by Pol Pot, came into power in Cambodia. During the four years of ruling, his regime killed over 2 million innocent civilians in what is known as the Cambodian Genocide.
It's a difficult subject, but remembering the past and learning from it is essential. This horrific event took place only 40 years ago, and still greatly touches the lives of Cambodians today.
The ruling party claimed that big cities and anyone who was educated — such as doctors, teachers, lawyers, and even monks — were corrupt and therefore destroying the traditional ways of life. Cambodians who were deemed a threat to the country were either executed or forced from their homes and into rural labor camps.
Mass executions took place in over 23,000 locations throughout Cambodia, with the largest of these sites less than ten miles outside of Phnom Penh. Known as "The Killing Field," it is estimated that 17,000 men, women, and children were executed here between 1976-1979.
This site is available to tour on foot, and you can walk through the field to visit mass graves and memorials from this tragic time. There are no words to describe the horrors that occurred here, but they are a deeply imperative part of Cambodia's history to know.
Read More: My Experience at the Killing Fields of the Cambodian Genocide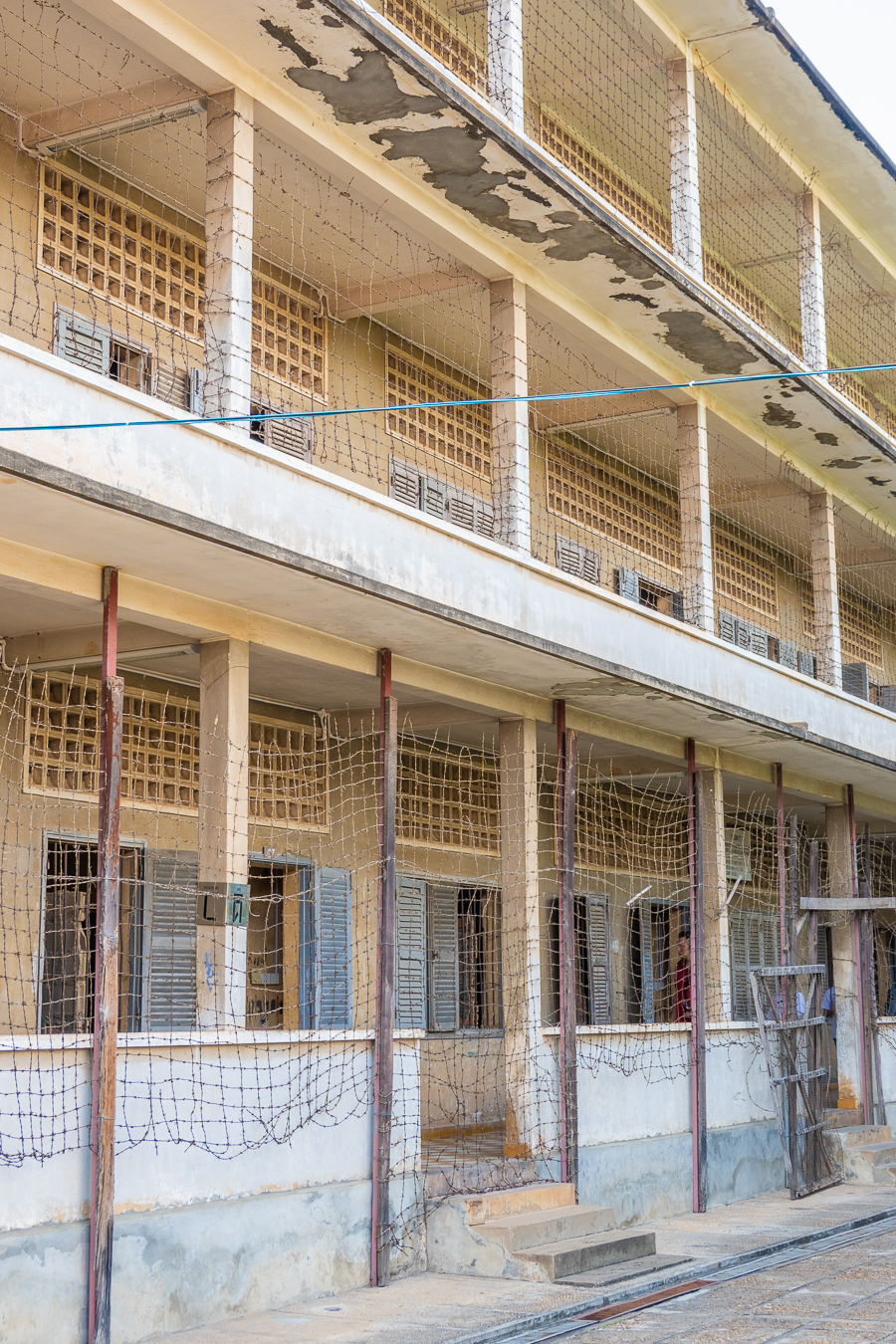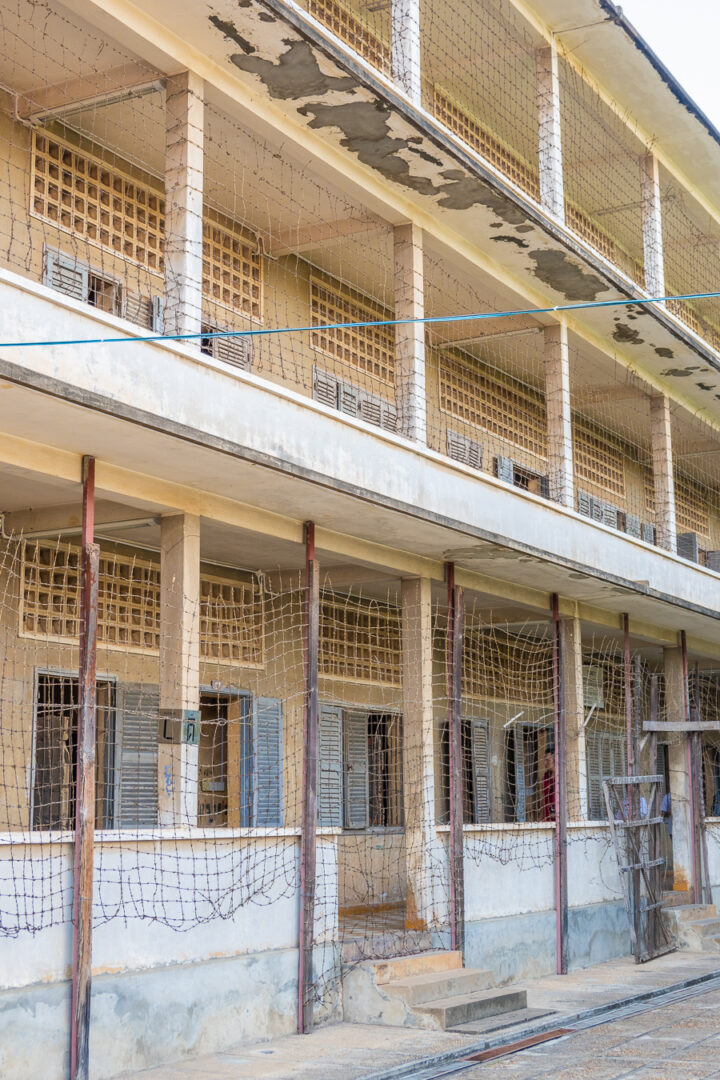 Tuol Sieng Genocide Museum
Pictured above is what was known as Security Prison 21 (S-21). Now the Tuol Sieng Genocide Museum, this site was formerly a secondary school, but was turned into a prison and torture facility during the Khmer Rouge regime. Nearly 200 of these prisons existed during the Cambodian Genocide, and visiting the museum is a sobering and necessary experience to truly understand and appreciate the full history of the region.
Again, these are not fun spots to tour. But they are incredibly important sites to be aware of and learn from during your visit Phnom Penh.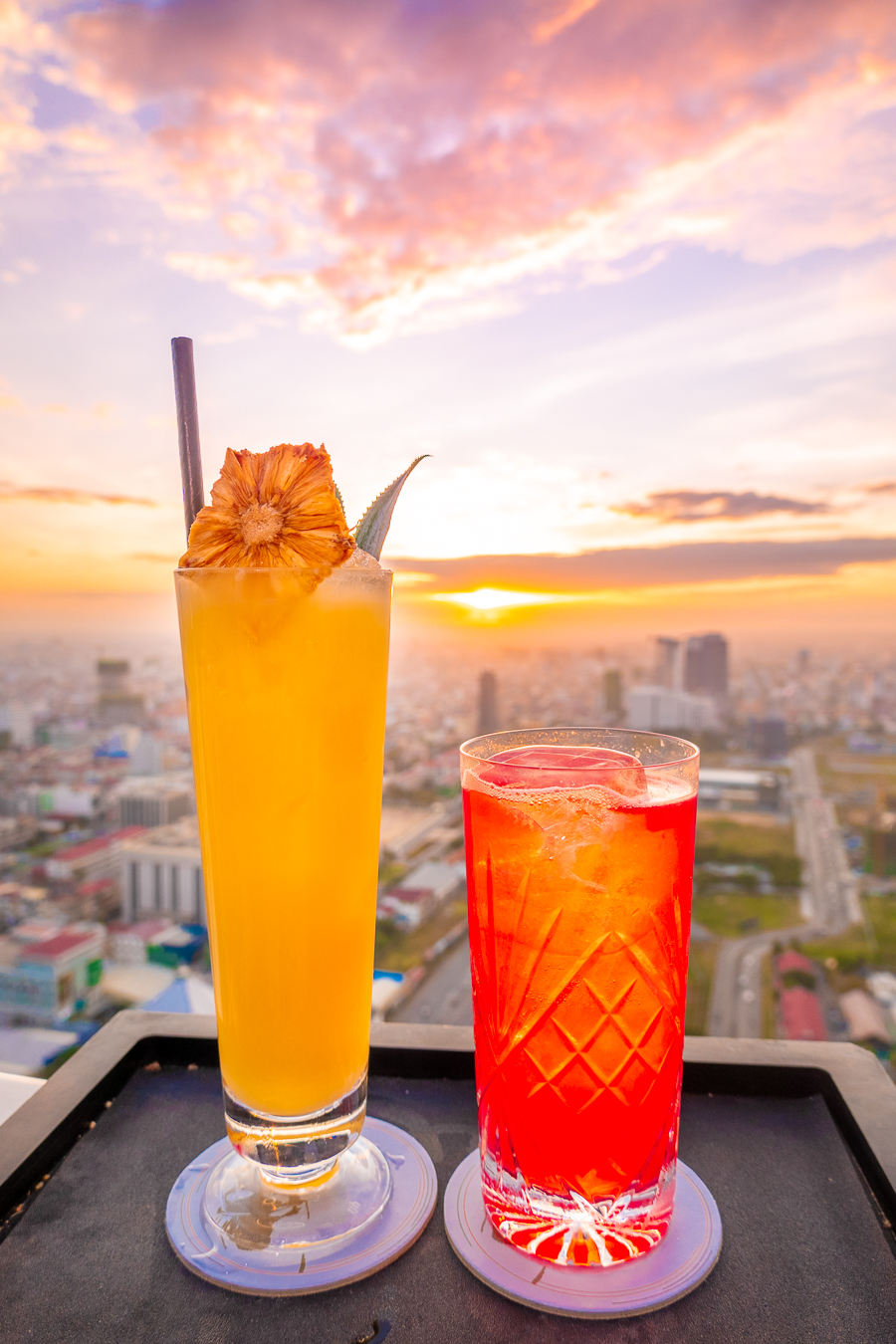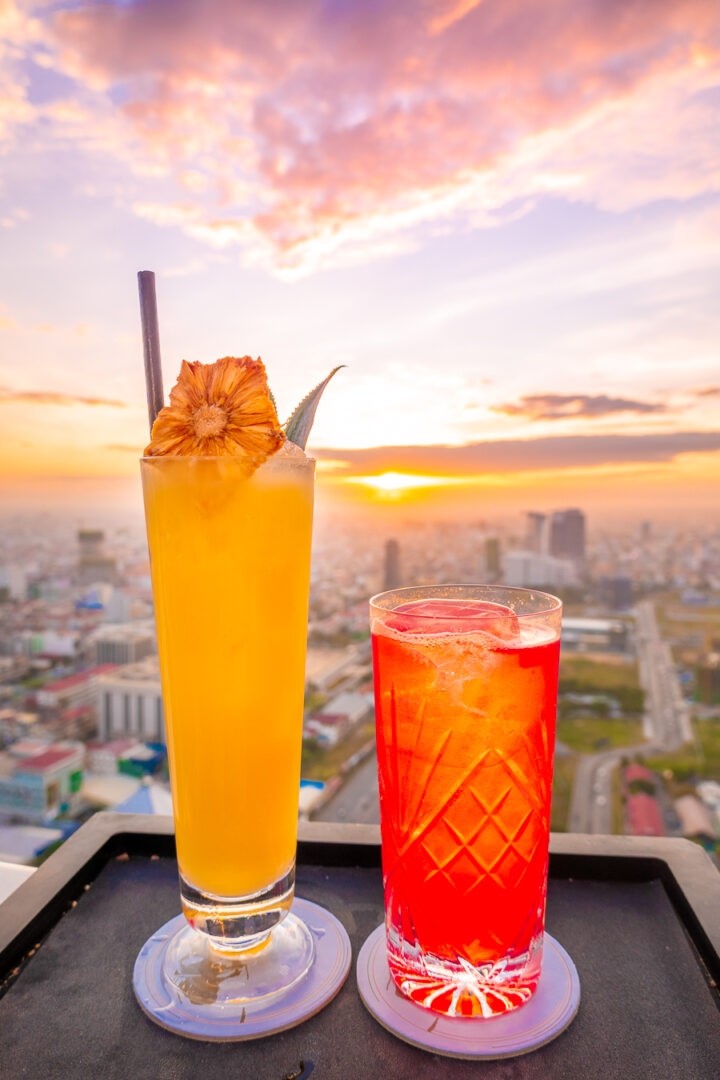 Cheers at The Sora Skybar at Rosewood Phnom Penh
After spending your vacation days touring our recommended lists of places to visit during your trip to Phnom Penh, it's time to hit the town for fun-filled evenings.
Don't these drinks look so refreshing and delicious? You absolutely should catch a magnificent sunset while enjoying cocktails at the Sora Skybar at Rosewood Phnom Penh. It is the highest rooftop bar in Cambodia, and offers the most spectacular views of the city!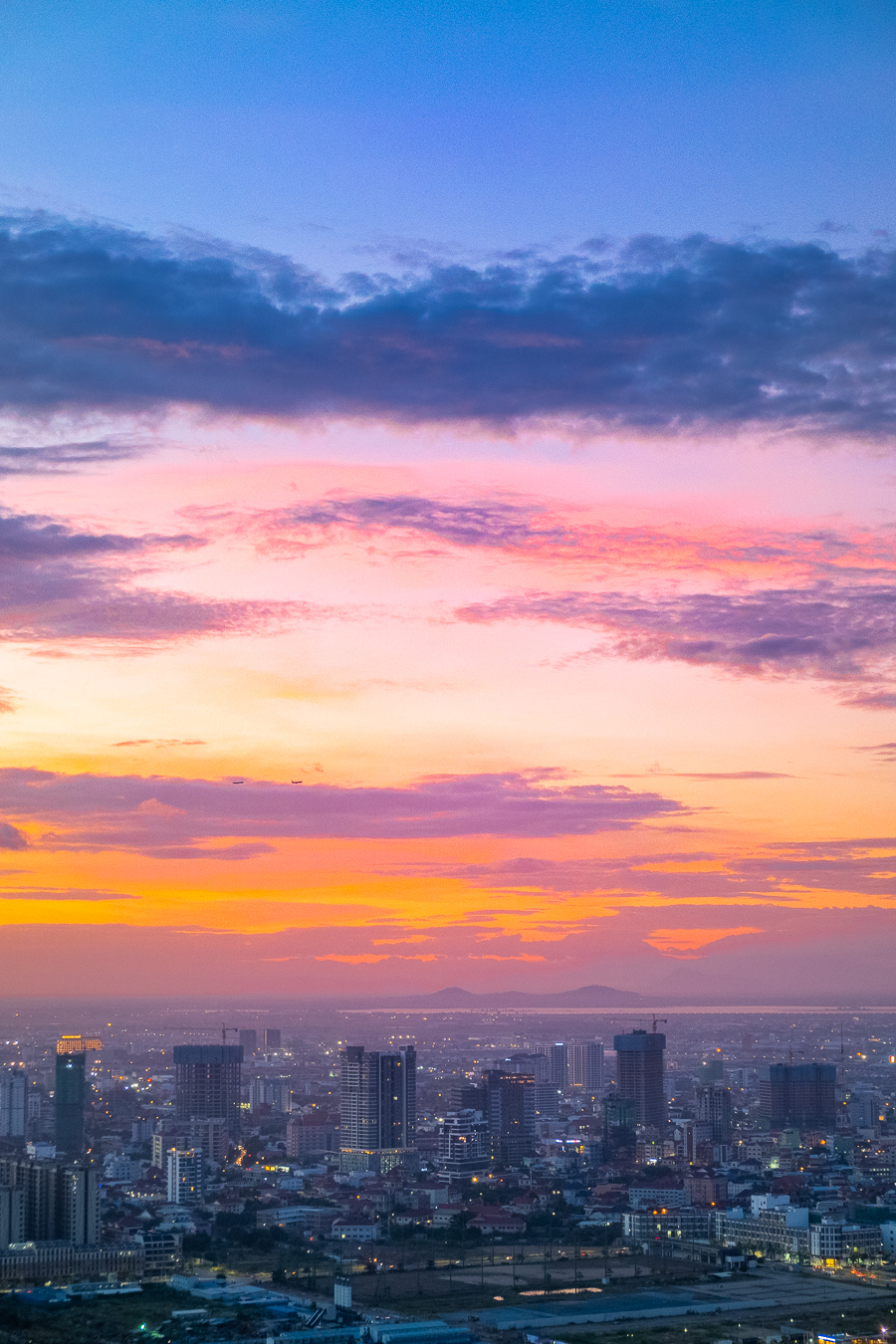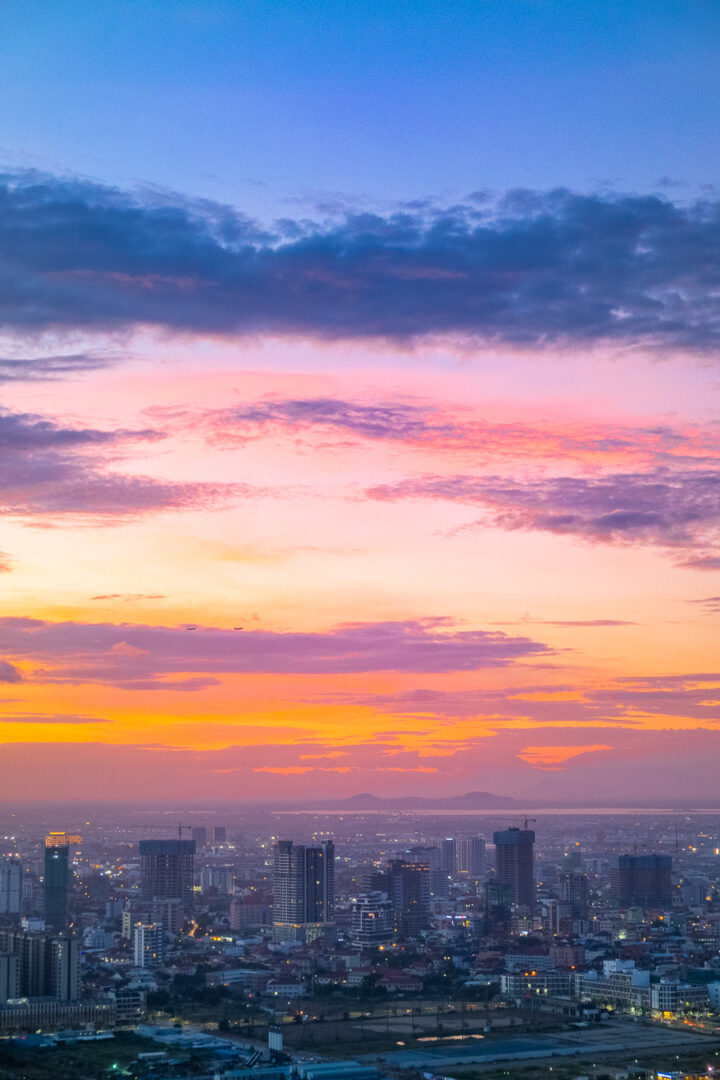 Speaking of relaxing after a long day of sightseeing, we also highly recommend that you check out the amazing spa at Rosewood during your trip.
The signature Khmer treatments are a perfect way to treat yourself while on vacation. They offer a great variety of massages, soaks, and more therapeutic and terrifically indulgent services for individuals and couples. I could have spent nearly the entire trip here!
Take a Sunset Cruise on the Mekong River
Another way to experience a gorgeous evening during your trip to Phnom Penh is with a Sunset Cruise on the Mekong River. It is wonderfully romantic to watch the city glowing on the water.
Boats depart at 5 PM every day, but we recommend that you arrive at the dock at least a few minutes early to buy your tickets and light snacks to bring on board with you. The cruise lasts about an hour, so is an excellent activity to enjoy before hitting the town for dinner.
Cruise tickets are only $5 per person, and they are even free with your stay at the Plantation Hotel!
To purchase your cruise tickets, you can have your Tuk Tuk driver take you directly to the dock. You'll wind up paying $1-3 US dollars for the ride, depending on how much you haggle.
Here is the exact GPS location where you buy the tickets. It's right across the street from the Phnom Penh Night Market, which is a perfect destination for visiting after the sunset cruise.
Visit the Phnom Penh Night Market
Open from 5-11 PM daily, it's wonderfully fun after the sunset cruise to visit Phnom Penh's Night Market. Plan to eat dinner here after enjoying your light snacks on the boat and spending some time walking around the market to take in the sights.
There's a terrific variety of food vendors and retailers in this open-air market on the riverside. You'll find authentic and super tasty Cambodian street foods like noodle soups, steamed snails, and lots of intriguing and yummy snacks on sticks. You can definitely make a full meal by trying a bit of this and that from several different food stalls!
The market is known for being a very tourist-friendly area. There are plenty of souvenirs for sale along with handmade crafts, clothes, fine gifts and basic daily essential items.
Enjoy Cambodian Cuisine at Phnom Penh Restaurants
One of our favorite things to do while visiting Phnom Penh is sampling local cuisine. If you aren't familiar, Cambodian recipes are incredibly savory, slightly sweet, and prepared with lots of fresh ingredients.
We suggest David's Homemade Noodles near the National Museum of Cambodia for very typical, traditional Cambodian dishes. Noodles are even freshly made right in front of you. They are so good!
Other traditional Cambodian dishes you need to try during your trip to Phnom Penh, Cambodia:
Khmer Chicken Curry – Coconut milk-based dish similar to Thai curry, but not as spicy.
Chicken & Cashew Nut – Simple stir-fry dish typically served in a light sweet and sour sauce.
Cashew Nut Shake – Refreshing, creamy milkshake / smoothie made with cashews locally grown in Cambodia.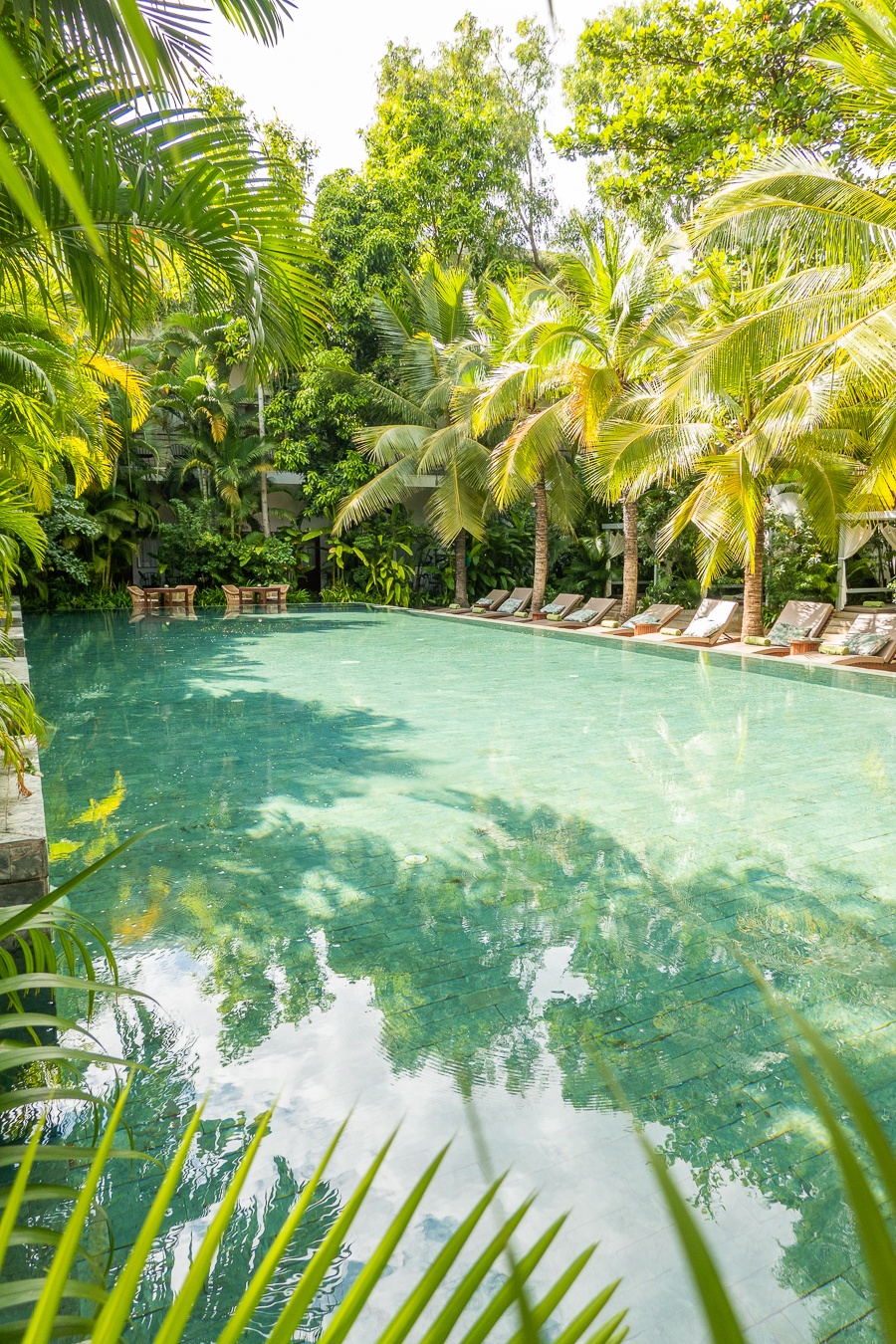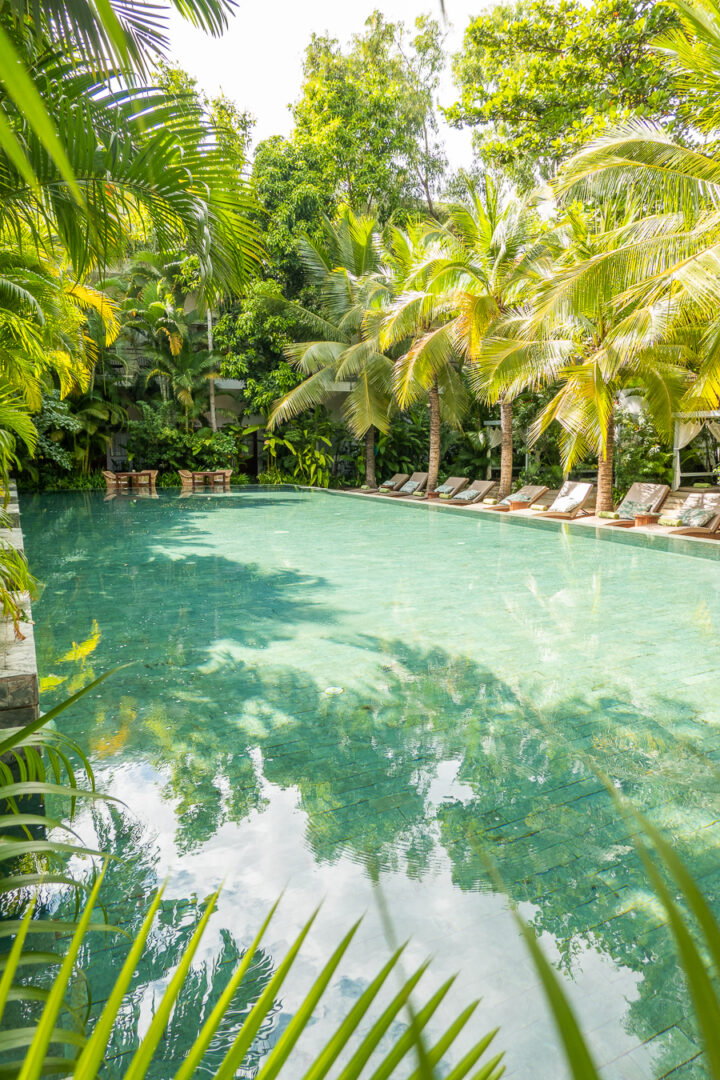 Stay at The Plantation Urban Resort and Spa
By far the most amazing hotel to stay at during your visit to Phnom Penh is The Plantation Urban Resort and Spa. This is definitely where you want to stay during your trip to Cambodia.
It is a true tropical paradise in the middle of the city, located right behind the Royal Palace.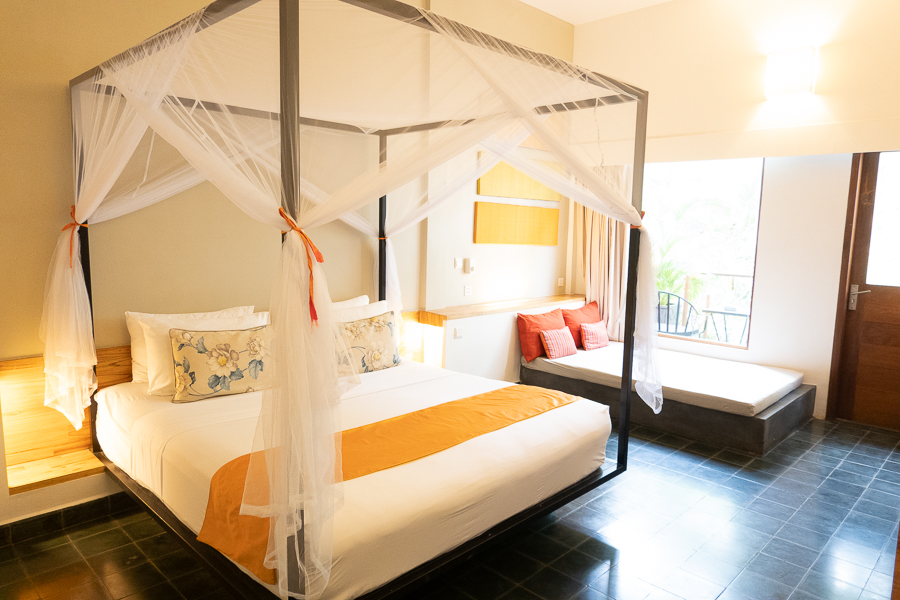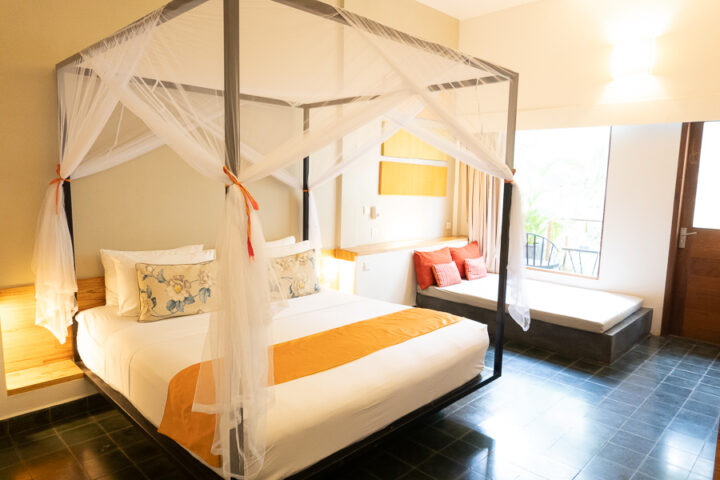 Rooms at The Plantation are beautifully decorated and extremely comfortable. We felt pampered before even getting checked in, and loved every moment of our stay!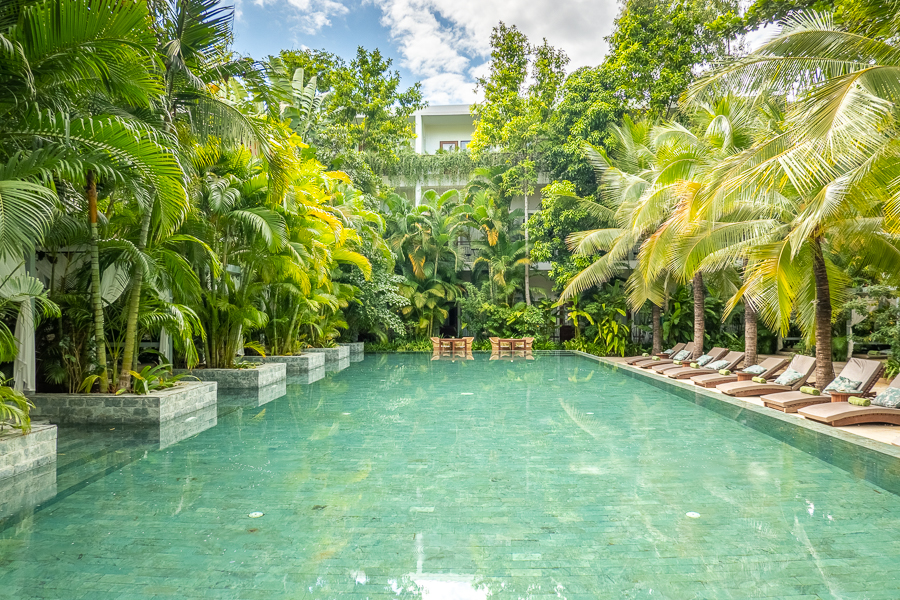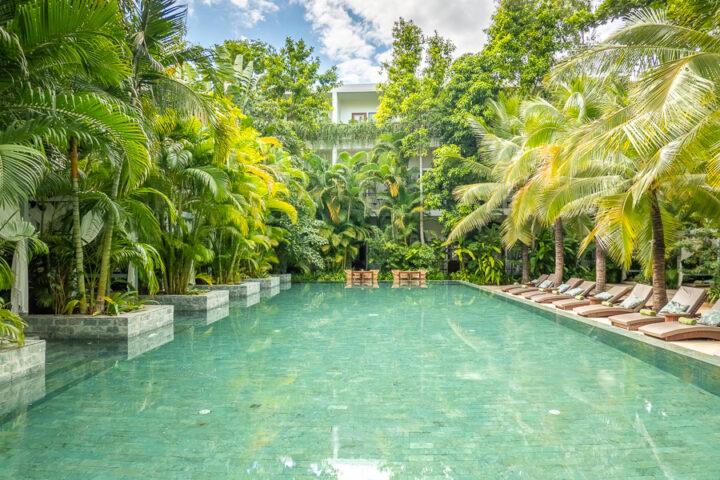 This is one of the two fabulous outdoor pools. The lush gardens that surround the main pool will make you completely forget you're in the heart of a bustling downtown.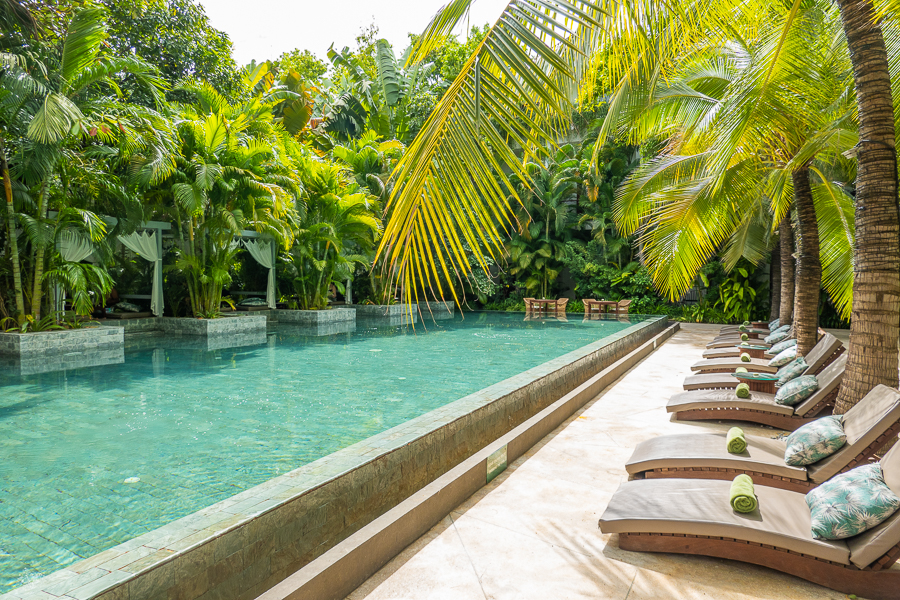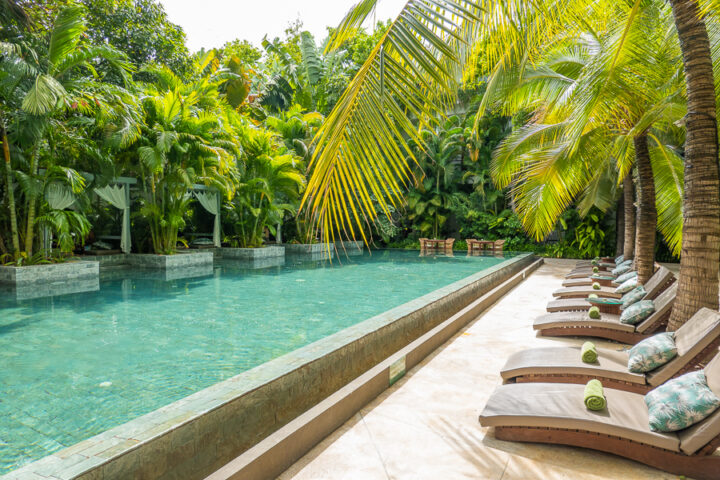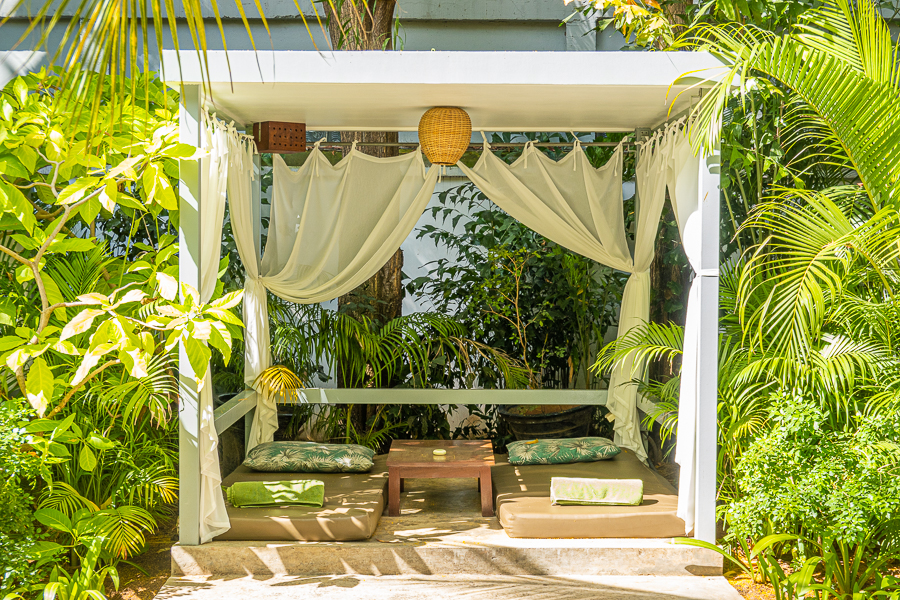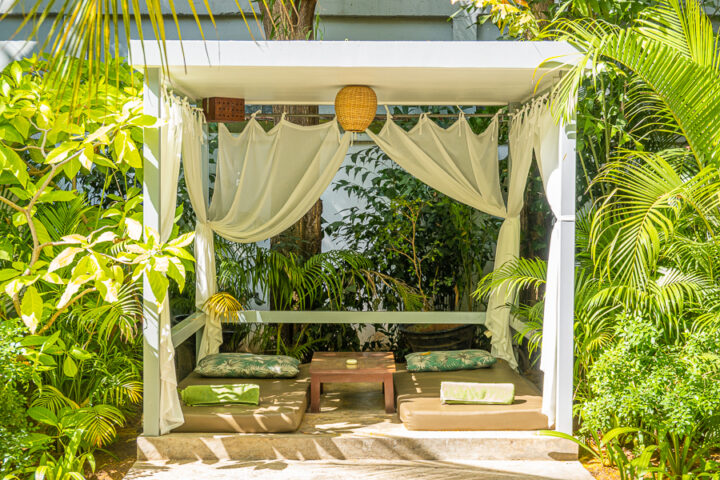 You'll love relaxing in a one of the cozy bungalows surrounding the pool. They are so peaceful and quiet. Like a retreat within a retreat!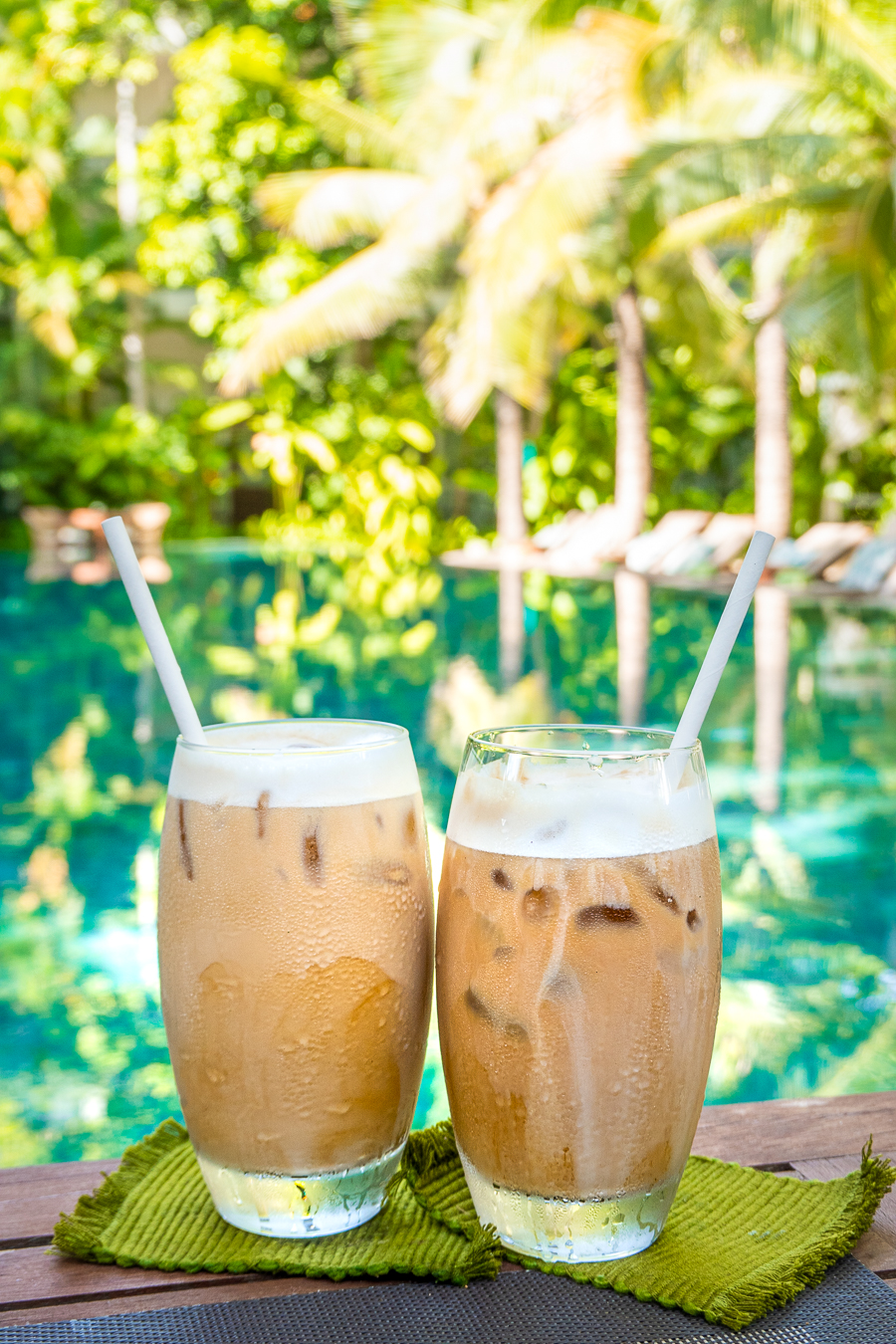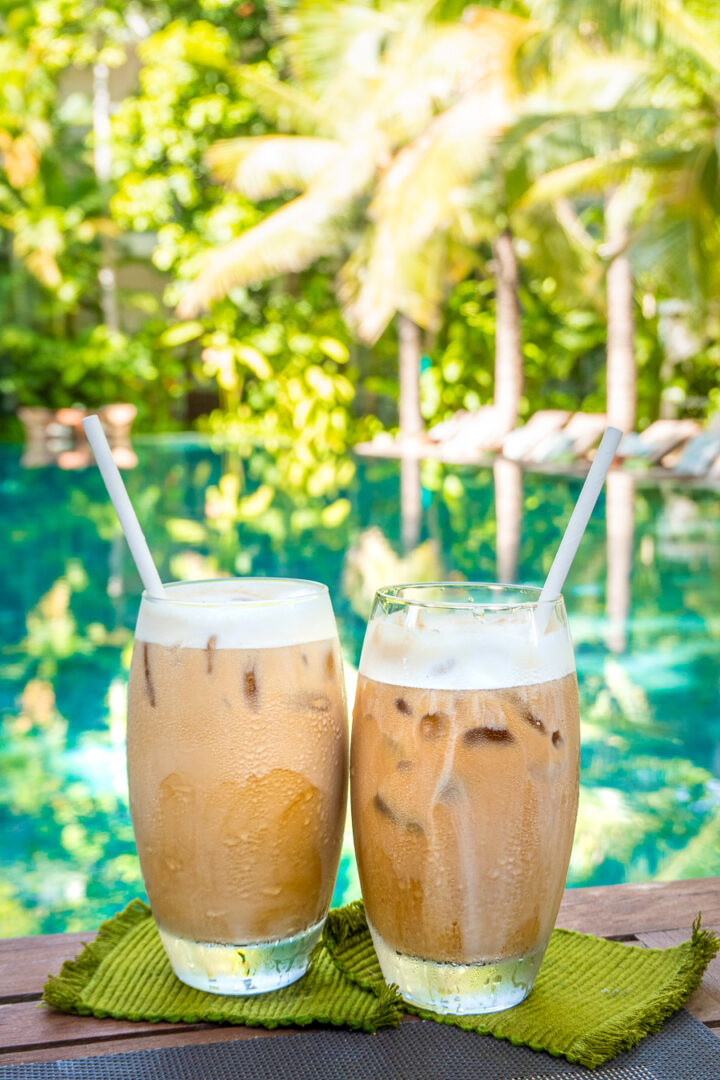 Travel with Indochina Voyages
For booking your travel and hotel accommodations with as little stress as possible, we recommend you work with Indochina Voyages when traveling to Phnom Penh. Their tours offer visits to the all of the main sites of the area, but with an itinerary that can be customized to your preferences.
When you consider the expenses you will incur if you have to make all of the arrangements yourself, like entry fees, hotels, taxis, etc., it's really not that much more expensive to book a tour with Indochina. They take care of everything for you and hotel and entry fees are included in the price of the tour!
We love Indochina Voyages for being a local, family-owned business that's passionate about sharing their country with foreign visitors. They will pick you up at the airport, PLUS you are provided with a private guide and for you to use during your entire trip. To them you are not just another client, you're a new friend! Their attention to details will make your trip to Phnom Penh a true pleasure.
Fun fact: when President Jimmy Carter went to Vietnam in 2009, he chose Indochina Voyages to be his guide!
Tell Tuan Kevin and Amanda sent you!
---
Questions about Phnom Penh?
Do you have any questions about traveling to this city? Let me know in the comments! We want to make your trip to Phnom Penh as easy as possible, so we'll do our best to help.
---
Like this post? Save it on Pinterest!