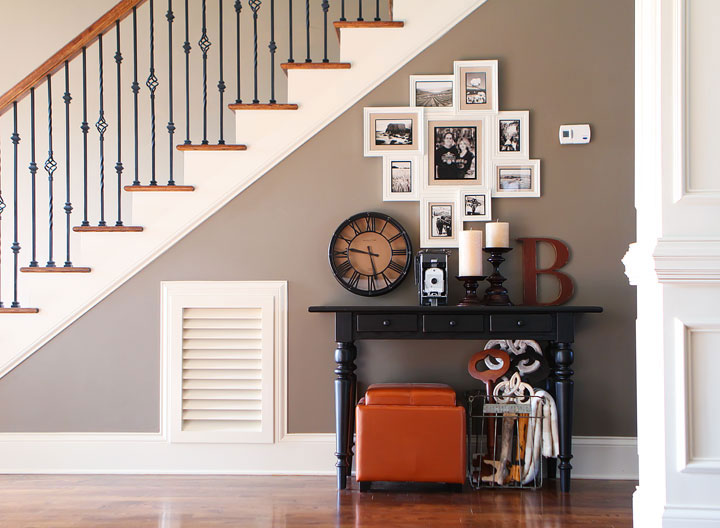 Hi guys! I'm so excited to share this new gallery wall with you today! This is the latest project I've been working on. I love how this spot turned out! If you're wondering about where I got anything you see in these photos, I will put everything I can remember in the Source List down at the bottom of this post! :)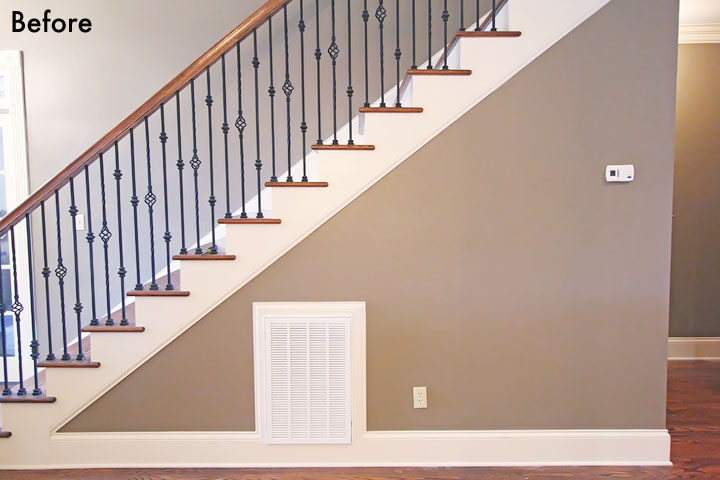 Here's how it looked before. Just an empty wall!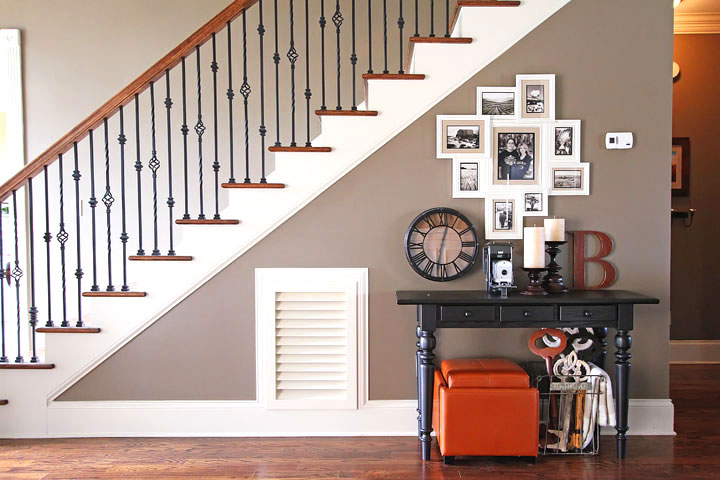 And here's how it looks now!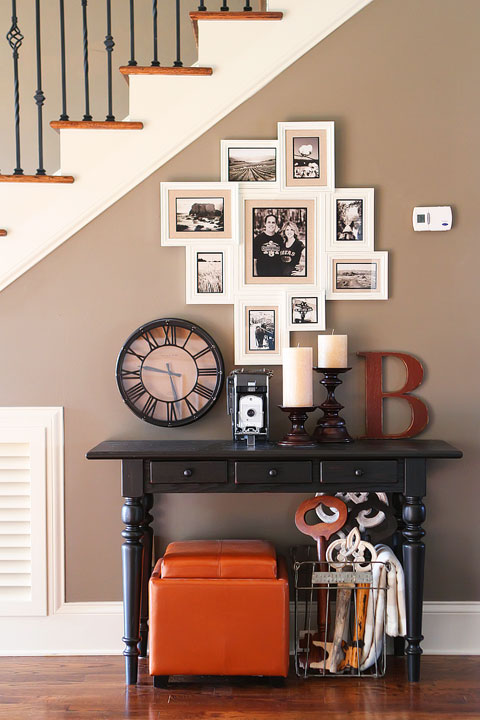 If you follow me on Pinterest, I drew inspiration from these pins (here and here) on my House & Home and Foyers & Entryways boards for this space.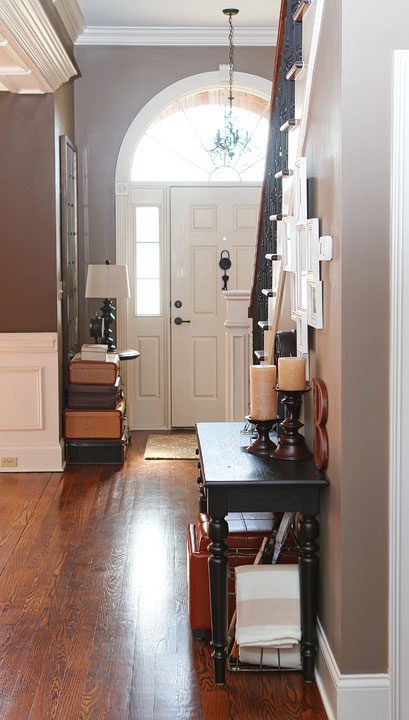 Here's a view of the wall looking into the foyer.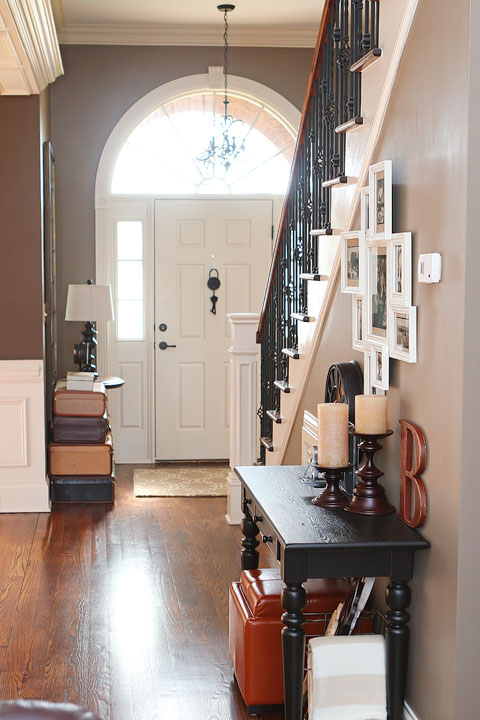 Another view looking into the foyer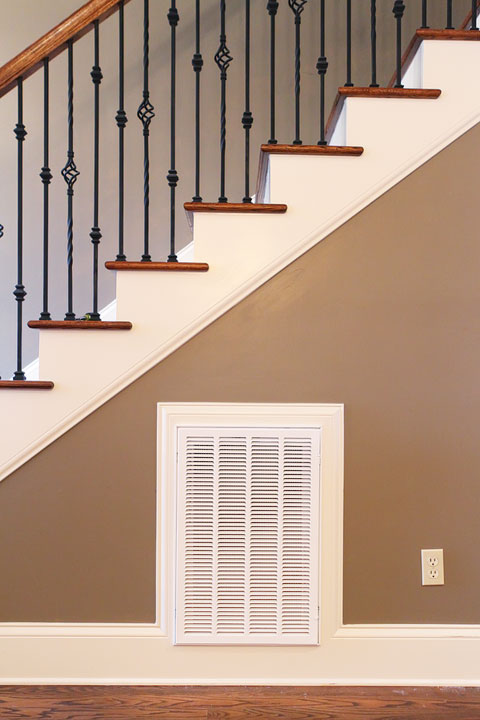 You guys, I am so, so excited to tell you about one of my favorite features of this makeover! So this return air grille has always bothered me. I mean, yeah, it's an unattractive metal grate, but if you have air conditioning, you have to have one, right? It comes with the territory. Normally this wouldn't even be a blip on my radar, but this one is just right out in the open. I was always kind of bummed at the location of it. We have a very open floor plan, and this is one of the main walls. It's open to the foyer, living room, and dining room. It definitely sticks out.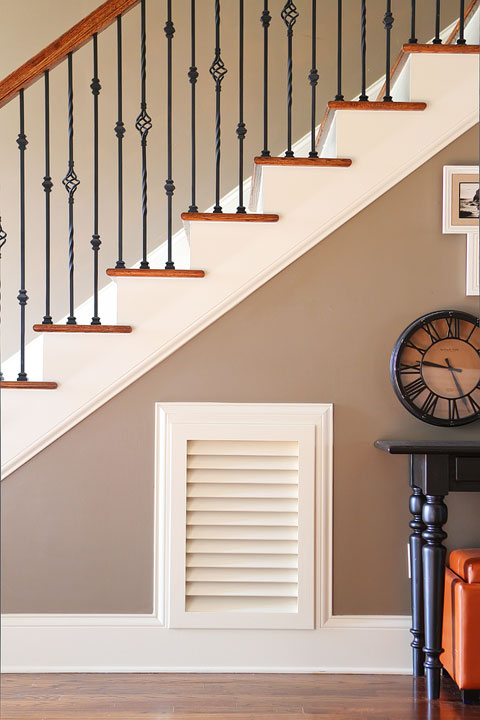 I stumbled upon this wooden return air grille, and my jaw literally dropped! I had no idea they even made something like this!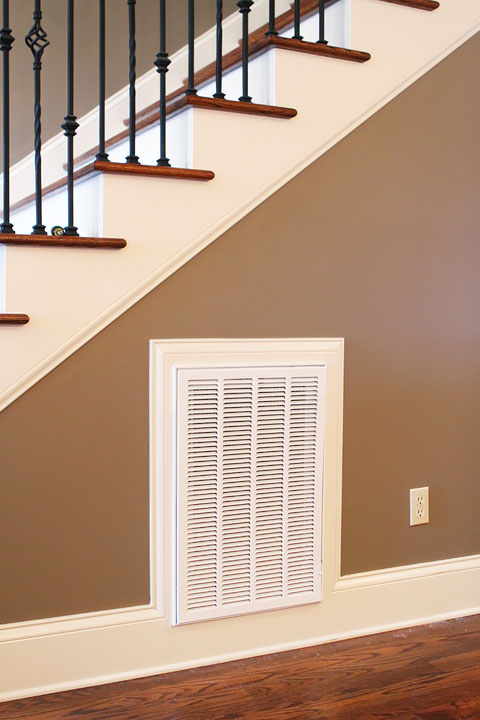 Before.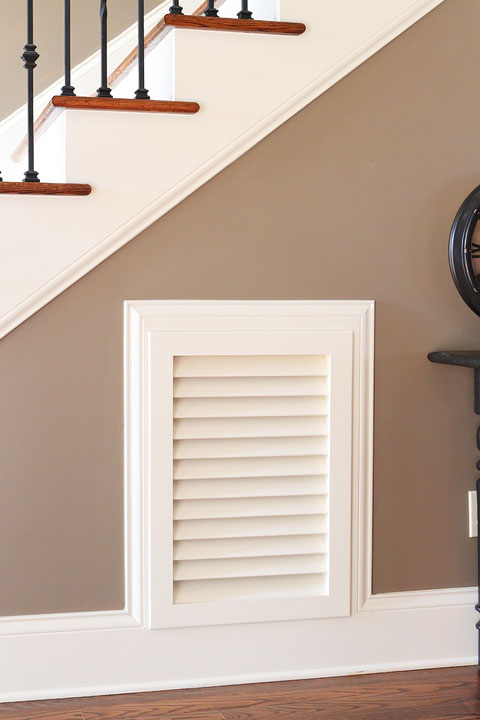 After. I was so excited when it got here. It looked even better than I could've imagined! It was super easy to order. The size of your filter = the size of the grille you should order. And the size is conveniently printed right on the filter in big bold numbers. I didn't even have to take the metal grate off, I could see right through it to see the size. DONE! :) The new wooden grille comes primed (white) and ready to paint, so you can easily paint it to perfectly match your trim color. If your trim is white, you may not have to paint at all! Yay!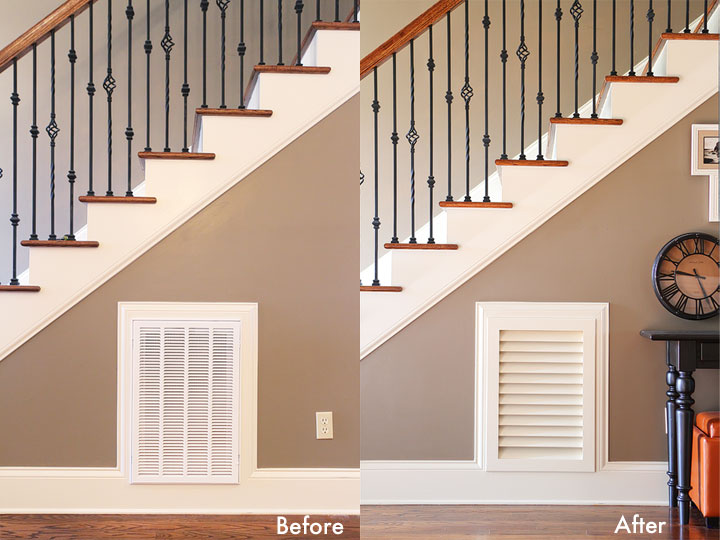 What I love most is that not only is it prettier, but it's also much, much more functional. First of all, it's SO much easier to remove than the metal grate for when you have to replace the filter. This one just snaps right in and out. It's also so much easier to clean! Just one quick swipe all the way across each slat with a Swiffer or dusting cloth, compared to the four tiny columns that are impossible to fit any sort of dusting cloth in between the miniature slats, lol!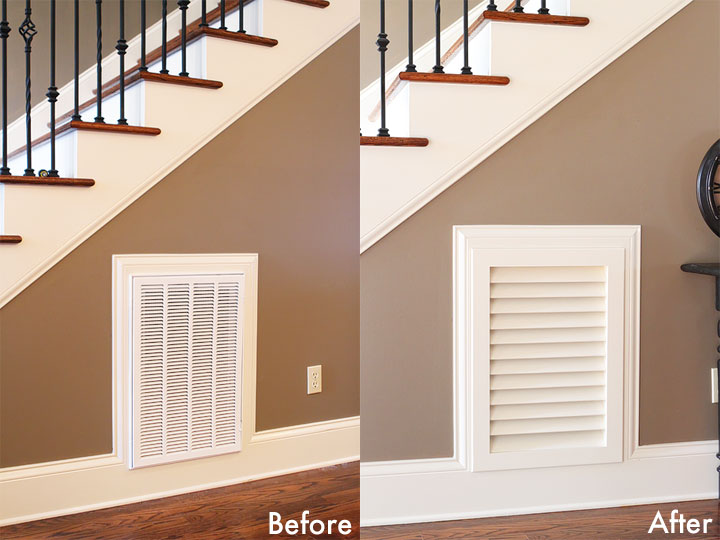 I wouldn't do this for every return air grille in our house — we have two more, both out of the way in hallways — just because they are a little bit more expensive. But I would definitely do this a thousand times over for any return air grille that is out in the open like this one was. It completely dresses this space up. I love it. I can't even imagine this wall without it.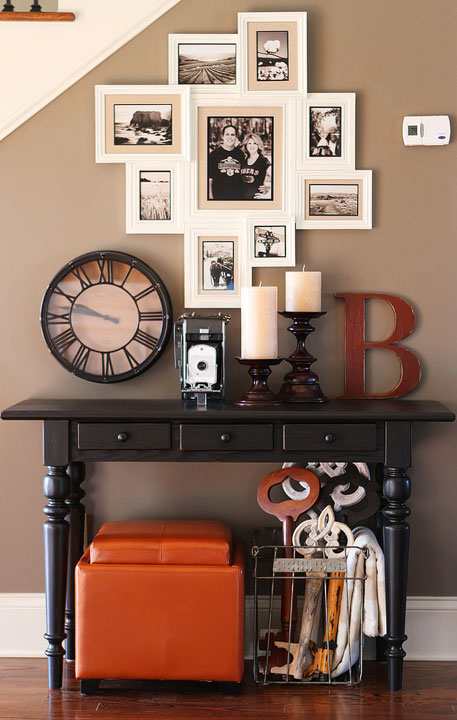 Okay, moving on! :) Let's take a closer look at a few other features of the new downstairs gallery wall. :) I really liked the idea of a storage ottoman underneath the console table. It could serve as extra storage for throw blankets or board games, it could be pulled out for an extra seat if we had a bunch of people over, or the lid can be flipped over and turned into a tray for drinks. Multifunctional! And I loved the burnt sienna / saddle color. It perfectly matches the trim of one of the suitcases in the foyer. So warm!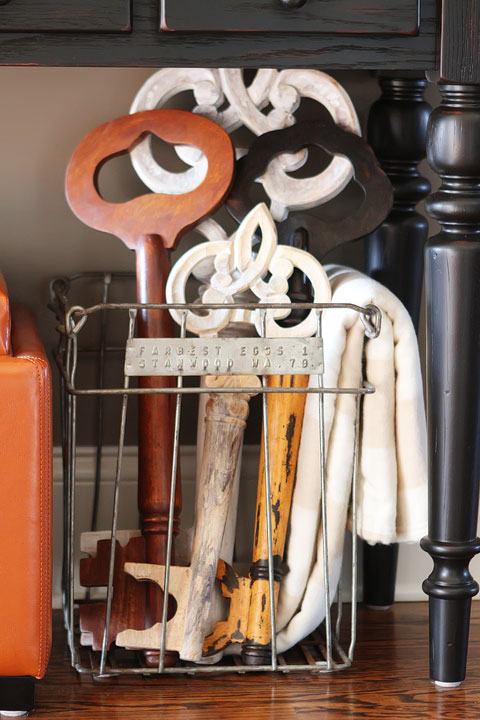 I couldn't resist this collection of oversized wooden skeleton keys, and I looked everywhere for the perfect basket to hold them. I loved this vintage egg crate I found on Etsy!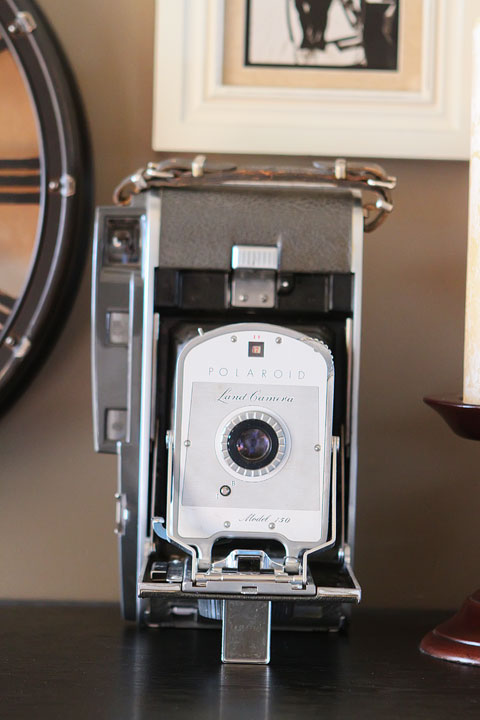 This is another one of my favorite pieces. :)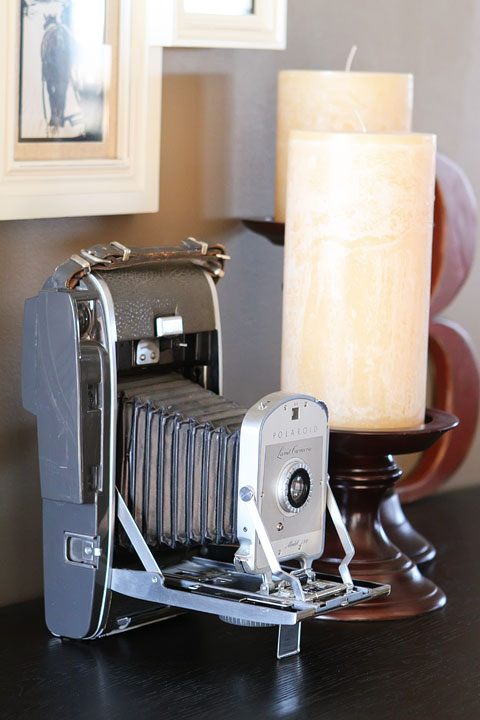 It's a vintage folding Polaroid Land Camera Model 150. I'm in love with it. The worn, leather hand strap. The textured, leathery body. The crinkled bellows. The shiny, crystal clear lens. I swoon.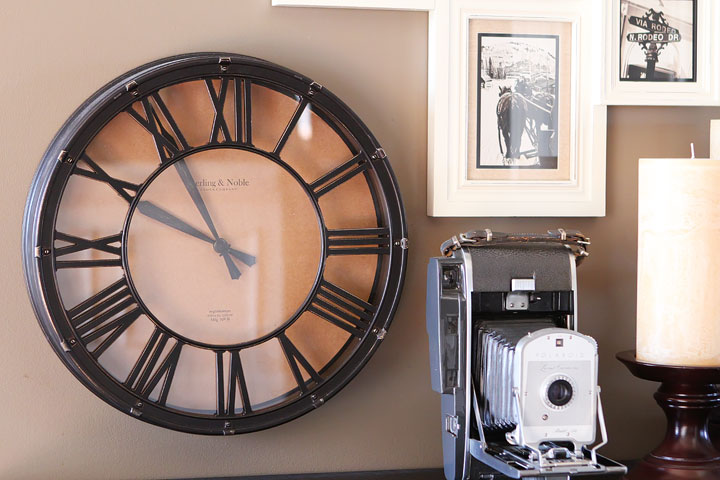 Clock is from Target. :)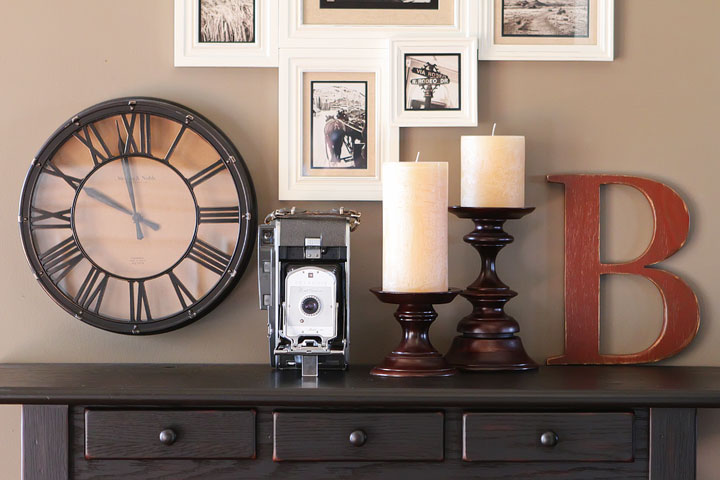 Another view of the table.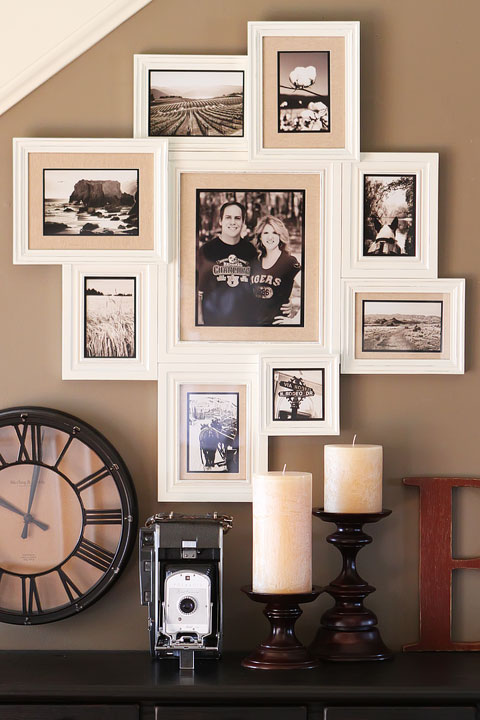 Here's how the black and white prints I showed you last week turned out. I got them printed at Costco on Lustre paper, and I am thrilled the quality. It was so nice to be able to upload them to Costco from my computer and pick them up in the store an hour later!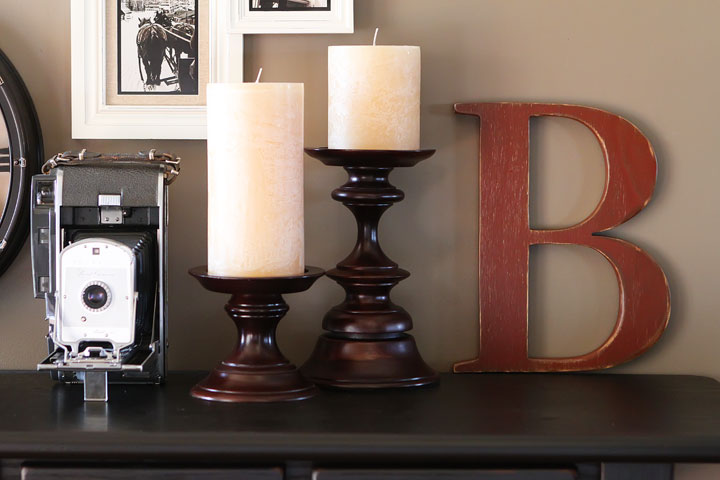 Thanks so much for looking! If you're wondering about anything in these photos, I'll put everything I know in the source list below. Let me know if I left something out! :)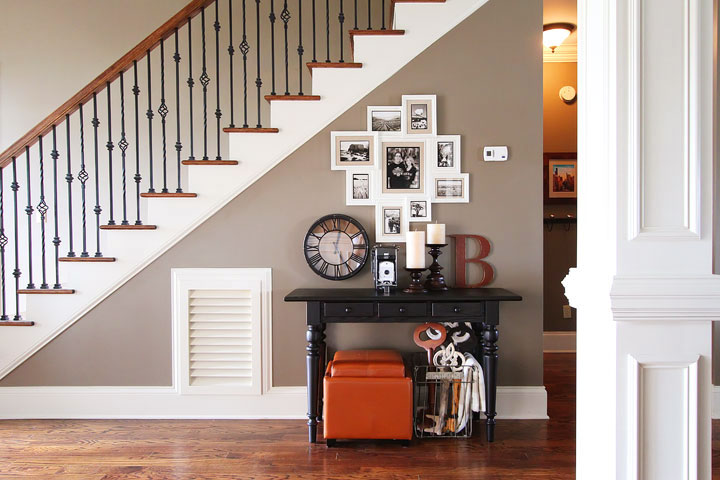 { Source List }
Paint Color — Sherwin Williams Virtual Taupe
Collage Frames — Pier 1
Clock — Target
Vintage Polaroid Camera — Etsy
Pillar Holders and Candles — Pottery Barn
Wooden B Monogram — Old New Again on Etsy
Console Table — Pottery Barn
Storage Ottoman — Amazon
Set of 3 oversized wooden skeleton keys — Home Decorators Collection
Large white oversized wooden skeleton key — Target
Vintage metal egg crate — Etsy
Throw blanket — Target
Wood Return Air Grille — Van Dyke's Restorers