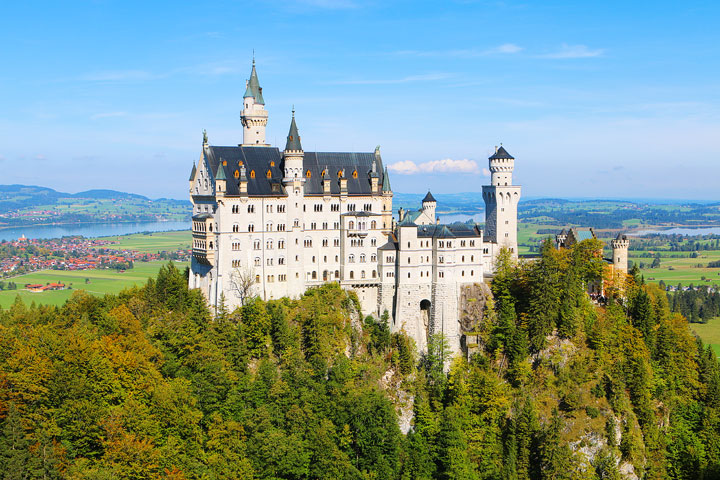 After our action-packed Danube River Cruise, Stephanie and I went to Munich for Oktoberfest!! :) But first we took a day trip from Munich to Neuschwanstein Castle, located in the heart of breathtaking Bavaria. We explored charming Bavarian villages and marveled at some of the most gorgeous countryside I have ever seen in my entire life.
Neuschwanstein (Noy-Schwan-Stine) Castle was Walt Disney's inspiration for Sleeping Beauty's Castle at Disneyland! We got to take a tour of this magnificent palace.
Here is a link to the exact cruise we took.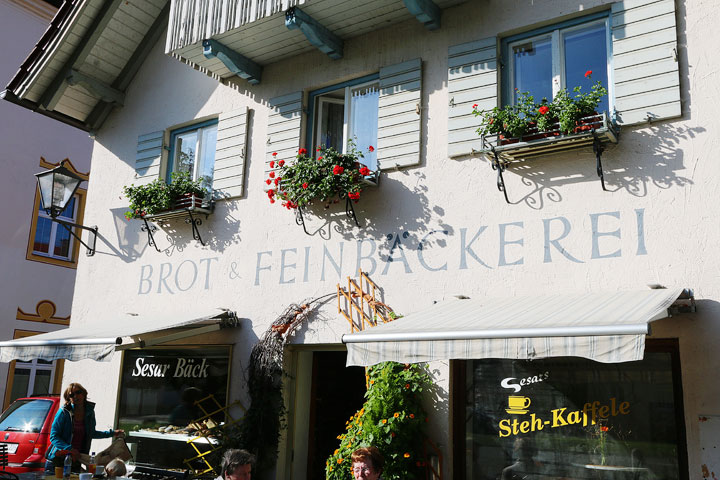 We booked a tour with Pure Bavaria Tours. I highly, highly recommend them! This tour was definitely one of the highlights of our trip. The owner and tour guide is Mario. He picks you up personally at your hotel and drives you through scenic Bavaria to the castle. Along the way we stopped for breakfast in a tiny, ultra charming Bavarian village.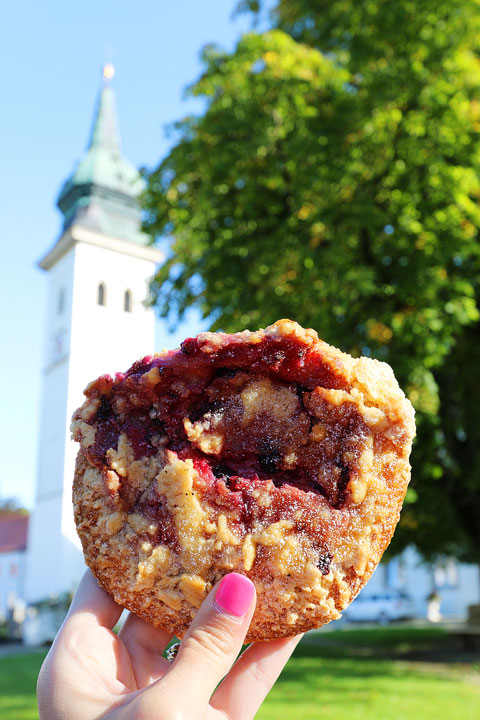 We enjoyed decadent pastries from the local bakery.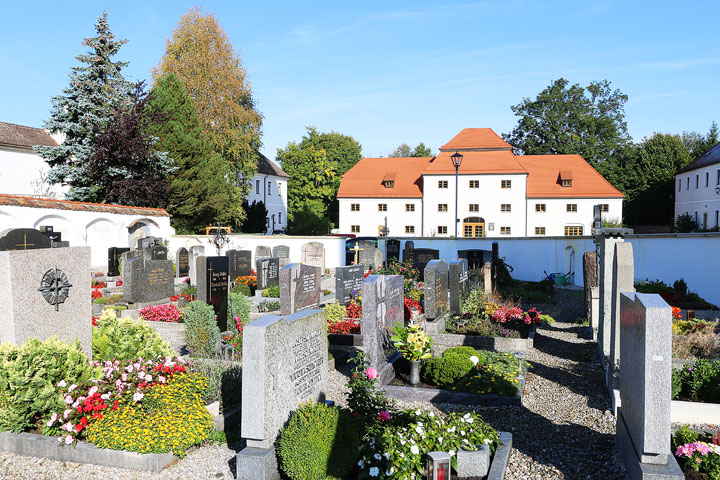 There was plenty of time for us to stretch our legs and explore this gorgeous village.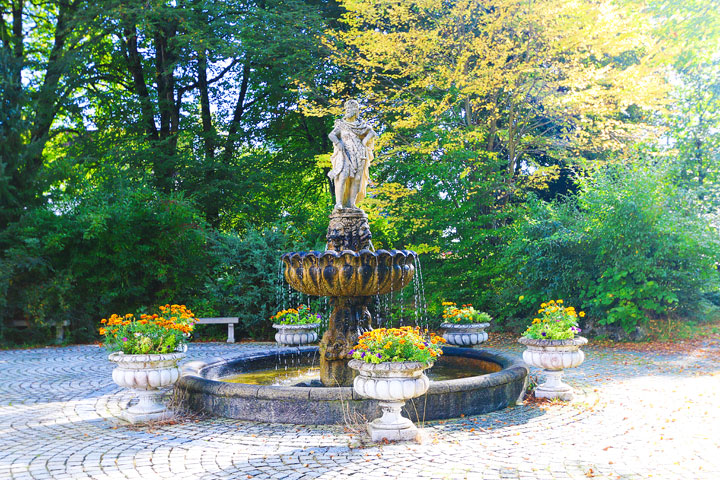 Such a beautiful place to spend the morning eating pastries in Germany!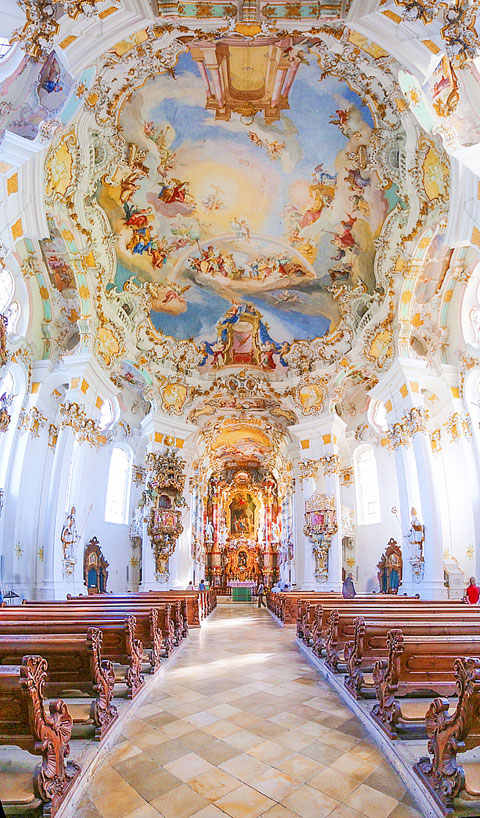 He also took us to the historic Wieskirche cathedral.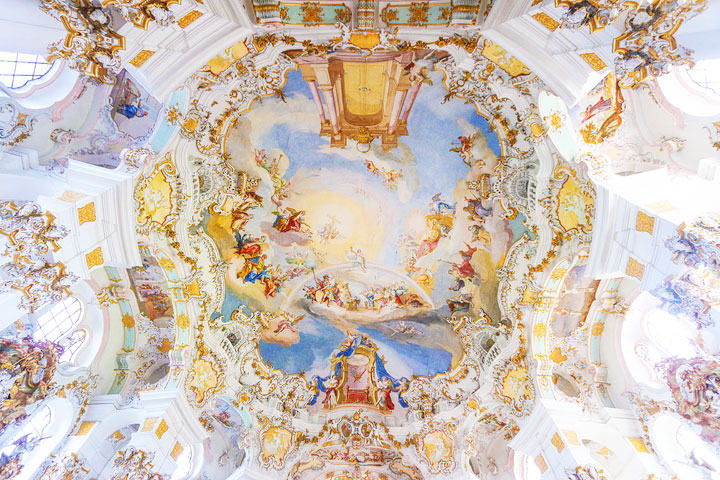 This was honestly one of the most beautiful churches I have ever seen. Look at that ceiling!!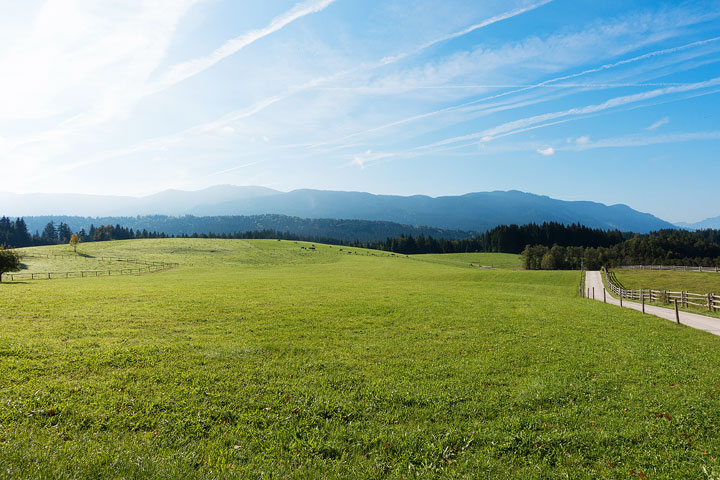 Photo via Stephanie
The church is quietly nestled in the foothills of the Bavarian Alps.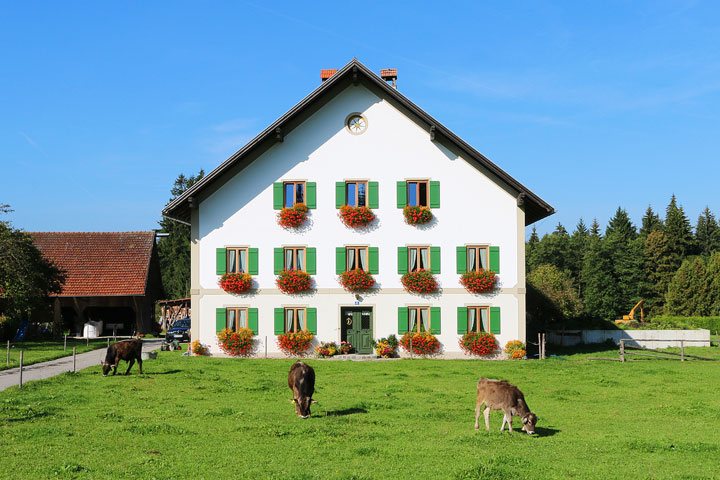 This insanely gorgeous farmhouse is nearby. There were the cutest, friendliest cows grazing in their front yard. They all had on cow bells, and it sounded like the most beautiful symphony of wind chimes I have ever heard.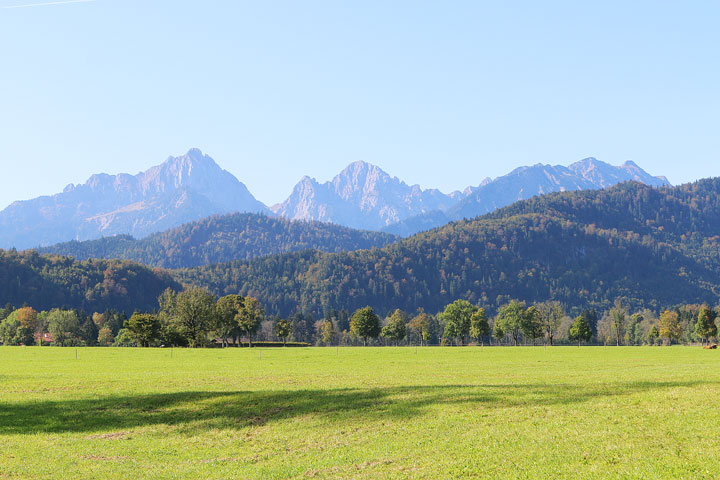 We hopped back on the bus and made one more stop for these gorgeous scenic photos of the Alps.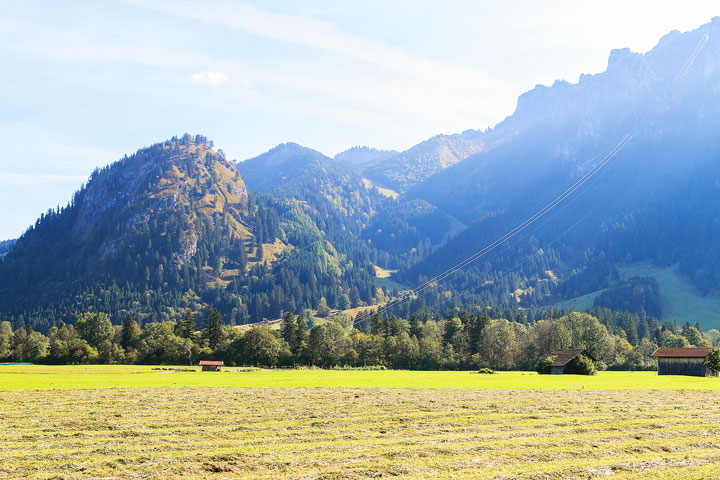 This was totally my kind of tour!! ;)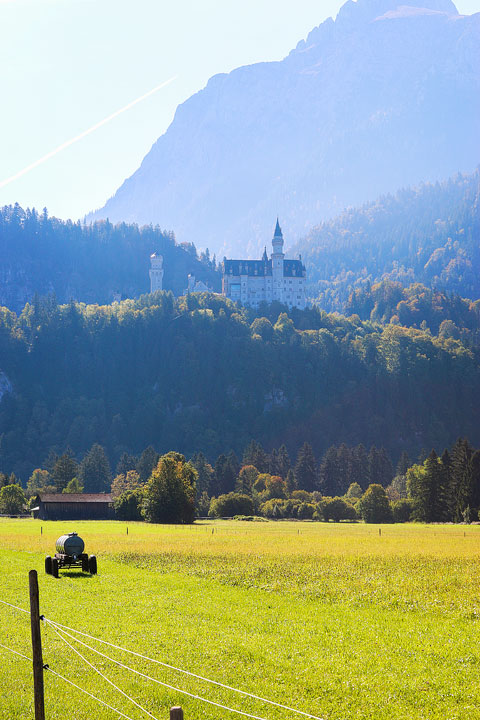 From here we could see the castle off in the distance.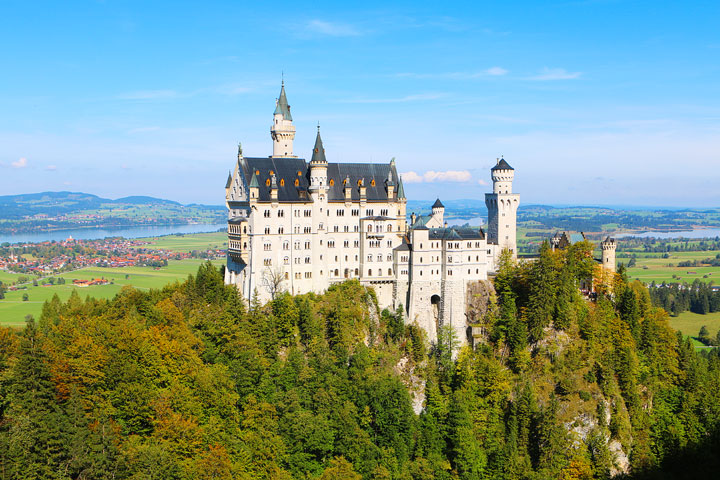 Next stop… the castle!! We took the bus up the hill to St. Mary's Bridge, which provides the perfect overlook of the castle.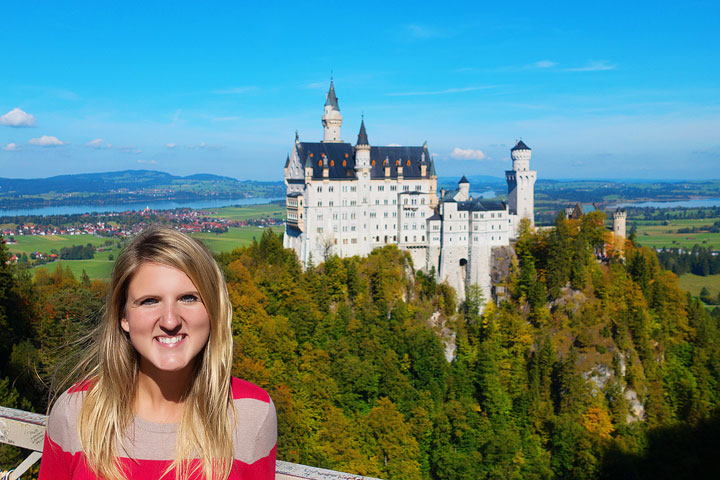 Photo via Stephanie
The shade makes my eyes look kind of weird here, but I had to get my picture taken with the castle!! :)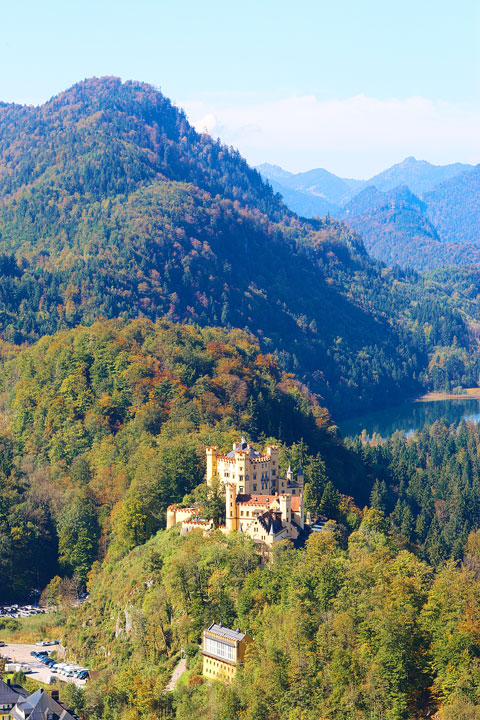 As we walked back down the hill to the castle, we had a gorgeous view of the valley below. Pictured here is Hohenschwangau Castle. This is where the king lived while he was building Neuschwanstein Castle.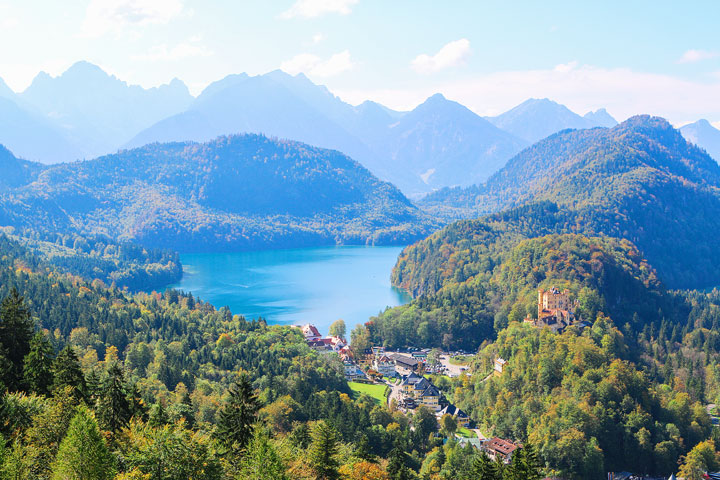 This view seriously took my breath away.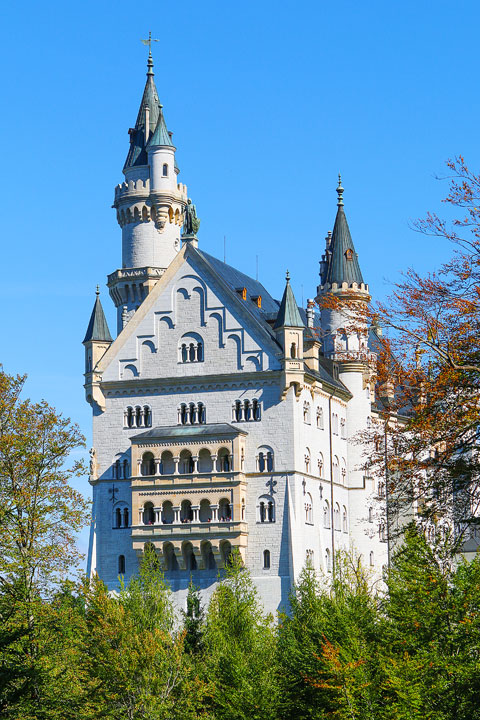 Sleeping Beauty's Castle!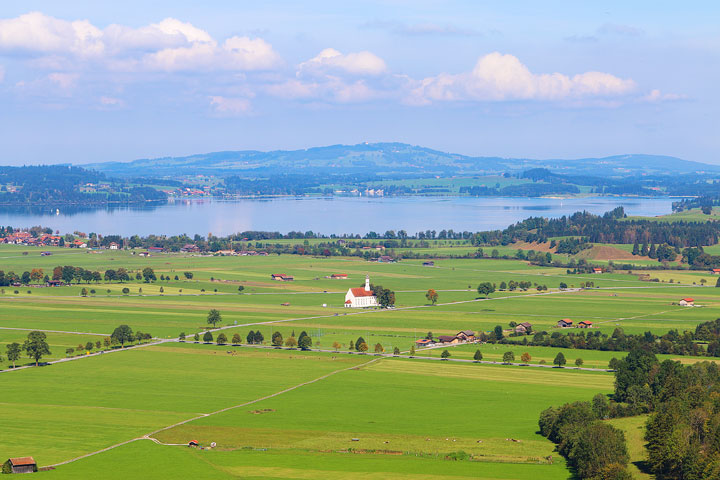 The castle had incredible views of the village below!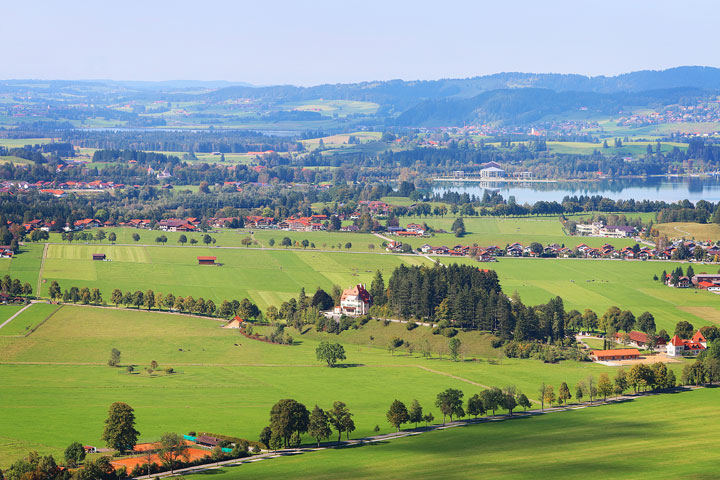 I can't imagine waking up to these views every day.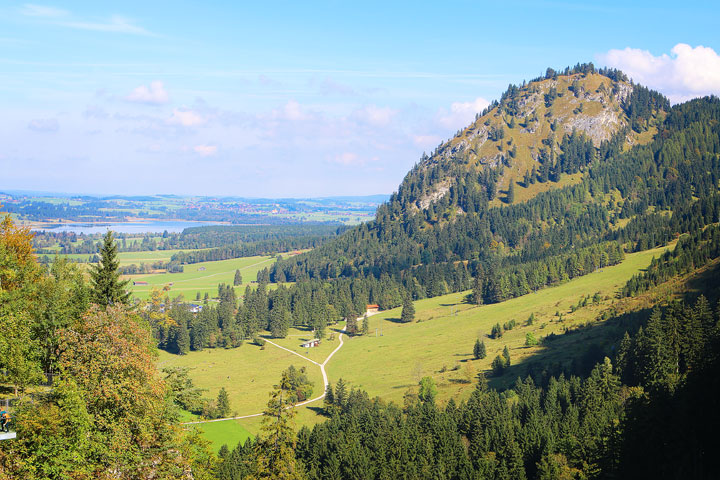 We had plenty of time to explore and wander on our own to take it all in.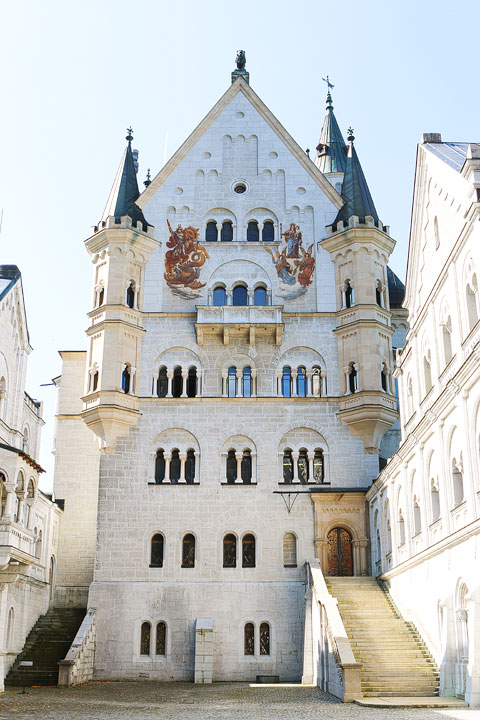 We made our way to the castle when it was our time for the tour.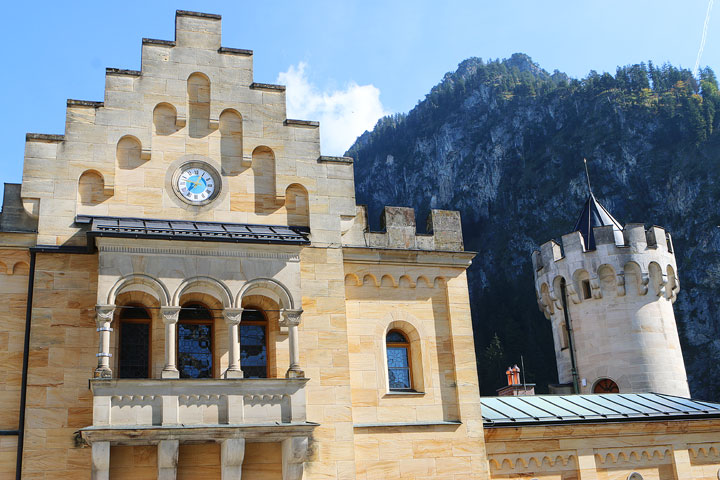 We couldn't take pictures inside, but here's one last view from the outside. I would totally live in that tower!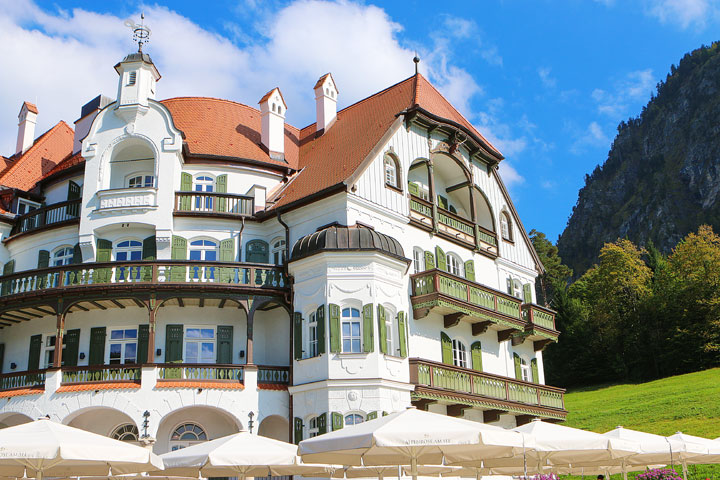 After the castle tour we walked down to village to explore.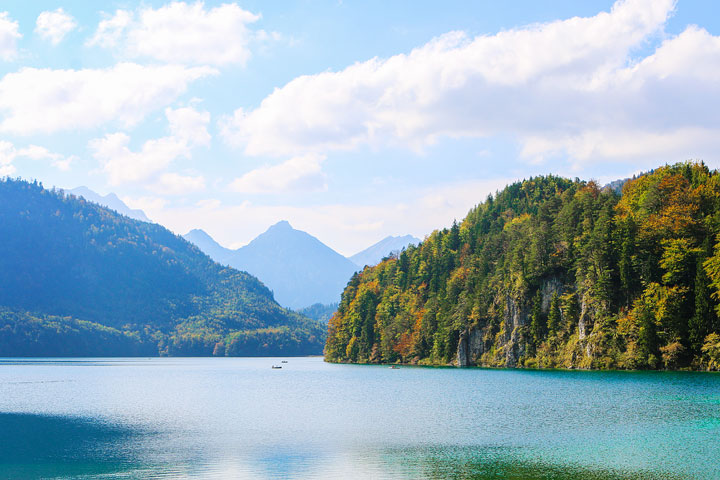 We walked to the crystal blue lake from the picture above.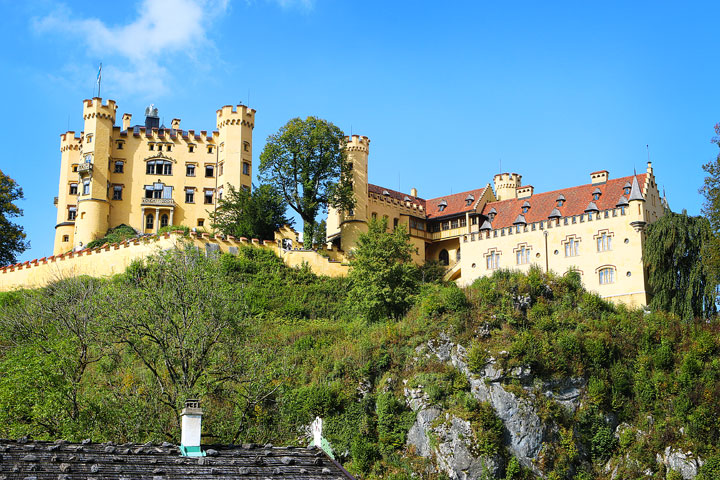 From here we had a closer view of Hohenschwangau Castle.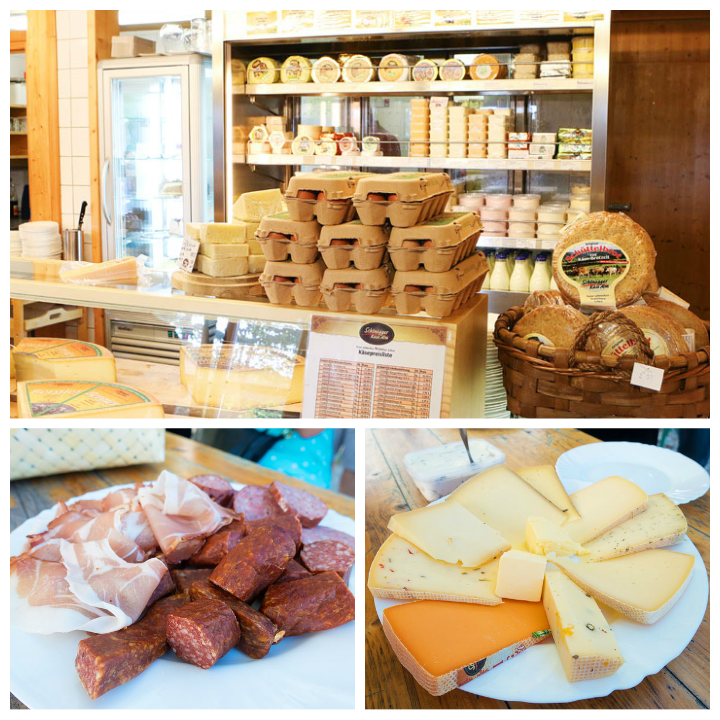 We worked up quite an appetite after castle-gawking all day, so Mario took us to an organic cheese farm for platters of Bavarian cheese, sausage, and fresh baked bread with homemade butter. Everything was phenomenal!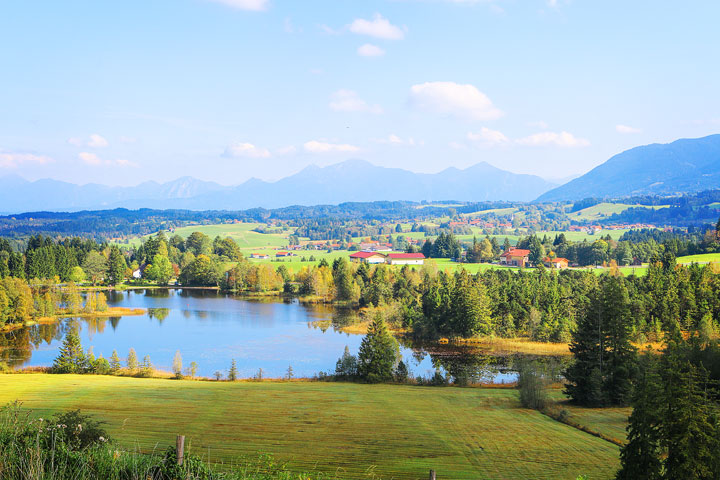 We ate outside on picnic tables in the gorgeous sunny weather. This was our lunch view!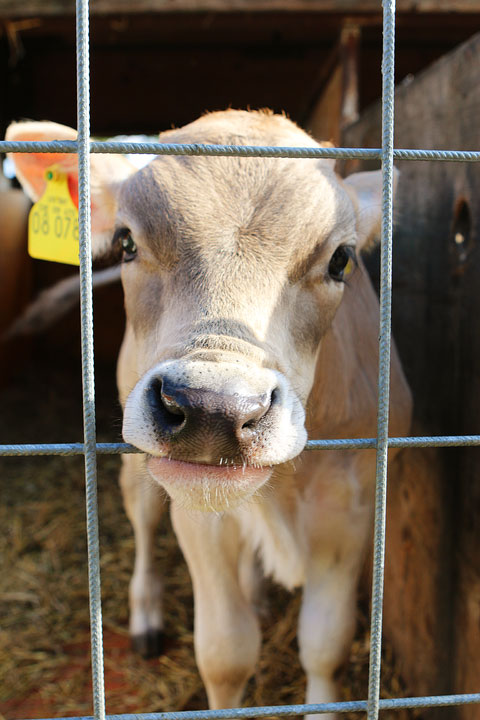 There were little baby moo cows all around us jingling their tiny cowbells!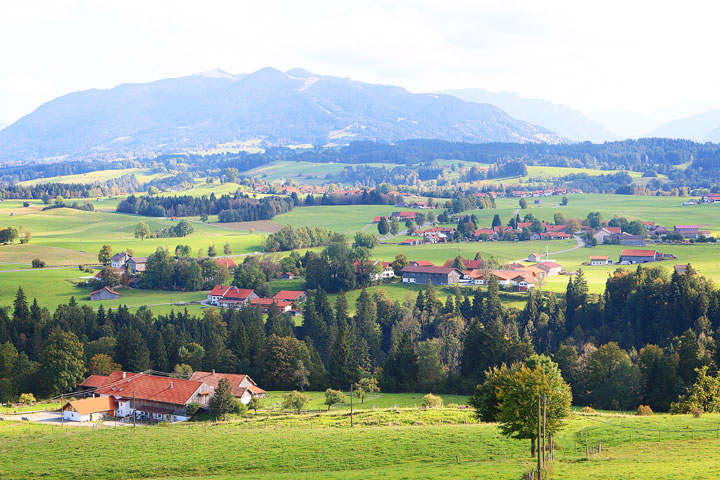 We had stunning 360 degree panoramic views all over this mountain village.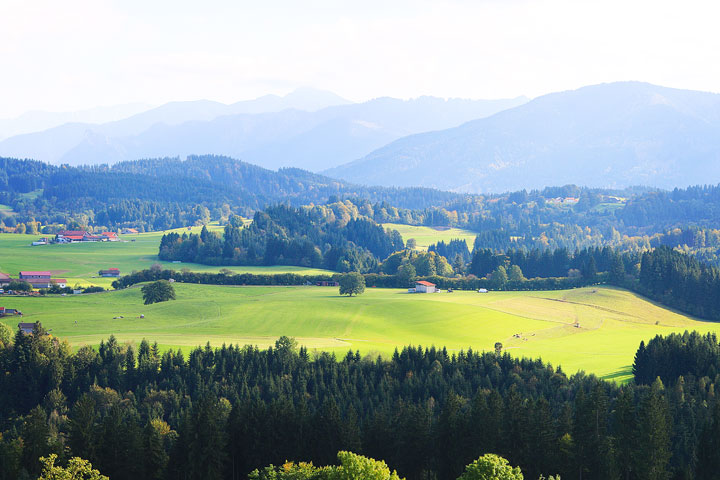 Breathtaking.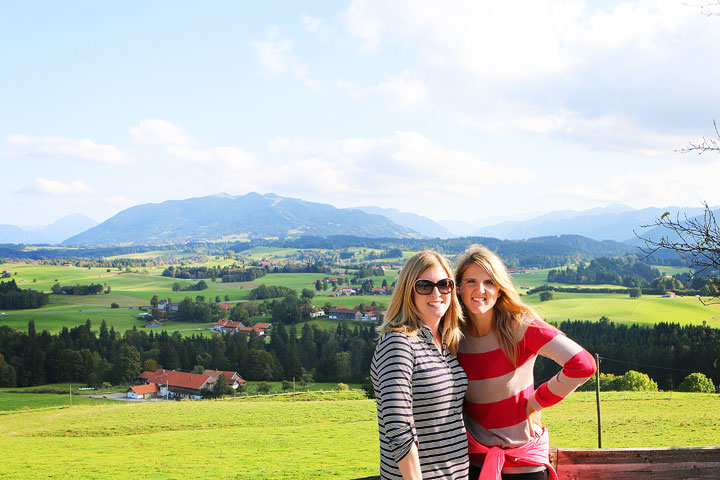 This was one of the best days of our trip! Highly recommend Mario and Pure Bavaria Tours!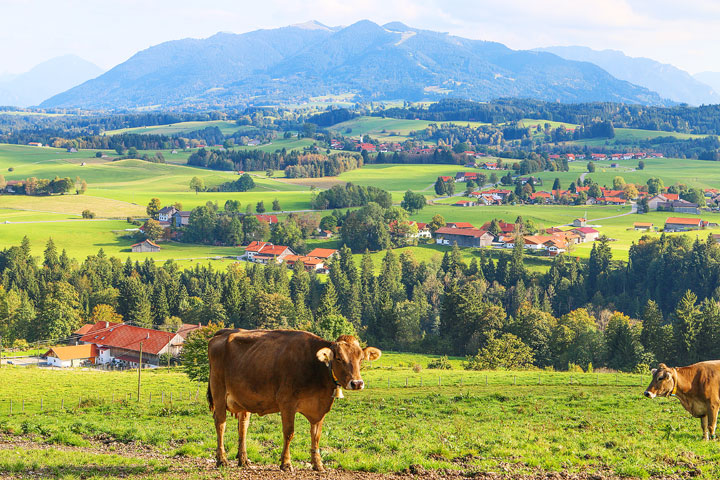 Moo! We got back to Munich in the late afternoon with plenty of time to grab dinner and head over to our first night of Oktoberfest! More to come soon! :)