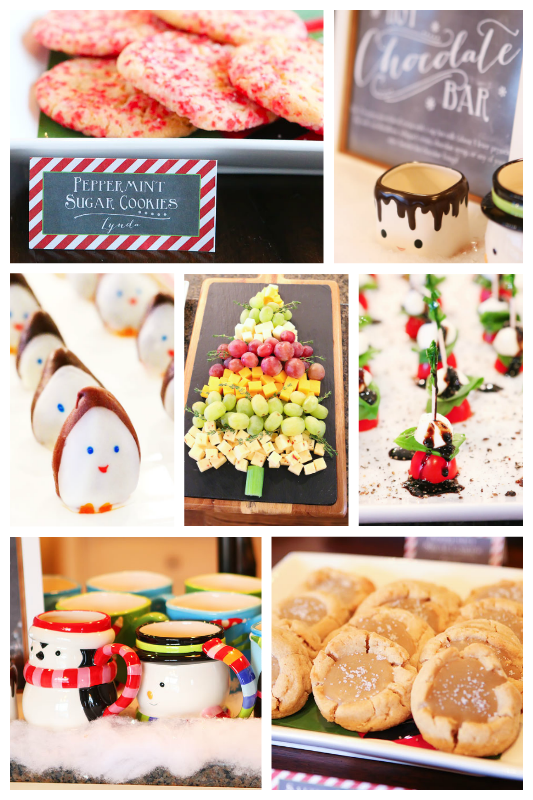 Last week I hosted our annual Christmas Party and cookie swap with with a fun group of local bloggers I get together with once a month. To balance out all the sweets from our cookie swap, I thought it would be fun to have a few Christmas-themed appetizers for us to snack on before the cookie overload. :)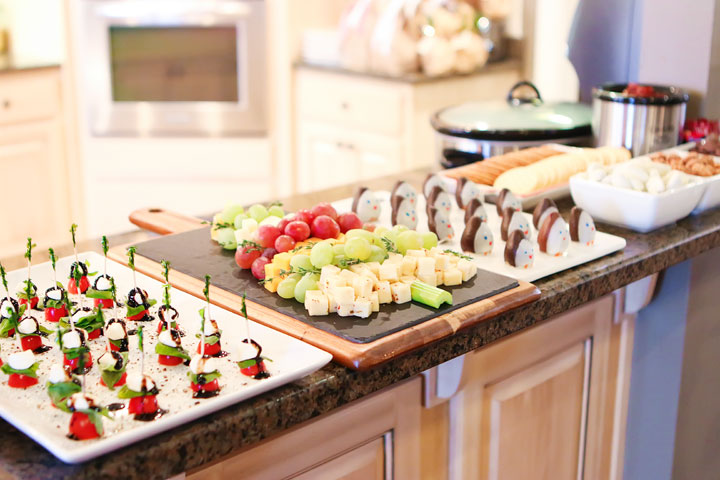 Here's what all I made for our group. This bar opens up to the living room. You can see how this room was decorated for the party in our Holiday Home Tour post. :)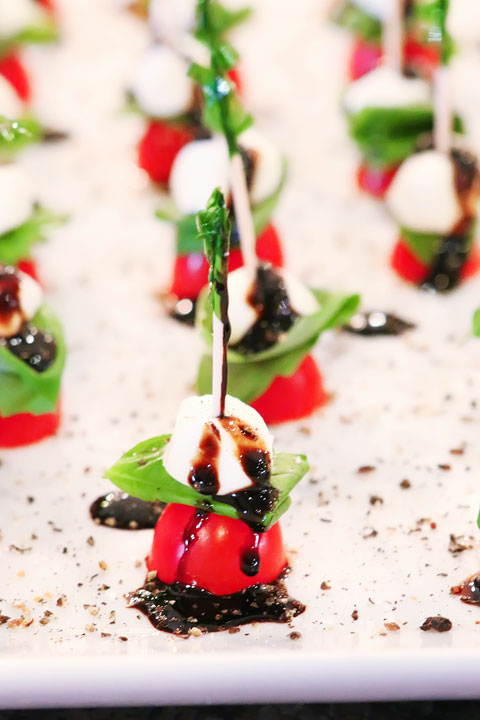 First up is Mini Caprese Bites! Cut grape tomatoes in half and layer with basil and mozzarella pearls on a toothpick. Then drizzle with DeLallo Balsamic Glaze and sprinkle with freshly cracked pepper and kosher salt. (Idea from here.)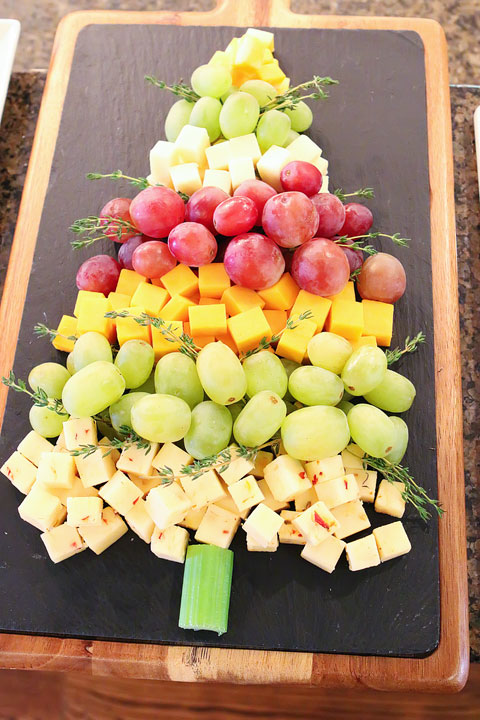 Next I made a fun Fruit & Cheese Christmas Tree!  Arrange cubes of pepper jack, cheddar, mozzarella, and colby jack cheese with red and green grapes to form a tree. Then tuck fresh thyme sprigs between the layers. A slice of celery is the finishing touch for a perfect tree trunk.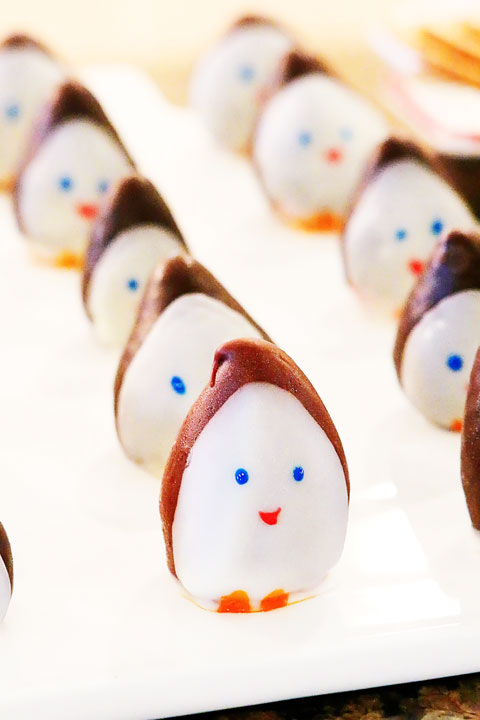 How cute are these Chocolate Covered Strawberry Penguins??! Dip first in chocolate, let harden, then lay the front in white chocolate, and let harden. Use edible markers to draw on face.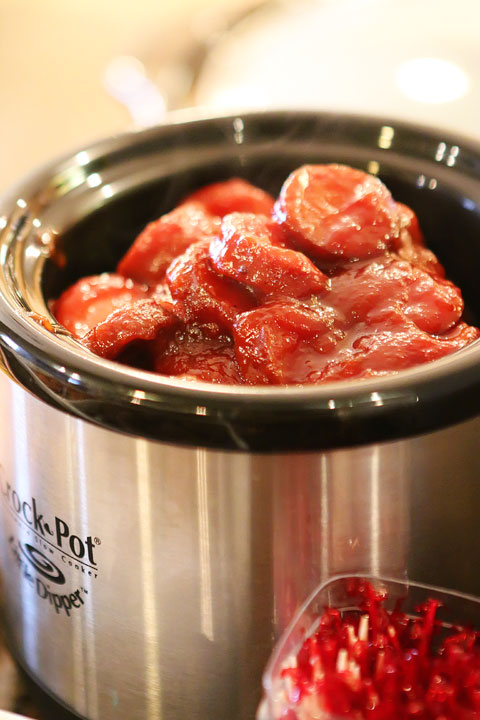 I also made Crock Pot Spicy Barbecue Kielbasa. It was a HUGE hit! (I left out the bourbon.)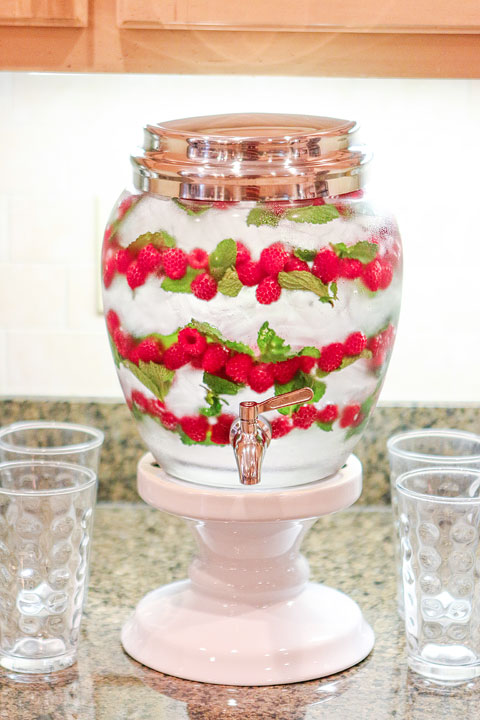 What would a Christmas party be without Raspberry Mint Christmas Christmas Spa Water??! :) Layer ice with raspberry and mint, fill with water and let infuse for at least 30 minutes.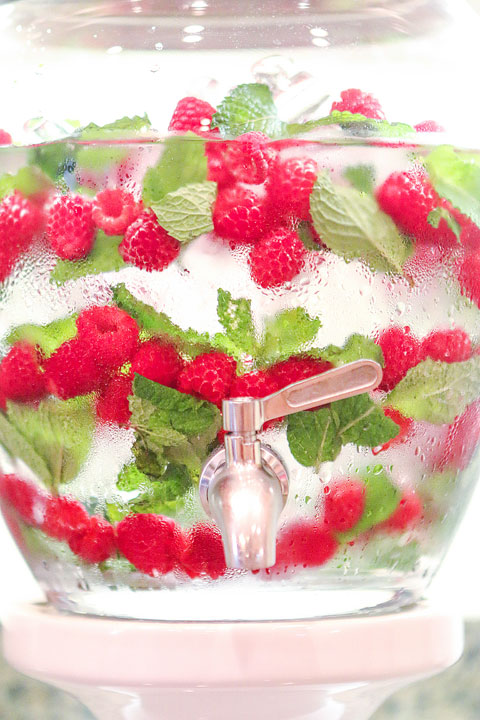 The ice easily lasted the entire 3-hour party without melting. So good!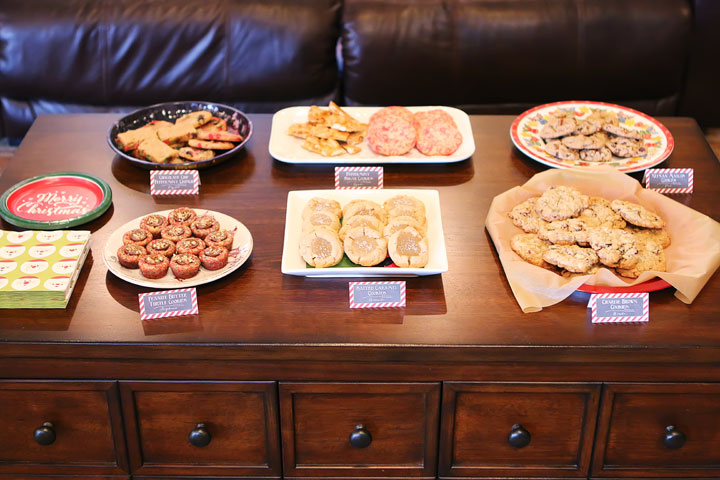 In addition to the cookies we swapped, everyone brought one dozen cookies on a plate to sample during the party.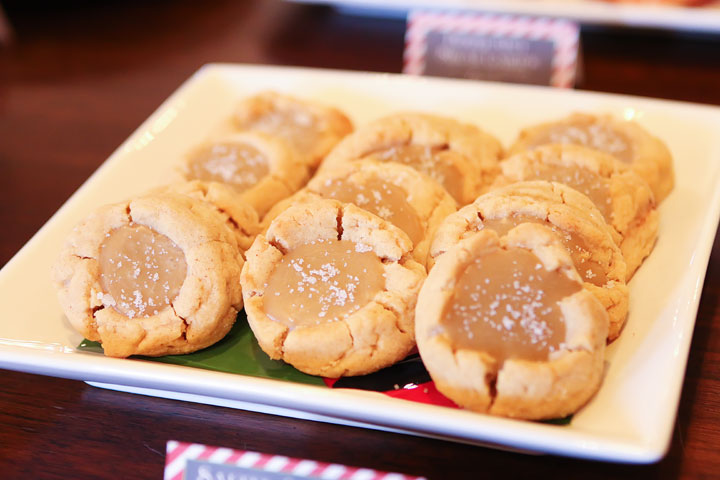 I made my Gooey Salted Caramel Vanilla Butter Cookies.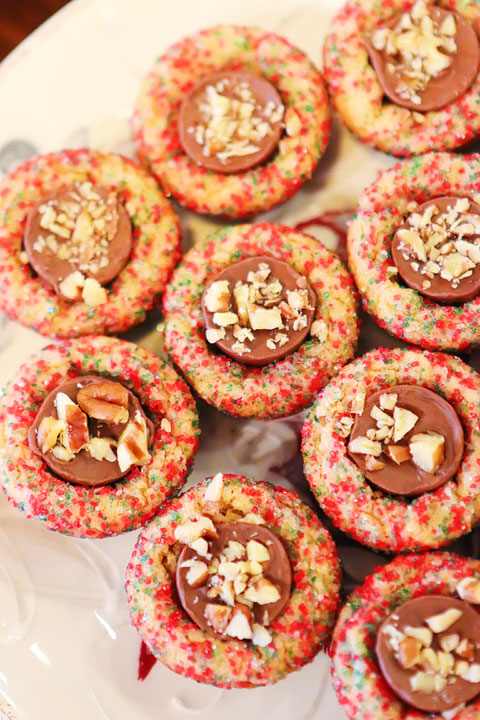 Stephanie from Plain Chicken brought these fun Peanut Butter Turtle Cookies.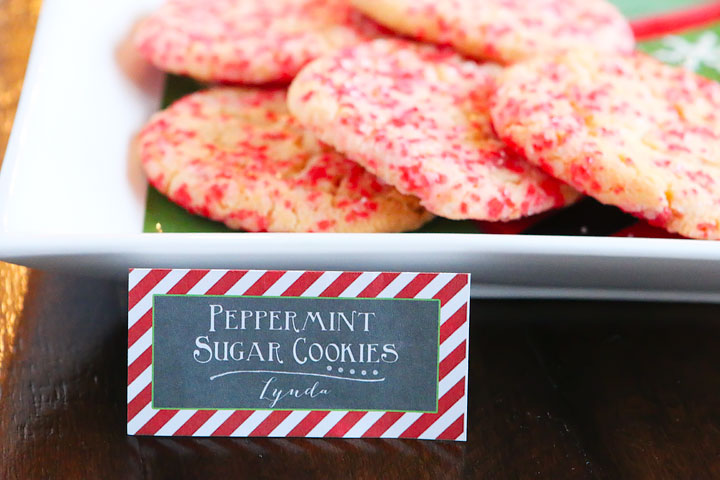 Lynda from Southern Kissed brought these fabulous Peppermint Sugar Cookies!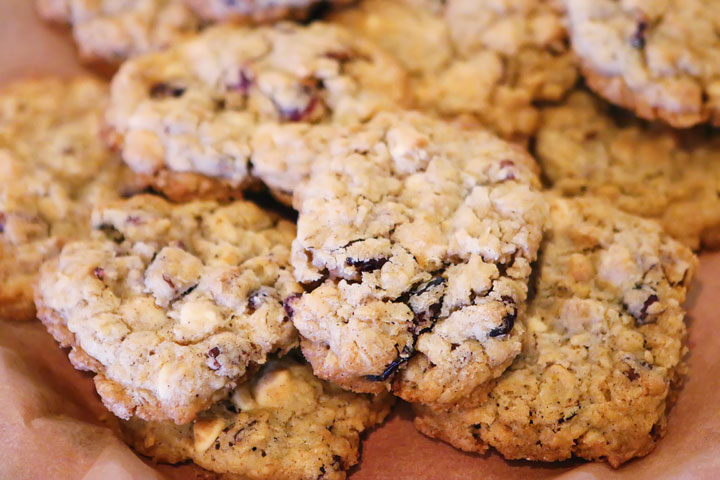 And my friend Wanda brought Charlie Brown Cookies. Have you heard of Charlie Brown Cookies? I don't know what was in them, but they were delicious!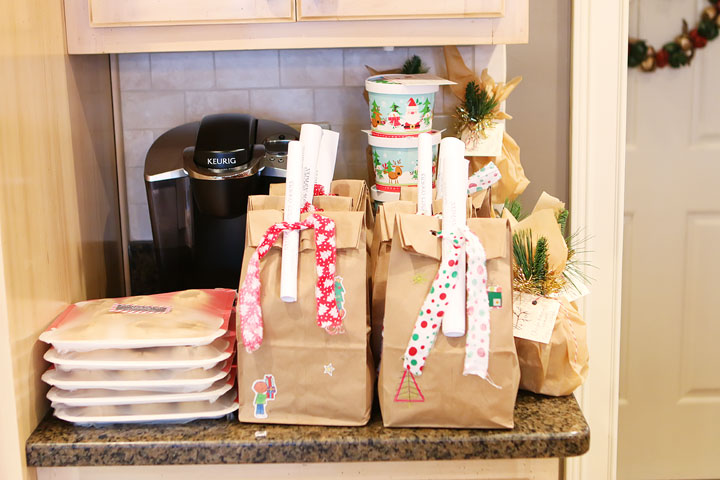 Everyone brought their cookies to swap in such cute packaging!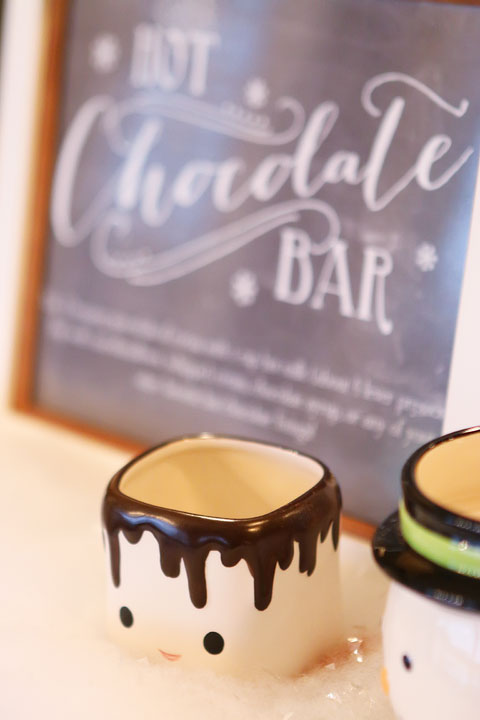 I also set up the Hot Chocolate Bar for us again this year!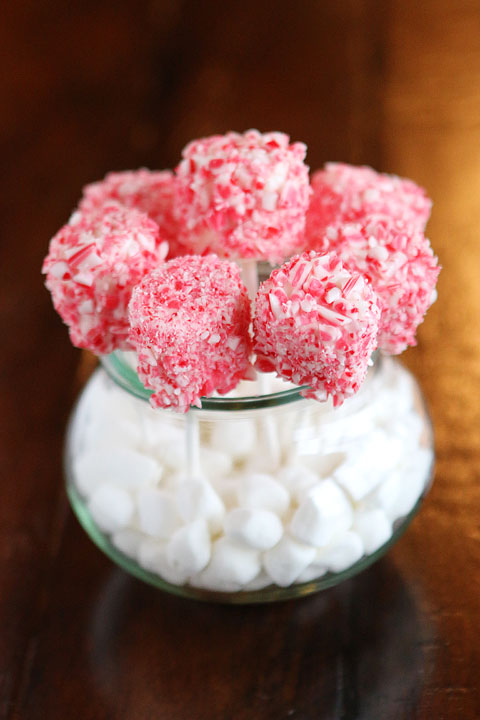 This year there was a new addition to the hot chocolate bar… Marshmallows dipped in white chocolate and covered with crushed peppermint! The perfect stirring stick for hot chocolate. :)
Be sure to check out our Hot Chocolate Bar post for all the pictures of the hot chocolate bar — and last year's cookie swap photos! :)
Thanks so much for looking!! Are you hosting or attending any holiday parties this year? What's your favorite thing to bring to parties?