A few years ago, Kevin signed us up to compete with our dogs in agility competitions! Check out what it's like to compete in agility competitions with your dogs! We can't get enough!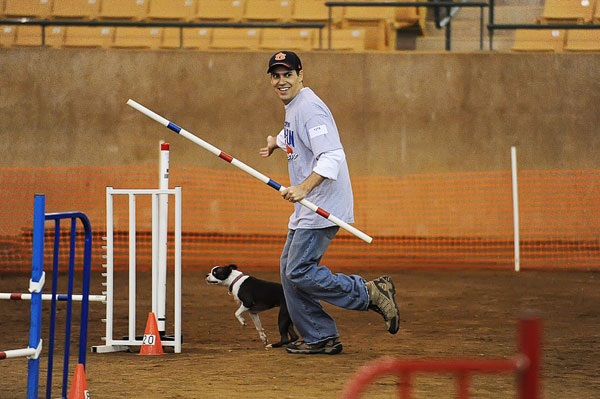 Miley & Howie Having a Blast
At the end of 2008 Kevin started competing in AKC agility with Miley and Howie, our hyperactive, fun-loving, and perpetually malodorous Boston Terriers. He entered them in a weekly class after work as a way to get some exercise while teaching the dogs a few basic obedience commands.
In these classes, Kevin learned to guide Miley and Howie through obstacle courses, competing in a race for speed and accuracy, using only his voice and hand gestures.
As it turns out, it was also a whole lot of fun.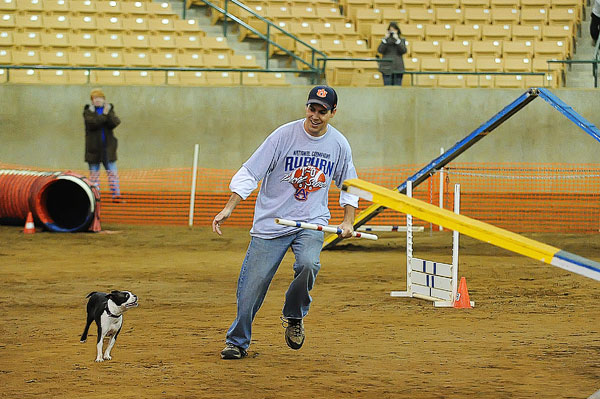 Last weekend Miley earned her Master Agility Champion (MACH) title.
The MACH is the highest AKC agility title a dog can earn. The dog and its handler must compete together to earn qualifying scores and titles in multiple divisions of agility before reaching the highest division in agility, Excellent B. In Excellent B, the dog can start earning MACH points for each second it finishes a course under the standard course time set by the judge.
There are two courses the dog can compete in on a trial day. The standard course includes each of the basic agility obstacles like the A-frame, chute, teeter-totter, and table, where the dog must show restraint and control by pausing on the table until given a release command. The jumpers course is a maze of jumps, weave poles, and tunnels.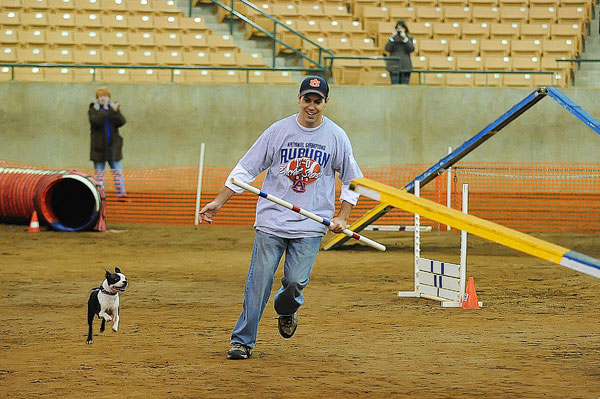 In competition, each and every agility course is different and can have over 20 obstacles per course. The handlers have a few minutes to walk and familiarize themselves with the course, but the dog only gets one chance to complete the course successfully. The dog does not get a practice run of the course.
To get the MACH title, the dog must accumulate 750 MACH points and have 20 double qualification runs. A Double Q is when the dog has perfect runs on both courses (standard and jumpers) on a trial day. Miley completed her 20th Double Q back in October, but still needed around 200 more MACH points to finish the title.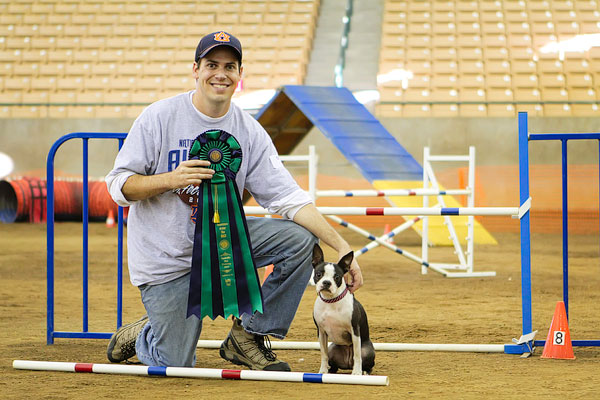 Last Friday at a trial in Nashville, TN she earned those final points and got the title.
I am bursting with pride for these two.
Here's a video Kevin made that shows Miley's 20th Double Q runs in October, and her run last weekend where she earned her 750th MACH point to get the Champion title. At the end, they get to take a bar off the course as a trophy and run a victory lap around the ring.
You'll see the camera start to shake as I well up with pride.
See more Miley and Howie agility videos on our Vimeo and YouTube channels.