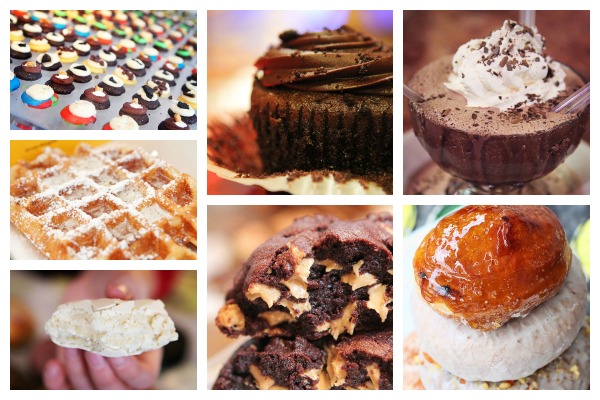 Planning a trip to NYC this summer? Want to find the best desserts ever? You're in luck! Here's a sweets-obsessed, dessert-lover's guide on where to find the best sweets, treats, and desserts in NYC. To help you plan, I've grouped my favorite places together by location, so if you're short on time, you can easily hit a few of these at once and have a sweet little NYC taste-testing spree. Enjoy!! :)
Columbus Circle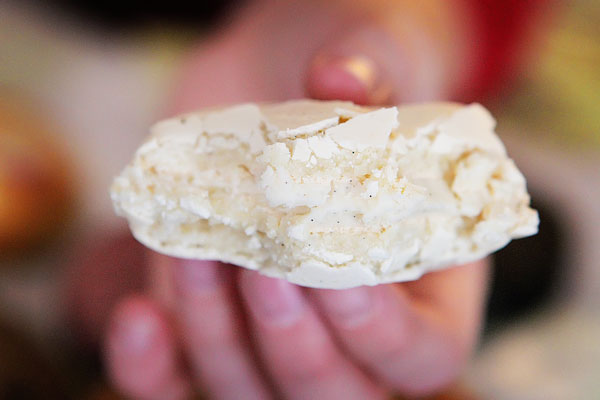 Bouchon Bakery — For me, no trip to NYC is complete without a macaron. And Bouchon Bakery does it best with their sweet, simple vanilla macaron. This is probably one of my favorite treats of all time. It's sweet, soft, chewy, and flaky, and if you've never had one, put this on your list ASAP. Also be sure to pick up their PB&J macaron if you are lucky enough to find it! And if you're looking for just a bit more indulgence, another one of my favs from Bouchon is their Peanut Butter & Jelly Parfait. Yum!
My previous posts on Bouchon: Sweet NYC, NYC Dessert Crawl, NYC Macarons.
Bouchon Bakery
Ten Columbus Circle, Third Floor
New York, NY 10019
212.823.9366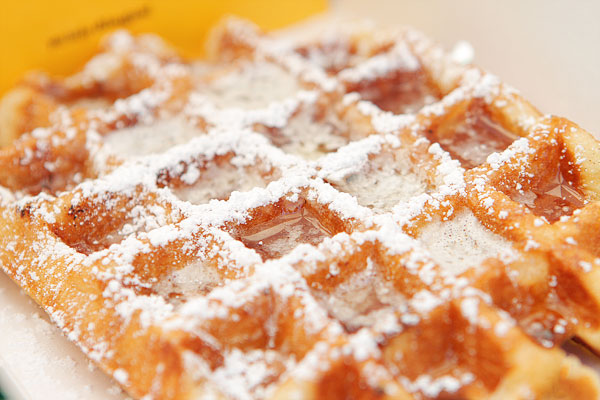 Wafels & Dinges Truck — From Bouchon, walk across the street to Central Park, and you'll see the yellow Waffle Truck. Yep, it's an actual truck! Get a Liege Waffle with your favorite toppings like butter, powdered sugar, fresh whipped cream, Nutella, Speculoos Spread (Biscoff) and strawberries. This is the best waffle you've ever had, and totally not to be missed! :) A vanilla macaron from Bouchon and a Liege Waffle from the Waffle Truck is the perfect sweet breakfast. :) Or dessert!
My previous posts on Wafels & Dinges: New York City, NYC Dessert Crawl.
Upper East Side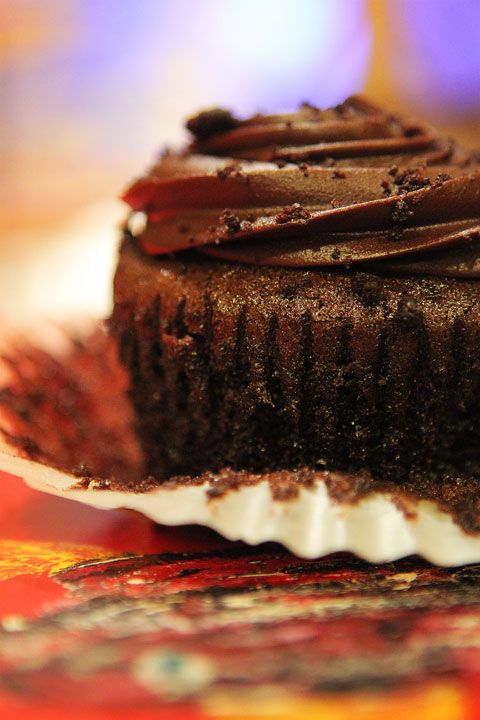 Two Little Red Hens — Here's where you can find the best cupcake in NYC. And yes, I've tried them all! :) The Brooklyn Blackout (pictured above) is the winner and definite crowd-pleaser here, but just the plain vanilla cupcake with sweet vanilla frosting is the cupcake standard to which I hold all other cupcakes, and it's fabulous here. Come here hungry and indulge. This one's worth it.
My previous posts on Two Little Red Hens: NYC Cupcakes
Two Little Red Hens
1652 2nd Avenue, New York, NY
(212) 452-0476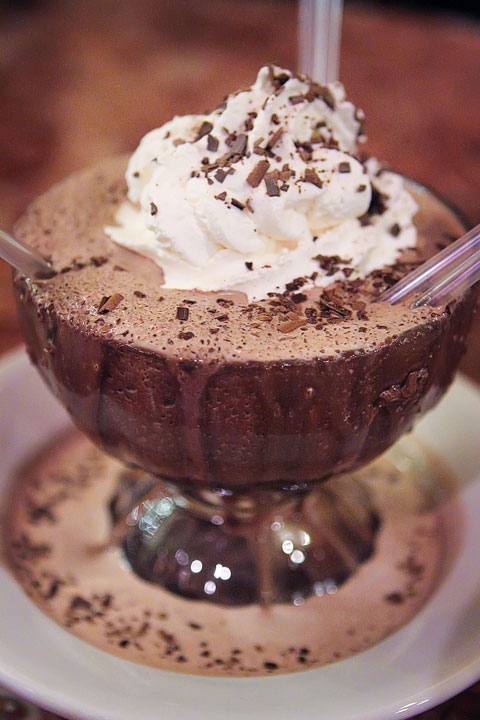 Serendipity — Okay, if you're planning a trip to NYC this summer, stop what you're doing right now and make a reservation to Serendipity. Right now! It's that important. And also because they are known to book up more than a month in advance. And without reservations their wait times for a table average 2-3 hours. So go ahead. Make that reservation. I'll wait. Really, I don't mind. Go here for breakfast, lunch, or dinner, but what you really want to do is save room for dessert. Their frozen desserts and sundaes are absolutely to die for. And this is such, such a fun place, you really shouldn't miss it :) Especially for a true sweet (and chocolate) lover! Now, as massive as these desserts are (enough to split between at least 2-3 people) make sure everyone at your table orders their own dessert — and something different — because you'll want to try one of everything here. You need to try one of everything here. You need it, in your soul. My favorites here are the Frozen Hot Chocolate, the Frozen Peanut Butter Hot Chocolate, and the Forbidden Broadway Sundae.
My previous posts on Serendipity: NYC Cupcakes, New York at Christmas, Girls Week in NYC.
Serendipity 3
225 East 60th Street, New York, NY
(212) 838-3531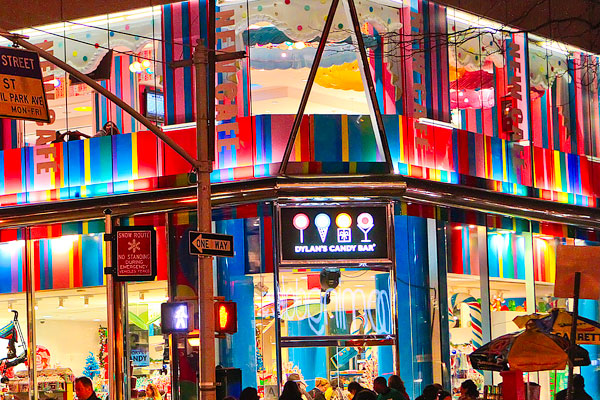 Dylan's Candy Bar — This place is just fun, and definitely worth a peek inside if you're in the area. It's just a couple of doors down from Serendipity, so head there early (at least 30 minutes) and stop in here for a colorful candy store experience like none other. There is candy, candy, candy everywhere! :) Their chocolate bars (on a giant spinning rack just as you walk in the door) are my favorite thing here, with fun flavors like Brownie Batter, S'mores, Tiramisu, Red Velvet Cake, and Hazelnut. Pick some of these up to take home with you, they're perfect for souvenirs!
My previous posts on Dylan's Candy Bar — Chocolate Taste Testing Party, Girls Week in NYC.
Dylan's Candy Bar
1011 3rd Avenue, New York, NY
(646) 735-0078
Lower East Side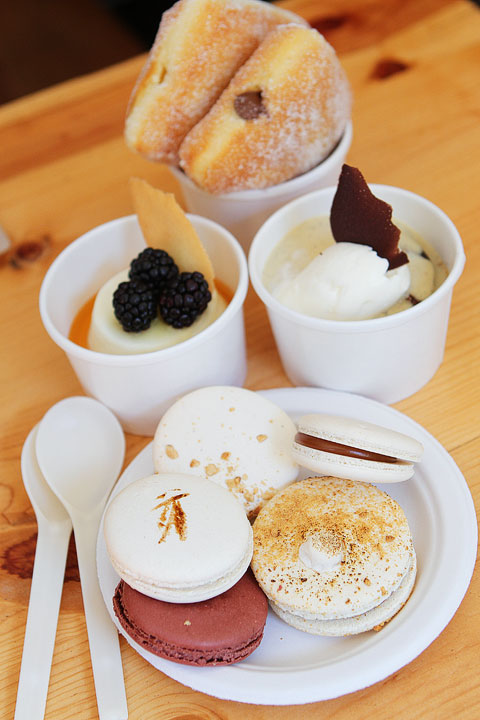 DessertTruck Works — Three words here: Nutella Stuffed Doughnut. Made fresh when you order — so it's warm and gooey — is an absolute must. Plus they've got some super fun macarons here too. With the many other daily-changing desserts on the menu that are sure to please, this is a must stop for a dessert lover.
*Update May 2013: According to a goodbye message on their website, Dessert Truck Works is now closed. Sad! Nutella Stuffed Doughnut, you will be missed!!
My previous posts on DessertTruck Works: NYC Dessert Crawl
DessertTruck Works
6 Clinton Street, New York, NY
(212) 228-0701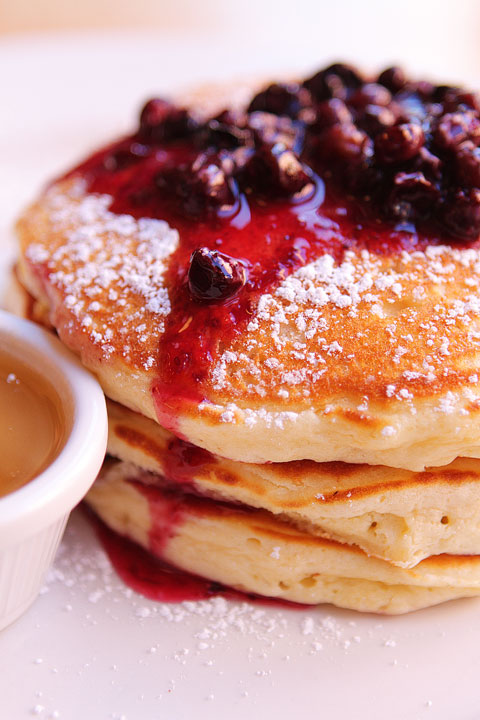 Clinton Street Baking — While this one doesn't technically make my list as one of the best desserts in NYC, it's worth noting that Dessert Truck Works is right next door to Clinton Street Baking, a popular breakfast and brunch spot famous for their blueberry pancakes. So if you're feeling up to it, head here early (or on a weekday, because the lines can get long) for breakfast, then rush next door for your doughnut. But if you can only pick one of the two… Go for the doughnut and desserts next door. :) If you're on a dessert mission, that is. :)
My previous posts on Clinton Street Baking: New York City.
Clinton St. Baking Company & Restaurant
4 Clinton Street, New York, NY
(646) 602-6263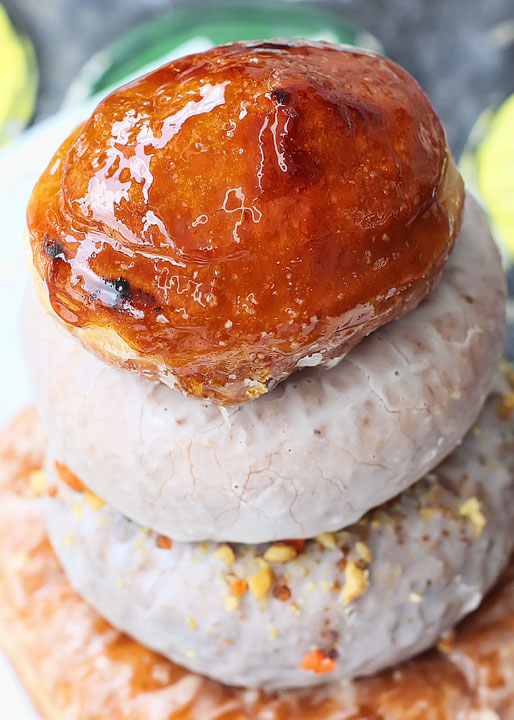 Photo via Jenny Flake
Doughnut Plant – More doughnuts, yay! This is a nice walk from Clinton Street, so head here next. They have tons of yummy doughnuts in fun flavors like Creme Brulee, Carrot Cake, and PB&J. The peanut butter doughnut is drizzled with sweet, peanut butter glaze and stuffed with blackberry jam — it's absolutely life-changing. If you're a doughnut fan, you gotta see this famous NYC shop!
My previous posts on Doughnut Plant: New York City Doughnuts.
Doughnut Plant
379 Grand Street, New York
(212) 505-3700
Union Square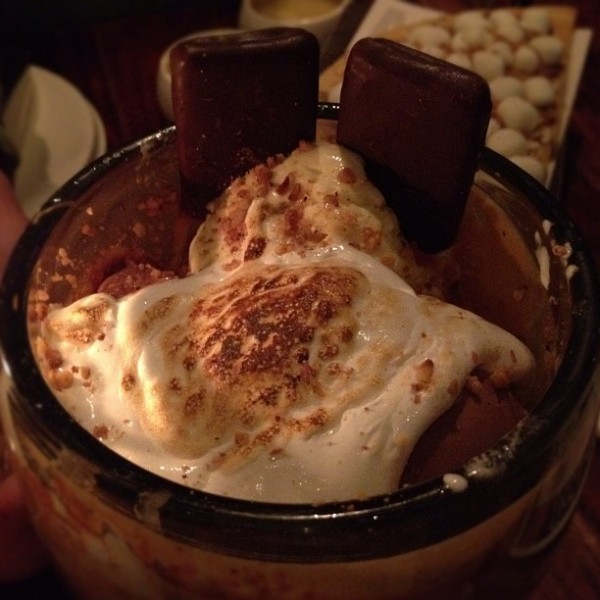 Max Brenner— Put this on your reservations list as well! You can easily make reservations online at OpenTable.com. Go here for breakfast, brunch, lunch, or dinner, and be prepared for an incredibly fun, super delicious chocolate dining experience like none other. The food is always excellent here, but make sure you save room for chocolate! :) This is another place where everyone at the table needs to order their own dessert so you can sample some of everything. Their dessert menu is so massive, it's impossible to choose just one! Everything I've tried here has been swoon-worthy, but two that stand out are this Spectacular Melting Chocolate S'Mores Sundae, pictured above, and my favorite, the Chocolate Pizza. Get it with everything on it except bananas: Sweet, soft pizza dough, melty chocolate, gooey marshmallows, and to-die-for peanut butter sauce all topped with perfectly crunchy hazelnut bits. Don't skip the hazelnuts. Glorious. They also have a to-go bar, so be sure to find an excuse to stop by here another day. If it's cold, get the hot chocolate. If it's hot, get the 80's Milkshake. It's a chocolate milkshake with a scoop of vanilla ice cream covered in chocolate magic shell. It's perfection in every bite.
My previous posts on Max Brenner: Max Brenner, Girls Week in NYC.
Max Brenner
841 Broadway, New York, NY
(646) 467-8803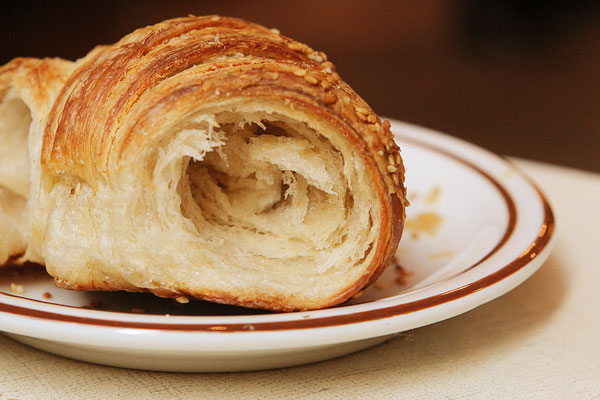 City Bakery — This place doesn't look like much when you walk in, but don't leave here without trying the Pretzel Croissant! It's got the inside of a soft, flaky, buttery croissant, with the outside of crunchy, chewy, salty pretzel. Basically, it's the perfect combination. And totally a must-try. Also pick up a chocolate chip cookie while you're here, it's the best! I don't even know how to describe it. It's soo ooey-gooey-chewy, and it's got such a satisfying texture. It's like you can taste every single bite of sweetness! :)
My previous posts on City Bakery: New York City.
City Bakery
3 West 18th Street, New York, NY
(212) 366-1414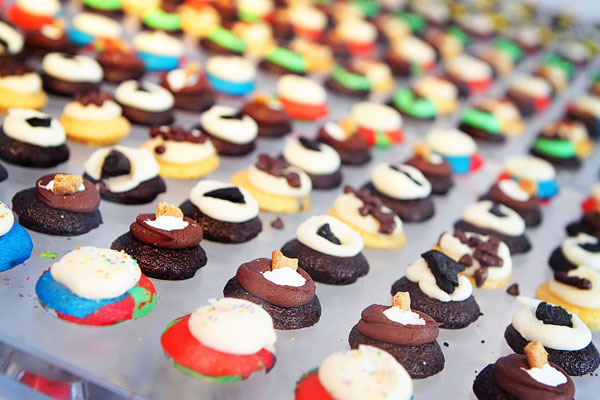 Baked by Melissa — These tiny, tiny cupcakes (about the size of a quarter) come in a multitude of fun flavors. They've got Cookie Dough, S'mores, Chocolate Chip Pancake (my fav!), Oreo, Peanut Butter, and tons more. Plus a monthly special cupcake. It's fun to just pop in here and grab a few bites to go! :) These three places in Union Square are all within walking distance of each other, and it's a nice walk around NYC.
My previous posts on Baked by Melissa: New York City.
Baked by Melissa
7 East 14th Street, New York, NY
(212) 842-0220
Upper West Side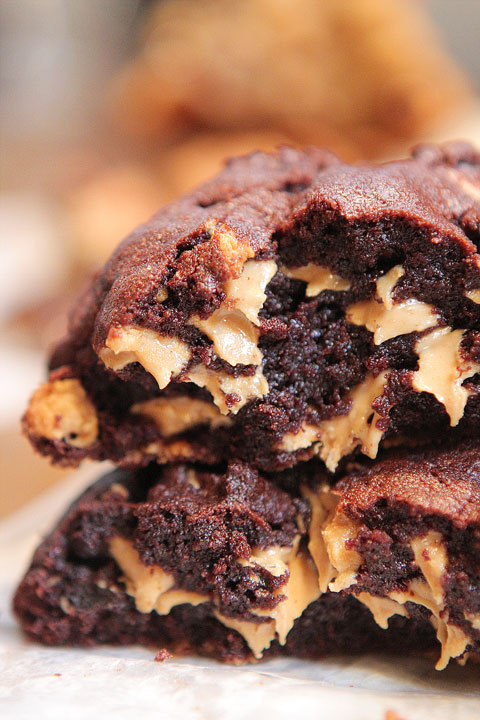 Levain Bakery — This is not really near anything else, but no trip to NYC is complete without at least mentioning it! :) Get the chocolate peanut butter cookie here and make sure they warm it up for you! I think the photo above speaks for itself. :)
My previous posts on Levain Bakery: Levain Bakery, Sweet NYC.
Levain Bakery
167 West 74th Street, New York, NY
(212) 874-6080

View A Must-Stop Guide to NYC Sweets from Kevin & Amanda in a larger map
Here's a handy Google Map of all the shops mentioned above. These are my top absolute favorite spots, and those that I consider a definite must-see! :) But for more of my favorite NYC sweet shops, check out my NYC Pinterest Board. I've got all my favs, plus some new ones I'm dying to try.
Did I miss your favorite? Post your favorite NYC sweet in the comments section below!