Last month someone asked me what was the strangest thing I've ever eaten in all my travels. Without a doubt it was something I had in Bali!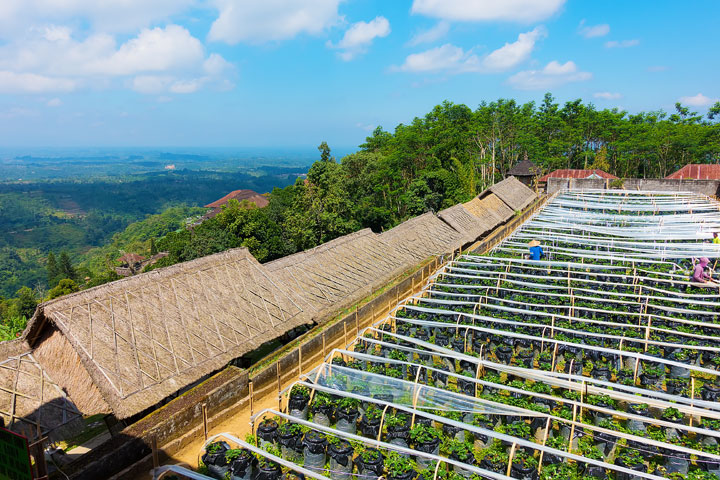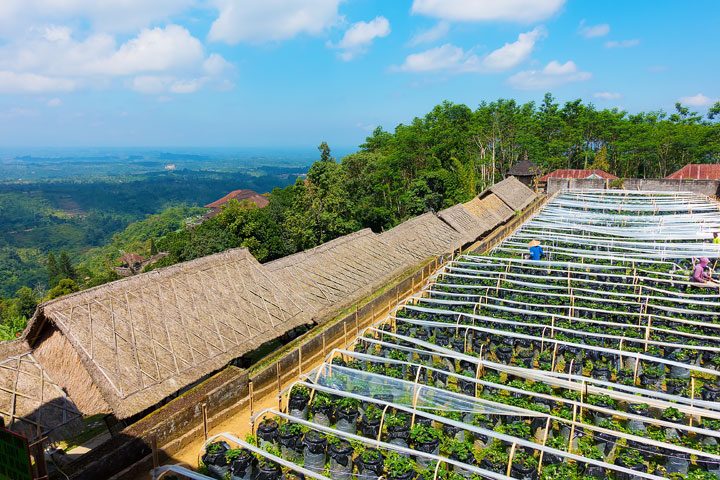 When Barbara and I were in East Bali, we had some unique and exotic dining experiences. One of my favorites was at a strawberry farm in Bedugul. This mountainous region of Bali is famous for their strawberries!
They had a typical pick-your-own strawberry farm, but attached to the farm was a restaurant. And everything on the menu had strawberries in it!!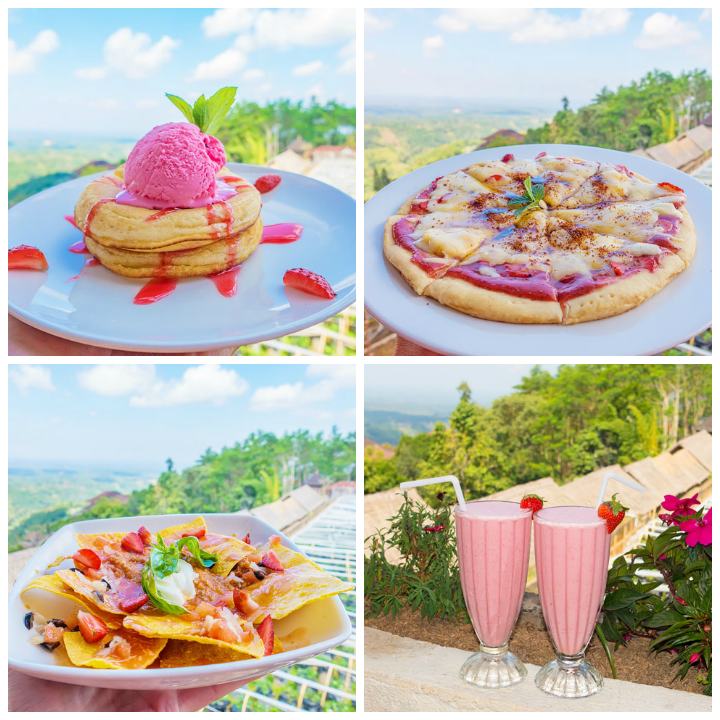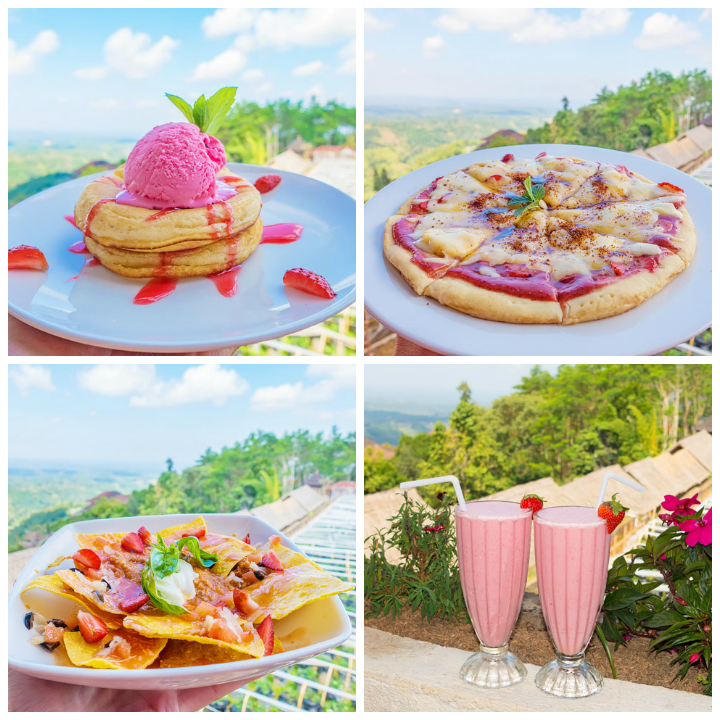 There were strawberry pancakes, strawberry pizza, strawberry milkshakes, and even strawberry nachos!!
Now, when we first ordered the nachos, I was expecting them to be sweet, fruity nachos.
But… no. These were your standard beef and bean nachos…. with strawberries on them.
Barbara and I were SO skeptical at first, but we were starving and this was the first thing they brought out. We had to eat. At first we started eating around the strawberries, but eventually we tried one with a strawberry. And you guys. I know this sounds like the craziest thing ever, but it was actually, really, really good. I'm dead serious. Somehow the combination just works. It was delicious. After that instead of avoiding the strawberries we started seeking them out!
And yet, this was still not the strangest thing I've ever eaten.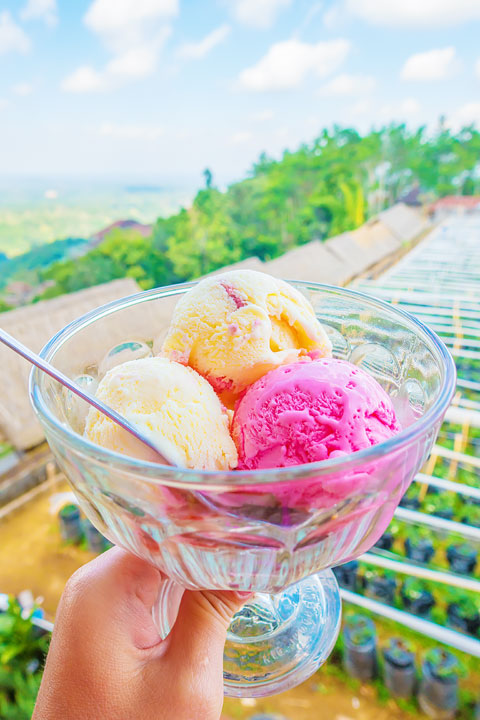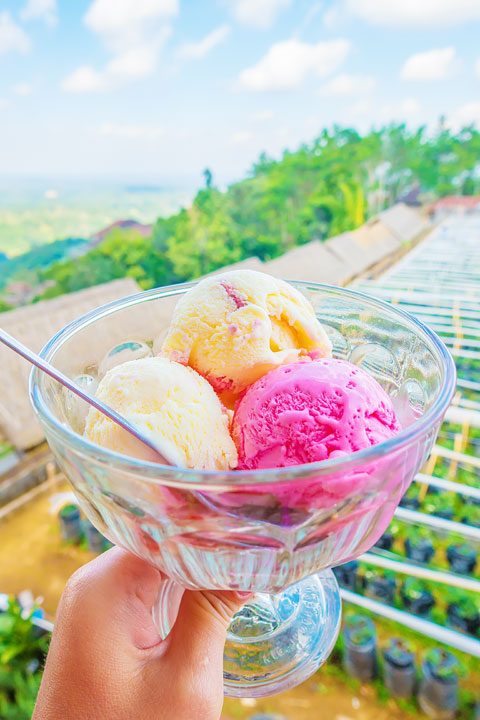 Of course we had to try the homemade strawberry ice cream with strawberries freshly picked from the farm. While we were eating freshly picked strawberries were constantly being brought up to the restaurant and washed and cut in the kitchen.
I had so much fun at this lunch with Barbara because all throughout the meal we talked about how much fun it would be to own a strawberry farm with a brunch restaurant attached that was open on the weekends, and everything on the menu would have strawberries in it. We had so much fun coming up with ideas, menu items, and recipes for our imaginary restaurant! :)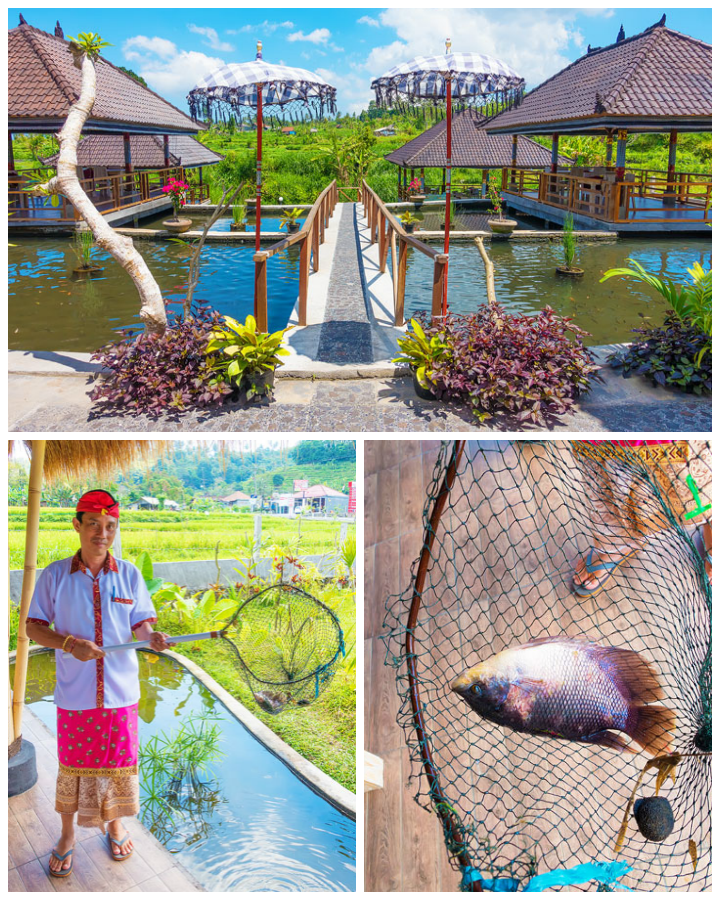 Another fun lunch was in a restaurant in the middle of a rice terrace. It was surrounded by water with fish swimming all around. When I ordered the fish off the menu, our server was delighted and asked me to come with him to pick out my fish. I was intrigued, but thought maybe we'd be going to a tank, like at Red Lobster?
But NO!!! We went right to the pond where he grabbed a net and scooped up a fish!!!!
"Is this one okay for you, miss?" he asked proudly. I nearly died, but assured him it was a great fish.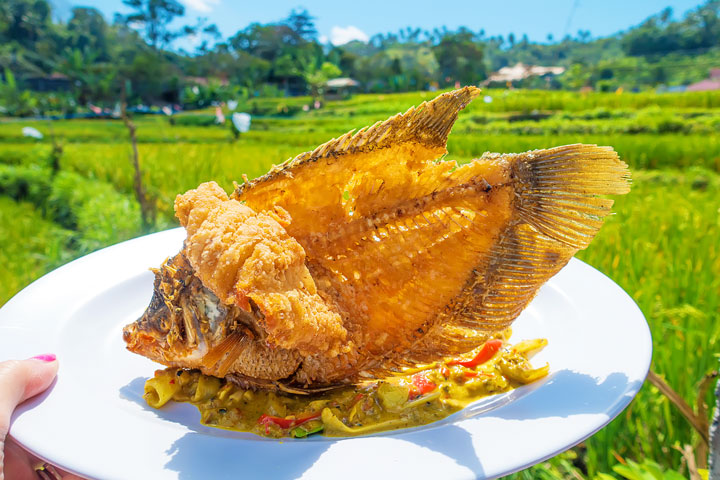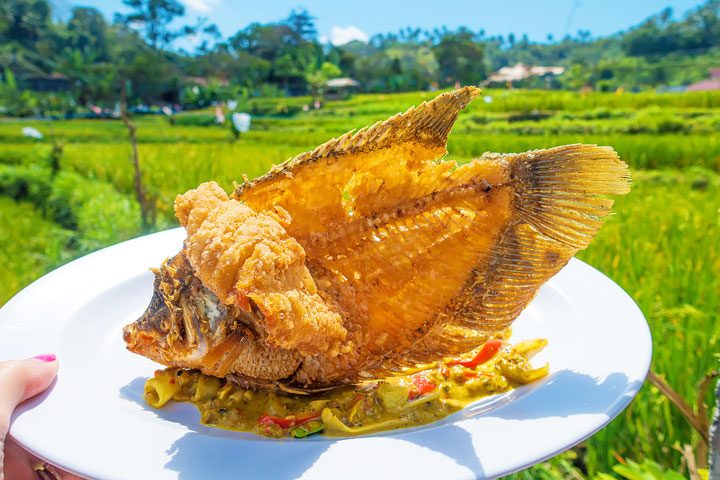 Not 5 minutes later, my fish triumphantly arrived to the table.
This may be the weirdest thing I've ever eaten. Not because it's fish, but it's the first time I've ever had a whole fish like that, and one minute it was swimming in the pond around the table, and the night minute it was on my plate! It was actually very delicious. :)
It was served on a bed of vegetable curry, which was hands down one of the best things I've ever eaten. I would eat that vegetable curry all day every day!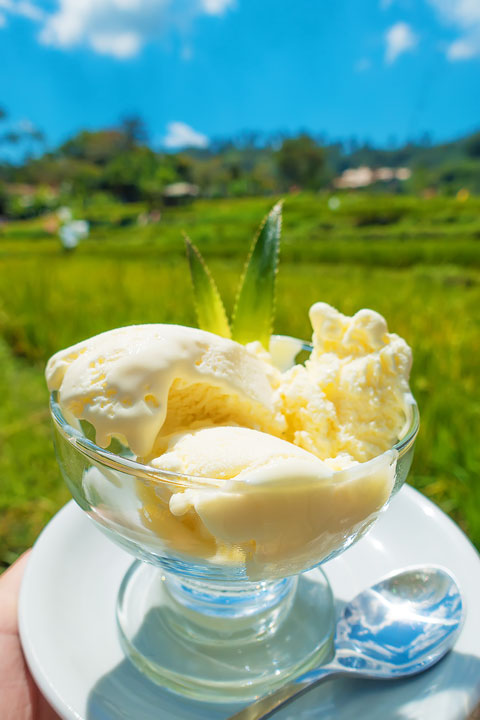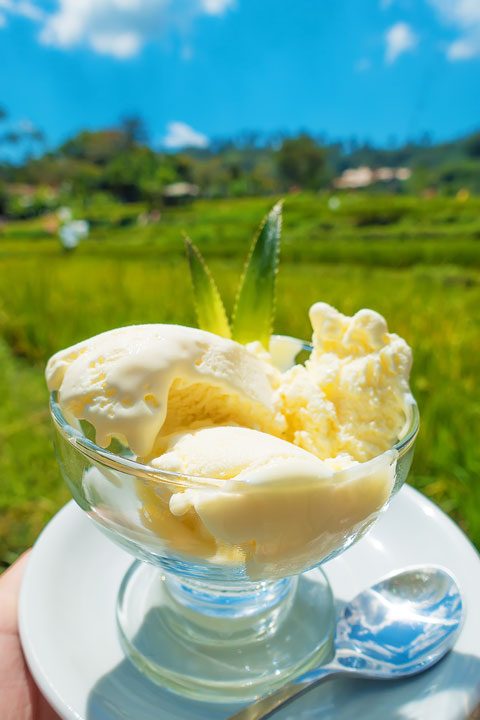 Oh, and for dessert, I got the vanilla ice cream. You guys, I don't know what it is about the ice cream in Bali, but it was SO GOOD. So, so, so good. Everywhere we went it was just so good. Honestly some of the best ice cream I have ever had in my entire life. One thing I'm sure had to do with it is that it was homemade everywhere we went. Maybe Bali has really good cream and vanilla?? I should've brought some Bali vanilla back with me!!!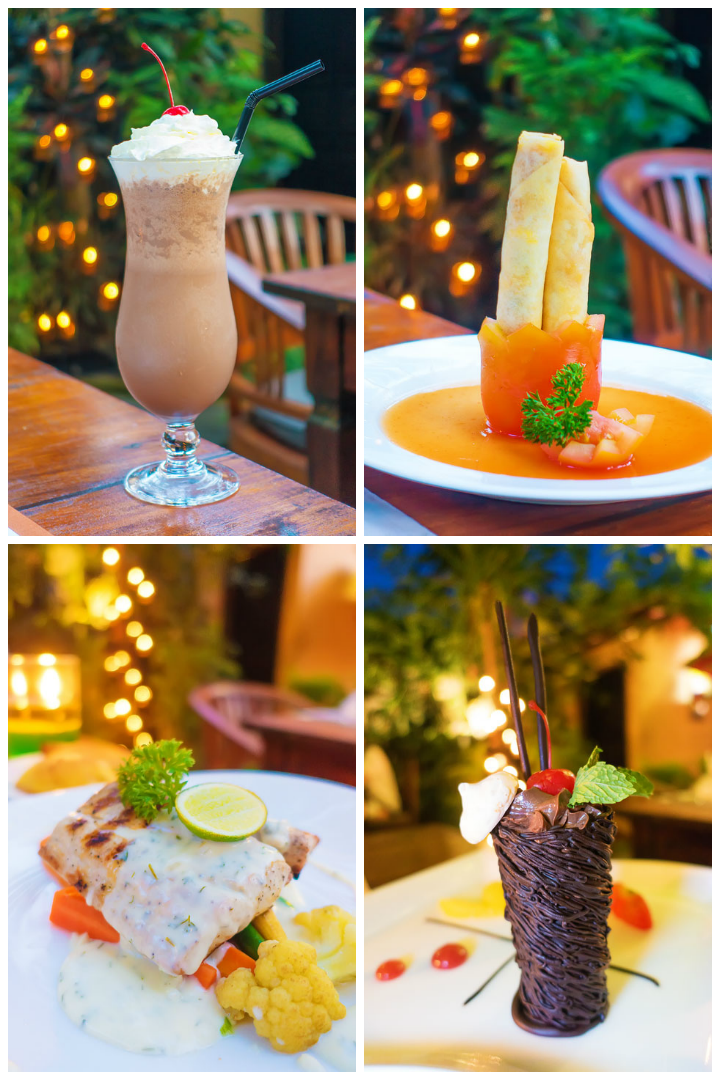 For dinner one night when we were in Manggis, Barbara and I went to Vincent's in Candidasa. There was a Frozen Hot Chocolate on the menu, so you know we had to get that! The fried spring rolls and fish was delicious. The chocolate mousse cup for dessert was super fun! Barbara even recreated it when she got home, be sure to go see her recipe! :)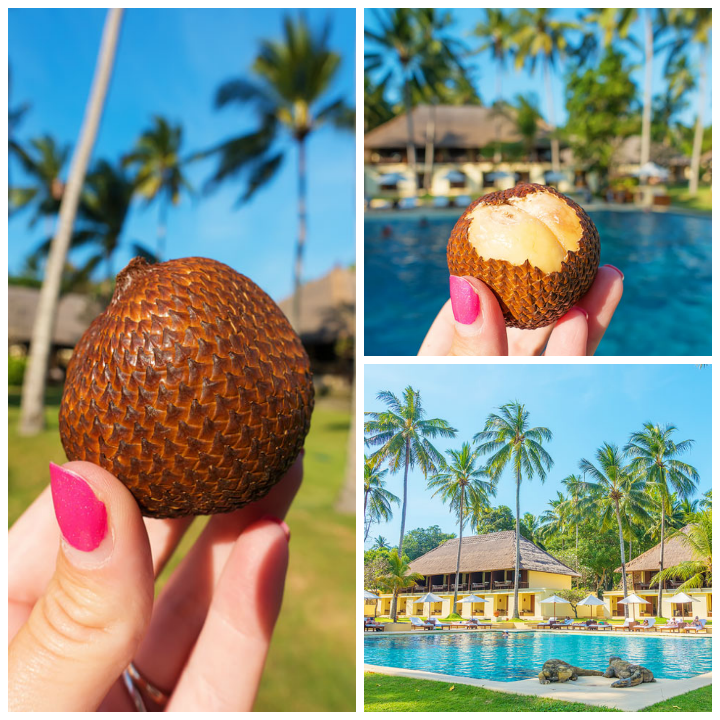 We had SO much exotic fruit in Bali! This snake fruit is just one of the many things we tried. It's called snake fruit because the thin outer layer is rough and scaly like snake skin. When you peel it off there are pods inside that are about the shape and texture of garlic cloves. They kinda taste like an apple.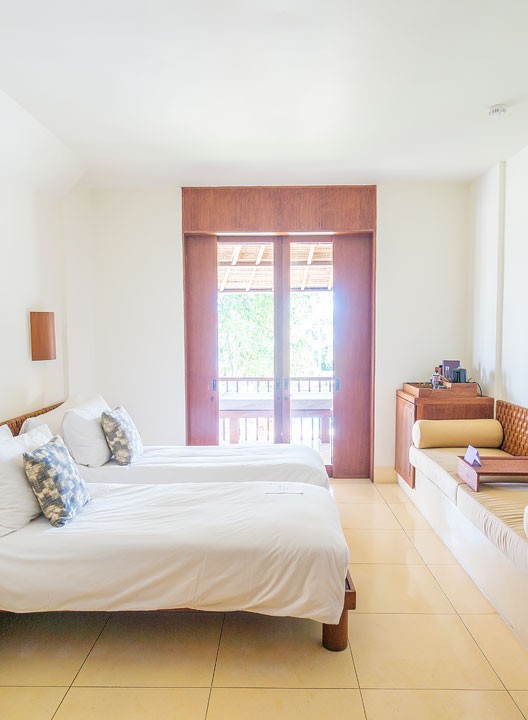 I talked a little about where we stayed in East Bali in my last post, but I wanted to show you a few pictures of our room and the resort.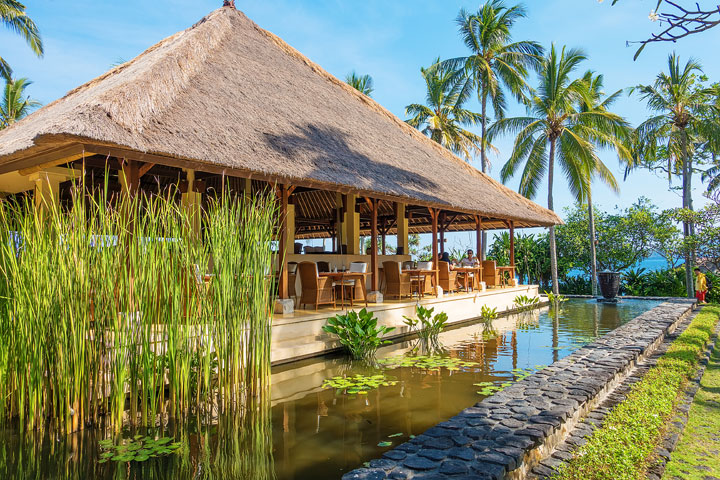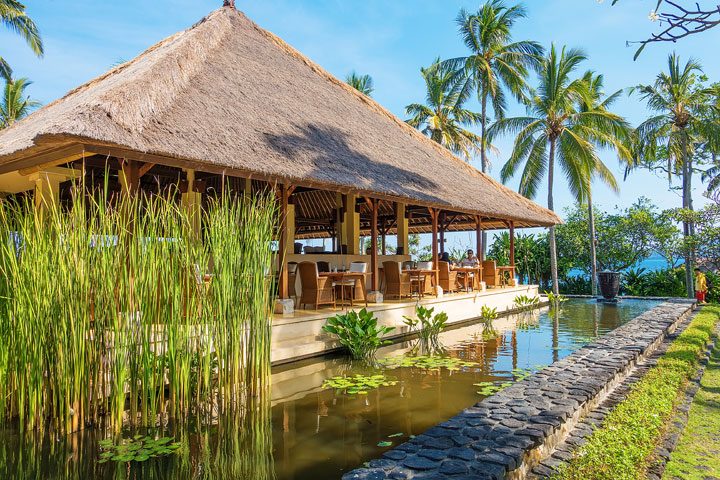 This was the open-air restaurant at the Alila Manggis where we had breakfast each morning and dinner one night. It overlooks the ocean and is such a beautiful and peaceful setting!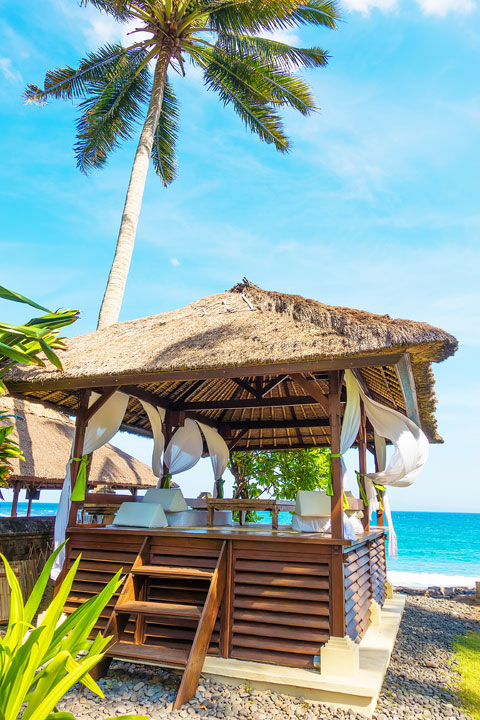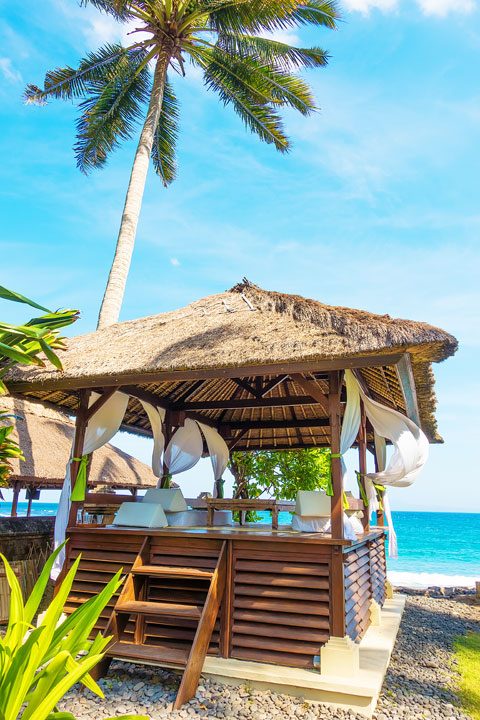 The resort is right on the beach with chairs and cabanas for lounging.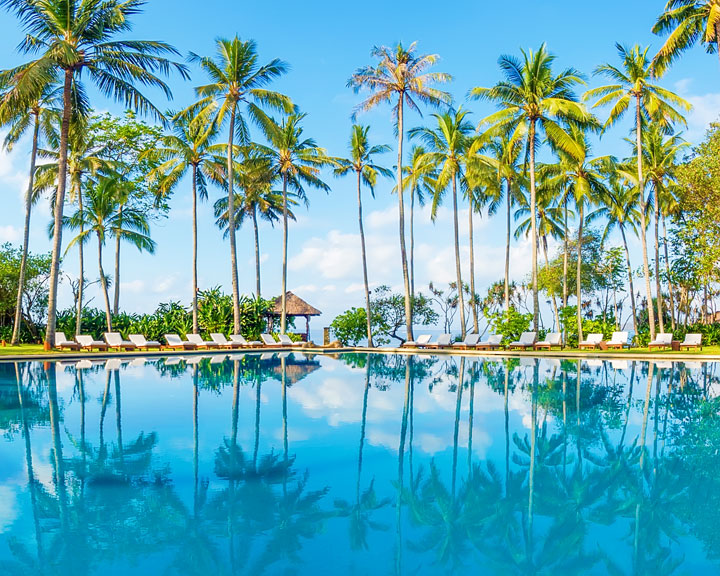 I could stay at this pool all day!!! :)
So now, you tell me…
What's the weirdest thing YOU'VE ever eaten?? :)