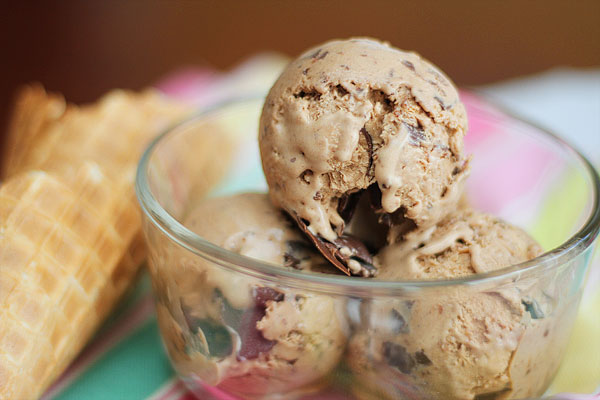 Time's up! Here are the winners of the Eagle Brand Ice Cream Challenge Giveaway:
#268 Sheryl: "Wow, I had no idea making homemade ice cream was this easy!! It makes me want to try creating a flavor that includes salty, crunchy peanuts and chocolate. Maybe some mini marshmallows, too. :-) The possibilities are virtually limitless!"
(Oh my heavens, Sheryl! That sounds amazing! Must try it next! )
#456 Brandy: "I think I'm drooooling! The cinnamon bun was definitely on my list when I saw that photo. I'd probably throw in coconut and make some chocolate concoction."
#694 Tina: "Yummy! Just yesterday I was shopping online for ice cream makers — now I don't need one to make some yummy homemade ice cream! I think I'll try coconut, almond,chocolate — Almond Joy!!"
I had so much fun reading all your entries! I have tons of new ice cream ideas now, thanks to all of you. It's going to be a very yummy summer! :)
Congratulations Sheryl, Brandy, & Tina!!!
***
July is National Ice Cream month, and the kind folks from Eagle Brand Milk want to show you how making homemade ice cream is easier than you may think! No ice cream maker? No problem! Out of rock salt? Don't need it! You can make this ice cream in just four easy steps.
And let me just get one thing straight. This ice cream is so incredibly smooth and creamy you would never, ever know it's not churned. Seriously. Creamy. You must trust me on this. I would not lead you astray.
To show you how fun & easy it is to create your own flavors, Eagle Brand wants to send not one… not two… but three lucky winners their own Ice Cream Challenge Pack! Check out what all you get!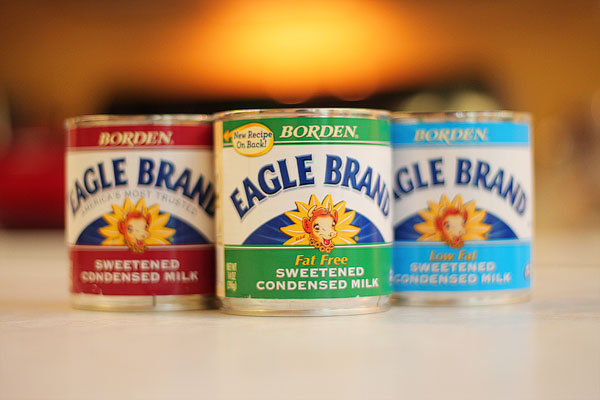 Eagle Brand Sweetened Condensed Milk… You'll need this!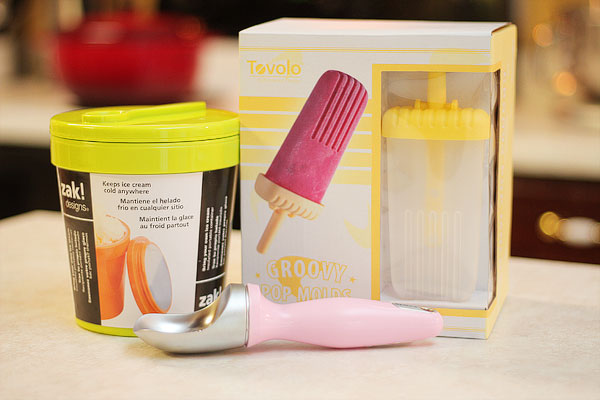 A portable ice cream container, for freezing your homemade ice cream, an ice cream scoop for dishing it out, and some popsicle molds for fun!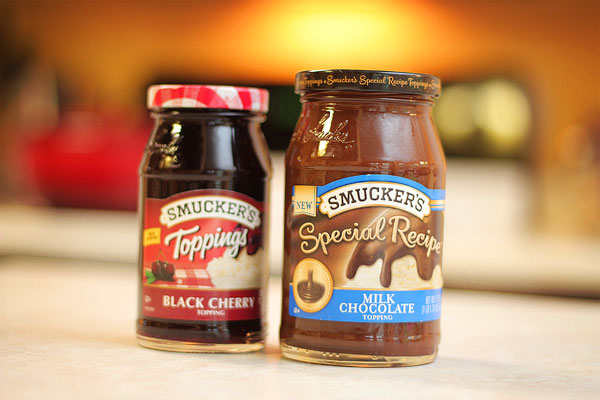 Smucker's Ice Cream Toppings… Mmm… :)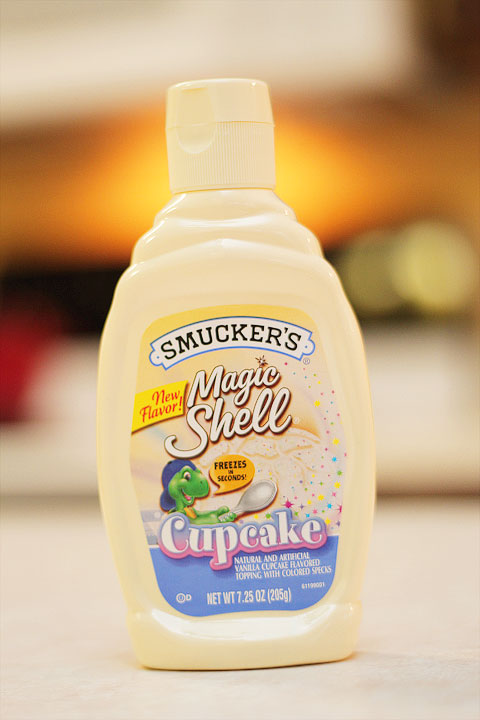 And… get out!!! Cupcake Magic Shell??! I am so all over this!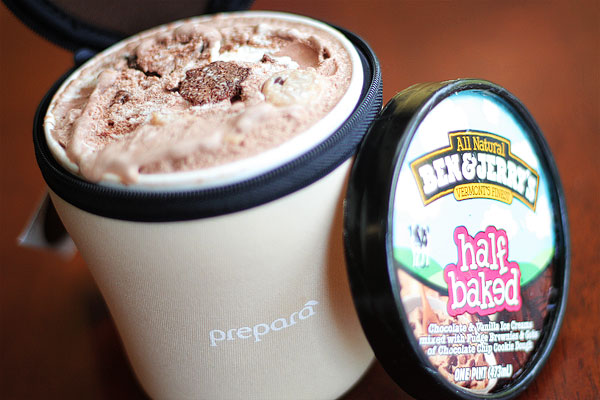 Okay, now this is the funniest thing I have ever seen.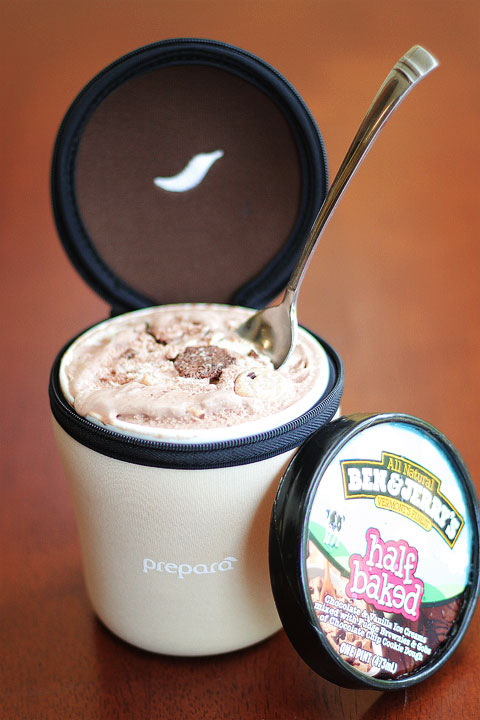 It's a koozie! For your ice cream! Keeps your hands warm and your ice cream cold! You know you want one!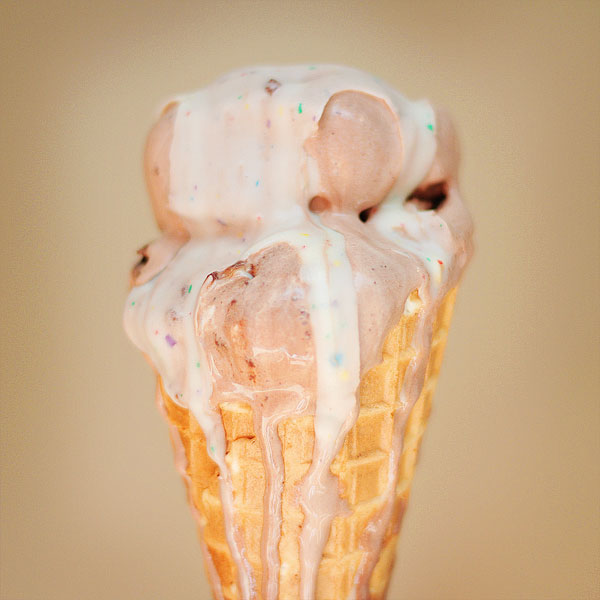 I had to do it. I had the ice cream. I had the magic shell. It was right there. Ben & Jerry's Half Baked Ice Cream (that's chocolate & vanilla swirled ice cream with brownie & cookie dough mixed in) topped with Smucker's Cupcake Magic Shell. Oh. my.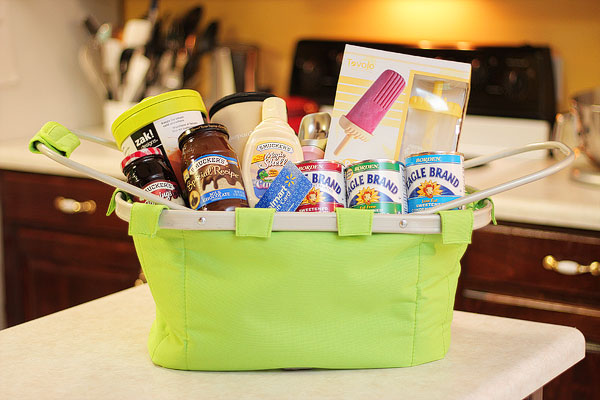 Everything comes packed in this insulated, portable picnic basket (so cool!) AND you get a $10 Walmart gift card for supplies!
Homemade Ice Cream without the machine couldn't be easier!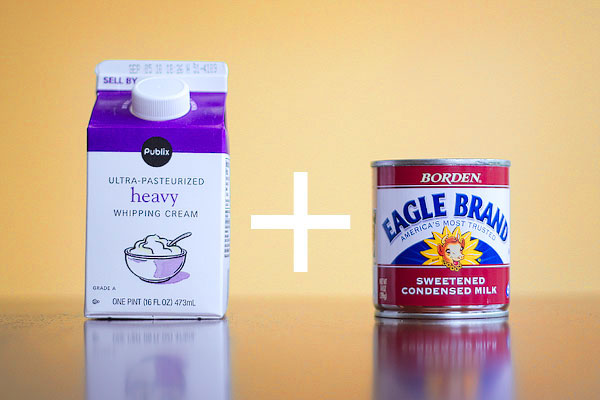 Basically, you start with 2 cups of heavy cream and 1 can of Eagle Brand Sweetened Condensed Milk.

Whip the heavy cream to stiff peaks…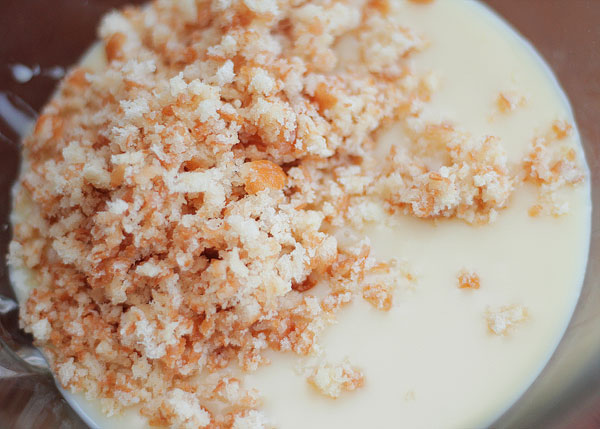 Add your flavors, toppings, and mix-ins to the sweetened condensed milk…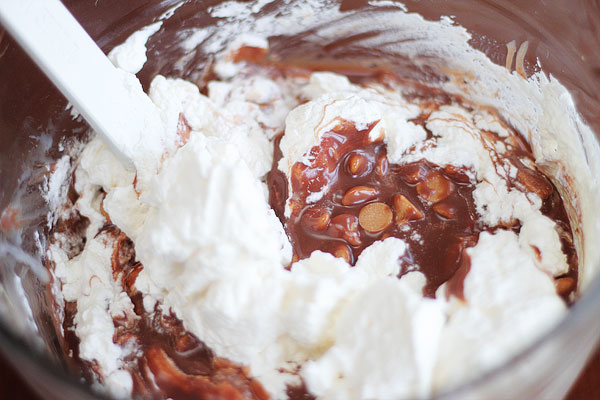 Then fold in the whipped cream.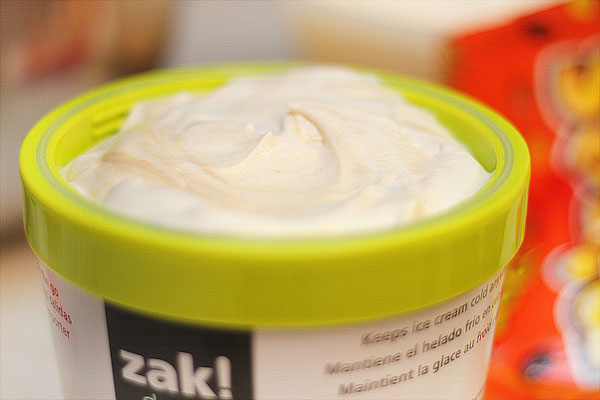 That's it! Freeze and enjoy!!
So what can you add to the cream & milk??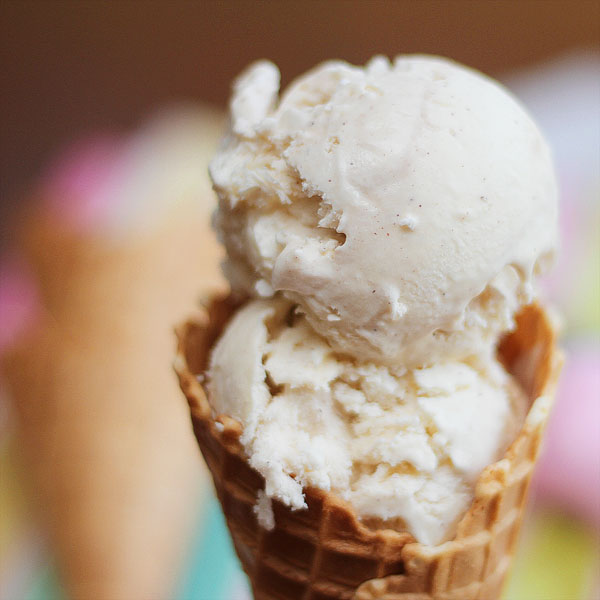 How about butter, cinnamon, and vanilla for… Cinnamon Bun Ice Cream! Oh my gracious, it totally tastes *just* like cinnamon buns! You have to try this one.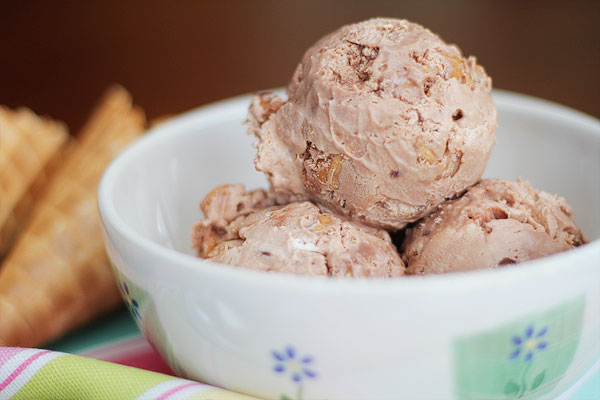 What about Nutella & Peanut Butter?? Seriously yum!
Nutella Peanut Butter Chip Ice Cream Recipe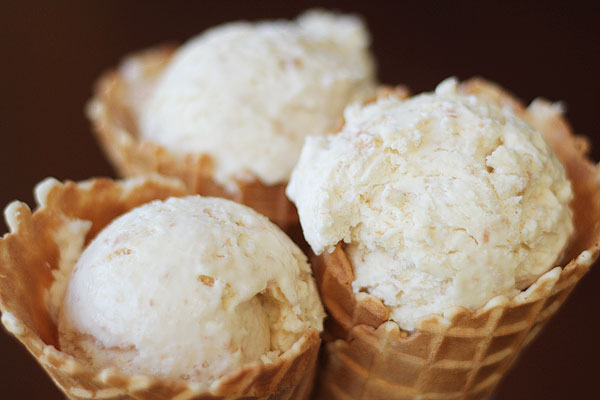 Do you like Krispy Kreme Doughnuts??! Oh yes I did. I added little bits of Krispy Kreme doughnuts people!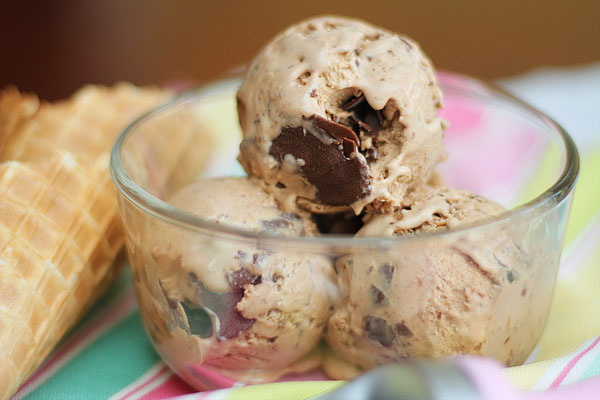 How about adding Smucker's Magic Shell for a really cool fudge swirl effect??!
Hazelnut Mocha Fudge Swirl Ice Cream Recipe
***
The options are endless!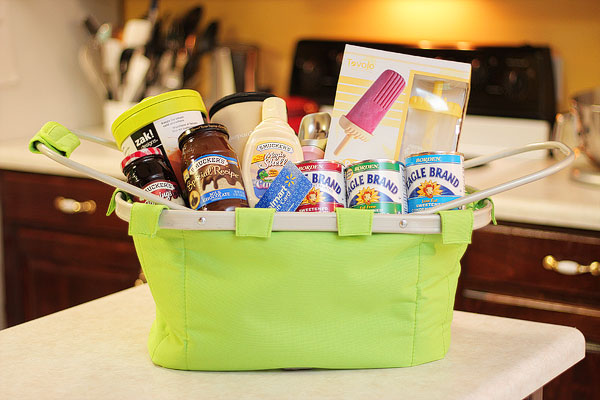 Want to win? Here's How to Enter!
To be entered to win this amazing prize package from Eagle Brand, all you have to do is leave a comment on this post:
What Ice Cream Flavor would you create??! :)
Three winners will receive their very own Ice Cream Challenge pack which includes:
Three cans of Eagle Brand sweetened condensed milk. Regular, Low-Fat & Fat Free.
Two jars of Smucker's ice cream toppings.
One bottle of Smucker's Magic Shell.
One adorable ice cream scoop.
One set of Tovolo Groovy Popsicle Molds.
One Zak! Designs Portable Ice Cream Container.
One Prepara Ice Cream Pint Sleeve.
$10 Walmart Gift Card.
One Picnic Time Insulated Cooler Tote.
Contest ends Friday, July 30th at 8pm CST. Winners will be selected by Random.org and notified by email.
Thanks for looking and GOOD LUCK!!! :)