I've never really celebrated Christmas in July before, but it's never too late to start, right? :) My birthday is December 3rd, and while I never really had a complex about my birthday being close to Christmas, I did always wish I had an occasion for receiving presents in the middle of the year, lol! Waiting a whole year for fun new toys is just too long! :) I think that's part of the reason why I wanted to get married in the summer!! :) Of course ever since we first got married Kevin and I made it a tradition to celebrate our anniversary by giving each other gifts of travel, so no gifts then either, lol. SO this year I decided to celebrate with YOU GUYS! :)
Every day this week I have some fun new giveaways I want to share (ending with a HUGE giveaway on Friday I am so excited about!!) as a way of saying thank you for being such awesome readers. :) THANK YOU!! :)
First up are Custom Teeth Whitening Trays from SmileBrilliant. I know this might be kind of weird coming from me, but I remember the first time I ever went to California, I was so giddy and I thought I HAD to have blonde highlights and get my teeth whitened, lol!! If any of you are like me thinking about getting your teeth whitened, here's your chance! :)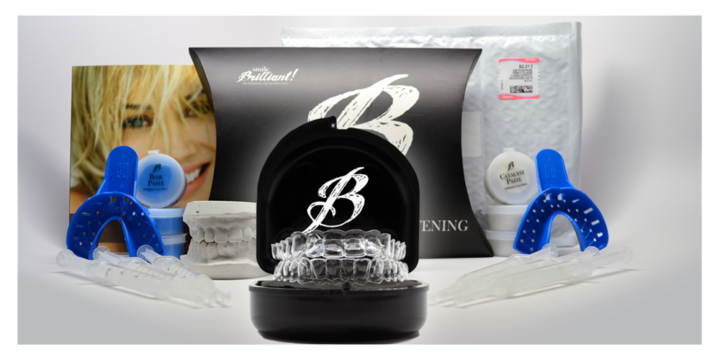 The Giveaway
Three (3) Kevin & Amanda readers will receive a custom teeth whitening kit from from SmileBrilliant. The SmileBrilliant process is used by 95% of all cosmetic dentists, but users at home can can order the kit directly from SmileBrilliant for a fraction of the cost. The trays are IDENTICAL to those sold by dentists for $500-$1,000 but when you order directly from SmileBrilliant, you can get the custom-fitted trays starting at $89.95. Here's how the process works:
Step #1: Place an order for custom teeth whitening trays.
Step #2: Receive The SmileBrilliant System.
Step #3: Create Your Impressions At Home.
Step #4: Return Your Impressions To The SmileBrilliant Lab with the postage paid envelope.
Step #5: Begin Using the Hi-Intensity Whitening Gel! SmileBrilliant ships your custom fitted bleaching trays back to you usually within 1 – 2 weeks.
See the SmileBrilliant FAQ section for answers to commonly asked questions.
All of the SmileBrilliant products are backed by a 30 day money back guarantee so if you are not completely satisfied with the results, simply return it within 30 days for a full refund! In addition, they are the ONLY lab to offer a life-time tray replacement warranty. SmileBrilliant keeps models of your teeth on file so they can make replacement whitening trays upon your request. Lose them? Damage them? Dog ate them? No problem. They replace them FREE!
How to Enter
See the PromoSimple widget below to enter.
Good luck!!! :) Be sure to come back tomorrow for another fun giveaway! :)