Caramel Apple Macarons with Cinnamon Apple Buttercream are the perfect fall treats. They're so fun to make and easy to decorate. Get creative with them!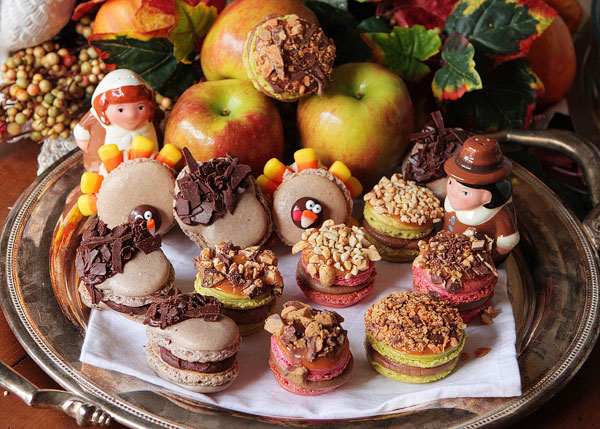 Happy Thanksgiving week! I'm so glad the holidays are here. My dear friend and neighbor Stephanie (who has a fun crafting & homemaking blog called All Artful) and I have been bitten by the macaron bug. You guys know how much I love macarons, and I love them even more now that I know how easy they are to make! I love coming up with fun flavors, shapes, colors, and decorations. Macarons are very customizable. We've been having a blast dreaming up all sorts of fun holiday themed macarons. I cannot tell you how excited I am to share these Thanksgiving macarons with you today! These photos nearly make me squeal with delight.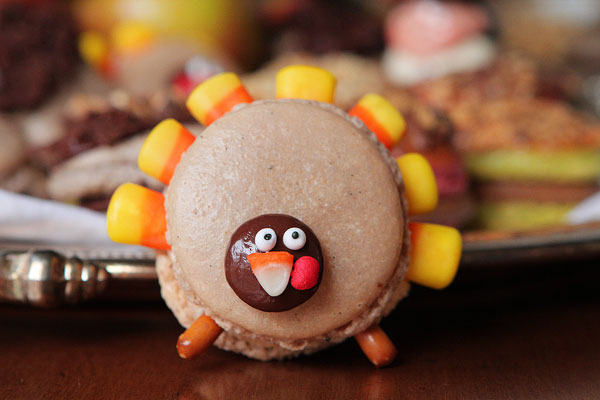 Just look at our lil' turkey! This one's a chocolate macaron shell with a smooth, creamy, peanut butter buttercream filling. YUM! I could just eat him up.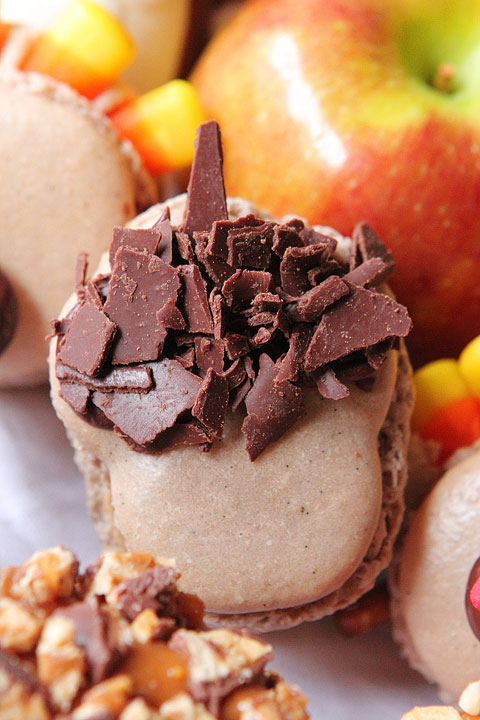 And here's our chocolate acorn, isn't he a beauty? This macaron is a chocolate lover's dream-come-true with its chocolate acorn-shaped shell, milk chocolate ganache filling, and generous topping of chocolate shavings.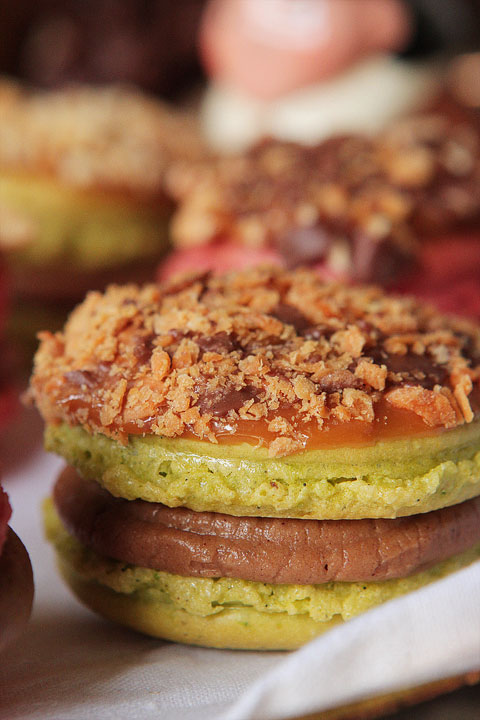 Oh, snap. This was our absolute winner. Our Caramel Apple Macaron. We made bright green and red vanilla bean macarons, filled them with a cinnamon apple butter buttercream frosting, dipped them in caramel and rolled them in crushed candy bars.
I. DIE.
If you've never had a macaron, don't wait another second. Macarons are not hard at all, they just require a little precision which can easily be accomplished with a simple kitchen scale. I use mine all the time! Whip up these holiday macarons and treat yourself to a fabulous dessert, right away. You'll be so glad you did.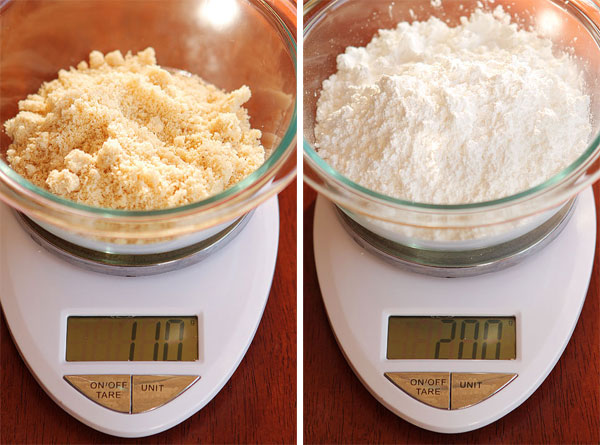 How to Make Caramel Apple Macarons
All you need is 110 grams of almond flour, 200 grams of powdered sugar, and the contents of one vanilla bean. Process these in a food processor until thoroughly combined.
(For a more thorough step-by-step photo tutorial, check out my Halloween French Macarons post.)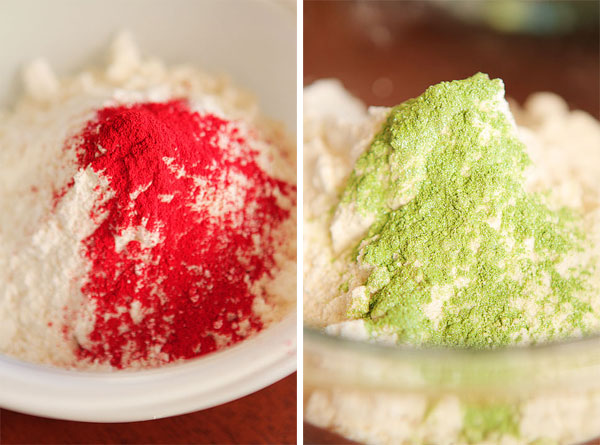 After processing, move flour mixture into a large bowl.  If you'd like to give your macarons a little color or flavor, now's your chance! You can add up to 1 teaspoon of powdered food coloring or 1 teaspoon of cocoa powder for chocolate macarons.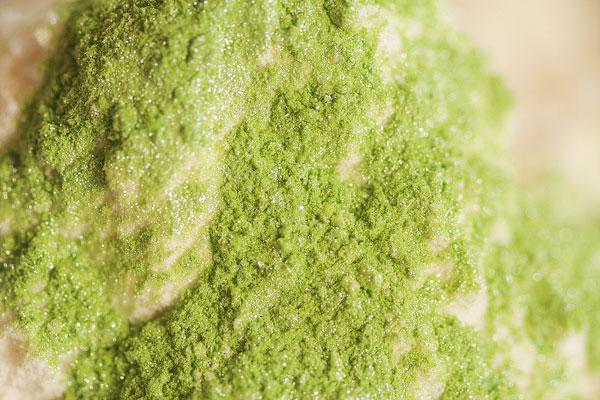 So sparkly! I loved this green. I find Wilton's Color Dust powdered food coloring at Michaels and Hobby Lobby.
After you've colored or flavored your macarons (or just leave plain for vanilla), whisk to combine, and then sift to make sure your dry ingredients are completely free of lumps.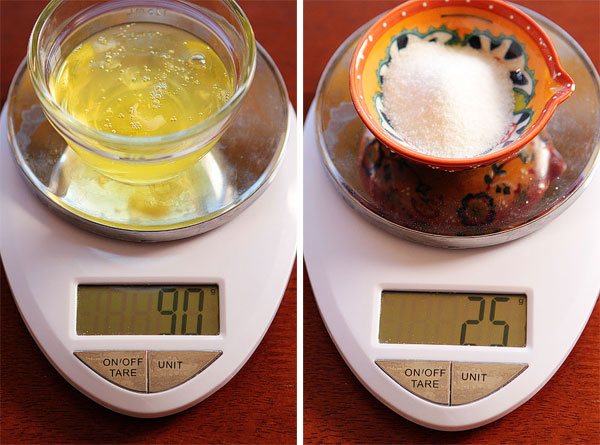 Next, using a stand mixer with a whisk attachment, whisk 90 grams of egg whites until foamy, then add 25 grams of sugar and continue whisking until you get stiff peaks.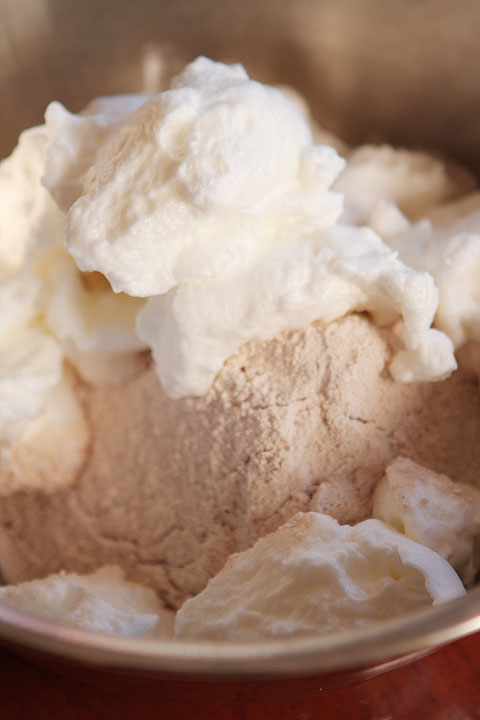 Add the egg whites to the dry ingredients — here's one of our chocolate batches.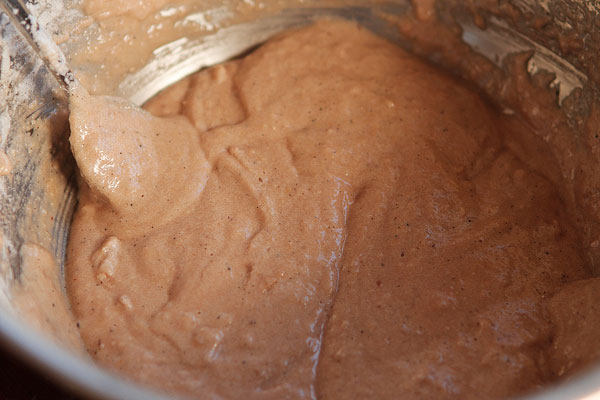 Using no more than 50 strokes, gently combine with a spoon, folding the batter on top of itself until you reach a smooth, shiny consistency.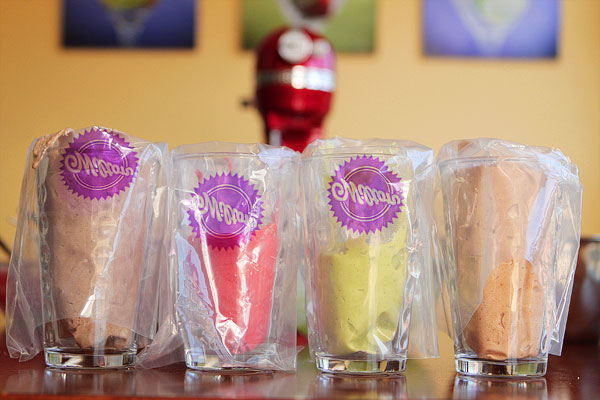 Add your batter to a piping bag fitted with a large round tip. We used a Wilton #2A, found on the cake decorating aisle at Walmart. Here are all of our macaron batches — we made four! — one red, one green, and two chocolates.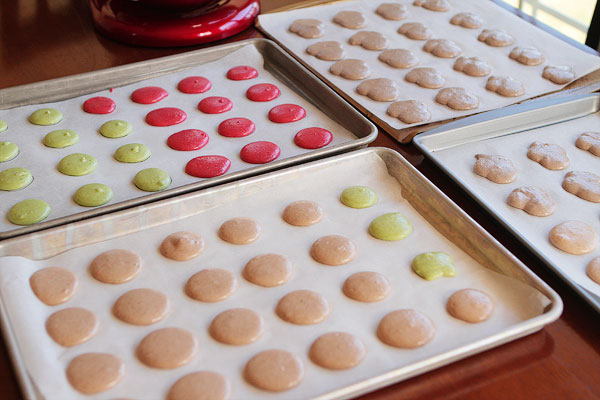 Pipe 1 to 1.5 inch circles onto sheet pans lined with parchment paper.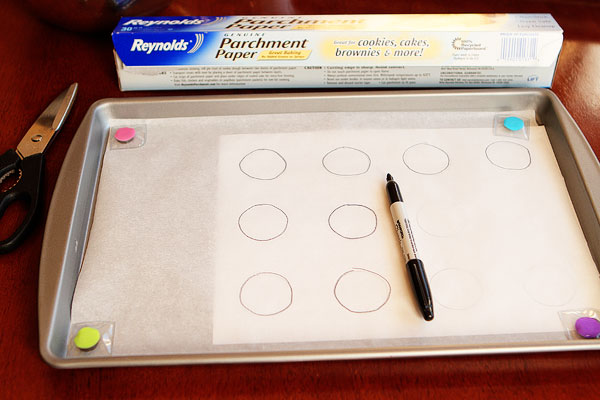 I find it much, much easier to keep my macarons all the same size if I make myself a template! Using the following macaron template, trace circles onto the back of a sheet of parchment paper (curly side up — you can hold it down with magnets) then turn the paper over (curly side — and marker side — DOWN) before piping. Here are the templates we used for our Thanksgiving macarons:
Circle Macaron Template
Acorn Macaron Template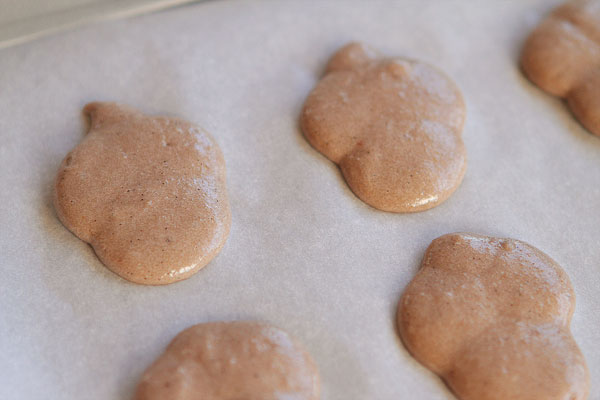 How cute did these acorns turn out??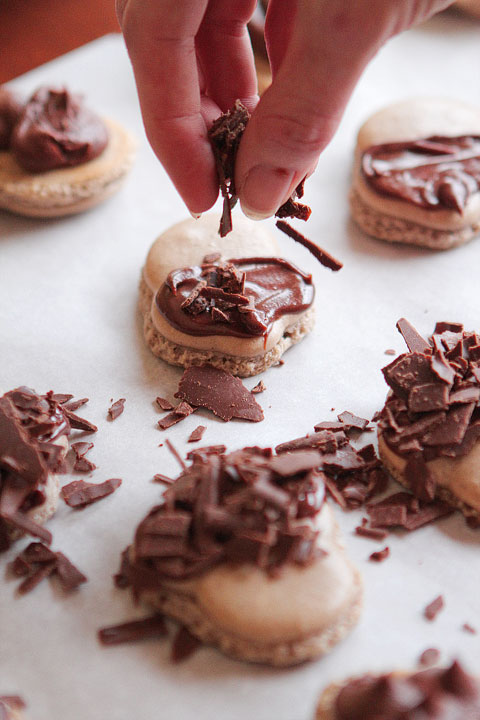 We covered the top half with a little chocolate ganache, then sprinkled on beautiful chocolate curls.
For more thorough step-by-step photos of our chocolate curls, check out Stephanie's photos and recap of our day.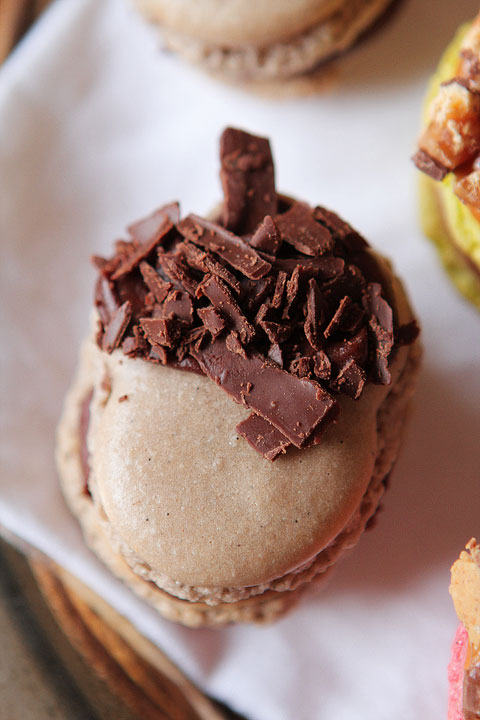 So yum! These were stuffed with a rich, decadent, supremely chocolatey milk chocolate ganache.  Death by chocolate!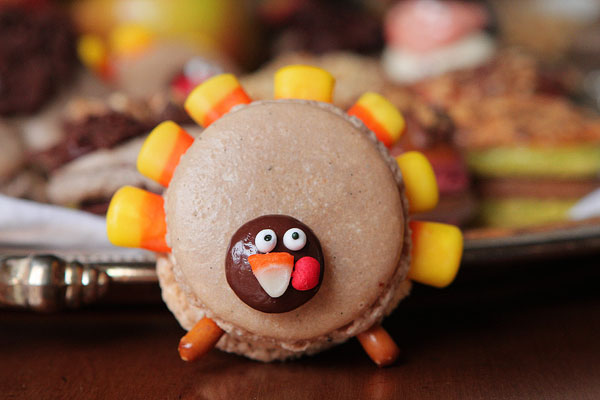 Next up were our turkeys!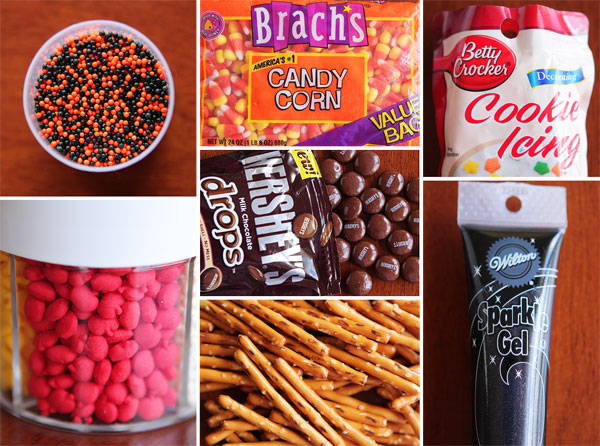 What We Used to Decorate Our Turkeys
Candy corn, of course
Hersey's Drops for the head
Pretzels for the feet
Cookie Icing and Black Sprinkles for the eyes
Black sparkle gel to hold everything together
And finally, our turkey's little red gobble-gobble (what IS that thing called?) — I was originally looking for some heart-shaped sprinkles, and even though the stores are decorating for holidays ridiculously early these days, they still didn't have any Valentine-themed sprinkles. But Stephanie found these Disney Princess sprinkles at the grocery store just last week. They include sprinkles shaped like a gold crown, Cinderella's glass slipper, and Snow White's red apple. The red apple worked perfect! We even stuck the stem into the candy corn beak for a little extra security.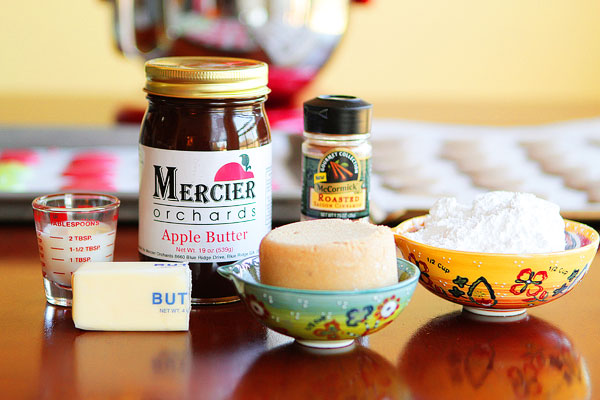 Now for our piece de resistance… The Caramel Apple Macaron. It all starts with this Cinnamon Apple Butter Buttercream Frosting from Cupcake Project.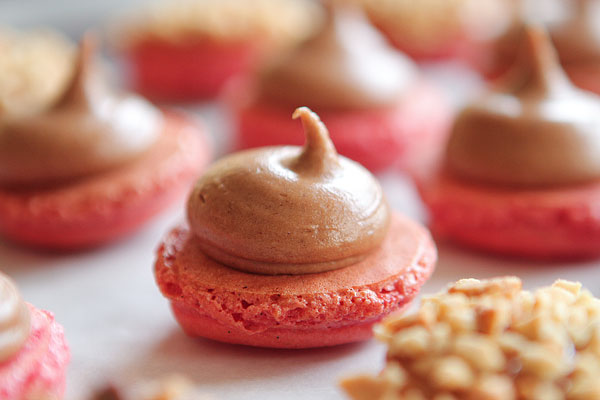 It is un.real. My mind was blown. Steph and I were literally dying over this frosting. If you don't do anything else, at least promise me you'll make this frosting. Add it to your bucket list.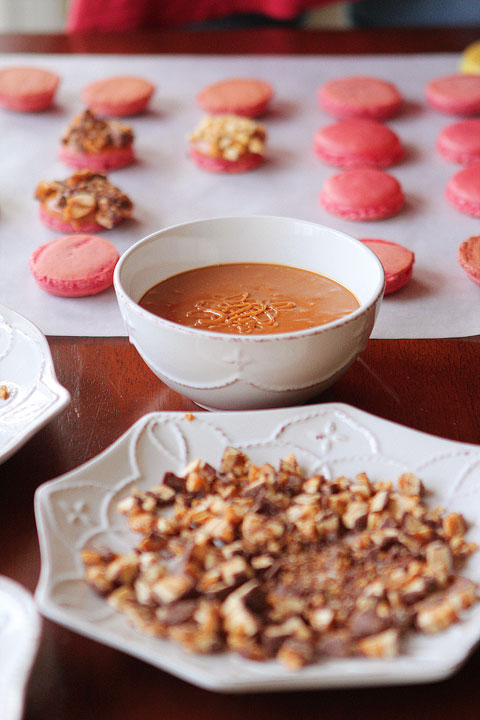 Okay, so not only did we fill our cute apple red and green macaron shells with ridiculously good cinnamon apple butter frosting, but we also dunked them in caramel…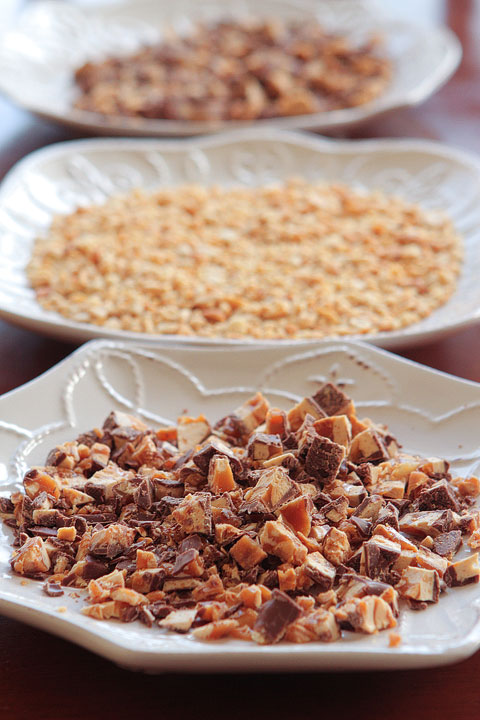 And topped them with crushed Snickers. And Reese's Cups. And Butterfingers. And roasted, salted peanuts.
I die.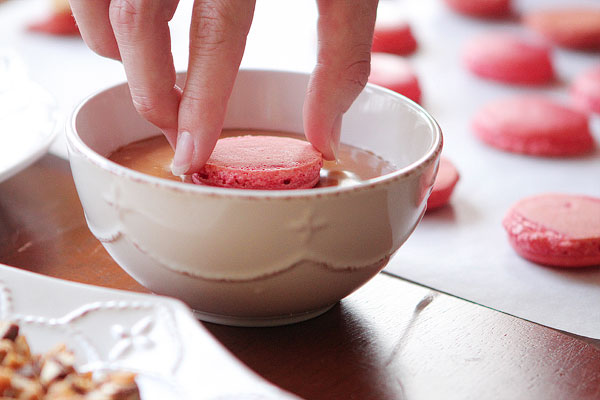 Dunk!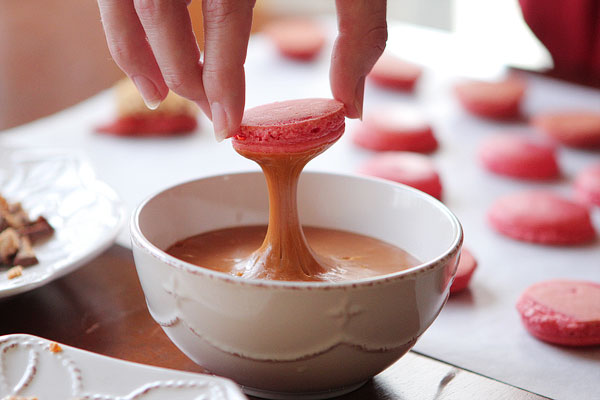 Keep your caramel warm, we had to reheat ours at least once during our macaron making process.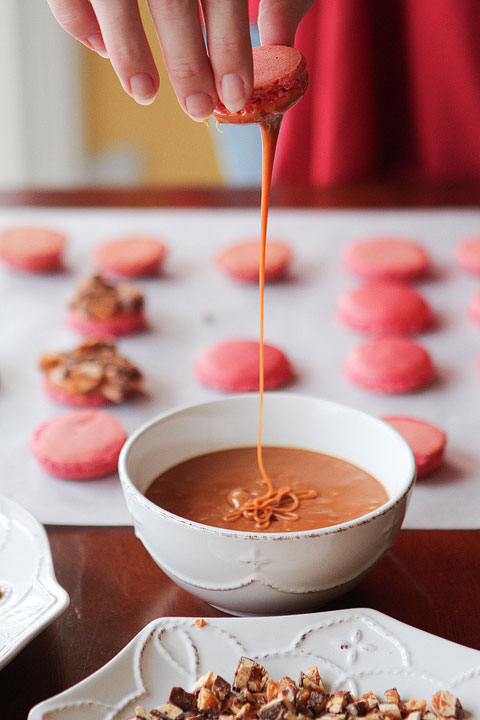 Let the excess drizzle off before topping, or you'll end up with a mess.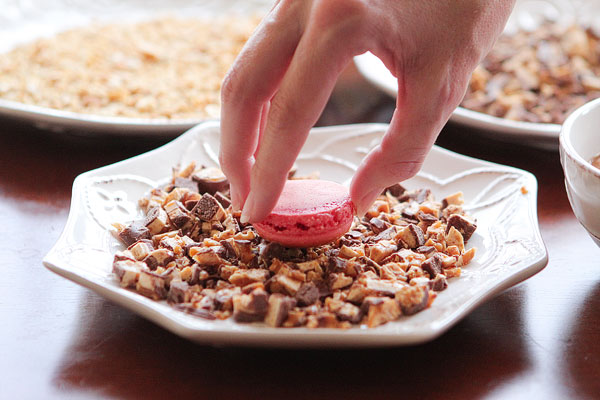 Now top! The flavor combinations are totally up to you!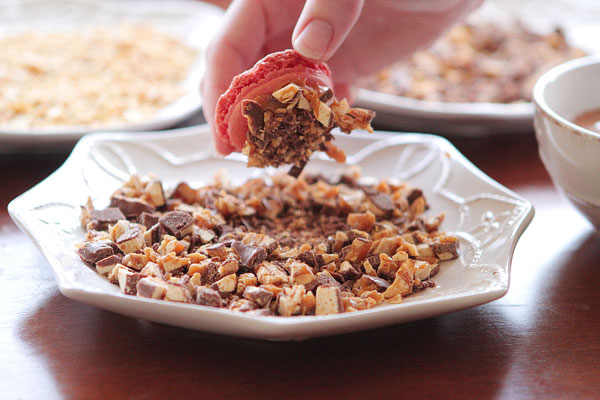 We used Snickers here. Gently press the caramel-covered macaron into your crushed candy bars of choice and lift up.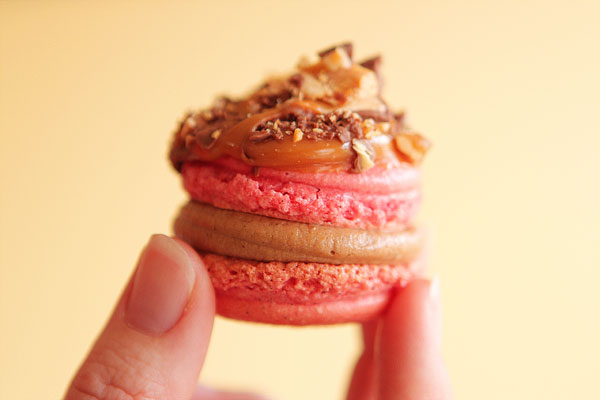 Wow. I still cannot get over this combination of cinnamon, apple butter, brown sugar, caramel, and chocolate. I wish I could make one of these for every person in the world.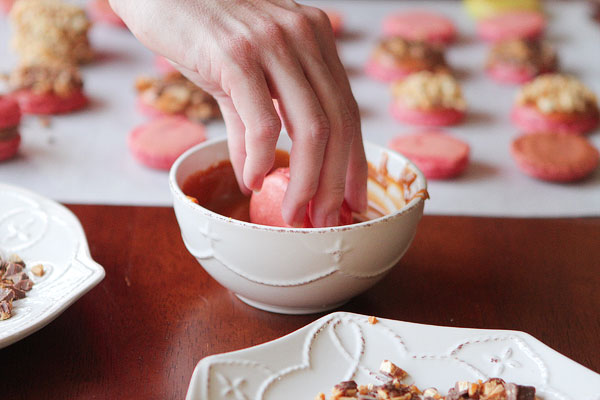 To make our caramel apple macarons look a little more like caramel apples, we also dunked a few like this…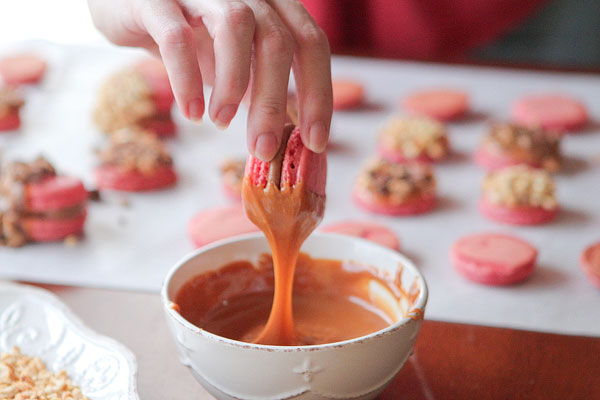 Mmm…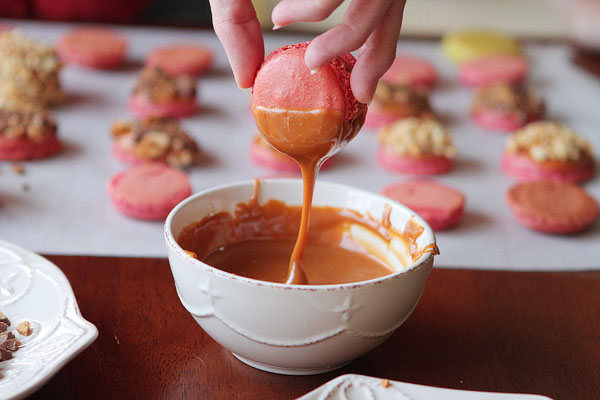 Half and half!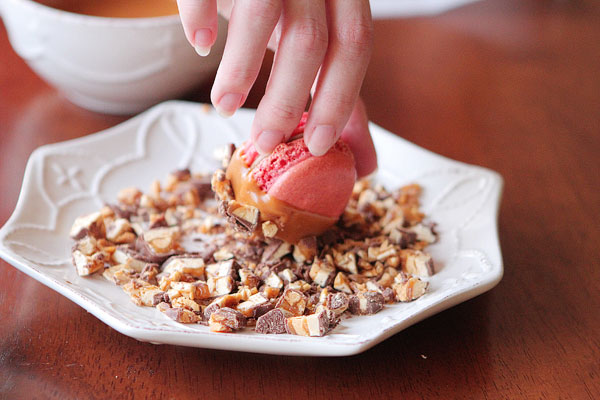 And rolled in crushed candy bars.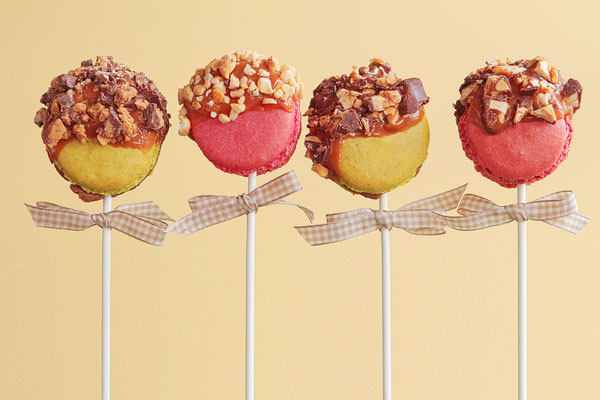 It's caramel apple macaron pops!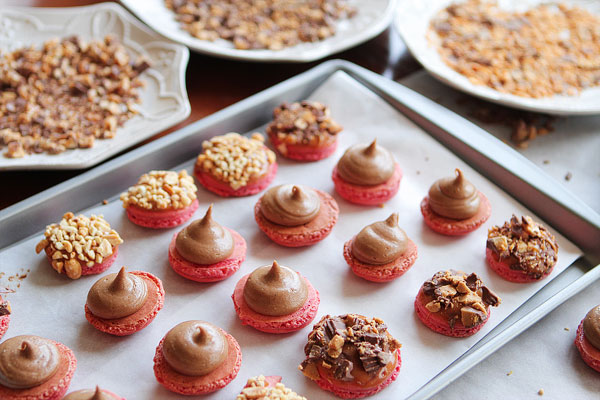 Here's our caramel apple macarons, all lined up and ready to be topped.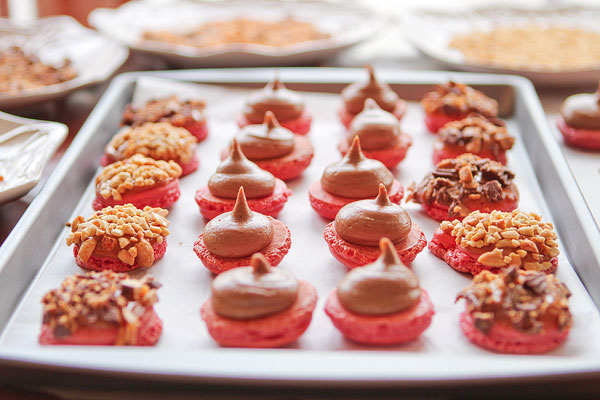 There was some serious deliciousness going on in the Kevin & Amanda kitchen this day.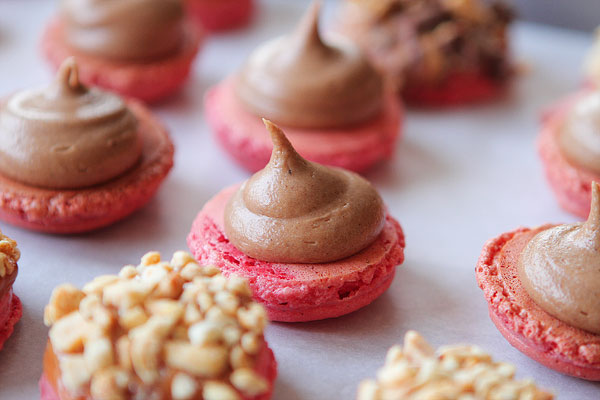 Cinnamon apple butter buttercream frosting… I love you.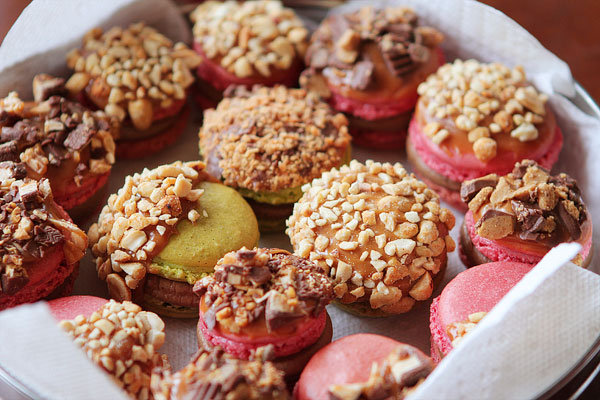 How amazing is this little tin of caramel apple macarons! Wouldn't these be so fun to give (and receive!) as Christmas gifts?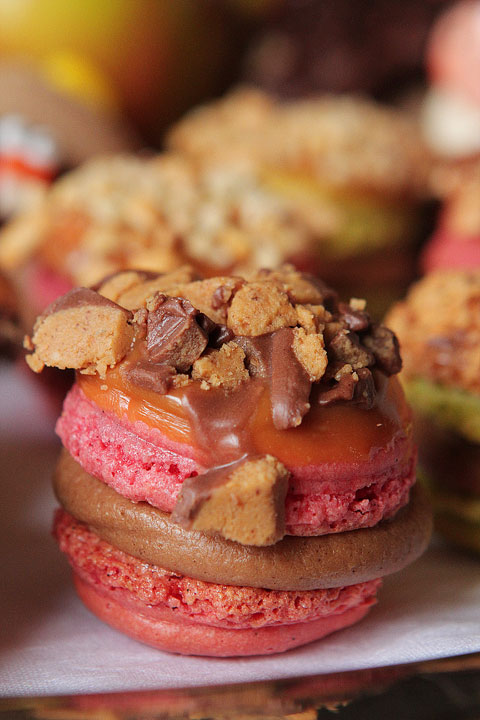 Oh mama. Here's our Reese's topped caramel apple mac.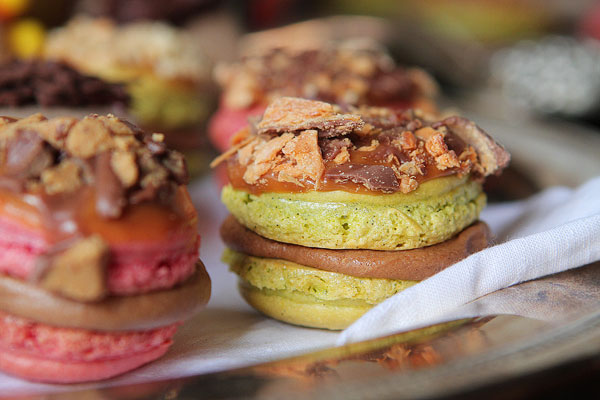 And another topped with Butterfingers. I think this one turned out to be my favorite.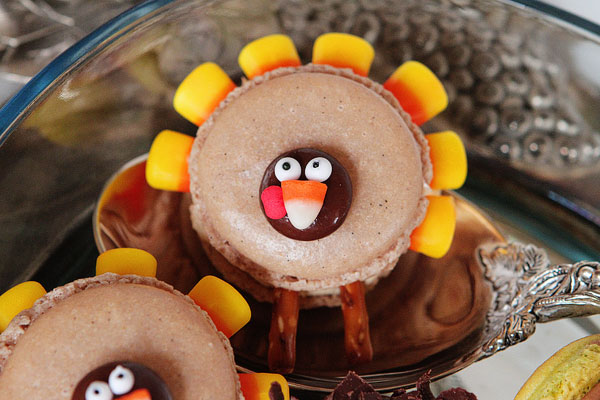 I could just eat you with a spoon little chocolate peanut butter turkey!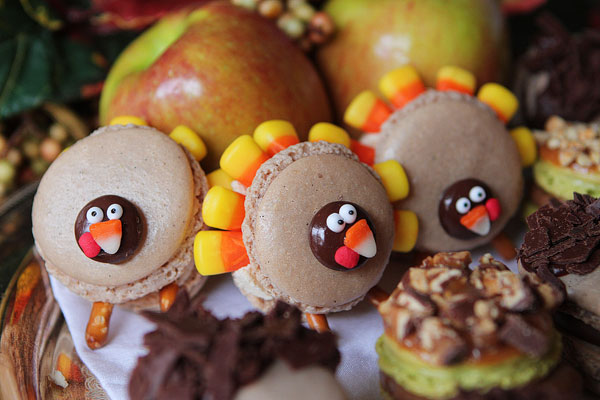 Oh my gosh. Little flock of macaron turkeys. Cuteness.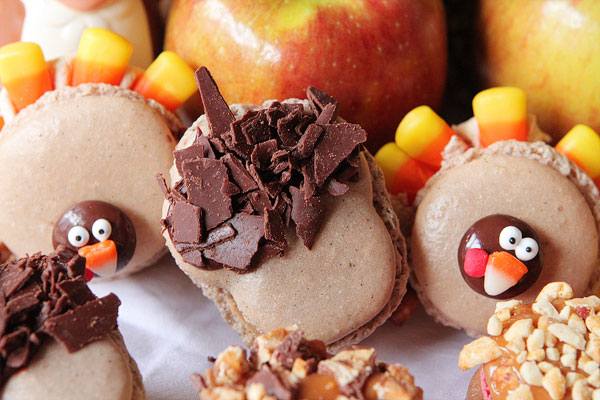 Here's another look at our acorns.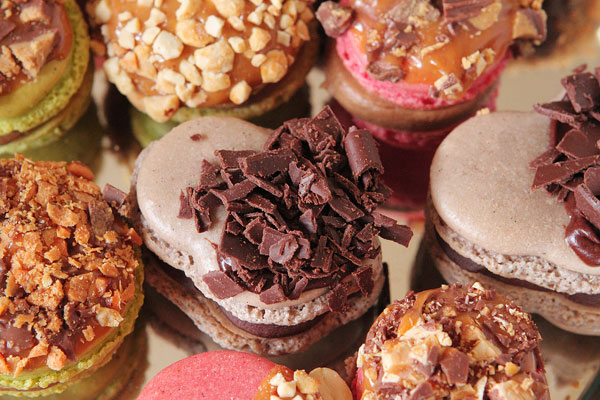 I seriously loved our chocolate curls!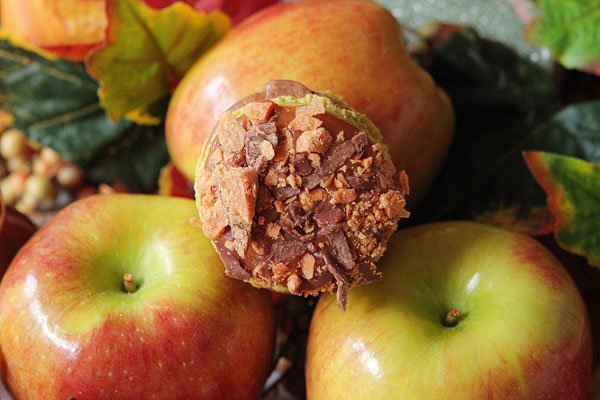 Caramel apple macarons, on top of beautiful apples.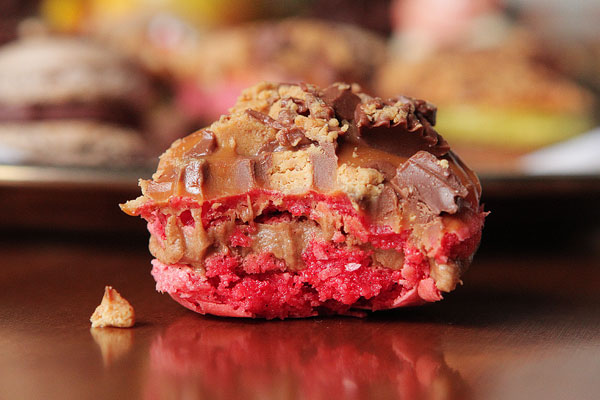 Here's a peek at each deliciously decadent layer of our caramel apple macs. Reese's cups. Caramel. Chewy red macaron. Cinnamon apple butter buttercream. Chewy red macaron.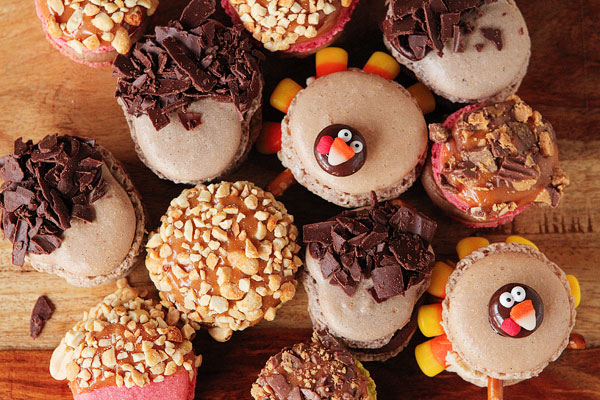 Happy Thanksgiving, y'all! Hope you had as much fun reading about these macarons as I had making them. I only wish I could give each and every one of you a big tin of them for Christmas! But they are so easy (and so delicious. and delicate. and unique) I think everyone should give them a try. All the recipes we used to create these macarons are below.  Enjoy!
Be sure to check out Stephanie's photos and recap of our macaron making day!
Print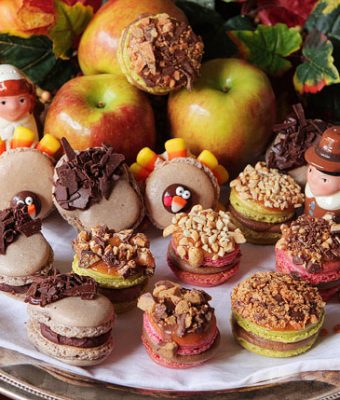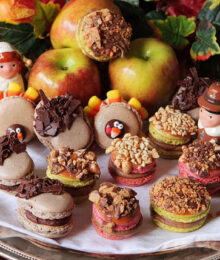 Caramel Apple Macarons with Cinnamon Apple Buttercream
Prep Time:

30 minutes

Cook Time:

25 minutes

Total Time:

55 minutes

Yield:

24

Macarons

1

x
Category:

Dessert

Method:

Oven

Cuisine:

French
Description
Caramel Apple Macarons with Cinnamon Apple Buttercream are the perfect fall treats. They're so fun to make and easy to decorate. Get creative with them!
Scale
Ingredients
Macaron Shells
90 grams

aged egg whites

110 grams

almond flour

200 grams

powdered sugar

1

vanilla bean

25 grams

white granulated sugar

1 tsp

cocoa powder or powdered food coloring (optional)
Peanut Butter Buttercream Frosting
1

stick (1/2 cup) butter, softened

3 cups

powdered sugar

1/2 cup

peanut butter

1/4 cup

milk

1 teaspoon

 vanilla extract
Milk Chocolate Ganache
8 oz

milk chocolate chips

8 oz

heavy cream
Chocolate Curls
3 oz

semi sweet chocolate

1 tbsp

shortening (Crisco)
Caramel
1

(11-ounce) package Kraft Caramel Bits

2 tablespoons

heavy cream

1/2 teaspoon

pure vanilla extract
pinch of salt
Cinnamon Apple Butter Buttercream Frosting
1/4 cup

apple butter

1/4 cup

butter

3/4 cup

brown sugar

2 tablespoons

milk

2 teaspoons

cinnamon

1 cup

powdered sugar
Instructions
For the Macaron Shells
Up to 5 days before making macarons, separate the egg whites, cover loosely with a paper towel, and store in the refrigerator. The night before making macarons, set them out on the counter to come to room temperature.
The next morning, place almond flour, powdered sugar, and the contents of a vanilla bean into a food processor and process until fully combined. Move to a large bowl and whisk in one teaspoon of cocoa powder for chocolate macarons, or one teaspoon of powdered food coloring for colored macarons. Leave plain for vanilla macarons. Whisk to combine, then sift and set aside.
With a mixer, whisk the egg whites on medium-high speed until foamy. Add in granulated sugar and continue whisking until the the egg whites have stiff peaks. Add the egg whites to the flour and fold to incorporate until the mixture is just smooth, using no more than 50 strokes. Fit a pastry bag with a large round tip, and fill with macaron batter. Pipe approximately 1-inch circles onto a baking sheet lined parchment paper. Let the batter rest on the pan at least 30 minutes before baking, to form a strong skin to help keep the macarons from cracking in the oven.
Bake the macarons at 280 degrees F for 15-20 minutes directly in the middle of the oven. To test for doneness, gently touch the top of a macaron to make sure it's dry. Then gently try to lift the macaron from the parchment paper. If it comes away pretty easily, they're done. If it doesn't come up and the top breaks away, they need to cook longer. Keep checking on them every two minutes until the bottom is dry. Once removed from the oven, allow the macarons to rest on the pan for 10 minutes to finish cooking before trying to remove. Cool completely before frosting.
For the Peanut Butter Buttercream Frosting
Place the butter, sugar, peanut butter, milk and vanilla in a large mixing bowl. Beat on medium speed until smooth and creamy, about 3-5 minutes.
For the Milk Chocolate Ganache
Measure ingredients by weight. Place chocolate chips in a bowl, then bring heavy cream to a simmer, and pour over the chocolate chips. Let sit for 5 minutes, then whisk until completely smooth. Chill in the fridge for 1 hour or until it reaches a thick, frosting consistency.
To top our chocolate acorn shells, I warmed part of the ganache up in the microwave just a tad to thin it out a bit so it would spread smoothly over the top of the macaron.
For the Chocolate Curls
Combine chocolate and shortening in a microwave safe bowl and heat until melted, stirring every 30 seconds. Turn a clean sheet pan upside down and pour melted chocolate over the bottom of the pan, spreading thin with a spatula. Freeze for 5-10 minutes until chocolate is hardened. Use a small metal spatula to scrape chocolate off the pan forming curls. If chocolate is too hard to curl, let rest at room temperature for 1 minute. Keep chocolate curls in the freezer until ready to use, they do best when they are really hard and frozen!
For the Caramel
In a double boiler, melt the caramel with the cream. Add the vanilla and salt and stir until smooth.
For the Cinnamon Apple Butter Buttercream Frosting
Melt the butter in a sauce pan, then add the apple butter and brown sugar. Bring to a boil and reduce heat to medium low. Continue to boil for 2 minutes, whisking constantly. Add the milk and cinnamon, still whisking constantly, and return to a boil, then remove from heat and cool to room temperature. Beat in powdered sugar until smooth and it reaches a frosting consistency.
Keywords: french macarons recipe, easy macarons recipe, best macarons recipe, homemade macarons, how to make macarons, how to make french macarons, buttercream recipe, buttercream icing recipe, peanut butter frosting recipe