Time's up!
The winner of the Masterbuilt Indoor Electric Turkey Fryer Giveaway is:
#1216 Andrea
Congratulations Andrea! I've sent you an email. Enjoy your Masterbuilt Fried Turkey Thanksgiving!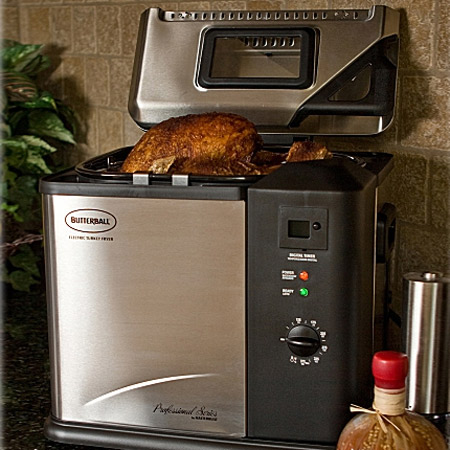 Just in time for Thanksgiving, I've got a fun giveaway today from Masterbuilt for everything you need for a Fried Turkey Thanksgiving! Frying a turkey in hot oil definitely calls for caution, but fortunately Masterbuilt developed the Butterball Indoor Electric Turkey Fryer to achieve a perfect fried turkey with peace of mind. I had the pleasure of sampling this turkey last May at BlogHer Food in Atlanta, and I still can't stop thinking about it. It was so rich, incredibly moist, and packed with flavor. So delicious! I knew immediately that I wanted to share this giveaway with you guys!
Check out this Cajun Fried Turkey recipe from John McLemore's "Dadgum That's Good" cookbook to see how easy it is to quickly fry up a turkey for Thanksgiving. The winner will receive everything he or she needs to recreate this recipe!
UPDATE: I made this Cajun Fried Turkey for Thanksgiving and it was fantastic! The fryer and recipe were so easy to use and follow. And it cooks so quickly! I love knowing that I could easily whip up another one in less than an hour. This juicy, spicy turkey was definitely the star of our Thanksgiving table this year.
Masterbuilt Indoor Electric Turkey Fryer
One Kevin & Amanda reader will win:
Butterball Buttery Creole Marinade Kit (includes marinade, marinade injector, and seasoning)
Dadgum That's Good! cookbook by John McLemore
Meat thermometer
How to Enter
To be entered to win the Masterbuilt Fried Turkey Thanksgiving Giveaway, just answer the following question in the comments section of this post: What's your favorite Thanksgiving dish?
Contest ends Sunday, November 20, 2011 at 8 pm CST. One entry per person, please. Winner will be chosen by Random.org and notified by email.
Keep in touch with Masterbuilt on Facebook & Twitter:
@JohnMcLemore – President and CEO of Masterbuilt, author of Dadgum That's Good cookbook.
Good luck! This should be a fun one, can't wait to read you guys' favorite Thanksgiving dishes! Yum!