Time's Up!
The winner of the grand prize Canon T3i Camera, Lens and Accessories Bundle is Amy I.
The winner of the $100 Adorama Gift Card is Tanesha T.
Congratulations Amy and Tanesha!! I've sent ya'll an email. Thanks so much for celebrating 10 years with us!! :)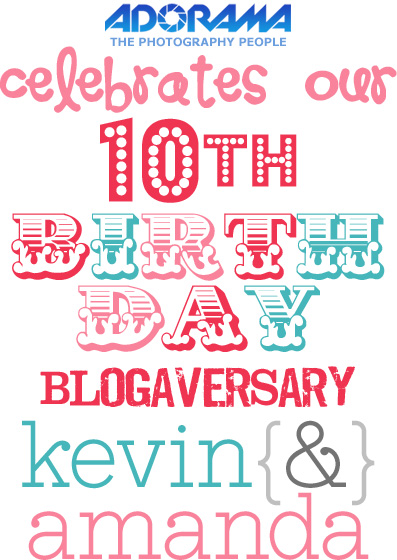 It's a big, big, big giveaway!
I am so excited to share this amazing giveaway today from the fabulous folks at Adorama!! I have been counting down the days until I could tell you about this giveaway! In honor of our 10th Birthday, Adorama has graciously offered one Kevin & Amanda reader an incredible Canon DSLR camera prize package with not one, but TWO brand new Canon lenses plus a whole ton of accessories to go with it. It's basically everything you need for a fully-loaded camera bag!  Just check out what all is up for grabs today.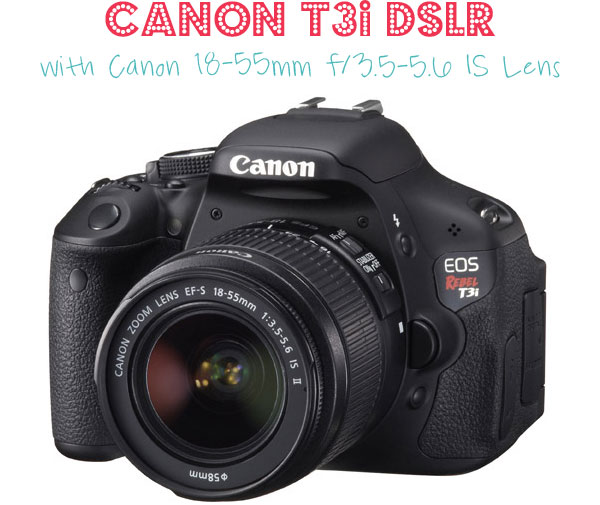 You'll get the 18-Megapixel Canon EOS Rebel T3i Digital SLR Camera and Canon EF-S 18-55mm f/3.5-5.6 IS II Lens…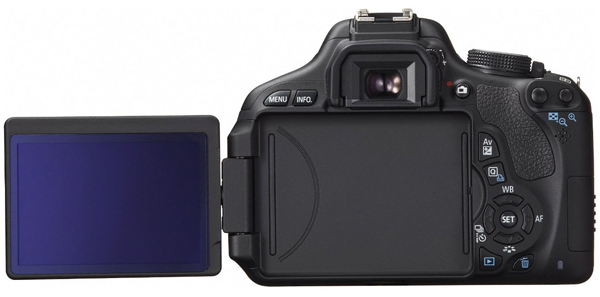 I'm totally digging the flip-out LCD screen. It's perfect for shooting at a variety of angles. You can use it while holding the camera high for overhead, above-the-crowd shots, down low for eye-level kids and pet shots, or rotate it fully for picture-perfect self-portraits. Love this versatile screen!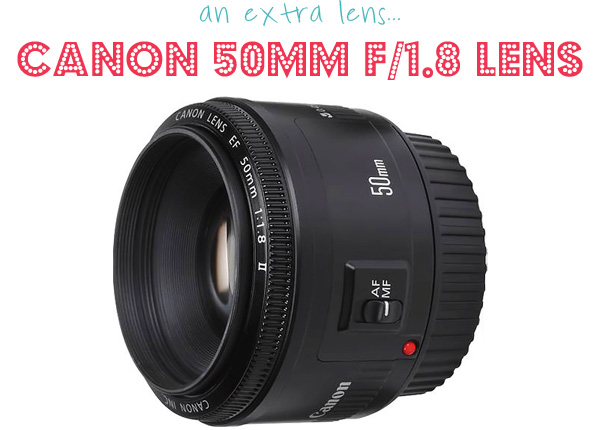 You'll also get a second lens — one of my all-time favorite lenses — the Canon 50mm f/1.8! If you love bokeh this is the perfect lens for getting those gorgeous, blurry backgrounds. You totally need this lens. I want you to have it.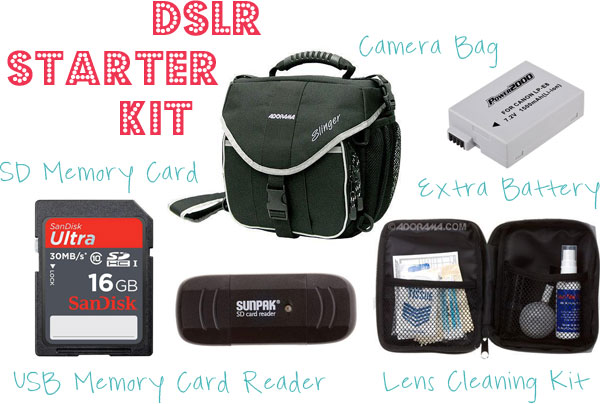 Aaaaaand…! You'll get an amazing starter kit of accessories to make sure your camera bag is FULLY-LOADED and has everything you need for photo shoots at home and on the go. This is basically everything I keep in my camera bag at all times. You'll get:

I am so excited to share this giveaway with you guys. Thanks so much to the sweet folks at Adorama for celebrating our 10th Birthday with us!
How to Enter
**Please Read Carefully!**
Because this is a special giveaway, I'm going to be using Rafflecopter to help me moderate the entries. If you've never used Rafflecopter before, it's super easy!
To enter the giveaway, simply "Log in with Facebook" using the Rafflecopter widget below. Don't worry, it's safe! It won't start posting any unwanted junk to your Facebook wall or tell your friends what you've secretly been doing on the internet. If you don't have Facebook, you can login with just a name and email address, but logging in with Facebook is the easiest way to earn extra entries to win. (P.S. If you're reading this from an email or RSS reader, you'll need to click here to visit this post on our site.)
Next, click the +1 DO IT! buttons to earn entries for the giveaway. There are 4 ways you can enter. The first way is to Leave a Comment on this post. Complete the first entry to unlock 3 more ways to enter. You can do 1 or all 4. This giveaway will run for one week, and one of the entries you can do every day to enter, so be sure to come back every day to earn an extra entry to win! :)
If you have any problems, please don't hesitate to email me!
Bonus prizes! If this contest gets 5,000 comments, Adorama will give away an additional $100 gift card to a second Kevin & Amanda reader. If this contest gets 10,000 comments, Adorama will give away a $100 and a $250 gift card, for a total of three prize winners. So tell your friends to enter!
Contest ends Friday, March 30 at 12:01 am EST. Winner will be chosen randomly by Rafflecopter and notified by email. Giveaway graciously provided by the lovely team at Adorama.
Good luck you guys!! Thanks so much for celebrating birthday week with us. I've loved sharing all these giveaways with you guys this week. Happy weekend!
And may the odds be ever in your favor. ;)