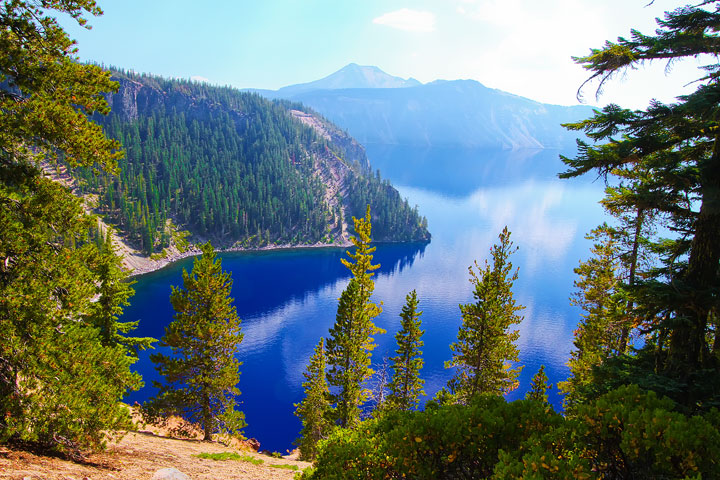 On Day Three of our vacation through Oregon, Kev and I awoke to a gorgeously beautiful Sunday. It was that glorious kind of day when the stars align and it's warm, and cool, and sunny, and blue, all at the same time — the cargo-pants-and-flip flops, driving-with-the-windows-down kind of weather. It was the perfect day for a cruise down from Bend to see for ourselves the breathtaking, awe-inspiring, shockingly blue waters of Crater Lake.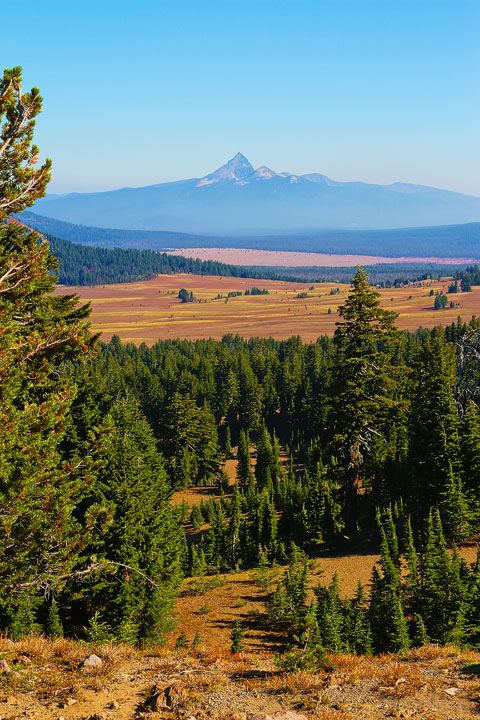 We arrived through the north entrance, with this sharp view of Mount Thielsen to our right.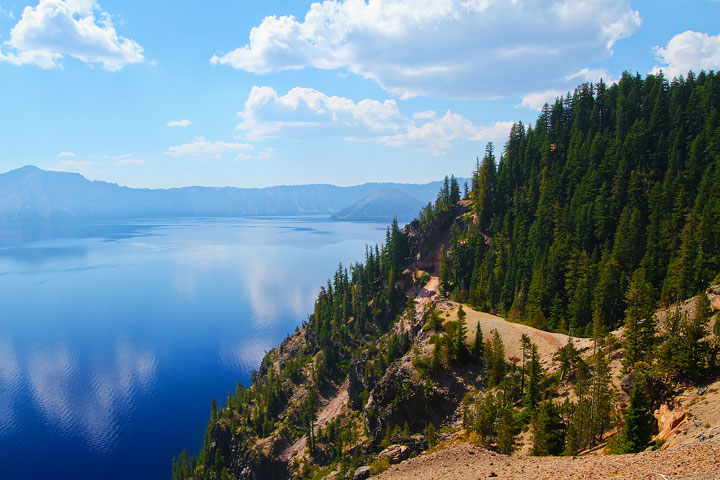 When we got to the lake, the golden sun was bright and high in a deeply blue sky, and so pleasantly warm as it wrapped around our skin. The crisp air had just a hint of that breezy, light coolness of early fall. We had absolutely delicious weather on Sunday in Oregon.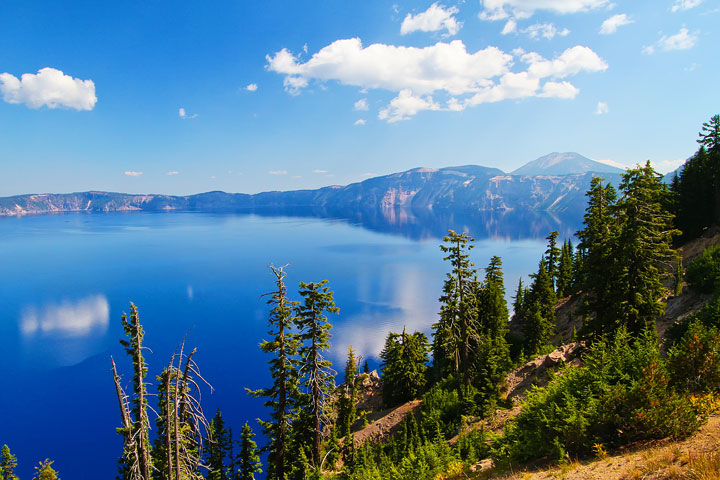 The history of the lake was so interesting to me. Crater Lake was not formed by meteor striking the earth as the name might suggest, but by the violent, volcanic eruption of Mount Mazama, which left a deep basin where the snow-capped peak once stood.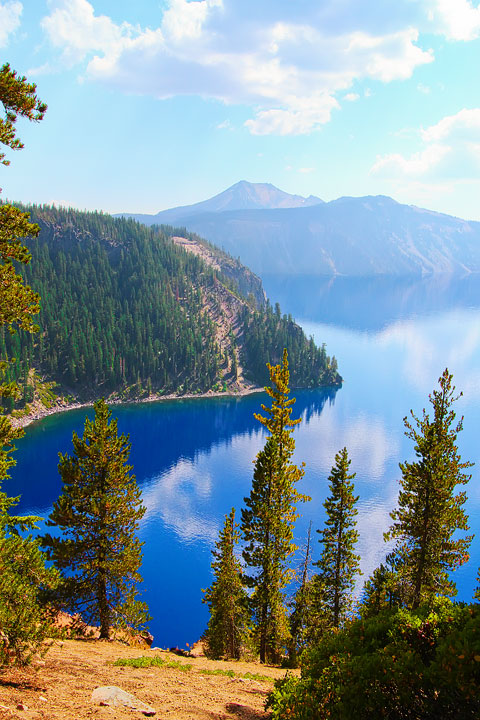 Centuries of rain and snow have filled the basin, creating a deep lake with stunningly blue waters and crystal clear clarity that seems to go on for miles.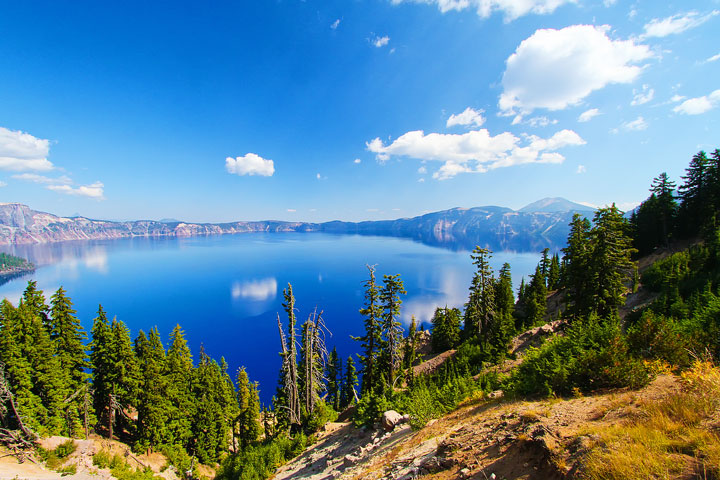 Why is the water so blue? Since there are no streams that run into the lake, there is very little sediment to cloud its pure waters. A balance of precipitation of evaporation keep the lake level consistent.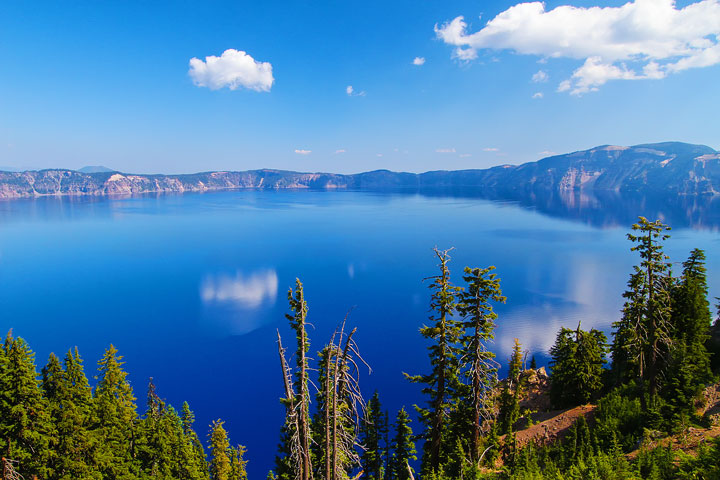 The 33-mile rim around the lake is completely paved and drivable in the summer (with certain sections closing in the winter for snow), and offers many overlooks to park, jump out, and explore the lake at different viewpoints. We also saw many biking around the entire rim! What an awesome adventure that would be.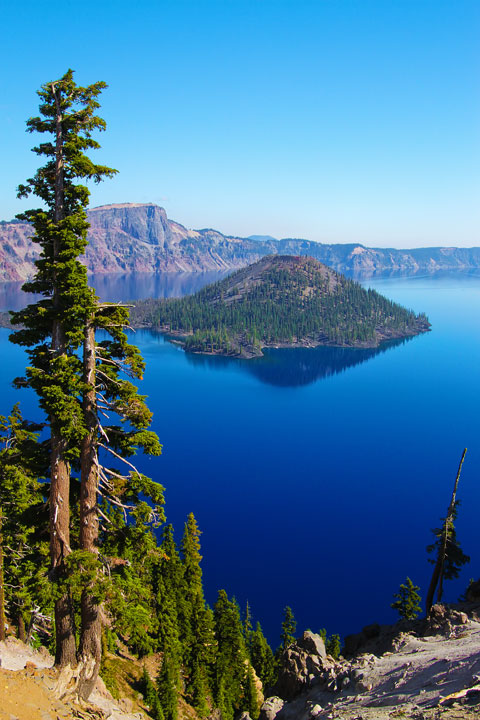 If you're up for a hike, the steep, 1.1 mile Cleetwood Cove Trail offers access to the lake's shore. Here you can swim, and fish, and also take boat tours around the lake in the summer — just be sure to make reservations for tickets in advance. They also offer longer tours that include a stop at Wizard Island for exploration. How fun would that be??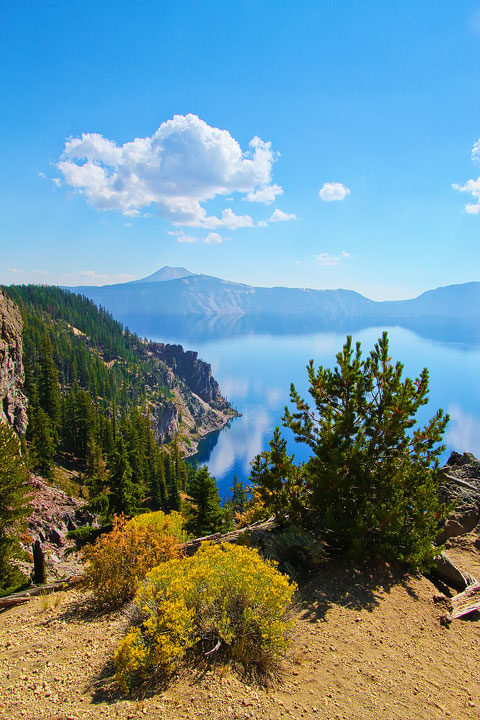 If you'd like the stay at the lake, Crater Lake Lodge provides accommodations and dining during the summer, while Rim Village right next door features a small cafe and gift shop that is open year round.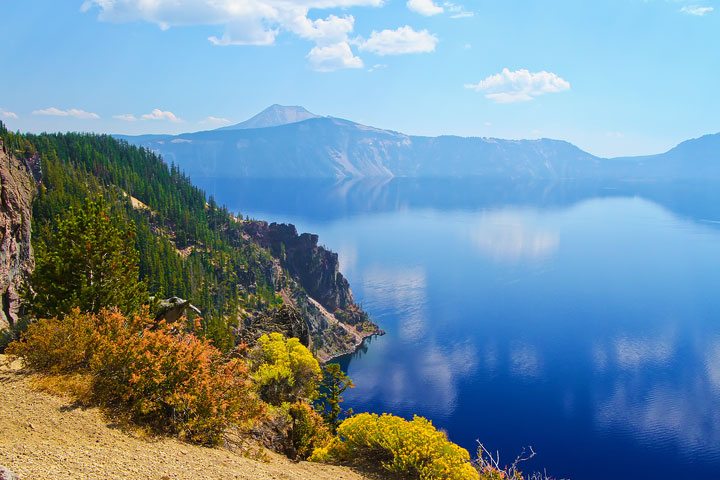 The National Park Service recommends two to three hours to travel around the lake, but I think we stayed more like five! We started at the north entrance and traveled clockwise around the lake, hopping out at every viewpoint along the way.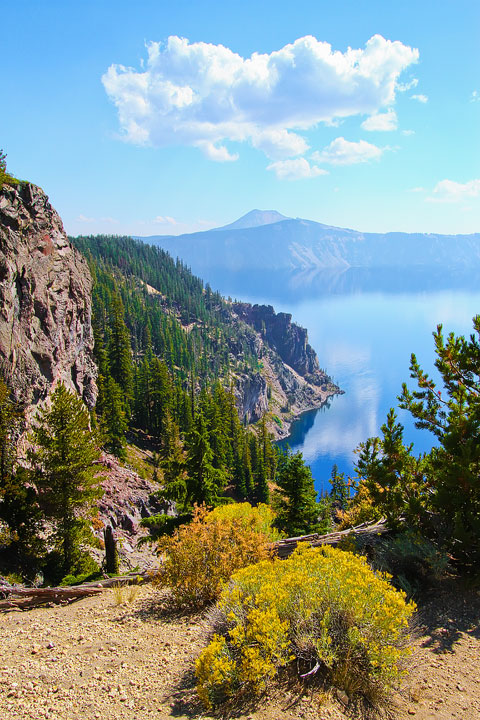 I didn't want to miss a single second of this beautiful lake.
Unbelievable, isn't it?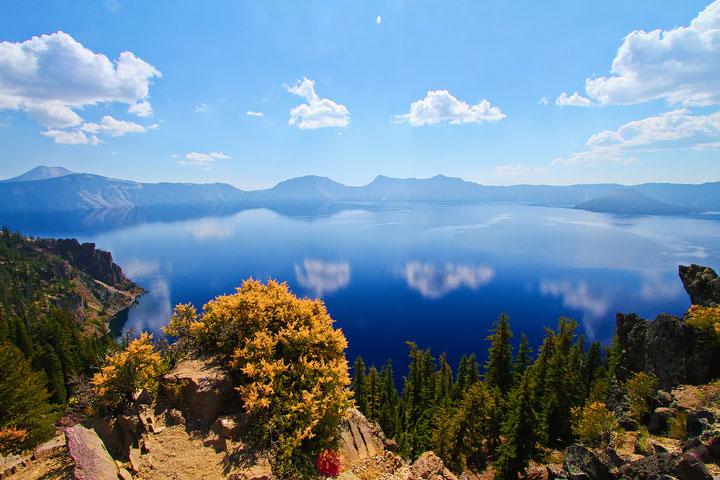 The lake has been renamed at least three times, first as Blue Lake, then Lake Majesty, and finally Crater Lake.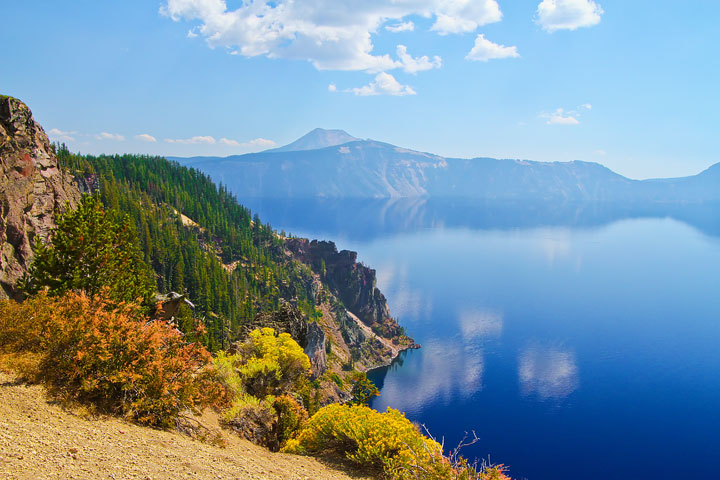 I can certainly see why Majesty would be such a befitting name for this rare beauty.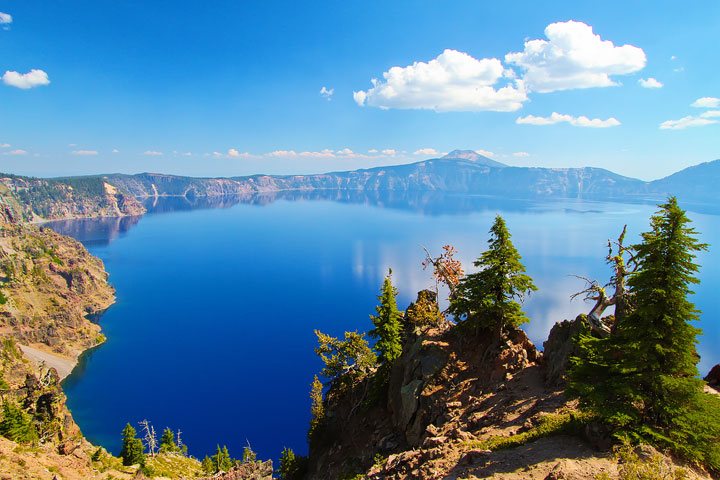 The round, aptly named "Crater" Lake measures 5 by 6 miles across.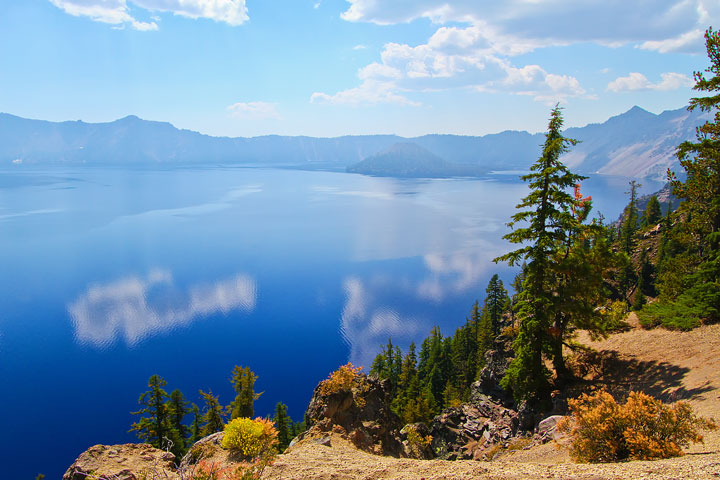 Its average depth is 1,148 feet, but as the the lake's water source is dependent upon the climate, the water level fluctuates as the weather changes.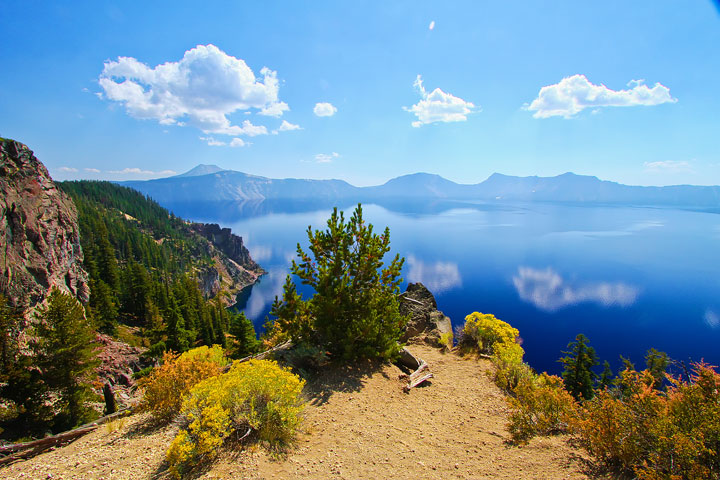 Its maximum depth has been measured at 1,943 feet.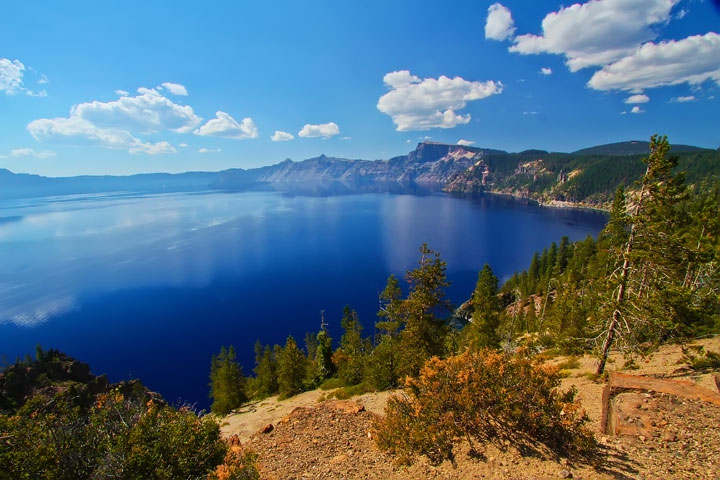 On the basis of maximum depth, Crater Lake is known to be the deepest lake in the nation.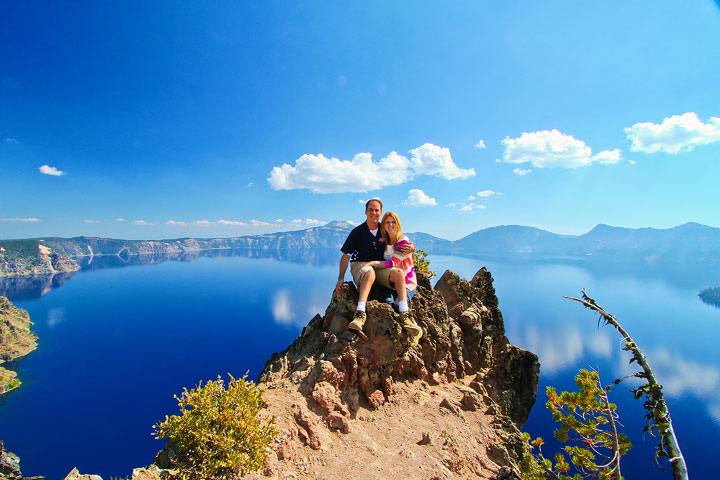 Many of the overlooks offer short trails for further exploration of the sweeping views and extravagant beauty of the lake.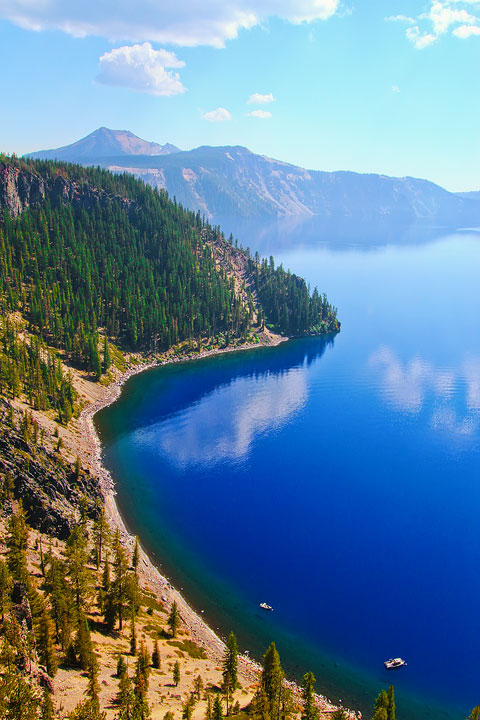 I could not get over how clear the water was. Can you see these tiny shadows of the boats deep at the bottom of the lake bed?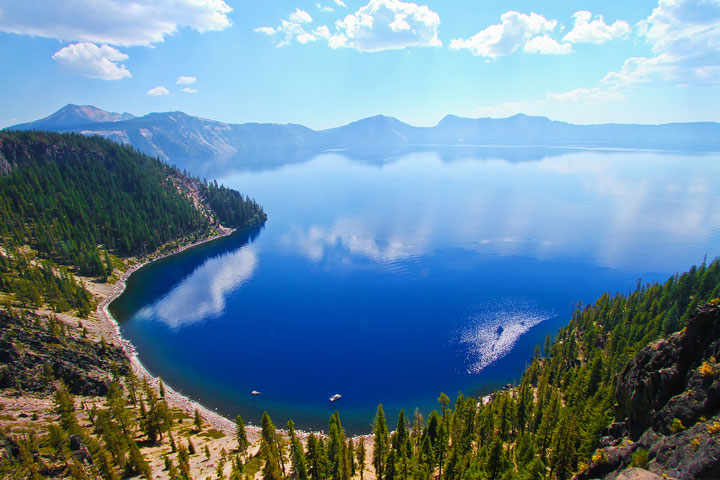 The average clarity depth of the lake is 90-100 feet.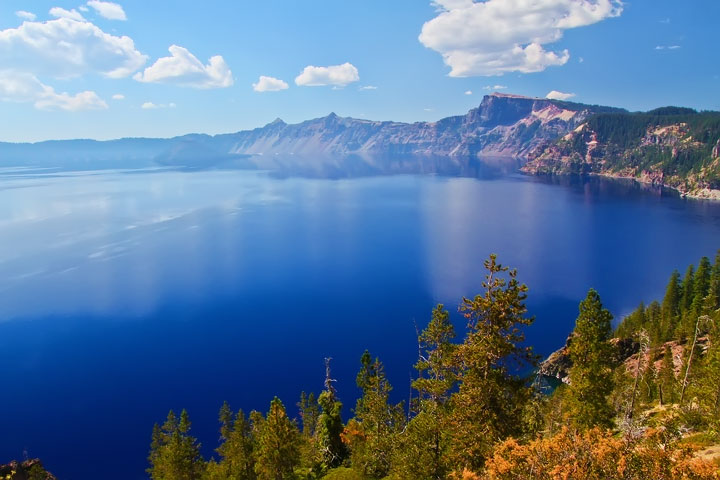 Ninety to one hundred feet. Wow.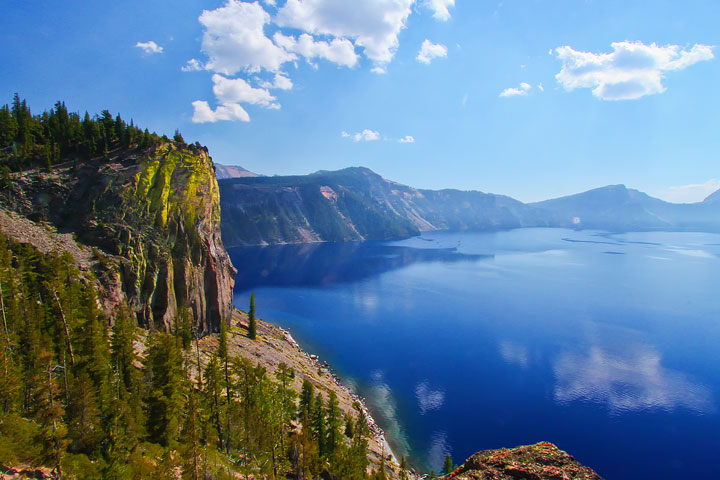 The many pull-offs offer changing views of the sheer cliffs overlooking the lake.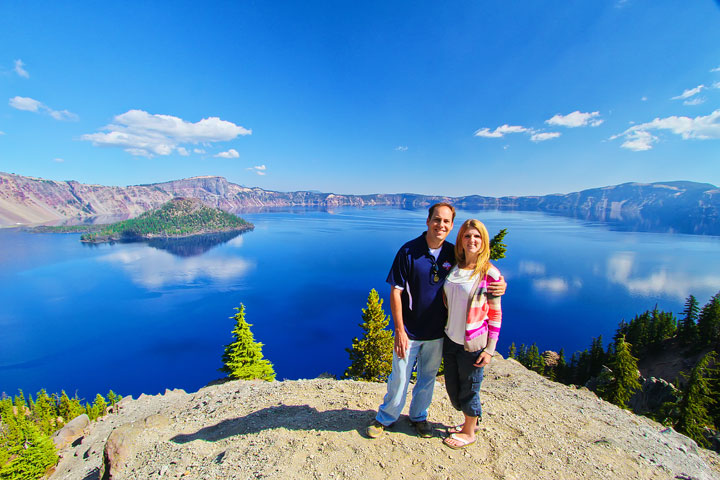 Okay, so I know I wear this sweater in like, every photo you ever see of me. It's from Old Navy, by the way. But from years ago. And for some reason, I feel the need to never-be-photographed-in-the-same-outfit-twice. It's a compulsion. But I'm obviously not doing that great at it. So anyway, I totally feel weird packing this sweater on like, every single trip I go on. But in my defense, this outfit really is like, the most perfect outfit for traveling. Especially if I don't know exactly what the weather's going to be like. It can be hard to plan for packing during the "shoulder seasons" of fall and spring, with their sweltering hot days and freezing cold nights. Especially if you're going to be outside for most of the day. It's nearly impossible. And also, weather can be unpredictable 10-14 days out if I'm trying to pack for a long trip. But this, I can wear it with jeans or lighter cargo pants. The sweater is that perfect not-too-heavy, but not-too-light weight — warm enough for winter, but cool enough for summer. The top is perfectly acceptable to be worn as "just a top" so I can take off the sweater if it gets to warm. Basically, it's very easy to layer. And I love it. And it's comfy. And I'm very sorry for wearing it in every single photo you see of me. I do have other clothes. I just never wear any of them.
Is anyone still with me?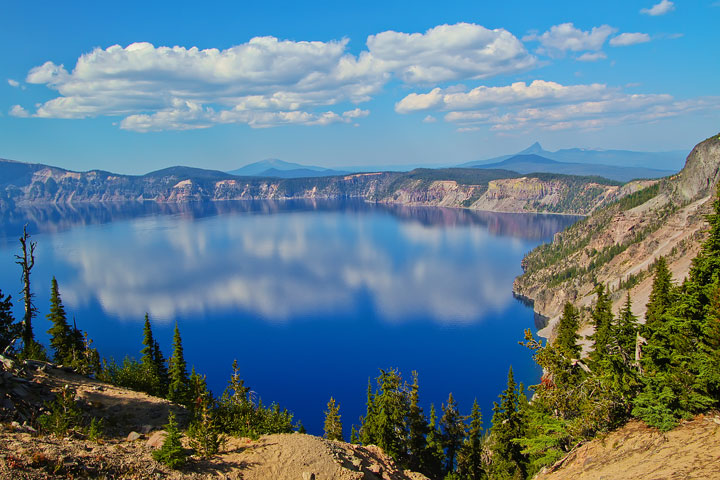 A view of Crater Lake with Mount Thielsen in the skyline.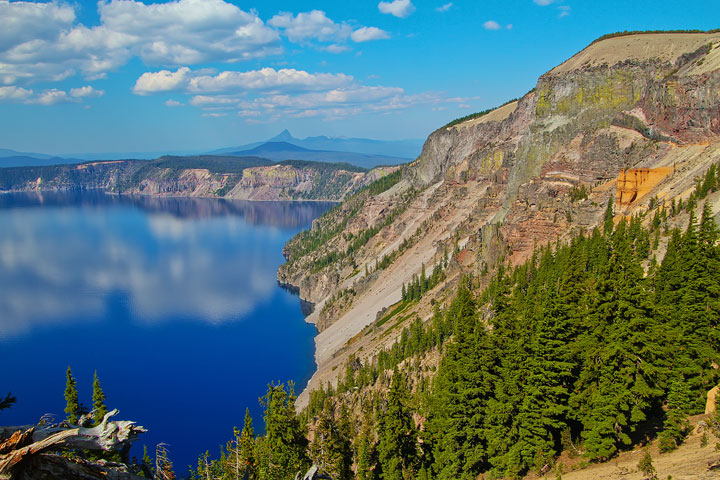 This small, red-orange formation on the lake's cauldron-like cliffs is known as Pumice Castle.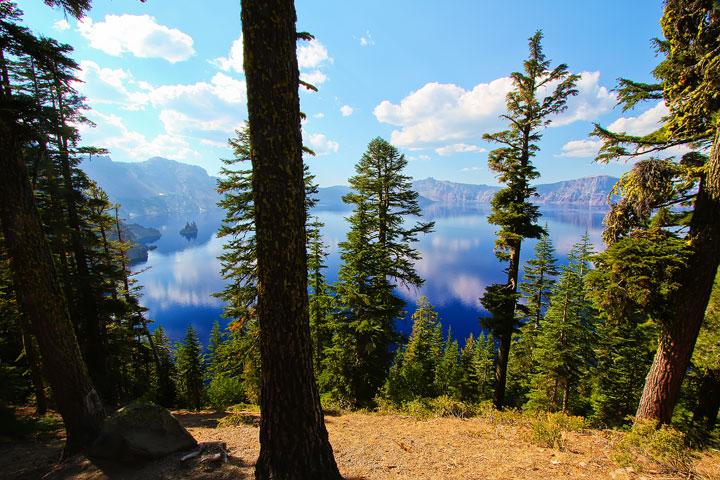 As you can see, exploration around the lake offers many unique features to search for. This tiny island in the lake is known as Phantom Ship for its resemblance to a ghostly ship, especially in dark, foggy weather.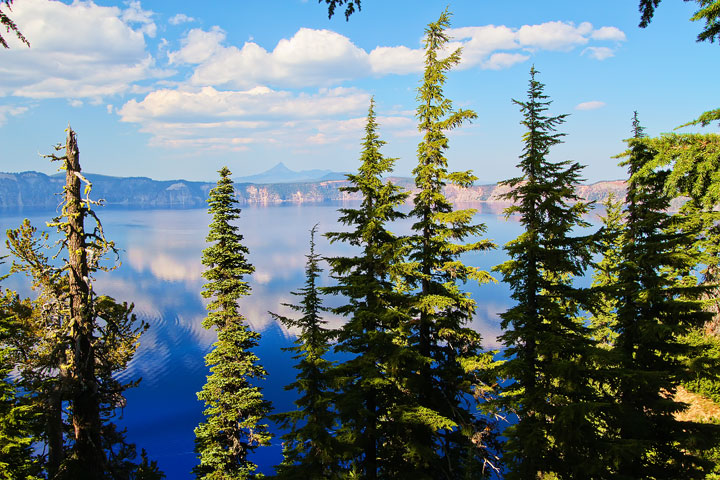 Mount Thielsen through the trees.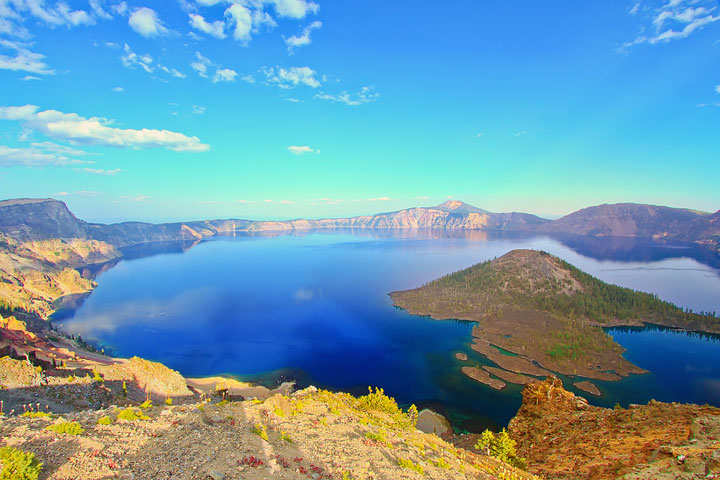 Wizard Island.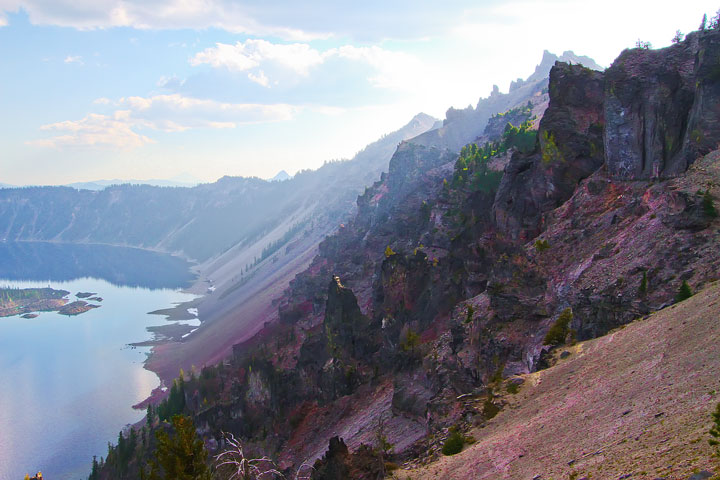 Purple walls.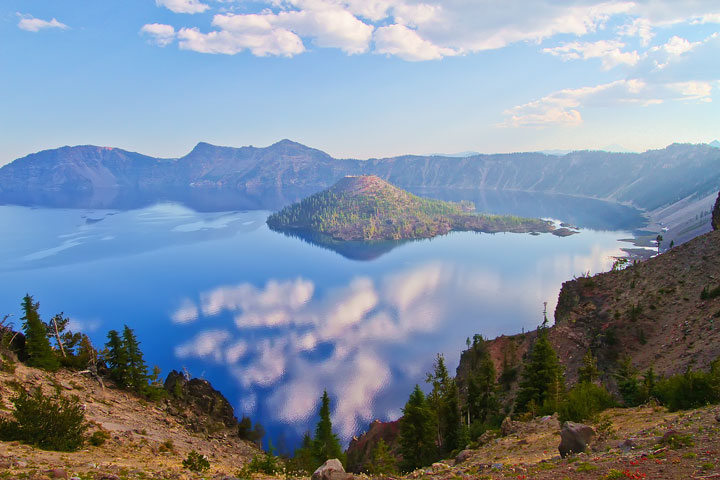 Mount Mazama is one of many in the Cascade Range Volcanoes that saturate the west coast. This area is so densely populated with volcanoes (and earthquakes) because two of the Earth's tectonic plates collide here. The Cascade Range Volcanoes are part of the larger "Ring Of Fire" that wraps around the entire Pacific Ocean, where 90% of the world's earthquakes occur. As the oceanic plate is forced into the Earth's continental plate, it encounters high temperatures and pressures that melt solid rock. As the plates continue to shift, the molten rock surfaces as volcanic eruptions.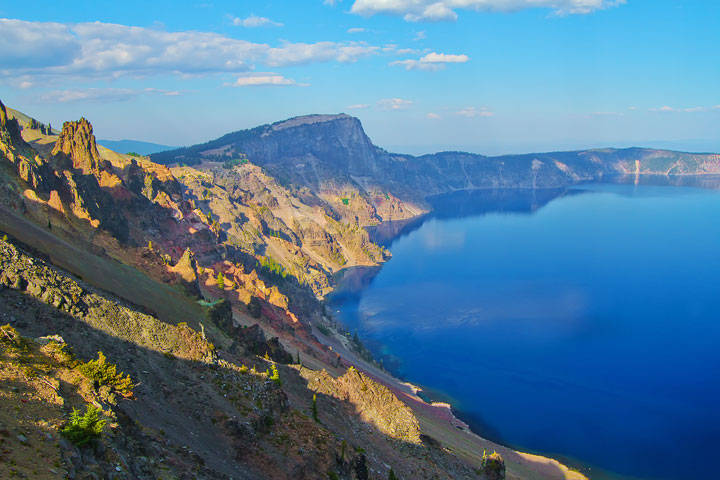 This process is still happening to this day. Lassen Peak and Mount St. Helens have both erupted within the last century.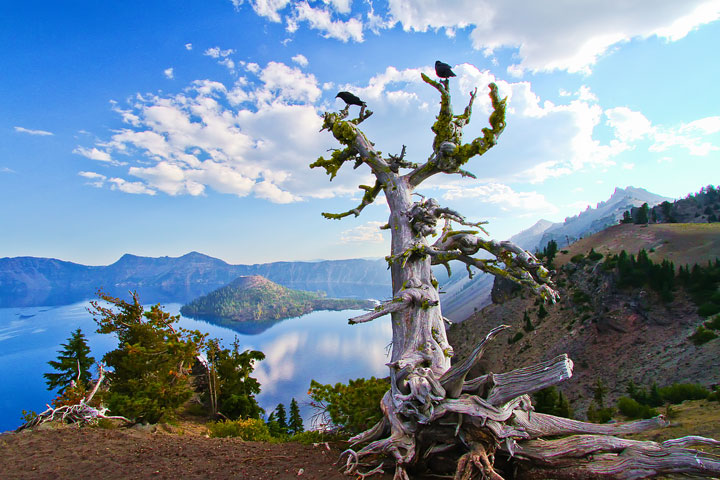 Though it may be dormant now, Mount Mazama is not an extinct volcano. It could awaken with a new eruptive phase one day, once again transforming this peaceful landscape.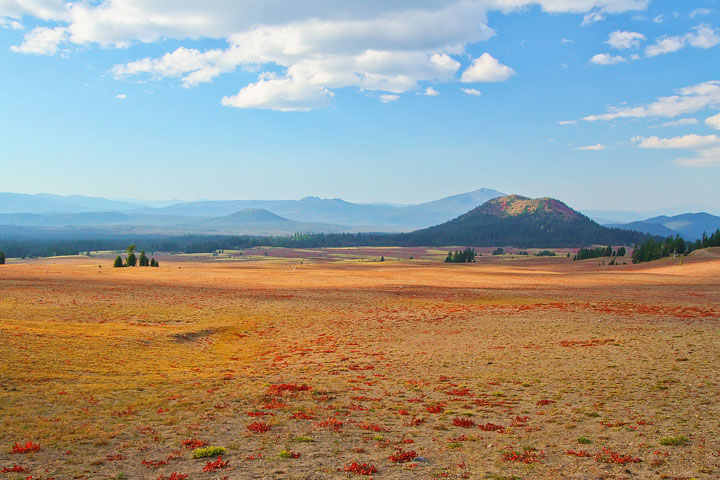 Thanks so much for looking. I hope you enjoyed the photos of Crater Lake!
*Thanks so much to Travel Oregon for sending us on this adventure through Oregon!