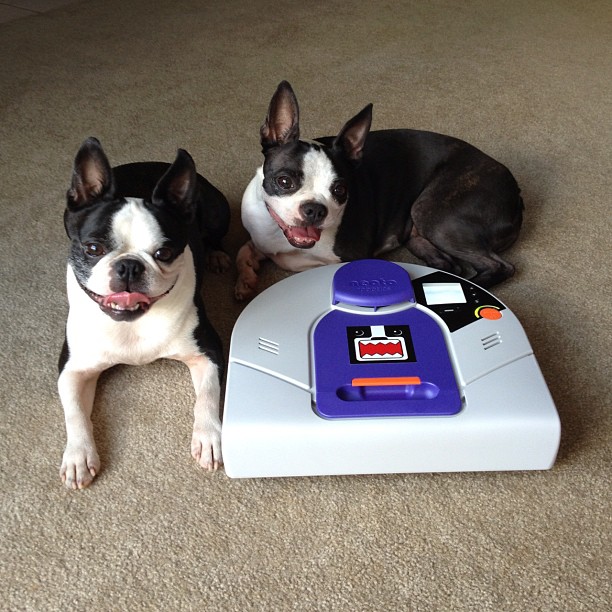 This is our new robot helper around the house, whom we've affectionately named Mr. MagNeato. He's the Neato XV-21 Robot Vacuum cleaner, and he sucks up dirt and dust like a magnet! We added the Boston Terrier sticker ourselves, but personally I think they should come standard. Don't you? ;)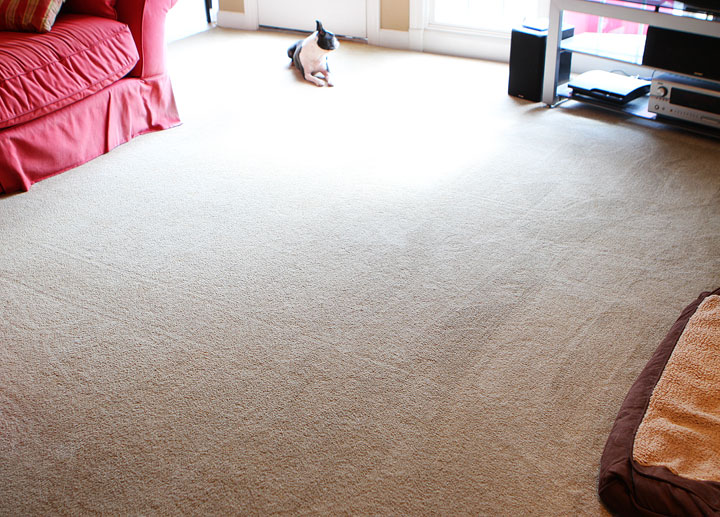 1. Vacuum Lines.
Nothing brightens up a room like vacuum lines! I love the Neato because it doesn't just bounce around the house haphazardly. It uses a laser to scan the room first and map the best, most efficient route before getting to work. The route changes every time it vacuums, so it's sure to hit every nook and cranny. The Neato knows where it's been and where it hasn't, so it won't miss a spot. As it vacuums, the sensor continues to scan, enabling the robot to navigate furniture, walls, stairs or Miley and Howie.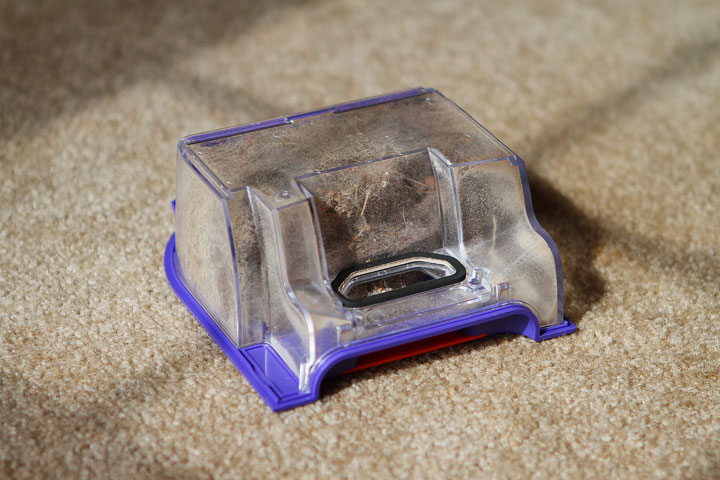 2. Powerful
The Neato XV-21 is specially designed for pet owners and allergy sufferers. I am amazed at how powerful the suction is! It doesn't just push trash on the floor around. It picks it up! I was afraid it wouldn't work as well as a regular vacuum cleaner, but I am amazed at how clean our carpets look. We did the old vacuum comparison test: We first vacuumed with our regular vacuum cleaner, then set the Neato to work while we put our feet up and relaxed. Look at what all the Neato picked up that our other vacuum left behind! This little compartment needs to be emptied after every use, but it's so easy to just grab it and dump the dirt in the trash — so much easier than large, fumbly canisters or bags, and you know you're starting with a clean slate before every single vacuum.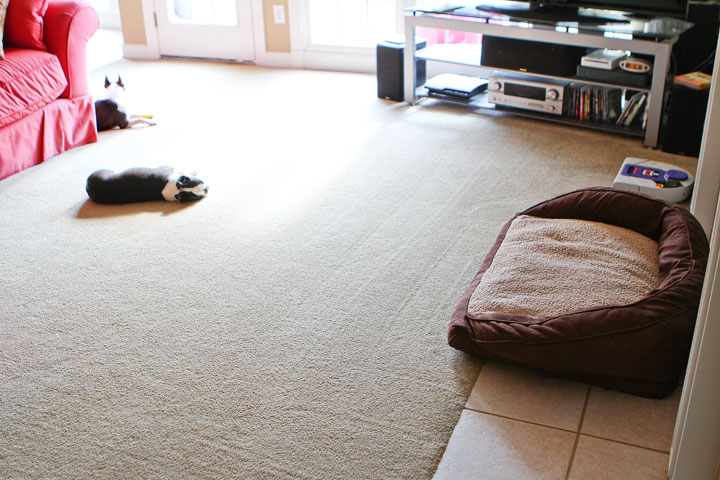 3. Schedule
You can schedule the Neato to vacuum for you whenever you want — when you're at work, at the grocery store, or even while you sleep. Put your feet up and relax while Neato does the work! :) (He is just as loud as a regular vacuum cleaner though, so we don't generally run him while we're watching TV. :)) Last minute company coming over? Let Neato do the floors while you take care of the bathrooms. He works great on my tile floor as well! Neato can easily maneuver small obstacles such as rugs and door frames, so no need to "babysit" him. I have our Neato scheduled to run at night while we sleep, so we wake up to freshly vacuumed carpets in the morning.
My floors actually look like this all the time now, and all I have to do is press a button!
4. Value
The Neato XV-21 retails for $429.99. I kind of balked at the price at first, until I thought about it. There are several other extremely popular vacuum cleaners on the market right now that retail for upwards of $500-$600. And they don't do the vacuuming for you! With the Neato, you don't have to haul out a heavy machine. You don't have to push it around every single room in your house. You don't have to wind up the cord and put it away.
The only vacuuming work you'll ever do from now is press a button.
The Giveaway
I love my Neato vacuum cleaner, and I'm so thrilled to be able to share a giveaway with you today!
If you're on Facebook, come check us out here! :)
To be entered to win a Neato XV-21 Robot Vacuum cleaner of your very own, all you have to do is leave a comment on this post. What's the first thing you clean when company is coming over?
Contest ends Sunday, August 26 at 8 pm CST. One entry per person, please. Winner must have a US mailing address. Winner will be chosen by Random.org and notified by email.
The kind folks at Neato sent me one of their machines to review, and I'm so happy to share my personal, honest experience with you guys. Giveaway graciously provided by Neato Robotics.
Time's Up!
The winner of the Neato XV-21 Robot Vacuum Cleaner Giveaway is:
#615 Denise Lane: Vacumn living room…black chow/mix. After that I head for the bathrooms.
Congrats Denise! I've sent you an email! :)
Good luck!!! :)