These Smokey Sausage Cups make such a cute little appetizer! They're crunchy, flavorful and perfect for everything from parties to movie nights!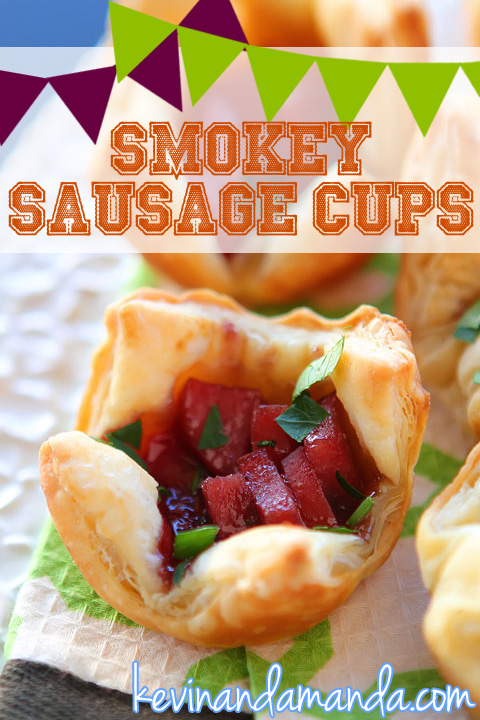 Smokey Sausage Cups
I've got a fun appetizer for you today! If you are a fan of Crockpot Little Smokies AND Pigs in a Blanket, you will LOVE these Smokey Sausage Cups! It combines the best of both worlds into one perfect bite. They're a savory blend of smokey sausages in sweet and spicy sauce, BUT THEY'RE ALSO all wrapped up in a puffy, buttery, crisped-to-perfection pastry shell. It's two of my favorite appetizers in one! I'm so excited to share this recipe with you today as part of the Pepperidge Farm "Puffection" Game Day Entertaining Challenge.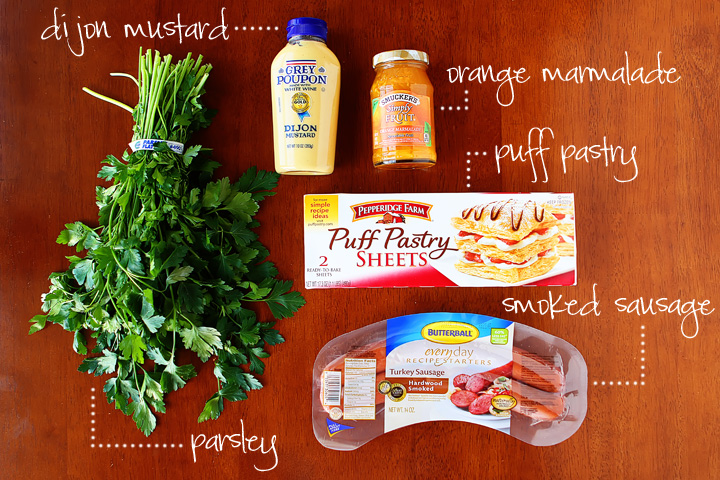 Okay, seriously simple ingredients here. You can whip these up in no time. The original recipe calls for orange marmalade, and I would have loved to have tried these with orange marmalade, but… confession time. Kevin is not a huge fan of oranges. I know right? I'm not sure we can be friends anymore. He won't even eat little clementine cuties!! I know right??!  He doesn't know what he's missing. More for me. Whatever. He's not really a fan anything citrusy. We don't have lemon-scented cleaning products in the house. For me, however, this means no key lime pie. No crumbly lemon squares. No cranberry-orange sweet rolls. No cheesecake. I die. Not that I can't have them, of course. Just that I can't really make them. Because then he won't eat any. And then I'll eat them all. Bad. So I don't really get them all that often. Don't you feel so terribly sorry for me? Oh, and I realize cheesecake is not a citrus, but I'm just throwing that out there since it's another dessert my beloved doesn't really care for.
ANYWAY!
The recipe ALSO says you can use orange marmalade OR you favorite jam, so… I used GRAPE jam! It was perfect because I've seen recipes for Crockpot Little Smokies with grape jam. All the better!
The best part about these Smokey Sausage Cups is that you can keep most of the ingredients on hand at all times, which means if you have unexpected guests, you can whip these up as on a moment's notice for a quick and delicious appetizer. And if you need ideas using up that leftover sausage… You can make this Spicy Sausage Pasta! It's our favorite weeknight dinner ever. :)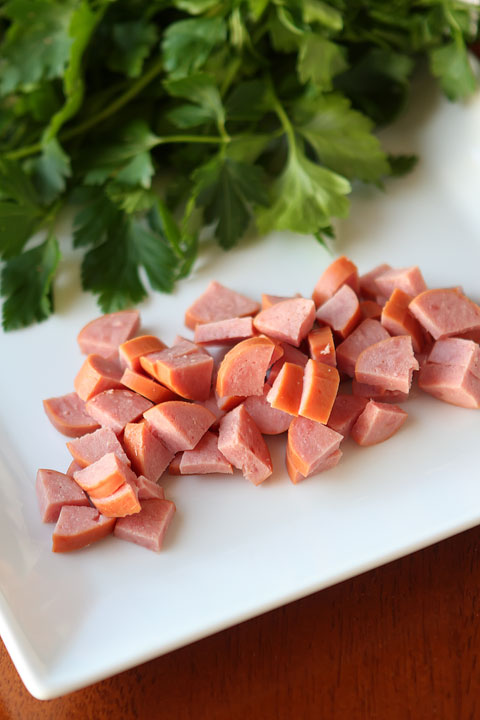 How to Make Smokey Sausage Cups
Here's what you do. Slice an 8oz link of smoked sausage, and dice into quarters.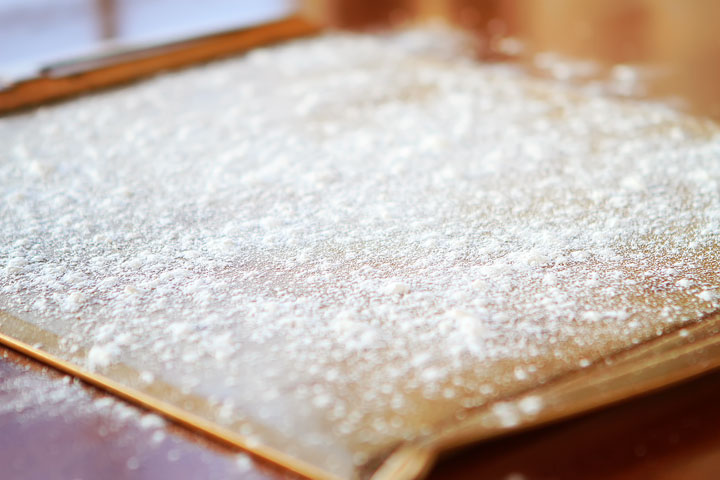 Lightly flour a work surface.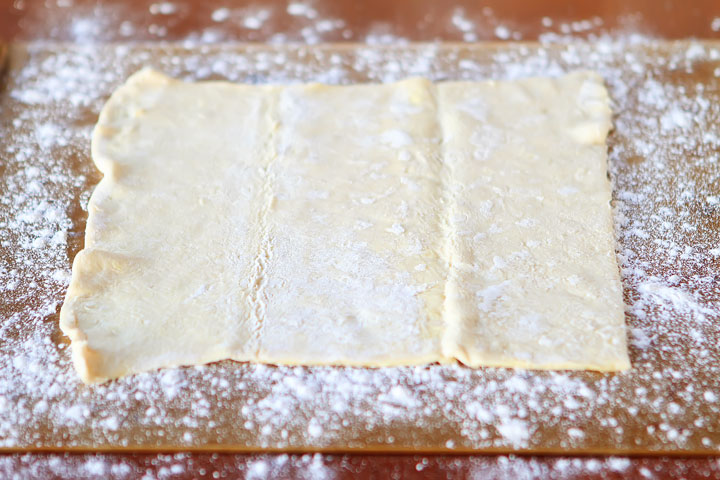 And roll out the one sheet of puff pastry.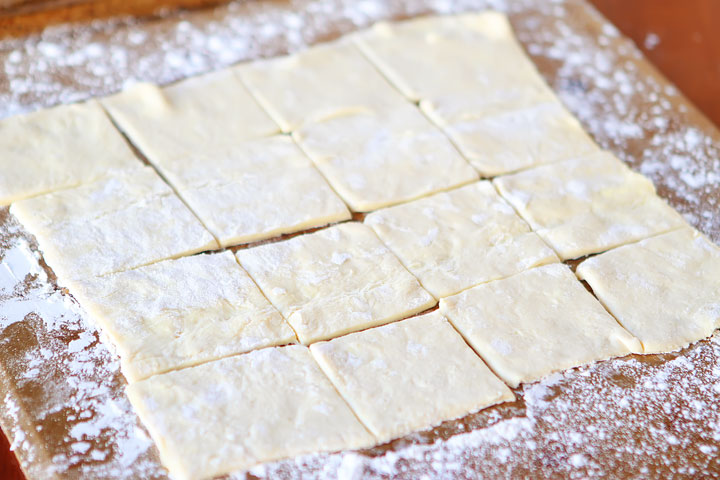 Cut the puff pastry into squares.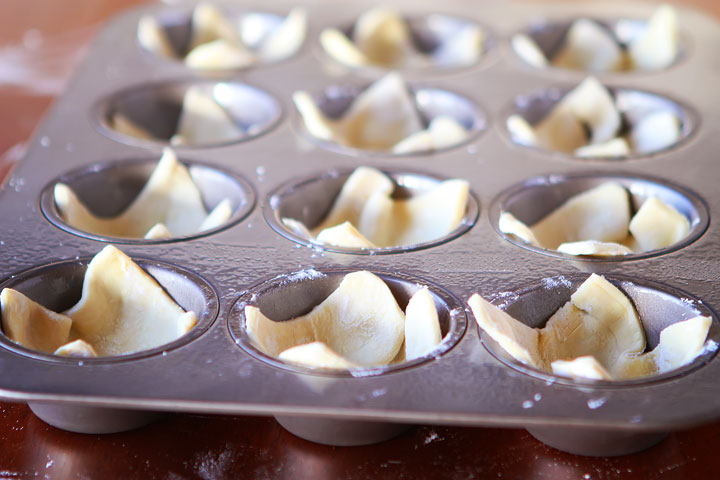 And press in a muffin tin sprayed with cooking spray.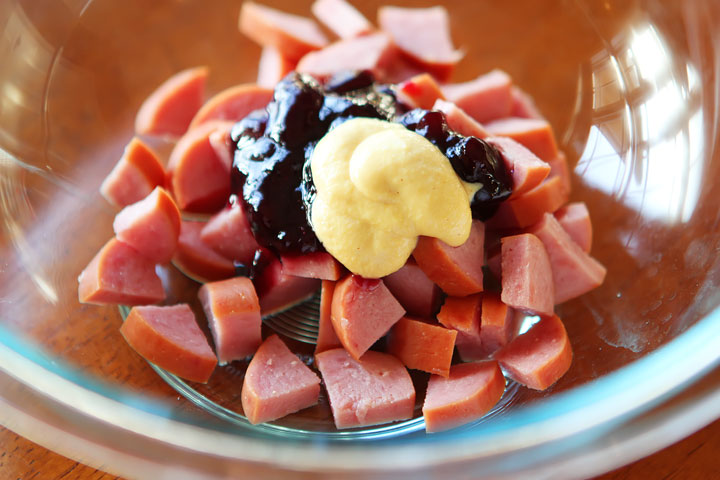 Next, stir the diced sausage with 2 tablespoons orange marmalade (or your favorite jam) and 1 tablespoon Dijon mustard.
Oh man, you know what I just realized? I bet you could even use HONEY instead of jam. Honey Mustard Sausage Cups?? YES PLEASE!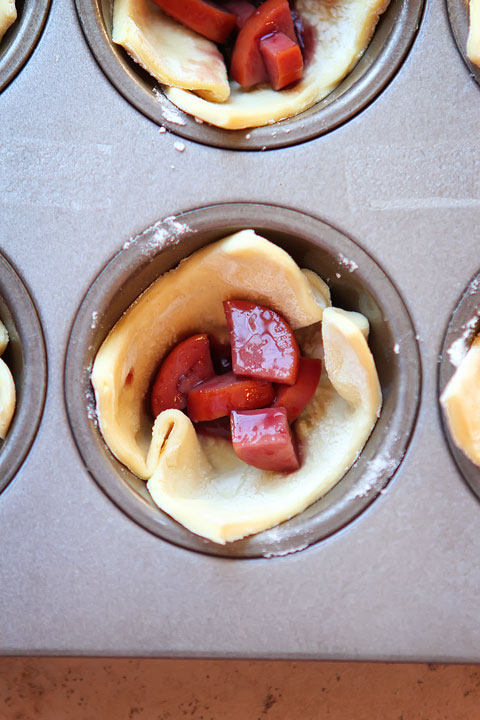 Whatever you use, divide your delicious saucy sausages into the muffin tin cups.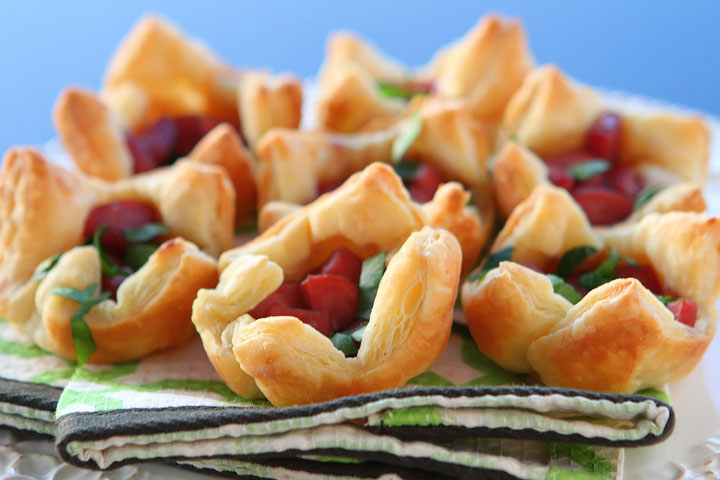 And bake to golden brown PUFFECTION for 15 minutes in a 400 degree F oven. Top with chopped parsley and serve!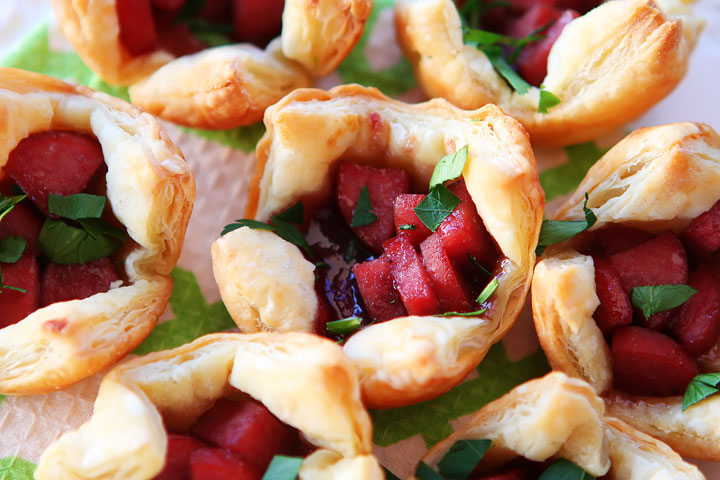 These babies will fly off the plate! They're sweet, spicy, saucy, and served in a puffed to perfection cup. Hope you enjoy!! :)
What's your favorite must-make party dish or appetizer?
Check out the Puffection TM tab on the Pepperidge Farm Puff Pastry Facebook page, where you can share your favorite Puff Pastry recipes, and www.puffpastry.com for more even recipes, tips and how-to videos.
Print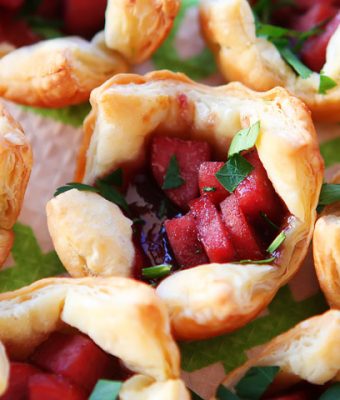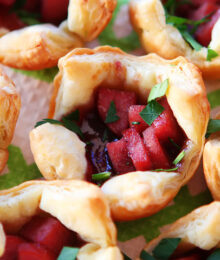 Smokey Sausage Cups
Prep Time:

15 minutes

Cook Time:

15 minutes

Total Time:

30 minutes

Yield:

24 cups

1

x
Category:

Appetizer

Method:

Oven

Cuisine:

American
Description
These Smokey Sausage Cups make such a cute little appetizer! They're crunchy, flavorful and perfect for everything from parties to movie nights!
Scale
Ingredients
All-purpose flour, for dusting

1

sheet Pepperidge Farm® Puff Pastry, thawed

8 oz

. smoked sausage or kielbasa, diced (about

1 1/2 cups

)

2 tablespoon

orange marmalade or your favorite jam

1 tablespoon

Dijon mustard
Fresh chopped parsley
Instructions
Preheat the oven to 400 degrees F. Sprinkle the flour on the work surface. Unfold the pastry sheet on the work surface. Roll the pastry sheet into a 10×15-inch rectangle. Cut the pastry sheet into 24 (2 1/2-inch) squares. Press the pastry squares into 24 mini muffin-pan cups.
Stir the sausage, marmalade and mustard in a medium bowl. Spoon about 1 tablespoon sausage mixture into each pastry cup.
Bake for 15 minutes or until the pastries are golden brown. Sprinkle the pastries with the parsley before serving.
Keywords: sausage recipe, sausage appetizer, easy appetizer recipe, easy appetizer for parties, best appetizer recipe, easy appetizer for a crowd, easy sausage recipe