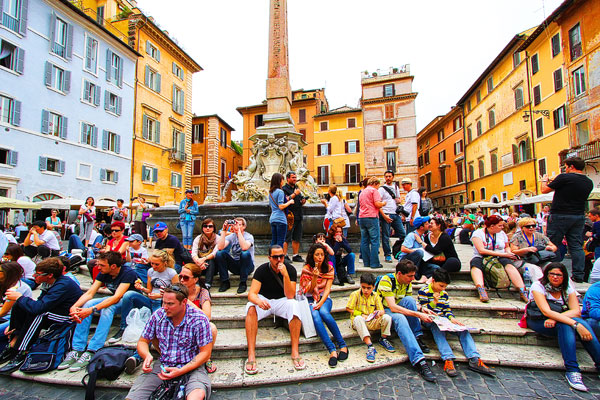 Really Old Monument. AKA, the square in front of the Pantheon.
Oh my goodness, there were so many neat things to see in Rome! Michael Angelo's set us up with a few fun tours to take in all this wonderful city had to offer. We took a four-hour walking tour of Vatican City, then a five-hour tour of all the major sites in Rome the next day. And there were still so many things we sought out to explore on our own! But basically, there were a lot of really old monuments. And there were a lot of people sitting on them. :)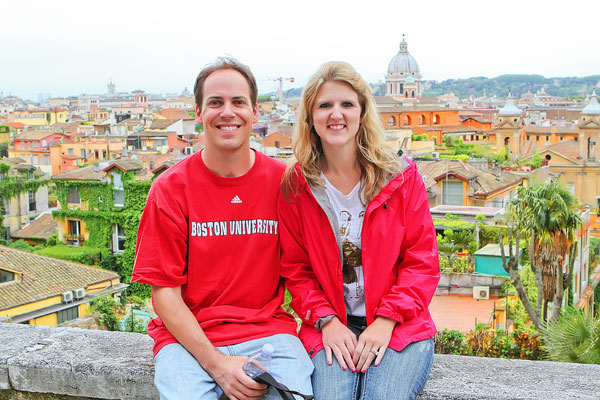 On our last afternoon there, we did escape the crowds of the city for a quiet walk along Viale Gabriele D'Annunzio above the Piazza del Popolo with this beautiful view of Rome as our backdrop. It was so neat to be in Rome, but also a little displaced from it, in a quieter, slower paced atmosphere.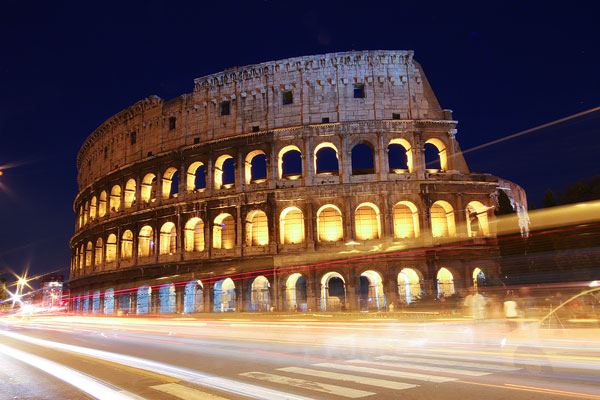 But my favorite thing we did was see the Colosseum.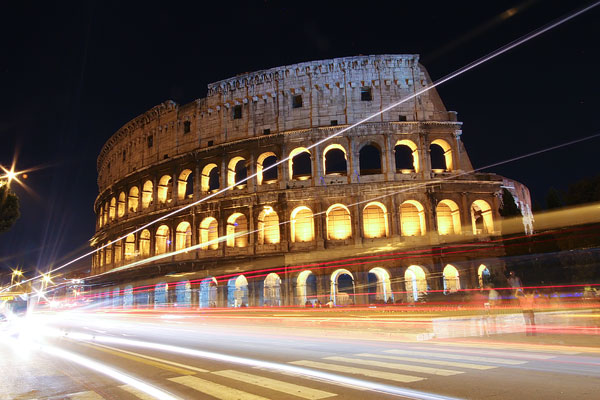 Aren't slow shutter night scenes so much fun? I love taking them. Especially with all this hustle and bustle and traffic of Rome!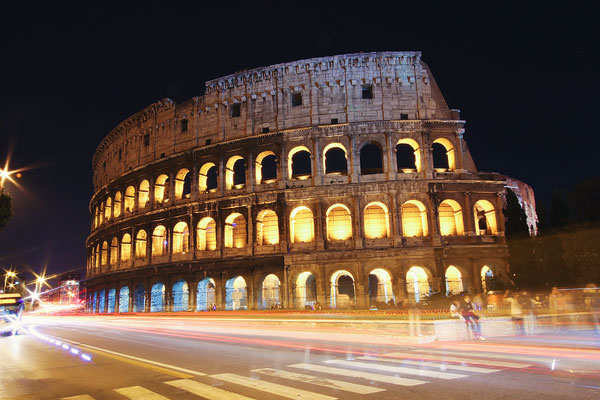 One of my favorite things we did in Italy was find a new place to watch the sun go down and take a new nightscape photo every night.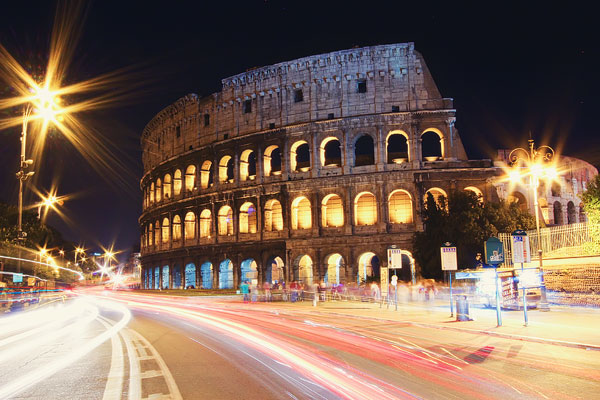 See GPS Location on Map
Don't worry. There was a median. :)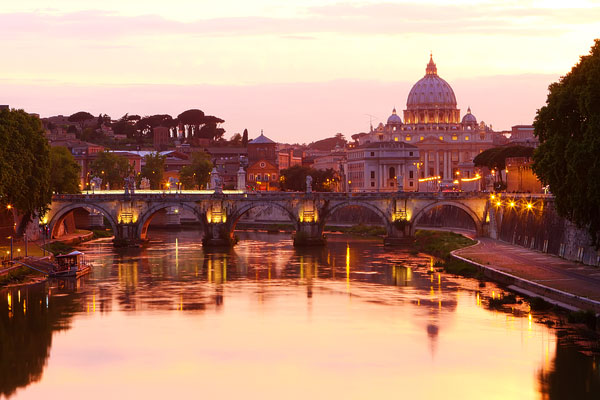 8:12 pm
Another one of my favorite things to do when I go to a new city is look at all the postcards and find all the fun places to take photos. I didn't see this one on a postcard, but I did see lots of street vendors in the piazzas selling photos and paintings of this beautiful scene — the view of St. Peter's Basilica from Castel Sant'Angelo.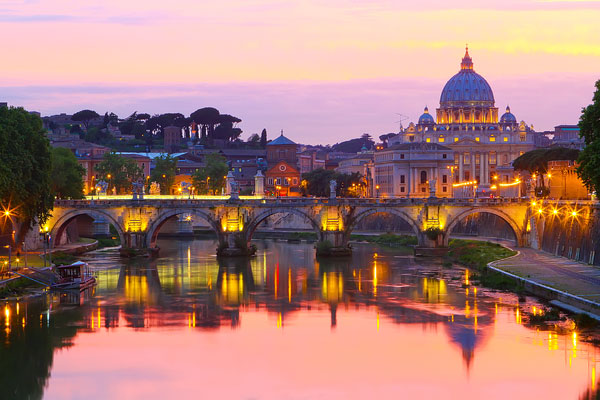 8:19 pm
When I was telling the cab driver where we wanted to go — Castel Sant'Angelo, but not all the way, just to the bridge — he replied, "Ah, yes! For photo!" :) I have to say, we had some really entertaining cab rides in Rome. On the way to the Colosseum, our cab driver started the ride by saying "I do not speak much English, just spaghetti English!" and then proceeded to give us the world's fastest tour of Rome completely in Italiano. Best cab ride ever. :)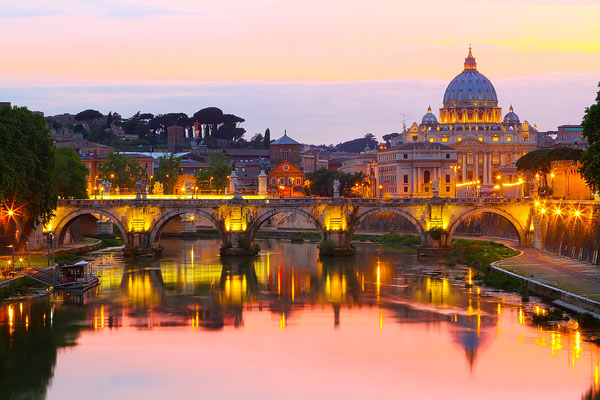 8:21 pm
I loved watching the sky change from brilliant hues of gold to pink to purple as the sun set.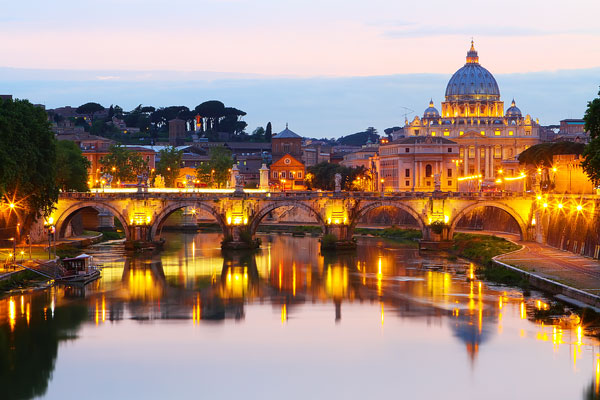 8:25 pm
Here's where we cozied up for the night, by the way. See GPS Location on Map.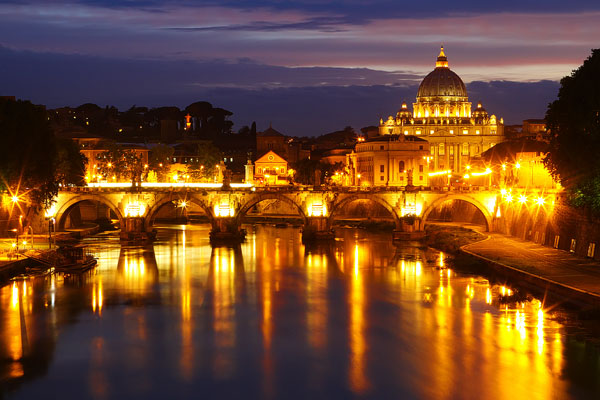 8:43 pm
Good night, Rome! Cinque Terre, here we come. :)
Thanks so much to Michael Angelo's for this wonderful opportunity!