We're adding a bunch of fun stuff to our pool area to make it an even better place to hang out! Help us pick out which furniture to buy!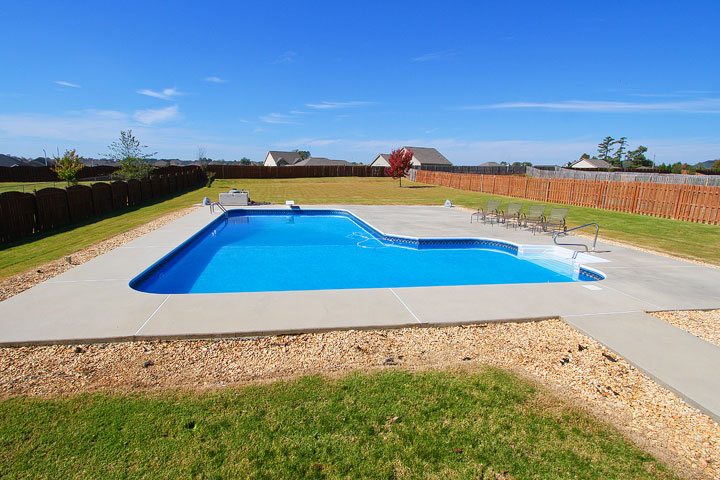 Help Me Renovate Our Pool
Happy Memorial Day Weekend! I hope you are all having a wonderful, relaxing holiday. Now onto a pressing matter we need to discuss. I need your help!! As you can see, this is urgent. The pool is officially open and Miley and Howie are having the greatest time basically acting like little lunatic sharks. They dive in with reckless abandon and swim like maniacs. We can hardly keep them out of the water. Howie is the king of belly flops! Look for some fun photos later this week. Anyway, it has come to my attention that we are in desperate need of some pool furniture, and in typical Amanda-fashion, I am agonizing over every detail. That's where you guys come in. I can't decide. I cannot choose. It's impossible. I need your help. I need your opinion. I need you to make a decision. Thank you.
Here are the facts
We already bought this fire pit: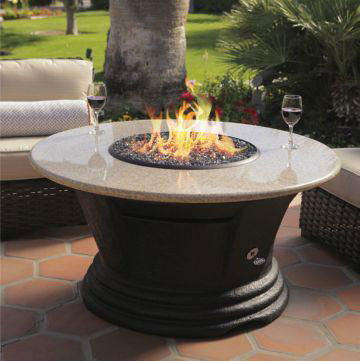 And this sofa (no ottoman) for seating around the fire pit. Yes. In blue.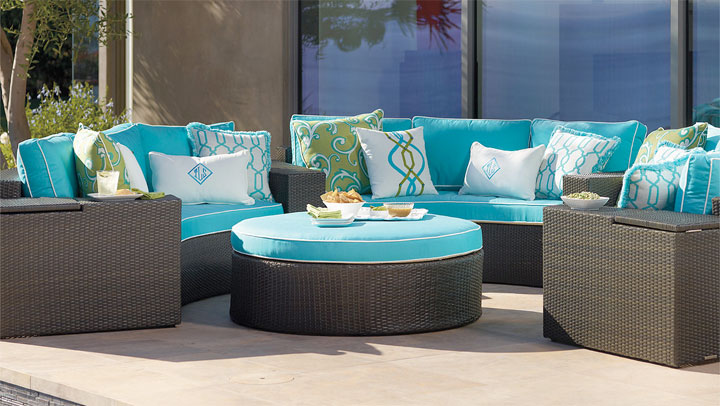 We also need lounge chairs, cushions, and an umbrella.
What I'm looking for
I want it to look inviting and relaxing. And fun. A relaxing place where you could just lay out all day, have a fun party with friends at night, and never want to leave. Is that too much to ask??!
So without further ado, here are some *ahem* very skillfully Photoshopped renditions of what our backyard could look like. Don't laugh. These are the options: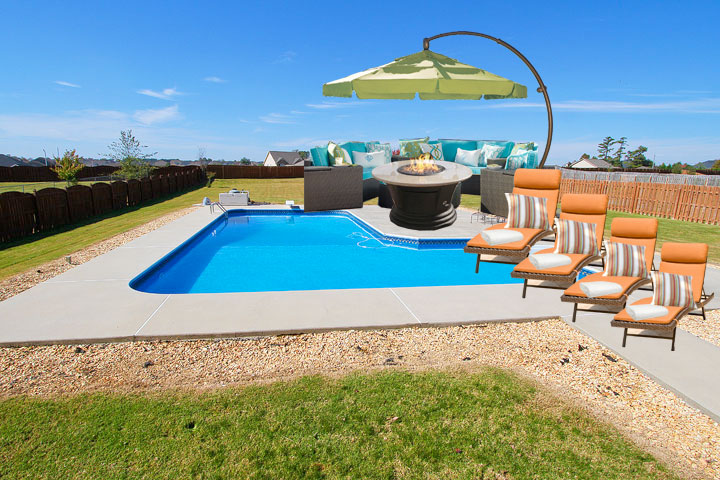 Option 1: Blue, Green & Orange
Pros: Colorful and fun. Looks like a party. Happy and energizing.
Cons: Maybe a bit too much? Too colorful? Does it really go with the rest of my house? Does it need to?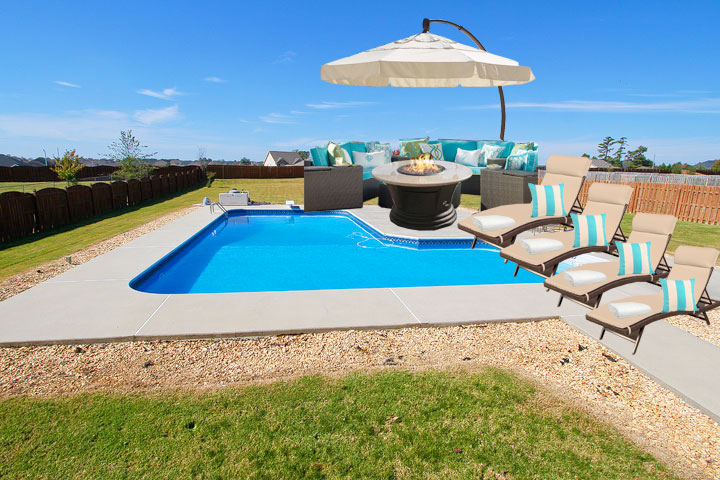 Option 2: Blue & White
Pros: Ahhh… Quiet, calm, serene. Spa.
Cons: Too boring? I'm also really worried about the cream cushions. Will they look dingy? Blend in too much with the concrete? Get dirty really easily and show every single spot??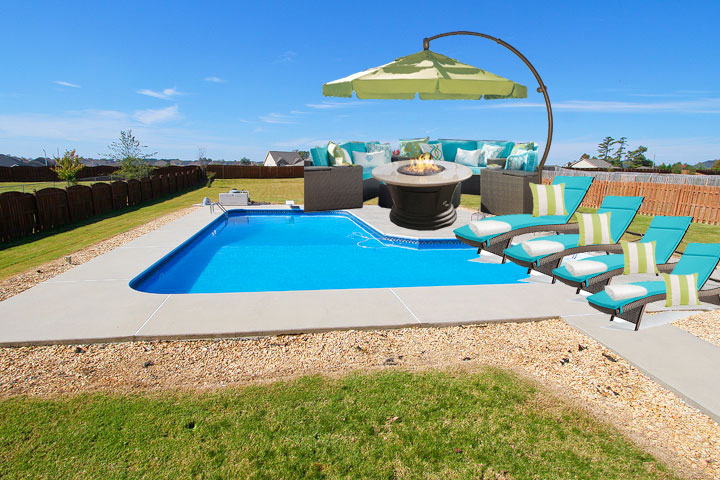 Option 3: Blue with Green Umbrella
Pros: Matchy-matchy. (Wait, is this a pro?) I really do love the look of the blue chairs with the green pillows though.
Cons: Too much blue and green?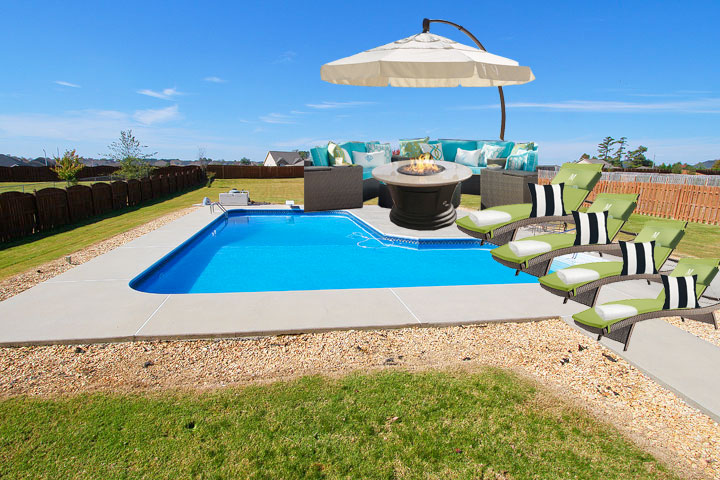 Option 4: Blue & Green with White Umbrella
Pros: A pop of color without being too overwhelming. Clean.
Cons: Is the white umbrella too blah?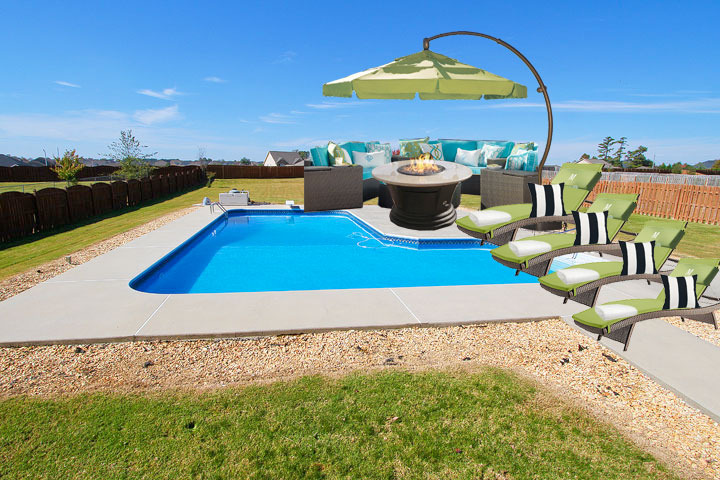 Option 5: Blue & Green with Green Umbrella
Pros: Same as above, but with green umbrella.
Cons: Now is it too much green??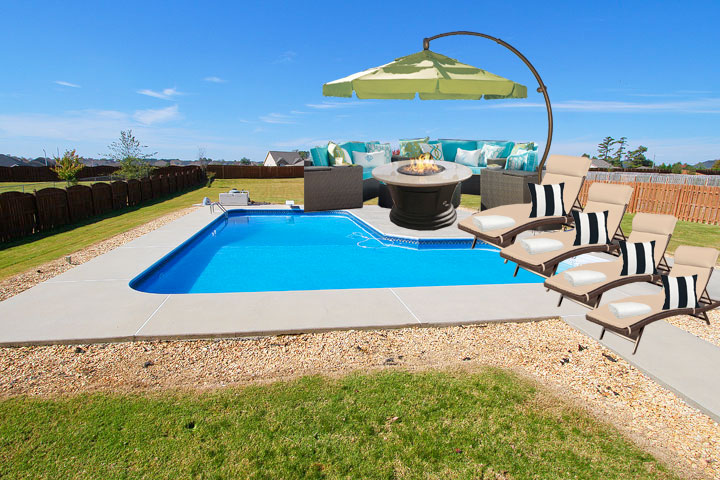 Option 6: Blue & White with Green Umbrella
Pros: Love the clean, classic look of these chairs with the black and white striped pillows. This definitely matches the interior of my house.
Cons: But… Same worries about the cream cushions: Too boring, blends in with the concrete, hard to stay clean, might look dingy. But maybe the blending in thing wouldn't be so bad, maybe it would actually give the pool deck a more open feel?
Now it's time to cast your vote!
Which one do you like best?? Which one looks most relaxing and inviting? Cast your vote using the poll below (you might have to click over to the post to see it) or leave me a note in the comments.
[poll id="3″]
If you can think of another combination that I left out that you think would look better, please let me know in the comments.
THANKS SO MUCH guys!! I really appreciate your help. I'll make a decision and place an order by Monday night. For sure. I'll keep you posted. Thank you for voting!! :) xoxo