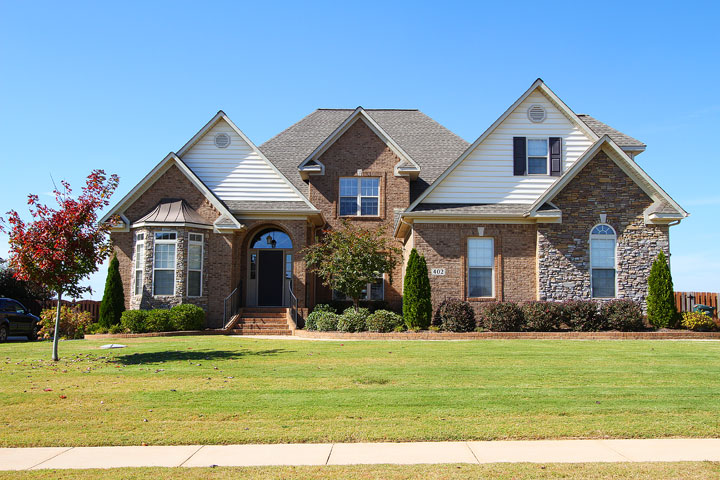 We are still love, love, loving the new house. We could not be more thrilled to be in this new area and in our new space! We are finding new restaurants, stores, and places to explore every day. Our weekends have been filled with projects, shopping, and decorating. And yes, there have even been quite a few a late-night online impulse buys, lol! But thankfully I've been pretty happy with most of them. :) Even though most of the rooms are pretty empty since we decided not to bring any of our old furniture with us, we have now added a few things that have finally started to make our house feel like home.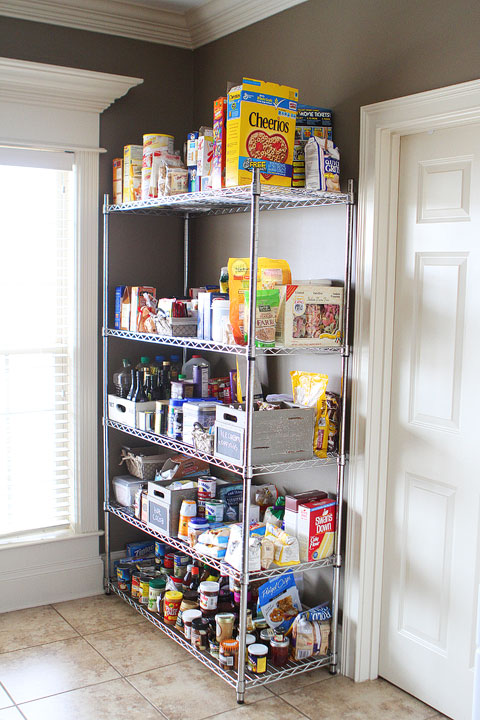 And I'm happy to say that one of those things is a PANTRY!! :) You may remember this photo from when we first moved in of our makeshift baker's rack pantry. We had to use this rack from the garage because one of the things our new house was missing was a pantry!
*Note: Realtor photo. This is not my furniture!
See this little door right off the kitchen? Wouldn't that make the perfect spot for a pantry? When I was looking at the MLS photos of the house, I thought for sure this was the pantry.
Paint Color Check: Sherwin Williams Virtual Taupe.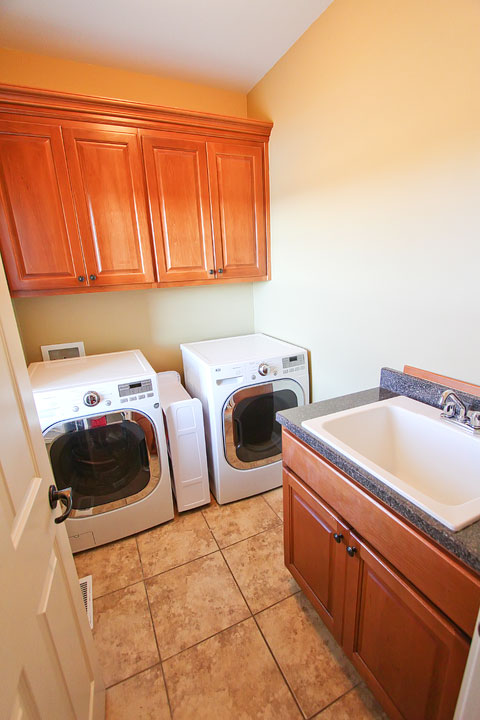 Guess again! It was a laundry room! And it was a beautiful, perfectly nice laundry room. It had nice large cabinets, lots of space, and a huge sink big enough for Miley and Howie to take a bath in. It was full of potential. But… wouldn't this be the perfect spot for a nice, walk-in pantry? :)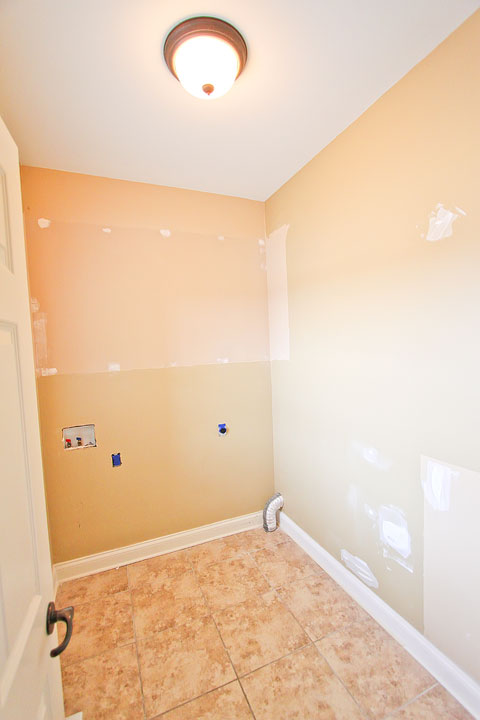 So…. We moved it! We're turning this into a pantry! :) We moved the laundry room one room over to a little room near the garage entryway. We saved the cabinets and the sink and everything and definitely plan to reuse them. They're actually already set up and functioning again, so I do have a working laundry room, lol!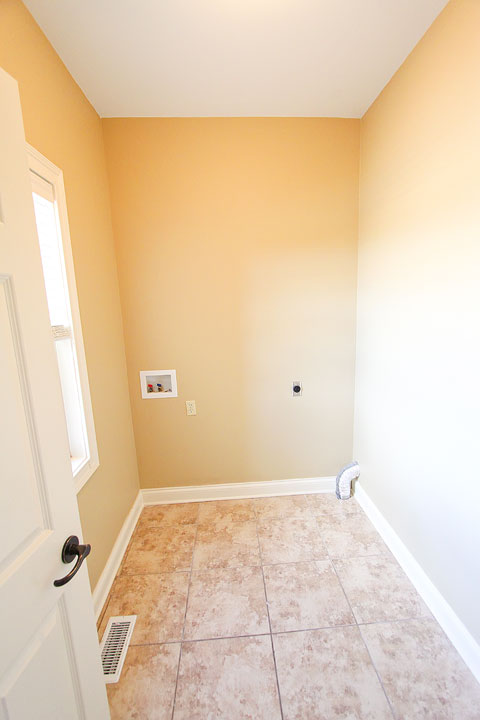 After a little touch up paint we were ready to roll on our pantry project!
Paint Color Check: Sherwin Williams Basket Beige.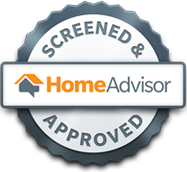 I really wanted a professional organizer / pantry designer to come in, look at my space, and tell me what I needed. I could've just put up shelves, but I wanted something a little more special for such a nice space. But I had no idea who to call or what companies in my area even did something like that. We don't have a Container Store here! And I didn't know anyone here who'd done something like this before, so I really didn't know who to call or have anyone to ask for recommendations. That's where HomeAdvisor stepped in. HomeAdvisor offered to help us with our pantry project and help us find a trusted, screened, and approved professional for our project in exchange for sharing our experience with them.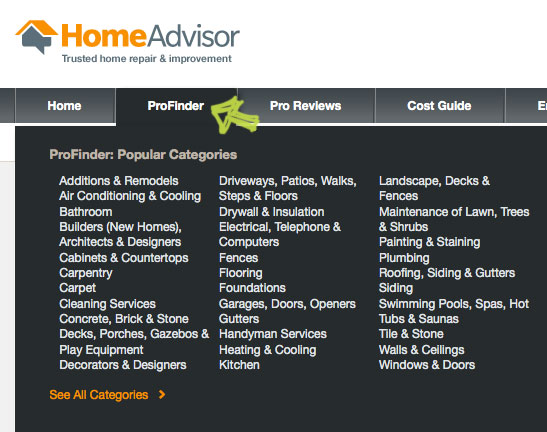 HomeAdvisor is a free service that will help you find trusted home improvement professionals in your area that you might want to hire to come in and do a project for you. They have all kinds of categories of professionals to choose from who have not only been screened and approved by HomeAdvisor, but also reviewed and ranked by homeowners just like you who have hired them.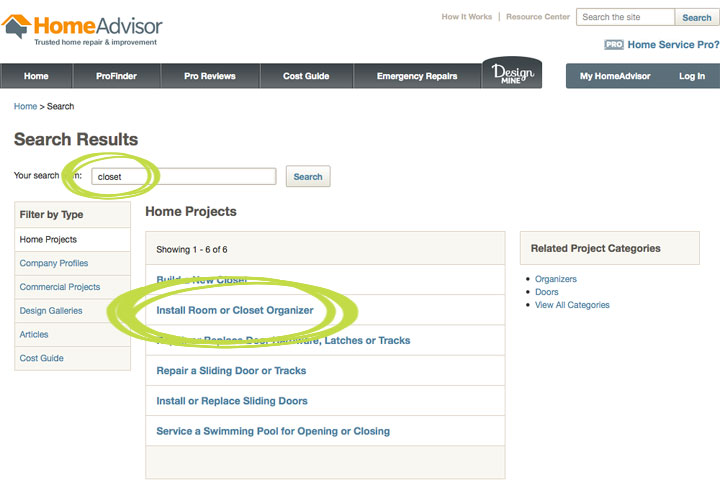 When I first logged on to the HomeAdvisor site, I really had no idea what I was looking for, so I just typed in closet. And here's what came up. Aha! Install Room or Closet Organizer! Yes, that is what I want to do!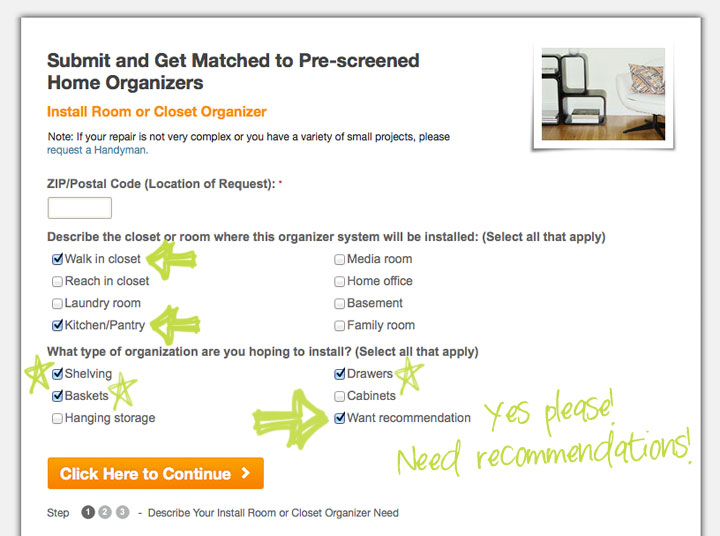 I clicked on Install Room or Closet Organizer and it gave me lots of options to choose from. Walk in closet, kitchen pantry, and it even asked me what I wanted in my pantry. Shelves? Baskets? Drawers? Want recommendations? Yes! THAT is what I want. Someone to come in a make a recommendation!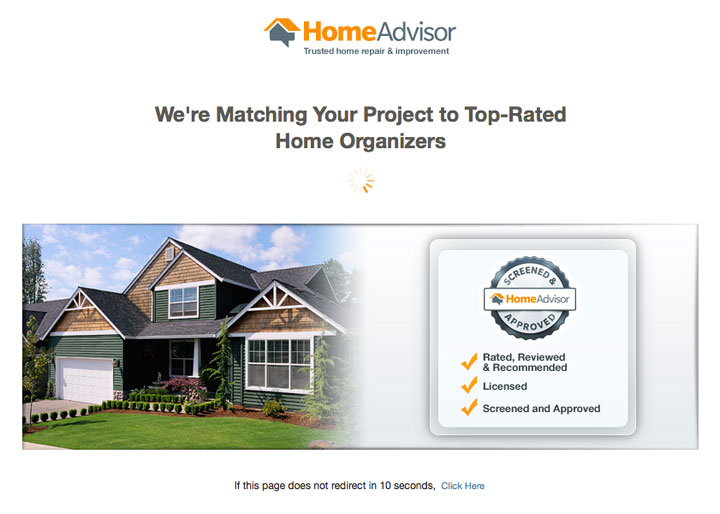 I chose all the options I wanted and HomeAdvisor searched their database to match me with a professional pantry designer and installer in my area.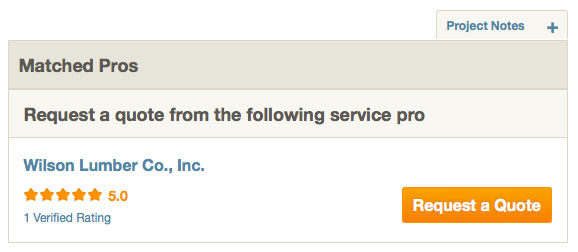 They matched me with Wilson Lumber, the company who had received the highest rating from other HomeAdvisor users. That weekend we took a little trip down to their showroom just to check things out. As soon as we walked in we saw gorgeous example closet setups galore! I knew we were in the right place. I had no idea we had something like this right in our area! Everyone we talked to was extremely friendly, helpful, and just all around great people. You could tell they really loved what they were doing, and this wasn't just a job for them. Now I understood why they had received such a glowing review on HomeAdvisor. They said they could come out that very next Monday and give us an estimate on our pantry. When our designer came out she carefully looked over everything I would need to store in the pantry. She brought samples of all the different types of shelving they had available so we could hold it up in my house and see which one matched the best. She took lots of measurements and and wrote down dimensions. By Wednesday she emailed me three different pantry plans with lifelike 3D models and price quotes. I was super impressed. We loved what she came up with, and after a few tweaks back and forth, we had our final pantry plan.
I was so excited when they called to set up the install appointment. They said they could come the very next morning. They came on Monday, arrived promptly at the time they said they would, and were in and out and all cleaned up in two hours. I've been working this week on getting the new pantry stocked and organized, and I can't wait to share the "After" photos with you! :)
Stay tuned… I'll keep you posted! :)
UPDATE: Click HERE to see the "After" photos!!!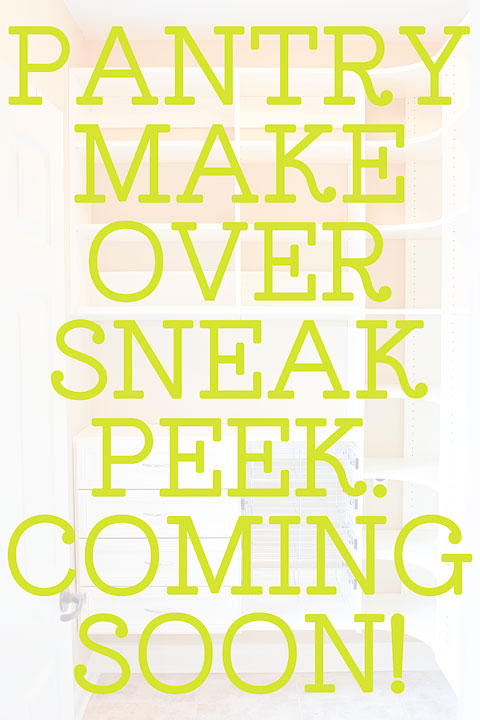 Can you see the pantry up there?? ;)