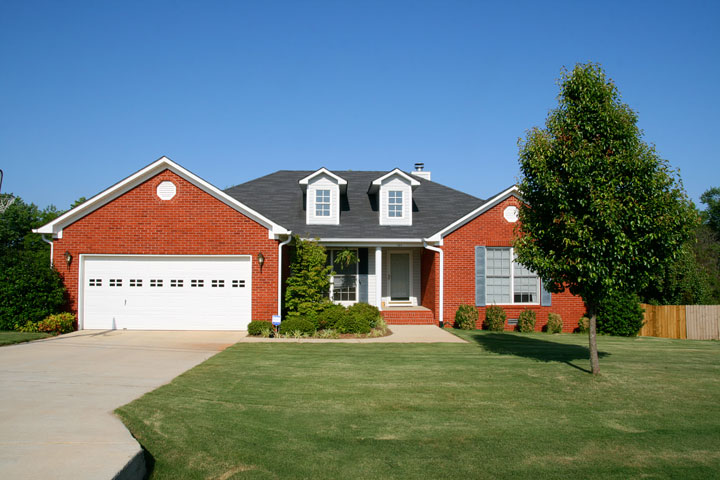 Amidst the flurry of busyness and excitement that came along with moving into the new house, I realized I had never properly documented a tour of our first house together! I had always planned to do this. I dreamed of the day it would all be done — finished! — ready to present to the world. But there were a few things I never got around to updating — I never shared our kitchen or dining room or master bedroom. When we first moved in, the dining room was my favorite room in the house. I can still envision the plans I had for it. But still, to this day, ten years later, I do not have dining room furniture! It seems like something was always in a state of updating or rearranging or just needing some final, finishing touches to be "perfect". When we first moved in, I photographed a full tour of the house, with big plans in mind for each room, and promising to personalize each one and share the updates here, in our virtual scrapbook. And I did end up sharing most of it, in bits and pieces, room by room as we got to each one. But before we moved out, I wanted to share one final look at our old home, our first house together. Of course it took moving out to actually get around to doing it! :) I did the same thing with our first apartment. :)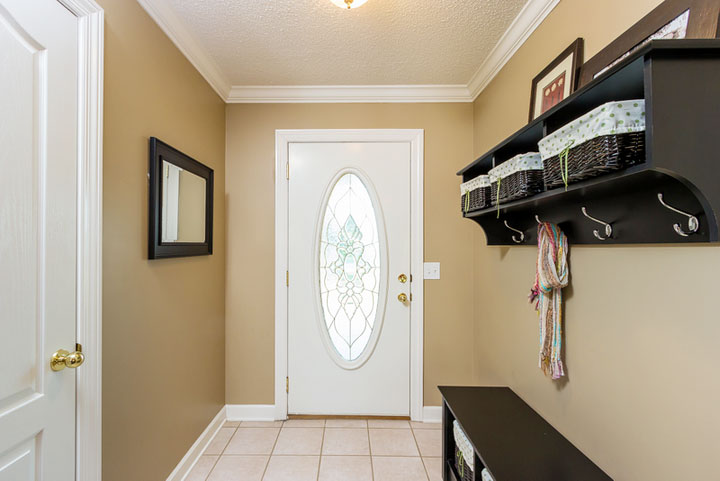 Welcome to the foyer, won't you come inside? :)
Note: Our house is officially up on the market! Some of the photos in this tour were taken by the professional photographer for our listing photos. You can click on the photos to see the camera, lens, and settings used. Photos taken with the Canon EOS REBEL T3i are the photographer's photos. Professional photos courtesy of Parker Studios.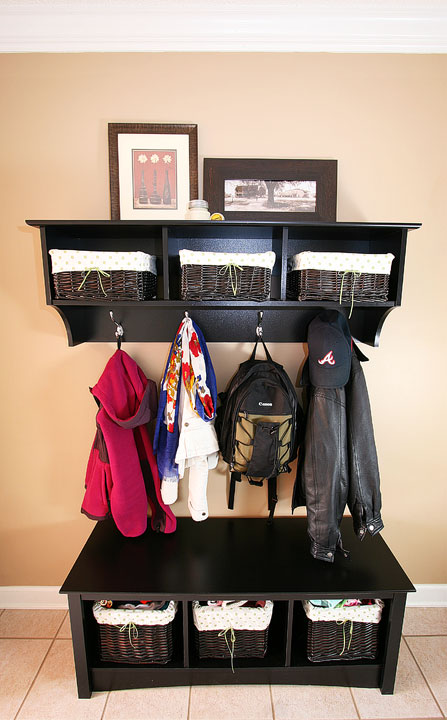 Here's one of my photos, from when I shared our foyer makeover.
This cubby and bench are from Amazon.com.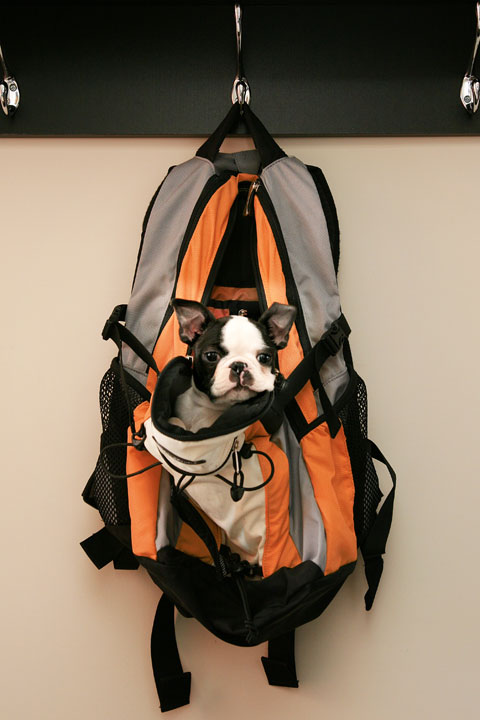 Howie as a puppy! One of my favorite memories in this foyer. :) He was so agreeable back then!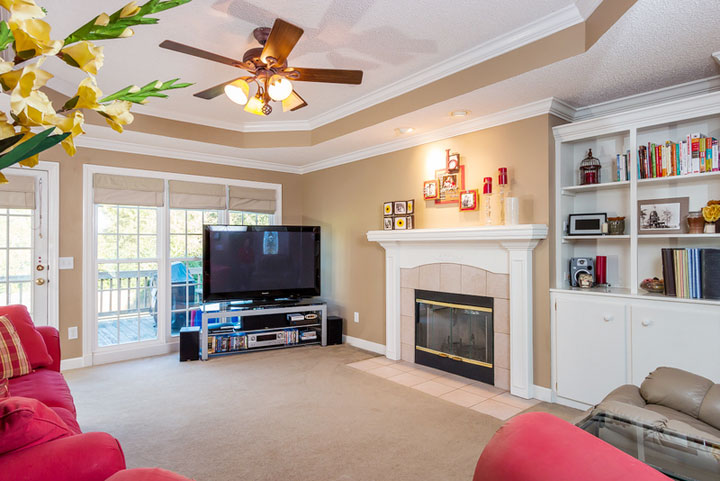 A peek into the living room, the view when you step into the foyer.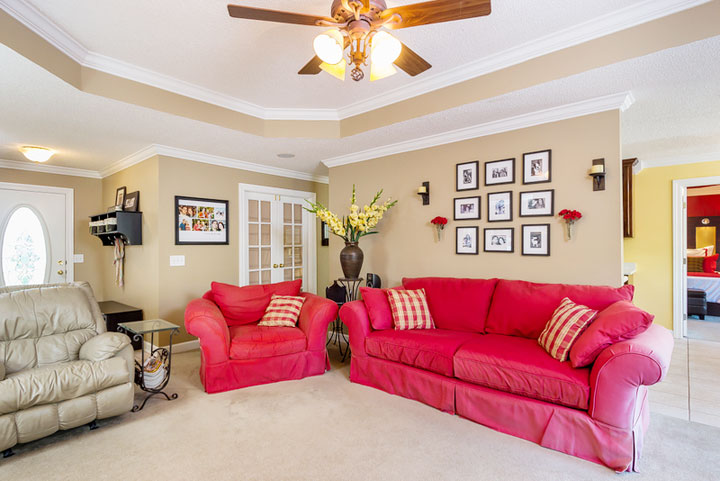 Paint Color Check: Sherwin Williams Latte.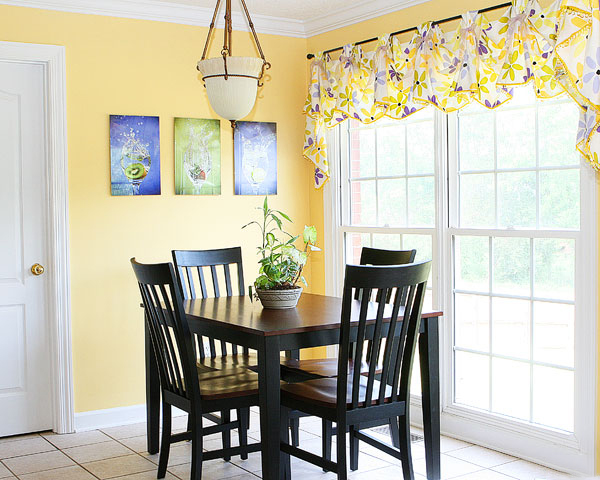 Breakfast area.
Paint Color Check: Sherwin Williams Jonquil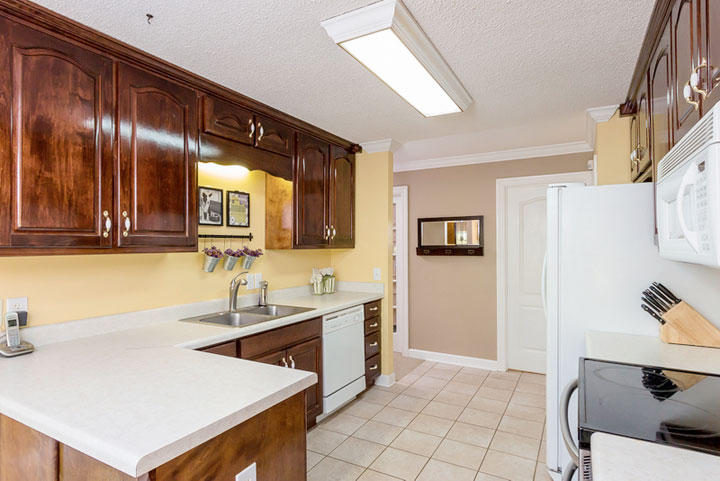 Here's the kitchen! There were a few more things on the counter when we lived in it :)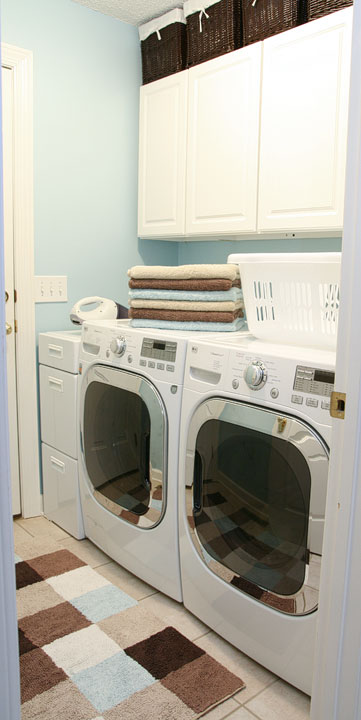 The laundry room and garage is right off the kitchen. The paint color in here was colored matched to the rug, which is from Bed, Bath, and Beyond. More photos of the Laundry Room Makeover can be found here, along with a link to the rug on BB&B. It is still in stock! :)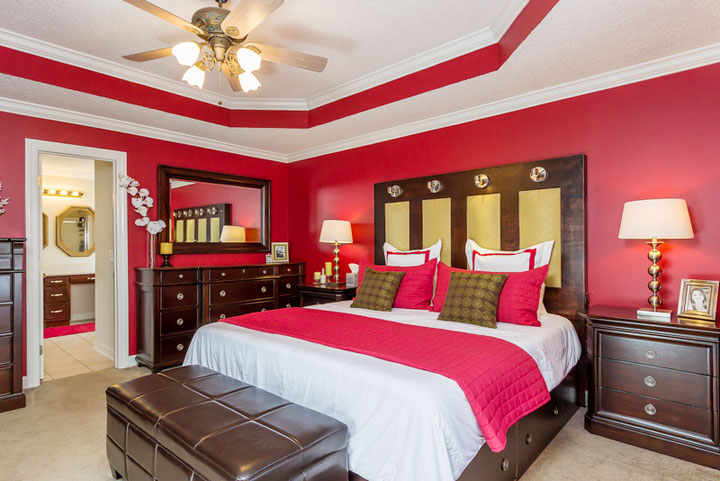 Here's the master bedroom. I loved this room. I kept meaning to take photos in here, but I was just waiting on a few more "finishing touches". The furniture in here is the Grammercy Park collection from Lane Furniture. My dad custom made the headboard and bed for us. The headboard has lights with dimmer switches and electrical outlets for phone charging built into the headboard. Underneath the bed are huge drawers for storage, two on each side. He even special ordered drawer pulls from Lane to match the furniture.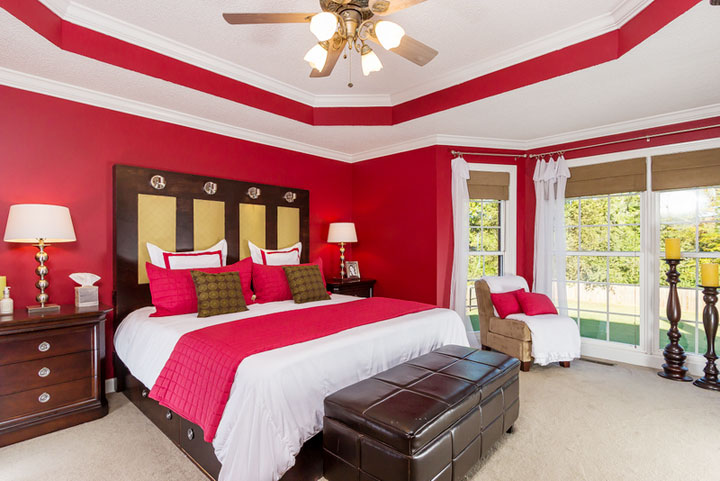 I will have to share more details on this from the new house! :)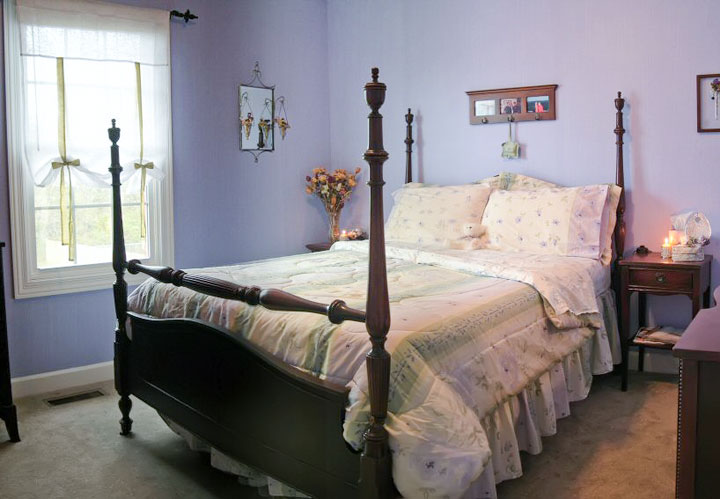 On the other side of the house are the three bedrooms. The guest bedroom is in the back of the house, overlooking the backyard.
Paint Color Check: Benjamin Moore Puple Lace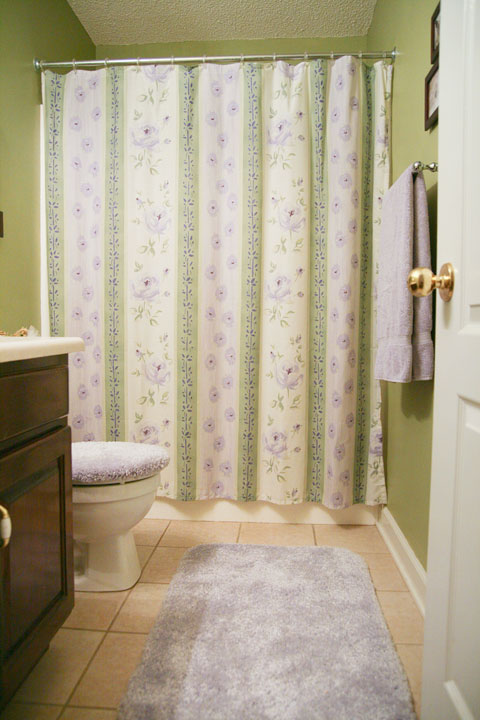 Guest bathroom.
Paint Color Check: Sherwin Williams Ryegrass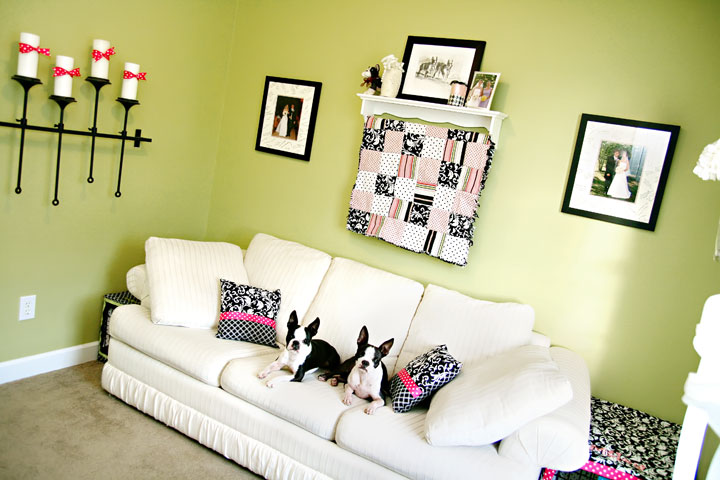 The den.
Paint Color Check: Benjamin Moore Dill Pickle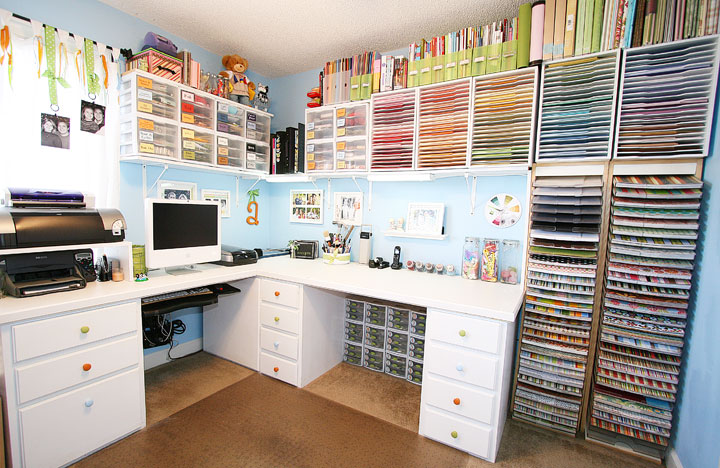 Ahh — and the office retreat / scrapbook room. :)
Paint Color Check: Benjamin Moore Sapphireberry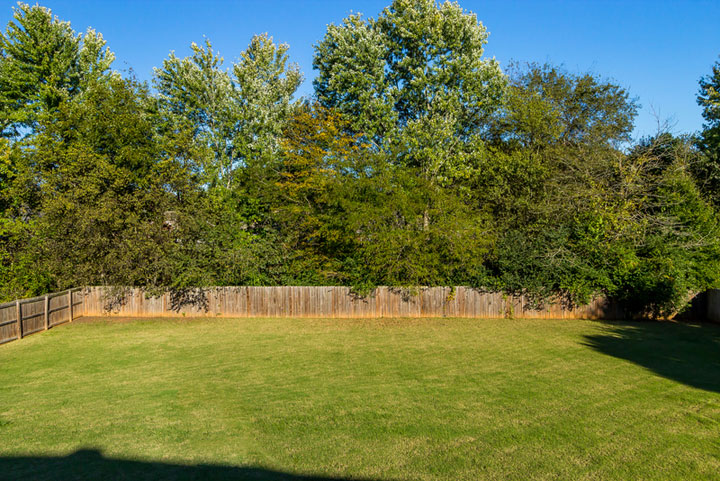 Backyard for Miley and Howie. :)
I loved this house, and I hope the new owners will be very happy here. If you know anyone looking to buy a home in the Huntsville, Alabama area, feel free to contact us for more information! :)
Have a great weekend!