The Christmas tree provides an excellent background for some really unique photos – here's a quick photography tutorial on how to get some great shots before your tree comes down!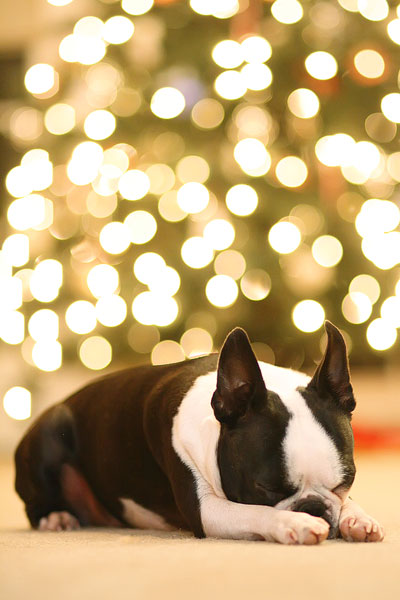 How to Take Photos in Font of The Christmas Tree
1. The Christmas Tree Classic Bokeh
Canon 85mm 1.8
f/1.8
1/40 sec
1600 ISO
To get those big, beautiful, blurry lights, use your lens with the lowest aperture- For this picture, I used the 85mm 1.8, but the 50mm 1.8 or 50mm 1.4 would also work nicely.
Place your subject as far away from the tree as possible- we moved some furniture around so Howie could be about 8 ft away from the tree. The farther away the subject is, the bigger, and better, the lights will look.
To take the picture, get as close to the subject as possible. You know how you can be so close to the subject that the lens won't focus? I found that if I got that close, then scooted back just enough so that the lens would focus, the lights looked better. I have no idea why that is- I just preferred the ones that I took like that! :)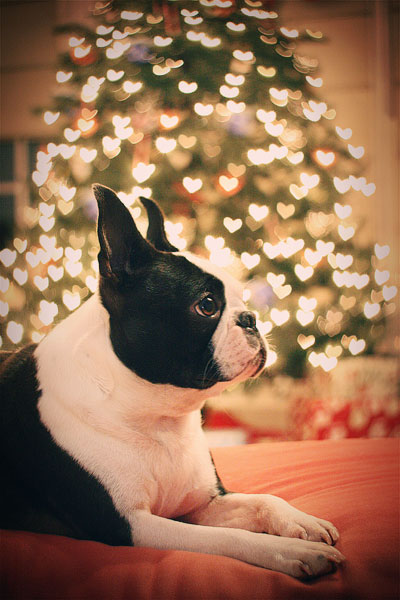 2. The Christmas Tree *Custom* Bokeh
Canon 50mm 1.8
f/1.8
1/15 sec
1600 ISO
Meep!! Little Howie surrounded by Christmas Hearts! :) Custom Bokeh is my favorite new technique. No, I don't have little heart-shaped Christmas lights on my tree… and I didn't have to buy any special lenses or filters to get this look, either! All I had to do was use a little tape, scissors and paper- all the stuff I already have in my scrapbook room. And the best part is, you can have custom bokeh in any shape you can cut out. Hearts, stars, mini Christmas trees.. I even tried a snowflake. You want to see something cool? Try this out. The original photo doesn't change shapes.. Only the lights are affected! Come on, I'll show you.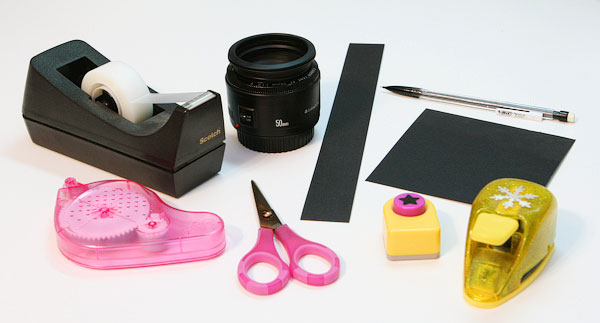 Supplies You'll Need
1. SLR Camera
2. 50mm 1.8 lens
3. Black cardstock
4. Removable adhesive
5. Scissors / decorative shape punches
6. Pencil
7. Tape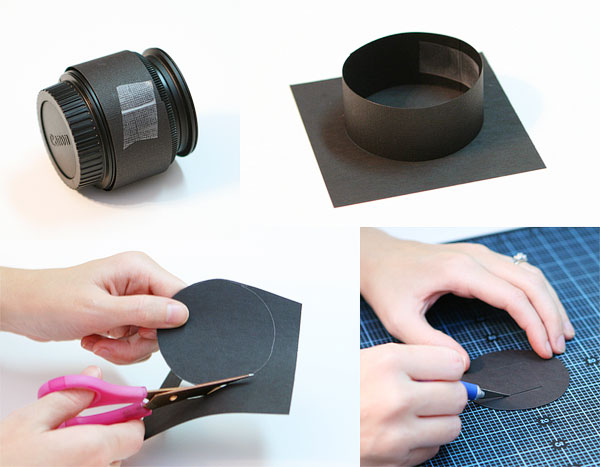 1. To begin, take a strip of paper and form a ring around your 50mm lens- tape the paper together so that it fits snugly around the lens.
2. Take the ring off the lens, place it on a piece of black cardstock and trace a circle around the ring.
3. Cut out the circle
4. Cut a square in the middle of the circle. I used an Xacto knife, but you could just use scissors. It doesn't have to look pretty!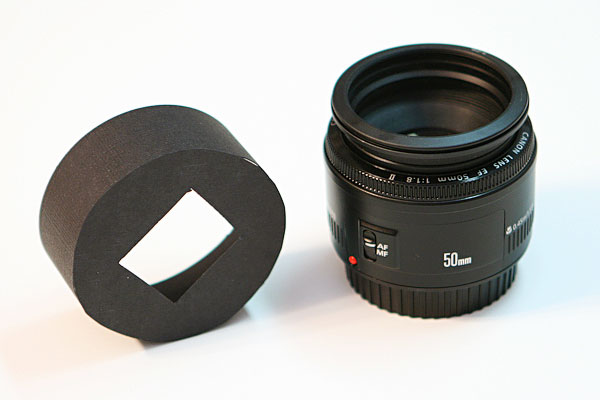 5. So, now you have a ring and a circle with a square cut out of the middle. Tape them together like pictured above to form a "hood". For the benefit of the picture, I put the tape on the inside so you can't see it, but you could tape it on the outside instead. It's easier and it works just as well.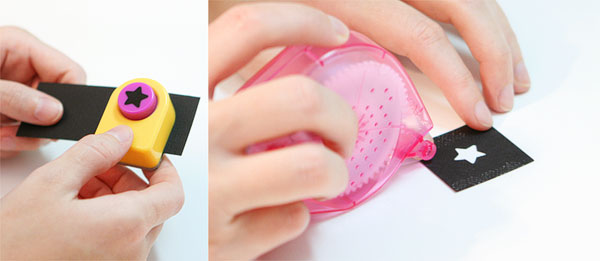 6. Now it's time to cut out your shapes! You can use scissors or an Xacto knife (or even a die cutting machine) to cut out any shape you can imagine. I had these little punches that made it really easy.
7. Cut out your shape, being sure to leave enough room on the edges so you can attach it to the "hood". I used removable adhesive so I could easily switch between shapes on the hood.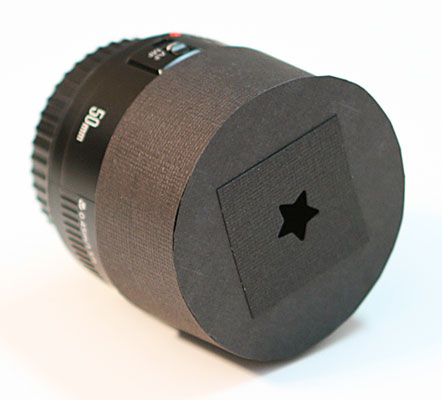 8. Attach the shape to the hood and put the hood on your lens- when you're all done, it should look like this.
Of course, I used a heart punch for the picture of Howie. I did have to use a tripod to take the custom bokeh pictures. Using the hood lets in less light, so you have to set your shutter speed slower to compensate- in my case, too slow to hand hold. But you don't have to have a tripod. You could set your camera on a coffee table, tv tray, chair, bench, ottoman, whatever! Anything steady you can get your hands on.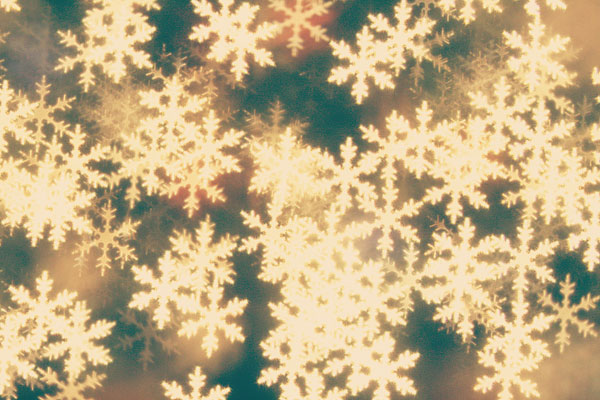 Canon 85mm 1.8
f/1.8
1/8 sec
800 ISO
I loved how the snowflake punched turned out! Unfortunately by this time my models were thoroughly uncooperative, so I just had to take pictures of the tree. :P
To get this look, focus on something close to the lens, like your hand, with the tree blurry in the background. Then move it out of the way and take the picture.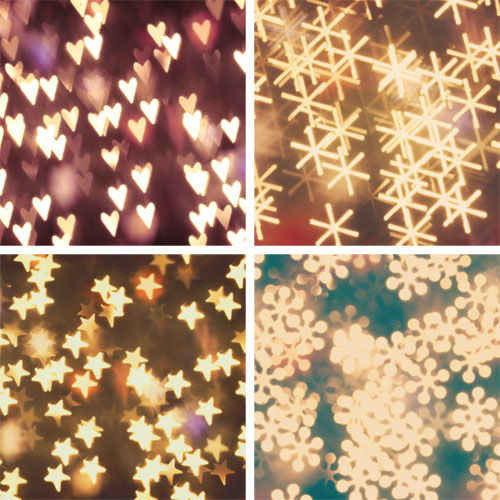 The size of your cut-out will affect size of your custom bokeh- so play around with different shapes and sizes for all kinds of neat looks.

I even tried punching out the letter "B". The possibilities are endless! :)
I would LOVE to see your Christmas Tree Bokeh pics!! :) Leave me a link to your pics in the comments- or share with me on Facebook. I would love to leave a comment for ya!
Thanks for looking! :)