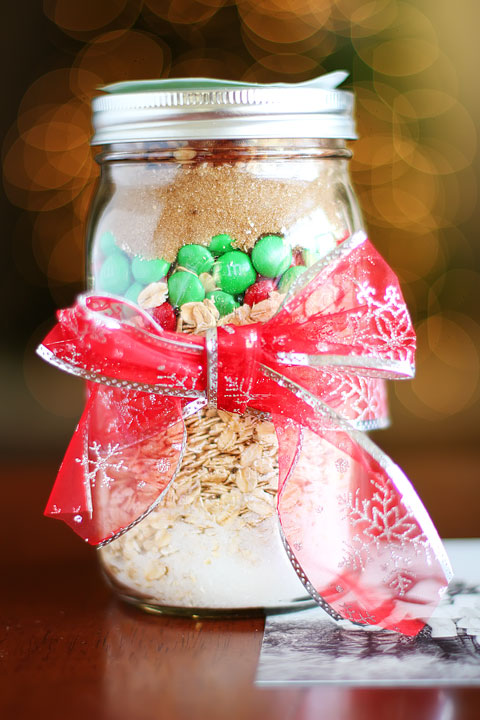 Time's Up! The winner of the Desserts in Jars Giveaway is:
#558 dixie: oatmeal chocolate chip cookies w/ walnuts :) my FAVE!!
Congrats Dixie! I've sent you an email! :)
***

I have a sweet giveaway to share today. :) Hands down, one of my favorite weekends ever was when my friend Shaina came and stayed at my house while she was writing her delicious book Desserts in Jars. We spent two days baking, photographing, and totally indulging in 11 ridiculously fabulous desserts that went straight into this fun book. Shaina's book not only includes a multitude of decadent desserts made and displayed in jars, but she also has many ideas and recipes for jar mixes made for gifting. Cookie mixes, like this Monster Cookie Mix pictured above, are the perfect gift for any occasion, but they're especially fun at Christmas! If you're looking for a unique stocking stuffer or special gift for someone who's hard to buy for, check out all the fun jar mixes in Shaina's book. You can now conveniently find Deserts in Jars at Target! The Espresso Brownies, White Chocolate Spice Cookies, or the Spiced Hot Chocolate with Cinnamon Marshmallows Mix are sure to wow! The cookie mix alone would be perfect for a stocking stuffer, or for a great gift tuck this cookie mix in a basket with a baking sheet (or a muffin top pan), a fun decorative spatula, (Target has the cutest Christmas spatulas right now!) a cookie scoop, and some decorative teaspoons along with a copy of Desserts in Jars. Perfect! And they obviously travel well if you need to ship any gifts this year. Shaina shipped me this cookie mix above and as you can see, it looks flawless!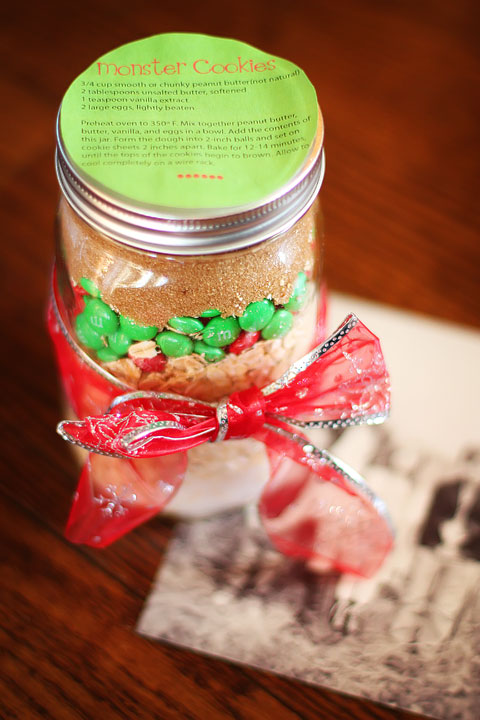 Shaina even has free printable gift tags with instructions for topping your cookie mix jars on her Desserts in Jars site. So convenient!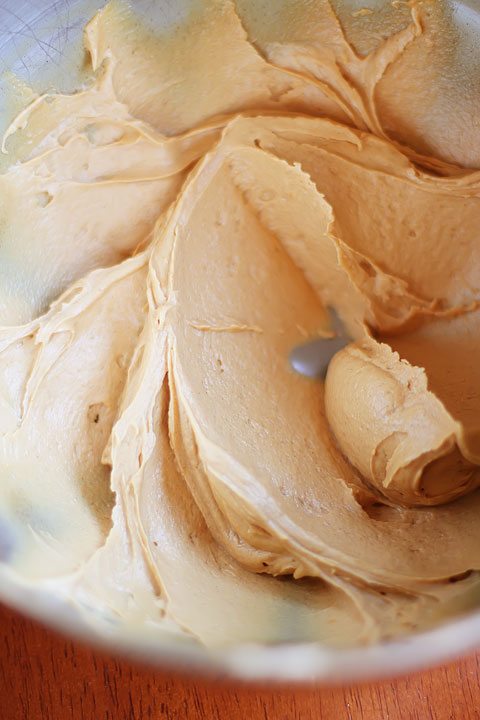 Ya'll know as soon as I pulled the gorgeous jar out of the box I had to make these cookies immediately! :) Just whip up a little peanut butter, butter, eggs and vanilla…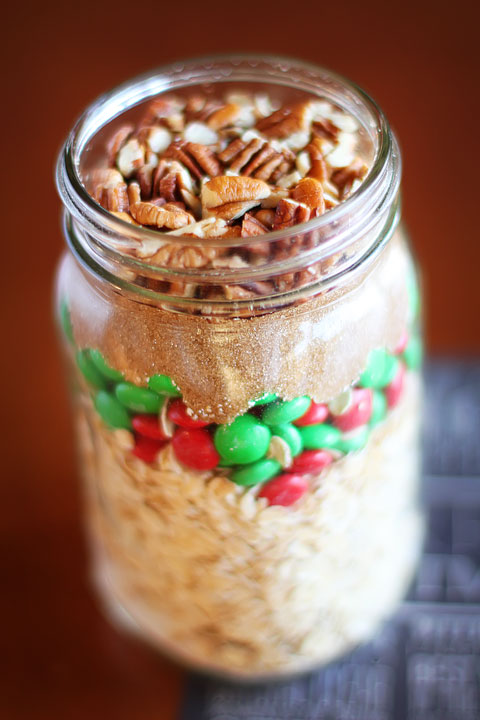 Then take your fabulous cookie mix…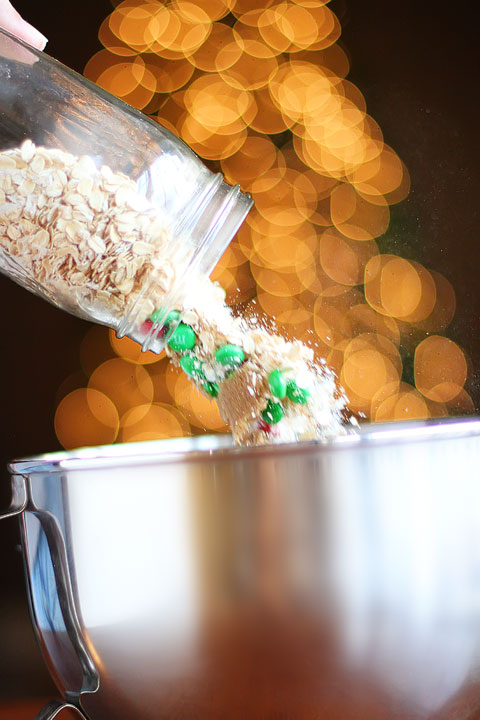 And dump it right in.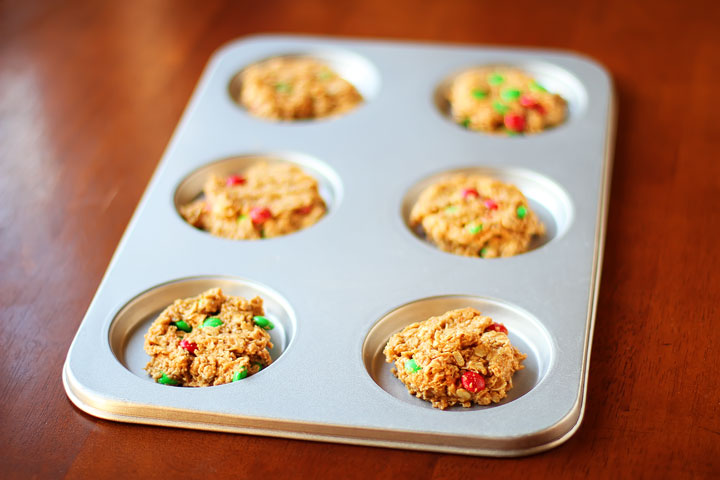 You can bake on any standard cookie sheet, but I wanted to make these in a muffin top pan today.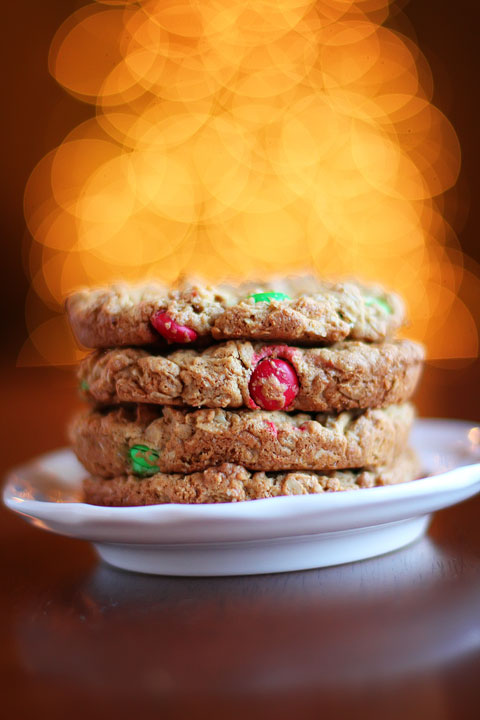 I love how HUGE they turn out in a muffin top pan! Look at that gorgeous deep-dish crust! These Monster Cookies definitely live up to their name. :)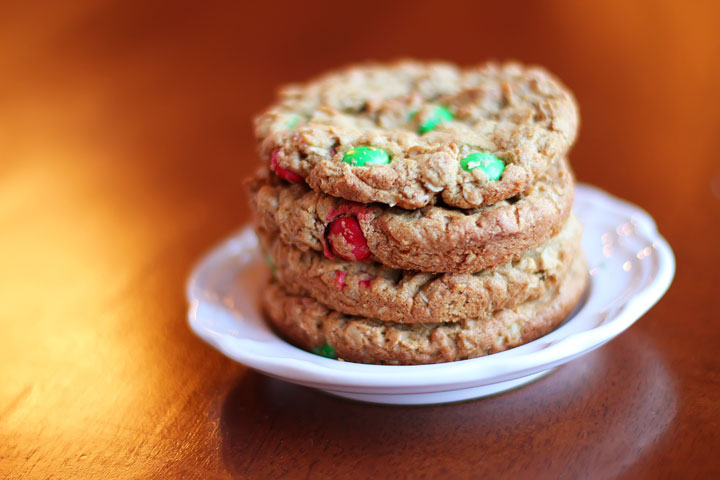 Peanut Butter and M&Ms… These are the cookies Santa wants on his plate! :)
Monster Cookies In a Jar Mix
1/2 cup sugar
1 teaspoon baking soda
1 teaspoon salt
2 1/4 cups rolled oats
3/4 cup M&Ms or chocolate chips
1/2 cup light brown sugar, packed
1/4 cup chopped walnuts or broken pretzel pieces
1. Whisk together the sugar, baking soda, and salt and pour into the bottom of a 1-quart Mason jar.
2. Top with the oats, M&M's, brown sugar, and chopped walnuts or pretzels. Seal with lid and attach a label with the following instructions for the recipient:
To Make Monster Cookies
3/4 cup peanut butter (not natural)
2 tablespoons butter, softened
1 tablespoon vanilla extract
2 eggs
Preheat the oven to 350 degrees F. Mix the peanut butter, butter, vanilla and eggs in a large bowl until well combined. Add the contents of this jar and stir until just combined. Form the dough into 2-inch balls and set on cookie sheet 2 inches apart. Bake for 12-14 minutes until the top sof the cookies begin to brown. Allow to cool on a wire rack.
Recipe adapted from Desserts in Jars.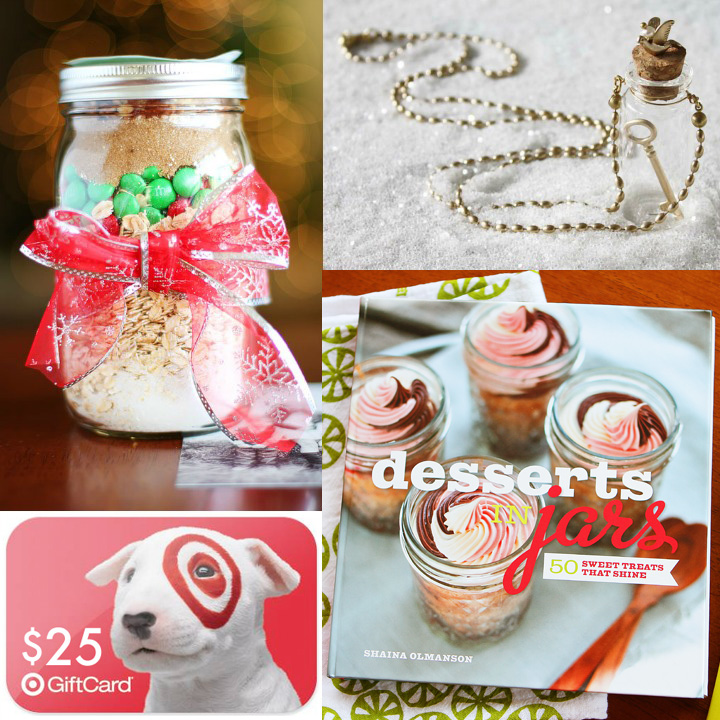 Desserts in Jars Giveaway!
I'm so excited to share a fun gift basket of sweets and treats with one lucky Kevin & Amanda reader, celebrating Desserts in Jars. Here's what all you'll get!
1 Monster Cookie Mix (made by Shaina herself!)
1 personalized, autographed copy of Desserts in Jars
1 $25 Target gift card
How CUTE is that necklace?? I love it!! :)
How to Enter
To enter the Desserts in Jars giveaway, all you have to do is leave a comment on this post. What's your favorite dessert?? :)
Contest ends Saturday, December 15 at 8 am CST. One entry per person, please. Winner will be chosen at random and notified by email.
If you're on Facebook, come check us out here! :)
Stay sweet… and good luck!!! :)