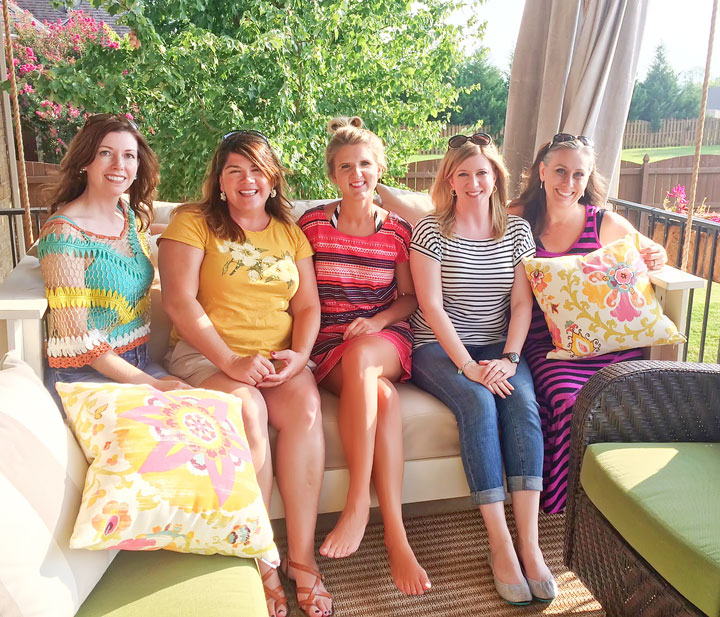 Once a month I meet up with a fabulous group of local bloggers to chit chat, network, and talk about blogging. I have grown to love our fun meet-ups and look forward to them every month! Sometimes we'll pick a new restaurant in town to try, and sometimes we'll have get togethers in our homes. This month I invited them over to my house for a Gourmet S'mores Party!!
(Above: Stephanie @ Grinning Like An Idiot, Paula @ AKA Jane Random, Amanda, Stephanie @ Plain Chicken, Lynda @ Southern Kissed)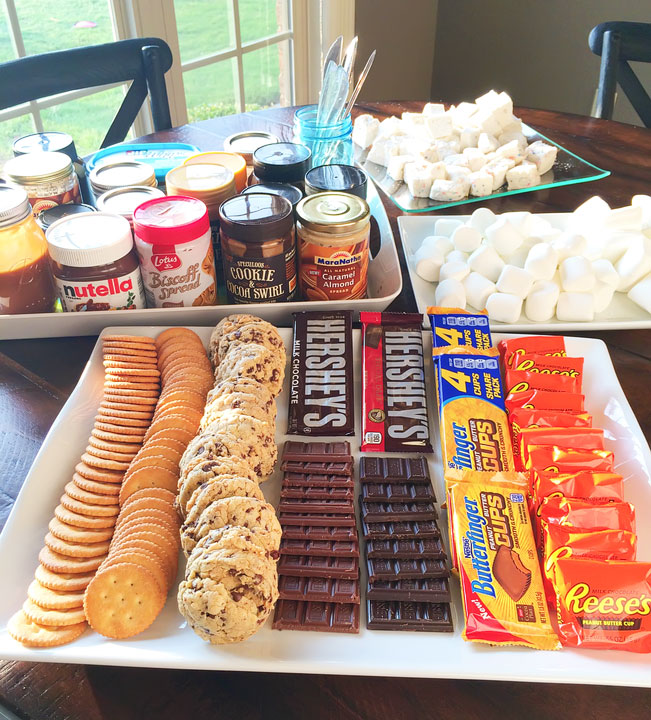 I love going all out for s'mores! We had four different kinds of marshmallows, four different kinds of chocolates, and lots of fun spreads to create our own culinary s'mores masterpieces. :)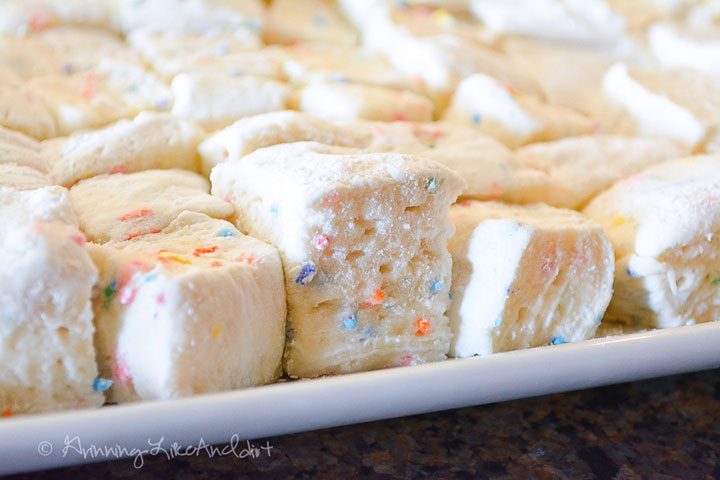 I even made two different types of homemade marshmallows for us. How pretty and fluffy are these Cake Batter Marshmallows from Cookies and Cups??! I also made classic Vanilla Bean Marshmallows using Shauna Sever's recipe.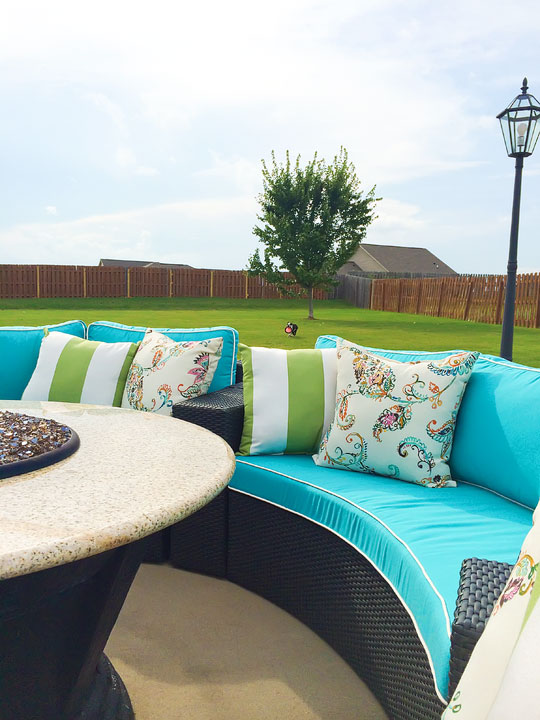 After chit chatting on the porch all afternoon, we gathered around the fire pit as the sun started to get low in the sky.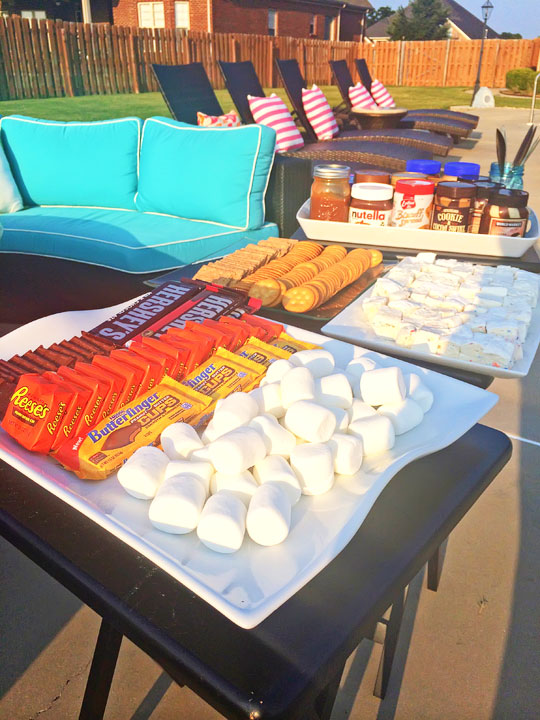 For our s'mores set up, I always try to make sure I have a few staples on hand. Milk and Dark chocolate Hershey Bars are classics. Reese's Peanut Butter Cups are a must!! They are always a crowd favorite. Butterfingers Cups are a new favorite! I always put out a few classic graham crackers (the cinnamon sugar ones) but once everyone tries S'mores with Ritz, no one ever goes back to grahams. :)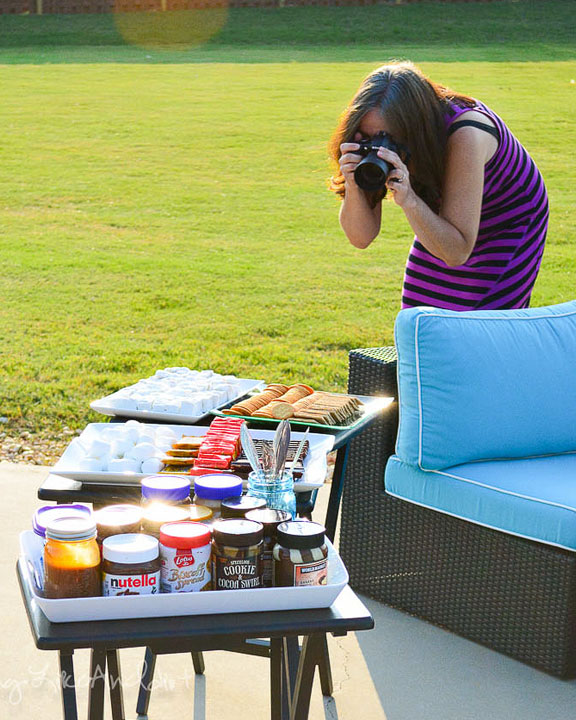 This is Lynda. She makes the best brownies ever!!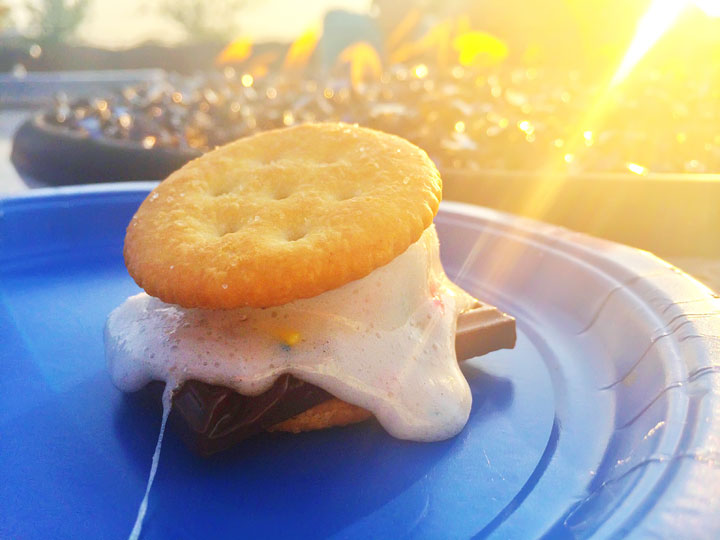 Here was my first creation of the night: cake batter marshmallow with dark chocolate. Loved the homemade marshmallows!! They got so soft and gooey!! They also didn't catch on fire as easily as storebought marshmallows do.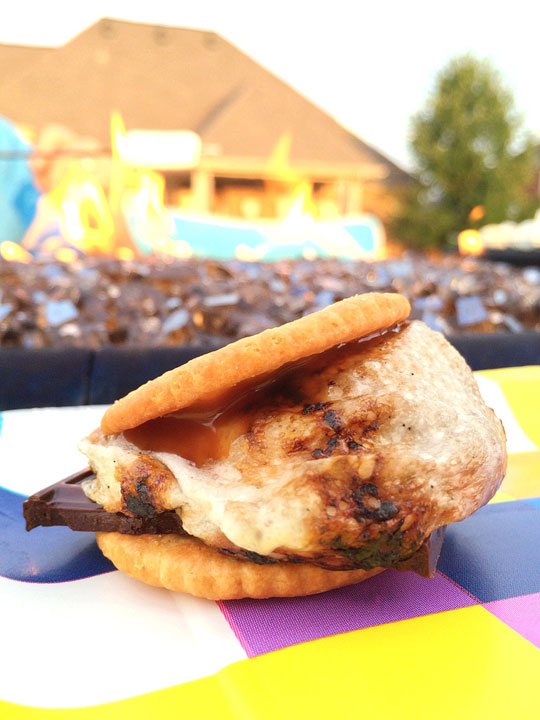 Here's my favorite combo: homemade vanilla bean marshmallow, dark chocolate, and homemade salted caramel sauce.
If you're thinking about throwing a gourmet s'mores party, I highly recommend making at least once batch of homemade marshmallows!  They get fabulously caramelized on the outside and unbelievably gooey on the inside. The perfect combo!!
Check out this post for more tips on hosting a gourmet s'mores party. One new thing I'm going to start doing now… I always bring out a roll of paper towers for us, but now I'm going to start bring a box of baby wipes as well, lol!! S'mores are MESSY!! :) I am usually a chocolate covered mess by the end of the night. :)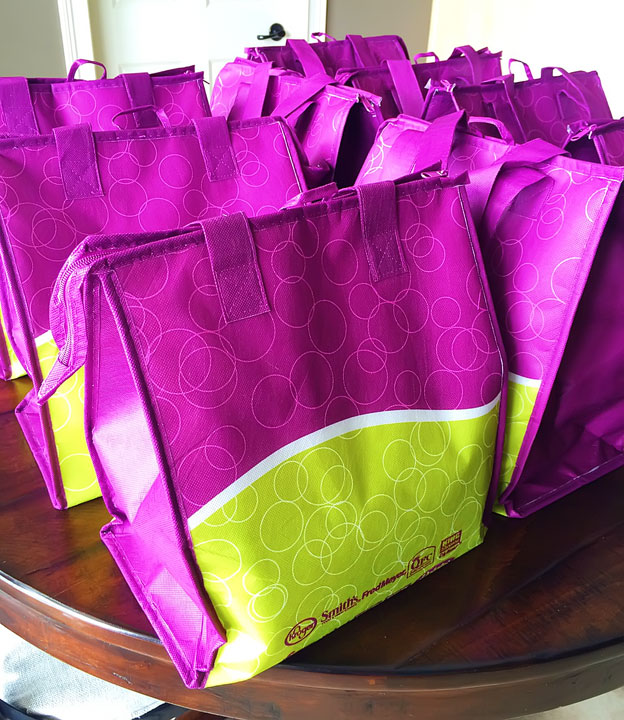 I couldn't let my friends leave without a little fun s'mores swag! :)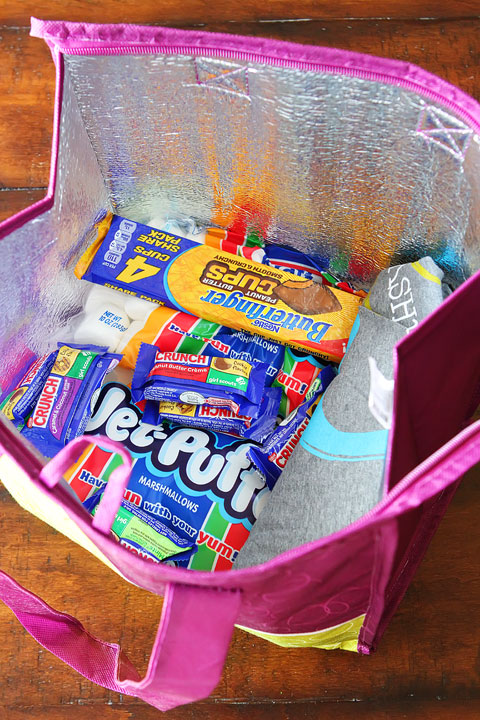 I emailed a few of my favorite brands, told them about our awesome group, and they were so sweet to provide a few little goodies for our party. Kroger provided these awesome insulated shopping bags and $25 gift cards.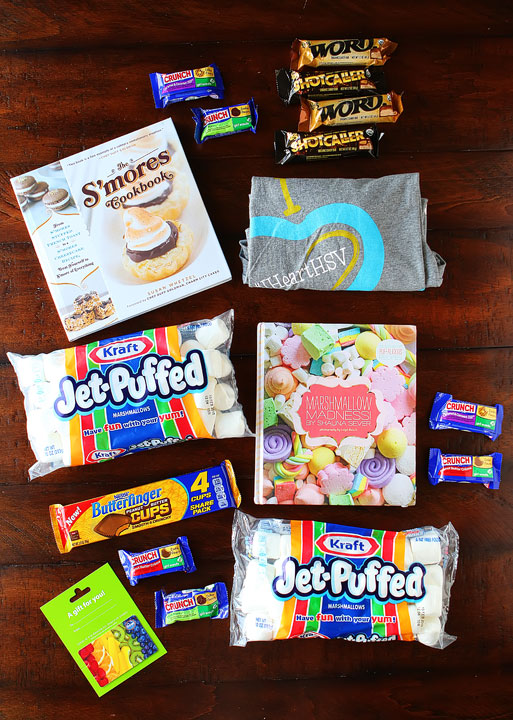 Kraft sent a GIANT box of marshmallows for us!! Enough so everyone got 2 bags! :) These classic Kraft marshmallow are my favorite for s'mores. They're the perfect size for Ritz crackers! ;)
Nestle sent their elusive Butterfingers Cups! Have you had one yet?? They are so popular they are hard to find!! :) We can usually find them at Kroger, though. They also sent their Girl Scout Nestle Crunch Bars. Omg. Have you had the Thin Mint one yet?? It's SO good!! I was dying! So, so dangerous now that they're available year round!! Ack!!
A new company, Legit Organics, sent some goodies as well. Legit makes classic candy bars with high quality, organic ingredients. Have you seen them around? Can't wait to try these two new ones!!
What would a S'mores swag bag be without THE S'mores Cookbook??! SO excited to include my sweet friend Susan's S'mores Cookbook. All the girls were dying over all the gorgeous recipes in this book!! This book makes an awesome gift.
They also got Shauna Sever's Marshmallow Madness cookbook so they could go home and make their own homemade marshmallows!! Both the recipes for the classic vanilla marshmallows and cake batter marshmallows are in this book. This is also a super cute cookbook and would make a great gift. The cover is puffy like a marshmallow!
And finally, the sweet gals at the Huntsville tourism board sent everyone these cute #IHeartHSV tshirts for all of us!
Thank you so much to our sweet sponsors for making this the best swag bag ever.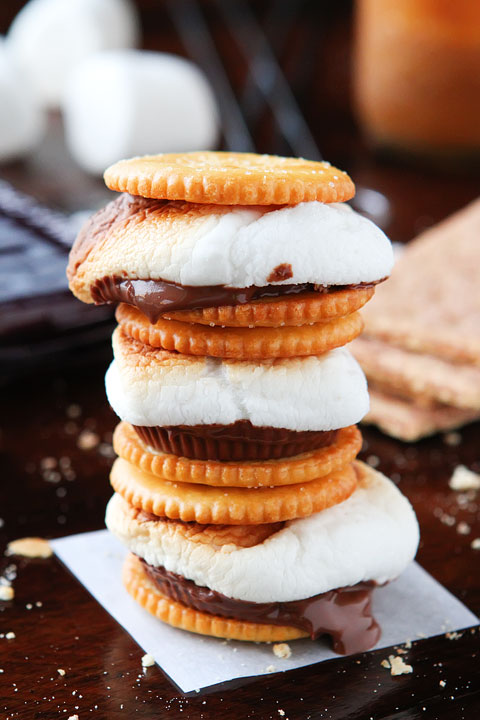 Be sure to check out these fun recaps from the party and take a peek at the delicious S'mores themed recipes they're sharing!
Pizza, Pool and S'mores Party from Stephanie @ Grinning Like An Idiot
S'Mores Chocolate Milk from Lynda @ Southern Kissed
S'mores Cereal Bars from Paula @ AKA Jane Random
And definitely don't miss the story of how Paula's pants fell off at the party. She will have you rolling with laughter!!
Happy S'mores Making!! :) xoxo