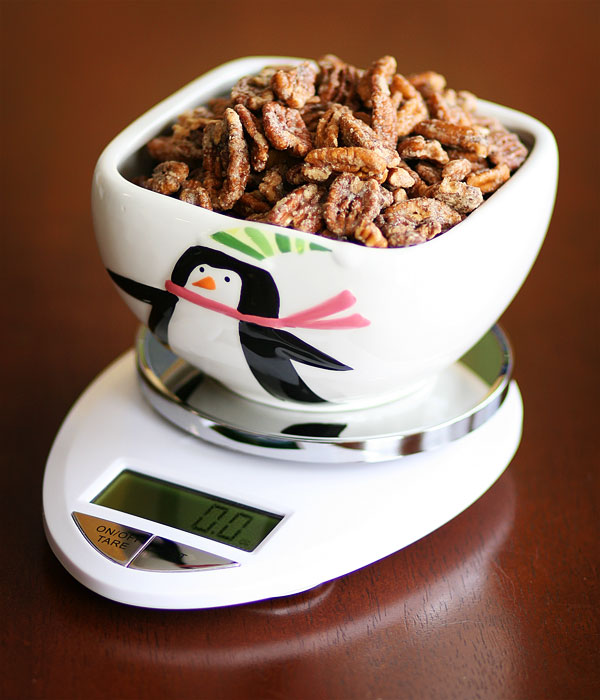 A few weeks ago I was browsing through the comments section of this blog, as I often do- I love clicking on the blog links and taking a peek- reading your posts, sharing in your stories and getting to know you a little better! :) I came across something on New Year's Resolutions that I've been thinking about ever since- and I wanted to share it here. This is from Sarah at The Strength of Faith:
I work with a girl who absolutely loves Mondays. LOVES them. She says they give her a fresh start. Mondays that start a new month are even better. We were both at work yesterday and were thinking about coming into work next week. Not only will we be coming in on a Monday, but it will be Monday, January 4, 2010. We will be starting a new WEEK, MONTH, YEAR and DECADE. I think this is the perfect opportunity to start fresh; to make one attainable resolution (read: ONE and ATTAINABLE) and to focus on how that one resolution can feed into the other parts of your life.
New year, new decade. A fresh start. I love that!
After posting about my weight loss story last November, I heard from many of you how you wanted to try it- after the holidays, of course! A fresh start in the new year. I have even heard from a couple of you how the first week went- someone lost 3 lbs! Success! :)
I love getting those emails- hearing your success stories, sharing tips, answering any questions I can, hopefully helping out a little! :) I noticed a lot of you had the same questions (and I was beginning to sound like a broken record! :)) – so I thought I'd share a few of those answers here, in case anyone else was wondering! :)
The Most Frequently Asked Question: What do you snack on during the day?
Grapes – they're Kevin's absolute favorite. I learned this trick from his mom and aunt- they keep a bowl of fresh grapes out on the counter almost all the time. Whenever you walk through the kitchen, you grab a couple of grapes. It helps keep you feeling full, you're not looking for other (possibly unhealthier) stuff to snack on, and they're just plain easy and fun to munch on. :)
Frozen blueberries – a 1/2 cup of these with just a little spoon of cool whip… YUM! A great late-night, low calorie sweet treat.
Clementines – my new obsession. They're like tangerines, but smaller and sweeter. And super easy to peel- it practically just falls right off. And best of all- no seeds! You can just pop a slice in one after the other. And apparently they have amazing healing powers- I was getting a sore throat right after Christmas, and I was crushed- a sore throat for me is *always* the first sign of a cold. But I ate three clementines that night and the next morning the sore throat was completely gone- and I never came down with a cold. Coincidence? Who knows?? :)
Bananas/fruit – Filling. Low cal. My mid-morning snack of choice.
Granola bars/yogurt – I love granola bars and yogurt, but they're just not all that filling for me. I eat one and 30 mins later I'm hungry again. lol. I eat these as an afternoon snack when I just need something light to tide me over until dinner.
Popcorn – I was never a huge popcorn person before, but now I love it. It's definitely my favorite late night snack. My favorite is Orville Redenbacher's Movie Theater Butter- let me tell you, it tastes *way* better than any popcorn I've ever gotten at the movie theatre! :) It's so buttery you don't need to add extra butter- and at only 70 calories in 2 cups of popcorn- it's way, way better for you too! :) When I'm in the mood for something sweet, I reach for kettle corn- sweet and salty. :D Yum.
My Best Tip: Don't skip breakfast!
I had to really work on Kevin about this one- he was never a huge breakfast person and had every excuse out there! :) "But I'm just not hungry in the mornings", "I don't have time to eat before work", "But eating first thing in the morning just makes me feel hungrier during the day!" (Huh??) But studies show that, even if you eat the same number of calories, you burn more calories if you spread them out over the day, rather than eating them all in one or two meals. So now Kevin eats oatmeal in the morning before work and has a granola bar for a mid morning snack. Starting your day with whole grains and spreading your calories out over the whole day helps keep you feeling fuller longer and keeps your metabolism boosted. (Note: I am so not even close to being an expert in this area- I'm just repeating things I've heard that have been true in my experience! :))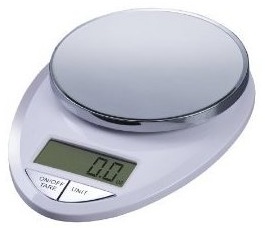 A Little Help: from EatSmart
I had this food scale on my Christmas wish list- not just for calorie counting purposes- but also for baking and other recipes that measure ingredients by weight. Imagine my shock when a few weeks before Christmas, EatSmart contacted me and offered to send me the exact scale on my wishlist! :) I have used this little thing almost every day since getting it in the mail- it pretty much lives on my counter! Definitely my favorite thing about it is how small and lightweight it is- it hardly takes up any room. Which makes it perfect for leaving out on the counter, or storing easily in any cabinet, drawer, or small space if company's coming over. ;)
The most useful feature is the scale's tare (zero) function- you just put a bowl or plate on the scale, turn it on, and it eliminates or "zeros out" the weight of the plate- so you can load it up with whatever you're weighing. Then if you want, you can zero it out again and add more! :) It's great for snacks- that way I don't have to dirty up a measuring cup or something- just the bowl I'm eating out of. The digital display is big and easy to read- even if there's a large plate of food on the scale- and it's definitely an upgrade from the old-fashioned analog scale I was using! :) I mostly weight things in ounces and lbs, but you can also weight in grams and kilograms- which will come in handy with a few baking recipes I have.
Kevin loves it because it weighs items up to 11 lbs- made shipping all our Christmas packages a snap! :)
Not only did EatSmart offer to send me one to try out- they sent one to give away! :) It comes in 5 different colors- and you get to pick! :)
We have a winner!!! :)
Congratulations to #126 Teale! :)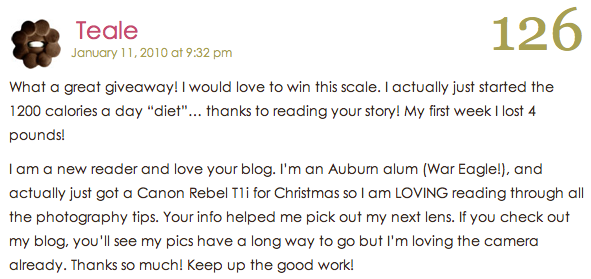 Congrats, Teale!! And War Eagle!! :)
To Enter the Giveaway…
All you have to do is leave a comment on this post! :) If you have a blog journaling your weight loss, and feel comfortable leaving a link to it in the comments, I'd love to check it out! :) If you have a recipe you know will use this scale for, LEAVE IT!! :) I want to try it too!! :D If this was your first Monday to weigh in, and you had success, I'd love to hear about it! :) And if you made any new year's resolutions, I'd love to hear them too. :)
The Deadline…
The contest will run until Wednesday, January 13 at noon CST. The winner of this giveaway will receive one EatSmart Precision Pro Digital Kitchen Scaleâ"¢ in the color of your choice! :) The winner will be chosen by his or her comment number (using Random.org's number generator) and announced on this post on Wednesday. Check back to see if you're the winner!! :)

***
By the way, what was my New Year's Resolution? For a fresh start, this new year, the new decade?
Treat everyone with politeness, even those who are rude to you- not because they are nice, but because you are.
Author Unknown
Boy, have I already blown that one. A couple of times! And it's only the 11th. :P But today's a new day- a new week, even. A fresh start.
Here we go!