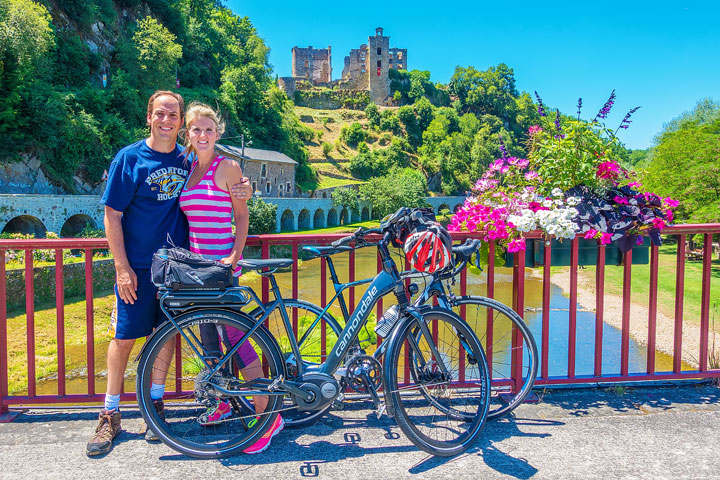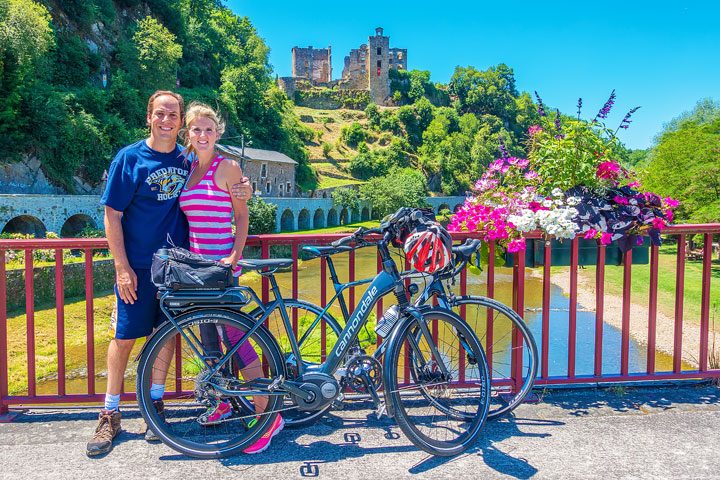 A few weeks ago Kevin and I spent a week biking through the warm and sunny south of France. I shared part one of our trip last week. Be sure to check it out for more photos of the breathtaking French countryside! :)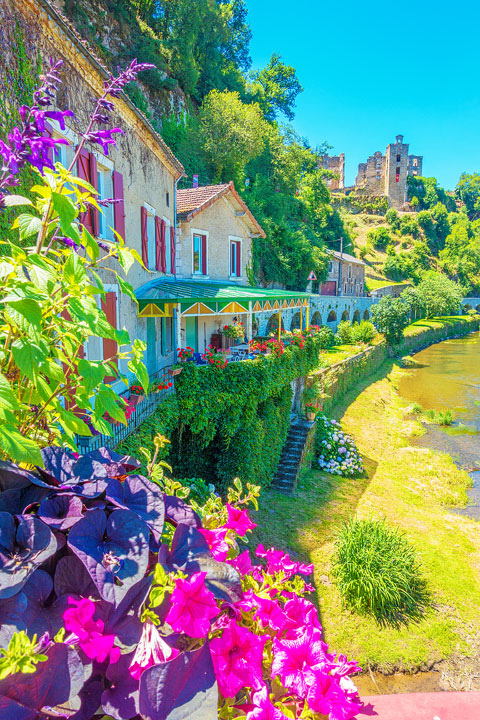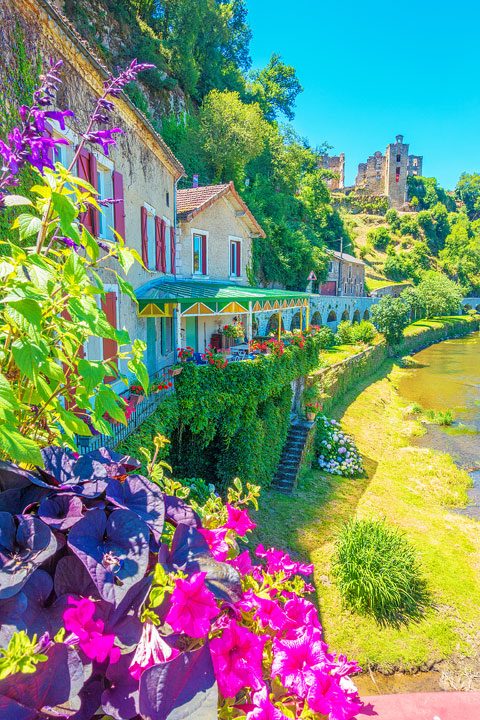 On our third day biking through picturesque villages and sprawling wheat fields, we stopped for lunch in beautiful town of Laguépie. Laguépie is a teeny tiny village on the Aveyron river with a population of less than 800 residents.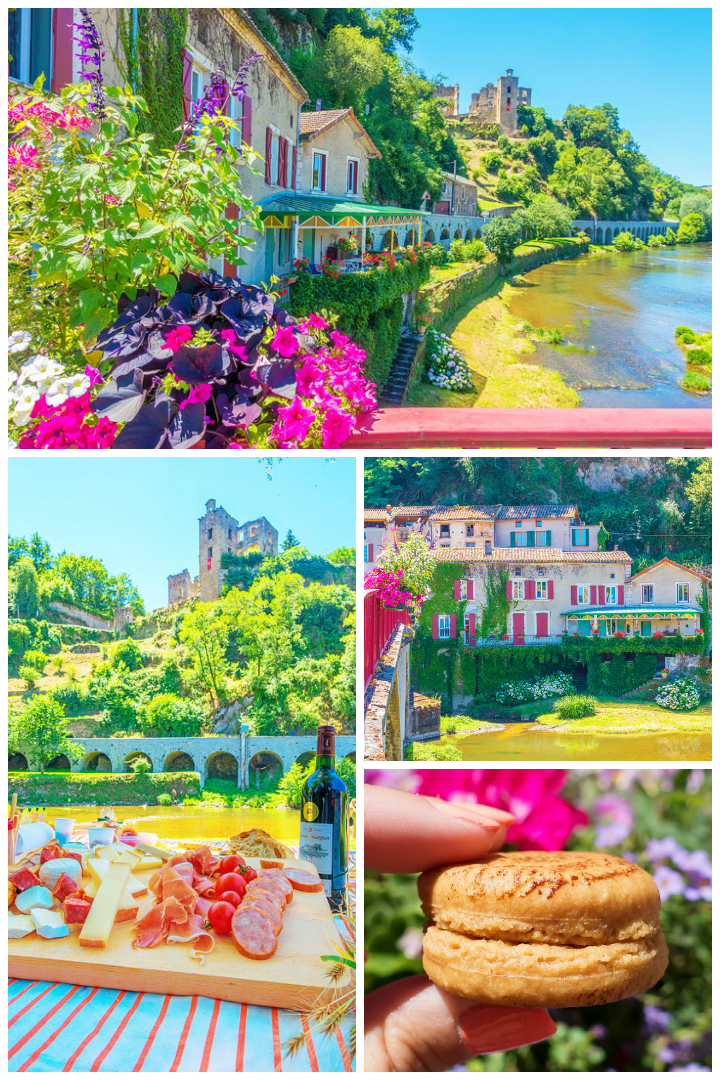 We stopped for a picnic lunch along the banks of the river with the ruins of this medieval chateau as our view. The water was warm and shallow enough for wading to cool our feet after riding all morning.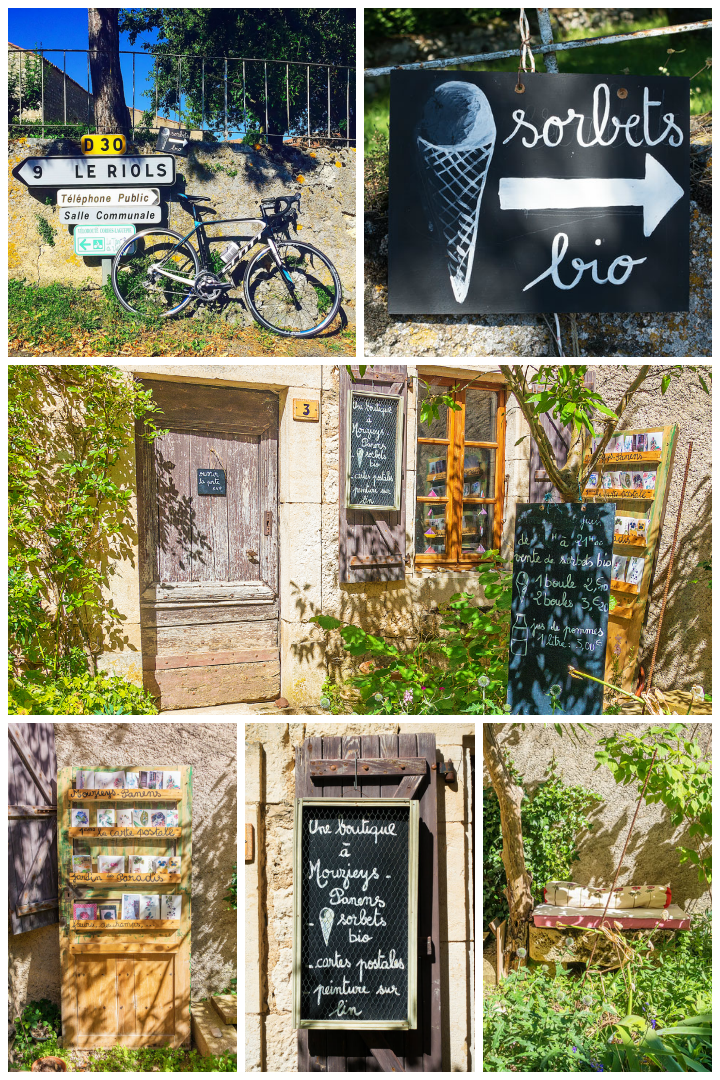 Top left photo via The Global Trip
After lunch, we hopped back on our bikes and rode some more. And this is why you should always pay attention to road signs, my friends. See that teeny tiny sign in the top left photo? We were riding through honestly the middle of nowhere. There was nothing but gorgeous scenery and golden wheat fields to be seen for miles. We came to this tiny road sign, and above it was an even tinier sign that said "Sorbets" with an arrow.
Well, when you're in the south of France, in the middle of nowhere, and you come to a sign that says "Sorbets" you obviously follow the arrow. So we did, and we came to this small, ghost-town-like village. There were no shops, no restaurants, no people, just homes. Like a tiny country neighborhood. We thought there's no way there's a sorbet shop here… And even if there is, there's no way it's open! We kept going though, and eventually saw another sorbet sign! With another arrow! We were encouraged and kept following. And sure enough… After a few more minutes we came to this little house with a sorbet sign out front. There was even the cutest pink couch outside for sitting and eating sorbet.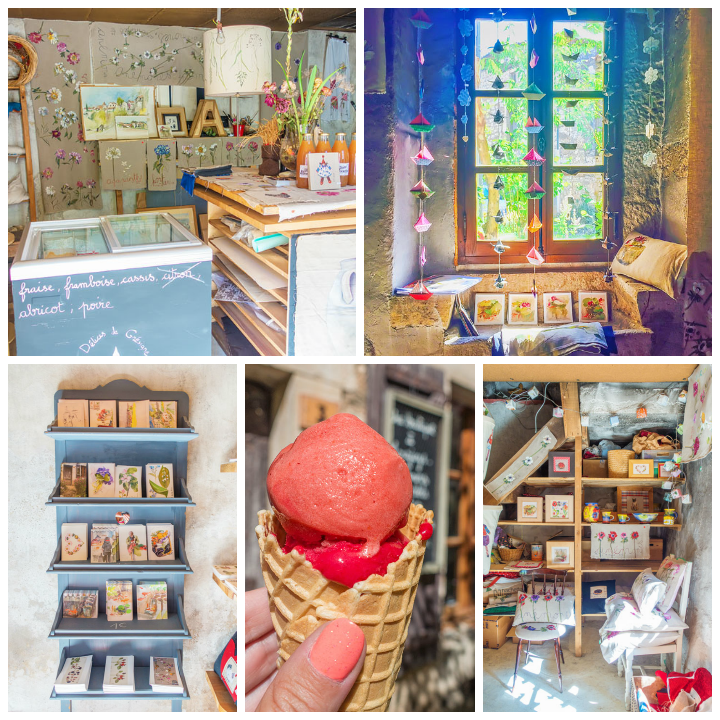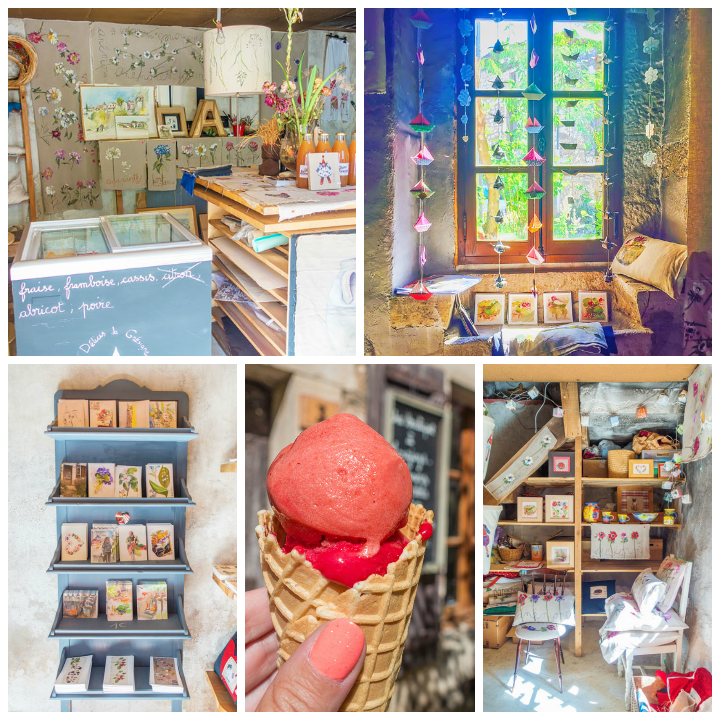 Top right photo via The Global Trip
We peeked inside, and basically it was like an artist's studio, filled with arts, and crafts, and hand-painted postcards from the artist herself. She spent her days living and painting in the French countryside, and selling her homemade organic sorbet to those who happen to wander through. It was honestly one of the neatest experiences I have ever had. What an amazing life!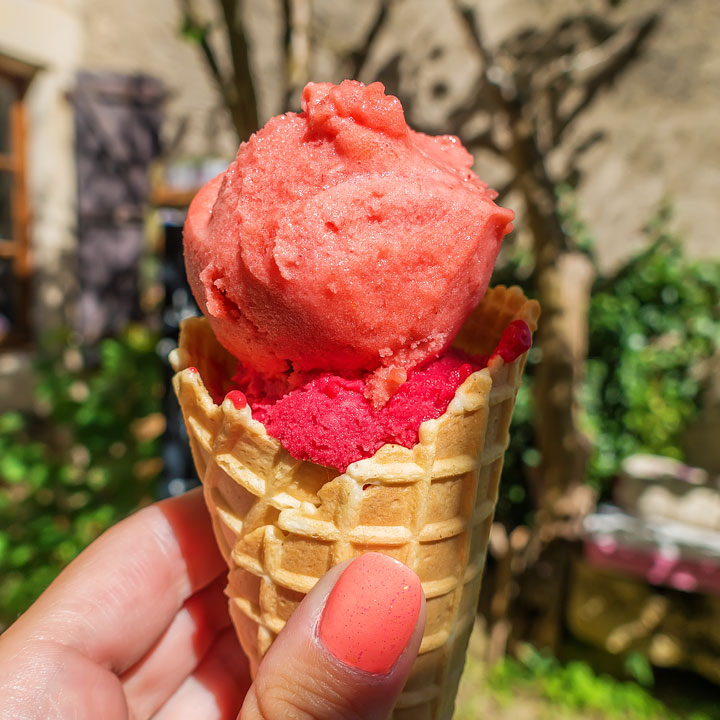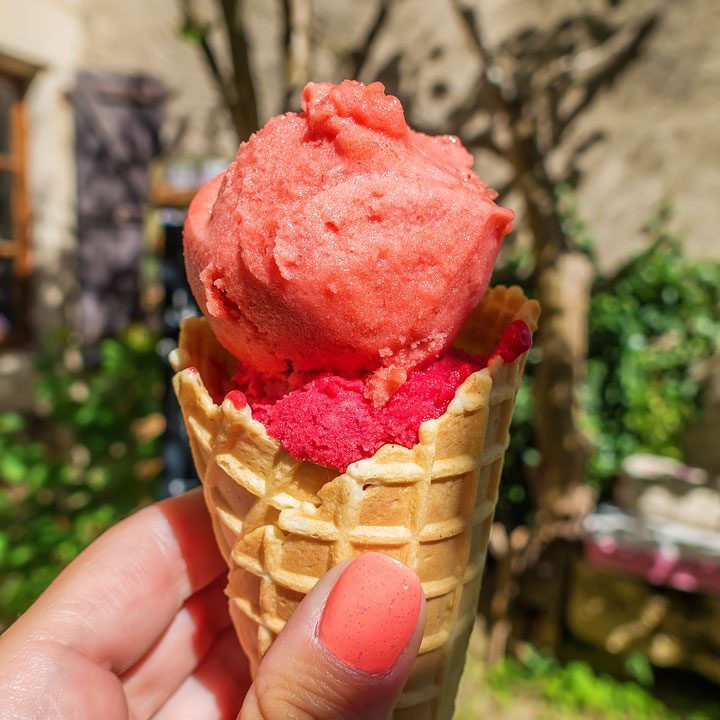 I got strawberry and raspberry. Amazing!!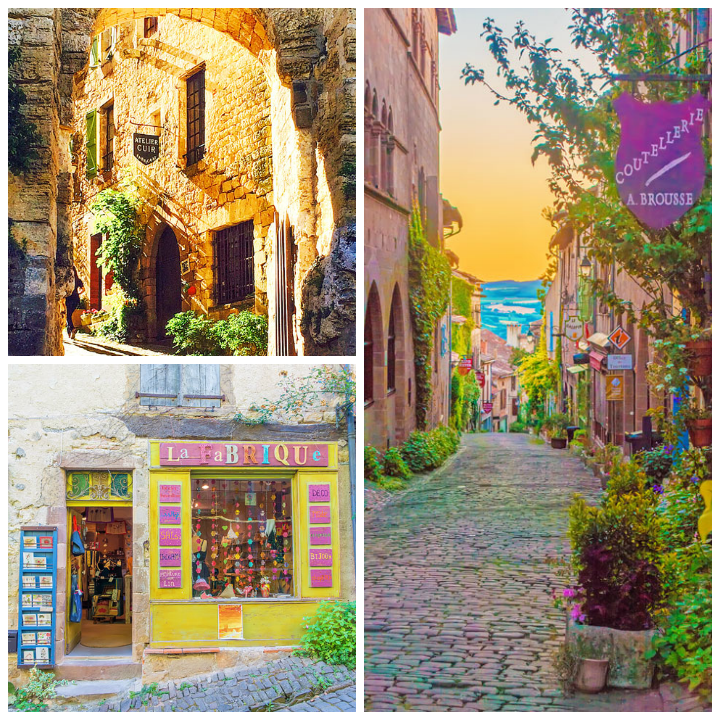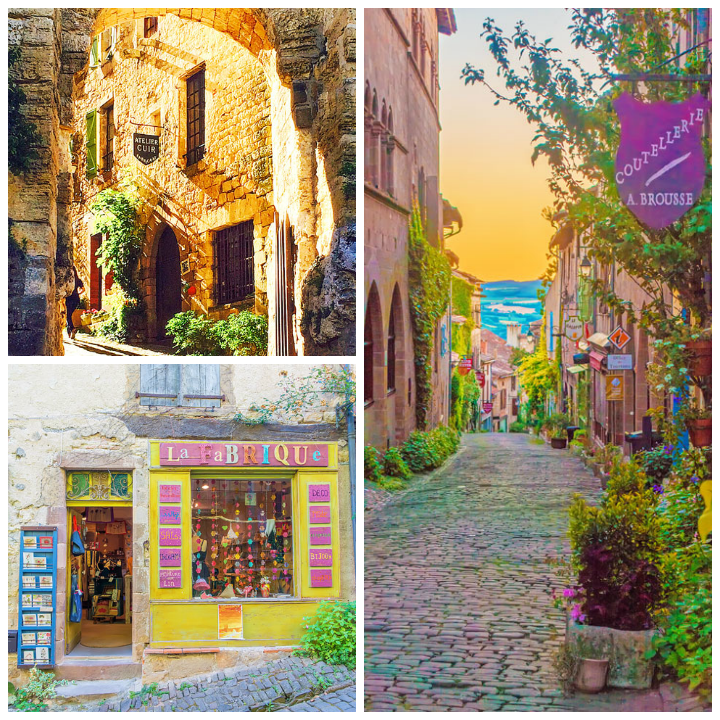 Top left photo via The Global Trip
Late that afternoon we made our way to Cordes-sur-Ciel. In 2014 the French people voted this small hilltop town their favorite village in France. And I can totally see why. This was such a fun stop. I am so glad we got to spend a night in this beautiful village. If you are ever in the area, I highly recommend it! There are fun, colorful shops along the narrow, cobblestone streets. There's endless wandering and relaxing to be had. There's even a museum fully dedicated to chocolate! They had samples and of course a gift shop where we bought some souvenirs. ;)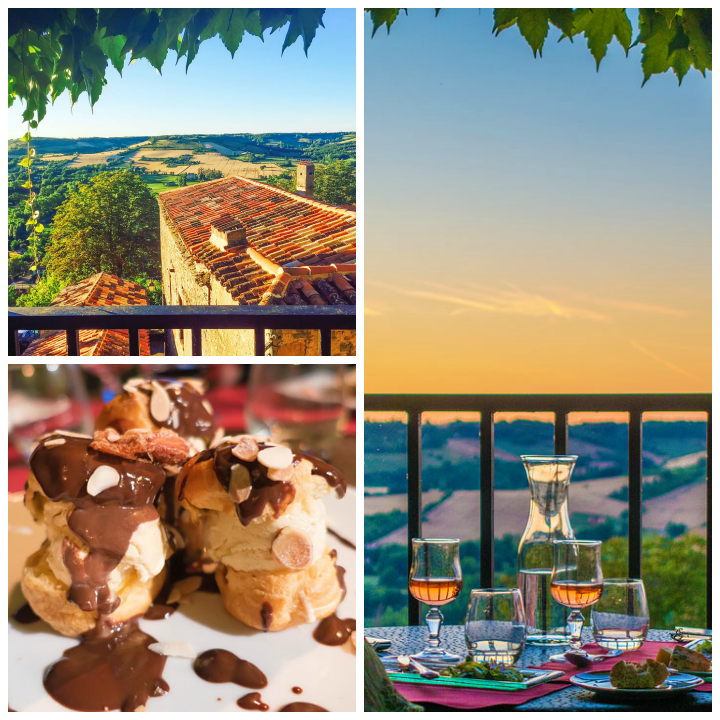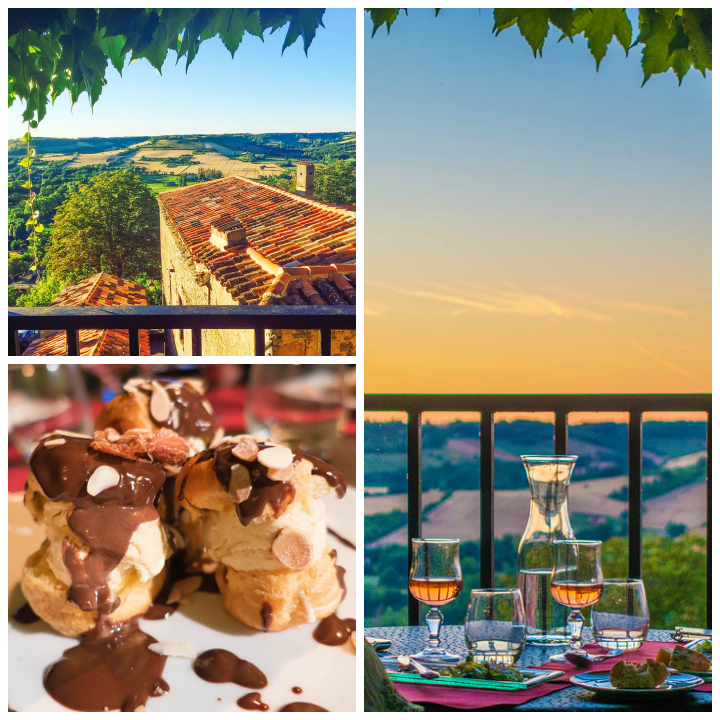 Top left photo via The Global Trip
Cordes-Sur-Ciel literally translates to "Cordes on the sky". This small village sits on the highest hill in the area, and it feels like you're in the sky because you can look all around you and see the vast surrounding French countryside beneath you.
We stayed at the Hostellerie du Vieux Cordes, and had an amazing dinner on the terrace at sunset. Loved the profiteroles for dessert!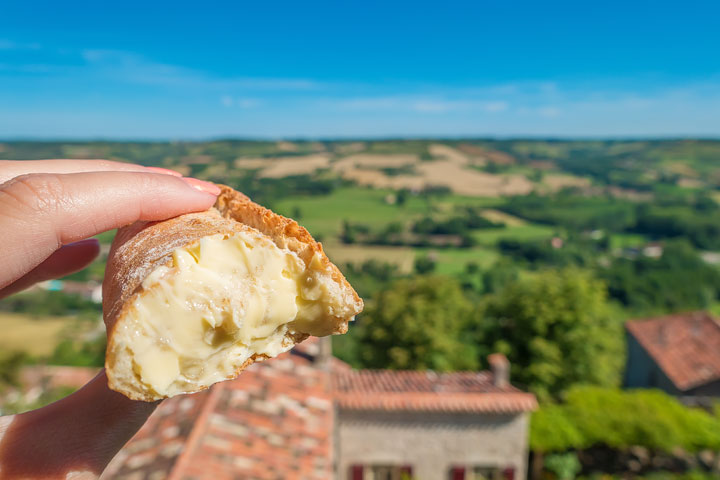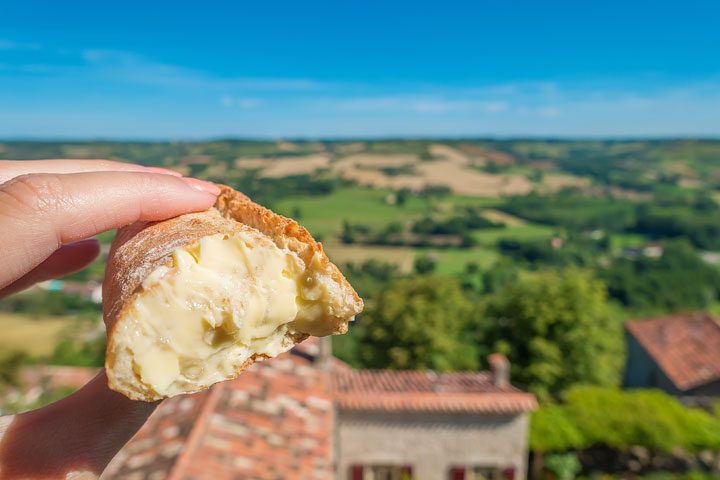 The next morning I had a warm baguette, hot and fresh from the oven, with European butter and this stunning view of the French countryside below.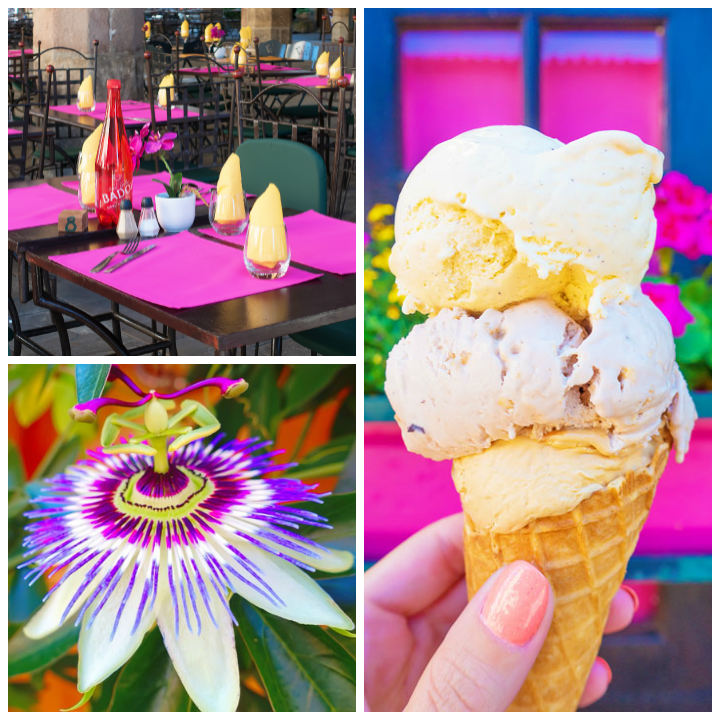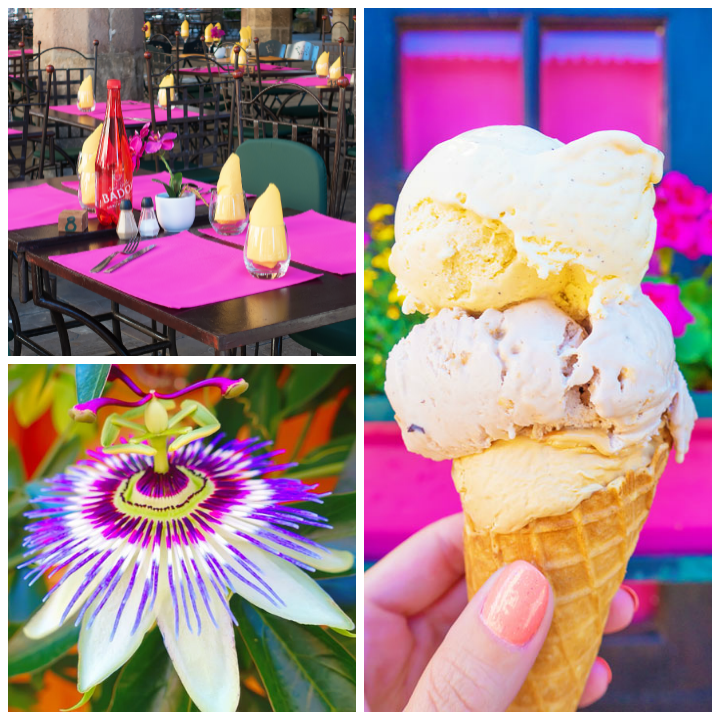 We spent a little more time exploring this beautiful, colorful town before hopping on our bikes and heading for our next destination. We found an ice cream shop with hazelnut, salted caramel, and Biscoff, so of course I had to try. ;)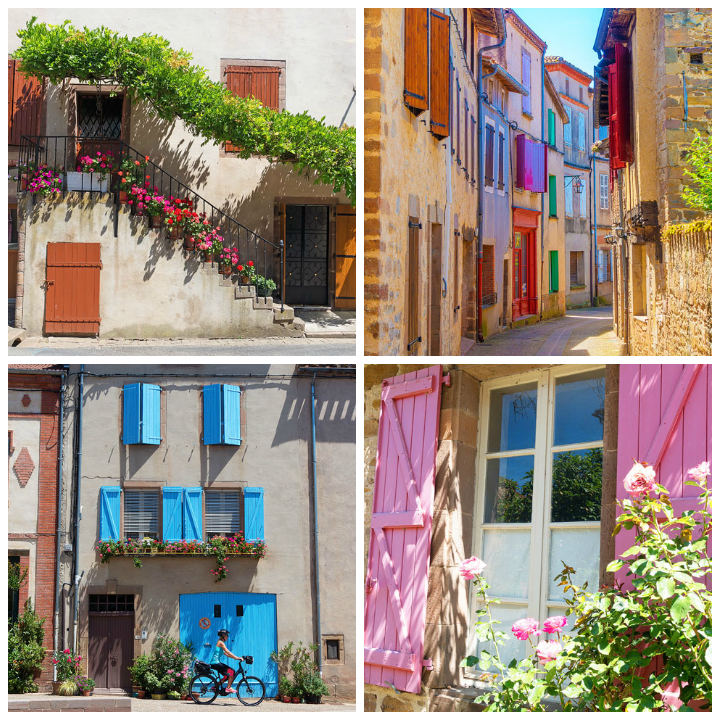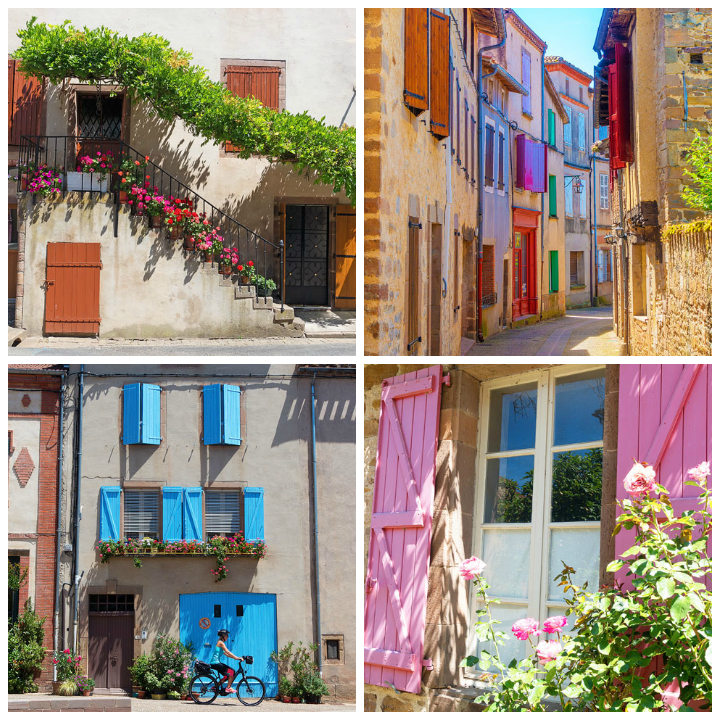 We rode through so many beautiful villages, with tons of stops to explore. It was like we had the entire village to ourselves.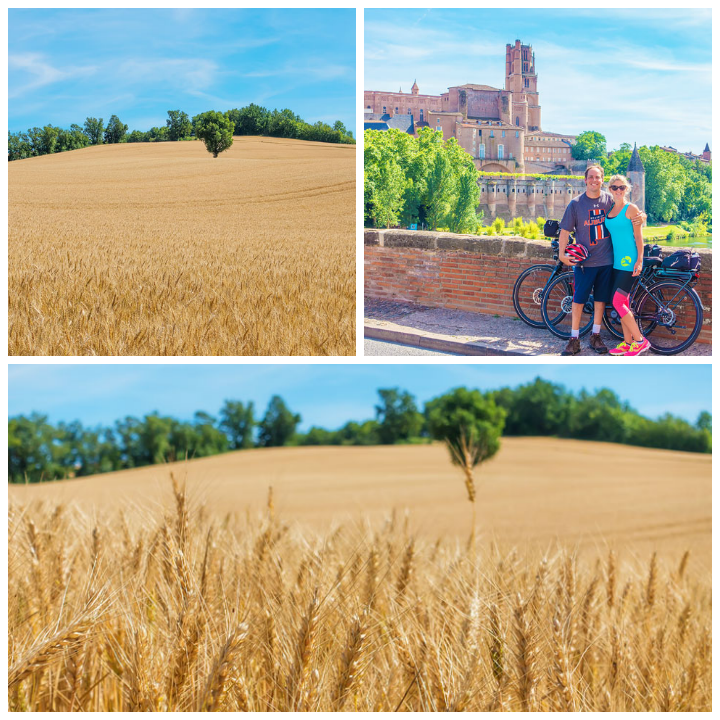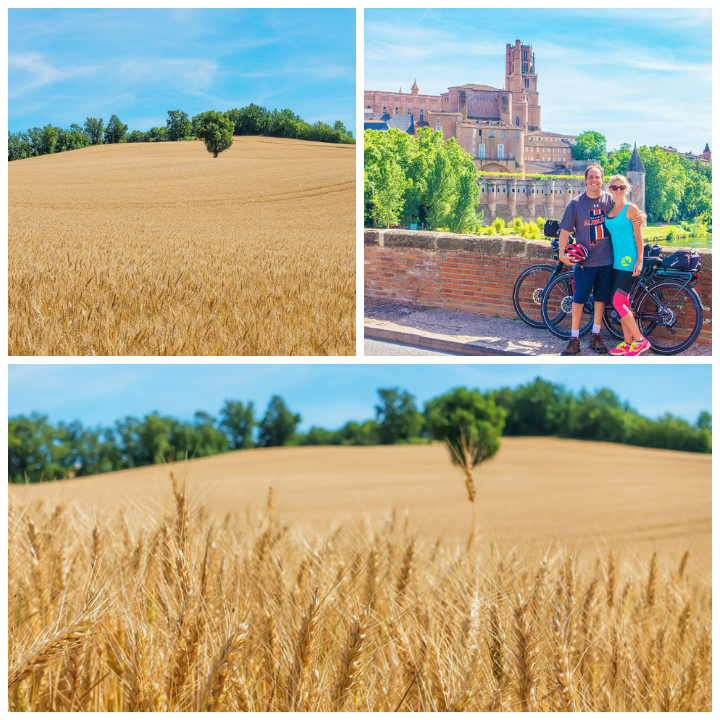 We cycled through farms and countryside among shining golden wheat fields.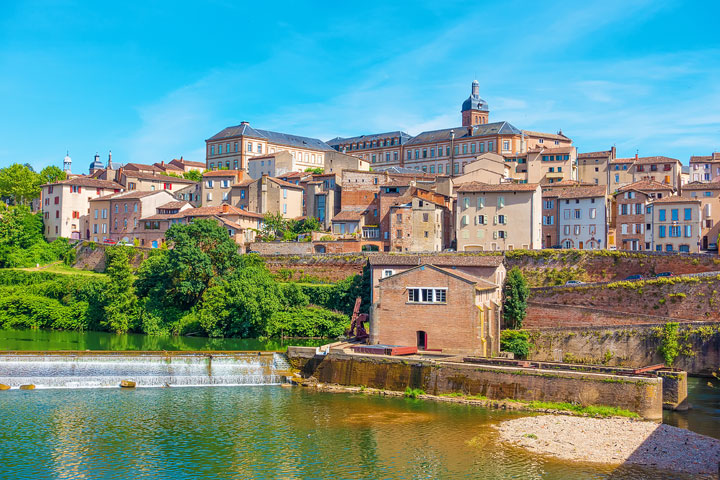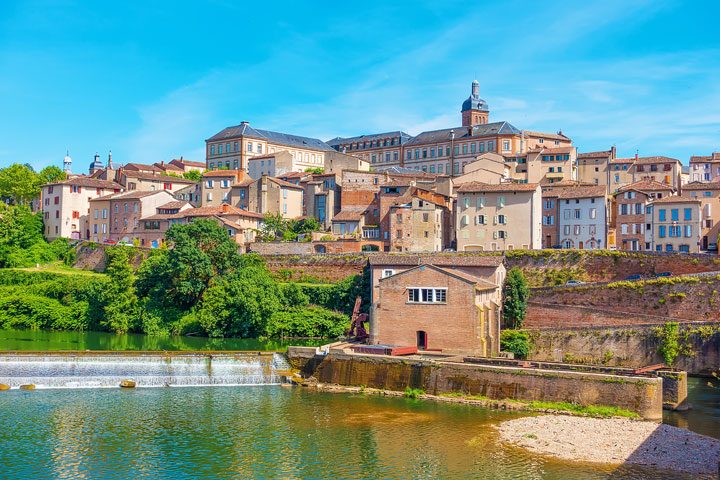 On our final evening we came to the medieval city of Albi.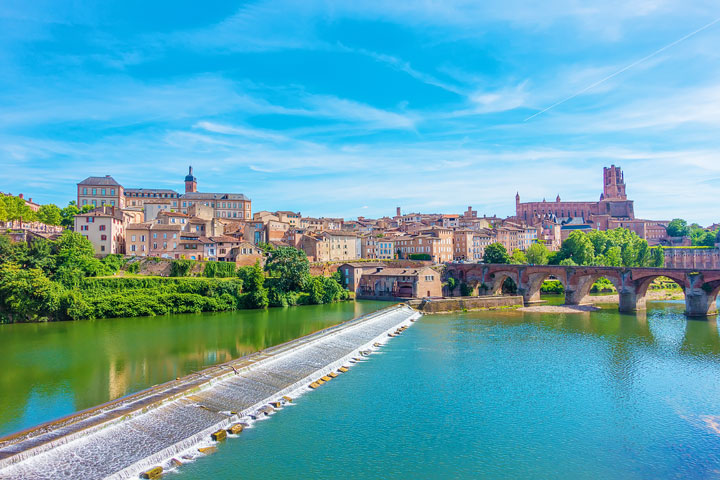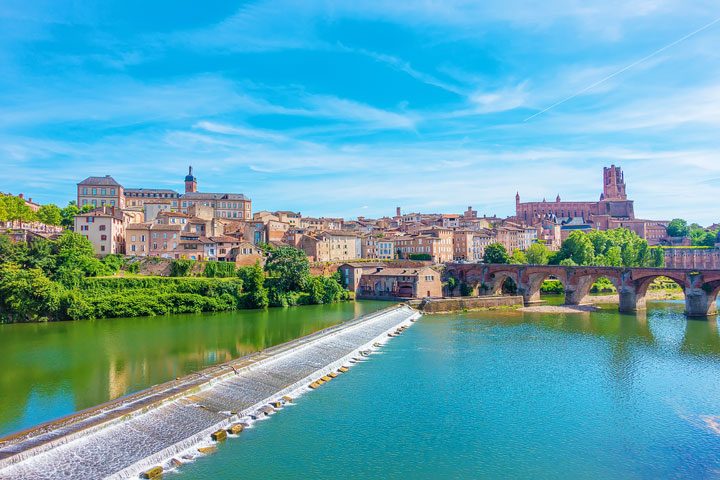 Albi was much larger than any of the other small villages we had previously been, but still relatively small, with a population of around 50,000 residents.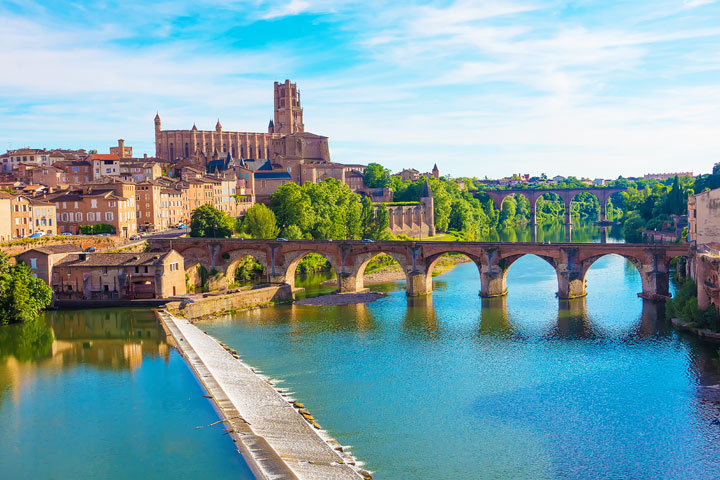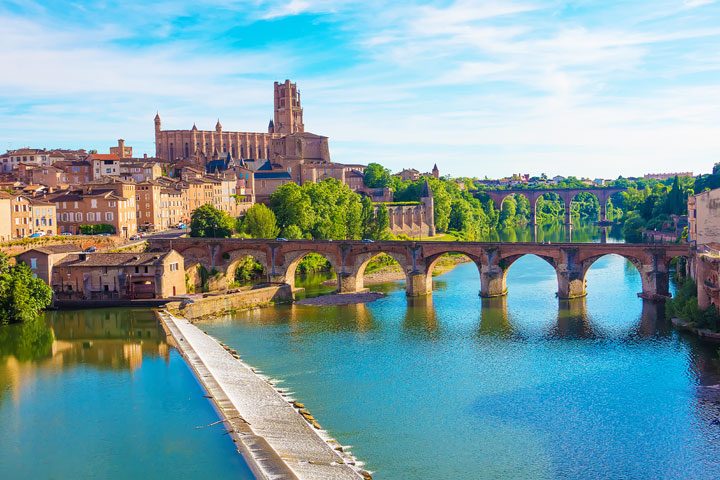 In the picture of us above, we are standing on this bridge, built in 1035. It still stands nearly 1,000 years later.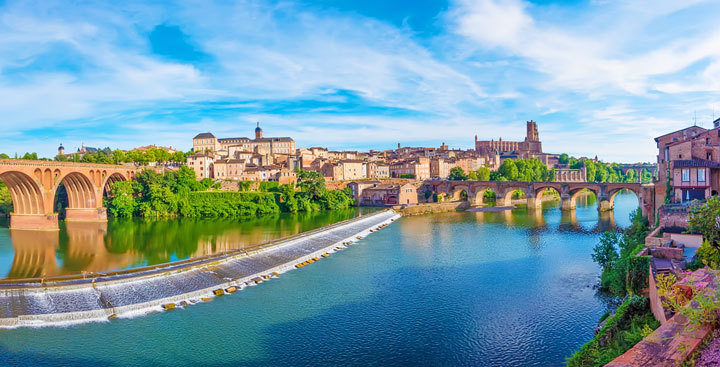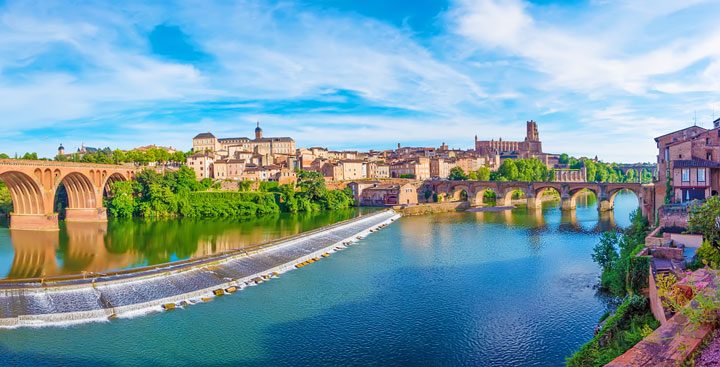 This was the panoramic view of the city from our hotel.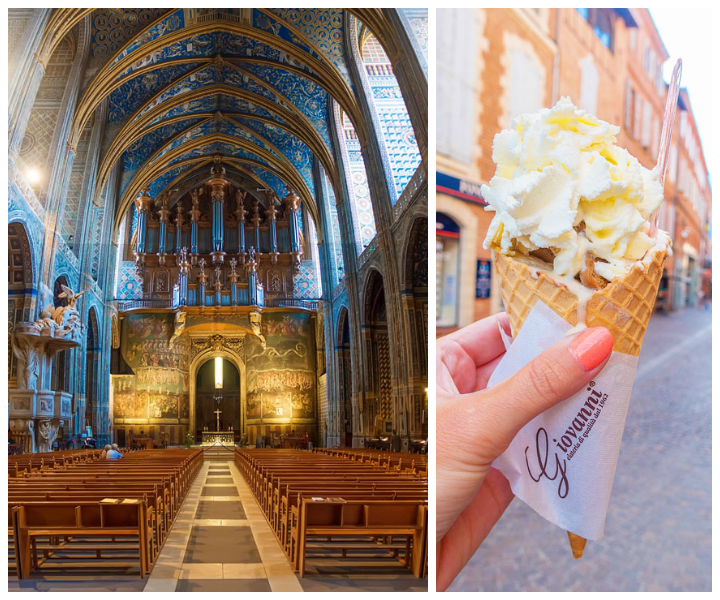 We visited the cathedral and of course found gelato along the way. ;) That's the good thing about biking 25 miles a day. It makes ice cream taste so. darn. good. ;)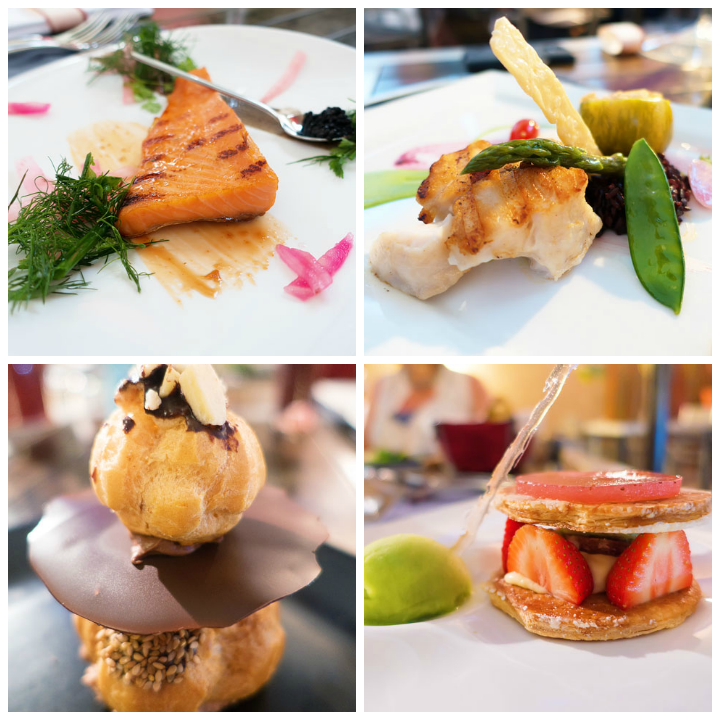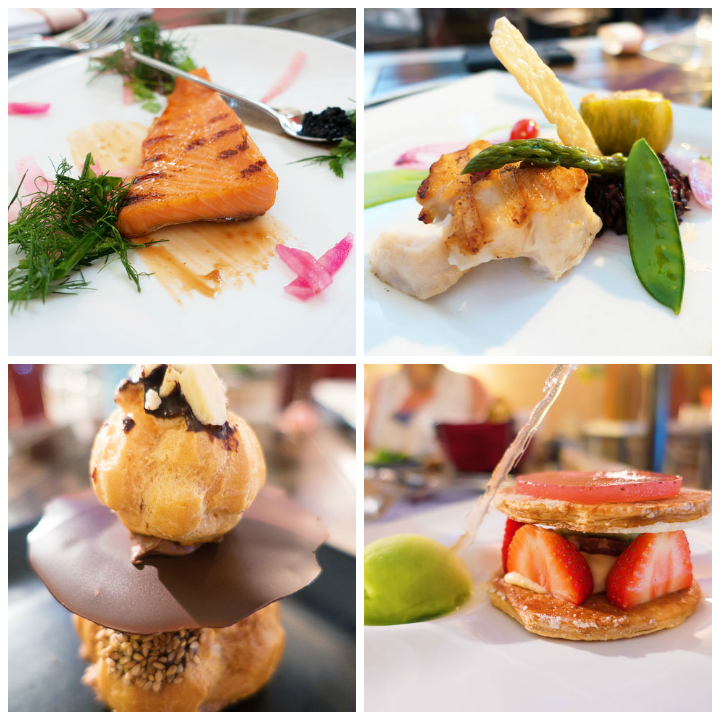 We had a lovely last meal at La Table du Sommelier.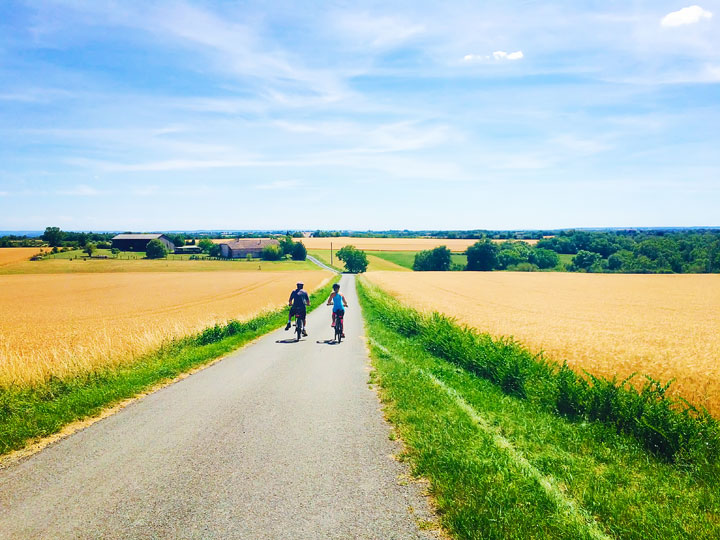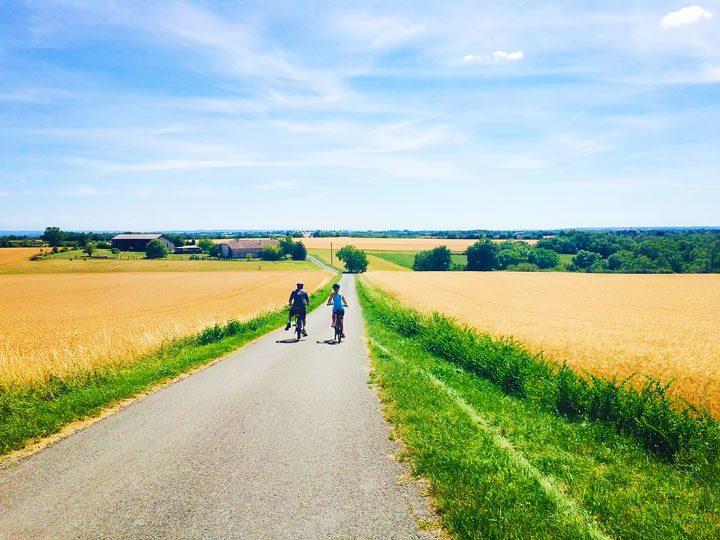 Photo via The Global Trip
The next day Kevin headed back home to Alabama, and I hopped on a quick flight to meet up with my amazing friend Sommer for a fabulous girls week in the French Riviera.
First stop… Monte Carlo. :)
Until next time! xoxo