I just love fresh roses. :)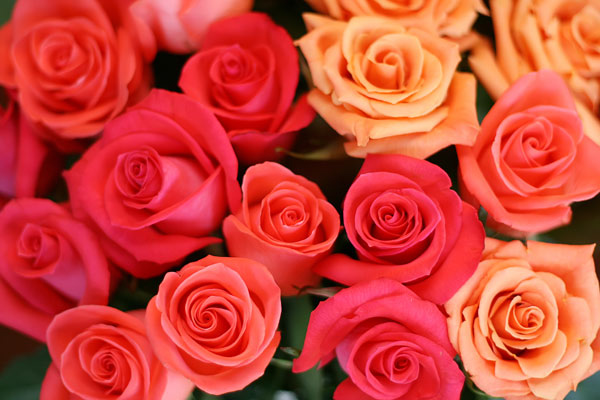 I *especially* love the multicolored ones- it's like a rainbow of roses! :)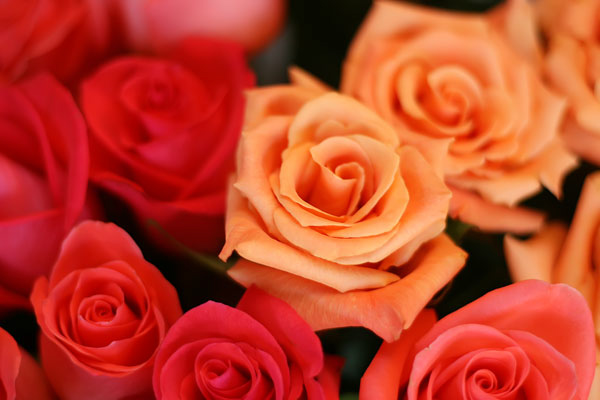 My favorite grocery store has these gorgeous buds for $7 a dozen– so I try to pick some up when I know we're having company over.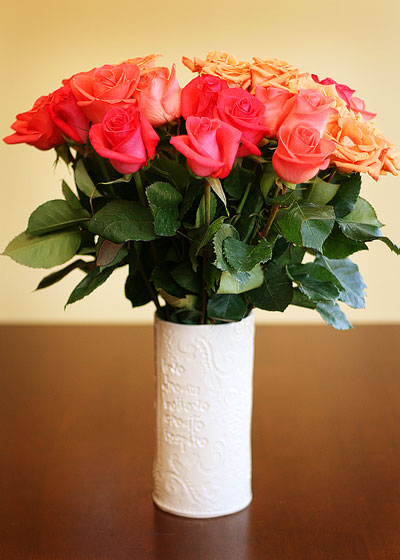 The only problem with that is then I have to arrange them myself. And I am just terrible at that! Is that just me? Does anyone else lack the necessary gene required to neatly arrange roses in a vase?? :p
But they match the kitchen pretty good, huh?? :)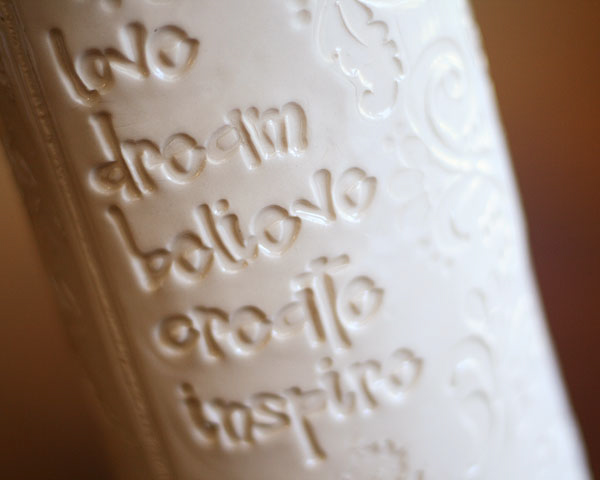 Check out that vase… This is *definitely* a "company's coming over" vase!! :) It was custom made and engraved by Paula from Plays with Mud.. And look at that- she used a Pea Font! :) That's Pea Lacy Chunky. Isn't that cool?? :)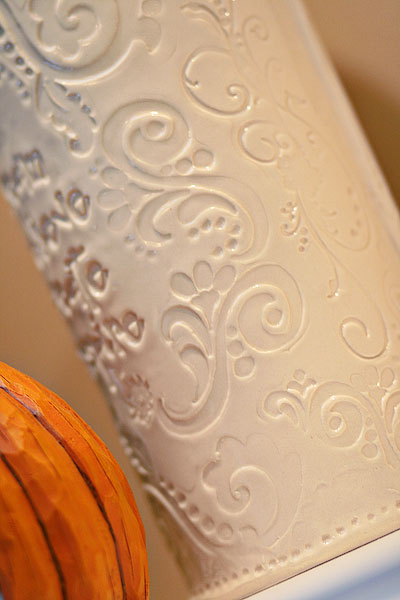 Can you *believe* that gorgeous detailing?? Outta this world!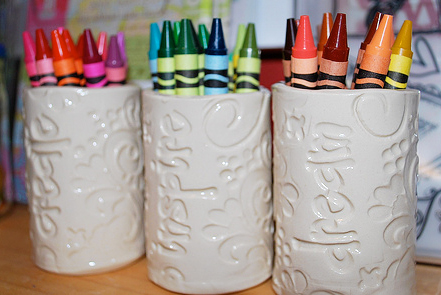 Look what else Paula came up with.. Oh my goodness… I admit, when I first saw these mini vases (engraved with Create, Inspire, Dream), I wanted to snatch them right up and use them in my scraproom! :)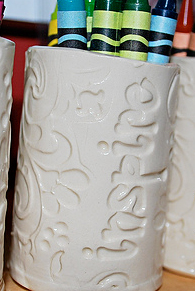 Can you imagine all the cute stuff I could hold in here?? Colored pencils, pens, brushes… Meep!
Yes. These vases are so cute, I actually "meep'd". I'm not even sure what a meep is. It just slipped out.
But I'll have to wait… cause THESE mini vases are going to one of you!! :)
Time's up!! Scroll down to see who won!! :)
That's right! One SUPer lucky commenter is going to win this set of three little mini vases! :) I gotta be honest- I'm super jealous! :) Super super jealous! :)
To be entered to win this set of three mini, custom engraved mini vases, all you have to do is leave a comment on this post! :) Take a browse around Paula's Etsy shoppe and tell me what you are dying to have in your house! :)
I have to admit… I can't pick just one!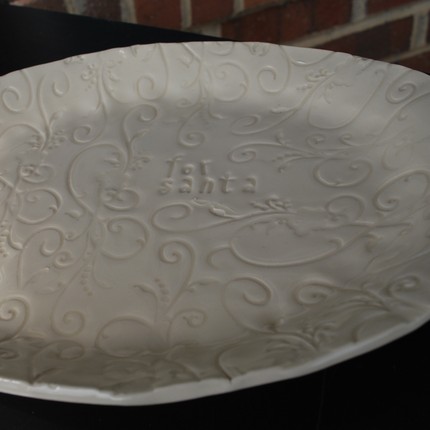 Like this Cookies for Santa Plate! :) This would be soooooooo perfect for the holidays! I almost meeped again. :blush: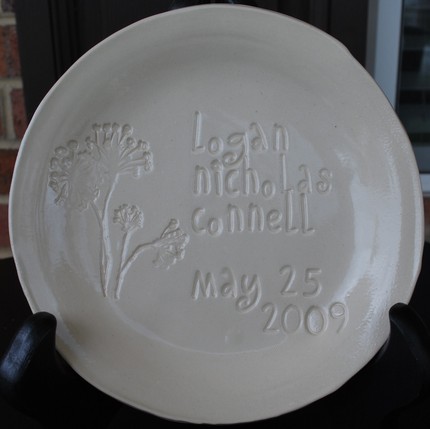 Or, Oh My Gosh… This. This would make the BEST. baby gift. Ever. Can you imagine getting this for baby's first birthday and then serving a special birthday meal / cake on this special plate for every birthday??! Wouldn't that make the neatest tradition?? :)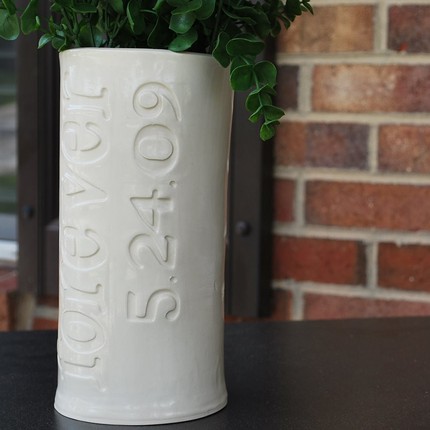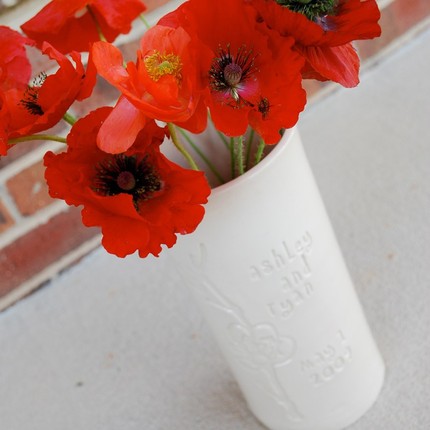 Of course these two vases engraved with a wedding anniversary date appeal to me… :)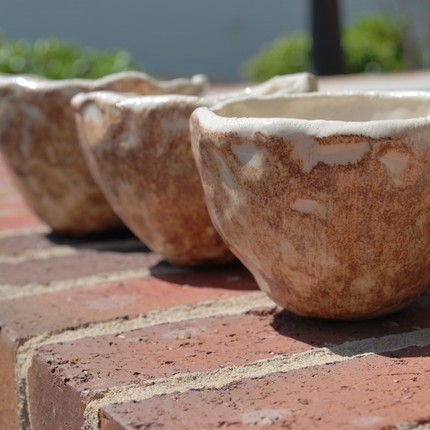 Oh and these bowls. I gotta have these bowls. I bet they would keep ice cream super cold!! :)
Okok. I'll stop.
No wait, I have one more thing to tell you! :) Paula is running a promotion through the end of November- anyone who places an order during the month of November will be entered to win a FREE custom platter!!!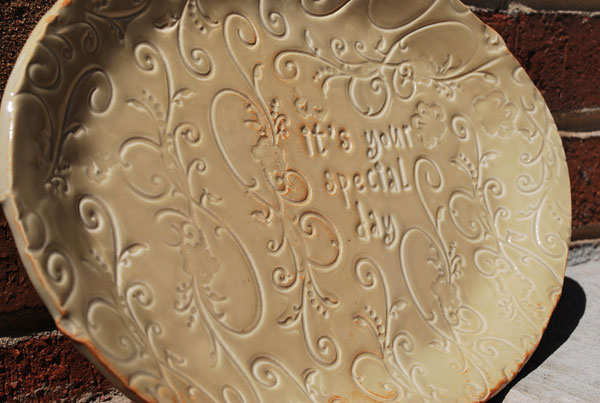 OMG!! Look at this!! This is just a sample of one of Paula's platters.. Can you imagine??! :)
AND…. If you mention kevinandamanda.com… You will get an extra 10% off your entire order! :)
You can order through Paula's Etsy shop, or you can contact her directly through email for a custom order! But hurry! This offer is only good through November, 30th, 2009! :)
And the giveaway is ending sooner that that. :D
The giveaway for the three mini-vases ends Wednesday, November 18th at 1 pm CST! So get your comment in before then!! And remember- one entry per person please! :)
Time's Up!
The winner of the three mini vases is…

Congratulations Heidi! A "meep-er" after my own heart! :) I know you'll LOVE the vases- congrats again!! :)
For everyone else, don't forget you can still get 10% any of Paula's pottery from now until the end of November– even CUSTOM pieces!! So if you want your own mini vases, or a vase like I have, or anything else you don't see in her Etsy store… Just go ahead and email her for a custom quote!
Now if you'll excuse me. I have like 50 orders to go place right now. :D
Thanks for looking!! :)