A couple of days ago, I got a very compelling comment from Christine on the Fonts for Peas blog:

Christine, your persuasive plea was just what I needed to get in font-posting gear! So sorry to have kept these fonts from you, but let me make it up to you! :) In honor of your request, I just posted 20 new handwriting fonts on the Fonts for Peas blog!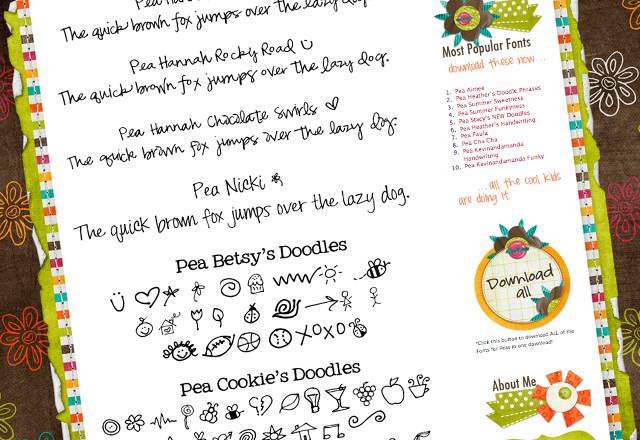 Included in the new fonts are 4 new doodle fonts! There are some really cute doodles- just look at this little moo cow from Pea Tisha's Doodles:

Isn't she cute? ;)
And there are tons more where she came from. Check out all the new fonts here, and if you like them, you can now download all the new fonts in one download. Just look for the "Download New" button at the bottom of all the new fonts. :)
Wouldn't that little moo cow make a really cute mini stamp? Did you know you can get a stamp made out of any of the fonts- including the doodle fonts? If you can design an image of it, you can get it made into a stamp! :) I got a return address stamp made using Pea Heather's Handwriting and it turned out so cute! I can't wait to use it on my Christmas cards next year. :)

And wouldn't some of Pea Heather's Doodle Phrases make some *awesome* stamps for cards??
Anna-Mae, from Design Your Own Stamps at Village Impressions, has come up with a really awesome stamping prize giveaway just for you guys, since ya'll love the fonts as much as we do!! :)
The winner of this giveaway will get……….
1. One alphabet stamp of any alphabet font from Fonts for Peas or Free Scrapbook Fonts – The entire alphabet- your choice!!! :)
2. One 1″ mini-stamp of any doodle from the Fonts for Peas doodle fonts– Pick your favorite doodle and get it as a stamp! :)
Holy moly roly poly, isn't that exciting? :)
To be entered to win this awesome stamp set giveaway from Village Impressions, all you have to do is leave a comment on this post. One entry per person, please! The winner will be chosen by his or her comment number, which will be picked by Random.org's number generator. Contest will run until 11:59 pm CST on Friday, May 29th, 2009.
Thanks for looking, I hope you like the new fonts- and GOOD LUCK!!! :)
*** Edited Saturday, May 30th, 2009 ***
{ We have a winner!!! }
Congratulations #8 Jenney! You won! You get to pick any alphabet and any doodle of your choice to be turned into a stamp! :) Contact me to claim your prize! :D