I have an herb garden! My first one! :) Every summer my lovely neighbor Michele always has a huuuuuuuuuge, absolutely gorgeous and LUSH vegetable and herb garden. Right out her back door! She has really gotten me hooked on cooking with fresh herbs. This year, the weather has just been so nice and I've been looking for an excuse to spend more time outside- I decided I wanted to  give it a try myself! :) We have a front flower bed that looked *pathetic*.  See, here's a pic..
It's the one on the right, under the window. Ok, it doesn't look that pathetic in this pic. But you'll have to use your imagination here with me. See how it has those 5 bushes? Well, we moved two of them- I can't remember why now, leaving only 3. And it looked really sad and empty. Then one of the remaining three bushes died. Like two years ago. And we never dug it up. Pathetic. I know.
My lovely neighbor Michele has rosemary and lavender bushes in her backyard and they stay evergreen. I thought it'd be cool to replace those standard boxwood bushes we had (that everyone else in the neighborhood has too) with rosemary bushes- It would smell great and I would have fresh rosemary year round right out my front door! :) I asked Michele what she thought and she agreed and gave me the idea to use lavender bushes as well- she suggested doing 5 bushes like this: rosemary, lavender, rosemary, lavender, rosemary. Then in the front I could fill in with some other herbs. So this past weekend, that's what we did! :) Kevin dug up the old bushes, then tilled the bed. We put some good soil on top and tilled it again. Then I got to work planting my herbs! :)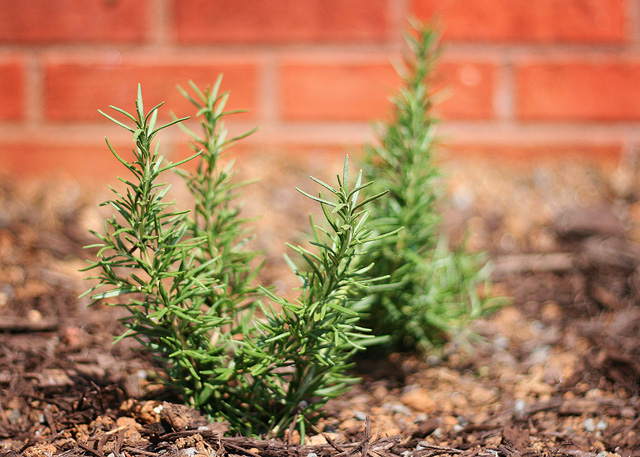 Here's one of my little rosemary bushes. It's tiny now, but I really hope it thrives and grows. Michele's has *doubled* in size since last summer and it is huge! (It'll be 3 years old at the end of this summer)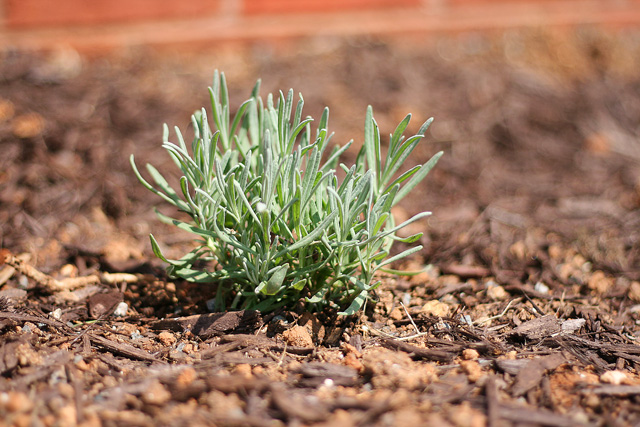 And here's one of the lavender plants. They smell so good! :)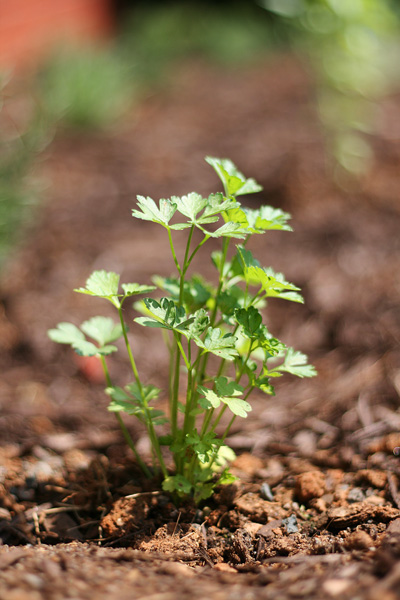 The herb closest to the house is parsley (Italian or flat-leaf)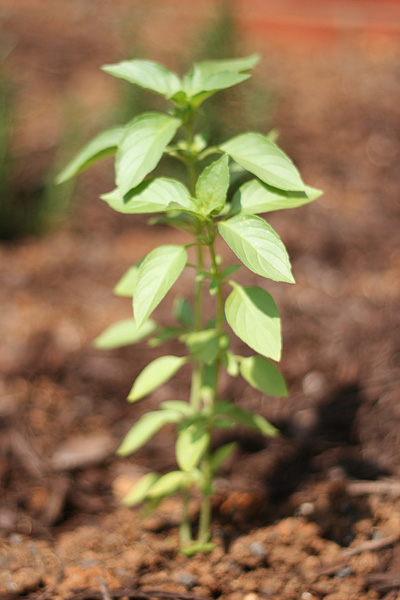 Then there's the sweet basil…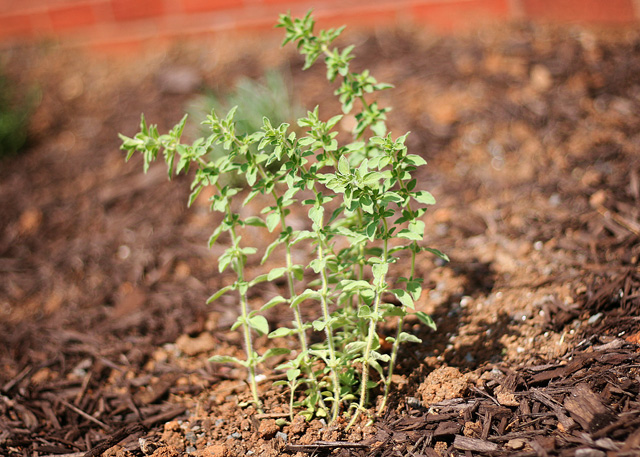 And Oregano…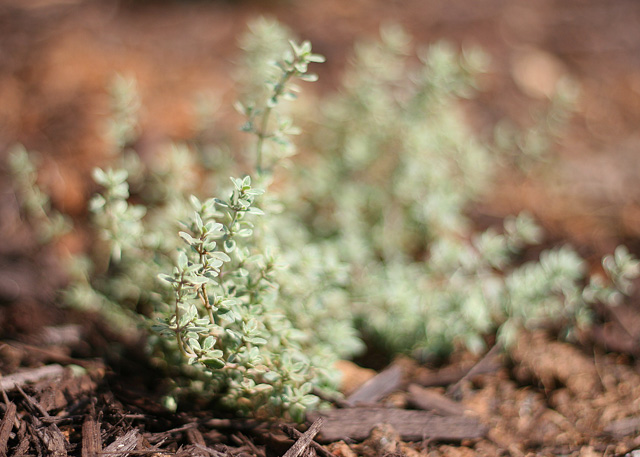 Thyme…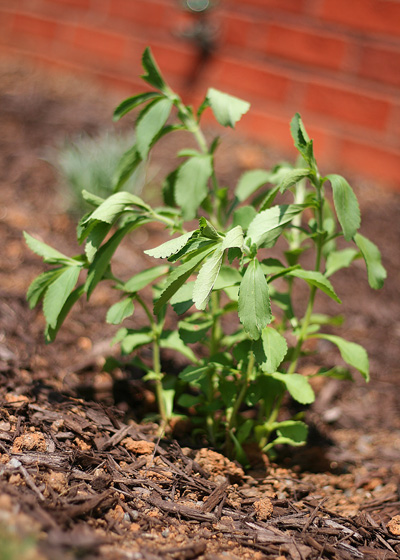 And Stevia. Ok. I admit. This was a complete impulse buy. The salesman totally sold me on this and got me to buy it. :D Since this was my first trip to the nursery, I had someone walk around with me and hold my hand the entire way. ;) In the herb greenhouse, he picked off a leaf of practically every plant and was like, "Here! Eat this! Here! Try this one!" He even cut off a little baby asparagus head and was like "Here! Eat this!" LOL. When we got to the stevia plant, he was like, "Here, you really have to try this one!!" I did and OMG. It's so SWEET! Eating one of the leaves tastes like eating a spoonful of sugar!! He said you can dry the leaves and crush them into a powder (I'm going to try it in the blender) and use it as a sweetener! Freaky! I totally have to give it a try. :)
And here's a view of the whole bed: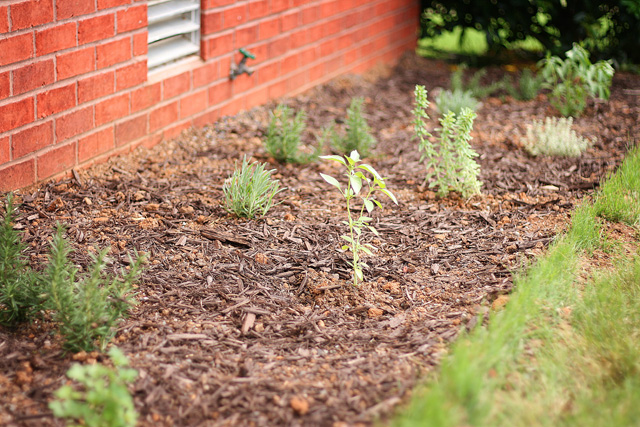 That's the rosemary and lavender you see in the back row, and in the front row, starting in the bottom left-hand corner and going to the top right-hand corner, that out of focus plant is parsley, then basil (the only one in focus! :P), then oregano, then thyme, then the stevia. Got that? ;)
I also got two more plants to sit in pots on my front steps.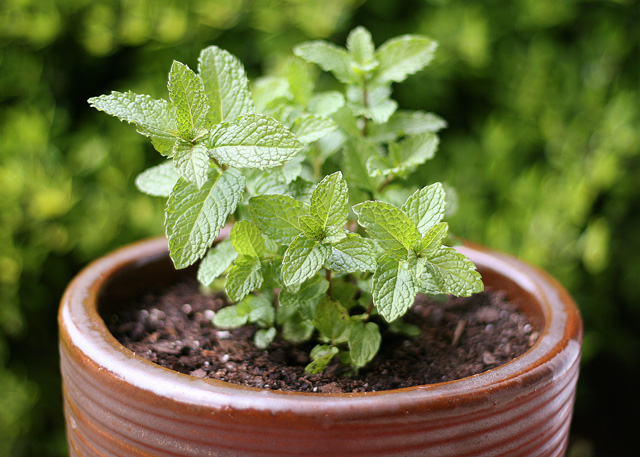 This is spearmint. Pop one of these leaves into your mouth and it tastes better than spearmint gum! :) It also works better as a breath-freshener than those Listerine strips. ;)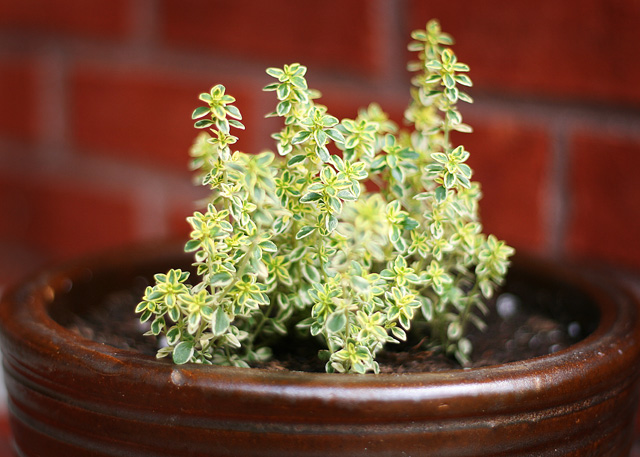 And lemon thyme. I've never cooked with lemon thyme before, but this stuff just smells soooooooooo good. I just couldn't pass it up. :) And I bet it'd be great on chicken!
So that's it! I hope all my little plants thrive and grow- and I especially hope the rosemary and lavender fill in and grow up to be nice landscape bushes. Keep an eye out over the summer and I'll keep you updated with how they're doing- and any yummy recipes I've made using them! :D
And if you've never grown herbs before, let me encourage you try it! :) Now's the time to bring them home from the nursery and get them planted. Even if you don't have a bed to put them in, you can pick up a one gallon pot and sit them outside somewhere where they'll get plenty of sun. (Ask the friendly folks at the nursery how much they need to be watered.) At least get you some parsley and basil! :) (If I could only have 2, those are the two I'd get :))  And if you have any questions, I'll be happy to try and answer them as best as I can! :)
And before I go, I have a winner to announce! :) The winner of the Scrapista 2009 mega scrapbooking prize pack is #4 Megan! :)

Congratulations, Megan! Your suggestion of a color class was a very popular one!! :)
Thank you so much to everyone who commented, I had a wonderful time reading through all of your excellent suggestions!!! I will have a hard time narrowing it down!! :)
Thanks for looking! :)