Eight years ago, on our third anniversary, Kevin and I spent four days vacationing in Brevard, North Carolina. Brevard is a gorgeous, lusciously green, quiet town just outside of Asheville, located right in the heart of Dupont State Forest and Pisgah National Forest. We love hiking, woods, trails, being outdoors, picnic lunches, and especially waterfalls, and we have a tradition of going on a hiking and waterfall trip every year for our anniversary.
(You can see photos of our past trip to Brevard here, and photos of our past anniversary trips here. Scroll down to Vacations & Trips. Be careful, they're really, really old! Proceed with caution.)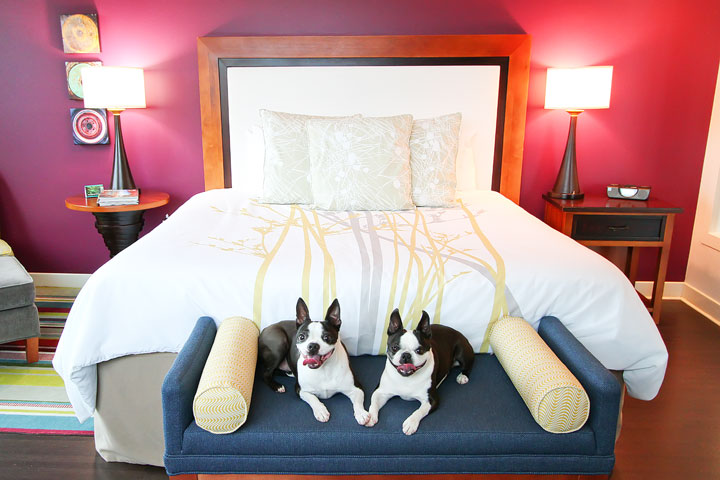 There Are So Many Great Waterfall Hikes In The Asheville Area
This area is famous for its high concentration of waterfalls all in close proximity, so even after 10 years of anniversary trips, that trip to Brevard has always been one of my favorites.  So many gorgeous, huge waterfalls! :) I've always said I wanted to go back one day.
Last weekend, one of my oldest friends got married just outside of Asheville (you may have seen this on Instagram!), and I was so excited to go to his wedding and be back in this gorgeous area. We definitely knew we wanted to head up a day early to revisit some of our favorite spots! This time we stayed in downtown Asheville at the Hotel Indigo.
Hotel Indigo in Downtown Asheville Is A Great Place To Stay
We love Hotel Indigo hotels and always try to stay there if there's one close by. I loved our unique rooms in San Diego and Berlin. They're always so posh, and as you can see from the photo above, they're very pet-friendly! Miley and Howie were living it up! :) We didn't have Miley and Howie on our first trip to Brevard, so we were super excited to bring them along this time. So glad they could stay at the hotel with us! They love hiking and exploring! :)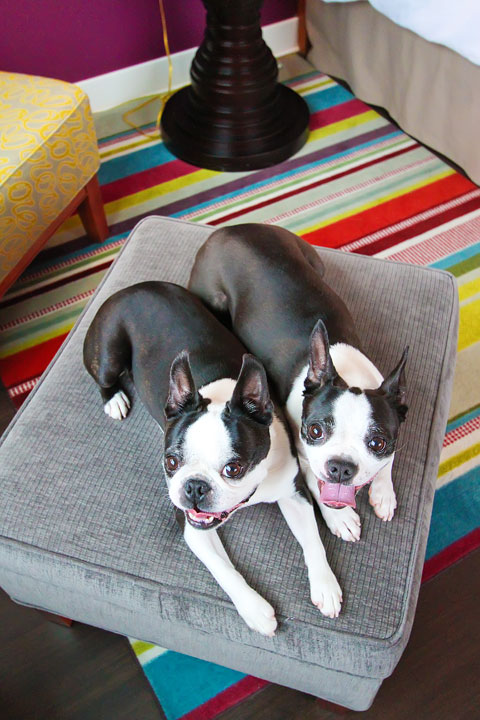 Downtown Asheville Has So Much To Offer
Getting ready for an adventure! :) Downtown Asheville is such a neat area. I loved it. It's got a great downtown vibe, very pet friendly, amazing restaurants, fun shops, art, and cute boutiques. The Hotel Indigo is in a great location and within walking distance to everything.
We ate most of our meals with the wedding party, but we did manage to sneak away for brunch at Tupelo Honey Cafe and dessert at the Ultimate Ice Cream Company while we were there. The biscuits at Tupelo Honey Cafe were unforgettable — some of the best I've ever had — and Kevin's Sweet and Sour Pork Ribeye with homemade mac and cheese was AMAZING! I kept sneaking bites of his mac and cheese!! I would definitely go back again! And I LOVED Ultimate Ice Cream Company!! Thanks so much to sweet Caroline for the recommendation! :) I could've had ice cream there every day. I wanted to go back again so badly, but we just ran out of time. The next time we are anywhere near Asheville, I will definitely be hitting them up for some ice cream! :)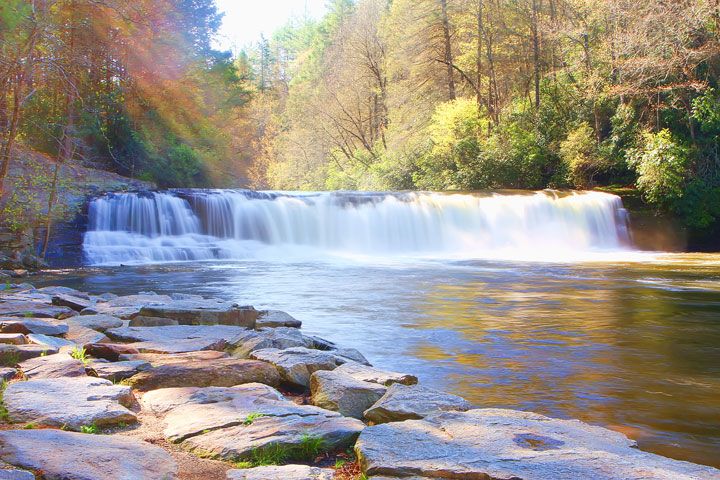 We Visited Dupont State Forest Where The Hunger Games Was Filmed
On our free morning in Asheville we headed back to our favorite spot from our first trip, the three main waterfalls at Dupont State Forest: Hooker Falls, Triple Falls, and High Falls. While looking up directions, we discovered that this was the location where the Hunger Games was filmed! And we didn't realize it until after we left, but the Hotel Indigo in Asheville is where the trio of stars stayed while filming. What a neat coincidence! As soon as we got back home we watched the Hunger Games again to see if we could recognize any of the spots where we'd been! :)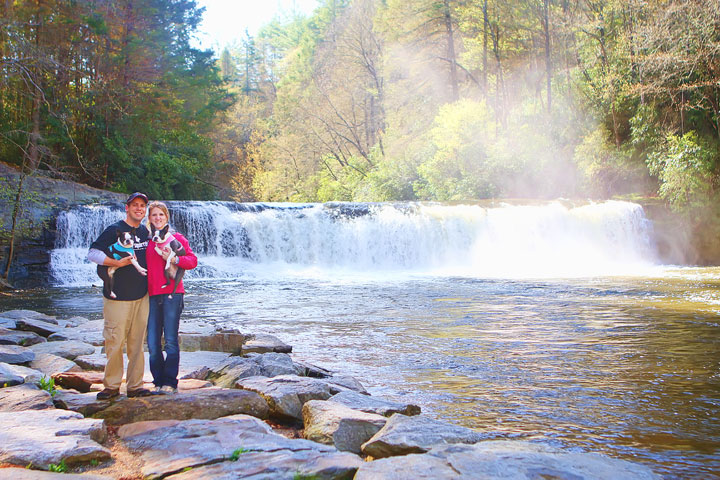 Hooker Falls in Dupont State Forest. I have a picture of us sitting right here 8 years ago!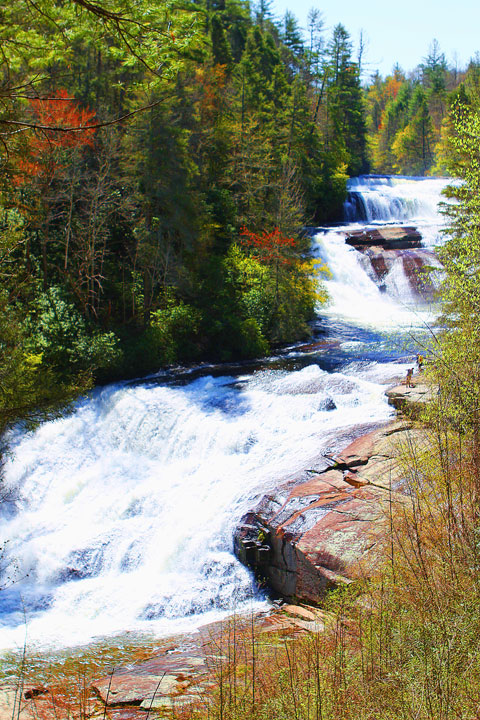 Triple Falls in Dupont State Forest. This is one of my favorite falls because you can hike up to each waterfall and walk right out on the rocks and wade in the waters of the falls.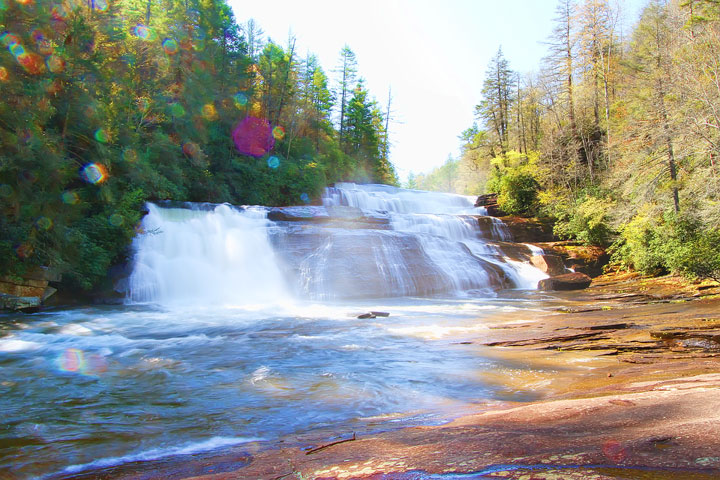 See how close we got? The mist from the waterfall was spraying my camera lens, lol! :)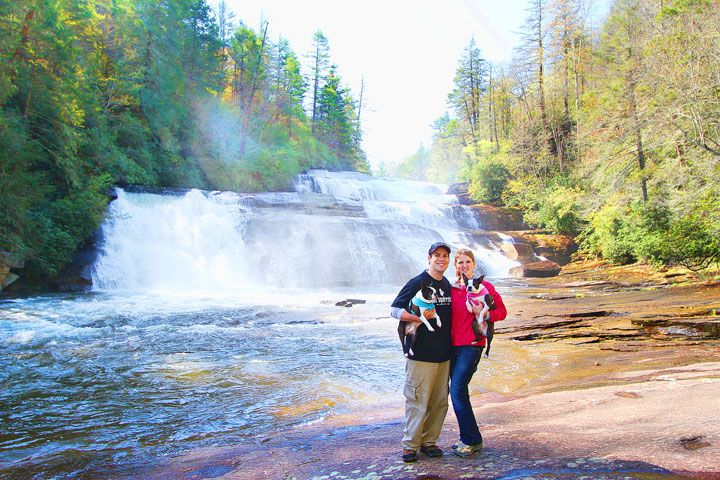 It was a bit cooler this time than when we usually go at the end of May, but the falls were running much harder from the spring rains this time than they were back then. It was beautiful to see how powerful they were.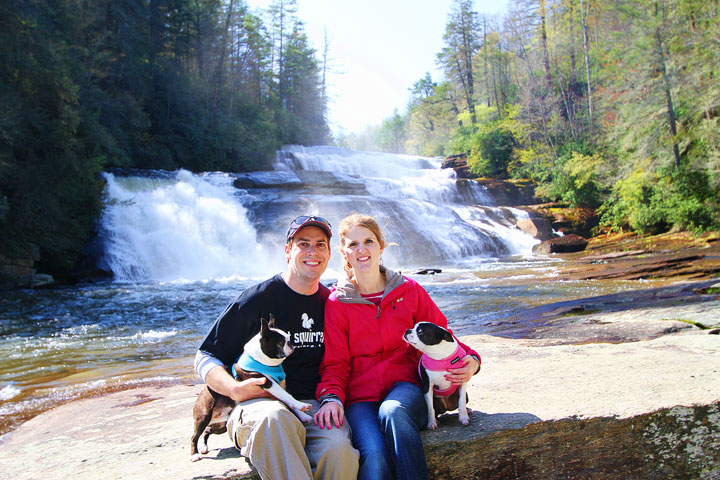 And when it warms up, it's a great place for sunbathing and picnic lunches! :)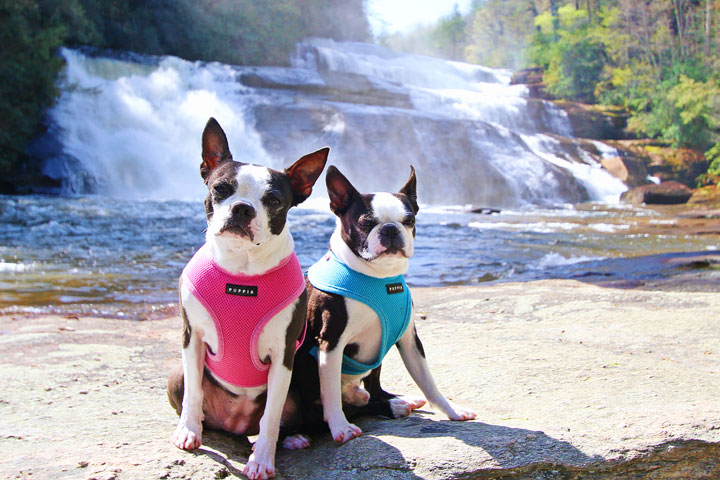 Two tough, waterfall-hiking dudes!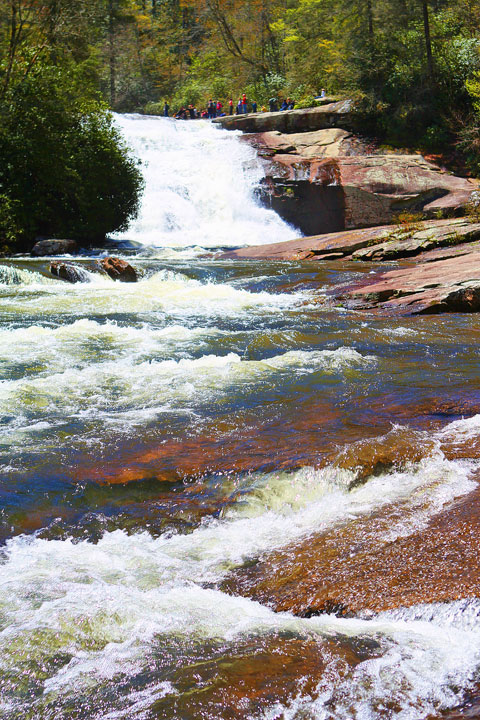 I didn't get a good angle of it, because I didn't realize it at the time, but this is where Katniss finds Peeta all disguised in the mud in the Hunger Games movie! This is the lower of the three Triple Falls. As you can see, there is a big tour group photographing it from above, lol! But there was no one down where we were. :)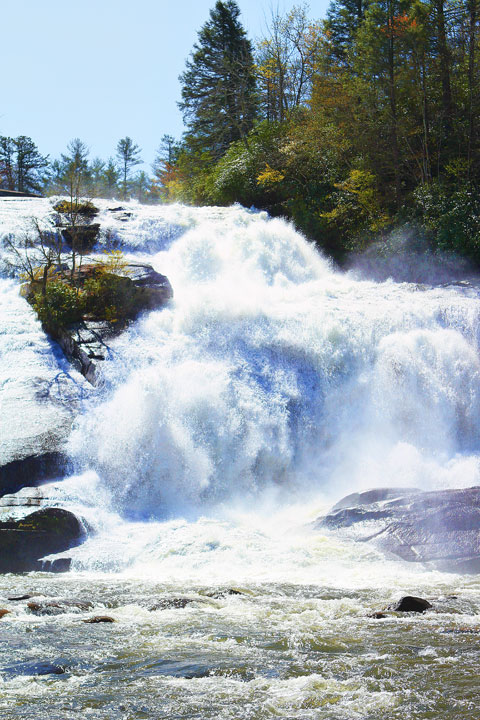 And just a short hike up from Triple Falls is High Falls. High Falls is a breathtaking sight to behold. I could not capture how huge, tall, and powerful it is!! Last time, when it wasn't running as powerfully, we were able to go stand out on that rock and get a photo right underneath the falls.
Plan Your Asheville Weekend Getaway
If you're planning a trip to Asheville, here are some helpful links!
Where to Stay
Where to Eat
Tupelo Honey Cafe
Mayfel's
Early Girl Eatery
Ultimate Ice Cream Company
French Broad Chocolate
Chocolate Fetish
Things To Do
Top 25 Waterfalls near Asheville
Waterfall Scenic Drives and Hiking Tours near Asheville