What To Do With Leftovers: Spicy Pulled Pork Nachos
If you're like us, we love this spicy, seasoned, perfect pulled pork– and it's great for any occasion: Christmas, birthdays, the SuperBowl, 4th of July, Tuesdays… But since it's pretty much impossible to make a small amount of it, there's always tons of leftovers. Which is okay! Normally I'll half, even fourth recipes just to to avoid leftovers, but pulled pork is one of those things that's so versatile (and so yummy) I don't mind eating on it all week- and it's still just as delicious as the first day! :)
We had these Spicy Pulled Pork Nachos yesterday for the SuperBowl- a delicious twist on the classic haltime snack. And they're also a *great* way to use up your leftovers. You could make these with leftover BBQ, chicken, and yes, perfect pulled pork.
You'll need some nacho chips: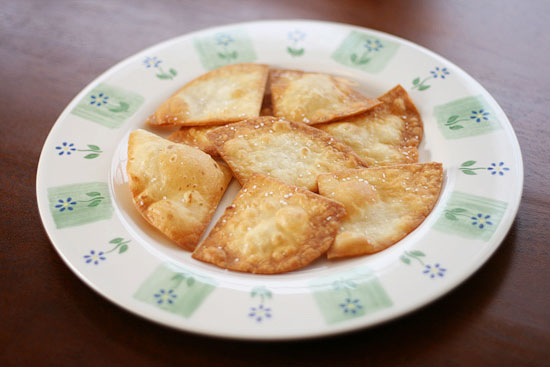 And please, please, please, please, for the love of all that is good and perfect in this world, try making these homemade tortilla chips. They're so golden and buttery, crispy on the outside, flakey on the inside and so all around delicious- how can you resist? They couldn't be easier to make. You'll love them. You'll hate me. You'll be addicted. Instantly. Make extra to make up for the 20 or 30 that get eaten before any make it to the plate.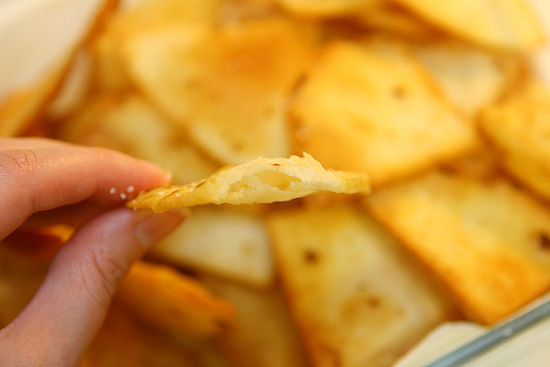 Top the chips with your leftover pulled pork- straight from the fridge is fine!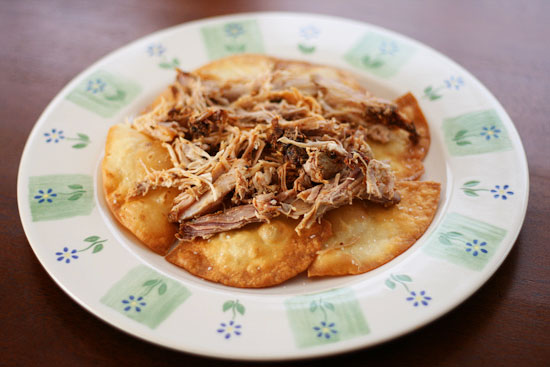 Sprinkle on a little extra spice rub (leftover from the pulled pork recipe), if you like.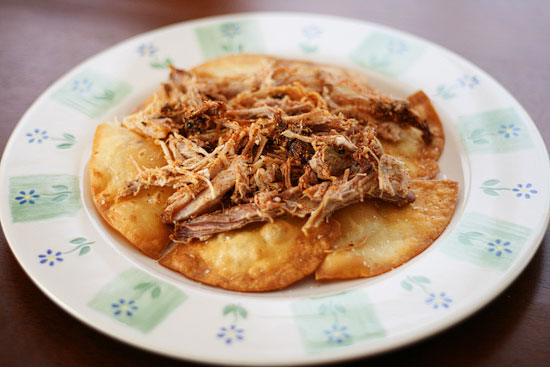 Top with plenty of freshly grated, smoked cheddar cheese. You can find this in blocks in the deli. It's worth it. Trust me on this.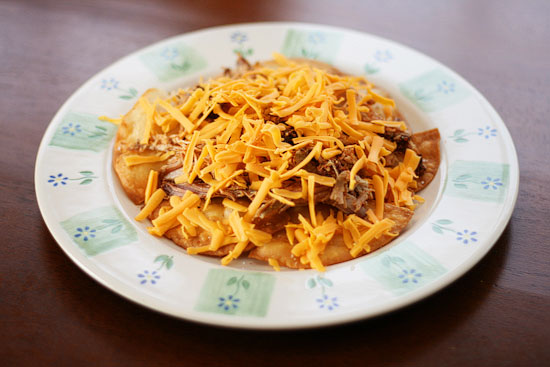 Then pop into a 350 degree oven for 5-10 mins, until everything is hot, melted, and bubbly.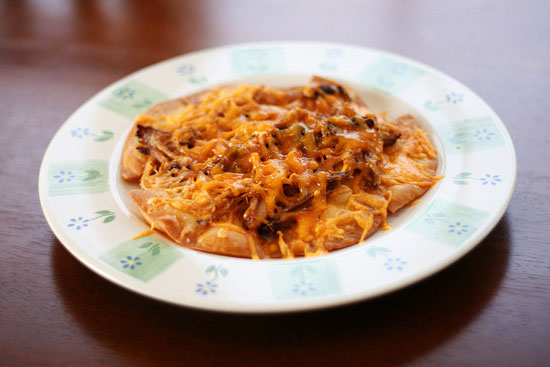 Careful when getting them out of the oven, the plate will be very hot. You can transfer the chips to a new plate, or just let it cool for about 5 mins.
Delicious! Fun, family-friendly, and frugal too. Dig in! :)
♥♥♥
Thanks for looking! :)