Last year was my very first attempt at gardening – of any kind. At all. My flower beds were in shambles. I've never been able to keep anything inside alive (I'm a houseplant serial killer). But I had gotten addicted to cooking with fresh herbs (basil & parsley), and was forking out 5 bucks for 'em every week at the grocery store. So I borrow a friend's tiller, dug up my flower bed, and planted a few of our favorite herbs right outside my front door, right there in that would-be (probably should-be) flower & shrub bed. Have I mentioned that I can never keep anything alive? I was nervous. But I'm happy to report that my little mini herb garden did great! It was a huge success. (And by that, I mean- nothing died. Everything lived. Yay.) It was so nice to just walk out my front door and have fresh basil, parsley, rosemary, lavender, mint, thyme, and oregano. I was hooked.
This year, in addition to my herb garden, I am so excited to be adding another little garden for our favorite vegetables (and a few more herbs too!)
Last weekend my parents were here and they brought their big tiller to do the job. My mom and I got up at sunrise on Saturday morning and headed out to weed the herb garden and dig up the grass so my dad could till the new vegetable garden.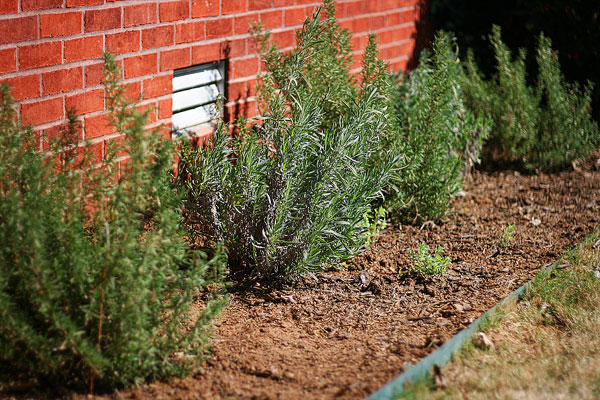 This is the front herb garden- after we got all the weeds out!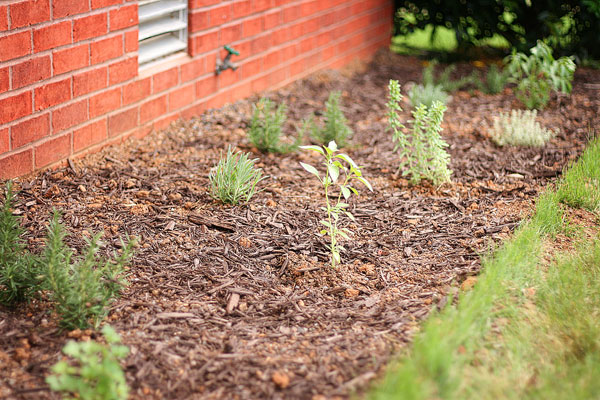 It sure has changed from last year– the little baby rosemary and lavender grew up!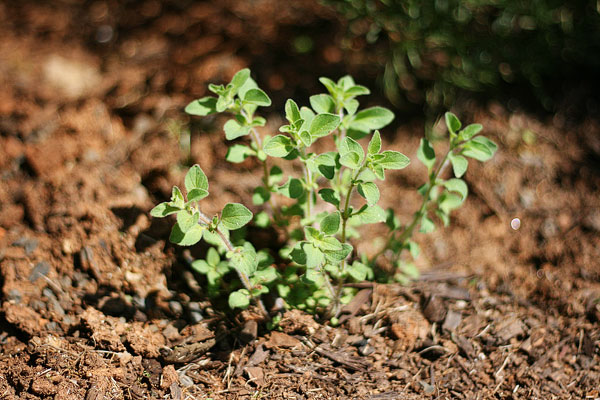 My oregano came back! :)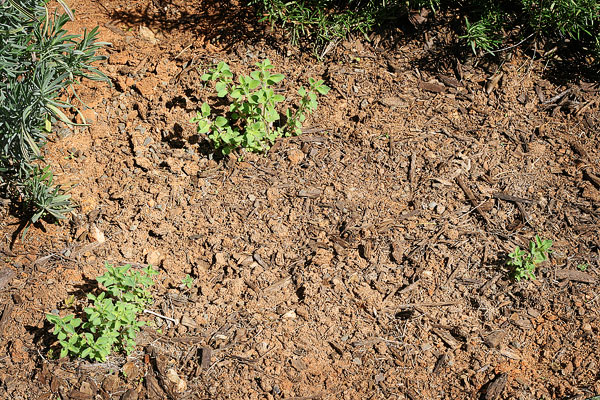 And it spread! This is all new growth. The original oregano plant was right in the middle, but I pulled it up because I never trimmed it back last year like I was supposed to and it looked pretty rough.
My thyme came back too but I accidentally pulled it up – thought it was a weed. *sob*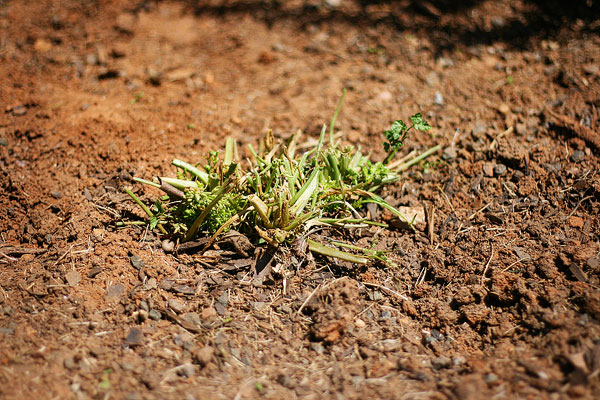 This is the remains of my parsley plant from last year – will it come back this year? :\ Or do I need to just go ahead and pull this sucker up and plant a new one?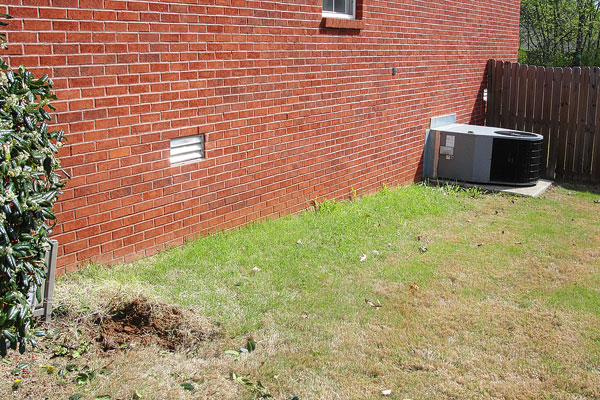 This is the right side of our house- just to the right of the herb garden. It's 20′ x 5′ and going to be the perfect spot for our vegetable garden – it gets gorgeous morning sun.
But we had to dig up alllllllllll that grass (about 100 square feet!) before my dad could till it. He & Kevin were in Tennessee for the morning, so my mom and I went out there with a pickaxe and just started hacking away- so it'd be ready to till when they got back. Now let me just tell you, my mom can dig up grass with the best of 'em. She hacked circles around me! She put me to shame. I think I got about 1 square foot done. She did about 3/4ths of it. Eventually my dad got there and took pity on us – he finished the rest in like 5 mins and never broke a sweat. :P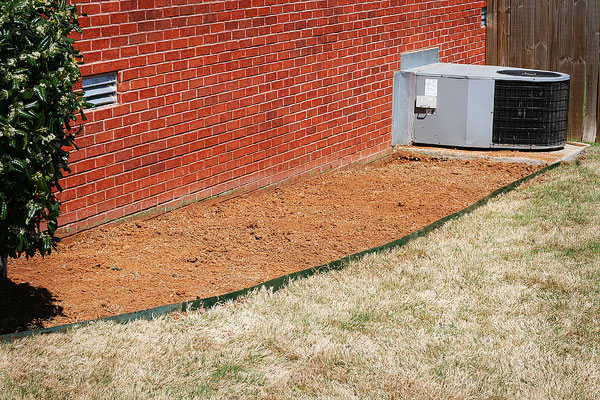 Tilled & Edged – I can't wait until I can get out there and plant! I know I want to do bell peppers- red, green, yellow, orange, any color I can get my hands on. I'm addicted to those things. And zucchini (love it any way you serve it- roasted, fried, and in lasagna) red onions, and green onions (love them on pizza). I'm giddy at the thought of just running out to the garden and picking some vegetables for dinner- and not having to get them from the grocery store! :) I'll also have room for a few herbs- in the vegetable garden and in the herb garden up front too. I know I want to basil- sweet and genovese again this year, and last week I was at the Fresh Mark and I tasted thai basil- yum!! I totally want to do that too! I'm definitely thinking thyme again for the front bed, and possibly sage too? I just want to have parsley, sage, rosemary and thyme all in the same bed. :P Any other suggestions for me? :D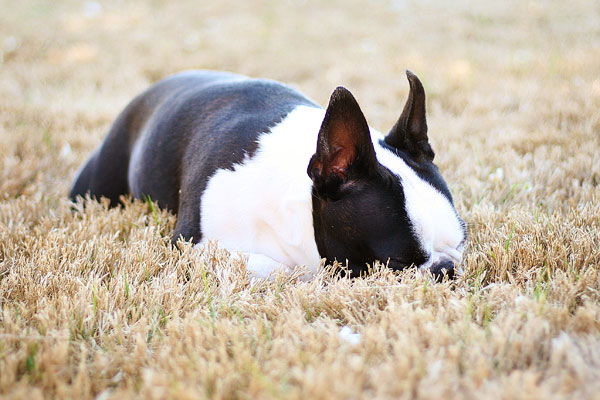 Oh yeah- I forgot to mention that Howie was a big help. He was the man of the house while Kevin was gone, and he made sure to help us womenfolk with the manual labor. He snoozed in the shade and supervised.
***
Are you doing a garden this year? What crop are you most looking forward to harvesting? I wanted to do corn this year, but ran out of room. But maybe next year… I have a whole back yard to work with… :D
More Garden 2010 pics to come…. :)
P.S. If you were looking for the Easter Dinner recipes, for some reason they didn't show up in the email that got sent out. Bummer. Sorry about that! :) But if you want them, you can find them right here, on the blog. :)