Hey friends! WOW! First of all, WOW! Thank you so much for all the comments!! Yay!! It was so fun hearing from all of you!! I looooooooved checking out all your blogs and now I have a whole slew of new blogs that I must stalk every day for updates!
So! Now that I've heard from all of you… Is there anything ya'll want to know about me? Or us?? I've been thinking about making up a FAQ / About Us page… but I've been putting it off for so long cause I just don't know what to say. LOL. I see all those blog surveys that get passed around, and I start to fill them out, and I'm like, okay, honestly, who wants to know what color socks I'm wearing today?? Really? lol.
So what do ya'll *really* want to know? I get emails from time to time, so I have a couple of ideas of where to start… but anything's fair game, so if you wanna know, go ahead and ask it here! I'll work on the page and get back with you in a couple days. ;)
And while you're waiting……… Go ahead and try this! It's Classic Chicken Parmigiana. And ohhhh man, is it good. :)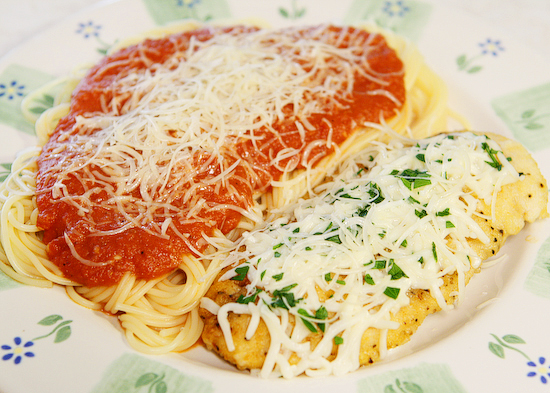 Classic Chicken Parmigiana
Looking forward to hearing from you all!