Planning a trip to Egypt? Here are the most popular things to do in Luxor, Egypt. Use this guide to help schedule your itinerary so you don't miss any of the best things to do in Luxor, including one of the most sacred sites in Egypt.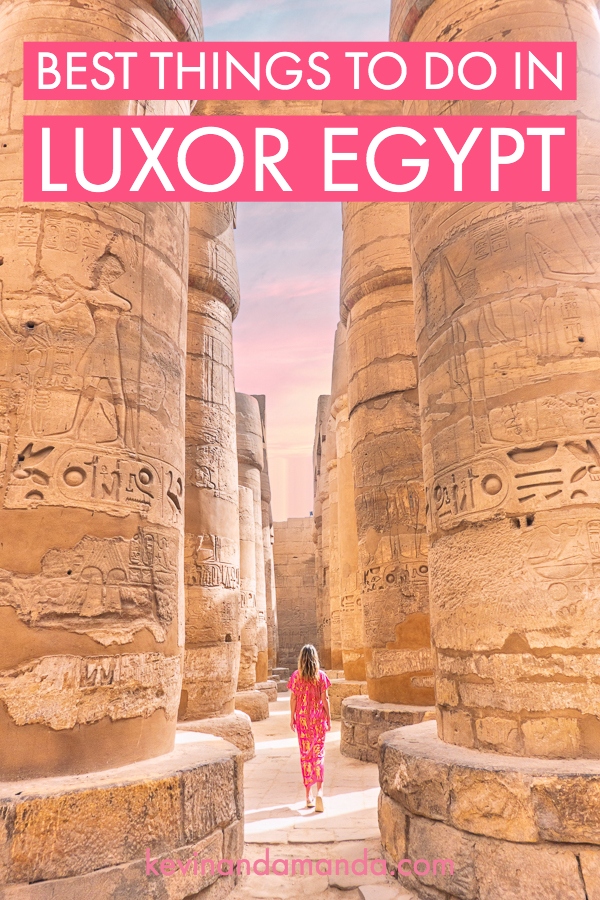 How Many Days To Spend in Luxor Egypt
You can do everything in this post in one full day. However, it will be a very busy, very long day! I highly recommend at least 2 full days in Luxor Egypt. There are even more things to do in Luxor than in Cairo! If you want more relaxed days, plan for at least 3 full days in Luxor Egypt.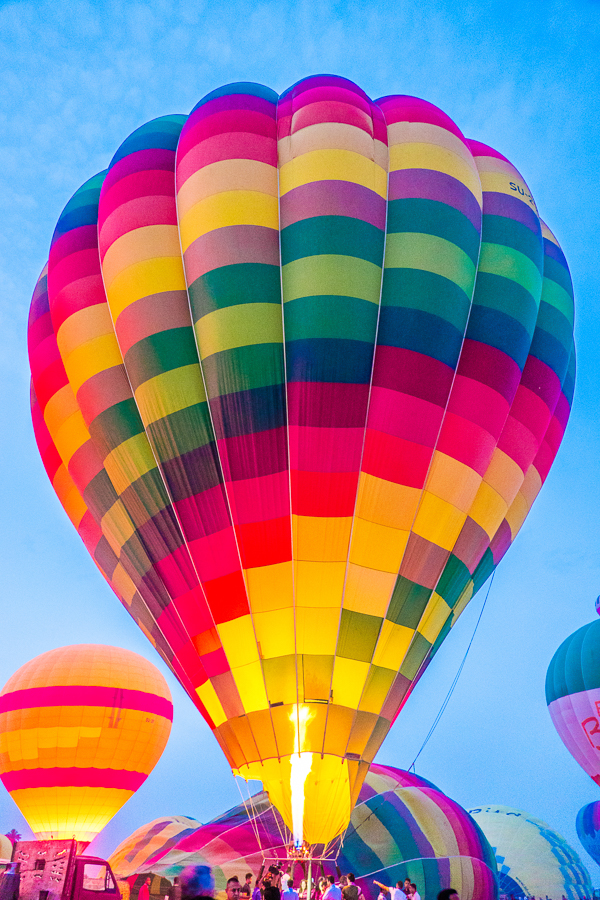 Things To Do in Luxor Egypt #1 — Sunrise Hot Air Balloon Ride
A magical way to start your day in Luxor Egypt is with a sunrise hot air balloon ride over Luxor's iconic Valley of the Kings.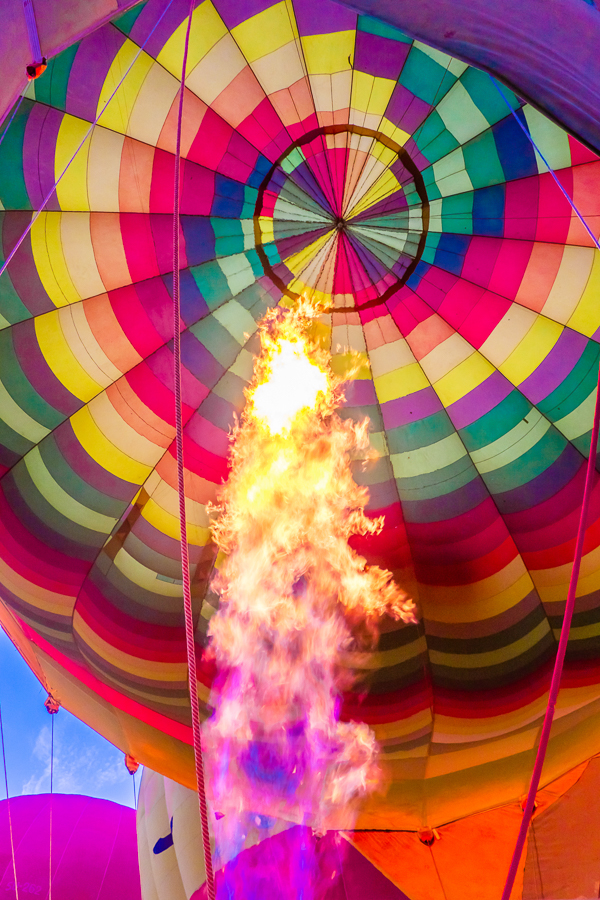 Choosing a hot air balloon company in Egypt may seem a bit scary, so we are happy to recommend Hod Hod Soliman Hot Air Balloons in Luxor Egypt.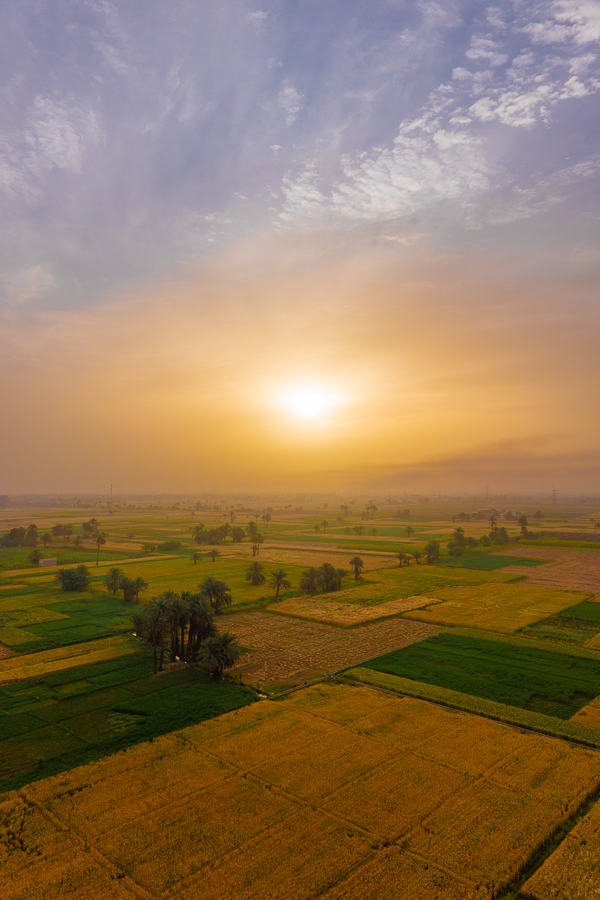 Hod Hod Soliman Hot Air Balloons focuses on safety and customer satisfaction as their two most important goals. They will pick you up from your hotel or cruise ship in Luxor Egypt and after the ride they will drop you off at your hotel or any attraction in Luxor you want to visit.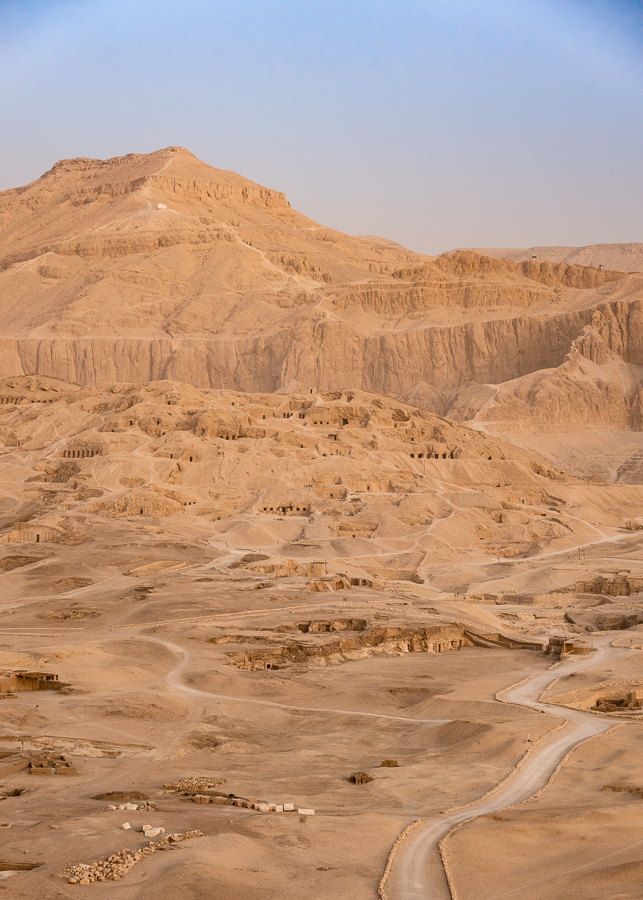 The ride ends on the west side of the Nile river, near the Valley of the Kings, so it's the perfect place to start your day in Luxor Egypt.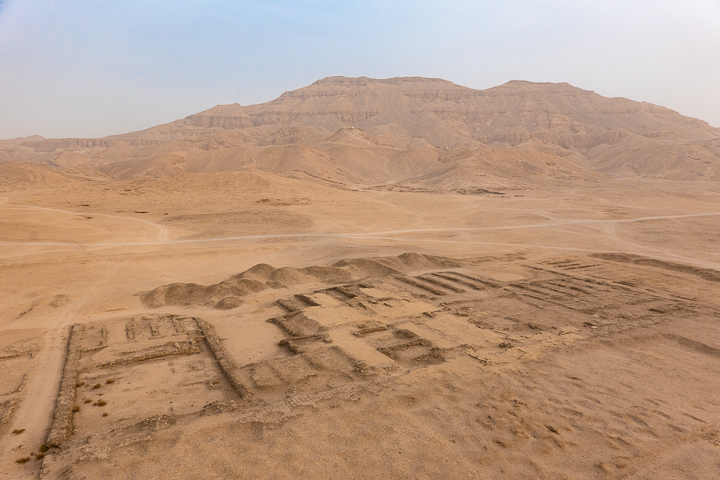 It was so interesting flying over historic archeological sites just waiting to be uncovered!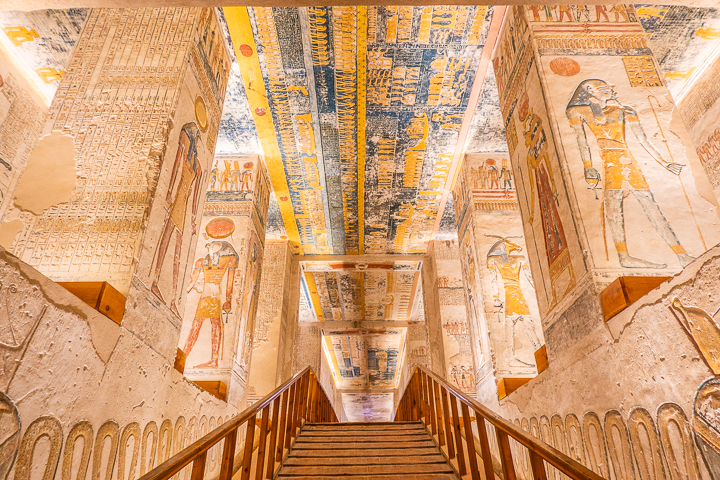 Things To Do in Luxor Egypt #2 — Valley of the Kings
The Valley of the Kings is a site with over 60 tombs built for the the pharaohs and powerful nobles of ancient Egypt. These tombs are between 3,100 and 3,600 years old, built between 1600 and 1100 BC. They are massive, ornate tombs carved into the mountains surrounding the valley.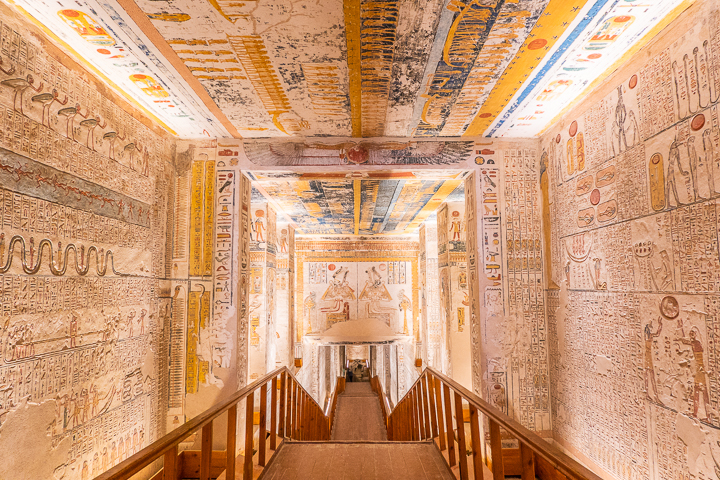 Getting Your Tickets for Valley of the Kings
First, buy a general admission ticket at the gate when you arrive. This ticket will give you entrance to any 3 of the regular tombs. There are over 60 tombs in the Valley of the Kings, so you may want to plan ahead which 3 you want to see. Keep reading below for more information on which 3 you should pick.
Second, there are a few special tombs you may want to buy a separate ticket for if you want to see them. We bought extra tickets for King Tut and Ramses VI's tombs.
Finally, if you want to take pictures inside the tombs, you will also need to buy a photography ticket.
Be sure to have enough cash, as with most of the sites in Luxor Egypt, the tickets are cash only.
There is also the option to buy a ticket for the little train that will take you from the ticket booth to the entrance, but unless you have mobility issues, you don't need this ticket. It's a 5 minute walk on a flat paved road.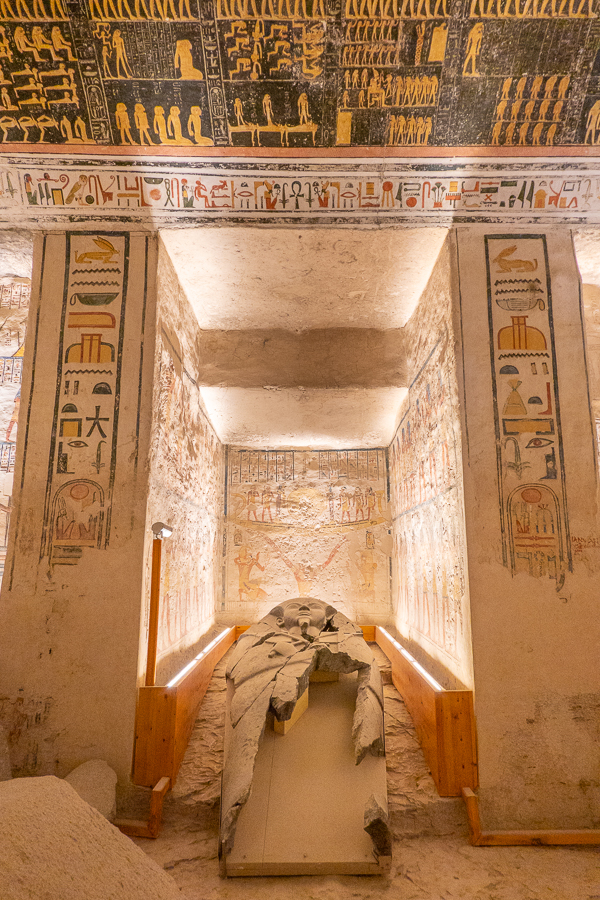 Ramses VI's Tomb
Here are a few pictures inside the tombs to give you an idea of what you'll see.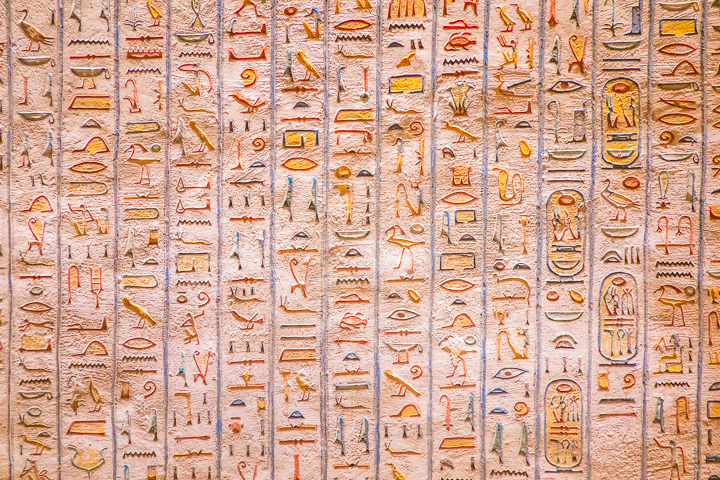 The colorful hieroglyphs covering the walls of this tomb in Luxor Egypt are over 3,000 years old.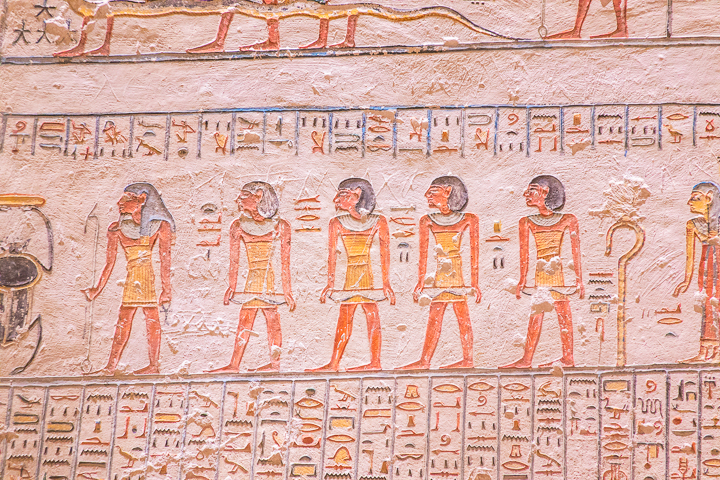 You can also spot graffiti in this tomb from 100 BC!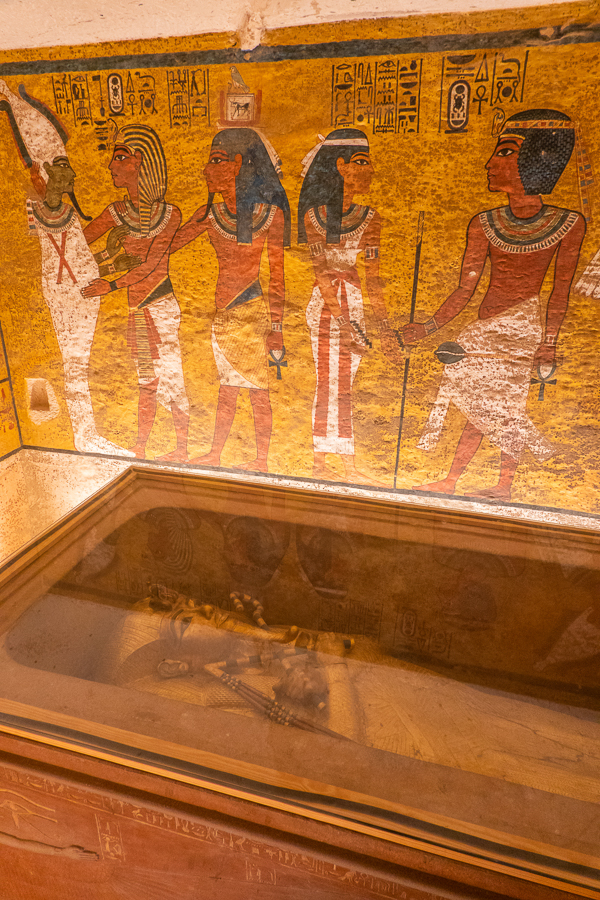 King Tut's Tomb
King Tut is one of the most famous ancient Egyptian pharaohs. But he's not remembered because he was a great ruler. He was a boy pharaoh who died young — he probably only lived to be 18 years old. King Tut was born from incest, suffered from scoliosis, and walked with a cane. He married his sister who had two miscarriages. This young boy had so much power but was sick all his life and most likely his advisors made all his decisions for him. He had a very short reign that ended with Egypt at war, which they would later lose under his successor.
Why Is King Tut famous?
Since King Tut died so young and so unexpectedly, they didn't have a proper tomb prepared for him. He was buried in a smaller tomb in Luxor Egypt that was probably built for a wealthy businessman and not a pharaoh. As a result, his tomb wasn't raided and robbed like most of the other tombs in the Valley of the Kings. His tomb wasn't discovered until 1922, with almost all of his royal possessions still sealed in the tomb with him. Since most of the other tombs were already empty when they were discovered, finding King Tut's intact tomb was a huge historical event.
You can see all the treasures from King Tut's tomb on display at the Egyptian Museum in Cairo, including the golden mask of King Tut, possibly the most iconic image of ancient Egypt. .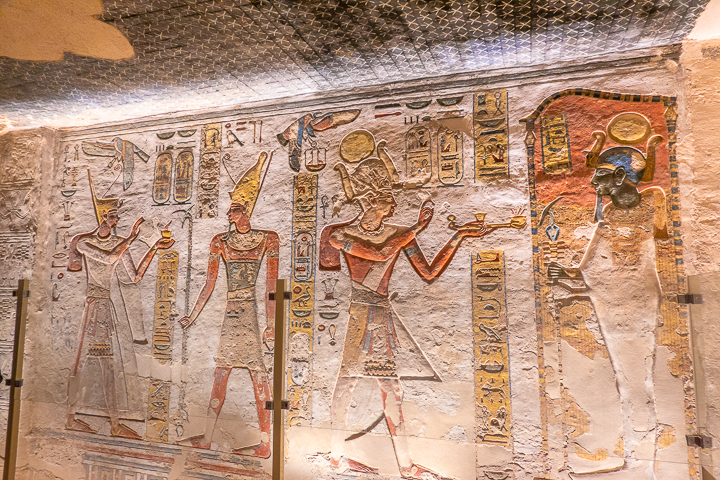 Which tombs to visit at Valley of the Kings:
There are over 60 tombs in the Valley of the Kings in Luxor Egypt, but usually only 6-10 are open to the public at any given time. With your ticket you can visit 3 of these tombs. To help plan your trip, here are the 4 most beautiful / interesting tombs you can enter, instead of just wandering into the first 3 you see!
KV11
KV11 is the tomb of Pharaoh Ramses III. It's a large tomb with bright colors and detailed hieroglyphs covering the walls.
KV16
KV16 is the tomb of Pharaoh Ramses I. He died before it was finished, so it's a smaller tomb, but still very beautiful inside.
KV34
KV34 is the tomb of Pharaoh Thutmose III. It was one of the first tombs to be dug in the Valley of the Kings. It's all the way in the back of the Valley, so you may want to start with this one and then work your way back towards the front. There are lots of steps for this one!
KV35
KV35 is the tomb of Pharaoh Amenhotep II. Later it became a storage unit for other mummies — when it was discovered in 1898, they found a dozen other mummies of pharaohs, queens, and more stuffed into a side chamber of this tomb.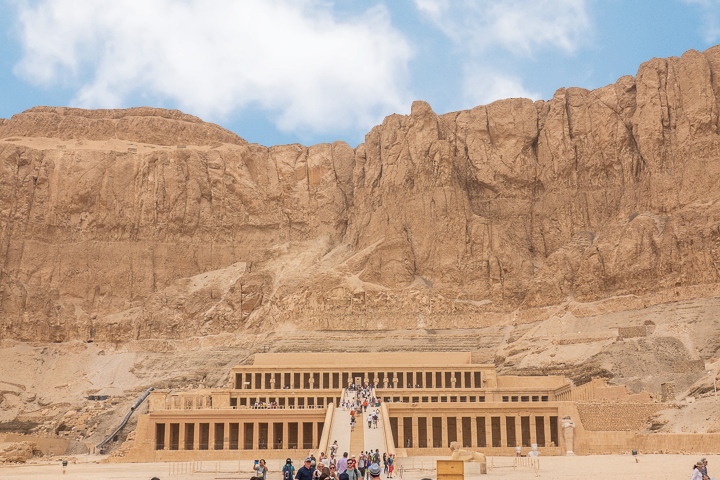 Things To Do in Luxor Egypt #3 — Hatshepsut's Temple
Hatshepsut was a female pharaoh who ruled Egypt from 1478–1458 BC. She is regarded as the most powerful and successful female ruler of ancient Egypt. Hatshepsut reigned longer than any other woman in Egyptian history. She was not the first or the last female ruler, but she is the best known after Cleopatra. Hatshepsut is known as the first great woman in history.
Queen Hatshepsut's Temple is one of the most impressive examples of ancient Egyptian architecture.
It's also located on the west side of the Nile River, so it's easy to visit after the Valley of the Kings.
Things To Do in Luxor Egypt #4 — Medinet Habu
If you're spending more than one day in Luxor Egypt, Medinet Habu is another very beautiful temple on the west side of the Nile River that's worth seeing. But if you only have one day, skip this one and head back to the east side of the Nile River, have lunch, and then spend the afternoon at Karnak Temple.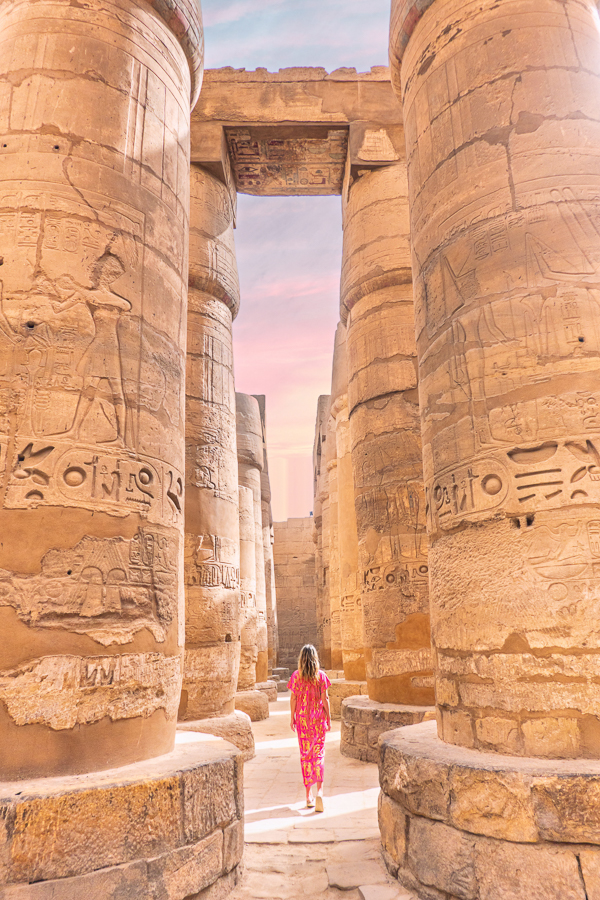 Things To Do in Luxor Egypt #5 — Karnak Temple
Karnak Temple is a massive temple complex in Luxor, Egypt and is considered one of the most sacred sites in Egypt.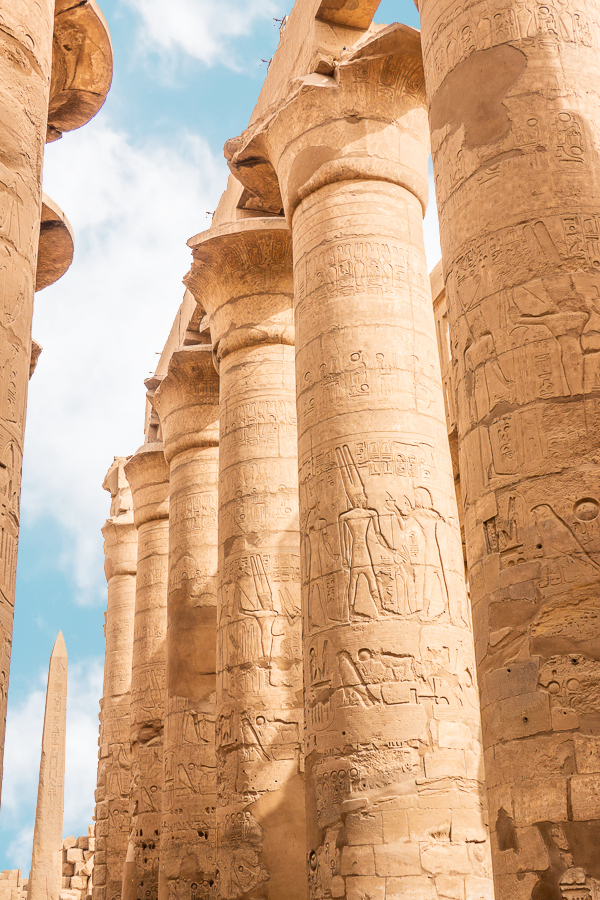 The temple is over 4,000 years old and is the second largest religious complex in the world (after Angor Wat in Cambodia).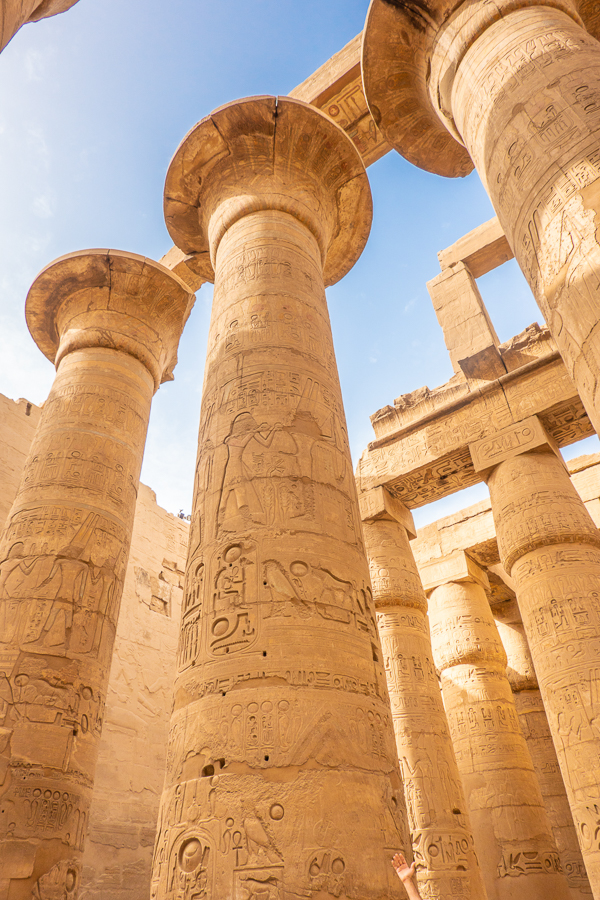 When Was The Karnak Temple Built?
Karnak Temple was built gradually over a period of 2,000 years by more than 30 different pharaohs. Each new ruler who came into power would add to the temple and expand it. During this time it was in constant use.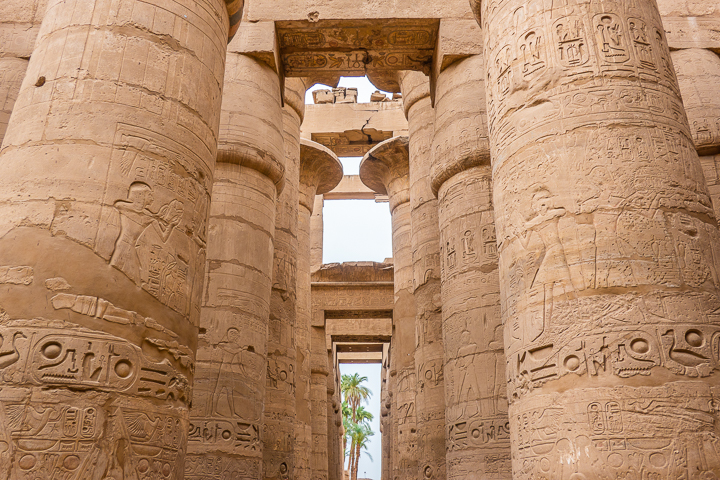 If you ever get annoyed with constant construction in your city, just imagine the ancient Egyptians with Karnak. After literally one thousand years, they had to be wondering if the constant construction would ever end. And even after one thousand years of construction, they still had another thousand years to go before it was finished!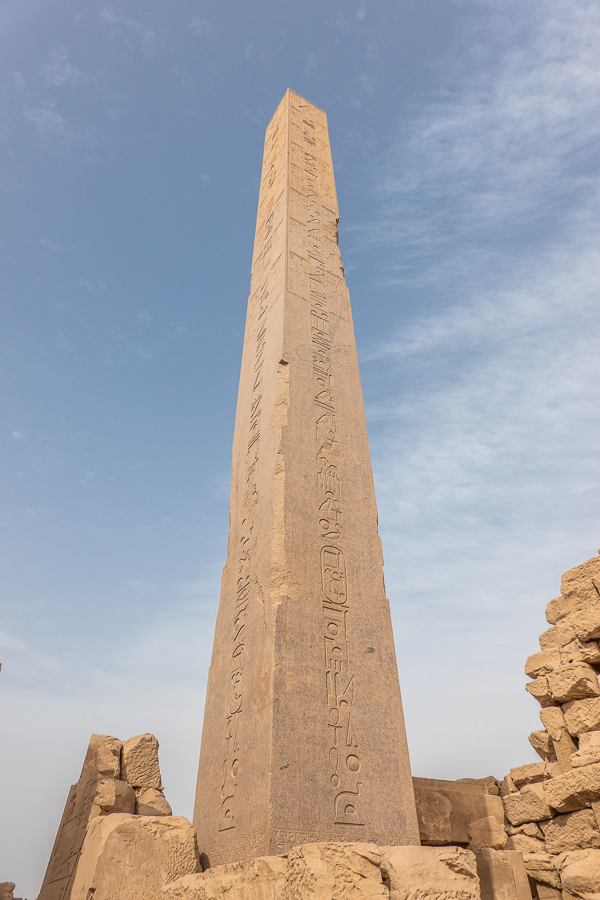 However, these constant construction projects were fundamental to the Egyptians' survival. Contrary to popular belief, the great monuments of Egypt (like the pyramids) were not built by slaves — they were built by paid Egyptian workers.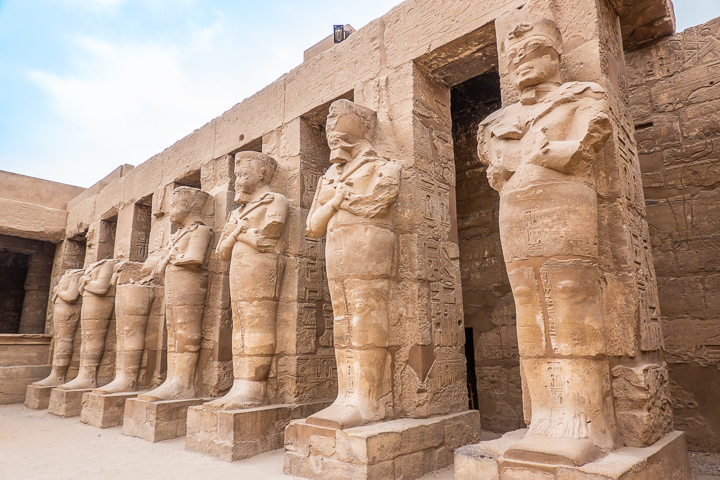 The construction of all the palaces, temples, pyramids, monuments, obelisks, and more provided jobs for both skilled and unskilled Egyptians, plus they encouraged unity in the community by contributing to a common goal and gave the Egyptians pride in contributing to such a grand project. They built some of the most impressive cities, temples, and monuments in the world, many of which are still standing to this day, over 4,000 years later.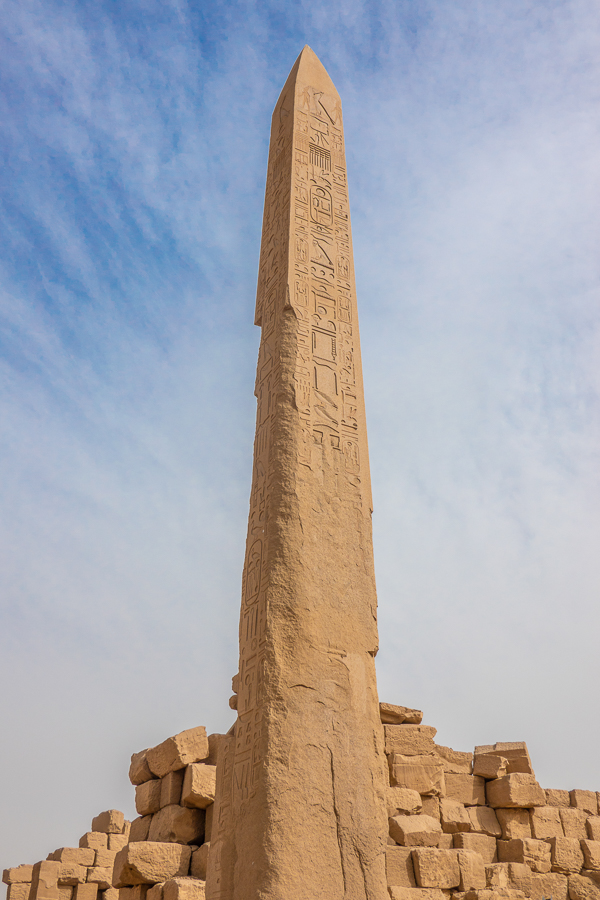 Karnak Temple Obelisk
The obelisk at the center of Place de la Concorde in Paris, France originally came from Luxor Egypt.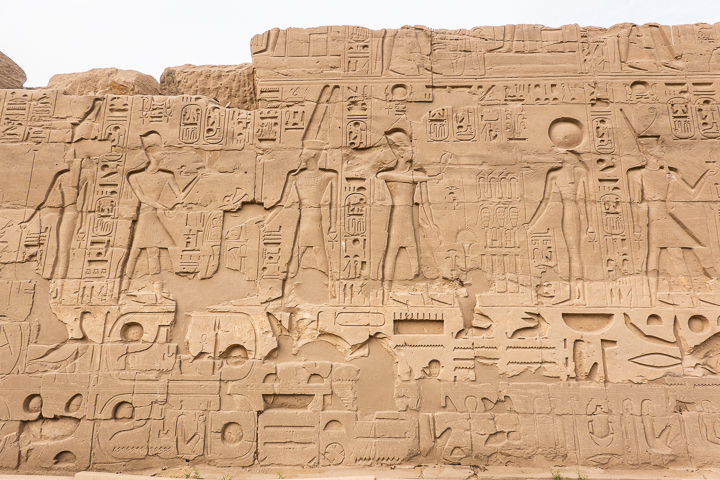 Karnak is an amazing temple. You can touch the walls and columns and feel the groves of the hieroglyphic carvings with your fingers…
Look up at the columns and you can still see some of the color left from the original paint from over 2,000 years ago.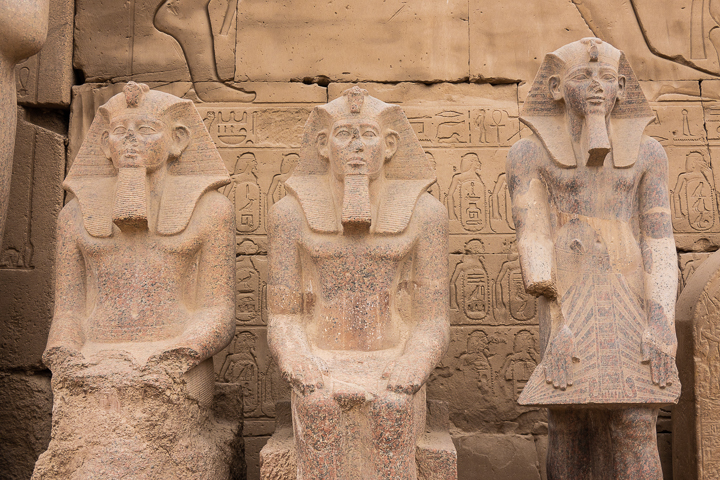 To quote our guide:
"You can just imagine how incredibly beautiful it all must have been back in its heyday when all of the walls and ceilings were painted in these bold bright colors and huge flags and banners were waiving in the wind on top of the pylons and priests were walking around with incense and chanting prayers to the gods."

John Nicholson
Egypt Travel Blog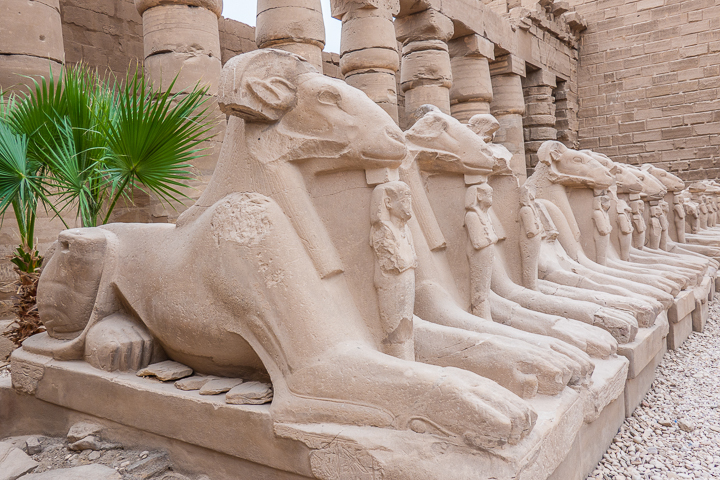 How Long to Spend at Karnak Temple?
Plan for at least 2 hours to explore this massive complex!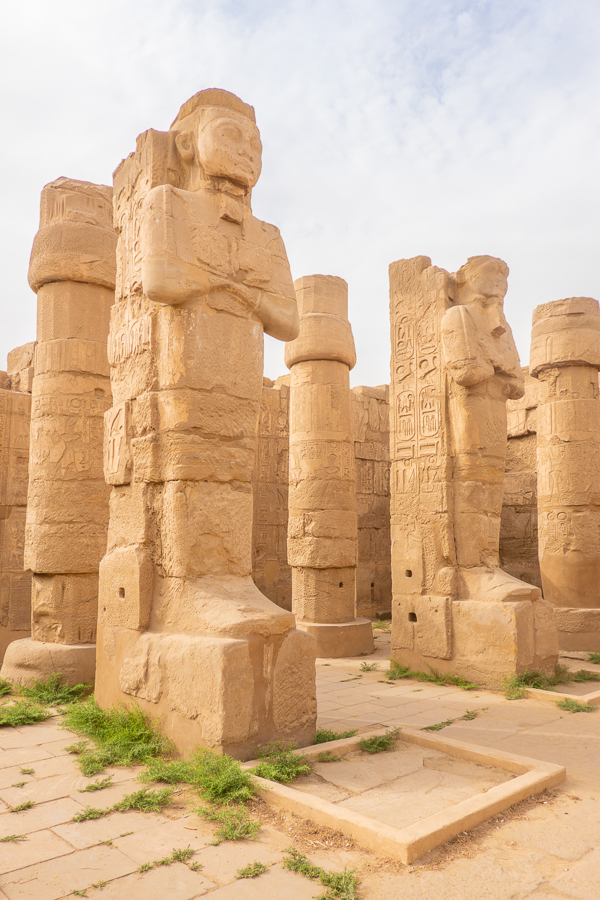 Things To Do in Luxor Egypt #6 — Luxor Temple
If you're spending more than one day in Luxor Egypt, another temple to add to your itinerary is Luxor Temple. If you only have one day and you don't have time to see the temple before it closes, Luxor Temple is beautifully lit up at night and you can walk around and see it from the outside.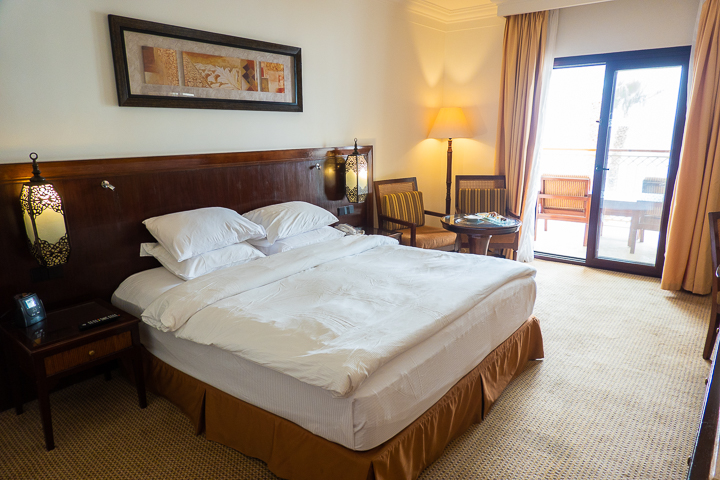 The Best Luxor Hotel
Hands down, the absolute best hotel in Luxor Egypt is the Hilton Luxor Resort & Spa.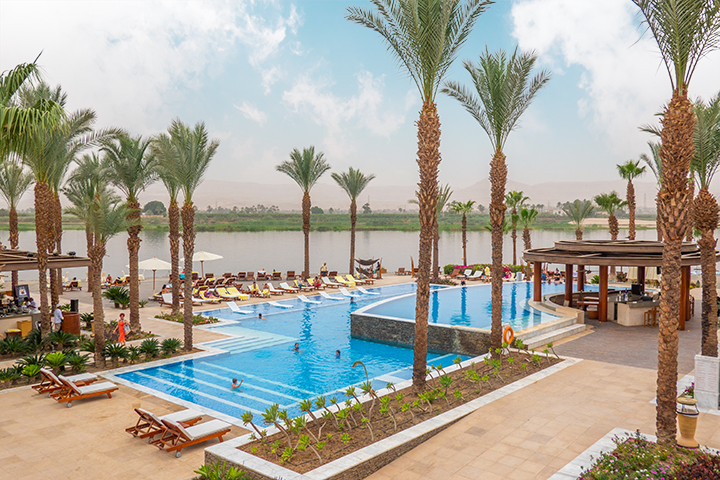 It's located right on the bank of the Nile River and the rooms have views over the pool and the river.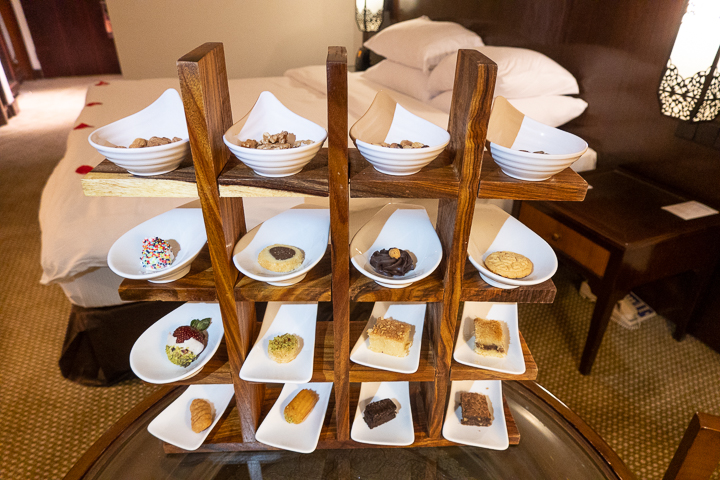 Our first night they left a tray with local Egyptian desserts. Every single one was SO GOOD!!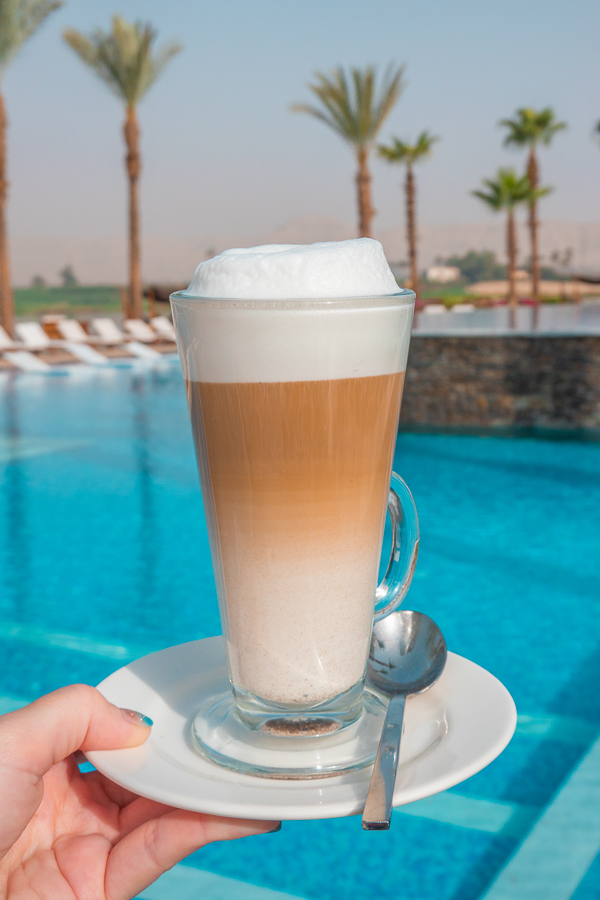 The breakfast buffet offers a wide selection, and you can have breakfast by the pool with the Nile River as your view.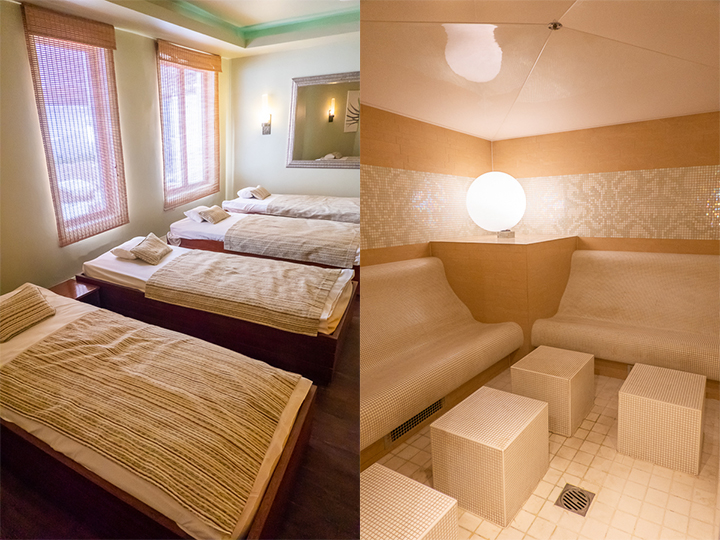 The spa at the The Hilton Luxor Resort & Spa is AMAZING. The spa is free for all guests of the hotel. There are multiple steam rooms, dry saunas, relaxation rooms, and more. Pictured above on the left is a relaxation room with water beds. On the right is a salt steam room. You push a button and a salt shower falls from the ceiling to exfoliate your skin with.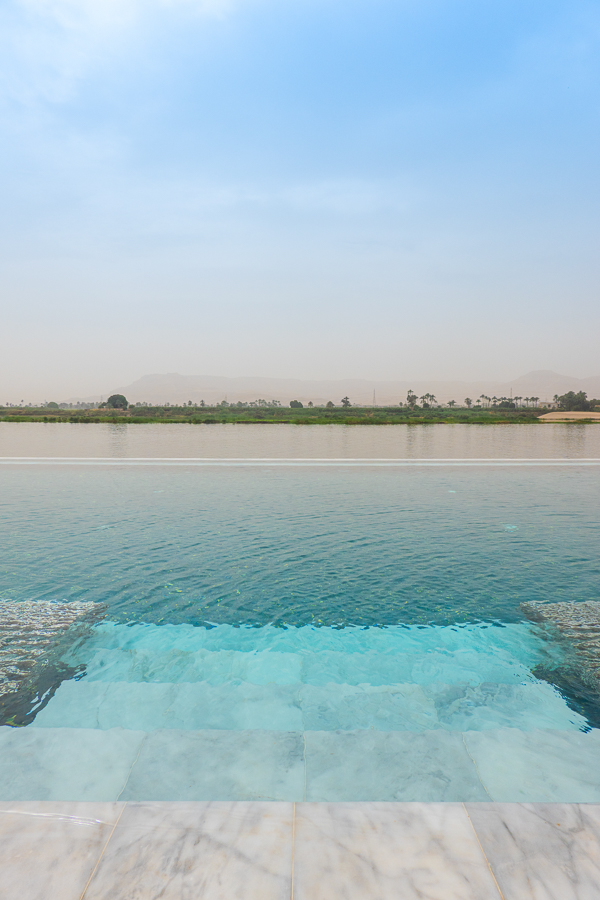 The spa also has an adults-only infinity pool overlooking the Nile River.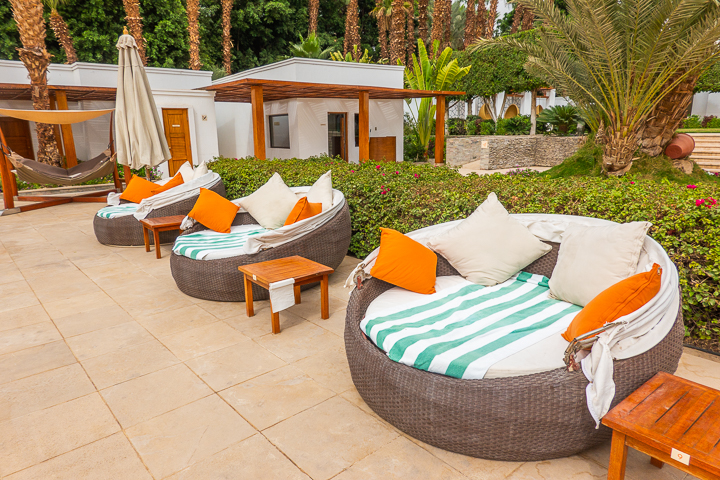 There are tons of super comfy lounge chairs and beds for relaxing after a long day exploring tombs and temples!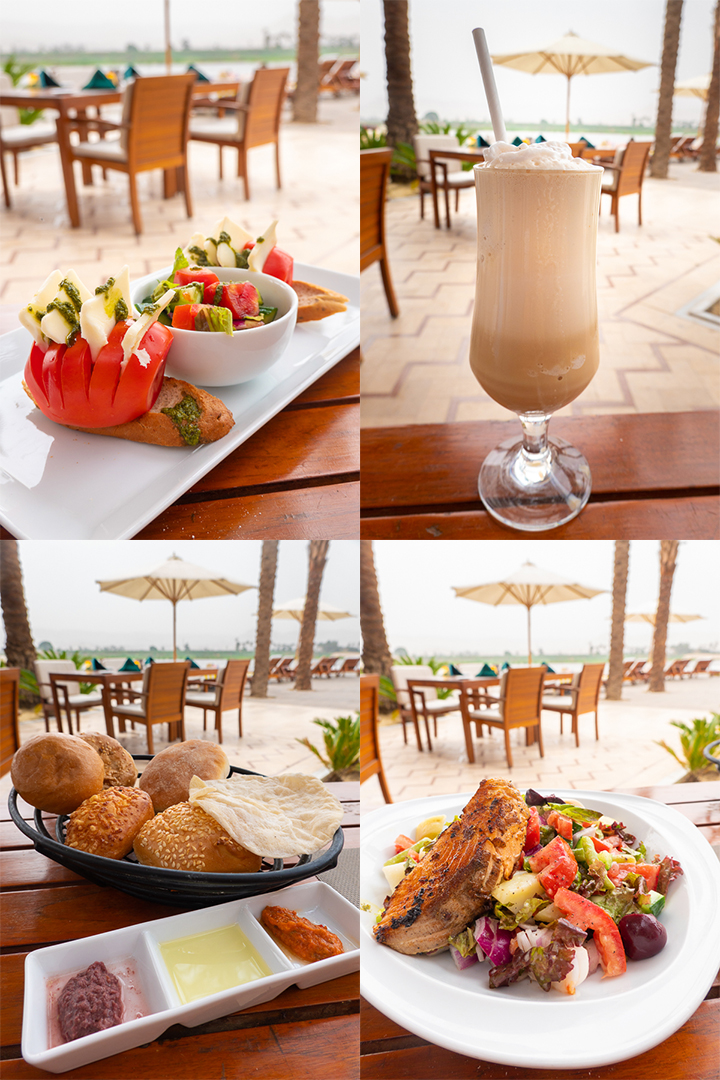 The Hilton Luxor Resort & Spa has a poolside restaurant called Olives. The menu is Mediterranean-themed with a wide variety of options. It's the perfect spot to enjoy lunch on the Nile River.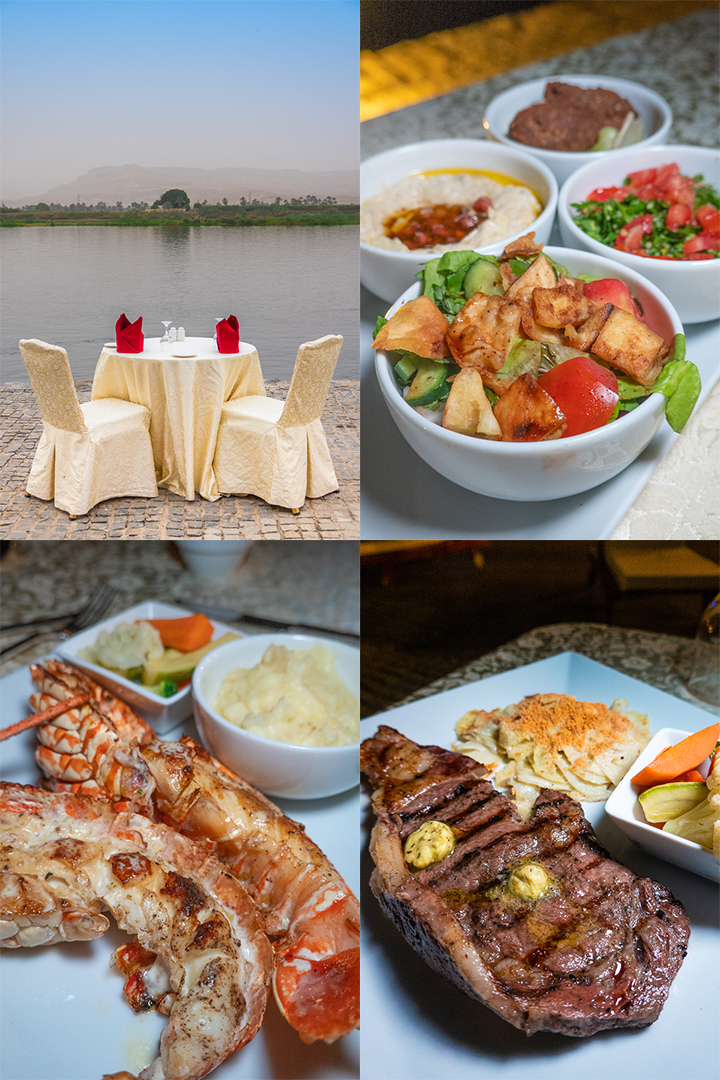 They can also set up a candle-lit private dining experience on the terrace right on the secluded terrace of the Nile River for an unforgettable meal in the best location in Luxor Egypt.
---
Like this post? Save it on Pinterest!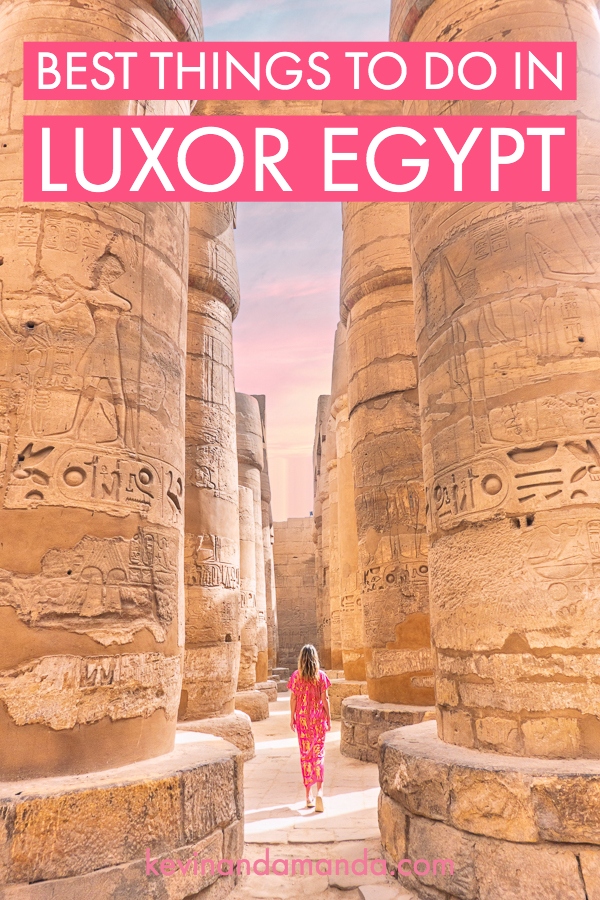 Did I forget anything that should be on this list of the Best Things To Do in Luxor Egypt? Let me know in the comments below!