Planning a trip to Egypt and want to see the great Pyramids of Giza? Be prepared for all the scammers. Here's what you need to know before visiting the famous Egyptian Pyramids.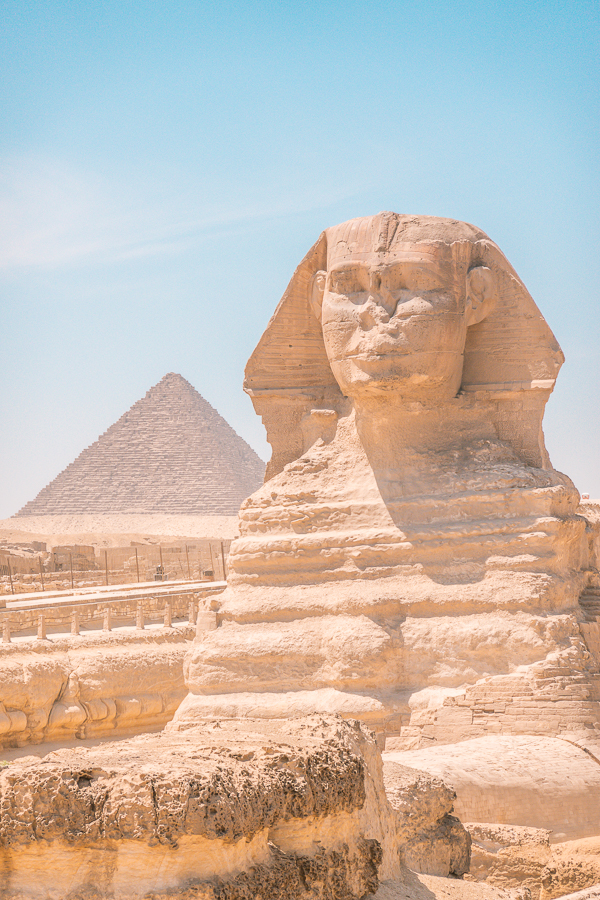 If you're planning a trip to Cairo, Egypt, this guide is a must read before visiting the Pyramids of Giza. Here are a few helpful things to know about the Egyptian Pyramids.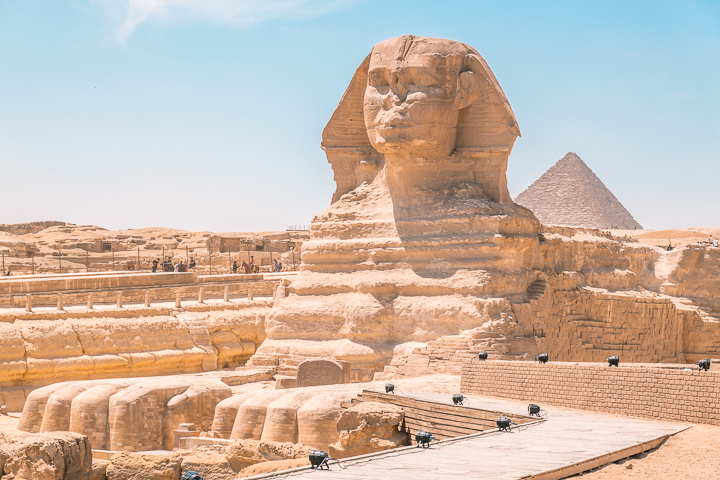 When Were The Pyramids of Giza Built?
The Pyramids of Giza were built more than 4,000 years ago, over a course of 300 years from approximately 2630 BC – 2325 BC.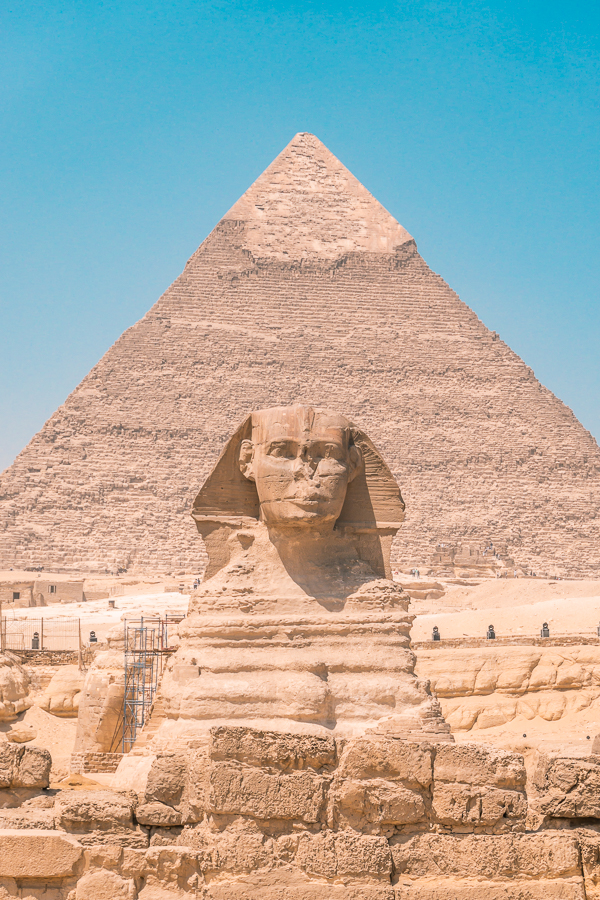 Who Built The Pyramids of Giza?
Contrary to popular belief, the Egyptian Pyramids were not built by slaves — they were built by paid Egyptian workers. The construction of the Pyramids of Giza played a fundamental role in keeping the Egyptian civilization powerful and peaceful. Not only did it provide jobs for both skilled and unskilled Egyptians, it also encouraged unity in the community by contributing to a common goal and gave the Egyptians pride in contributing to such a grand project.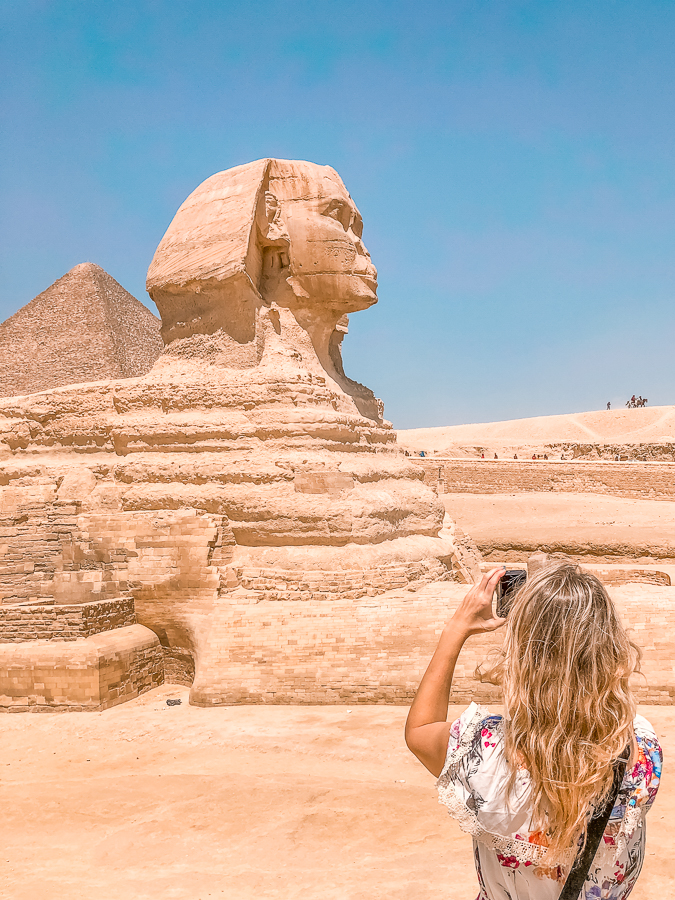 Pyramids of Giza Scam #1 — Taxi Jumpers
Before you even get to the Pyramids, you need to be on the lookout for scammers! On your way to the pyramids, scammers will try to stop your taxi and even JUMP IN THE TAXI with you.
The taxi jumpers will try to tell you that you can't buy tickets up there, or that cars cannot go beyond this point and you have to hire a horse or a camel from them to get to the top of the hill.
Make sure your doors are locked and tell your driver to ignore them and keep driving. Make sure your taxi drives you all the way up the hill, inside the gate, past the tour bus parking lot, and directly in front of the Pyramids of Giza ticket booth.
Also it's much, much better to take an Uber rather than a regular taxi in Egypt. The price for Uber is fixed, you will see the price before you book, and it will always be much cheaper than what a regular taxi will charge you. Use the code amandab85 when you sign up for a discount on your first ride.
Read more about the Taxi Jumpers.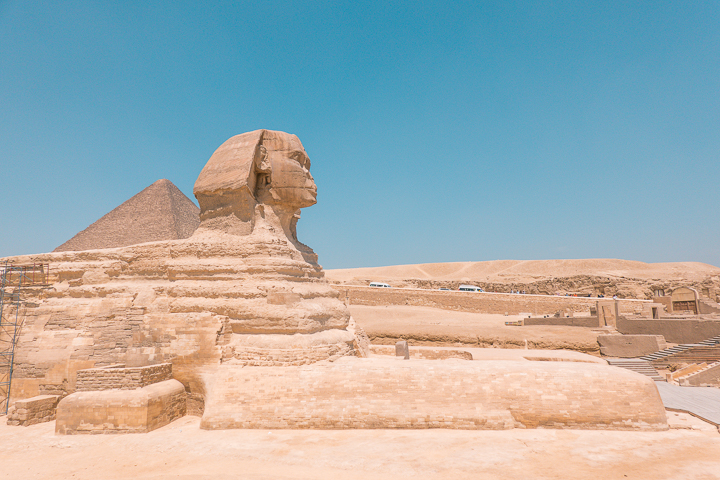 Which Ticket Type to Buy for Pyramids of Giza?
Now that you've made it past the taxi jumpers, buy the combo ticket that will get you entrance inside the gate (where you can see the Pyramids and Sphinx), entrance inside the Great Pyramid, and entrance to the solar boat museum.
In April 2019 this ticket was 500 Egyptian Pounds (around $30 USD)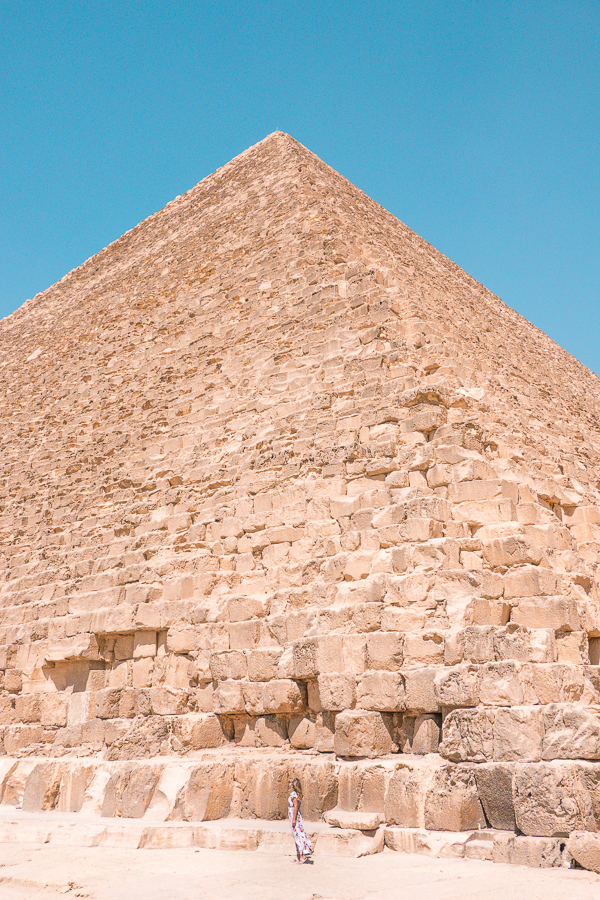 Just to give you an idea how big the Pyramids of Giza are — do you see me down at the bottom??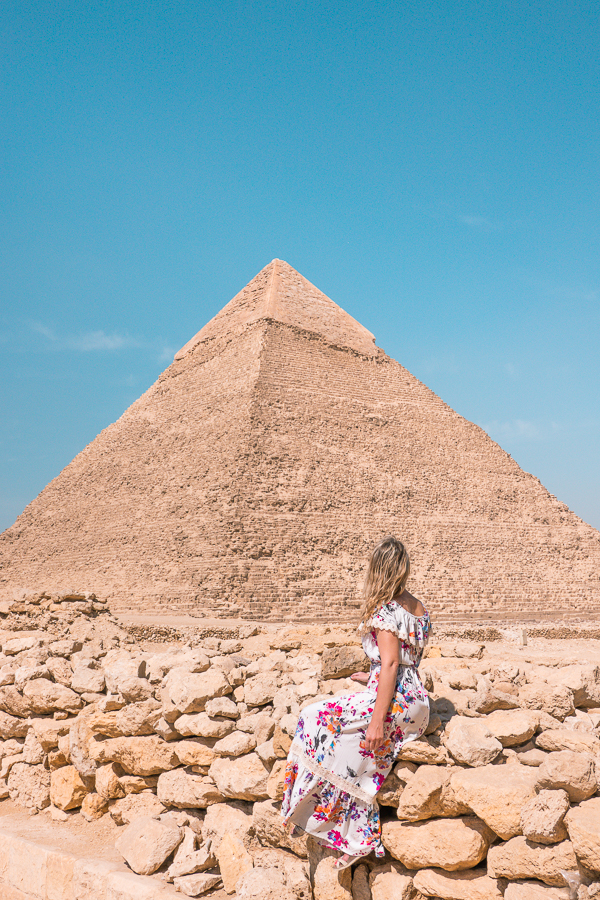 Pyramids of Giza Scam #2 — Scammers Asking For Your Ticket
After you've made it past security (airport-type security where they X-ray your bags) ignore EVERYONE asking for your ticket. You will need to show your ticket later to visit other areas like the Sphinx and to go inside the pyramid. These scammers will take your ticket and not give it back unless you pay them.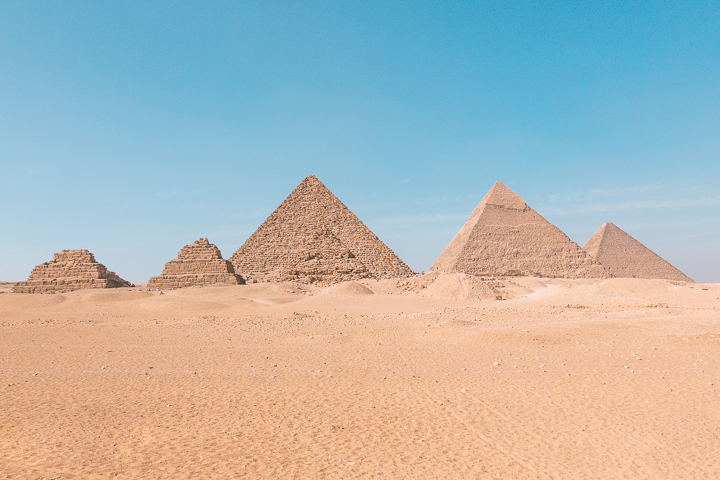 Best View for Photos of Egyptian Pyramids
There's a great view of all nine pyramids that you can take from the desert behind the Pyramids of Queens. Here is the approximate GPS location of where I was standing to take the picture above. They say you can see all nine of the Pyramids of Giza from here, but I only counted 8 at most in my pictures. Maybe you can spot the ninth!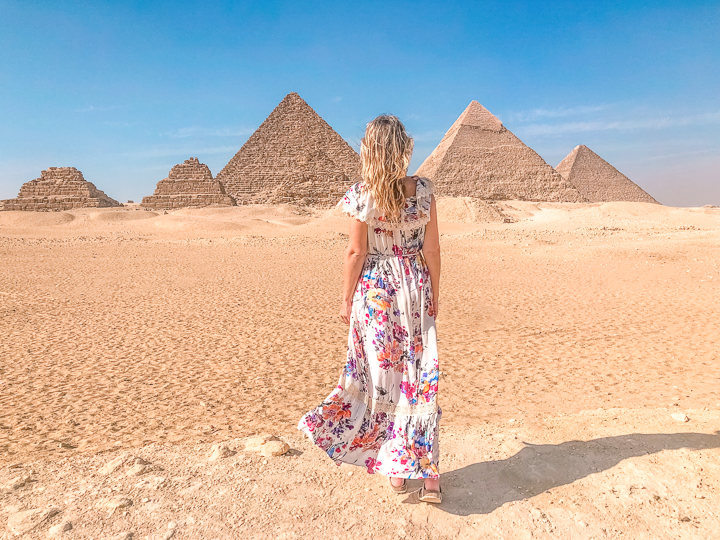 Camel Rides at the Pyramids of Giza
You can get to this viewpoint by walking, but it's a long walk from the entrance, and you'll already be doing a ton of walking just visiting the Pyramids and the Sphinx. If you want an easier and faster option, another way to get there is by camel ride.
If you've never taken a camel ride before, where better than through the Sahara Desert with an amazing view of the Egyptian Pyramids along the way?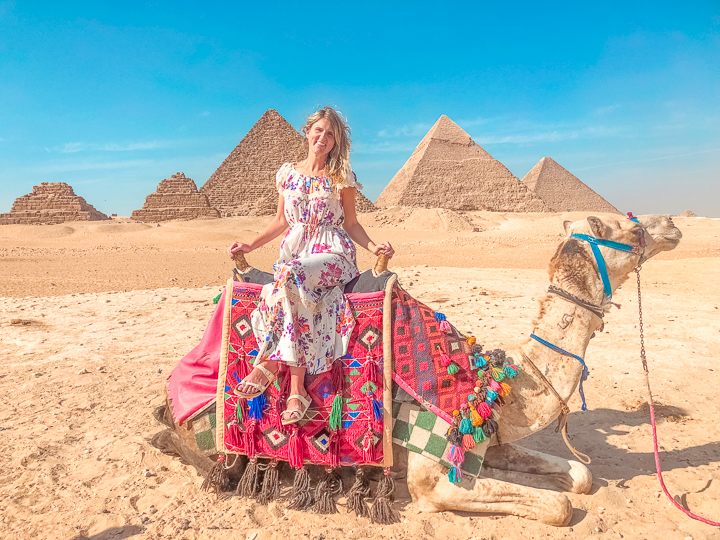 But don't hire any of the camel rides from the base of the pyramids. There is another scenic overlook back behind the Pyramids of Giza. Here is the GPS location on Google Maps. Start your camel ride here. You can also ride a horse if you prefer.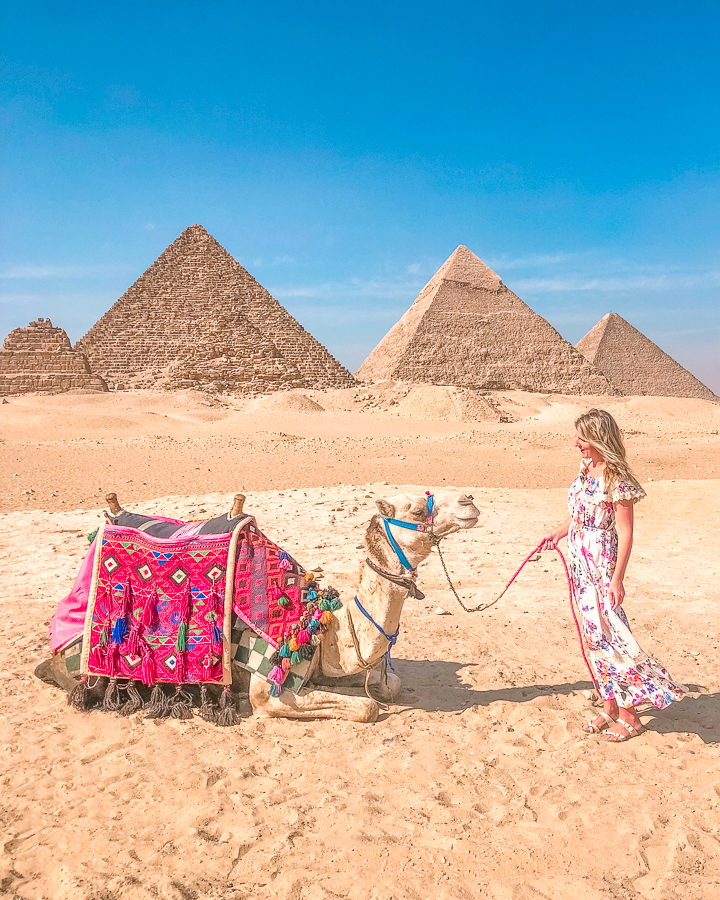 Wait for them to approach you about a camel ride. You will need to use your best negotiating skills if you don't want to pay too much!
Read this for more tips about Camel Rides at the Pyramids of Giza.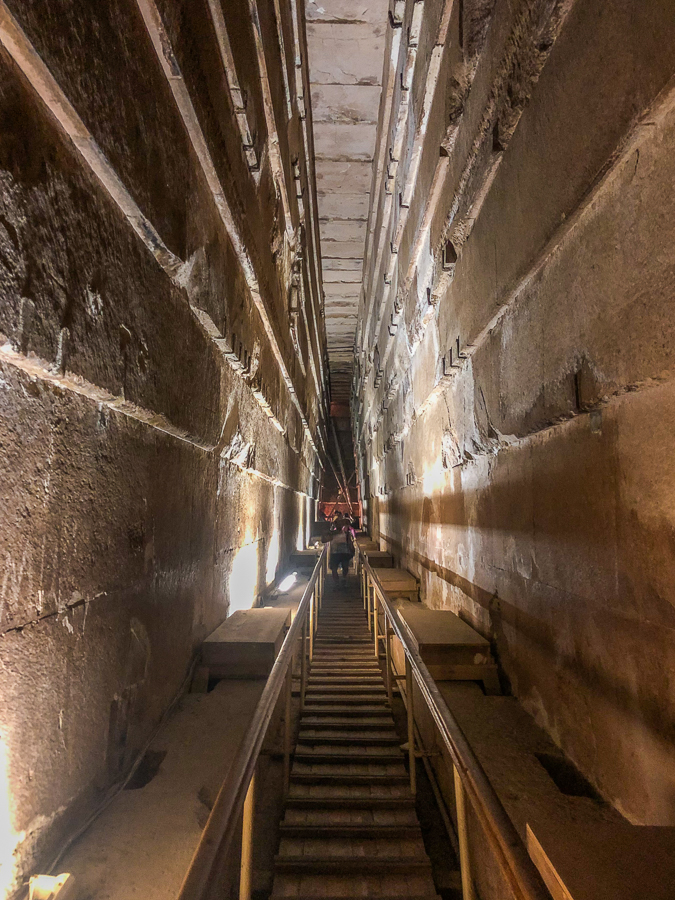 Can You Go Inside The Pyramids of Giza?
Yes! But they are not as interesting as the tombs in Luxor Egypt. It's a very small, cramped space with lots and lots of stairs.
No cameras are allowed inside the Pyramids of Giza. Be sure to put your camera away in your purse or bag so the guards don't stop you.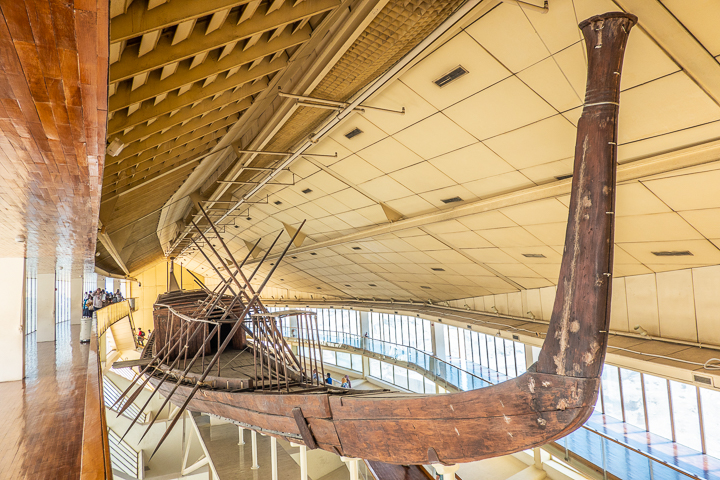 Don't Skip the Solar Boat Museum!
At the Pyramids of Giza you can see an extremely well preserved 4,000-year-old Egyptian boat that has been identified as the world's oldest intact ship. The boat is an incredible display of woodwork and craftsmanship and could still sail today if put into water.
Even more amazing, it is believed that this was the funeral boat for the Pharaoh buried inside the Great Pyramid of Giza. The boat would have carried the Pharaoh up the Nile River from the ancient capital of Egypt (about 12 miles south) to his tomb inside the pyramid. The boat was then buried near the pyramid so the Pharaoh could use it in the afterlife. They believed the king would be resurrected and and would use the boat to cross into the heavens.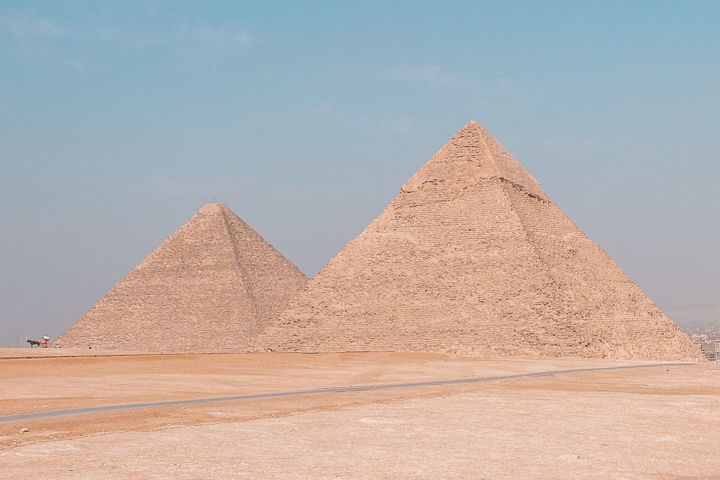 Tips for Visiting the Pyramids of Giza
Get there before 10 AM so you have plenty of time to visit the site. The earlier you can get there, the less crowded it will be.
Give yourself plenty of time. It's a huge complex and the only way to get around is by walking. Most people spend at least half a day at the Pyramids of Giza. However, if you love history and love taking pictures, you may spend the whole day there, like we did!
Be sure to wear good walking shoes. You will be doing a lot of walking on sand, dirt, and uneven stones.
Wear plenty of sunscreen and bug spray. There is no shade at the Pyramids of Giza and nowhere to escape the sun.
You may also want sunglasses, not only for the sun but to help avoid making eye contact with scammers!
Bring snacks and water. You will be doing lots of walking in the sun, so it's important to stay hydrated. You can buy drinks at the pyramids but there is nowhere to buy food of any kind, so if you're there all day you might end up starving!
I normally don't like visiting places with a guide. I prefer to visit on my own so I can go at my own pace. But the Pyramids of Giza are one place where you may want to hire a guide that will pick you up at your hotel.
---
Do you need a guide at the Pyramids of Giza?
There are so many scammers at the pyramids, including the taxi jumpers before you even get there. Everyone's yelling at you, trying to get your attention, trying to talk to you, trying to get your money somehow. It's hard to tell the difference between the scammers and the actual security, so you don't know what you can do or where you can go.
If you want peace of mind and a hassle-free visit to the Pyramids of Giza, hire a guide that can recognize and fend off the scammers for you. Be sure to hire one that will pick you up at your hotel. For help finding a reputable guide, contact EgpytElite.com.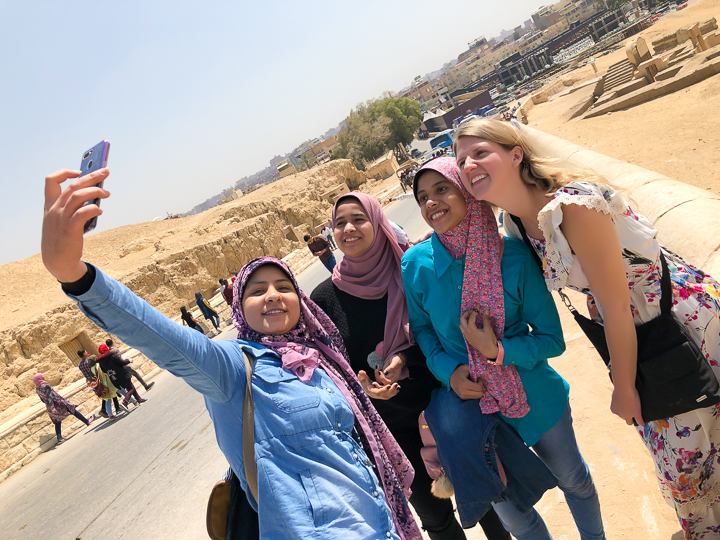 I got so accustomed to blank-facing and ignoring everyone who tried to talk to me at the pyramids that I almost ignored these sweet school girls, until our guide from Egypt Elite told me it was okay to talk to them. They were just school kids from a small village in Egypt on a field trip to see the Pyramids of Giza, and had likely never seen a blonde person before.
But beware! It starts with 1 or 2 girls coming up to you to politely ask for a picture, but then once you say yes you will be absolutely swarmed with dozens of kids (and sometimes adults) who literally come out of nowhere to take a selfie with you! Just be ready to excuse yourself when you've had enough.
---
Like this post? Save it on Pinterest!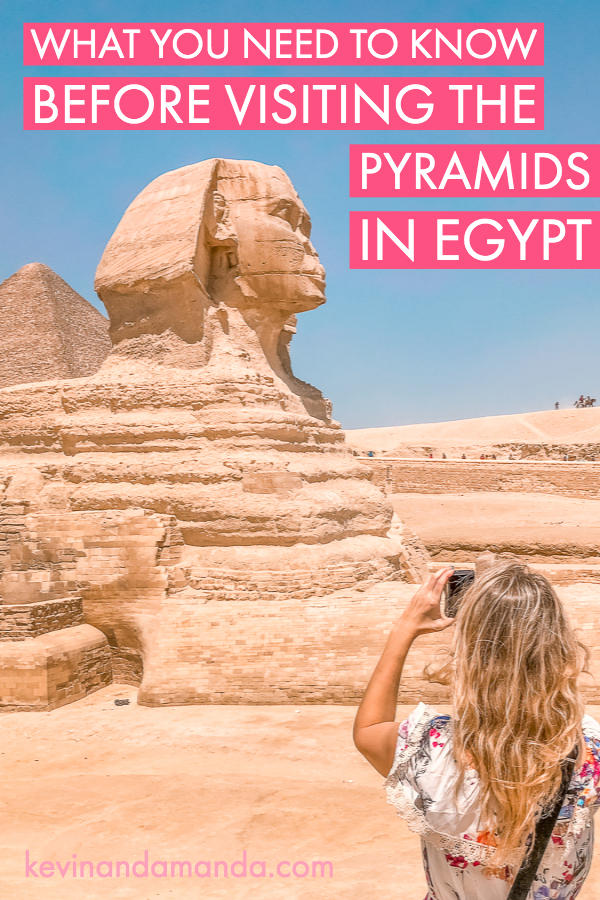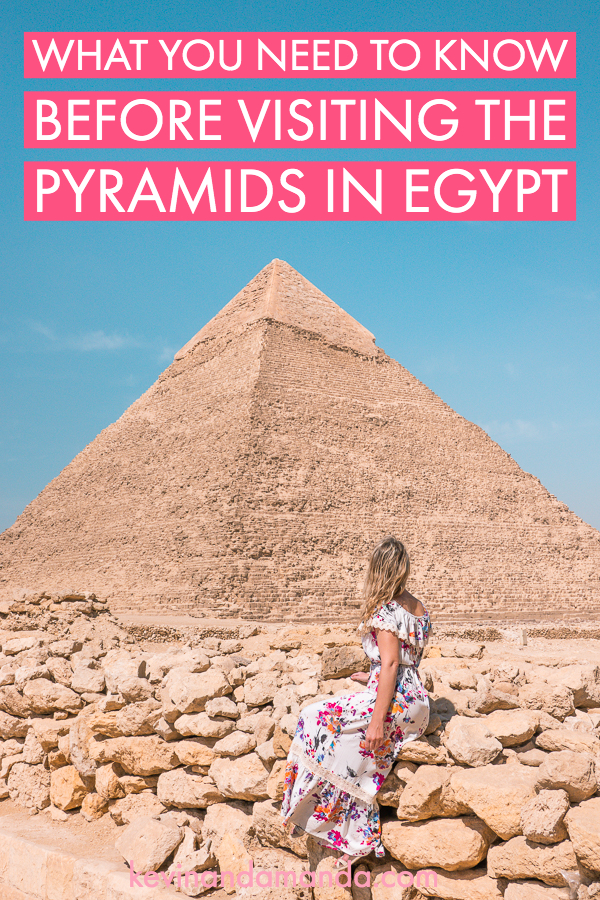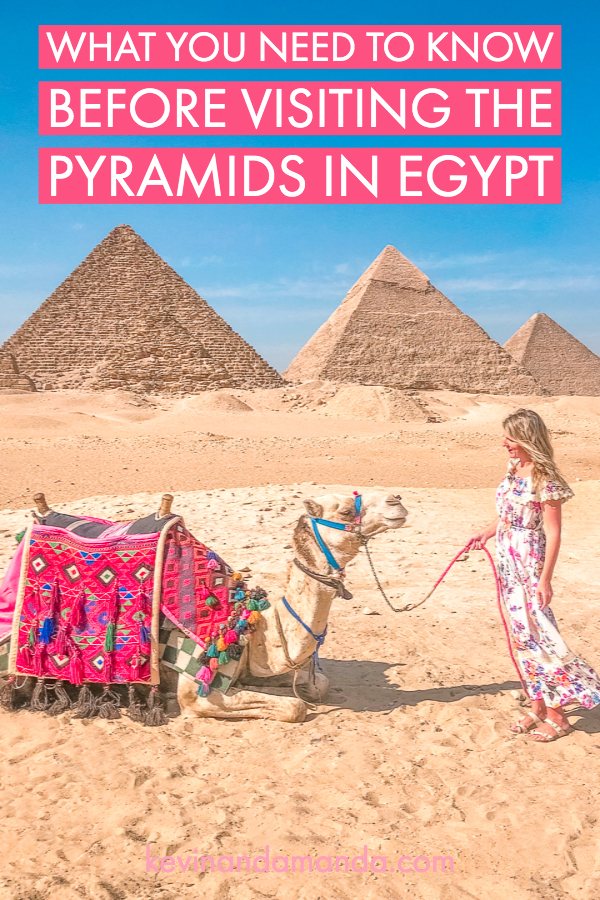 ---
Do you have any questions about visiting the Pyramids of Giza?
Are you planning a trip and have questions? Or have you been before? How was your experience visiting the pyramids? Do you have any other tips for visiting the Pyramids of Giza? Let me know in the comments!