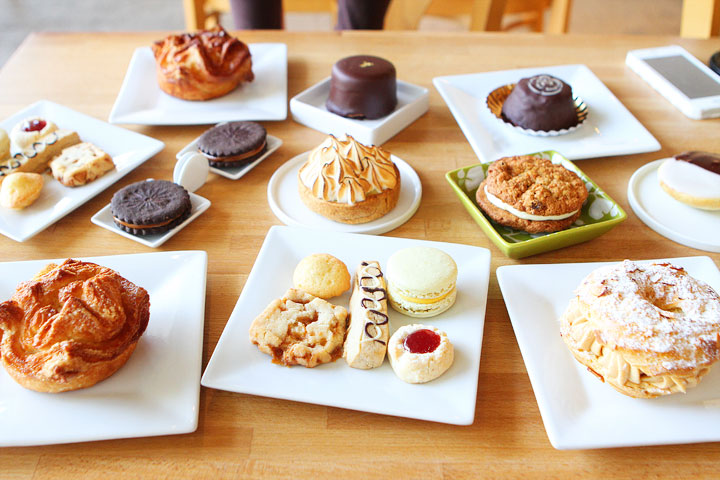 The next culinary adventure on our nonstop bakery tour through Salt Lake City was the gorgeous Les Madeleines bakery. How sinfully decadent does this table look?? :) Can't believe I was sitting here just a few weeks ago, lol! I wish I could just warp back here right now. :) I loved the pure, traditional pastries at Les Madeleines. Maria was such a good hostess and tour guide while I was in Utah! Loved staying with my sweet friend. She had fun bakery tours lined up for us every day. She knows how to show a girl around town!
Maria introduced me to the brilliant artist behind these beautiful sweets, the enchanting head pastry Chef Romina Rasmussen. Here are a few of her gorgeous creations that she brought out for us to try.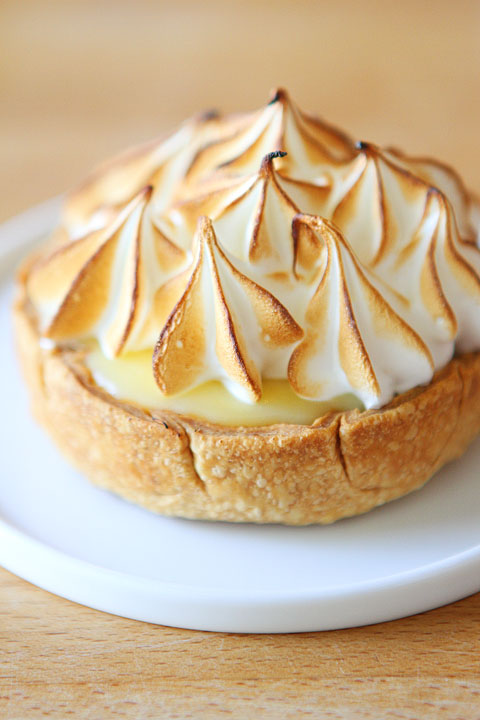 The stunning Meyer Lemon Tart.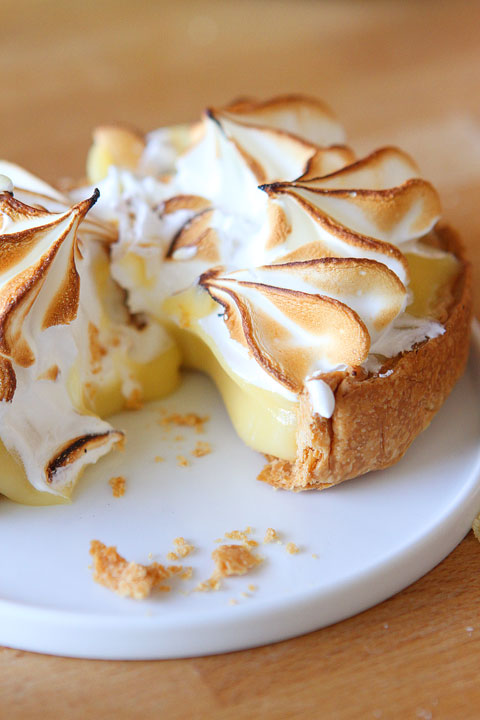 It was shockingly tart! I loved it!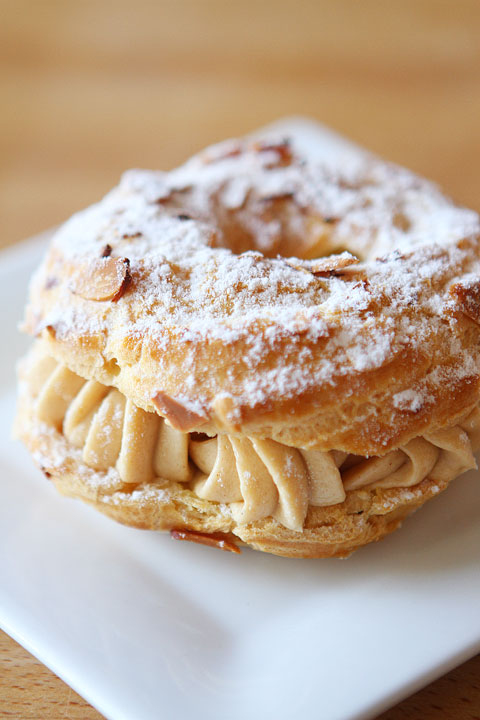 This beauty was called the Paris-Brest. It's a hazelnut cream puff ya'll, created in honor of a bicycle race from Paris to Brest. A definite winner in my book.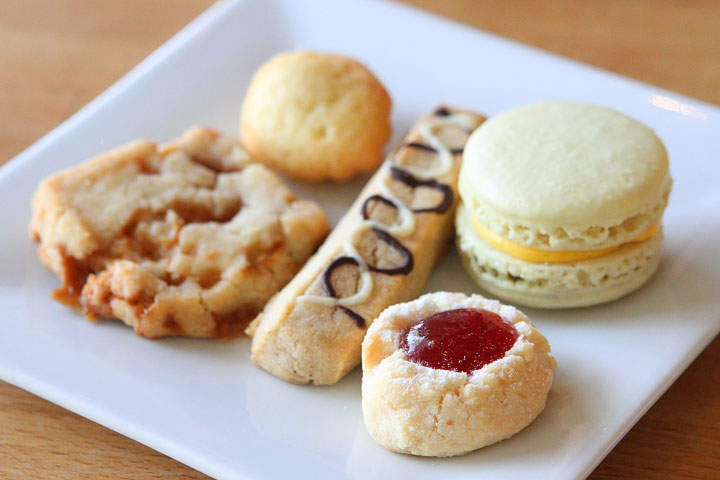 Here we have a plate full of sweet treats! The Raspberry Thumbprint up front was one of my favorites!! It's an almond shortbread cookie filled with house-made jam. It totally melts-in-your-mouth! The Butter Toffee Shortbread on the left was another favorite. Amazing. Chef Romina's shortbread is nothing short of perfect. These two are a must try for sure! We also sampled the orange madeleine (of course! :)), the cardamom cookie, and the passionfruit macaron. Chef Romina calls her macarons "buttons." Love that! Everything we tried was very, very good.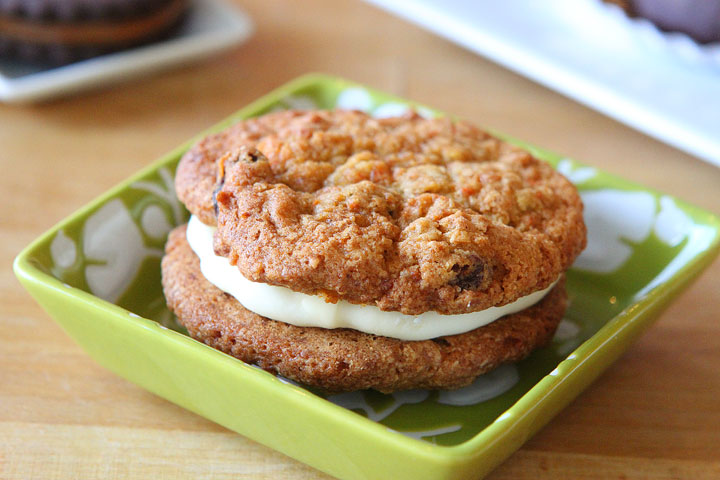 This Carrot Cake Cookie blew me away. This was one of my favorite things we tried here, and this is an amazing fact for three reasons:
I'm not the hugest fan of carrot cake.
I'm not the hugest fan of raisins.
I'm not the hugest fan of cream cheese frosting.
But somehow, it all works here.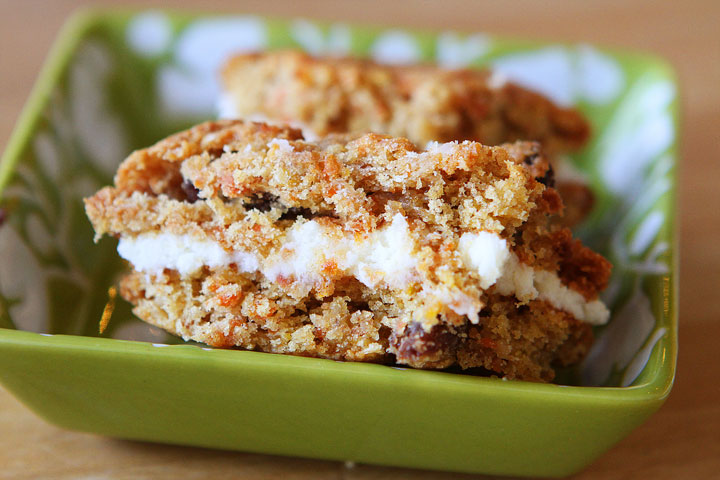 It's sweet and chewy and unique and perfect. I loved it.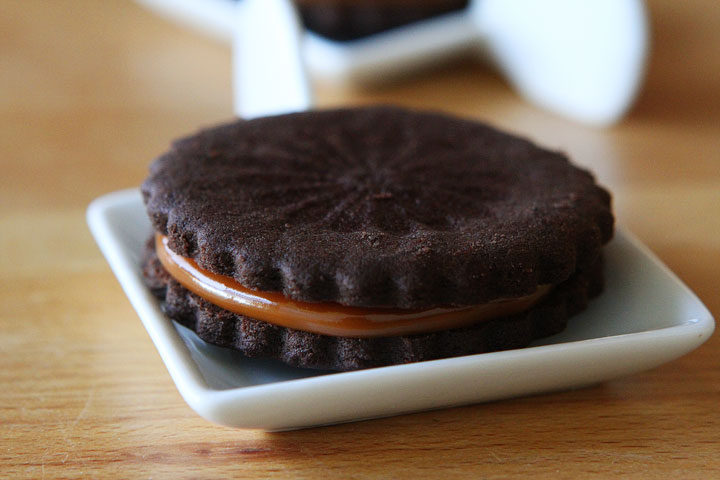 Oh my gosh. Speaking of unique! This is Les Madeleines Homemade Oreo. It's filled with dulce de leche. This soft crumbly cookie is absolute perfect.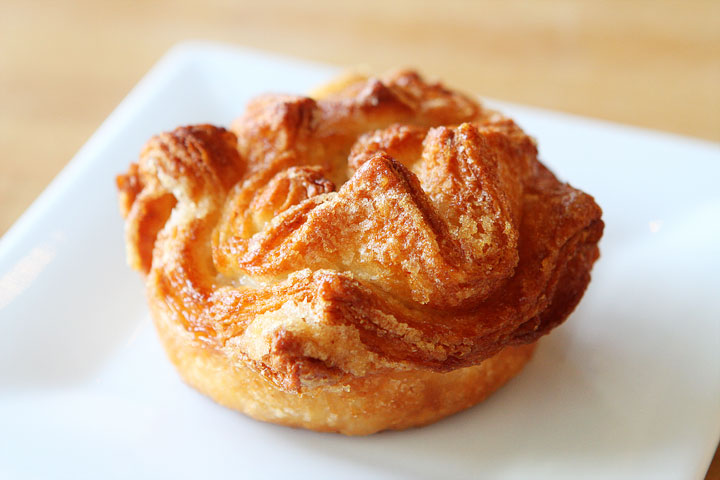 But here's what Les Madeleines and Chef Romina are famous for: Their infamous Kouing (pronounced Queen) Aman. First of all, you guys know that Kouing Aman is like my favorite thing ever. It's sweet, caramelized, and ultra crunchy on the outside….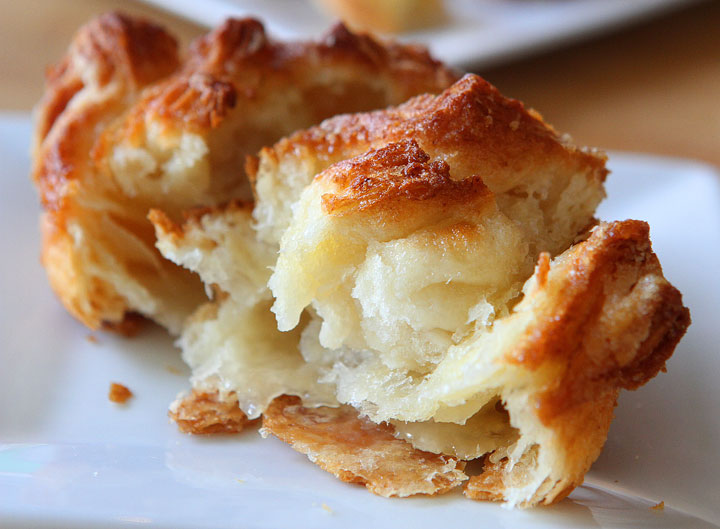 And warm, gooey, sticky, chewy, flaky, soft and perfect on the inside. Together they are 100% perfection. Les Madeleines is famous for their Kouing Aman and have been featured on Food Network's The Best Thing I Ever Ate for it. I would definitely say it is one of the best things I've ever ate! Chef Romina really is the Butter QUEEN. Get it?? ;) This is a must order. And guess what? Les Madeleines offers overnight shipping to all 50 states. Praise the Lord!! I am definitely going to be taking advantage of this!! No way can you get kouing aman in Alabama, lol!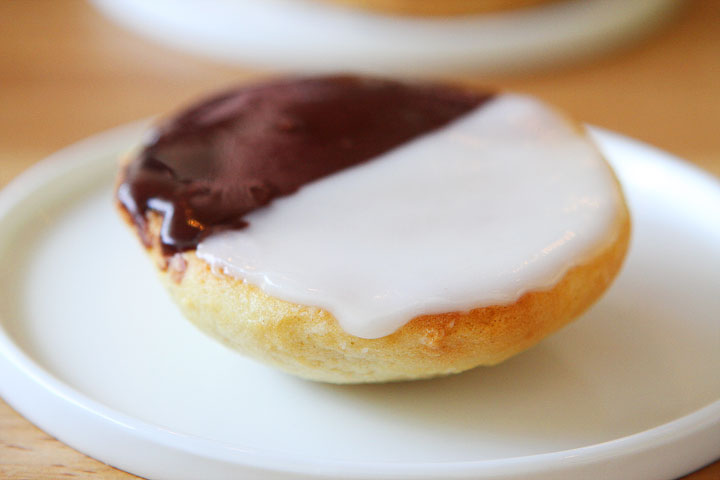 Next up was this black and white cookie! So fun.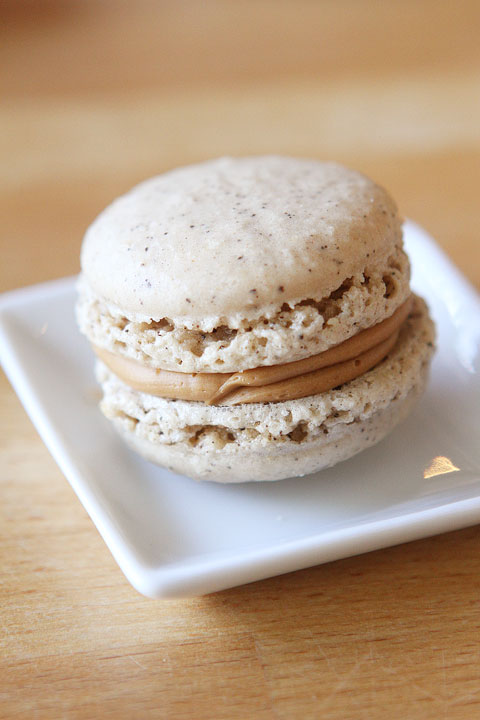 Ohhhhh, you guys. Macarons. Macarons are my weakness. This was a coffee macaron. Love, love, loved it. I love coffee flavored treats. What about you?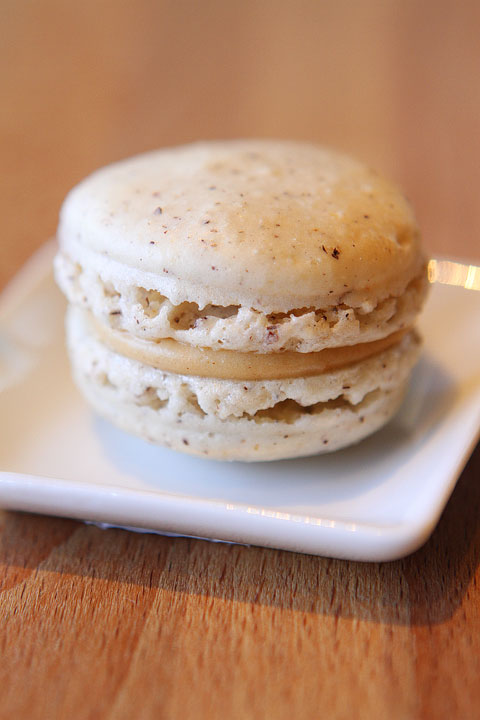 And this was a hazelnut macaron. Yes!! Loved this one as well. I am a huge fan of hazelnut. The smell and the taste. For me these two macs are must-haves. :)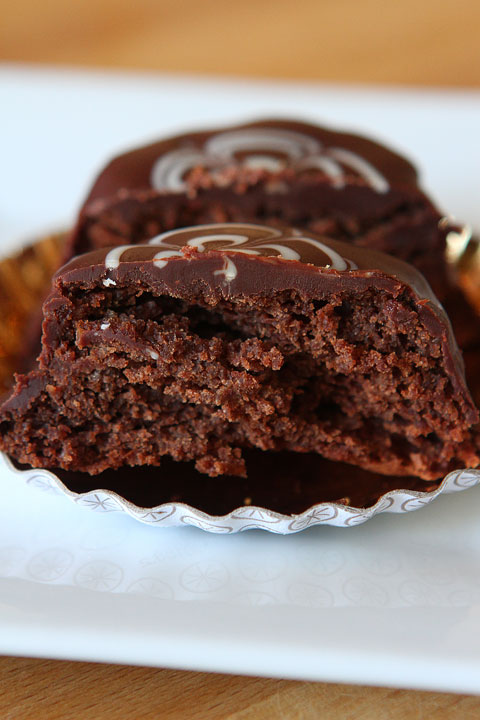 A sweet, mini bite-sized chocolate cake. Perfect for when you need just a taste of pure, rich chocolatiness. See? I am slowly making chocolatiness a word. ;)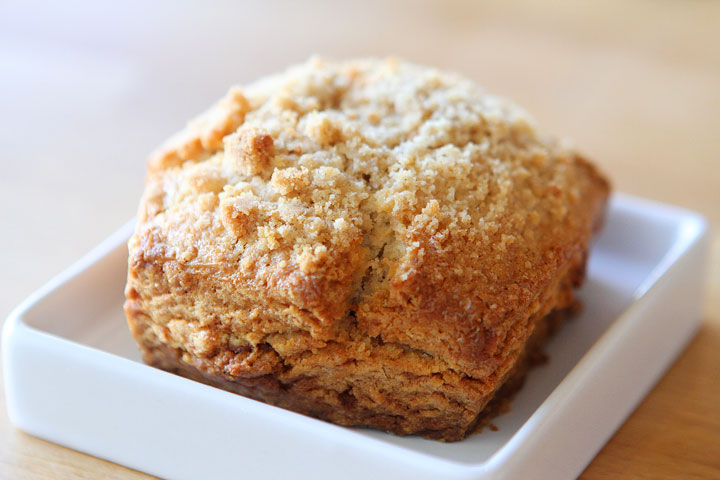 I love scones!! I couldn't resist this cinnamon scone with cinnamon streusel.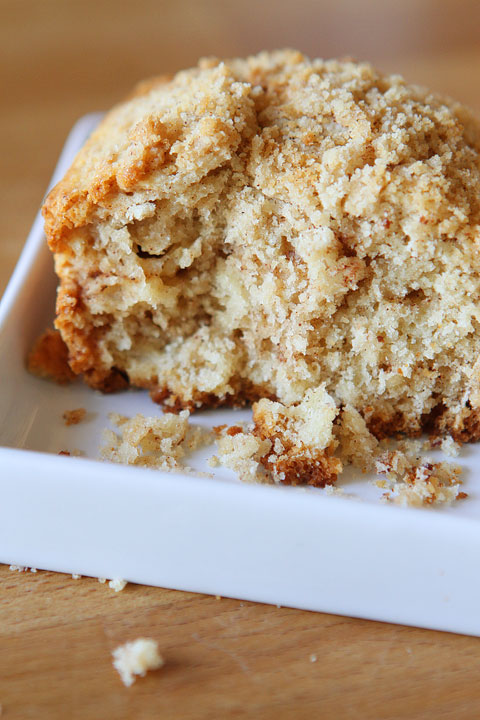 Loved the crunchy streusel top with the soft, cinnamony middle.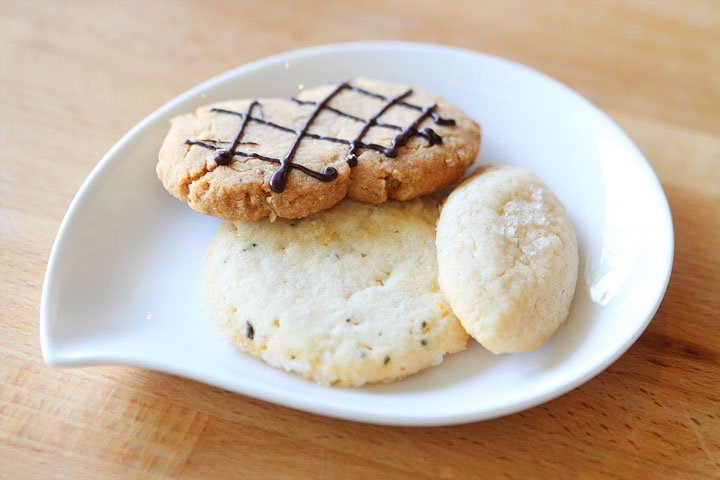 And here are our final three cookies. Oh, that is making me so sad! I could look at gorgeous Les Madeleines cookies all day. :) Everything we tried was just pure, and perfect, and exactly how it should've been. These three cookies were no less — they might have been my three favorite cookies of all. It was seriously hard to pick favorites here though! But these three were complete and total triumphs.
First up we have a peanut butter shortbread cookie drizzled with dark Valrhona chocolate. I can't get this one out of my mind. So yummy. I could eat a dozen of these. To the right is a vanilla shortbread cookie. Again, just pure and perfect. I am a huge fan of shortbread, but I have to say, this was the best shortbread I've ever had from a bakery. And finally, up front is the rosemary shortbread cookie. It's buttery with a hint of rosemary and vanilla. Pure and heavenly.
Thank you so much to Maria and Chef Romina for showing me the best day ever at Les Madeleines. If I lived anywhere near Salt Lake City, I would be in here every day. I could totally see myself being a regular in this beautiful cafe! :)
In addition to the most beautiful pastry case I've ever laid eyes on, Les Madeleines also serves breakfast and lunch. A few were ordering lunch while we were there and it looked amazing! I've heard their pomme frites are to die for. I will definitely have to put these on my list for next time! :) If you are ever anywhere near Salt Lake City, give Les Madeleines a try!
Hope you enjoyed!! Until next time! :)