That's right! I'm super-excited to announce that come this fall (September 26 and 27th to be exact!) I will be in Atlanta, Georgia teaching at the fabulous Scrapista 2009 event! :)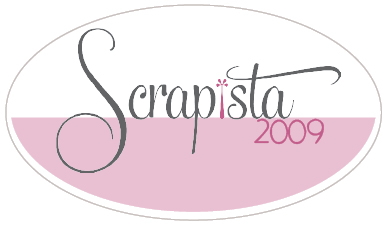 Scrapista is a weekend scrapbooking retreat, open to any and all scrapbookers who want to get away for some food, fun, classes, prizes and most importantly, relaxing and uninterrupted scrapbooking time!
Read more about the Scrapista event here.
Did you see the part where they're going to have a *massage therapist* on site?? Oh. I. am. so. there.
Now here's where I need your help- and there's a giveaway involved! Of course there's a giveaway! :) But that's not all-
You guys get to pick what I am going to teach at the Scrapista event!!
I have a few ideas, BUT- I really want to teach a class that you would really be excited about taking. And what better way to find out than to just come right out and ask, huh? ;)
Here's a picture of the awesome Scrapista 2009 giveaway prize pack: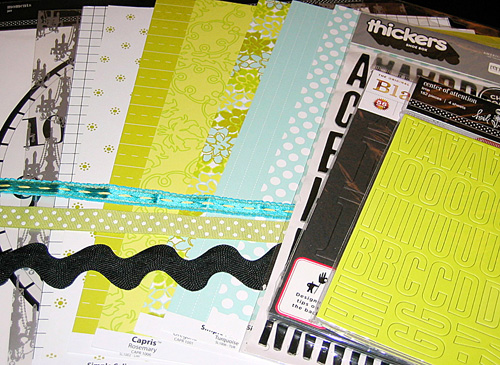 It includes………
Heidi Swapp Chipboard Alphabet – Center of Attention
Cosmo Cricket Blackboard Vintage Mix Letters
Thickers Shoebox Chipboard Stickers
Luxe Designs Double Sided Paper in Simple Dot, Simple Pinstripe, Capris Oregano, Capris Rosemary, Simple Lined, Simple Calico, and Simple Grid
Hambly Screen Prints Mini Chandelier Transparency
Heidi Swapp Moments Clock Overlay
Big Black Rick Rack
Green Dotted Grograin
Green and Blue Fancy Ribbon
To enter this giveaway, just leave a comment on this post answering the following question:
What should I teach at the Scrapista 2009 event?
Just throw out some ideas of what kind of class you'd be super excited about taking and you're automatically entered to win!
One entry per person, please! The winner will be chosen by his or her comment number, which will be picked by Random.org's number generator. Contest will run until 11:59 pm CST on Wednesday, May 13th, 2009.
Thanks so much for all your support- I can't wait to hear your ideas!! And good luck!!! :)