Check out the jewelry I've been loving lately in this little life update! Plus, you'll love the delicious way I've been making s'mores this summer!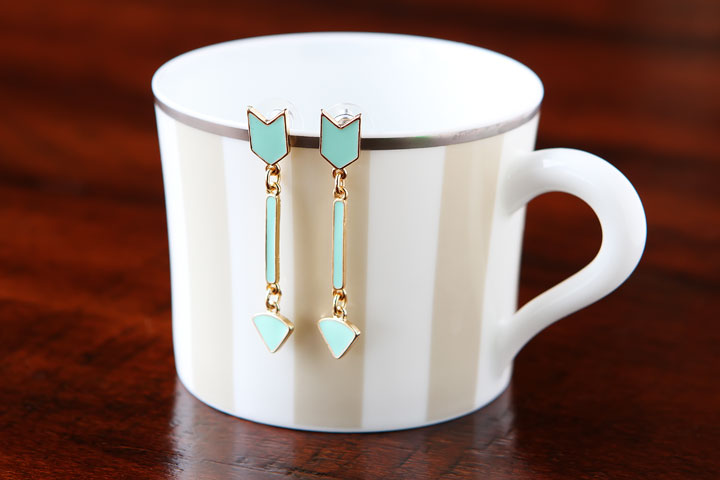 Life Update & Current Favorites
1. Dangly Earring Obsession
How fun are these arrow earrings?? I am dying. I saw them at one of my favorite clothing stores here in Alabama and knew I had to bring them home with me. I heart them!
Here is a link to their online store: Altar'd State.
I don't see these particular earrings on their site, but they do have a ton of really cute clothes (especially dresses and tops) and jewelry that are totally worth checking out. I did a major shopping spree there before speaking at BlogHer in Chicago last month!
2. What I've Been Doing This Summer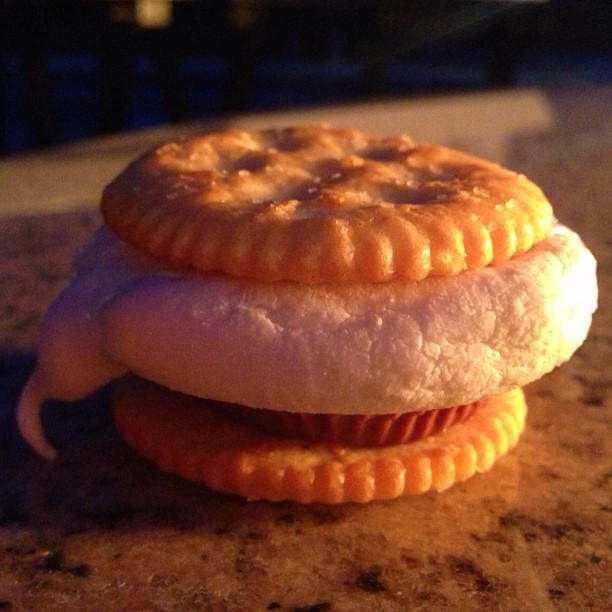 We've been having a weekly pool, pizza, and s'mores party with our neighbors. It's my favorite night of the week. I set out the usual s'mores fixings: graham crackers, chocolate bars, and marshmallows, but also add Ritz crackers and tons of fun spreads like Nutella, Biscoff, Salted Caramel, and White Chocolate Peanut Butter to enhance the s'mores experience. :)
I am totally a Ritz S'mores convert. I can't go back to graham crackers! The salty sweet combo sends s'mores over the top. I'm obsessed. Besides, who can say no to a salty, buttery Ritz cracker dunked in Nutella and topped with a warm, toasted, gooey marshmallow?? :) I think no one. ;)
Anyway, we have all really gotten into the whole gourmet s'mores thing, and last week my neighbor brought over Reese's Peanut Butter Cups to try with our s'mores. Omg. I have found my new favorite S'mores ingredients! Best combo everrrrr. :)
My fellow Alabama blogger Katie (who has the cutest cake and cookie decorating blog, and who really knows her sweets) came this week and made this combo AND added salted caramel. Dying. So good!! :)
3. Bittersweet
Today the Salvation Army came and picked up our red couch and chair from the living room in our first house. We have new furniture here in the new house, and we just had no room for it anymore. It was old, and worn, and faded, and dirty. But I've been a little mopey about it all morning. It was the first big thing we ever bought together. I loved that couch and chair.
4. Things I Text
Below is just one of the many examples of the sort of melodramatic, the-world-is-coming-to-an-end texts I send my food blogging friends on a daily basis.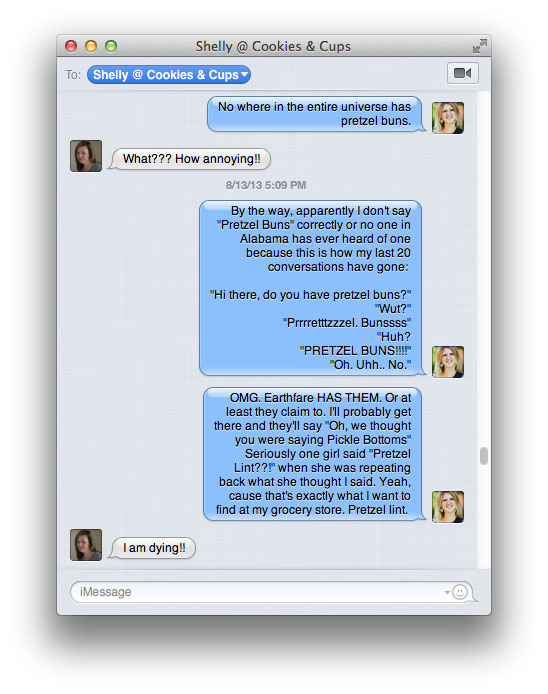 And it's also an example of why you should probably never give me your phone number.
Btw, Earthfare DID have the pretzel buns and they were TOTALLY worth the massive bun-hunt. So yum! I made a recipe with them that I cannot WAIT to share with you. :) :) :) Kevin took one bite and said "Can we have this again tomorrow night??" We've had it two nights in a row, and I'm really thinking about making it again tonight, lol. Kevin also took it to work for lunch two days in a row, which means he's had it for four meals now.
And he still asked if we could have it again for dinner tonight!
Keep an eye out for the recipe on Monday! :)
5. Most Embarrassing Moment
Annnnd, just in case you guys think I always look at least somewhat presentable, our furniture delivery man would like to disagree with you.
So the other day, seconds after I poured the milk into my bowl of cereal for lunch — Okay, let me just say, seriously, why does stuff always go down seconds after the milk hits the cereal? It can't be right *before* I pour it, so at least the cereal could be saved for later?? Whatever. I hear a knock at the door. We're getting furniture delivered today. They're supposed to call first and give me a 20 minute warning before they show up. So presumably I would *not* be mid-munch of a bowl of cereal as I haplessly open the door. They didn't call. They're here!
So, I fully admit that I was hungry and was interrupted from eating when this all went down.
Anyway, I open the door and the guy is like:
"Uhh… Did I wake you up?"
Remember, this was at lunch. It was past noon.
Me, looking down at my FULLY DRESSED clothes (jeans and a cute top! I wasn't even wearing yoga pants and a tshirt!), reply flatly: "Yeah. I normally sleep fully dressed." *murdering him with my eyes*
Him, stammering, "Oh, uh, you, just, uh, look like you just woke up."
Great. Thanks. Awesome! Just what every girl wants to hear!
Happy Friday! ;)