These Biscuit Beignets with Praline Sauce are such an irresistable breakfast, appetizer or side dish. They're so delicious and they melt right in your mouth!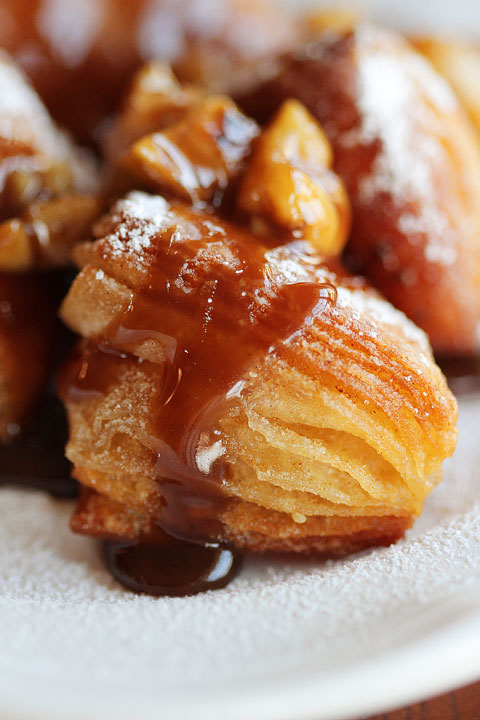 Biscuit Beignets with Praline Sauce
Oh, how I love biscuit beignets. One of my favorite local brunch spots offers this ridiculously delicious twist on the southern classic, and I can't get enough of them. I'm smitten. I simply can't leave without an order of these buttery, powdered-sugary treats.
After visiting Savannah last week, I knew I knew I had to give these biscuit beignets a try at home – and they wouldn't be complete without that heavenly praline sauce.
These are an incredibly delicious brunch treat. With Mardi Gras coming up in just a few short weeks, now's the perfect time to honor New Orleans and make this southern delight!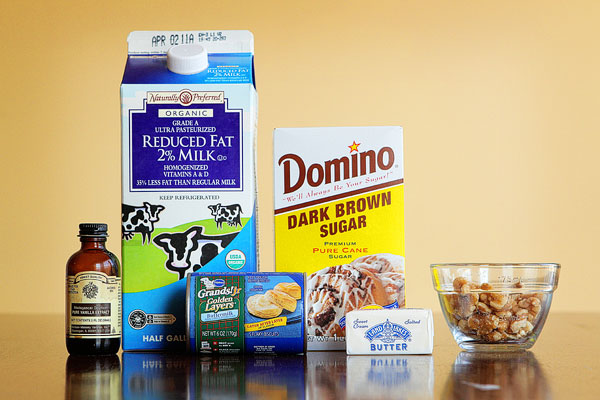 Just a few quick ingredients here. Biscuits, butter, brown sugar, a splash of milk, vanilla and walnuts.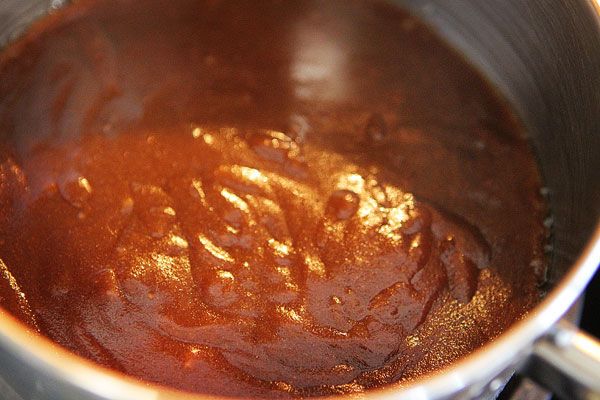 How to Make The Best Biscuits
Start by making the praline sauce. Melt the butter and whisk in the sugar until melted and bubbly. I used dark brown sugar here. If you don't have it, you can use light brown sugar, but I always like to keep dark brown sugar around. I use it in place of light brown sugar in recipes for cookies and brownies. Makes them chewier!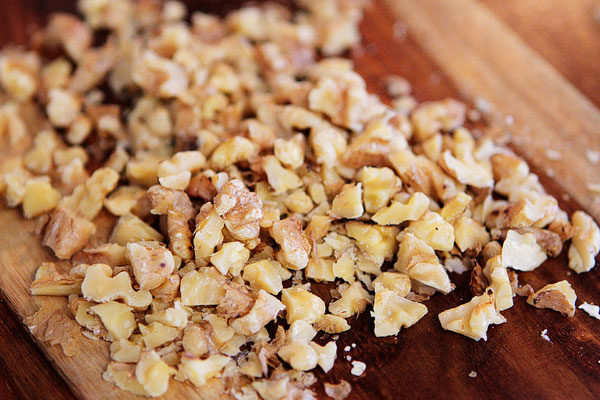 To the melted butter and sugar, you'll add a splash of milk, a taste of vanilla, and few chopped nuts. I used walnuts here, but you could use anything – pecans, almonds, even hazelnuts. Set aside to cool while we make the beignets.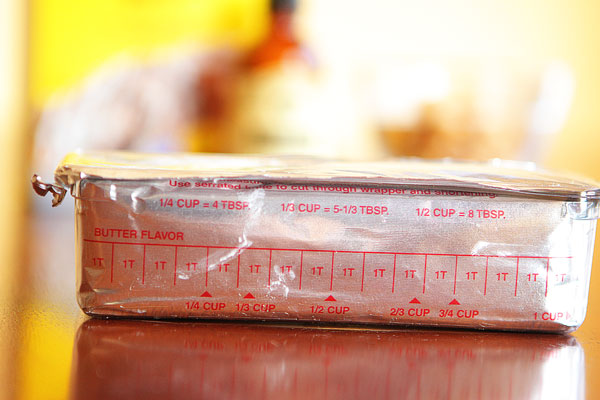 Now. You can fry these beignets in your favorite frying oil – vegetable oil and peanut oil are two of my favorites. But since my favorite thing about these beignets is how deliciously buttery they are, I decided to go with butter-flavored Crisco. It was the right thing to do. Begin by melting the shortening over medium heat.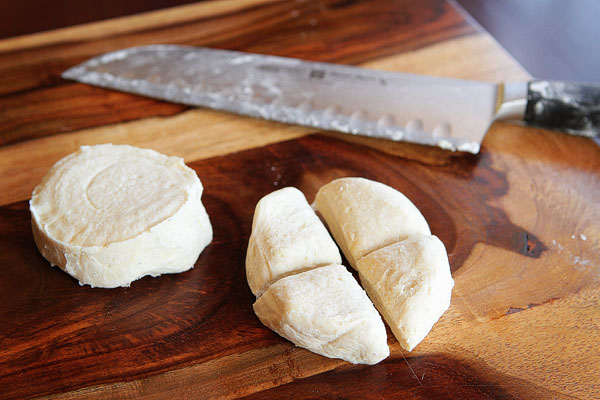 Meanwhile, separate the biscuits and cut into fourths.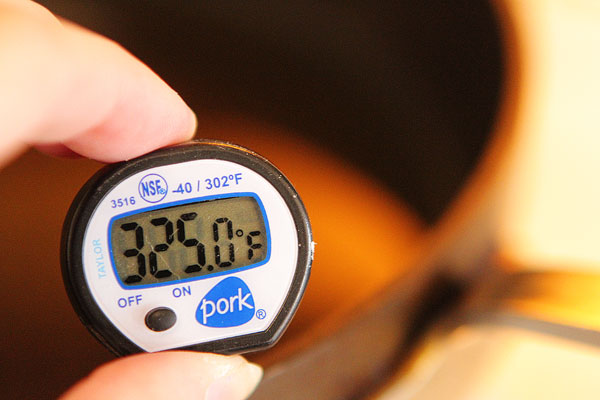 When the oil reaches 325 degrees, it's ready for the biscuits. Use a meat or candy thermometer for this – you don't want to let the oil get over 350 degrees or it will start to smoke. If you see it smoking, remove it from the heat to cool down until you are ready.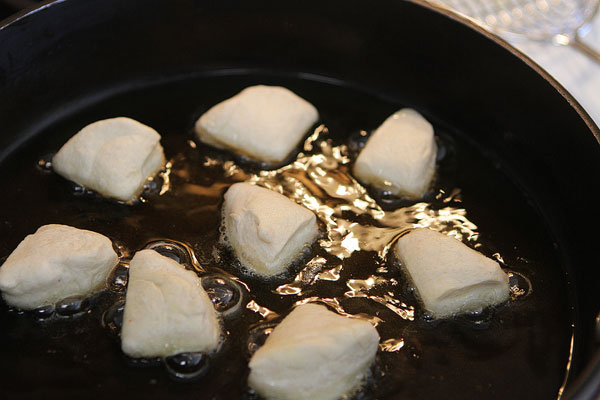 Fry the biscuits on each side until…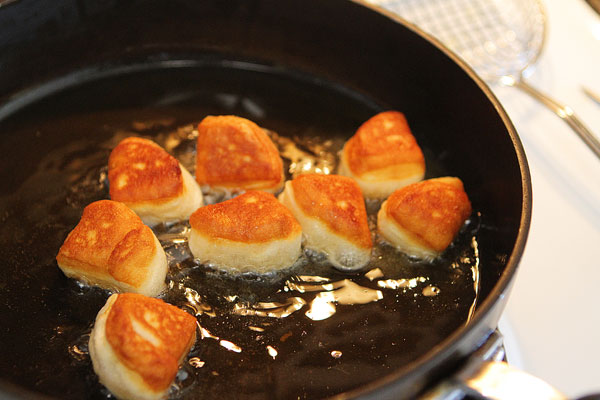 Deliciously golden. They'll cook very quickly, check them after 30 seconds on each side.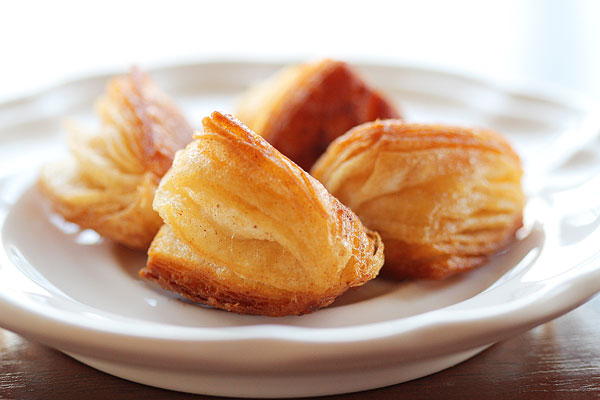 You could even fry these in butter if you're feeling exceptionally naughty – as long as you promise not to let the butter get over 325 degrees. Here's a small batch I did in butter. Look how tender, flaky, and satisfyingly crispy these turned out! I die. My advice, if you're going to try the butter route (which I highly recommend) use a small sauce pan and fry these in small batches. That way you don't have to use too much butter and you can change it out if it gets too brown.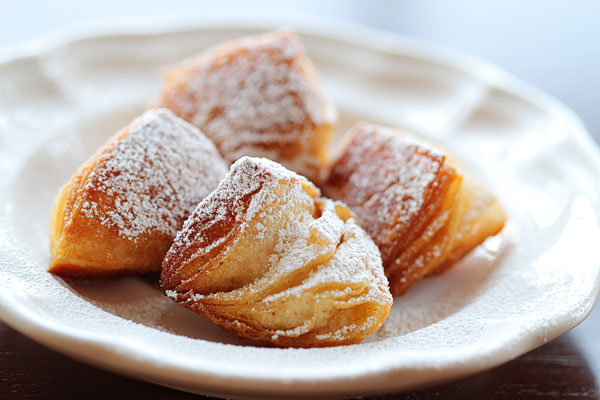 Serve these bad boys immediately when they're fresh and hot out of the oil. And sprinkle with plenty of powdered sugar. It's the right thing to do.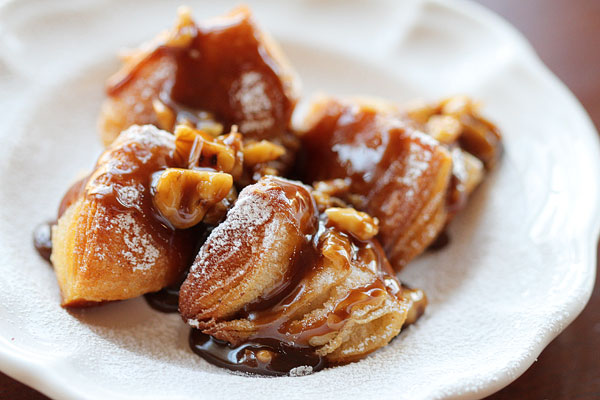 Now drizzle on that dreamy praline sauce.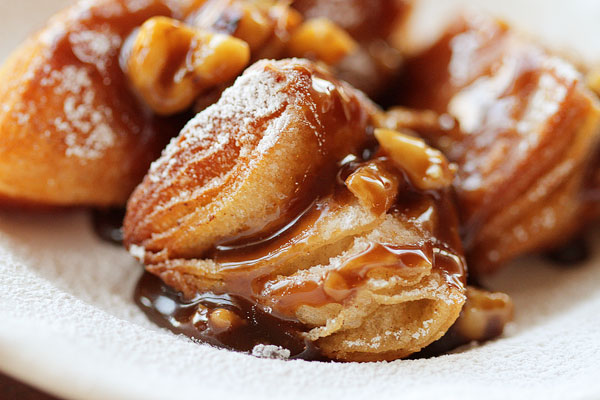 Layers and layers of butter, sugar, and praline sauce drench these beautiful beignets.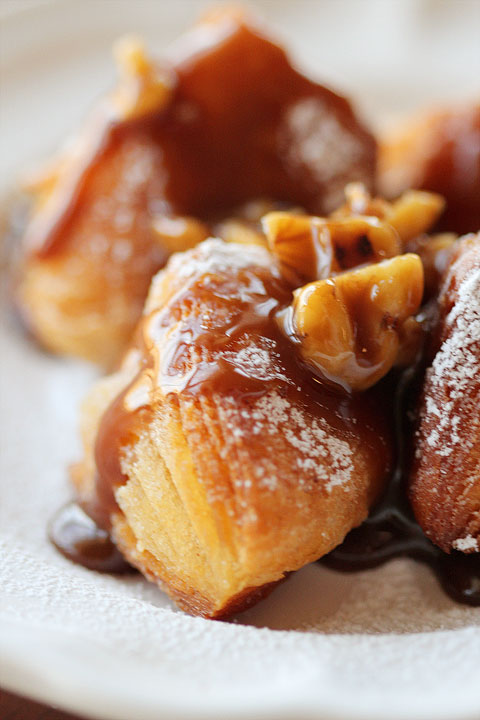 Praline sauce. My life is now complete. If you've never had praline sauce, whip this up ASAP. It's dreamy. And heavenly. And life changing. It's delicious on ice cream, pancakes, waffles, cheesecake, and french toast.
Or a spoon. A very big spoon.
Print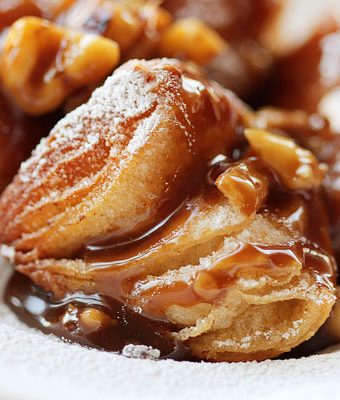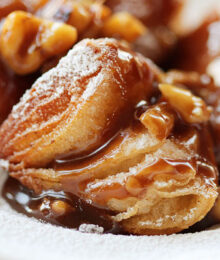 Biscuit Beignets with Praline Sauce
Prep Time:

10 minutes

Cook Time:

10 minutes

Total Time:

20 minutes

Yield: About

8

Servings

1

x
Category:

Appetizer

Method:

Oven

Cuisine:

English
Description
These Biscuit Beignets with Praline Sauce are such an irresistable breakfast, appetizer or side dish. They're so delicious and they melt right in your mouth!
Scale
Ingredients
1

tube flaky biscuits

1 cup

butter-flavored shortening, for frying

8 tablespoons

(

1

stick) butter

1 cup

packed dark brown sugar

3 tablespoons

milk

1/2 teaspoon

vanilla

1/4 cup

chopped walnuts
Instructions
Melt butter in a medium, heavy-bottomed saucepan over medium heat. Add sugar and whisk until sugar melts and mixture begins to boil, about 5 minutes. Stir in milk, vanilla, and pecans until smooth. Set aside.
Separate biscuits and cut into fourths. In heavy-bottomed skillet, melt the shortening over medium heat until it reaches 325 degrees F. Fry biscuit quarters in batches until golden on each side. Biscuits will cook very quickly. Dust generously with powdered sugar and serve immediately with praline sauce.
Keywords: best biscuits recipe, easy biscuits recipe, easy homemade biscuits, best homemade biscuits, homemade biscuits recipe, how to make biscuits